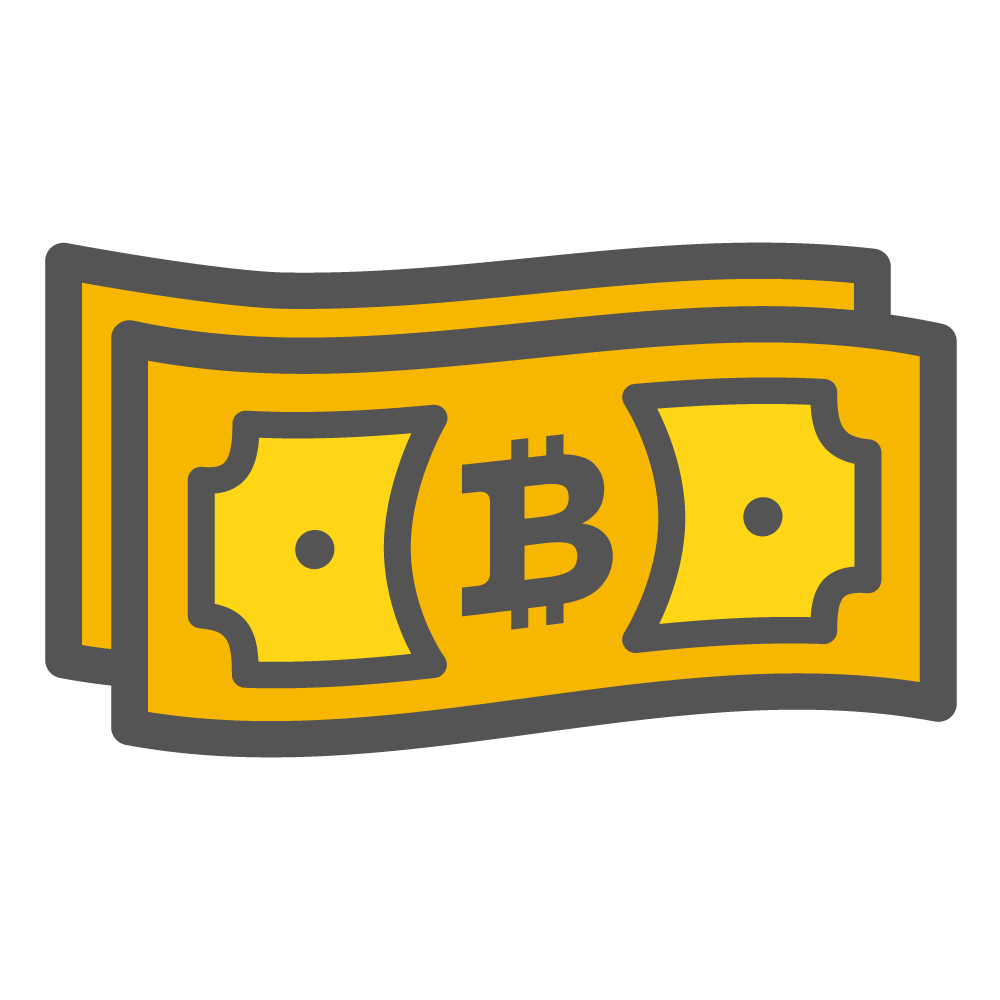 We can both agree on this:
Buying bitcoins with cash is confusing!
Luckily, today I'll show you how easy and fast it can be.
We've collected the best exchanges and listed them for you below.
Chapter 1
Introduction
Why buy bitcoins with cash?
It's private and usually quick
One of the easiest ways to get bitcoins
Converting your cash to bitcoin can get you bitcoins within a couple of hours.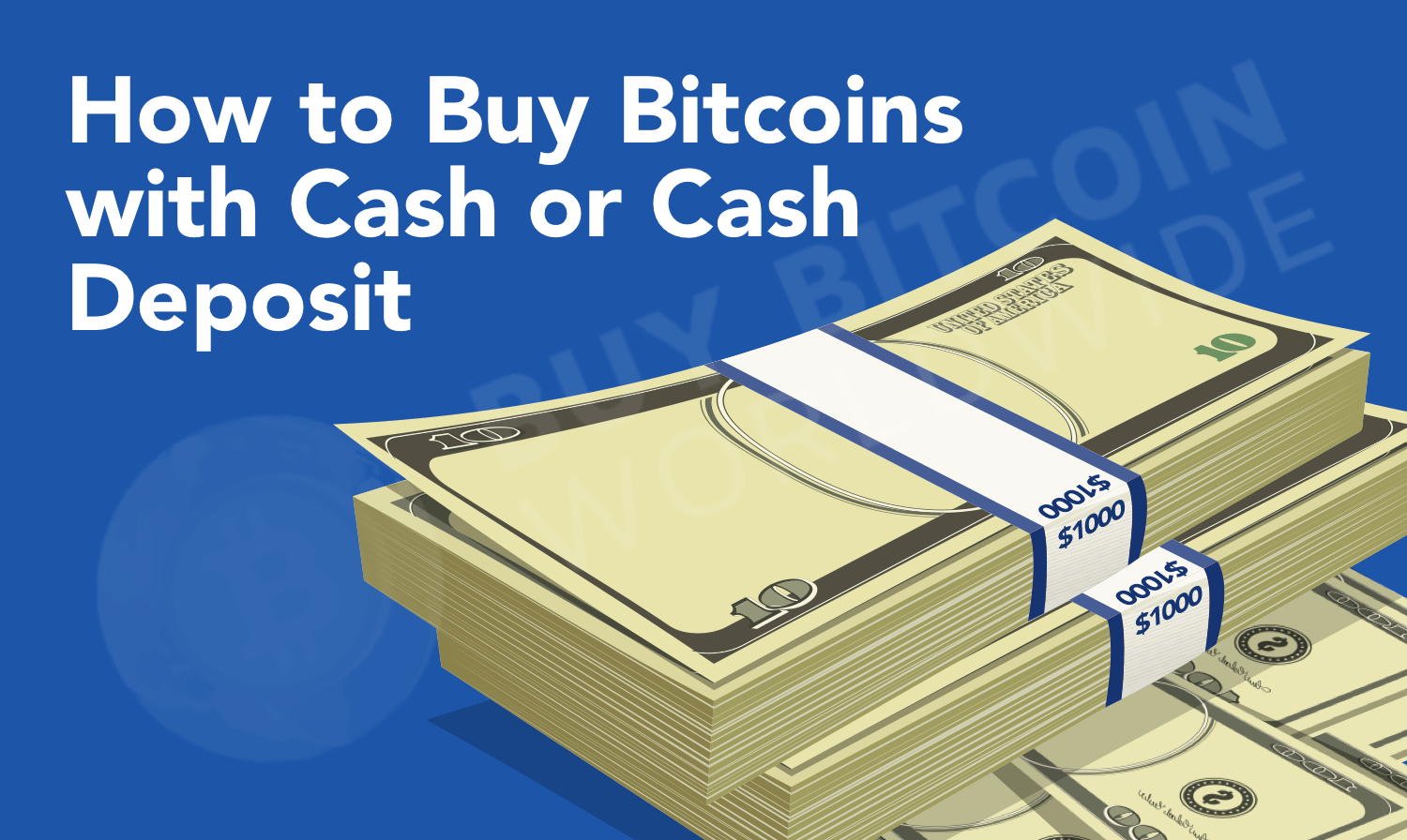 Make sure you have a Bitcoin wallet before you buy since some of the exchanges below require one.
We suggest using the exchanges listed below or doing research before buying from any exchange.
Many exchanges are simply trying to steal your personal information (like your password).
We do research on every exchange we list and are very careful not to include scam exchanges on our site.
Chapter 2
Cash Bitcoin Exchanges
LibertyX
LibertyX lets you buy bitcoin with cash at a number of retail stores across the United States.
You'll have to verify your identity before buying, making LibertyX less private than some of the other options.
You can buy up to $1000 worth of bitcoin and will be charged a 1% fee on all purchases.
Get this:
If you sign up with Facebook you can buy your first $1000 fee free.
Your bitcoin should arrive a few minutes after your payment is made.
Pros
Easy and fast way to buy bitcoins with cash
Low 1.5% (plus store fee) rate for cash purchase method
The daily $1,000 limit is fairly high for a convenience service
Cons
Participating stores add their own fee
Some verification is required which lowers the expected privacy level of cash purchase
Attaching your Facebook account further degrades privacy
Bitcoin ATMs
Our Bitcoin ATM map helps you find a Bitcoin ATM in your local area.
Using Bitcoin ATMs you can buy bitcoins with cash ONLY.
The average ATM charges a fee of 5-10%, but this is what people are willing to pay to buy bitcoins privately and with no verification.
There are many Bitcoin ATM manufacturers, so each ATM is different. Some require verification, although most don't.
View Bitcoin ATMs
Pros
Our map makes it super easy to find a Bitcoin ATM near you
Cons
Bitcoin ATMs often have 5-10% fees per purchase
Buy Bitcoin with Cash Exchange Comparison
| | Exchange | Fees | ID Required | Countries |
| --- | --- | --- | --- | --- |
| | LocalBitcoins | 1% | Sometimes | Global |
| | BitQuick | 2% | Yes | USA |
| | Wall of Coins | ~1% | No | 12 Countries |
| | LibertyX | 1.5-8% | Yes | USA |
Chapter 3
Frequently Asked Questions
If you're still a bit confused, that's okay. Buying bitcoins is hard and that's why I built this site.
The FAQ section below should answer all of your remaining questions.
What are risks are involved buying bitcoins with cash?
Buying bitcoins with cash can be very low risk.
If making a trade in-person, it's best to meet in a public place to reduce the risk of scamming or theft.
If buying bitcoins with cash via cash deposit, use an escrow service (like LocalBitcoins or BitQuick) to ensure the seller must send you the bitcoins after receiving bitcoins.
What are the benefits and advantages?
It's easy to buy small amounts of bitcoin with cash.
It's also private, since no personal information is required in most cases, especially if trading in person or at an ATM with no verification.
Buying bitcoins with cash is also fast, as there is no verification to slow down the process.
What are the disadvantages?
It can be hard to buy large amounts of bitcoins with cash, especially with cash deposit.
Bitcoin ATMs also have limits and some require verification if more than a certain amount is purchased.
Why do Local Bitcoins and Bitcoin ATMs have a higher price than other exchanges?
The average buy price on Local Bitcoins and Bitcoin ATMs is usually 5-10% higher than the average global rate.
Unlike other exchanges, which require ID verification and personal information, Local Bitcoins and Bitcoin ATMs don't require any information like this.
The 5-10% premium on LocalBitcoins and at ATMs is simply the cost people are willing to pay for privacy when buying bitcoins.
Is it risky giving up my ID in order to buy?
It depends how much you trust the exchanges.
Just like any information you give up online, there is always the risk that it can be hacked or stolen from the website you give it to.
One thing that Bitcoin exchanges have going for them is that because they are constantly under attack, they have some of the best security and protections in place to protect against the hacking of your personal info.
There is always risk with anything related to information online.
Even Yahoo was hacked and information on 1 billion accounts was stolen.
Should I leave my bitcoins on the exchange after I buy?
We really recommend storing any bitcoins you want to keep safe in a wallet you own.
Many Bitcoin exchanges have been hacked and lost customer funds. If you don't want to fall victim to these hacks then the easiest way is to store your coins in a wallet you control.
Bitcoin Cash
You can buy Bitcoin Cash using cash from most or all of the methods and dealers listed on this page.
Chapter 4
Tutorials: How You Can Buy Bitcoins with Cash
How to Use BitQuick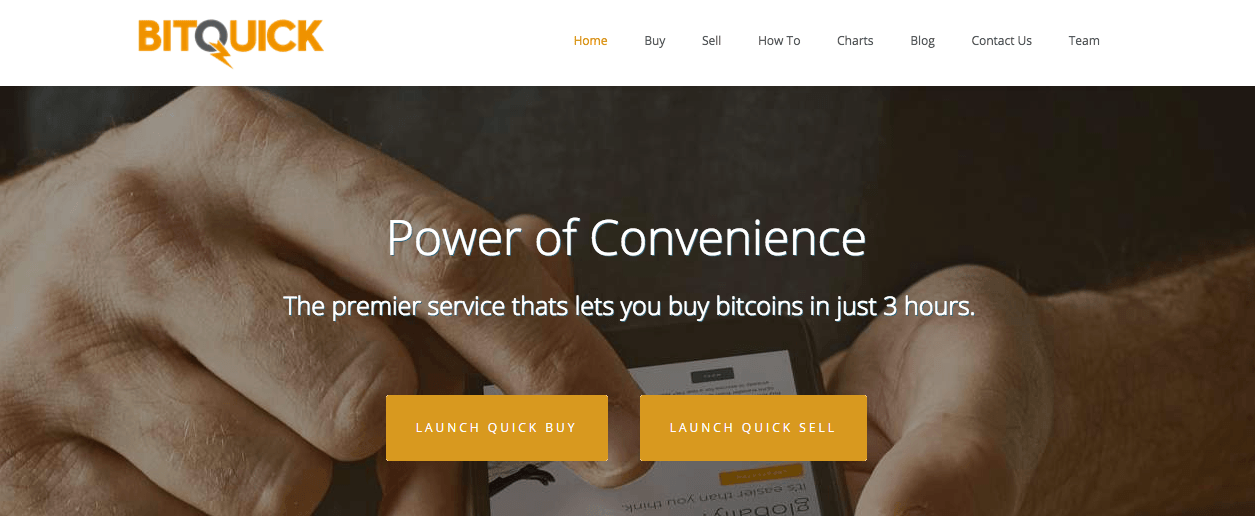 BitQuick is one of the best ways to buy bitcoins with cash in the United States.
It charges 2% per buy but the exchange rates are generally better than LocalBitcoins.
We will show you how to make your first purchase in the tutorial below.
You will NEED a Bitcoin wallet before you can buy from BitQuick. Don't have one? Read our guide.
Go to BitQuick
You will see the home page. Then, click "Quick Buy"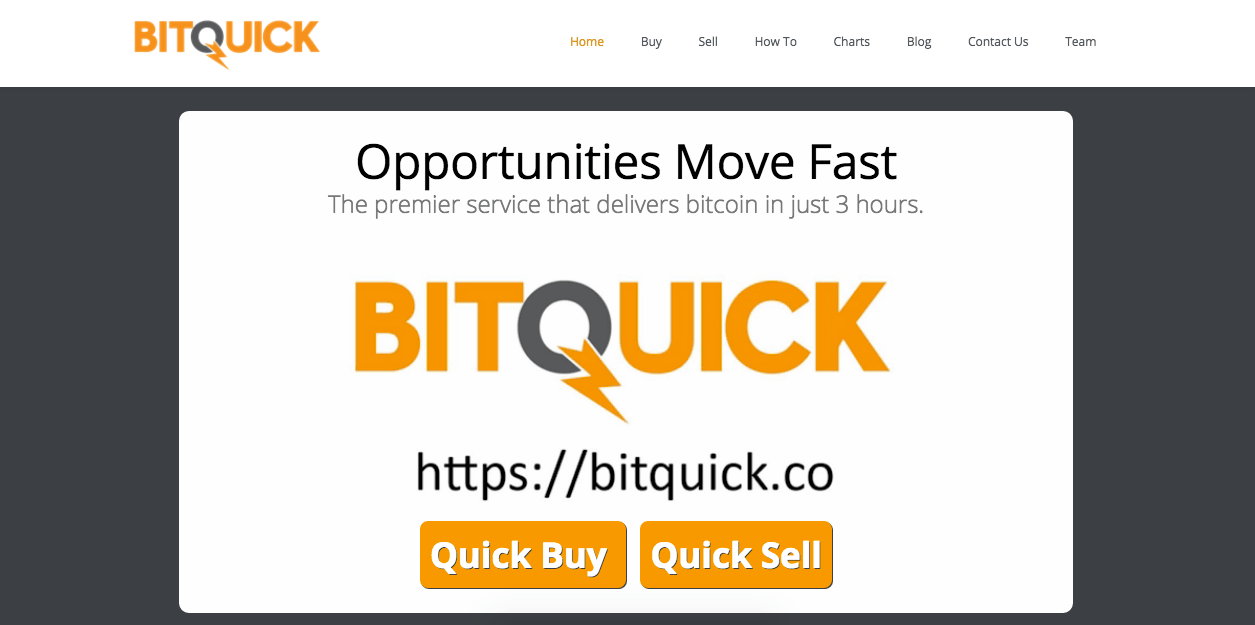 Enter the amount you want to spend. You can enter in dollars or BTC, the fields will update automatically.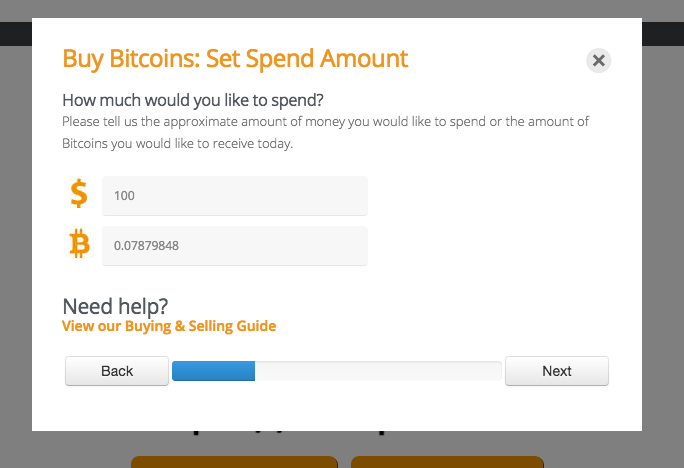 You should now see a list of banks with prices: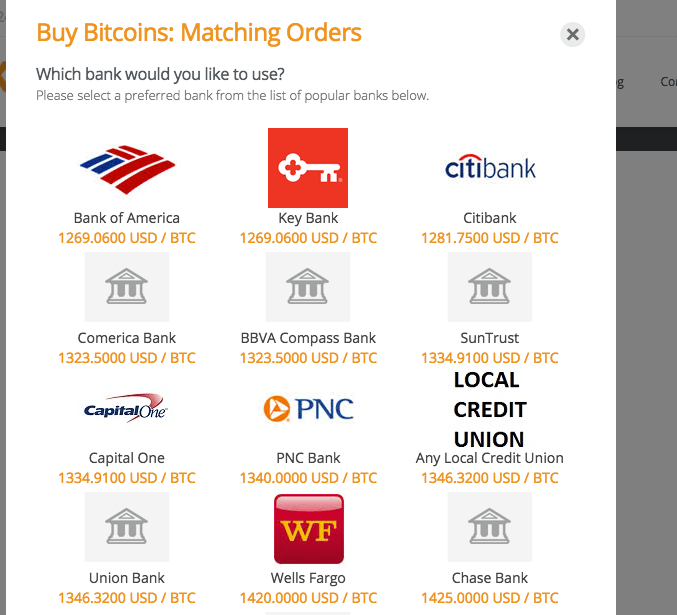 You can pick any bank, and banks with the lowest prices will show up first.
Once you picked a bank you will be required to fill in some details. This includes your email, phone number, and Bitcoin address. You can also change the amount of Bitcoin you want to receive.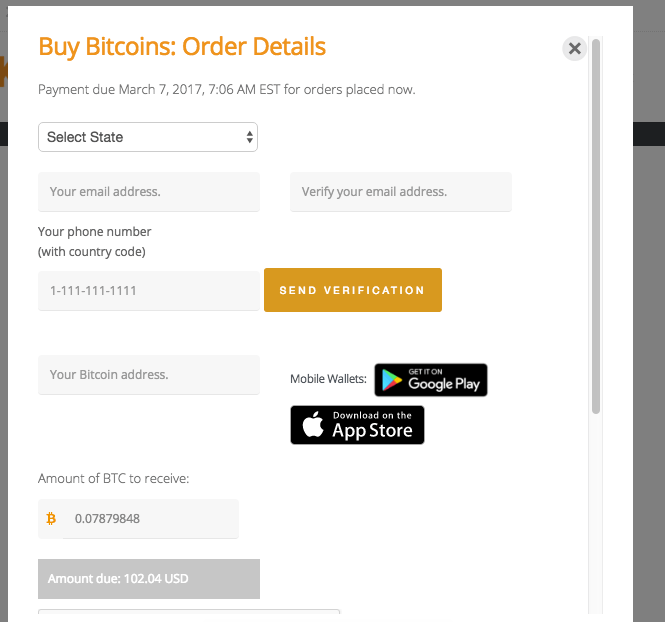 Make sure you put in your phone number and press "SEND VERIFICATION". This will send a PIN code to your phone that you need to confirm.
Once you put in your details press "PLACE HOLD". This will lock in your order.
Now you will need to find a bank branch of the bank you chose in your area. Then you go into the bank, make a deposit, and save the receipt.
Go back into BitQuick and upload the receipt to the seller. This proves you made the deposit.
Bitcoins should arrive to the address you entered earlier within 3 hours!
Buy Bitcoins with Cash from Bitcoin ATMs
Bitcoin ATMs are another great way to purchase bitcoins with cash!
Think of a Bitcoin ATM as a cash to Bitcoin converter.
While you may have to physically drive or walk to the ATM, once you reach the ATM you can buy bitcoins instantly. You'll need to be lucky enough to have a Bitcoin ATM in your area.
Our Bitcoin ATM map helps you find locations makes it easy to locate a Bitcoin ATM in your area.
You can do the following to check if there is a Bitcoin ATM near you:
2. Search by Location
In the search box in the top left, type in the name of your country or city and click enter.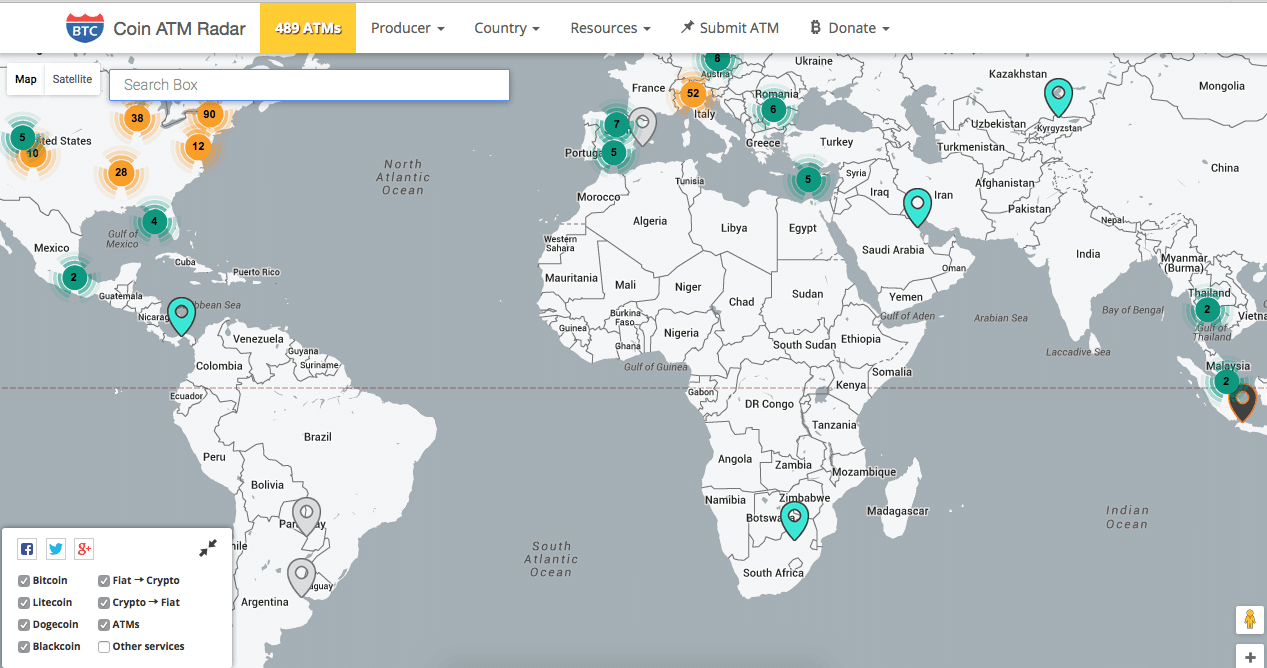 3. Find an ATM
Once you search, you'll be taken to the location you entered on the map. If you see map pin markers, you're in luck! That means there are Bitcoin ATMs in your area.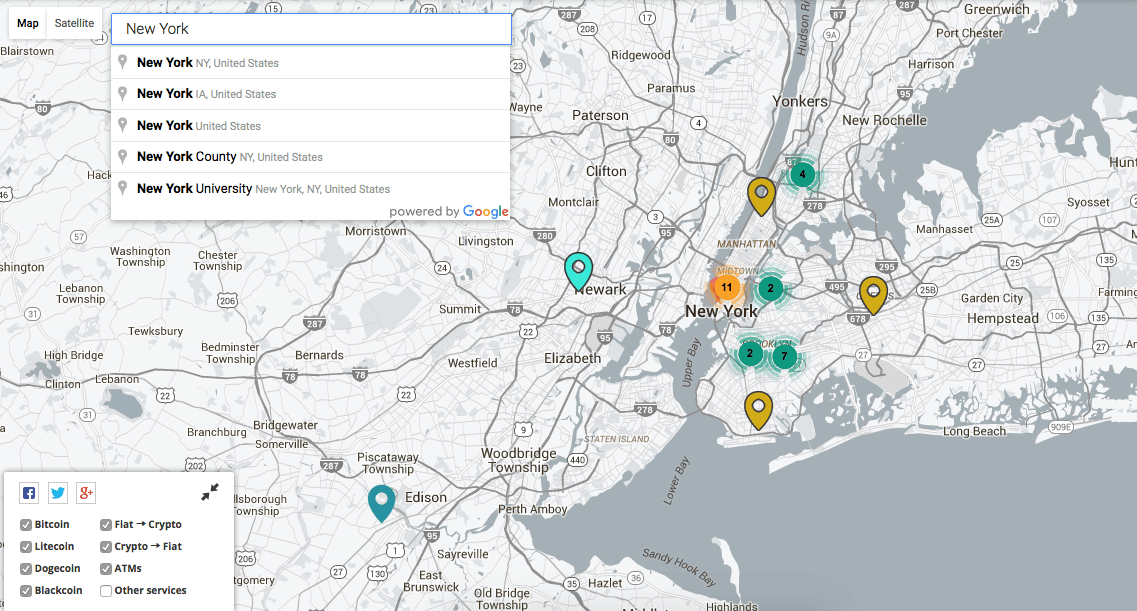 4. Choose an ATM
Click on one of the map markers for more details about a specific ATM. From there, you can also click on "Read More" at the bottom for even more details.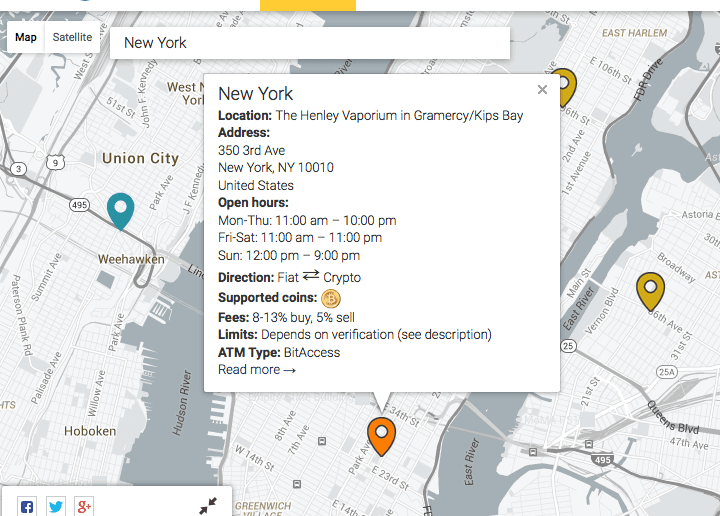 While Bitcoin ATMs make it easy to buy bitcoin with cash, there are some downsides:
Bitcoin ATMs generally sell bitcoins at a mark-up of 5-10%.
Before you buy bitcoin from an ATM, check the ATM's price against a Bitcoin price index like our Bitcoin price page.
Also:
Some ATMs may require verification, like a picture of an ID or a finger print scan (although most don't).
LibertyX Review
Now that you know a bit about LibertyX we'll show you how to use it. Once you've downloaded the app from the Apple App Store or Google Play Store, open it and you should see a screen like this: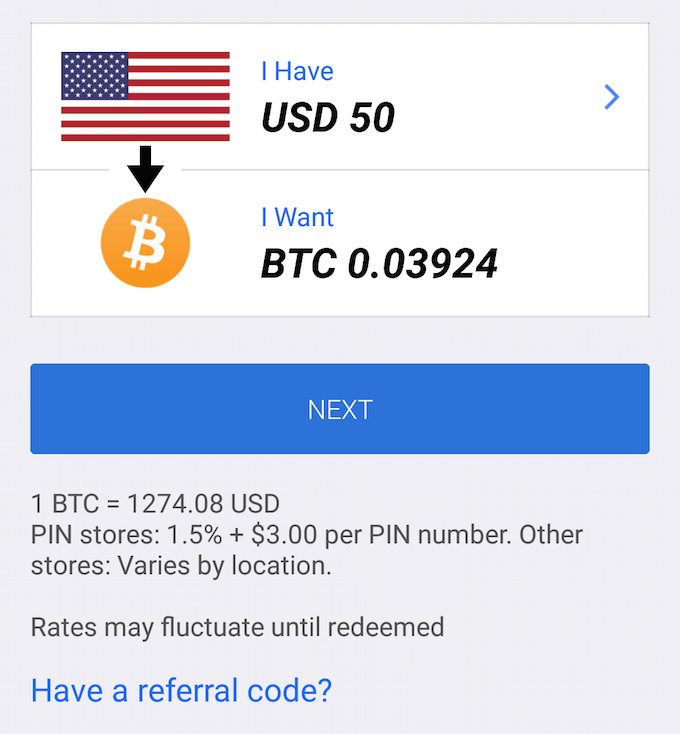 Enter the amount of bitcoins you want to buy and then press "NEXT". You should now see a screen with some options. If you want to find a store near you to buy then click "Find Store". Now you'll see a zoomed out map.
Put in your location or allow the app to see your current location. You should then see a zoomed in map with pins displayed the many locations you can buy from: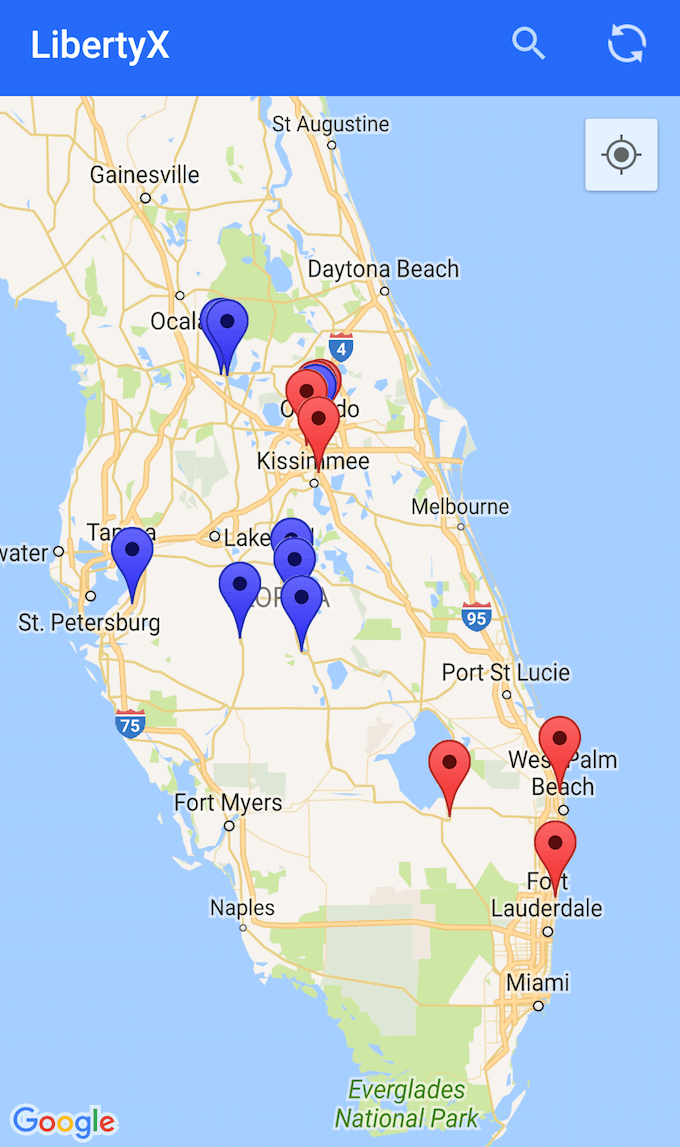 Now tap on a pin and then tap "SELECT THIS LOCATION":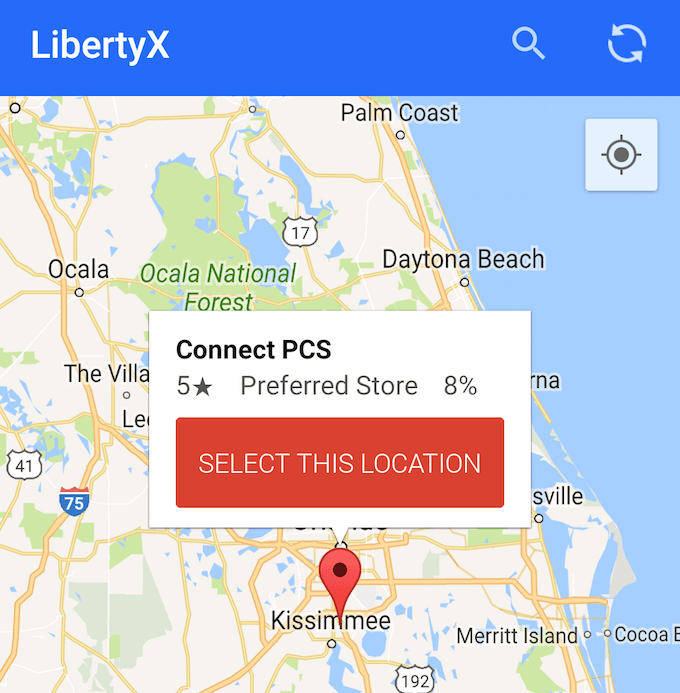 You will get more information on the location, like the store's hours, fees, phone number, and instructions for buying the coins: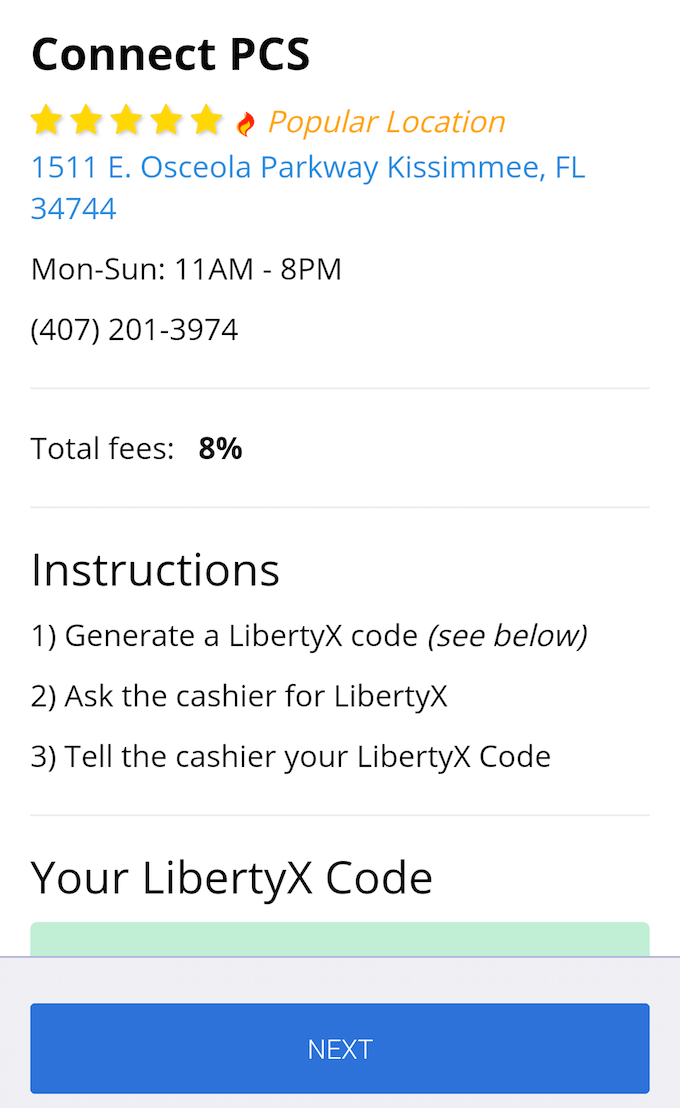 In the next step you will need to login with Facebook or make an account: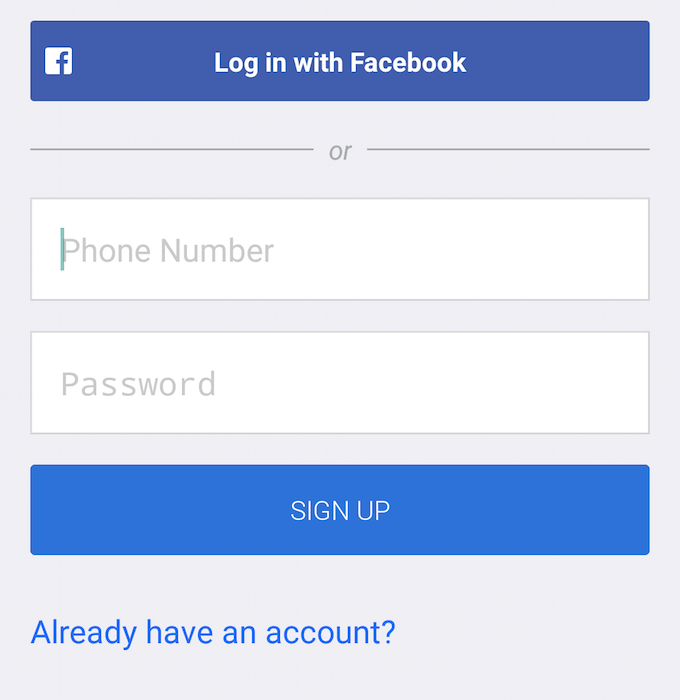 Once you login you will also need to link your phone number.
Once you confirm your phone number you can get your LibertyX code that you show the store!
At the store you present the code to the cashier and pay for the amount of coins you want. The cashier will then print out another code that you enter into the LibertyX app. Once you enter the code from the cashier you receive bitcoins!
Trades Near You: Mycelium Local Trader
Mycelium Local Trader is part of the Mycelium Bitcoin Wallet for Android.
If you live in a city, you're in luck:
There may be a number of sellers in your area.
Make sure you meet in a public space. Going with a friend is best, too. There have been reports of scams and robberies, so just make sure you take precautions when buying.
Once you download the app, click Buy/Sell: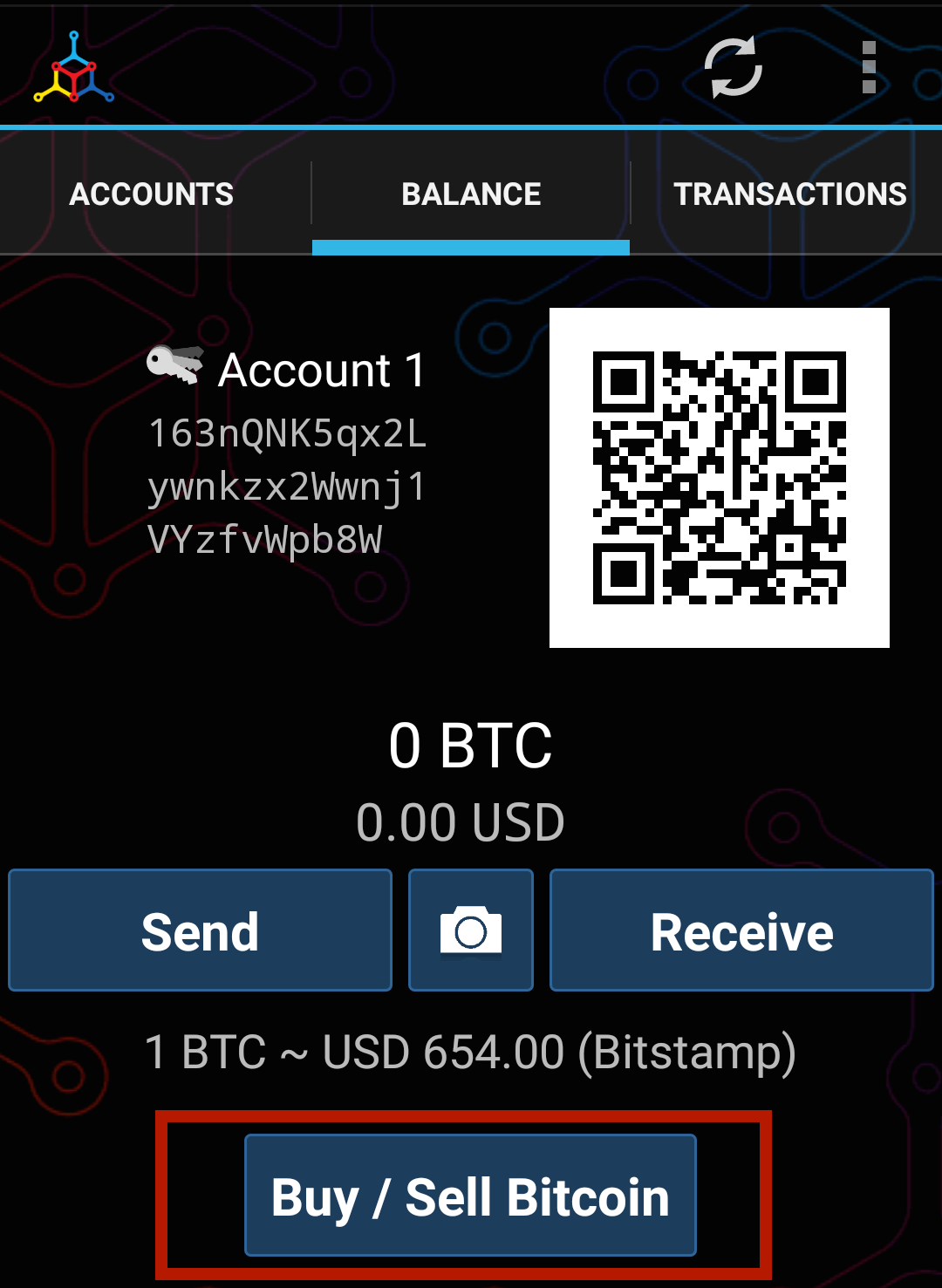 Once you enter your location you should see a list of local sellers: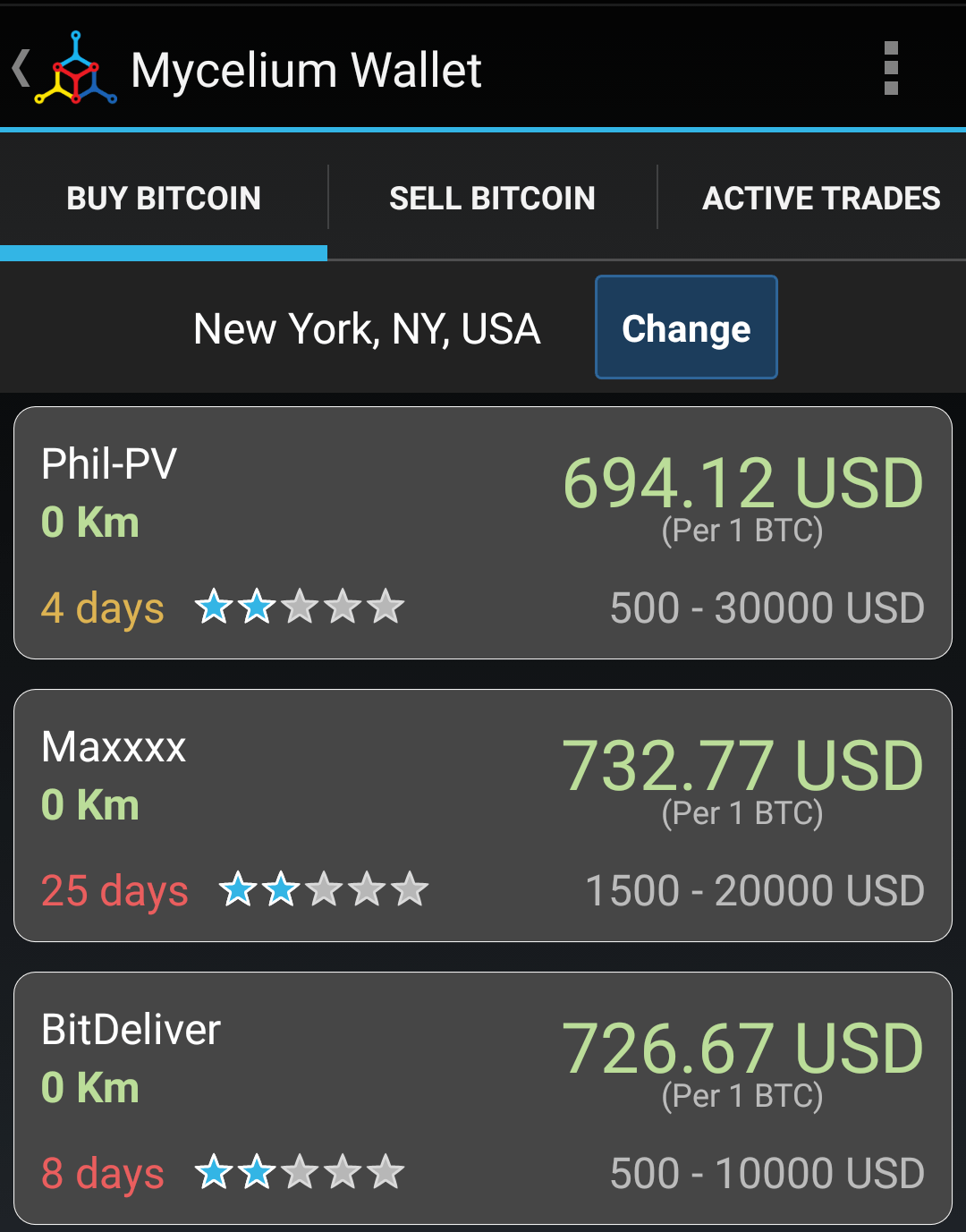 Click on a seller for more info: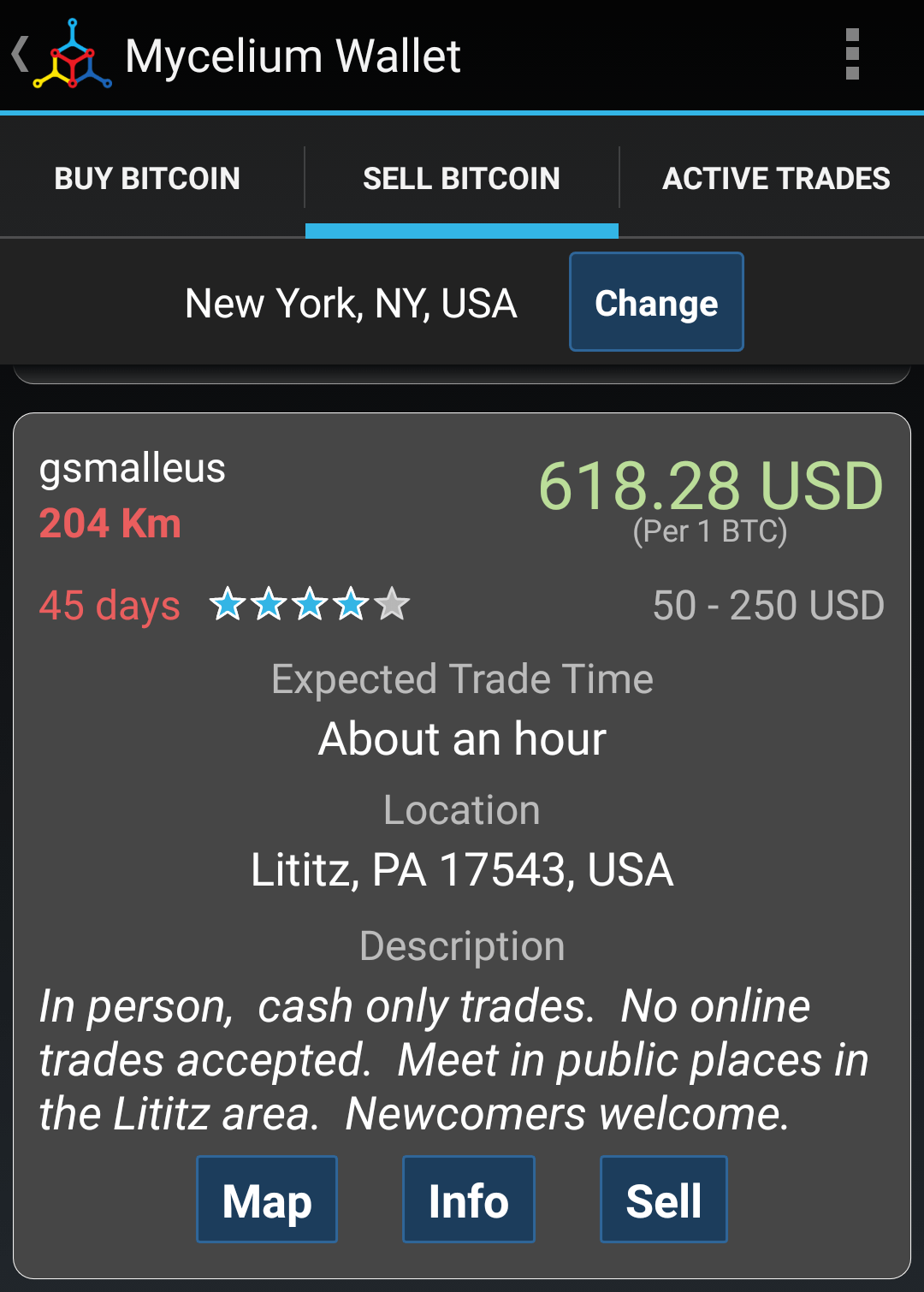 Again, make sure you buy from sellers with good feedback! If you meet, meet in a public space and go with another person.
Chapter 5
Peer-to-Peer Exchange Explanation
The exchanges mentioned above (LocalBitcoins and Bitquick) all work in almost the same way.
This section aims to provide more clarity on how a trade might work using one of these exchanges.
Buying Bitcoins at Peer-to-Peer Exchanges
Peer-to-peer (P2P) Bitcoin exchanges are a great way to get bitcoins with cash. A P2P trade usually works something like this:
A buyer and seller use a site like LocalBitcoins and agree on a price.
The seller's bitcoins are held by the site and only released to the buyer upon confirmation of payment.
The buyer deposits cash into the seller's bank account.
The seller confirms payment. Usually, the buyer sends the seller a receipt to prove that cash was deposited into the seller's account.
The site (LocalBitcoins or BitQuick) releases the bitcoins to the buyer.
The seller got cash, and the buyer got bitcoins. The trade is complete!
The above was just an example!
Through sites like LocalBitcoins you are free to agree on other payment methods besides cash deposit.
For example:
You could arrange to meet in person and exchange cash for Bitcoin.
Yes, using LocalBitcoins you can even exchange that Starbucks gift card from Christmas a few years ago for bitcoins ;)
Why Are P2P Exchanges Good?
No verification is required. You don't need to submit any personal details and there is no verification process that takes up time.
Cash payments are irreversible. Once cash is in someone's bank account, the buyer of bitcoin has no way to reverse the transaction. So the seller can feel confident that he received payment for bitcoins, and release the bitcoins to the buyer.
A Note on Exchange Rates
Peer-to-peer Bitcoin exchanges offer a fast way to buy bitcoins.
However:
Peer-to-peer exchange rates may be a bit higher than the global average Bitcoin exchange rate.
People are willing to pay more to buy bitcoins both more privately and faster. The markup is usually somewhere around 5-10% on LocalBitcoins.
Check the against a Bitcoin price index like Bitcoin Average or the CoinDesk BPI.
Best Practices for In-Person Cash Trading
If you decide to meet up with another person then make sure to take some precautions.
Meet in a public area. Most trades will go through fine but a search on Google shows people getting robbed or scammed at in-person trades.
Bring a friend. If possible, try to bring along a friend or family member just so you're not alone.
These tips are not meant to scare you and there is nothing wrong with trading bitcoins. But when dealing with any amount of money or trade it's best to be safe.
Chapter 6
LocalBitcoins Review
LocalBitcoins is a global Bitcoin exchange that gives a lot of options to its users.
From being able to use nearly any payment method to buying Bitcoins with fewer privacy restrictions, LocalBitcoins is a great place to buy Bitcoin with cash.
Before getting into the details, here are some good and bad things to know about LocalBitcoins:
Pros
LocalBitcoins is one of the most private ways to purchase bitcoins
In some countries it is the only way to buy bitcoins
It allows you to buy bitcoins with many payment methods
Cons
There are many scams and you need to use caution
LocalBitcoins itself does not impose any limits on its users. Users are free to decide on their own prices and limits.
Pros
No buying or selling limits imposed by LocalBitcoins
Cons
Some sellers will require ID verification for larger amounts
Supported Countries
LocalBitcoins is available in nearly every country. Liquidity will depend on the amount of buyers and sellers in your area. LocalBitcoins is not available in Germany or the state of New York. LocalBitcoins left New York due to the BitLicense.
What Makes LocalBitcoins Different than Other Exchanges?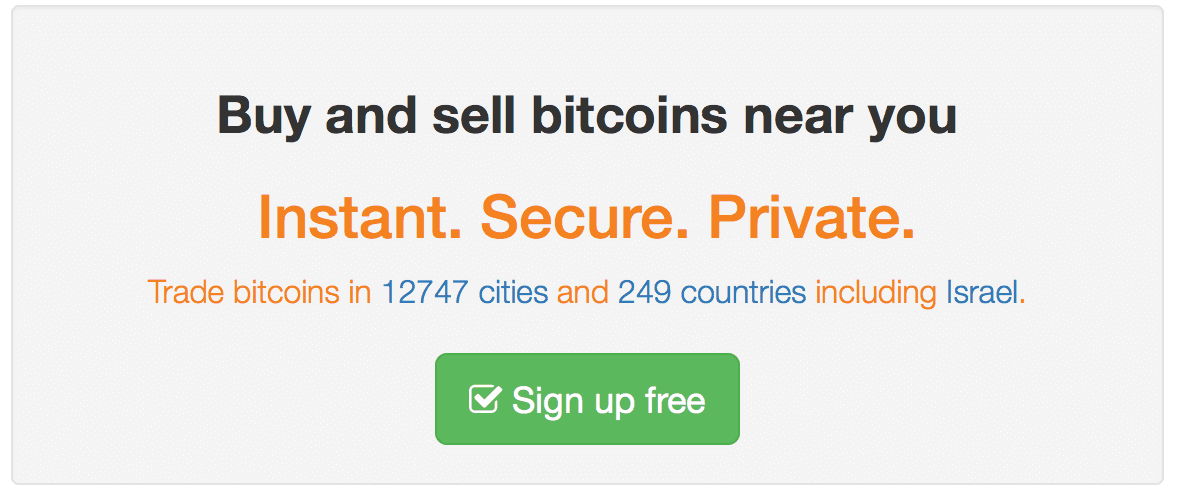 The difference between Local Bitcoins and most exchanges is that with Local Bitcoins, you must physically meet up with or connect digitally to the person you are buying from or selling to.
Local Bitcoins also used to be a great way to buy and sell Bitcoins anonymously, however Local Bitcoins did roll out KYC in March of 2019 on all customers who buy and sell a certain amount of coins a year.
Payment Methods Accepted
LocalBitcoins users are free to buy and sell using any payment method. The payment methods available to buyers will depend on what's available in your location.
Pros
Wide range of payment methods available
Cons
Many payment methods should not be used; like PayPal or any reversible payment methods
LocalBitcoins requires email and phone verification for all users. It requires ID verification for users trading over 1000 euro.
The speed at which your bitcoins are available will depend on payment method.
Pros
Buys made with cash deposit generally deliver bitcoins within 1 hour
Cons
Speed of delivery is entirely dependent on seller confirming payment, so at times it can take a while (although it is generally within 15 minutes)
Regulation and Reputation: Can You Trust LocalBitcoins?
9
LocalBitcoins was one of the first peer-to-peer Bitcoin exchanges, and the largest one today.
Pros
One of the oldest Bitcoin exchanges (older than Coinbase)
Not a scam
Cons
Even though it's trustworthy, users should not store bitcoins in the "LocalBitcoins wallet"
Reputation of exchange is good, but need to check reputation of each user on the exchange
Most problems with LocalBitcoins are a result of trading with a new user or one with multiple bad feedbacks.
Be sure to only trade with users who have a history of making trades.
You can view any user's feedback history by looking at their profile:

In this case, the user has made 11 trades with three different trading partners. The user has a 100% success rate, meaning there were little or no issues with scams during his trades.
The user above would be a good user to trade with!
LocalBitcoins charges a flat 1% fee on all trades.
Pros
LocalBitcoins only takes 1%
Cons
Even though fees are low, prices may be inflated depending on payment method
Customer Support
LocalBitcoins offers support via a support ticket system.
Pros
Support is usually quick to respond to all issues
LocalBitcoins offers forums where you can request help from other users of the platform
Chapter 7
Theft, Scams, and Storage
If you get one thing from this article let it be this:
Don't store your bitcoins on exchanges!!!
I've been buying bitcoins for more than three years. I've never lost any money to scams or thefts. Follow the guidelines in this article and you'll be able to do the same.
Here are two examples where users got screwed by leaving bitcoins on exchanges:
And there are many more I could list.
If you're buying with cash from an ATM you won't have to worry about this, since ATMs always send bitcoins directly to a wallet or Bitcoin address.
If you're buying from BitQuick or LocalBitcoins:
Make sure to move the coins you bought to your own wallet right after you buy!
Secure Your Coins: Get a Good Bitcoin Wallet
Make sure you get yourself a Bitcoin wallet that will securely store your bitcoins.
Besides storage, there are many scam exchanges out to steal your personal information and/or bitcoins.
Following these two basic principles should help you avoid theft, scams, and any other loss of funds:
Do research before buying on any exchange. Check reviews, ratings, and regulation information.
Don't store coins on the exchange. Already mentioned above but worth repeating.