What is a Bitcoin ATM?
A Bitcoin ATM is a machine that buys or sells bitcoins for cash.
How Does a Bitcoin ATM Work?
It works almost like the ATMs you use today.
There are a few differences:
Instead of inserting your debit card and getting cash, you insert cash and get bitcoins sent to your Bitcoin wallet (if you are buying bitcoins).
Some Bitcoin ATMs also let you sell bitcoins, so you would send bitcoins to the machine and the Bitcoin ATMs would spit out cash(1).
You can read our guide on how to use a Bitcoin ATM machine.
Why Use a Bitcoin ATM?
Bitcoin ATMs are a good way to buy bitcoins if you have one near you. You can use Coin ATM Radar's map to find locations.
Delivery of bitcoins with Bitcoin ATMs is instant, so you get your coins fast.
Buying bitcoins with ATMs is also private, since no personal information is required at most ATMs.
What are the Average Fees for Bitcoin ATMs?
The average fees are about 5-10%, although this can vary greatly depending on your country.
Do Bitcoin ATMs Accept Credit Card?
In most cases, no, due to the high risk of chargebacks on cryptocurrency transactions(2).
Does Cardtronics Sell Bitcoin?
Cardtronics ATMs do not sell bitcoins at this time.
View ATMs by Country
Bitcoin ATMs are a popular way to buy bitcoins with cash.
This guide will show you exactly how to use a Bitcoin ATM.
Key Takeaways
Bitcoin ATMs are easy to use. Just find one, travel to the ATM, and insert cash.
The fees for buying crypto at an ATM generally range from 5-12%.
Crypto ATMs usually only accept cash and don't accept credit card or debit card.
How to Use a Bitcoin ATM
An initial note:
Bitcoin ATMs almost always make you buy bitcoins with cash. Credit card and debit card are not accepted.
So the first step to buying bitcoins from a Bitcoin ATM machine is to determine the amount you want to buy, and prepare the cash to bring to the ATM.
Once that's done, the process is fairly easy:
Find a Bitcoin ATM (our ATM map can help you)
Travel to the Bitcoin ATM
Deposit cash into the machine
Get your bitcoins
This is just a demo video, but it shows you just how fast the process of buying from a Bitcoin ATM is:
Today, many ATMs make you pass extra verification so things won't be as fast as the video above.
Is it Safe to Send Money?
If someone you don't know asked you to send them money through a Bitcoin ATM teller machine, it's likely a scam.
Google is filled with stories of people losing money in ATM scams(3).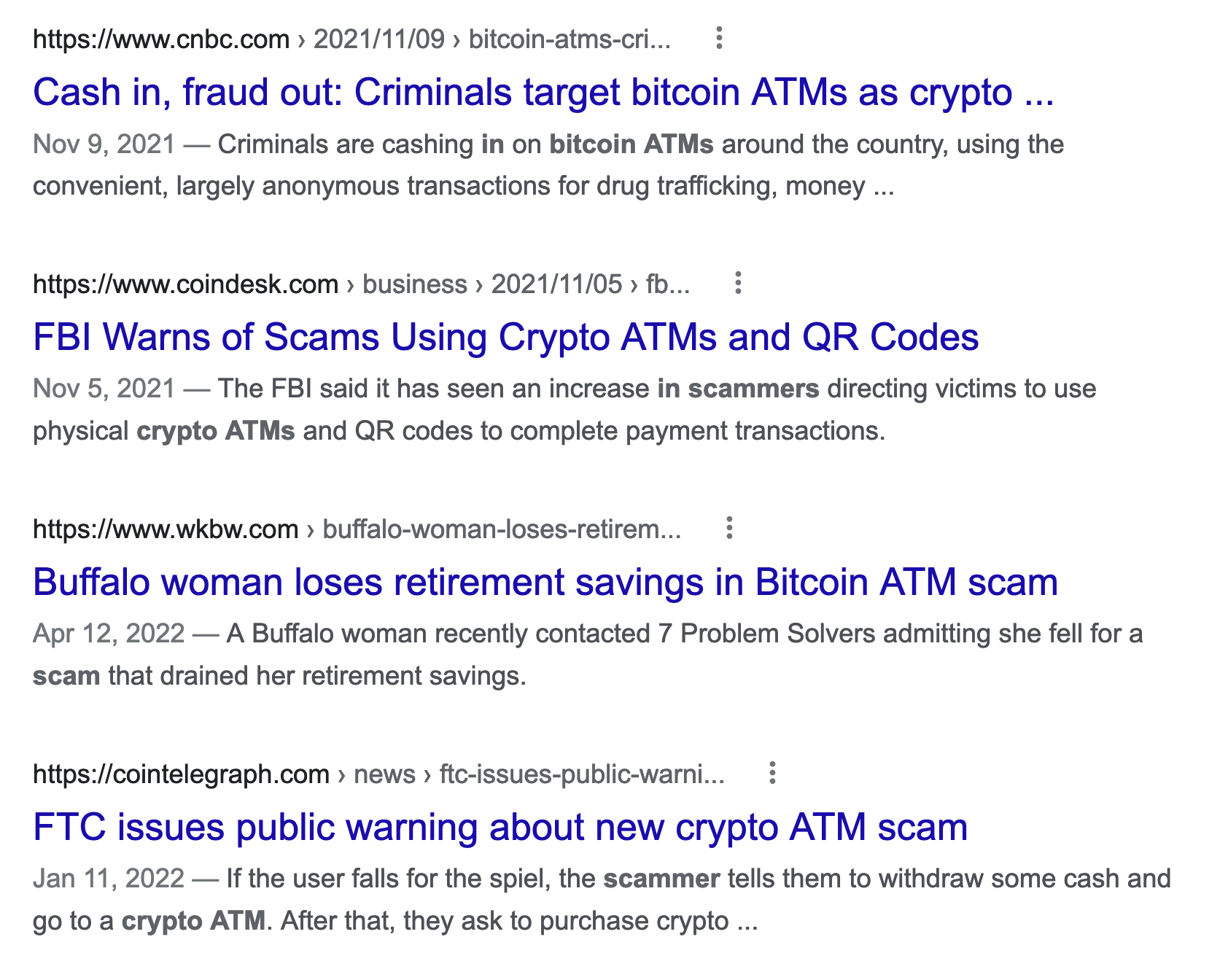 When finding an ATM machine to use, always try to find one in a public area like a mall or gas station. This will make the process more secure for you.
Guides from Popular Vendors
Every ATM operator has different ATMs, therefor it may be helpful to watch a video for the specific provider you're trying to use.
So, once you've decided on which ATM you're going to use, figure out the company operating the machine.
Once you know the operator, you can see if it's listed in the videos below.
Bitstop
Coinflip
Coinsource
Bitcoin Depot
Bitcoin of America
Bitcoin ATM Fees
The fees to buy bitcoins and crypto at an ATM with cash generally cost 5-12%. It's optimal to buy bitcoins online from an online exchange if you want to buy in a more cost effective way.
Online exchanges generally charge between 0%-2% in fees.
Verification
Bitcoin ATMs may require identity verification. This is because most countries have strict Know Your Custom laws, meaning the operators are required to ID each buyer or seller at the ATM.
Article Sources
BuyBitcoinWorldWide writers are subject matter experts and base their articles on firsthand information, like interviews with experts, whitepapers or original studies and experience. We also use trusted research and studies from other well-known sources. You can learn more about our editorial guidelines.