We may receive advertising compensation when you click certain products. Before jumping into this page, an important disclosure.
eToro
eToro allows you to buy Bitcoin & crypto in the United States.

It offers a free wallet, app, and is easy and quick to use for purchases.

Limited-time offer: Get $10 free once you trade $100 worth of cryptocurrency.

Cryptocurrency is offered by eToro USA LLC ("the MSB") (NMLS: 1769299) and is not FDIC or SIPC insured. Investing involves risk, and content is provided for educational purposes only, does not imply a recommendation, and is not a guarantee of future performance. BuyBitcoinWorldwide.com is not an affiliate and may be compensated if you access certain products or services offered by the MSB.
Visit eToro's Website
Pros
Trusted exchange with 25+ million users
Easy to use to buy
The interface is clean and many coins supported
Cons
You cannot deposit cryptocurrency, but you can deposit with other payment methods
Ease of Use
Easy
Privacy
Low
Speed
Average
Fees
Low
Reputation
Trusted
Limits
High
Kraken
Founded mid-2011, Kraken is the one of the world's largest cryptocurrency exchanges, and one of the largest in based on daily average trading volume. It is available in almost all countries.

Deposits can be made via bank wire, ACH and SWIFT. Users can buy bitcoin, ethereum, dogecoin and dozens of other coins. Visit Kraken's Website
Pros
Very low 0.25% taker fee, falling to 0.1% with sufficient trading volume
Very low maker fee, falling to 0% with sufficient trading volume
Highly-rated for security and data protection
Cons
Requires ID verification, so not private
Ease of Use
Hard
Privacy
Low
Speed
Average
Fees
Low
Reputation
Trusted
Limits
High
Coinbase
Coinbase is one of the largest exchanges, with over 100 million users.

USA users can buy bitcoins and crypto fast and easily using Coinbase's free app or on its website.

Coinbase also offers a free wallet for its users.

Eligible US residents (excluding Hawaii) who successfully create an account and purchase crypto will receive $5 in Bitcoin (BTC) added to their Coinbase portfolio. Visit Coinbase's Website
Pros
Trusted exchange with 100 million+ users
Based in the USA; with a free wallet included
App available on Apple App Store & Play Store
Cons
Easy to use but fees can be high
Coinbase may track how and where you spend your bitcoins
Ease of Use
Easy
Privacy
Low
Speed
Average
Fees
Average
Reputation
Trusted
Limits
High
Bitcoin IRA
Bitcoin IRA offers a tax-advantaged way to acquire Bitcoin via an IRA.
Visit Bitcoin IRA's Website
Pros
Tax-advantaged Bitcoin savings
Easy to set up an account
Cons
Cannot custody the Bitcoin yourself
Ease of Use
Average
Privacy
Low
Speed
Fast
Fees
High
Reputation
Trusted
Limits
High
Gemini
Gemini is a New York-based Bitcoin exchange, open to residents of the United States, UK, Canada, Hong Kong, Japan, Singapore and South Korea. Deposits can be made via wire transfer, SEPA or ACH transfer.
Get $20 of free BTC after trading $100 or more within 30 days.
Pros
Trustworthy and regulated exchange
Instant deposit lets you buy coins quickly (but not withdraw them)
Some of the lowest fees in the US and Canada
Cons
Somewhat confusing to use for new buyers
Ease of Use
Hard
Privacy
Low
Speed
Slow
Fees
Low
Reputation
Trusted
Limits
High
Uphold
Crypto exchange established in 2015. United States residents can buy bitcoin & crypto via wire transfer, credit card, debit card and ACH transfer.
Pros
Ability to also buy gold and silver
Cons
Requires ID verification, so not private
Ease of Use
Easy
Privacy
Low
Speed
Average
Fees
Low
Reputation
Trusted
Limits
High
Coinmama
Coinmama allows customers in almost every country to buy bitcoin. They charge a 4.9%-5.9% (depends on volume) fee on each purchase.

Customers in Europe can also purchase bitcoins with SEPA transfer for a lower fee.
Pros
Works in almost all countries
Highest limits for buying bitcoins with a credit card
Reliable and trusted broker
Cons
Some of the highest fees among credit/debit card bitcoin brokers
Ease of Use
Easy
Privacy
Low
Speed
Fast
Fees
Average
Reputation
Trusted
Limits
High
River
River makes it easy to buy bitcoin. It has a clean interface, low fees and allows for automatic purchases.

It currently offers its services in all US states besides New York and Nevada.

Be sure to read our River Financial review.
Pros
Very clean interface
Unique recurring buy feature
Cons
Bitcoin-only, no support for other coins
Ease of Use
Easy
Privacy
Low
Speed
Average
Fees
Low
Reputation
Trusted
Limits
High
Swan Bitcoin
Swan Bitcoin is a dollar cost averaging Bitcoin exchange, where users can set up recurring Bitcoin purchases to be drafted from their bank account or credit card every month or week.

Get $10 in free BTC when you make your first purchase.
Pros
Easy to set up
Automated dollar cost averaging
Very low fees
Cons
First purchase takes awhile
No way to sell on platform
Ease of Use
Hard
Privacy
Low
Speed
Fast
Fees
Low
Reputation
Trusted
Limits
High
Coinbase Advanced Trader
Coinbase's exchange, Coinbase Advanced Trader (formerly called Coinbase Pro), is one of the largest Bitcoin exchanges in the United States. Users can fund their accounts via bank transfer, SEPA, or bank wire. Coinbase Advanced Trader offers good prices and low fees, but its confusing user interface may initially prove difficult to navigate.
Pros
Some of the lowest fees available for US and EU customers
Possible to buy bitcoins for 0% fees
Cons
The user interface is confusing for first-time buyers
Ease of Use
Hard
Privacy
Low
Speed
Average
Fees
Low
Reputation
Trusted
Limits
High
Bitcoin ATMs
You can use our Bitcoin ATM map to buy bitcoins with cash. Bitcoin ATMs can be a quick and easy way to buy bitcoins and they're also private. That convenience and privacy, however, comes with a price; most ATMs have fees of 5-10%. View Bitcoin ATMs
Pros
Our map makes it super easy to find a Bitcoin ATM near you
Cons
Bitcoin ATMs often have 5-10% fees per purchase
-
Bitcoin & Cryptocurrency Trading in Illinois
In March 2022, a bill that would allow the Illinois Department of Revenue (IDR) to accept crypto payments the same way they accept credit card transactions moved forward in the state Senate. The bill had passed the House and moved to the Illinois Senate in late February.(2)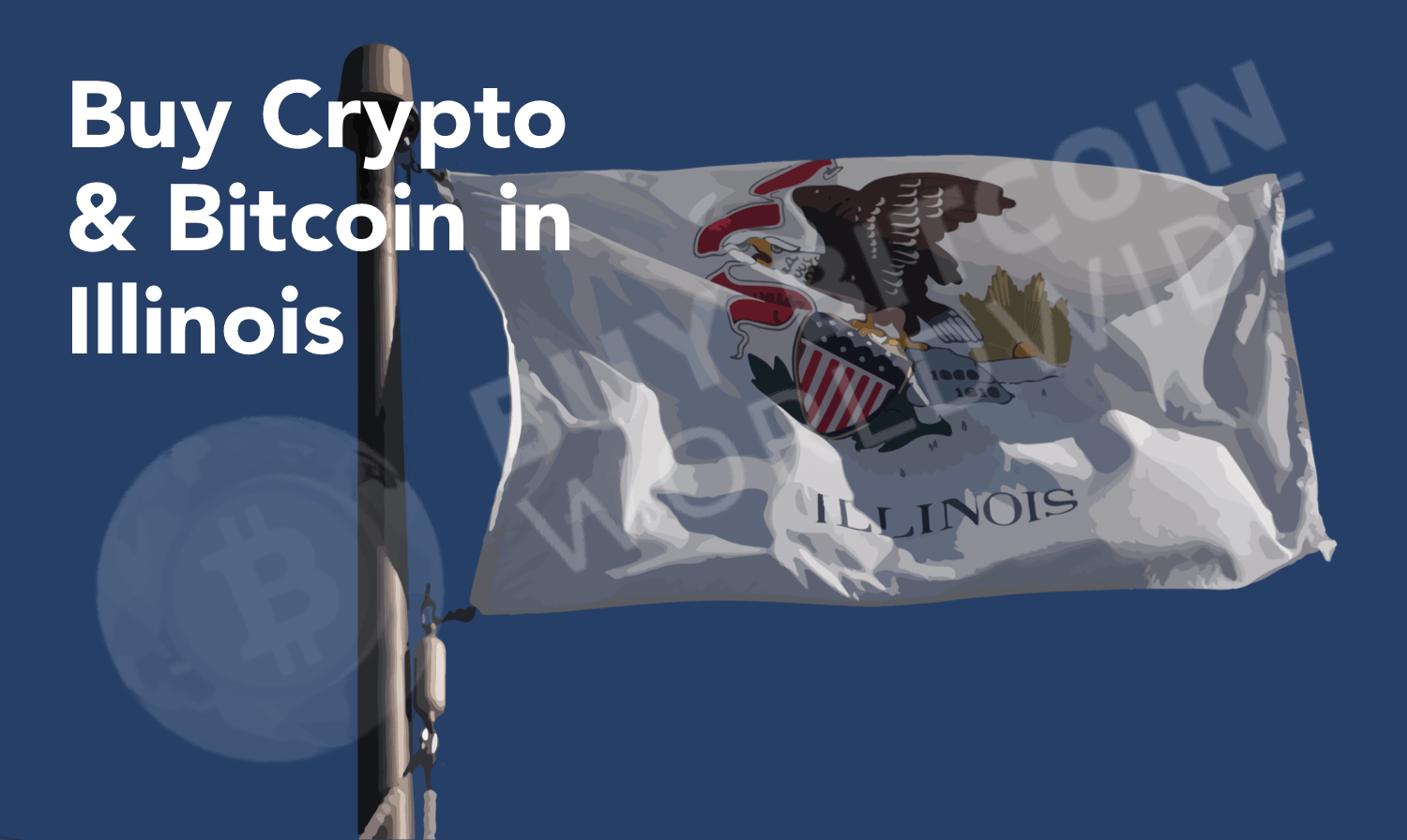 In June 2021, the Chicago Tribune reported that Illinois is striving to position itself as a cryptocurrency financial center.(3) Many factors point to this idea already becoming a reality. First, the Chicago Mercantile Exchange Group (CME) has been trading bitcoin futures since 2017.(4) In addition, the state has the largest mining facility in the Midwest operated by Sangha Systems(5), and the Chicago-based Bitcoin ATM operator, CoinFlip.(6)
All of these developments signal that Illinois is thinking about Bitcoin and creating a regulatory framework around it. That means that now is a good time to invest if you are citizen of Illinois.
If you are, and are curious about how to invest in Bitcoin, one of the easiest ways is to buy through the cryptocurrency exchanges outlined above. There are several exchanges offering Bitcoin in Illinois, and you can easily select one based on your requirements and preferences using our guide. Different exchanges have different transaction fees, withdrawal limits, payment modes, and verification processes that need to be kept in mind before users select one.
Additionally, Bitcoin buyers need to keep in mind the fact that certain exchanges might require them to get a wallet of their own before they are able to buy the digital currency. Also, it is recommended to have a wallet of your own for security reasons, preferably a hardware wallet.
Another way to buy Bitcoins in Illinois is through automated teller machines (ATMs). These ATMs allow users to instantly purchase the cryptocurrency using cash, and most of them only require a telephone number for verification. This makes them more private than exchanges.
You can use our Bitcoin ATM finder tool to find the one nearest you.
LocalBitcoins is another option. Here, you can buy and sell Bitcoin for a wide range of payment methods, from gift cards to bank transfers. LocalBitcoins is a peer-to-peer (P2P) exchange, where you buy and sell with another individual. Similar to Craigslist, this does introduce a degree of risk,. You can minimize that risk by conducting all business on the platform, making use of its escrow services, and only trading with users who have a good reputation.
-
Hacks and Crypto Scams in Illinois
In 2020, several scams were reported to the University of Illinois Police Department. The victims were students who were asked to make certain payments in Bitcoin in exchange for resolving arrest warrants, or not disclosing certain embarrassing videos of the students.(7)

University police recommended students report the threats and avoid making any payments to the scammers.
-
| Exchange Name | Support for Illinois |
| --- | --- |
| Binance.us | |
| Coinbase | |
| Coinmama | |
| Kraken | |
| Kucoin | |
| Gemini | |
| Uphold | |
| eToro | |
| Luno | |
| Crypto.com | |
Where Can I Find a Bitcoin ATM in Illinois?
The best way to find a Bitcoin ATM in Illinois is to use our Bitcoin ATM finder tool.
Here, you can filter by any of the most popular cryptocurrencies and find ATMs that support buying, selling, or both.
Where can I buy Bitcoin in Chicago?
The best way to buy Bitcoin in Chicago is to use one of the exchanges listed at the top of this page.
How do I cash out of Bitcoin in Illinois?
Any exchange listed above will allow you to sell your Bitcoin for fiat currency.
-
Illinois is advancing towards establishing a cryptocurrency regulatory framework akin to New York's BitLicense. David DeCarlo, Illinois' first regulatory innovation officer, stands as a significant advocate for this direction.
Key Details of the Proposed Bills
Two bills are currently progressing through the state's General Assembly.
Objective: Set up a crypto licensing system for Illinois and introduce consumer protection measures.
These measures encompass the safeguarding of customer assets and mandatory disclosures.
Role of Illinois Department of Financial and Professional Regulation (IDFPR)
The IDFPR, where DeCarlo is affiliated, has been at the forefront of these legislative proposals. The department envisions these steps as foundational to providing Illinois with a comprehensive state-level cryptocurrency regulatory framework, comparable to New York and potentially California.
Comparisons with New York's BitLicense
Under the proposed legislation, crypto firms in Illinois would undergo a licensing process reminiscent of New York's BitLicense. Furthermore:
Trust companies will be established for digital asset custody.
Crypto-related businesses will be mandated to provide investment disclosures, protect customer assets, and ensure defenses against potential threats.
Criticisms and Concerns
Despite the outlined approach mirroring New York's model, it has not been without its detractors. The CEO of a New York-based bitcoin rewards app even labeled New York as one of the most crypto-hostile states due to its BitLicense system.
Collaboration with California
DeCarlo indicates that Illinois is not solely looking at New York's approach. The state is also liaising with California to formulate a mutually beneficial regulatory framework.
Consumer-Focused Side of the Legislation
Illinois' initiative integrates a consumer protection component, inspired by the 2010 Dodd-Frank Act. This facet empowers state regulators to enforce crypto regulations and proactively address any missteps by unlicensed entities.
Final Remarks
The push for these crypto regulations in Illinois signifies an acknowledged urgency for protective measures. This momentum mirrors a broader U.S. trend towards heightened crypto oversight, particularly in the face of the federal government's more prolonged deliberation on the matter.
Whether or not these regulations stop innovation remain to be seen. It seems all large US states are making big pushes for further regulations, which could really damage the crypto and Bitcoin industry. Let's hope the regulations are not overbearing.
Article Sources
BuyBitcoinWorldWide writers are subject-matter experts and base their articles on firsthand information, like interviews with experts, white papers or original studies and experience. We also use trusted research and studies from other well-known sources. You can learn more about our editorial guidelines.