We may receive advertising compensation when you click certain products. Before jumping into this page, an important disclosure.
It's easy to buy bitcoin in Switzerland. There are dozens of apps and exchanges that make the process easy, whether you want to buy online or in-person.
Key Takeaways
There are dozens of secure and trusted to buy bitcoins in Switzerland.
eToro, Bitcoin Suisse and Bitpanda are three of the best exchanges.
Most Swiss exchanges can be accessed online, however you can also buy crypto with cash at ATMs.
eToro
eToro is a trading platform and crypto exchange with support for Swiss customers. It supports Bitcoin, Ethereum, Litecoin, and many other coins.

Deposits can be made quickly via:
SOFORT
Klarna
SEPA
Credit & debit card (Visa, Mastercard)
bank transfer
NETELLER
PayPal
It also offers unique features like copy trading.
Cryptoasset investing is highly volatile and unregulated in some EU countries. No consumer protection. Tax on profits may apply.
Visit eToro's Website
Pros
Offers unique copy trading feature
Trusted exchange that has been active in traditional finance
Interface is clean and easy to use
Cons
You cannot deposit cryptocurrency, but you can deposit with other payment methods
Ease of Use
Easy
Privacy
Low
Speed
Average
Fees
Low
Reputation
Trusted
Limits
High
Coinbase
Coinbase is one of the largest Bitcoin (BTC) and cryptocurrency brokers in the world. They represent an easy and fast way for new users to purchase crypto, with special support for Swiss customers.

Customers in Switzerland can purchase bitcoins with:
SOFORT
Credit & debit card
bank transfer
SEPA transfer
iDEAL
Pros
High liquidity and buying limits
Easy way for newcomers to get bitcoins
"Instant Buy" option available with debit card
Cons
Purchases made with bank transfer can take up to 5 days to complete
Coinbase may track how and where you spend your bitcoins
Ease of Use
Easy
Privacy
Low
Speed
Average
Fees
Average
Reputation
Trusted
Limits
High
Bitstamp
Bitstamp, founded in 2011, is based in the UK but offers support for customers in Switzerland. We researched and found that in 2019, Bitstamp formed a special partnership with Dukascopy. This allows Swiss customers fast transfers.
Pros
One of the longest-running Bitcoin exchanges
Very low 0.25% fee, falling to 0.1% with sufficient trading volume
Offers wide range of altcoins
Cons
High 8% fee on small credit card purchases, falling to 5% with sufficient trading volume
Ease of Use
Hard
Privacy
Low
Speed
Slow
Fees
Average
Reputation
Trusted
Limits
High
Coinmama
Coinmama allows customers in Switzerland to buy bitcoins, litecoins, ethereum and many other coins with a credit or debit card, SEPA, bank transfer, or SOFORT.

They charge a 4.9%-5.9% (depends on volume) fee on credit card purchases.

Customers in Switzerland can also purchase cryptocurrency with SEPA or SOFORT for a lower fee.
Pros
Works in almost all countries
Highest limits for buying bitcoins with a credit card
Reliable and trusted broker
Cons
Some of the highest fees among credit/debit card bitcoin brokers
Ease of Use
Easy
Privacy
Low
Speed
Fast
Fees
Average
Reputation
Trusted
Limits
High
Bitcoin Suisse
Founded in 2013, I've observed Bitcoin Suisse's decade-long excellence as Switzerland's premier Bitcoin exchange. We appreciate their secure cold storage, Bitcoin Suisse Vault, and the safeguarding guarantee from a Swiss Bank. Their staking service and loan solutions leverage crypto assets efficiently.
Pros
Trusted Swiss exchange founded in 2013; trusted crypto industry pioneer.
CHF 95+ million in equity capital.
Partnerships, ETPs, Ethereum scaling, decentralized identity integrations.
Cons
Better for experienced buyers in CH
Ease of Use
Average
Privacy
Low
Speed
Fast
Fees
Low
Reputation
Trusted
Limits
High
Coinbase Advanced Trader
Coinbase's exchange, Coinbase Advanced Trader (formerly called Coinbase Pro), is one of the largest Bitcoin exchanges in the United States. Users can fund their accounts via bank transfer, SEPA, or bank wire. Coinbase Advanced Trader offers good prices and low fees, but its confusing user interface may initially prove difficult to navigate.
Pros
Some of the lowest fees available for US and EU customers
Possible to buy bitcoins for 0% fees
Cons
The user interface is confusing for first-time buyers
Ease of Use
Hard
Privacy
Low
Speed
Average
Fees
Low
Reputation
Trusted
Limits
High
Bity
Bity is a Bitcoin exchange and ATM operator, based in Switzerland. Their 5 ATMs allow for a quick first purchase and only require phone verification for an initial buy limit of 1,000 EUR or CHF. Their online service accepts wire transfers, SOFORT and online bank transfers.
Pros
Easy to start buying bitcoins after mobile phone verification
Payment limit of up to €100,000 annually after intensive verification
Cons
ID verification is required for most purchases, so not a private way to buy
Low annual limit of only €4,000 without intensive verification
Ease of Use
Average
Privacy
Low
Speed
Fast
Fees
Low
Reputation
Trusted
Limits
High
Bitcoin ATMs
You can use our Bitcoin ATM map to buy bitcoins with cash. Bitcoin ATMs can be a quick and easy way to buy bitcoins and they're also private. That convenience and privacy, however, comes with a price; most ATMs have fees of 5-10%. View Bitcoin ATMs
Pros
Our map makes it super easy to find a Bitcoin ATM near you
Cons
Bitcoin ATMs often have 5-10% fees per purchase
-
Bitcoin & Cryptocurrency Trading in Switzerland
Buying Bitcoin in Switzerland is pretty easy thanks to the government's crypto friendly attitude (more on that below).
In November 2022, a change by the Swiss financial regulator will introduce new requirements for crypto transactions. Specifically:
Identity Proof: Customers will need to prove their identity if they make transactions that total 1,000 Swiss francs ($1,000) or more over a monthly period when they swap crypto for cash or another anonymous form of money.
The Financial Market Supervisory Authority (Finma) provided reasoning in a recent report:
Illicit Trade: "Virtual currencies are often used as a payment instrument for illicit trade, notably in drug trafficking, on the darknet, or for the payment of ransoms after cyberattacks."
Money Laundering Risks: "The risk of money laundering in the domain of virtual currency is reinforced by potential anonymity and by the speed and cross-border nature of transactions."
However, this change raised concerns among citizens and crypto companies because:
Customer Burden: It's perceived as burdensome on customers.
Data Security: The storage of customer data becomes more susceptible to hacking.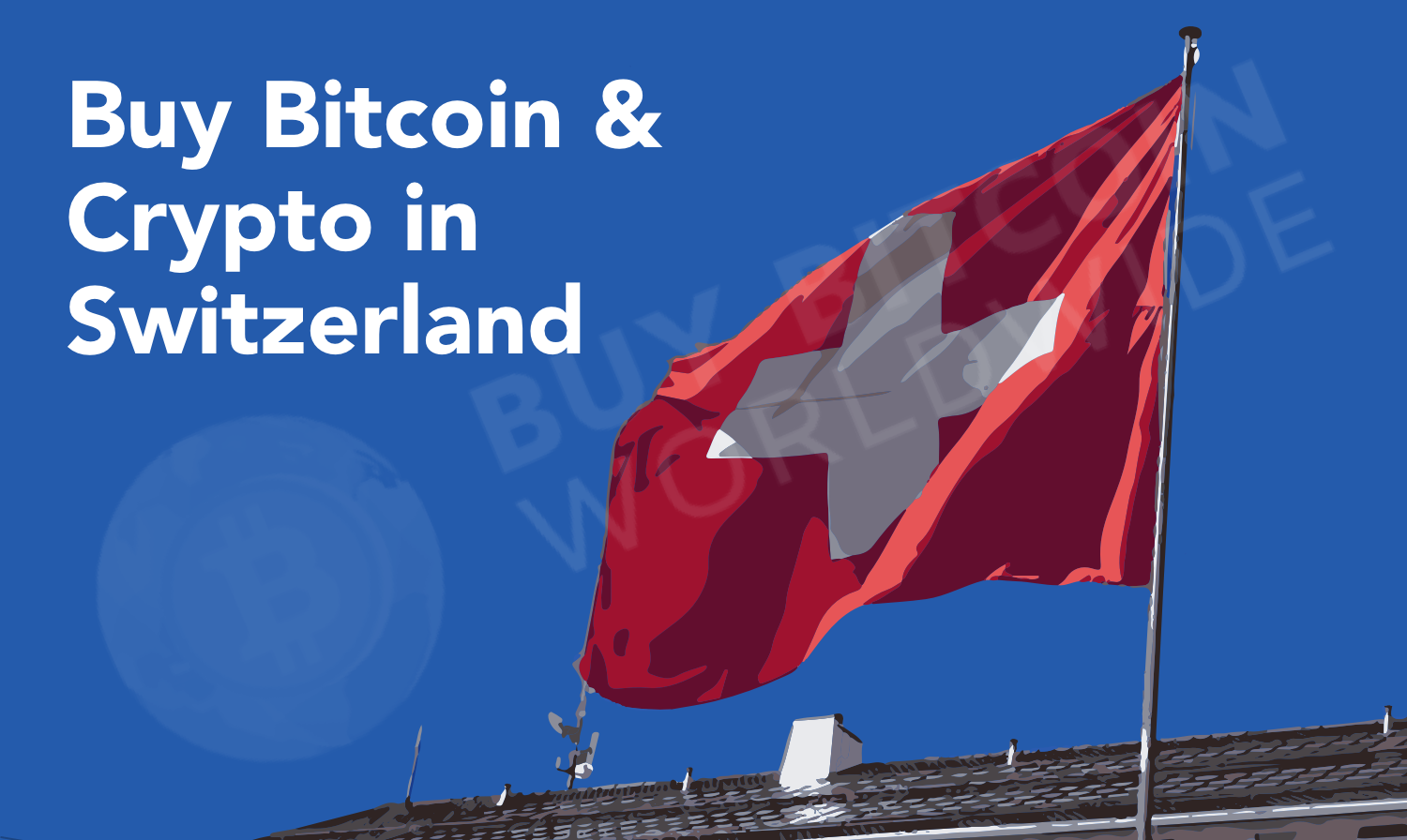 Before diving into the world of Bitcoin, there are crucial security measures to consider:
Hardware Wallets: Ensure you have a secure hardware wallet like a Coldcard or TREZOR before signing up with any exchange.
Centralized Exchanges: While Bitcoin's blockchain is immutable and safe from hackers, centralized exchanges such as Coinbase and Coinmama are vulnerable to attacks.
Storage Caution: Storing small amounts of Bitcoin on an exchange might be acceptable, but it's risky, especially for larger amounts.
Protection Priority: Safeguarding your Bitcoin should be paramount. Start with a secure form of cold storage that hackers cannot breach.
Once you're set with security:
Steps to Buy: Obtain a wallet, pick an exchange, verify your identity, connect your preferred payment method, and start trading.
Swiss Recommendation: If interested in a Switzerland-based exchange, consider Bity. As a Bitcoin ATM company based in Switzerland, they have 5 ATMs offering fast withdrawals and high limits.
Swiss Banks and Bitcoin
Switzerland's banking industry is known to safeguard wealth, which is why Bitcoin is a natural fit for the country.
Founded recently with a universal banking license, SEBA Bank AG has a plethora of services, from fiat currency storage to crypto custody (they manage your cryptocurrency).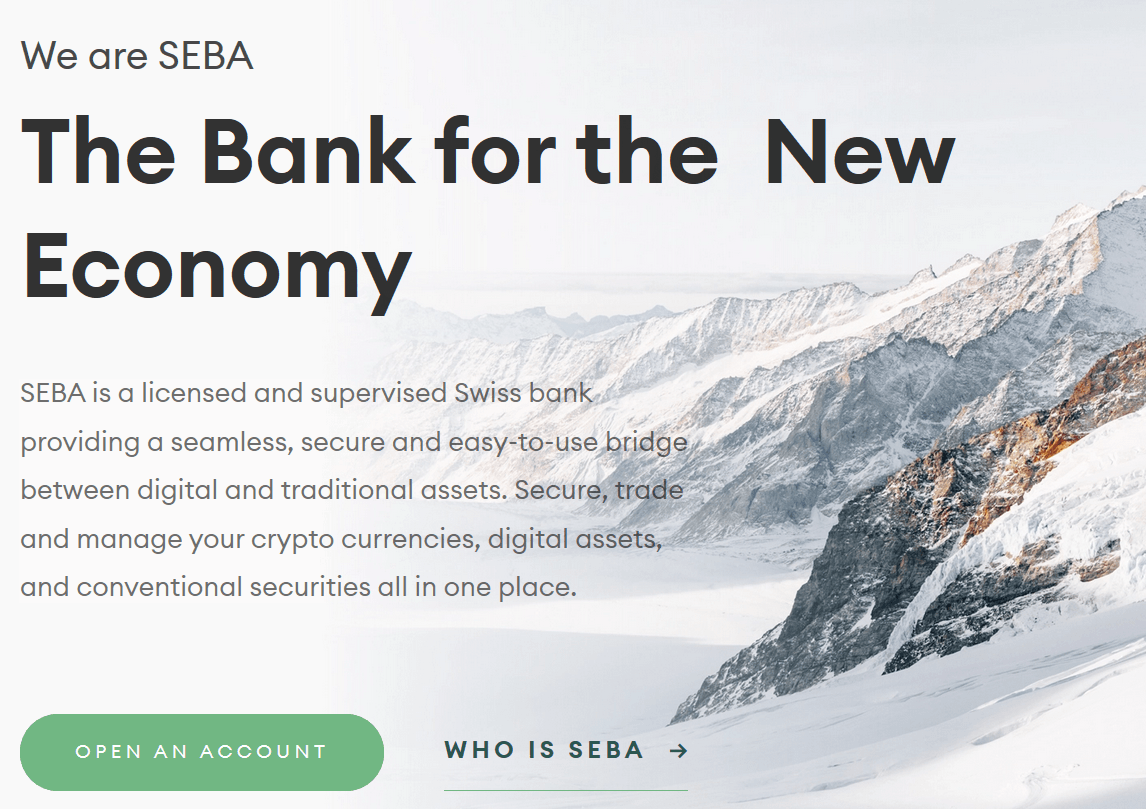 SEBA's home page
The Swiss startup boasts an impressive range of features:
Fiat Currencies: It supports multiple fiat currencies including American dollars, Singaporean dollars, and Hong Kong dollars.
Crypto Debit Card: One notable offering is their crypto-connected debit card. This unique card auto-converts crypto to traditional currency in the backend, enabling its use in everyday commercial settings and drawing from a cryptocurrency balance.
SEBA Bank AG: This institution exemplifies Switzerland's long-standing tradition of wealth protection, now extending its expertise into the crypto domain.
For those looking to buy Bitcoin in Switzerland:
Cryptocurrency Exchanges: One of the simplest methods is via cryptocurrency exchanges. Numerous exchanges offer Bitcoin in Switzerland. Selection depends on factors such as transaction fees, withdrawal limits, payment modes, and verification procedures. You can choose an appropriate one based on our provided list and your individual needs.
Wallet Requirement: While some exchanges might mandate having a personal wallet for Bitcoin purchase, even if not compulsory, owning one boosts security. A hardware wallet is particularly recommended. If without a wallet, consult our guide on the Best Bitcoin and Cryptocurrency Wallets for recommendations.
-
Exchange Hacks and Crypto Scams in Switzerland
Bancor Hack
In July of 2018, the "decentralized" exchange Bancor, based out of Israel and Switzerland, announced that hackers had stolen ~$23.5M in crypto assets.
These included:
$12.5 million in Ether
$1 million in Pundi X's NPXS token
$10 million in Bancor's BNT
This hack occurred when "a wallet used to upgrade some smart contracts was compromised", according to Bancor's spokesperson.
Bancor raised over $150M during its Initial Coin Offering the previous year.
The lesson to learn from the Bancor hack is that just because someone claims their exchange is decentralized does not mean that the wallets can't be hacked or that the software does not have critical bugs that leave customers vulnerable.
Charlie Lee, Litecoin founder, put it best:
E-Coin Scam
The Swiss Financial Market Supervisory Authority (Finma) has blocked $2M worth of funds sent to Quid Pro Quo Association for issuing E-Coins. Quid Pro Quo claimed that E-Coin was a cryptocurrency, yet it was discovered that there was no Blockchain, and the coins simply existed on a database held on Quid Pro Quo's servers.
According to the statement from Finma,
These three legal entities accepted funds amounting to at least four million Swiss francs from several hundred users.
The scheme also promised to back the coins with physical assets, which it had failed to do. There were also apparently two other scam currencies, but these currencies were not named in the warning from Finma.
-
Mining Bitcoin in Switzerland
The cost of purchasing expensive hardware aside, mining takes time and energy (literally) which gets expensive.
Especially considering the price of electricity in Switzerland, buying Bitcoin from one of the exchanges listed above is your best bet.
Swiss citizens pay roughly 0.20 Franks per kWh, nearly double the cost of electricity in the United States, where mining is also not profitable.

-
Does Coinbase work in Switzerland?
Citizens of Switzerland can convert, buy, and sell cryptocurrencies with fiat. Supported payment methods are:
Bank Deposit
PayPal
3D Secure Credit Card
Debit Card
Credit Card
Where Can I Find a Bitcoin ATM in Switzerland?
Switzerland is among the countries with the most Bitcoin ATMs per capita. At 103 ATMs across the country, you are never too far from a Bitcoin ATM, so if you want to stack some sats for cash, Switzerland is a great place to do it.
You can use our Bitcoin ATM finder tool to find the one nearest you.
What is the price of Bitcoin in Switzerland?
Bitcoin prices are changing every second.
The best way to find the most up-to-date price of Bitcoin is to check out our Bitcoin price page.
Does Bitcoin mining use more energy than Switzerland?
Switzerland currently consumes about 63 TWh of electricity every year while emitting around 35 Mt of CO2 each year.
According to the International Energy Agency, a non-profit that works with governments and corporations to secure sustainable energy policies internationally claims that Switzerland consumes about 63 TWh of electricity each year. It also emits about 35. Mt of CO2 each year.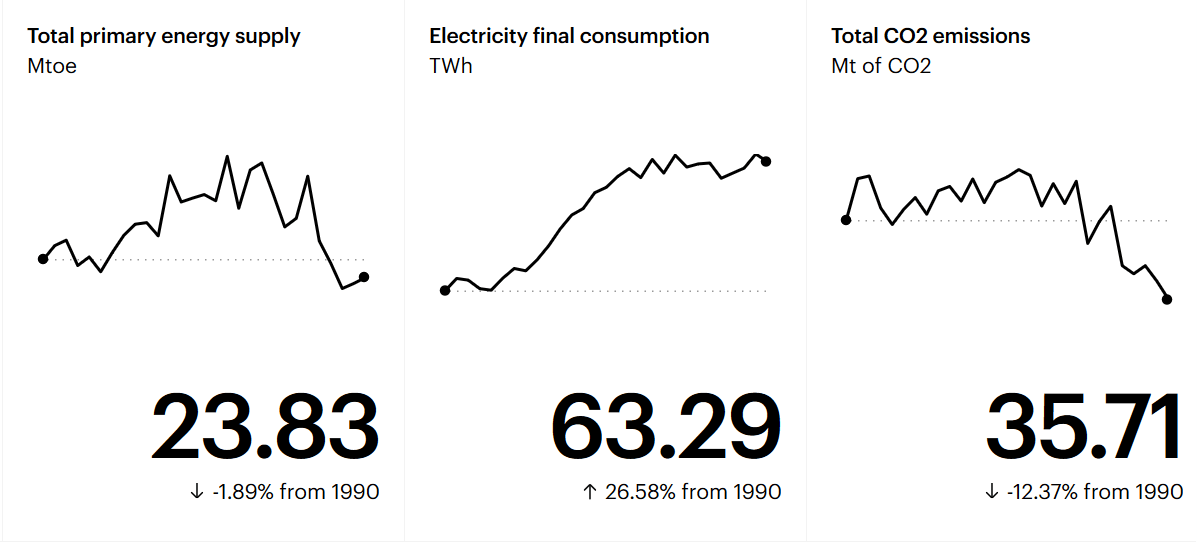 By contrast, according to Digiconomist, Bitcoin consumes about 70 TWh of electricity and emits ~33 Mt of CO2 each year.

That means that Bitcoin actually consumes more electricity that Switzerland consumes while emitting less CO2.
Is there a bitcoin ETF in Switzerland?
There are currently no Bitcoin ETFs in Switzerland.
What is crypto valley in Switzerland?
Crypto Valley is a city in Switzerland that was founded on the idea that companies, large and small, could move their headquarters to a place that is friendly to crypto startups. The city raised hundreds of millions of dollars to get the ball rolling, and indeed many startups did move there. However, in April of 2020, Swiss Blockchain Federation found that 80% of the 203 firms surveyed said bankruptcy was imminent and that only half of the 50 biggest companies in Crypto Valley would last another year.
In response to this, Crypto Valley management is turning to the Federal Government and asking for a 100 million Swiss Franc bailout to keep the project going. So much for decentralization!
Can you buy a house with Bitcoin in Switzerland?
Yes, you can currently buy homes and other property types with Bitcoin via Bithome.ch.
Where can I spend bitcoin in Switzerland?
Bitcoin is accepted at lots of stores and service providers all over Switzerland. So many, in fact, that we couldn't possibly list them all here. However, you can find specific kinds of services and goods filterable on a map over at coinmap.org.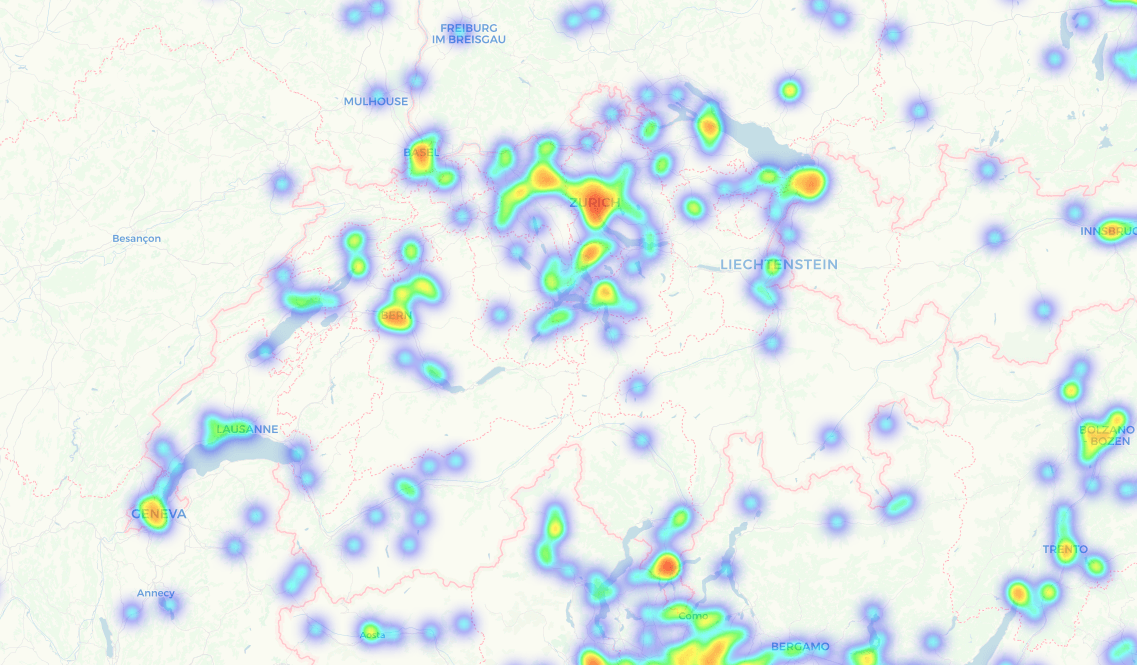 The colored sections indicate areas where there is heavier acceptance of Bitcoin
Which banks in Switzerland are bitcoin friendly?
Zurich-based SEBA Bank AG offers a suite of services for crypto enthusiasts, such as crypto custody and crypto-connected debit cards.
Falcon Group also offers these services as well as Bitcoin savings and brokerage services.
Article Sources
BuyBitcoinWorldWide writers are subject-matter experts and base their articles on firsthand information, like interviews with experts, white papers or original studies and experience. We also use trusted research and studies from other well-known sources. You can learn more about our editorial guidelines.
Startup.ch - Bitcoin Suisse AG, https://www.startup.ch/Bitcoin
Swissinfo.ch - Swiss banks remain wary of bitcoin, https://www.swissinfo.ch/eng/business/swiss-banks-remain-wary-of-bitcoin/48295598
Bitcoin Magazine - You Can Now Live In This Swiss City Solely On Bitcoin, https://bitcoinmagazine.com/culture/live-in-swiss-city-solely-on-bitcoin