How to Buy Bitcoin on PayPal.com
PayPal started offering crypto to its customers in 2020. In our testing, buying with PayPal works fast but has high fees:
| Purchase amount | Fee |
| --- | --- |
| 1 – 4.99 USD | 0.49 USD |
| 5 – 24.99 USD | 0.99 USD |
| 25 – 74.99 USD | 1.99 USD |
| 75 – 200 USD | 2.49 USD |
| 200 – 1000 USD | 1.80% |
| 1000.01 USD + | 1.50% |
There are no fees for transferring crypto into PayPal, or to another PayPal or Venmo user.
1. Login to PayPal and Select Cryptocurrency
You should see the option for cryptocurrency in the top right of the dashboard, next to 'Send' and 'Request'.

2. Select 'Bitcoin'
Or choose any of the other coins listed.

3. Select 'Buy'
4. Choose How Much You Want to Buy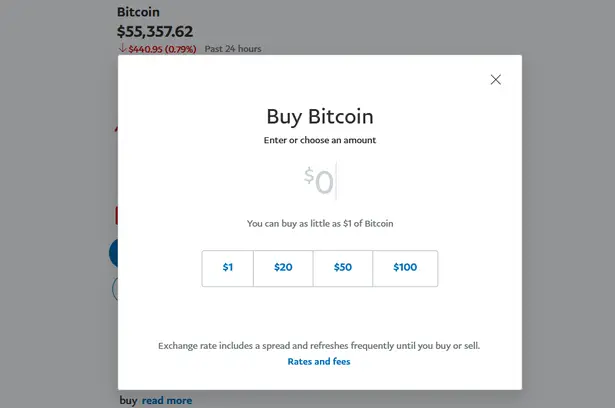 Enter an amount of dollars you want to spend on Bitcoin or choose a pre-set amount below.
5. Select Payment Method
You likely already have you bank account linked to you PayPal account, but you can also hook up another method if you don't want to use your bank account.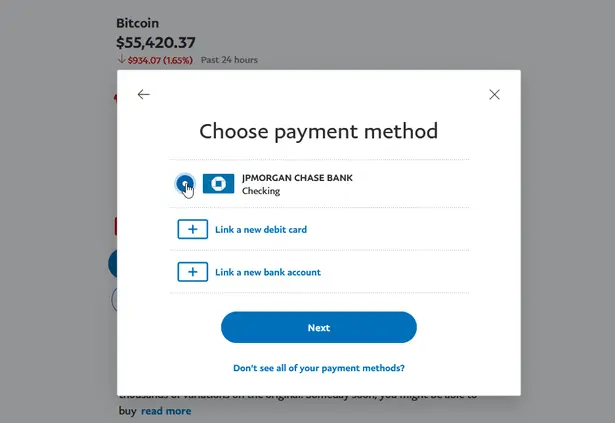 6. Hit the 'Buy' button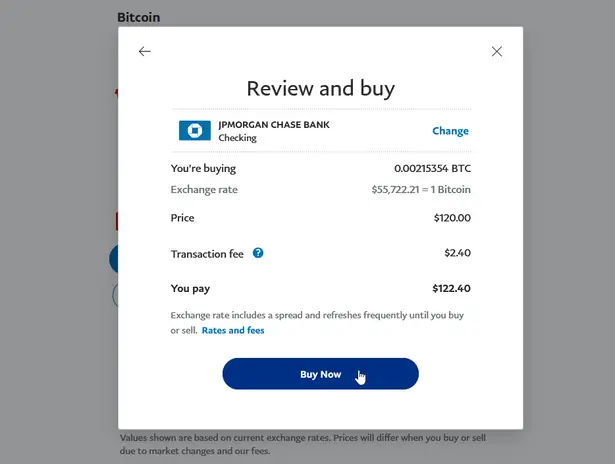 After finalizing your purchase, you will be taken to a confirmation screen and you should see your coins reflected in your PayPal account dashboard.
PayPal also allows you to acquire PUSD. PayPal PUSD is a stablecoin tied to the US dollar, providing a stable alternative to volatile cryptocurrencies. As of now, it's only available for US customers with plans for global expansion down the line.
How to Buy Bitcoin on Venmo
1. Login to Venmo and Select Crypto from the hamburger menu
You should see the option for crypto near the top.
Note that you mut verify your identity with the settings of the app, and you still may not see a crypto option, as it is being rolled out slowly.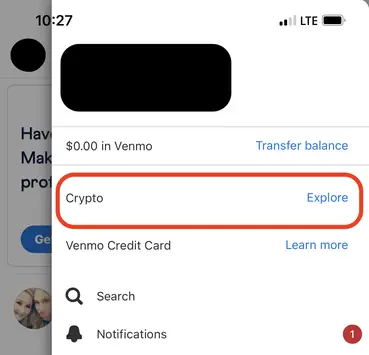 2. Select 'Bitcoin'
Or choose any of the other coins listed.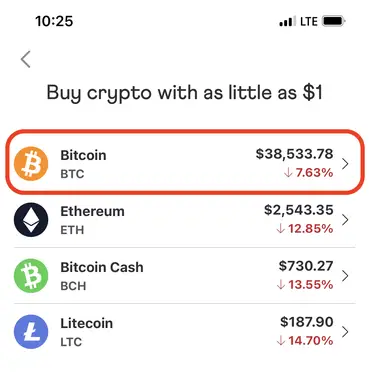 3. Select 'Buy'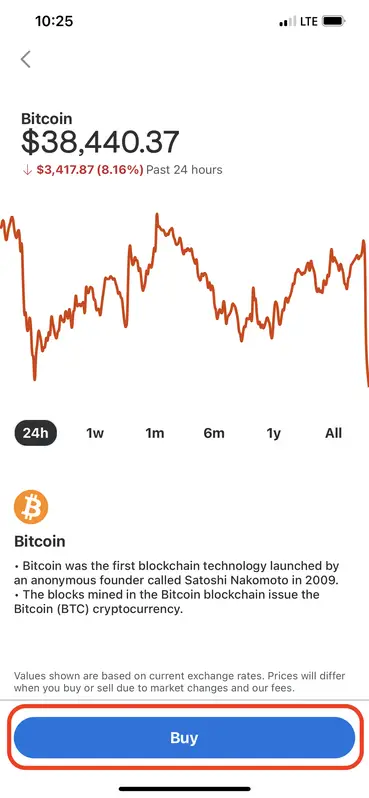 4. Choose How Much You Want to Buy and hit 'Buy Bitcoin' to finalize the sale.
For Venmo, you can use your existing Venmo balance to pay for the bitcoins or add funds to you venmo account.
And that's basically all there is to it!
---
How to Buy Bitcoin with Paypal: Exact Steps
1. Create an account on an exchange that accepts PayPal
First, you'll need to sign up on an exchange that accepts PayPal and create an account. You'll need to have an email and phone number ready, as you'll likely need to confirm both.
How to Send Bitcoin on PayPal to Another Wallet
First, make sure you have crypto that's available to send in your PayPal wallet.
Get the address of the wallet you want to send to.
Login to PayPal, and go to your wallet.
Paste the wallet address you want to send to.
Hit send.
Frequently Asked Questions
What cryptocurrencies does PayPal support in US?
Customers (except Hawaii) can buy, sell and hold four cryptocurrencies on PayPal: Bitcoin, Ethereum, Litecoin, and Bitcoin Cash.
Can You Buy Bitcoin with PayPal on Binance?
Answer: No, as of now Binance does not work with PayPal for buying or selling.
Does PayPal offer a bitcoin wallet?
Answer: Yes, PayPal offers a free built-in Bitcoin and crypto wallet. It also supports Ethereum, Litecoin and Bitcoin Cash.
Does PayPal offer crypto wallet addresses?
Answer: Yes, PayPal offers addresses as part of its built-in crypto wallet.
Can you buy ethereum or XRP on PayPal.com?
Answer: PayPal offers Ethereum but not Ripple (XRP).
Is buying with PayPal private?
Answer: No, as you are required to verify your ID and do KYC in order to buy.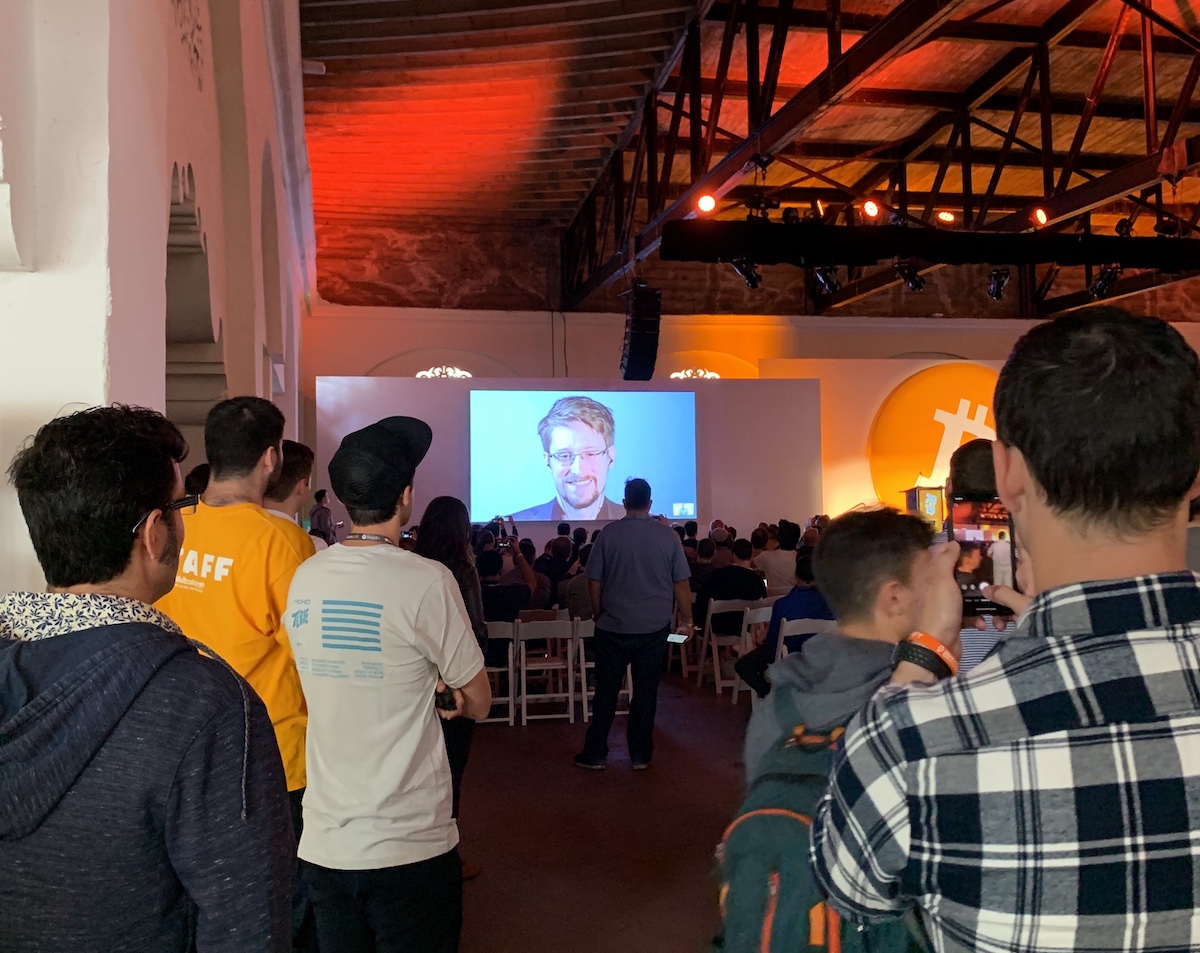 Does PayPal support business accounts?
Answer: PayPal only supports personal accounts at this time, and not business accounts.
Can I buy bitcoin on Venmo?
Last year, Venmo announced it would be adding Bitcoin and a few other cryptos to its platform.
This allows their 70 million users to buy Bitcoin directly after going through a short verification process.
The interesting thing about Venmo Bitcoin purchases is that users can use their existing Venmo balance to make the buy instantly. However, like PayPal, users cannot withdraw the Bitcoin from their Venmo wallet.
See our tutorial above, where we downloaded the Venmo app and tested buying crypto. Having used the Venmo app to buy bitcoin, I'm happy to report it's easy to buy and also send to friends.
Compared to buying with PayPal, it is a more smooth process. A co-work watched me test also felt the process was quick.
Does PayPal Accept Bitcoin as a Deposit Method?
You can't fund your PayPal account using Bitcoin from within PayPal.
However:
Using an exchange like Coinbase you can sell bitcoins to your PayPal account.
Can I Buy Bitcoin with PayPal on Coinbase?
No, you can only sell bitcoins from your Coinbase account TO PayPal.
Can I Buy Bitcoin with PayPal No ID?
eToro requires ID to purchase although you may be required to use a verified PayPal account.
What is xCoins?
xCoins is an exchange that focuses on connecting lenders to buyers. Lenders fund their account with Bitcoin, and then select their interest rate. Buyers select from an array of loans, choose the one is suited for them, then pay with their preferred payment method such as PayPal.
What is Paxful?
Paxful used to be another way to buy bitcoin with PayPal, but it is now shut down.
Can you use PayPal to receive money for selling Bitcoin?
Yes of course!
As mentioned above, you can sell cryptocurrencies to Coinbase or on LocalBitcoins and receive cash to your PayPal account. use in the USA and some of Europe. The fees for selling bitcoins to PayPal are 3.75% using Coinbase.
Can you buy other digital currency using this method?
Yes, PayPal and eToro all support multiple cryptocurrencies you can buy using PayPal.
PayPal will let you buy:
Bitcoin
Ethereum
Litecoin
Bitcoin Cash
eToro allows you to buy:
Bitcoin
Ethereum
Litecoin
Bitcoin Cash
XRP
XLM
You can also use this method to buy bitcoins and then trade the bitcoins for another cryptocurrency using an exchange like Poloniex or Kraken.
Does Coinbase accept PayPal?
Answer: Yes, Coinbase allows US and international customers to use the debit cards and bank accounts connected to their PayPal accounts to purchase Bitcoin on their platform.
Does Poloniex accept PayPal?
Answer: No, Poloniex only deals with cryptocurrency and does not accept deposits using credit card, bank account transfer, cash or PayPal.
Does Kraken accept PayPal?
Answer: Kraken is currently one of the biggest crypto exchanges and many people want to know if it accepts deposits via PayPal.
Well, the answer is no. Kraken accepts bank transfers, SWIFT, SEPA and ACH.
Does Coinmama accept PayPal?
Answer: No, Coinmama only accepts bank transfers, SWIFT, SEPA, credit card, debit card and ACH.
Other Exchanges We Considered
Binance - Binance used to be popular, but now long supports PayPal.
Local Exchanges: We tested local exchanges, but didn't determine that local exchanges had proper scam prevention features.
Full List and Description of Exchanges
eToro
eToro is one of the most popular methods for PayPal. The company has been around since 2007, seriving other clients before it introduced crypto trading in 2013.
PayPal
PayPal.com direct buying is ONLY available in the USA. Customers in the USA (besides Hawaii) can easily buy bitcoin and other crypto on PayPal.
Coinbase
Coinbase one of the largest exchanges that supports buying and selling with PayPal. Coinbase has over 100 million users.

Residents of many countries can buy bitcoins and crypto fast and easily using Coinbase's free app or on its website.

Coinbase offers a free wallet for all of its users.
Article Sources
BuyBitcoinWorldWide writers are subject matter experts and base their articles on firsthand information, like interviews with experts, whitepapers or original studies and experience. We also use trusted research and studies from other well-known sources. You can learn more about our editorial guidelines.
Understanding PayPal PUSD: A Stablecoin for Secure and Convenient Payments - Coincapture, https://coinscapture.medium.com/understanding-paypal-pusd-a-stablecoin-for-secure-and-convenient-payments-95788774c308
PayPal expands the ability to buy, hold and sell cryptocurrency to the UK - Techcrunch, https://techcrunch.com/2021/08/23/paypal-expands-the-ability-to-buy-hold-and-sell-cryptocurrency-to-the-u-k/
Paypal launches crypto stablecoin - Washington Post, https://www.washingtonpost.com/business/2023/08/07/paypal-stablecoin-crypto/