Pros
Ledger's newest hardware wallet
Wide range of features for $150
Cons
$150 might be too high a price for some
Overview
In this Ledger Nano X review we are going to cover everything you need to know about Ledgers top of the line device.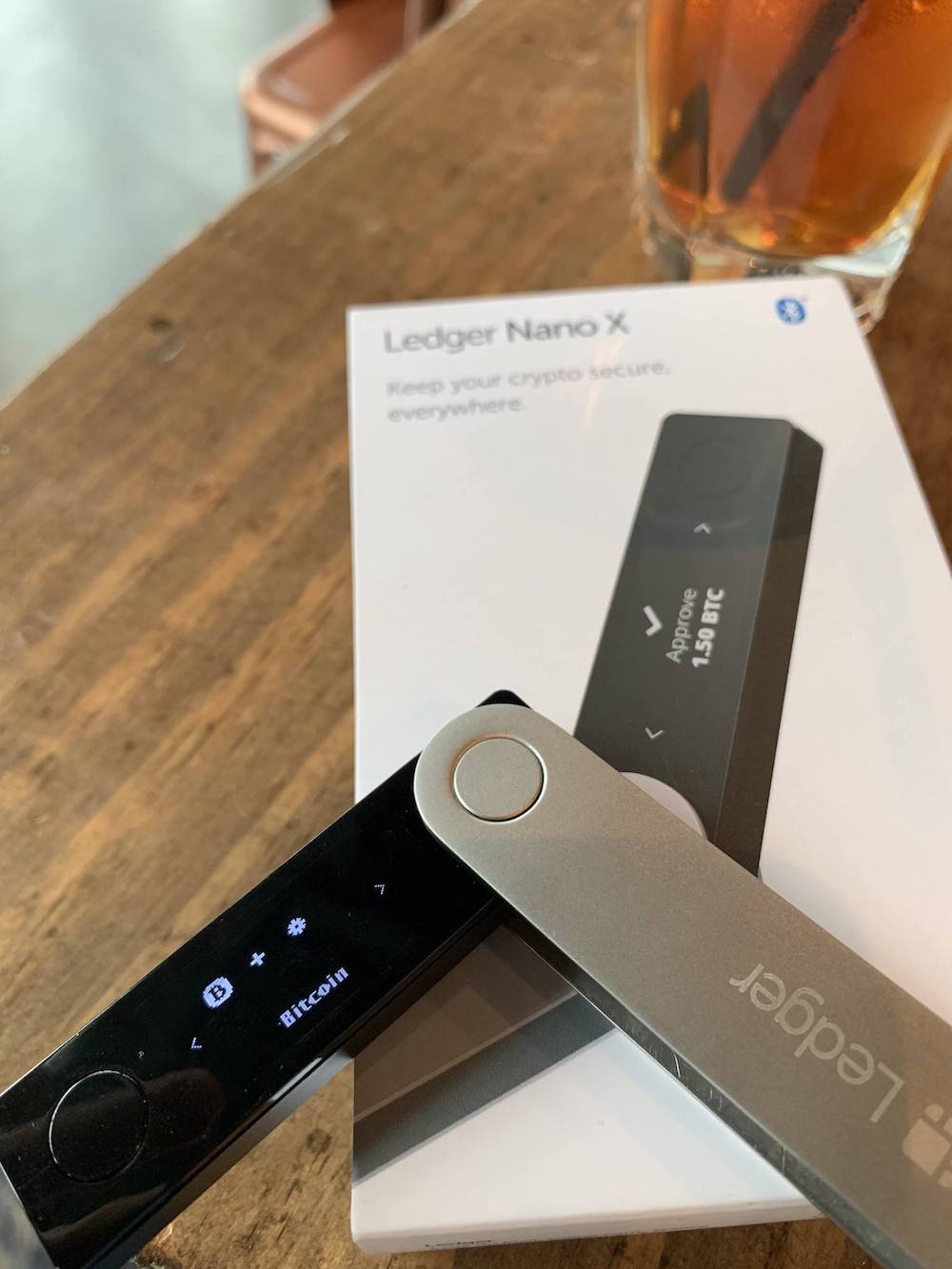 The Ledger Nano X is Ledger's newest hardware wallet and was released in 2019 as an upgrade to the Ledge Nano S.
The main idea behind the device is to be the easiest way to secure your Bitcoin and cryptocurrency offline. In the case of Ledger, the devices make use of something called a 'secure element'.
This helps make them resistant to physical attacks and allows for a more secure cold offline storage of your coins. This also protects the private keys from malware and means improved security over other software wallets.
Unfortunately, the secure element is not open-source.
After testing the device, I can confirm that this cryptocurrency hardware wallet is very easy to use.
What's in the Box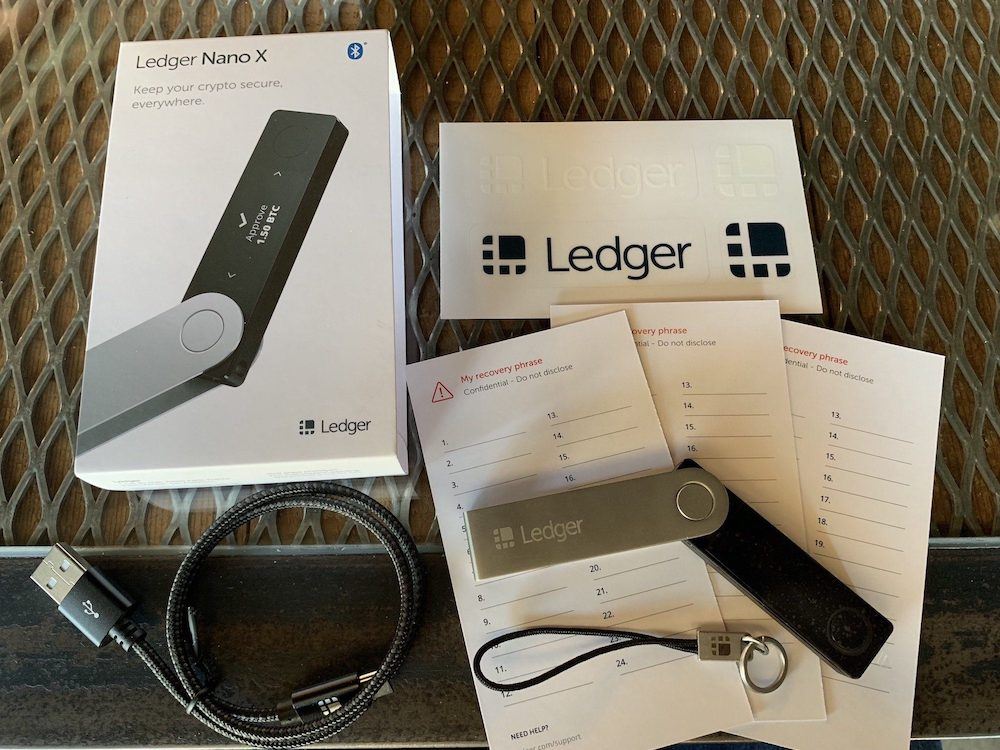 The Ledger Nano X comes nicely packaged and includes the following items:
Ledger Nano X
1 USB C cable
Keychain strap
3 recovery sheets
Ledger stickers
Price
The Ledger Nano X is priced at $119. This also includes free shipping to almost every country.
Make sure you NEVER buy a Ledger Nano X or any other hardware wallet from eBay.
Only buy from Ledger's official website.
Here is the Nano X compared to the other three popular hardware wallets: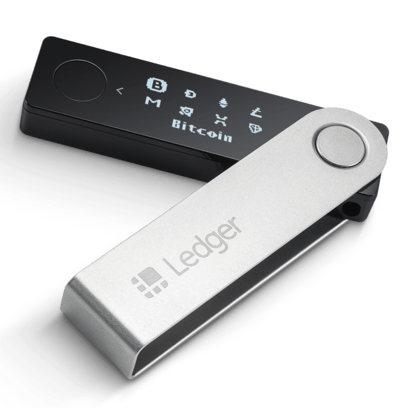 SCREEN:
RELEASED: 2019
PRICE: $119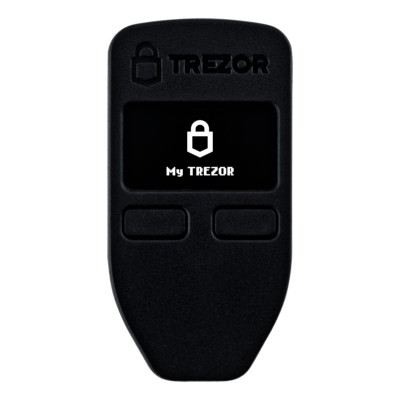 SCREEN:
RELEASED: 2013
PRICE: $72
Device Design
Here are some pictures of the Nano X.
The device when you open the box: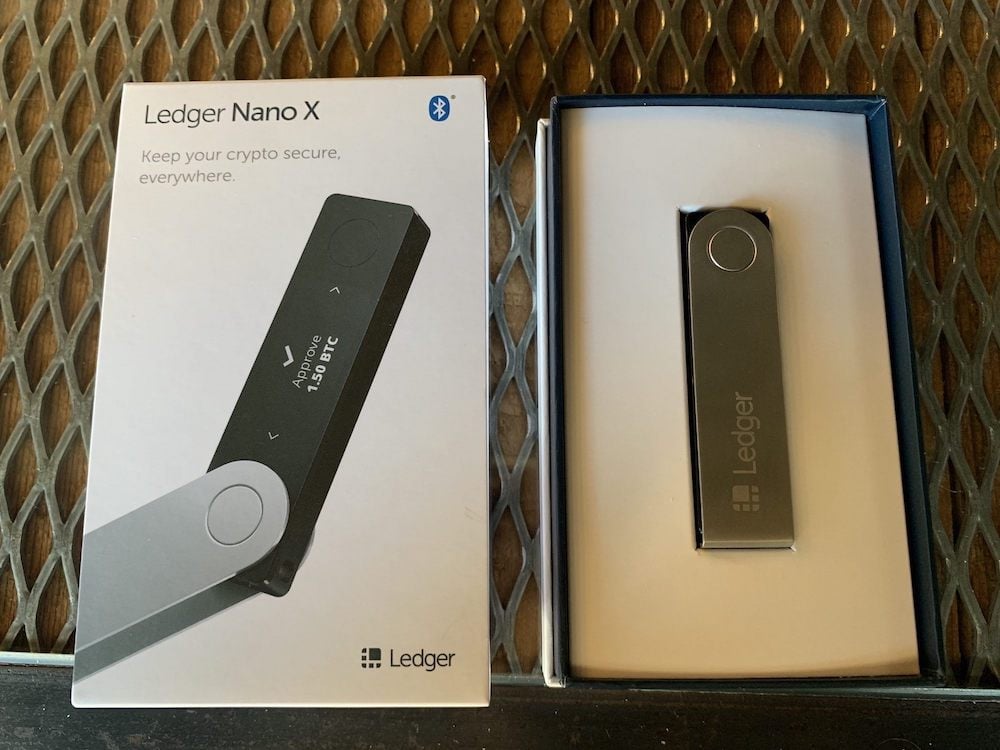 The Ledger Nano X screen is much bigger than Ledger's previous hardware wallet, the Ledger Nano S. The buttons are much bigger as well and easier to click:
Background on Ledger - A Bitcoin Security Company
Ledger has been creating hardware for Bitcoin security since 2014.
➤ MORE: Ledger Nano X vs S
Since then it has received over $85 million in funding from some of the world's top investors. Its most recent raise was for $75 million in January 2018. They raised another $380 million in June of 2021.
To date the company is worth around $1.5 billion.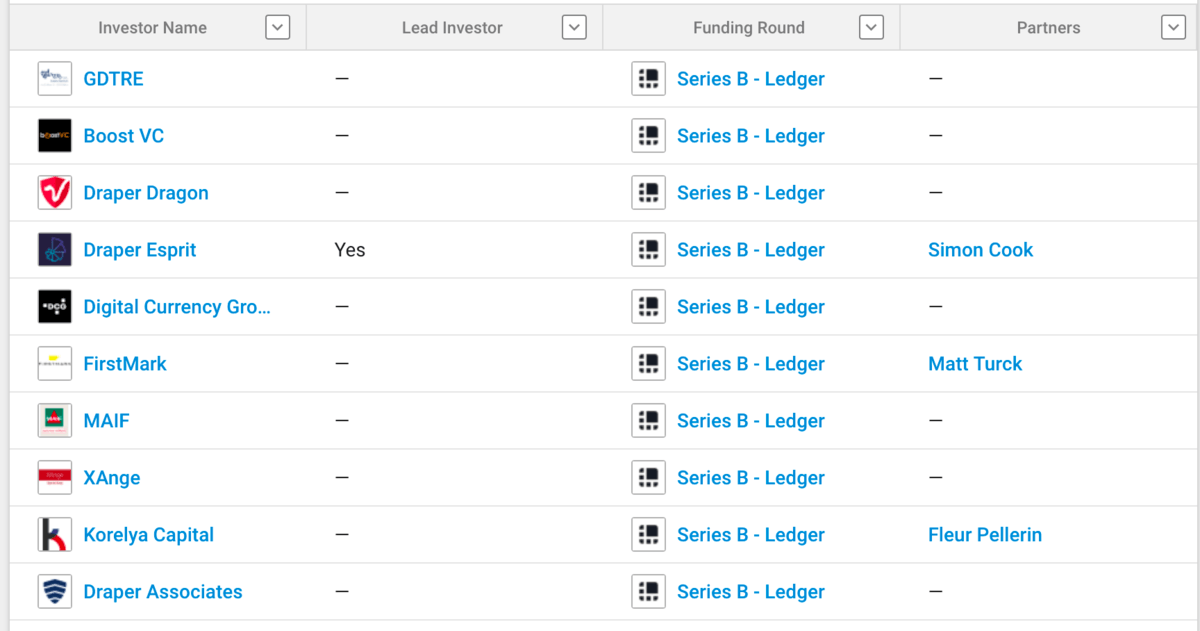 According to Ledger's website, they have sold over 3 million Ledger devices and have clients in over 200 countries:
Ledger Nano X Supported Coins
The Ledger Nano X supports a wide range of coins and digital assets including all the major coins as well as other altcoins and ERC-20 tokens, such as:
Bitcoin - BTC
Ethereum - ETH
Tron - TRX
Tether - USDT
Monero XLM
EOS - EOS
Dash - DASH
Litecoin - LTC
Ripple - XRP
To add a new coin to your device, just go to "Manager". From there you can tap the blue install button on any coin you want to add to your Nano X: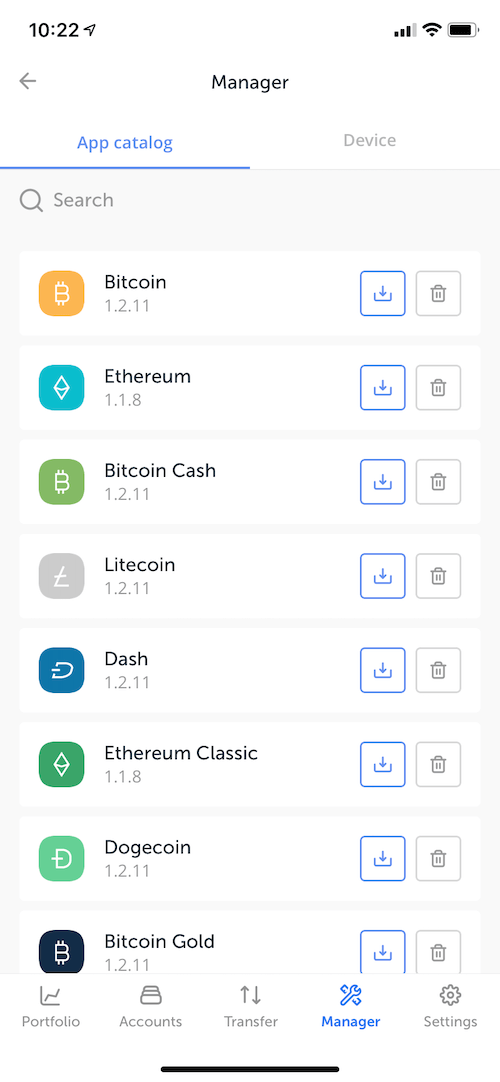 Ledger Nano X vs Ledger Nano S
The Ledger Nano X is new, so what's the difference?
The Ledger Nano X costs $150 vs $59 for the Nano S.
The Nano X connects to iOS devices, while the Nano S only works with desktop computers and androids.
They both support the same coins.
The Nano X also has a slightly larger screen that displays at a higher resolution. Unfortunately, still no touch screen for the Ledger devices.
Finally, the Nano X is just a studier, more hefty device.
Ledger Live
Ledger Live is Ledger's proprietary wallet interface software for desktop and mobile devices. It makes it simple to connect to a Nano X and send and receive a multitude of coins quickly and easily via Bluetooth connection. You can use it on desktop or an a mobile app.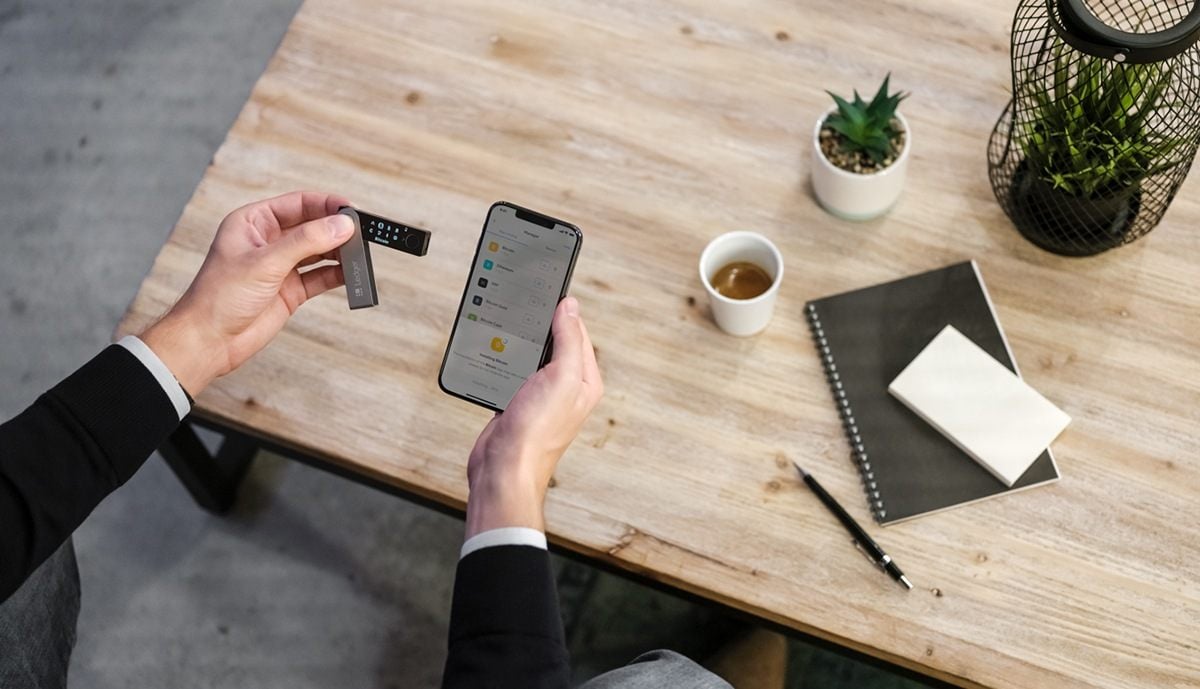 Disclaimer: the Ledger Live app makes it easy to send Bitcoin...but at a cost.
However, there is a cost to this simplicity. On most blockchains, transactions must be broadcast via a node on the network, be it for Bitcoin or Ethereum. When you use Ledger Live, you are using Ledger's corporate nodes to broadcast your transactions. Because of this, Ledger will know all of your public addresses and, therefore, how much Bitcoin you own.
Ledger claims they cannot tie names to Ledger Live accounts, but in crypto its better not to trust anyone and use a wallet interface that uses a full node you run yourself. This if, however, more complicated than most users are willing to put up with and Ledger does a great job of making it simple.
Just be aware of the trade offs and what is important to you: privacy or ease-of-use.
Setup
While the Nano X uses is own operating system on the device (names bolos), it is still compatible with iOS, MacOS, Android, Windows and even Linux. It also works with desktop wallets like MyEtherWallet as well.
In this setup example I used my iPhone XR to setup the Nano X via Bluetooth, but the steps are similar for other devices.
Ledger has a new app called Ledger Live, which is what I used to setup the Nano X:
BEWARE: There have been scams involving fake versions of their hardware manager app, Ledger Live, on the Google play store.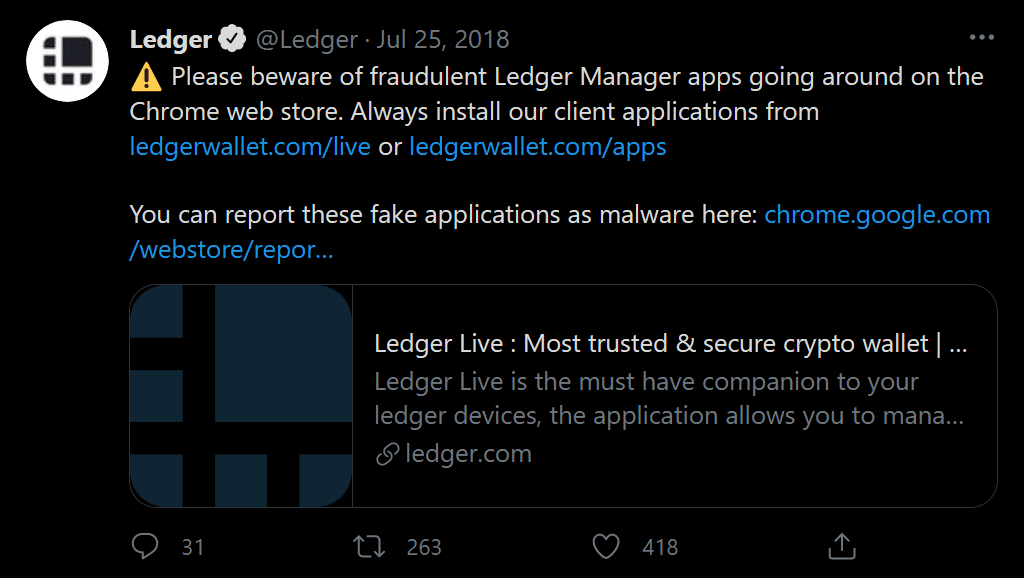 Make sure you only download the app through the link on the Ledger Live page on Ledger's site.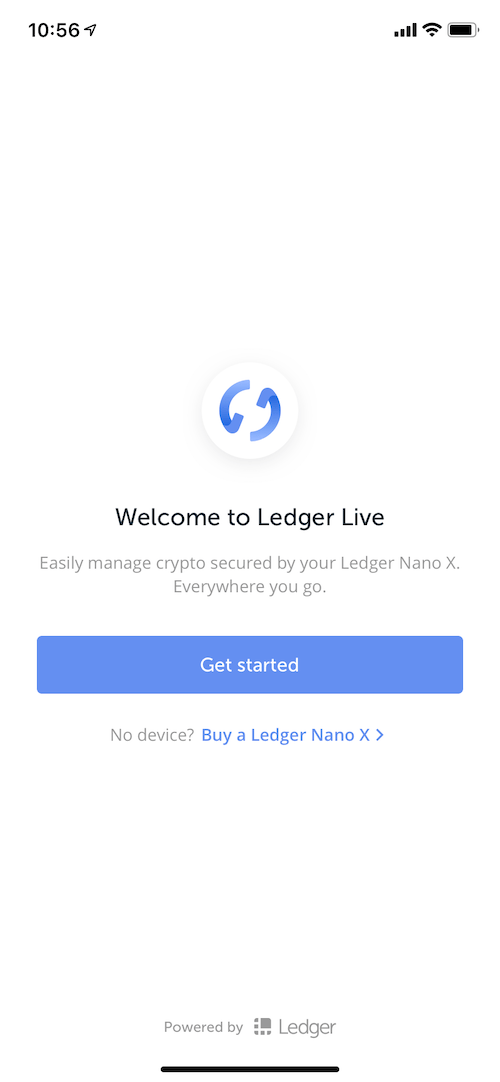 Once opened, select the device you're setting up. I chose Nano X, but it will work with any of Ledger's devices.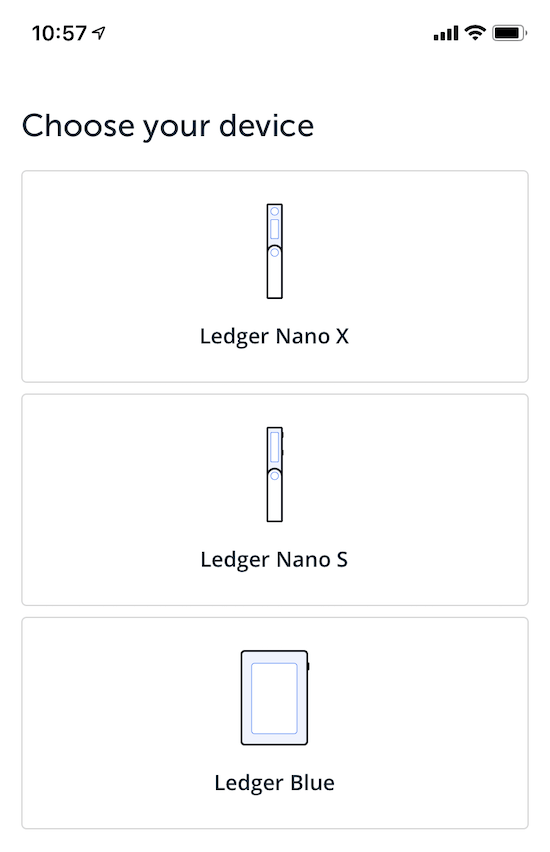 If your device is brand new, select "Initialize as a new device":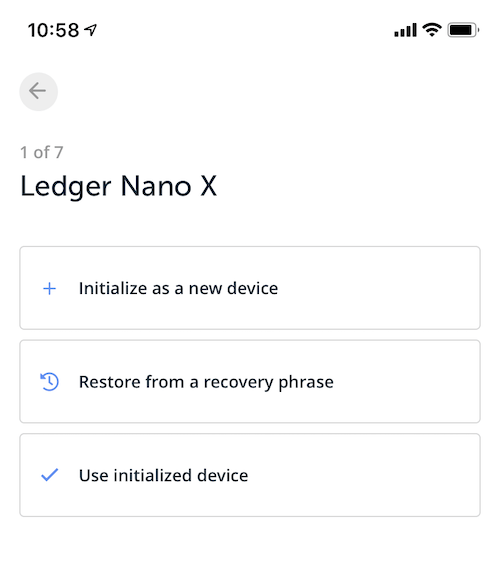 In this step, set a pin code on your device. You don't actually need to use the app for anything yet, the app is just guiding you through the steps.


Ledger's app has some really nice security suggestions. Follow them!


Now, write down the 24 words that you will see on your Ledger Nano X's screen. You still don't need the app yet, it's just guiding you.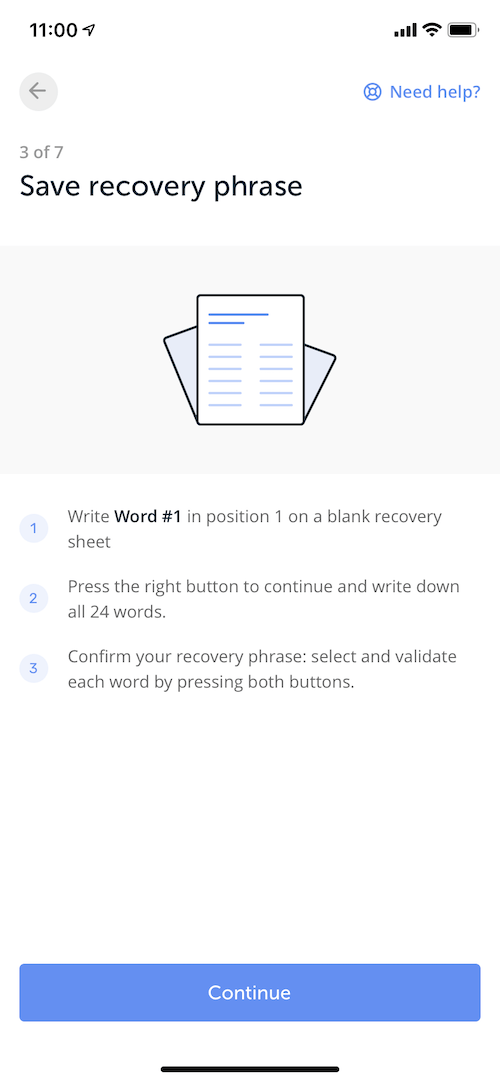 Ledger offers more tips here, definitely make sure you've followed all of their suggestions in order to keep your Bitcoin and cryptocurrency safe!


Ledger will ask you to confirm that you followed their advice. Great feature!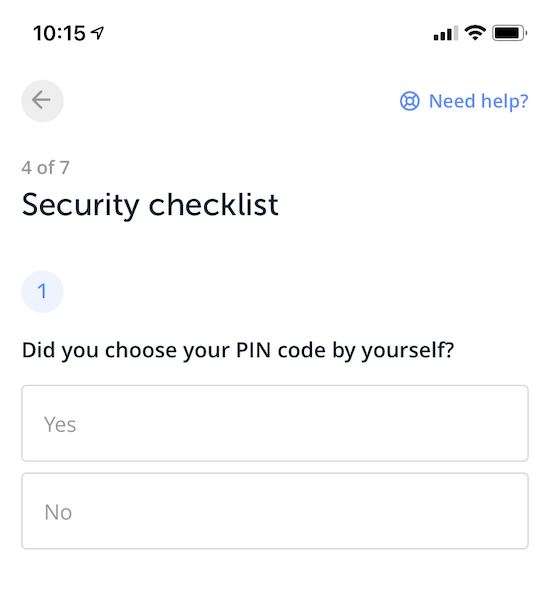 More confirmation: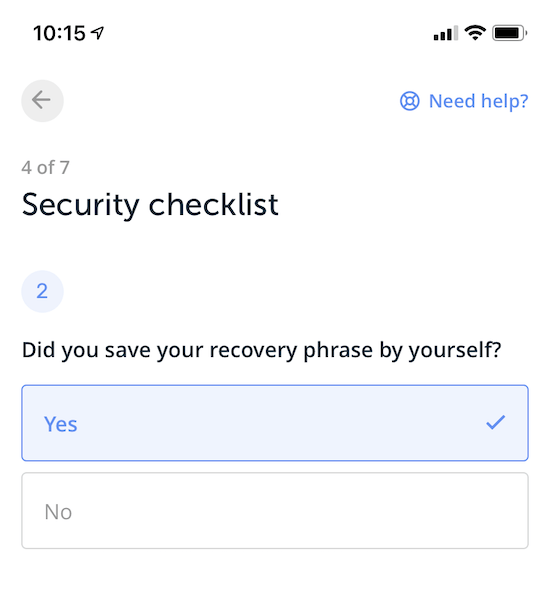 Now we can get to actually pairing your Nano X with your phone.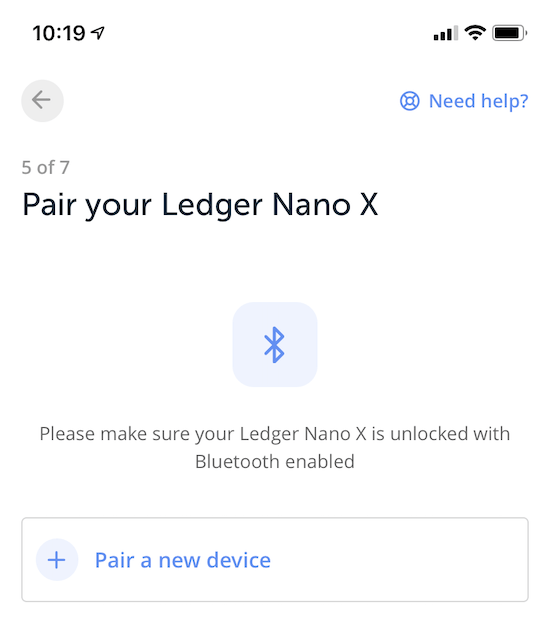 Make sure Bluetooth is turned on on your phone. If so, you should see this pop up on your phone screen. You should see the verification code showing on your Ledger Nano X: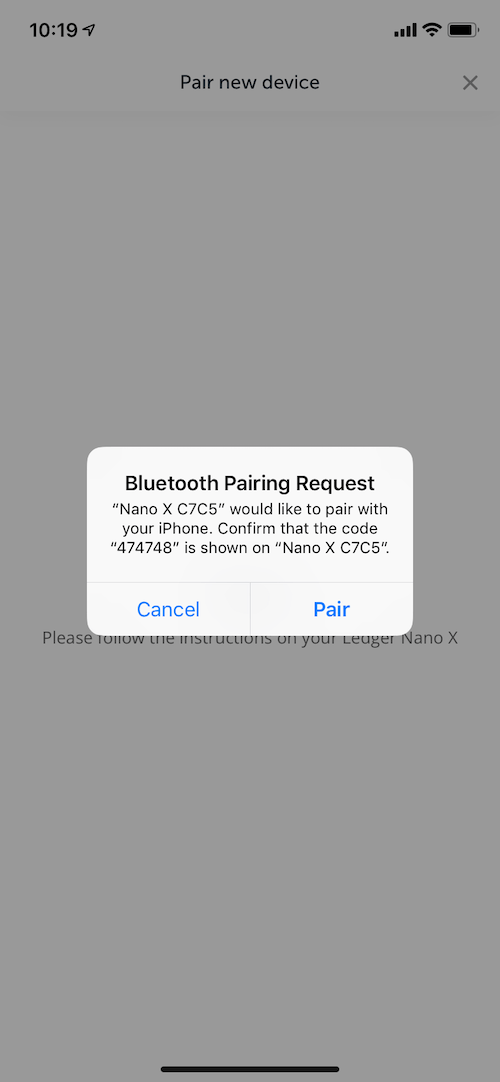 I had a failed pairing attempt and I'm not sure why. But on my next attempt it worked.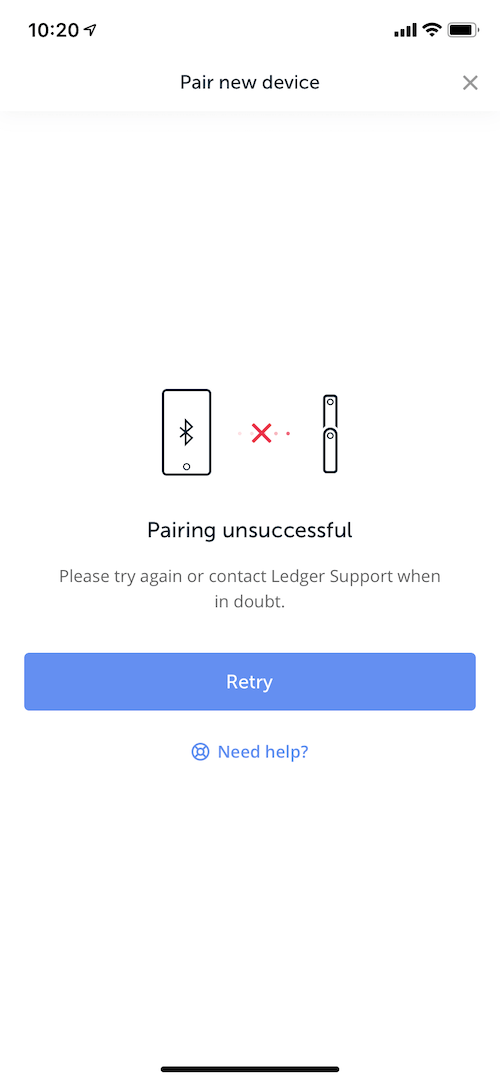 The wallet and my phone connected!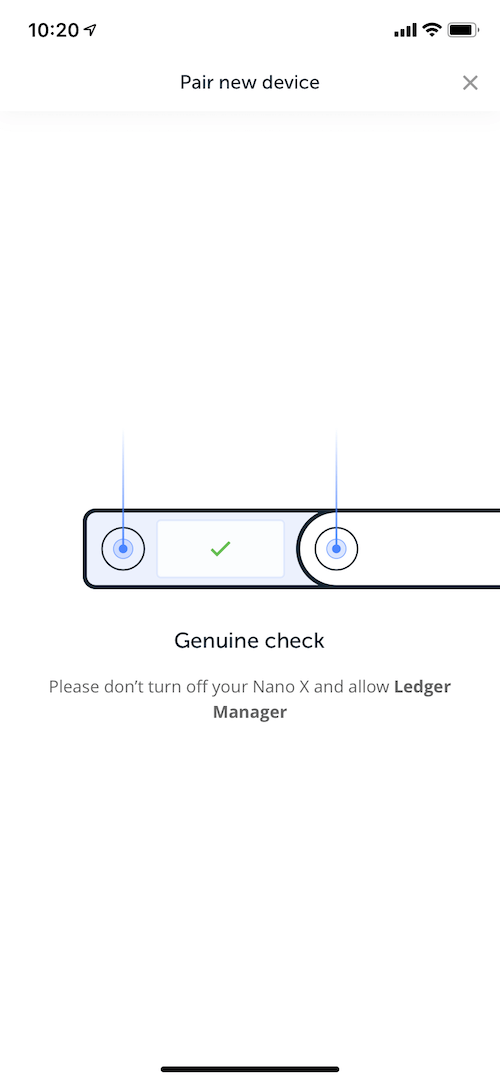 Pairing successful: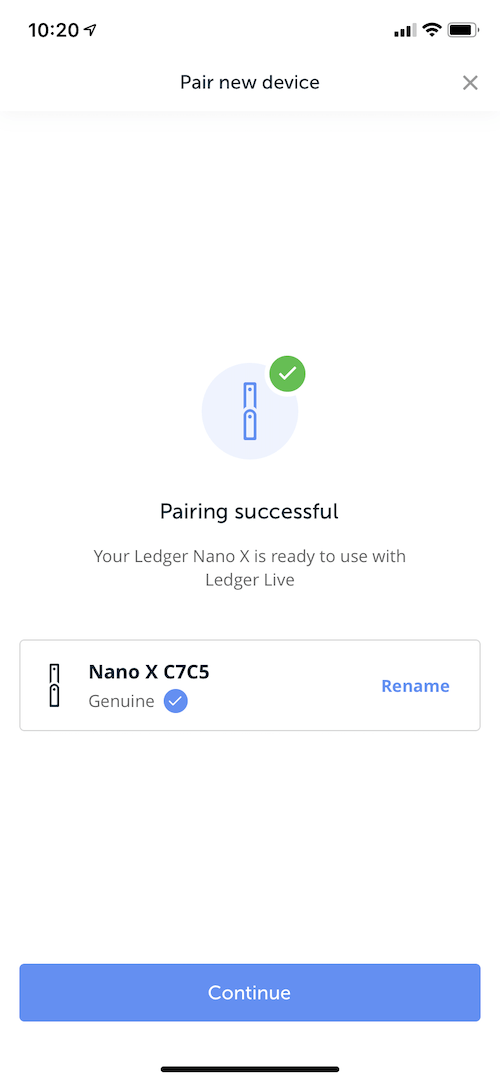 Now that your device is paired, select it from the menu in order to proceed: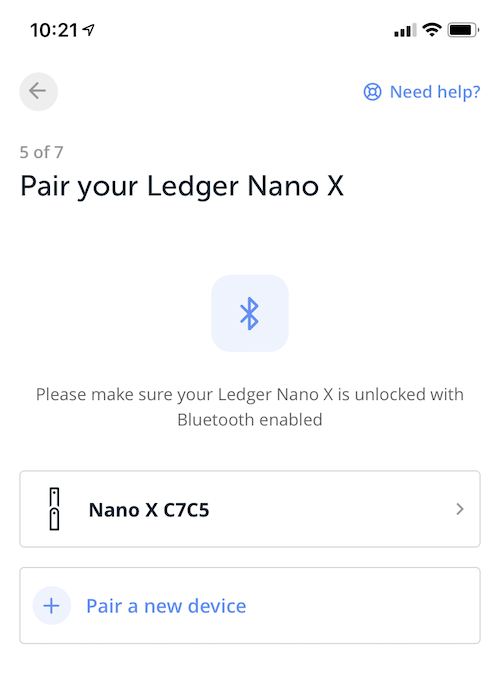 Ledger Live will tell you to set a password lock. This is so if someone gets access to your phone they can't see any information about which coins are on your Ledger. This is mostly a privacy concern and not a security concern.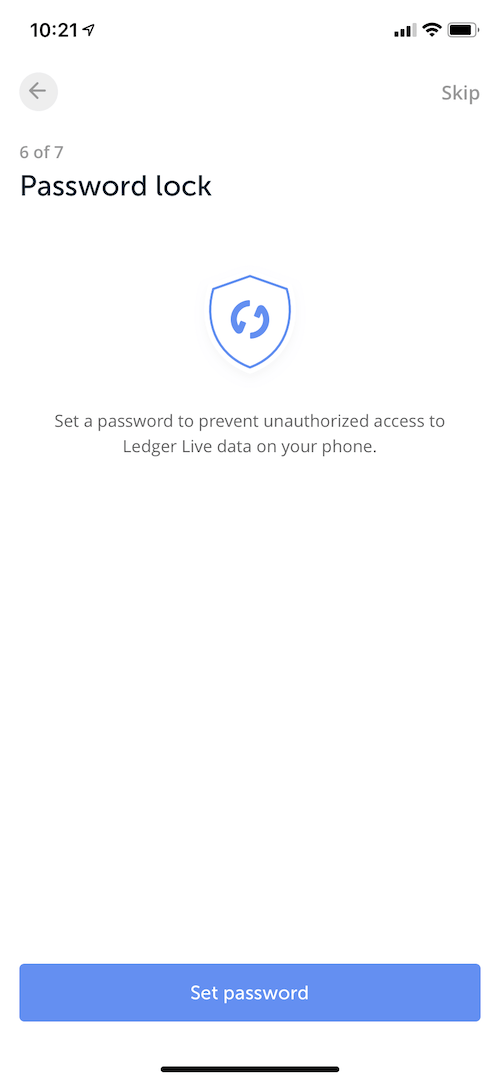 Setting a password: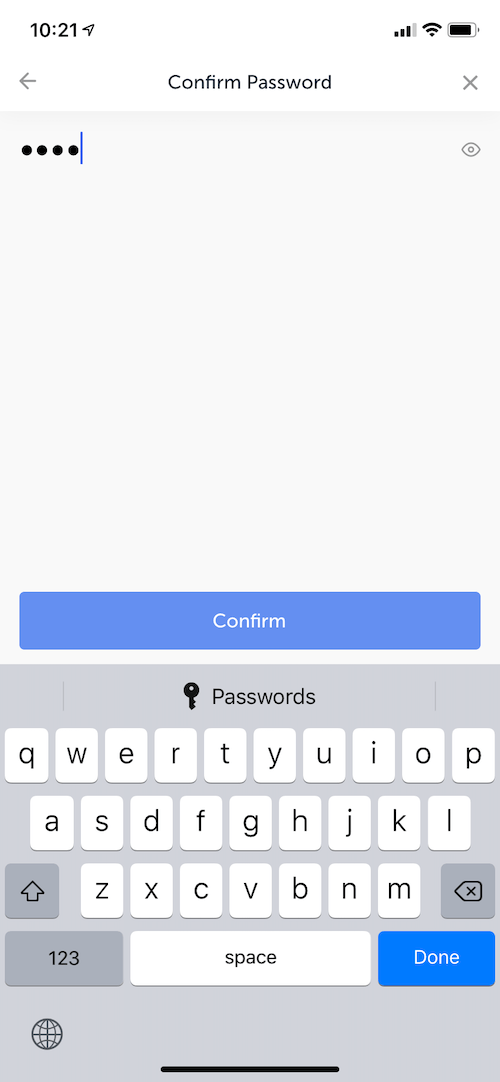 Ledger offers some warnings about your password: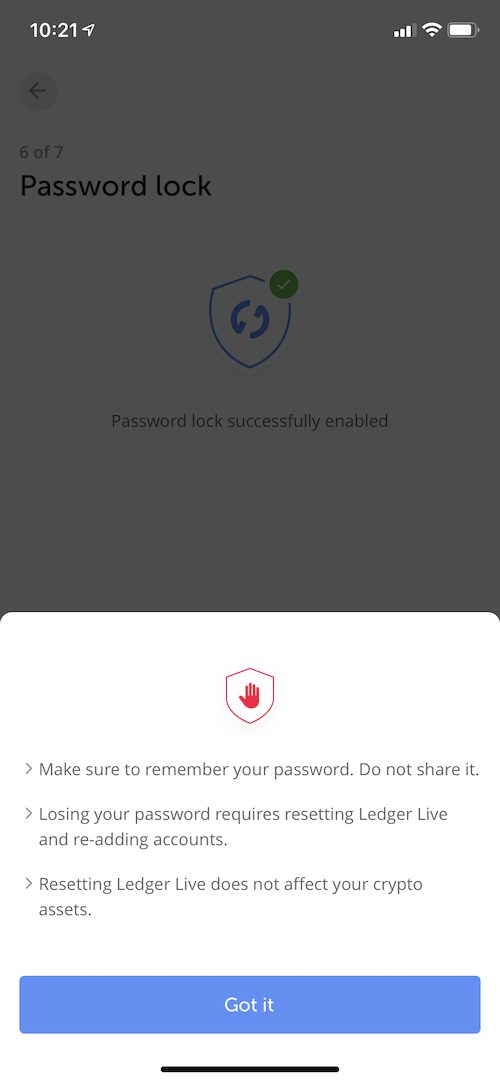 After that, choose which data you're willing to share with Ledger: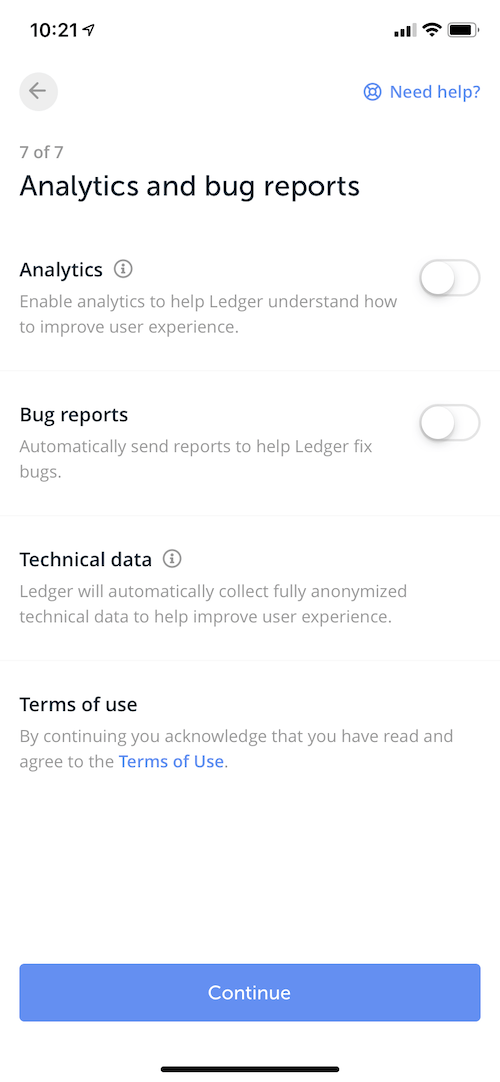 That's it, the device is ready to use! Although this process seemed long, it didn't take me more than 5 minutes to complete all of it.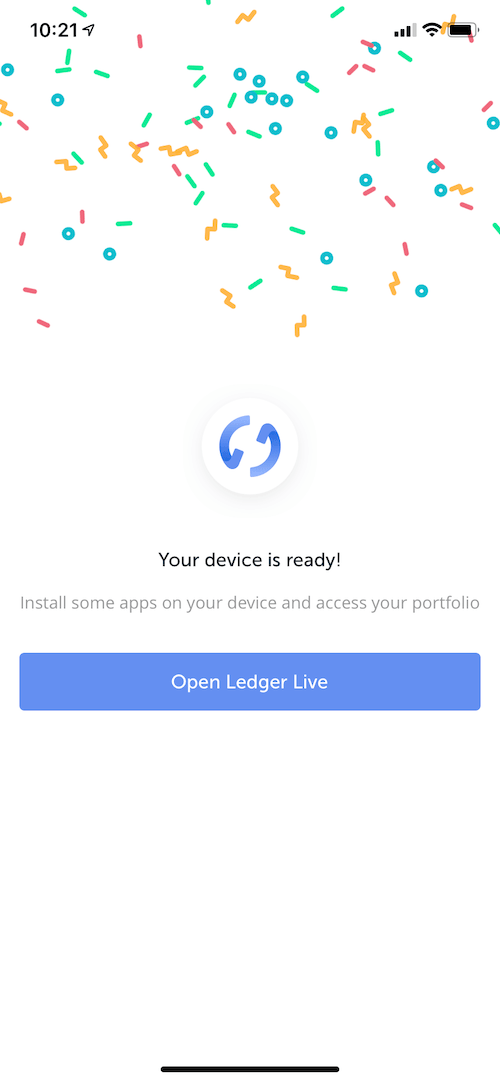 One last warning from Ledger: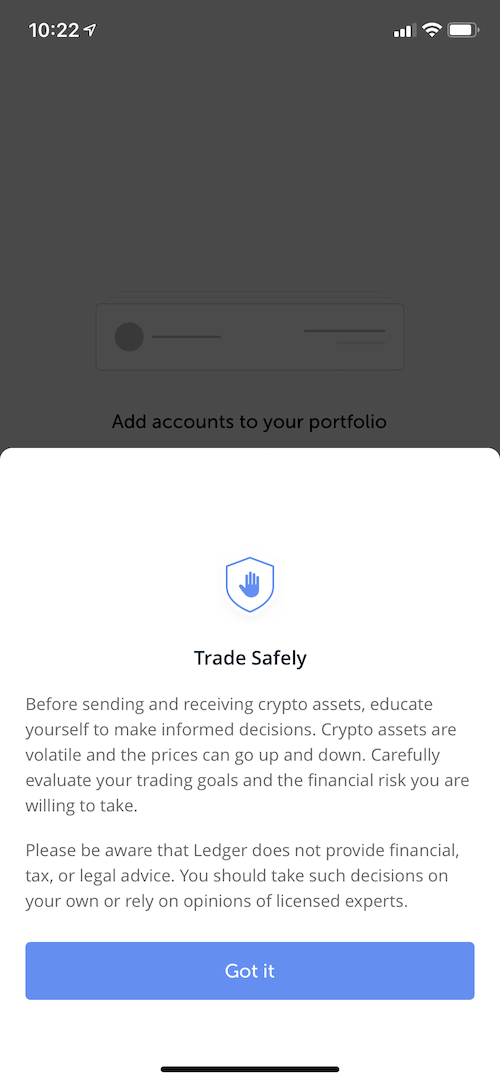 Now you can optionally add a pass phrase for extra protection.
Adding Coins to your Device
Each time you want to add new coins on your Ledger, you need to install its respective app.
Here, for example, I chose Bitcoin and it installed the Bitcoin app on the Nano X: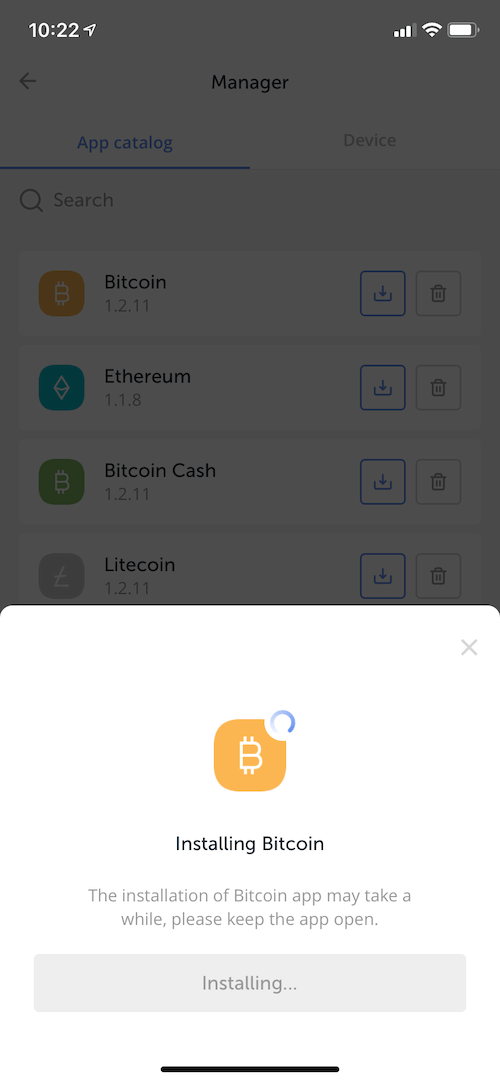 After that, you will need to open the Bitcoin app (or whatever coin you installed) on the device: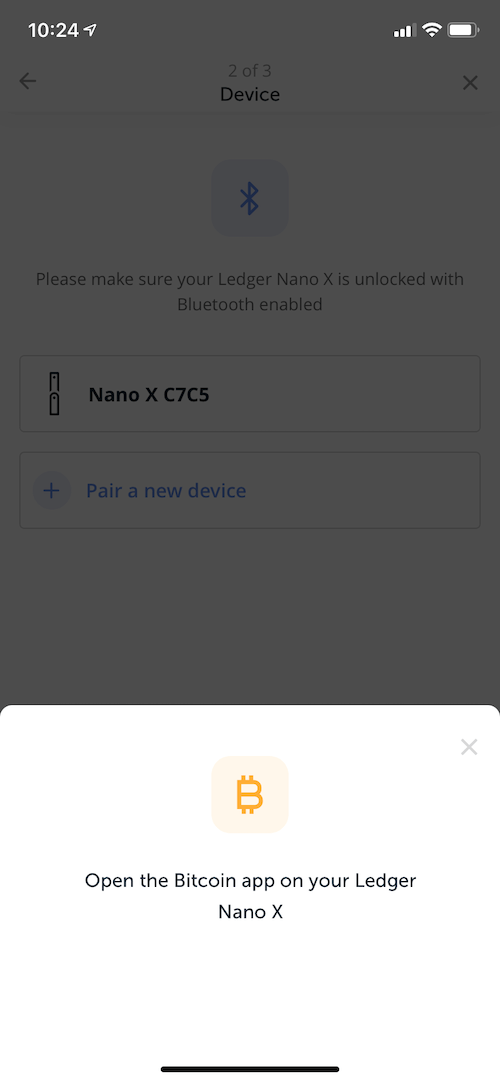 Then you can create an account for that coin and start receiving funds: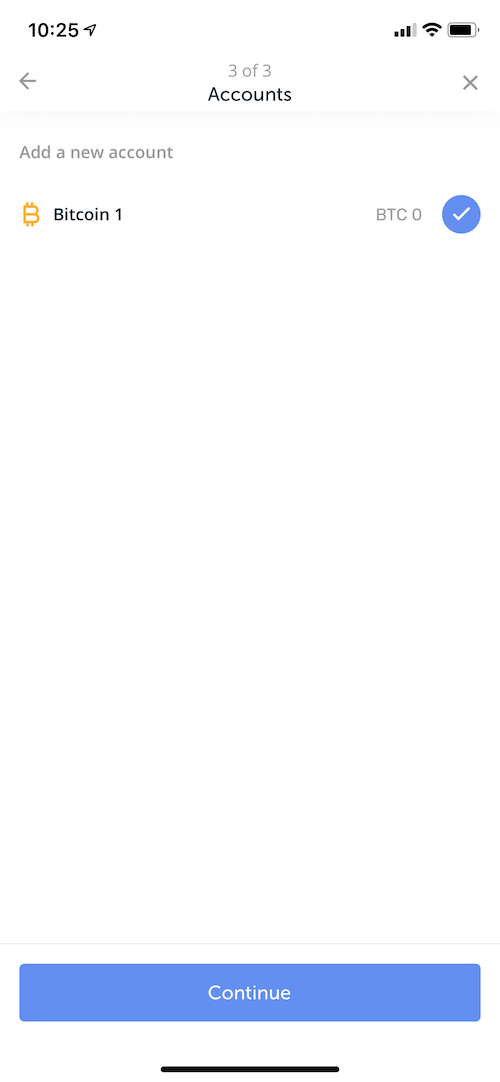 Success!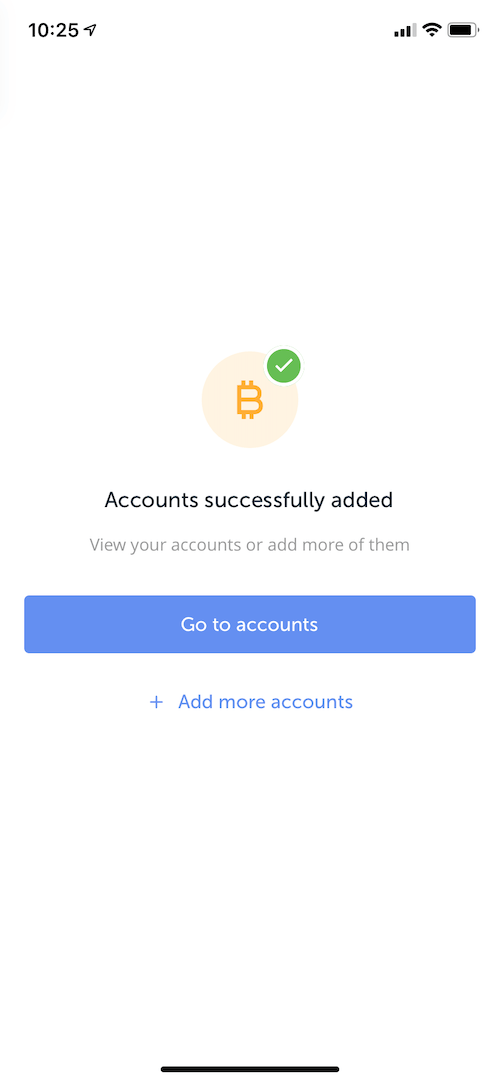 I can now send and receive Bitcoin: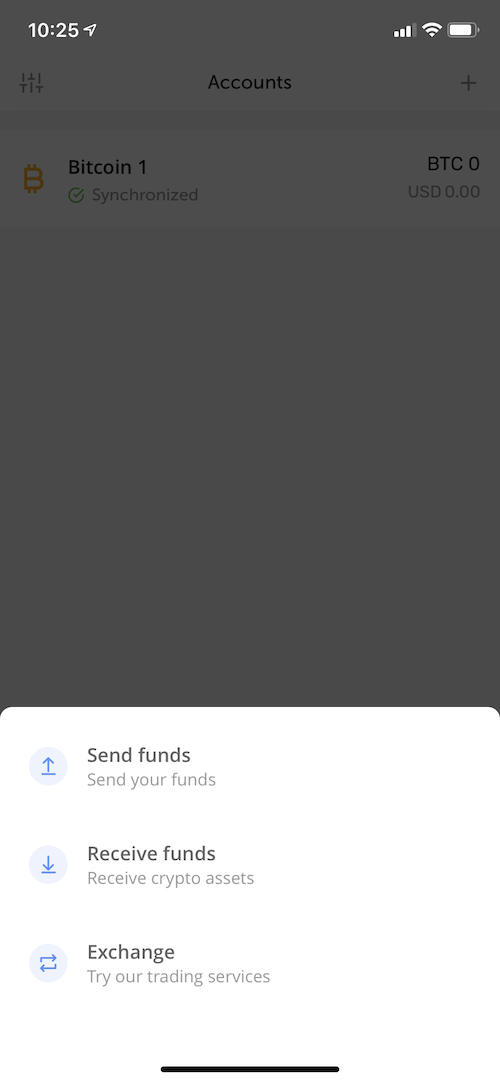 A QR code pops up on your device to receive funds: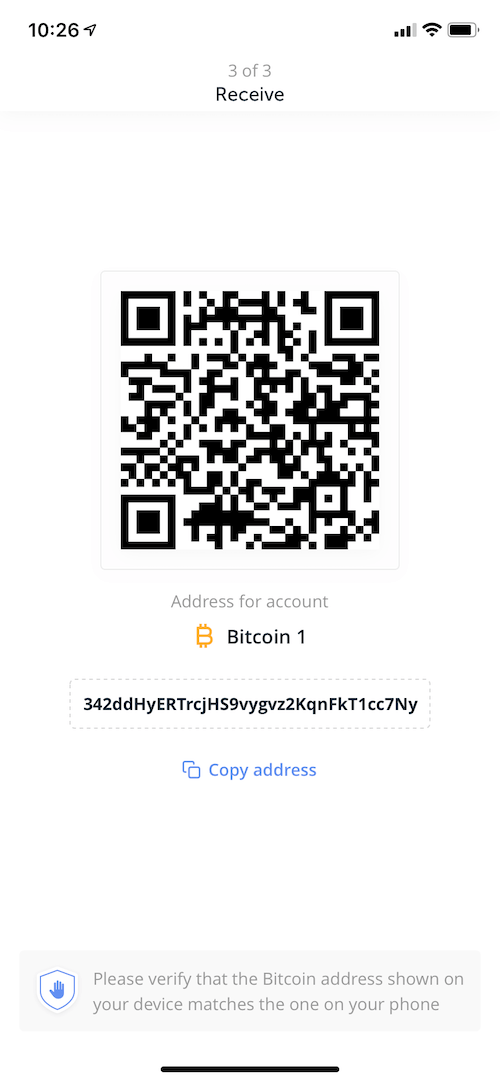 You will be asked to verify all addresses on your Nano X as well to make sure your phone has not been hacked: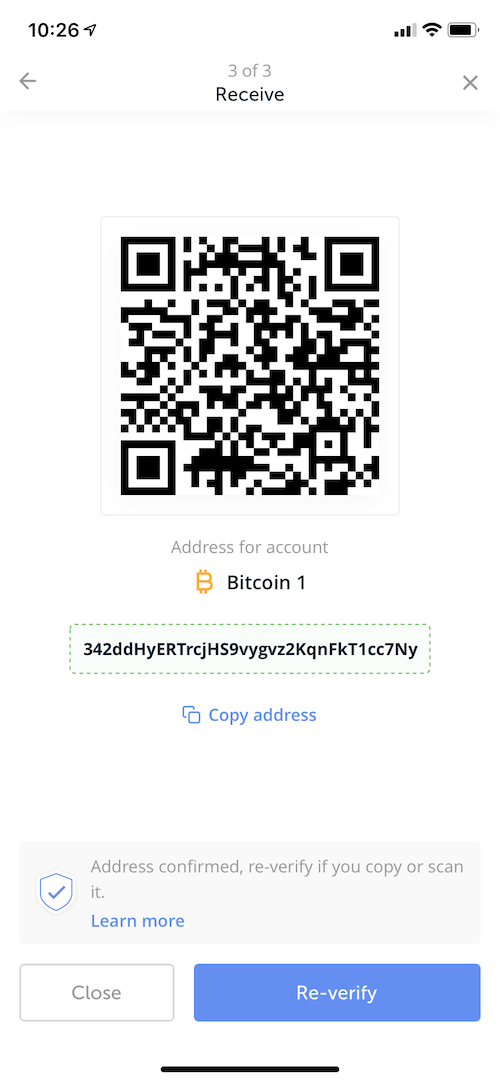 Ledger Nano X Full Node Support
Ledger recently announced that full node support is now live through its satstack software.
With satstack full-node support, users can now connect their full node to Ledger Live, Ledger's native wallet software, so that they no longer need to utilize Ledger's node and thereby expose their XPUB (and, by extension, all of their blockchain activity).
However, you will need to be able to use a command line interface for now.
Ledger Nano X Coin Control
Coin Control is the ability to select which UTXOs you spend so that you can decide between a LIFO (Last In, First Out) or FIFO (First In, First Out). This has tax implications but also security implications as well. If you have tiny amounts of Bitcoin in a UTXO, you can avoid spending it, which prevents others from tracking you in what is called a 'dust attack'.
In the same announcement mentioned above, Ledger promised that Coin Control would be coming to Ledger Live, and now its finally here as part of Ledger Live's advanced settings. That makes Ledger the only one of these hardware wallets to support coin control natively.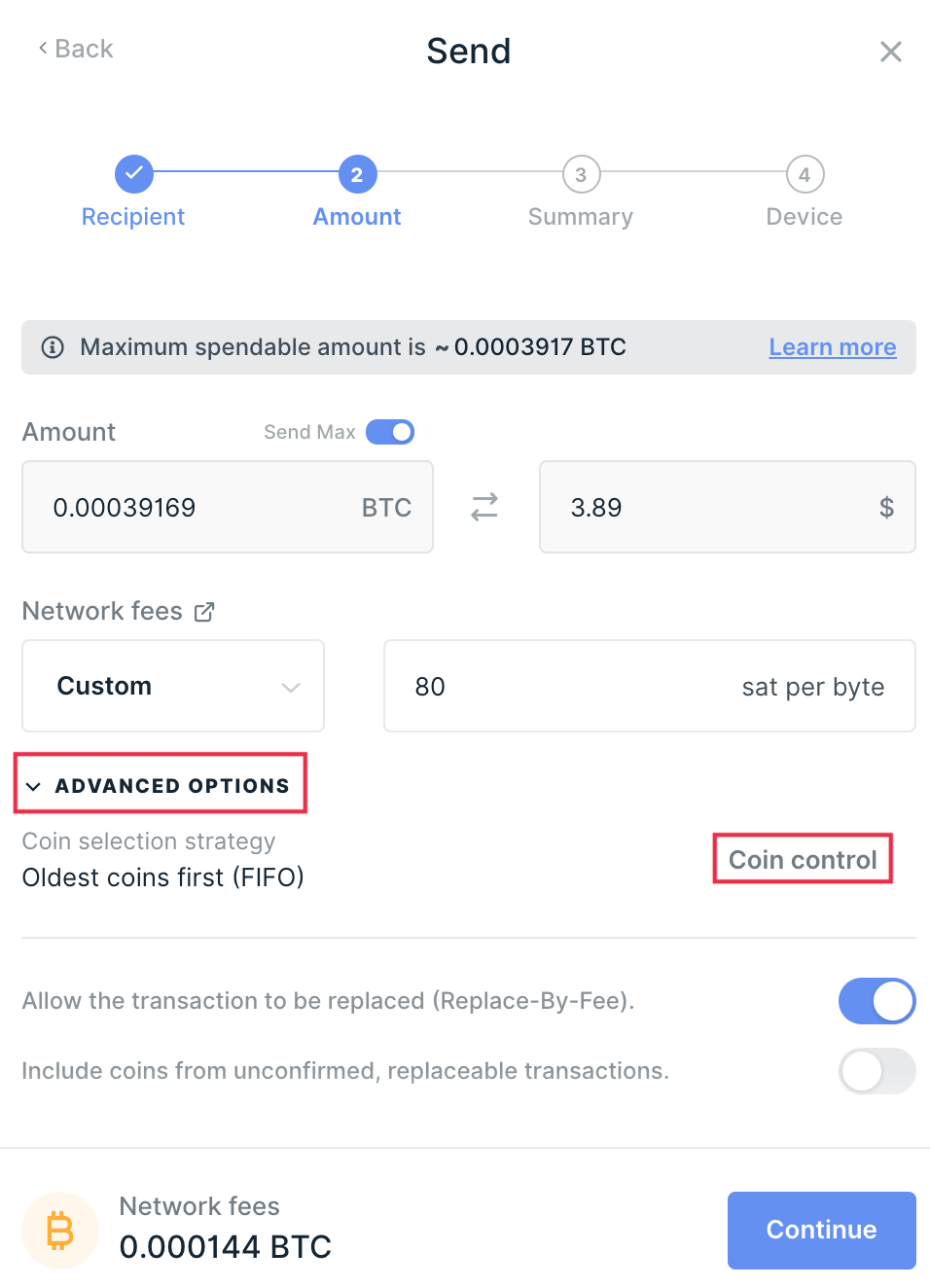 Coin Control in Ledger Live
D'cent vs Ledger Nano X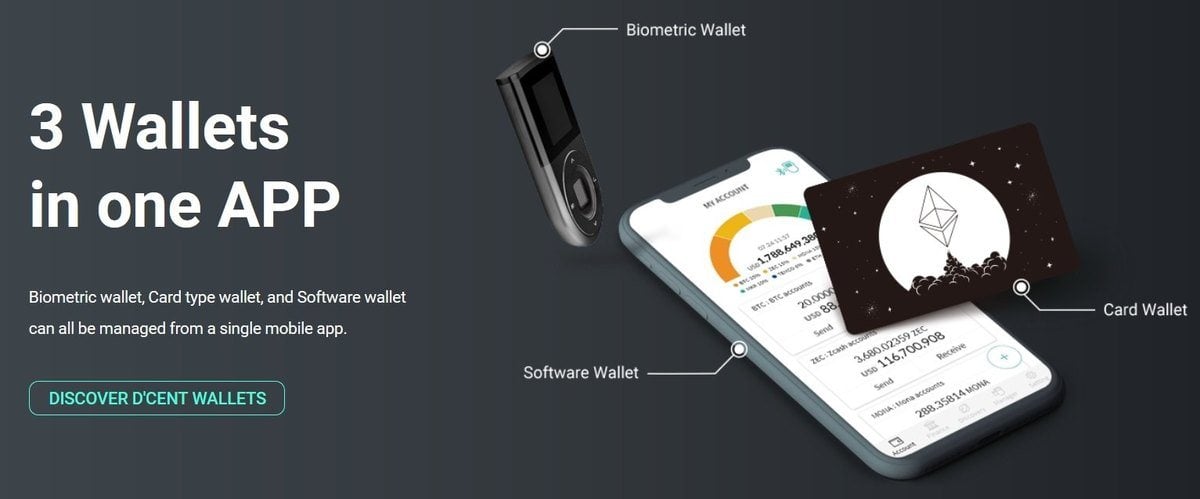 The D'cent biometric wallet

The D'cent wallet was introduced in 2020, so the Ledger Nano X has been around much longer. With hardware wallets, it's usually better to use the more tried wallet. Although the D'cent wallet has more features, these can also lead to more ways to get hacked.
Anti-Tampering Seal
Ledger no longer uses anti-tampering seals, since it is easy to counterfeit them. An anti-tampering seal could, therefore, give a misleading sense of safety.
Instead, Ledger has opted to provide software tools to verify if a piece of hardware is genuine and has not been tampered with. This software is called "Root of Trust".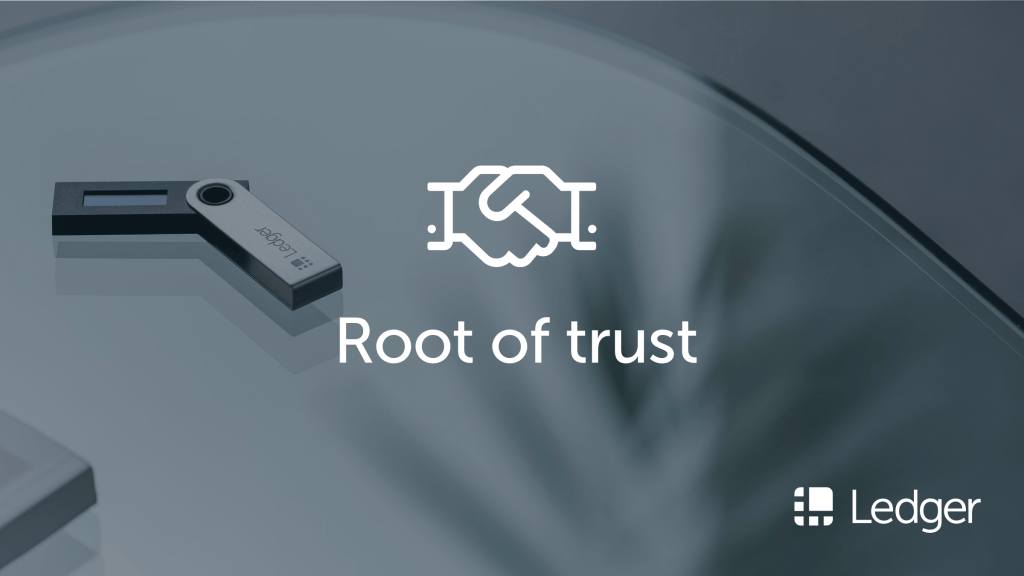 Apps like root of trust should help minimize supply chain attacks like those found by Kraken where a user was able to compromise a Nano X to behave as a keyboard when connected to a computer.
How to Buy Ledger Nano in the UK
If you're in the UK, you can get your hands on a Ledger Wallet in one of the following three ways: direct from Ledger themselves, on the official Ledger Amazon store or from one of the two official resellers.
Buy from Ledger's Website
A simple way to get your hands on a Ledger wallet is to buy from their official website.
The wallets are shipped from their warehouse in France and are sent out one to two days after you place your order. Ledger ships with DHL or Colissimo and should take less than a week to arrive at your door. Whoever you ship with, you'll be asked to sign for delivery when your wallet arrives.
WARNING
Don't buy a Ledger Nano on eBay. There are no official sellers on eBay and it is not worth the risk buying a hardware wallet there. Scammers are going to scam, and one way you could be caught out is buying from an unofficial source that has tampered with the wallet before sending it to you.
Get your Ledger from one of Ledger's official UK partners
There is one official UK partner for Ledger. They are called My Hardware Wallet and they specialize in crypto wallets and security solutions. As well as the Ledger Nano S, and the Ledger Nano X, you can also buy some of the Trezor models too.
The advantage of buying from a UK based seller is that your wallet will arrive more quickly than buying direct from Ledger in France. So if you are in a hurry to protect your crypto then this might be your best bet.


Frequently Asked Questions
Can I Trust a Ledger from a Reseller?
One thing you won't find on the packaging are anti-tamper seals. Ledger doesn't use anti-tampering seals on their packaging, as they can give a false sense of security. Instead of trusting a sticker to tell you that your device is genuine, Ledger has developed an online test to do just this, called Root of Trust.
Each Ledger device has a set of keys: one public, one private. The Nano sends its public key to the Ledger server, which answers with a challenge in the form of a randomly generated number. If your device can provide a correct signature for this challenge, it's genuine. If it can't, the device has been compromised and it will be blocked.
This means that you don't need to trust the retailer you bought your Nano from. You can verify the authenticity of your device yourself.
That being said, it is still recommended that if you are going to purchase from a reseller that you use an Authorized Reseller listed on the Ledger website.
Has Ledger ever been hacked?
There has never been a known instance of a Ledger getting hacked in a non-laboratory setting. That means that security researchers have been able to compromise a Ledger device in a lab setting with unlimited time and resources and lots of expertise. However, no user has ever reported a device being compromised in the real world by an attacker who was not able to socially engineer someone to open the device for them.
That being said, Ledger (the company) has had its databases hacked. On July 29, 2020, Ledger sent out an email to all previous customers that began,
Our ecommerce and marketing database leaked. We immediately fixed the breach. Contact and order details were involved. Your funds are safe.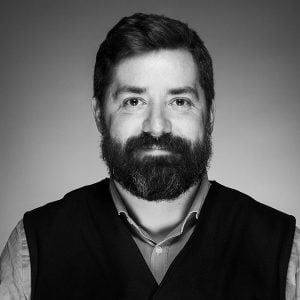 Pascal Gauthier
CEO, Ledger
You can read the full report here.
To be clear, this breach **did not affect any customer funds held on Ledger devices**. This was a breach of Ledger's ecommerce customer database. For the most part, emails and addresses were leaked, and for some customers, what they had ordered in the past was also leaked.
Does the Ledger Nano X Work with Billfodl?
Conclusion
Congratulations on deciding to take control of your crypto with one of the best hardware wallets on the market. To secure the seed phrase of your Ledger Nano and make your holdings even more secure, check out our guide to the best steel wallets.
Review By: Jordan Tuwiner
Rating: 4.8