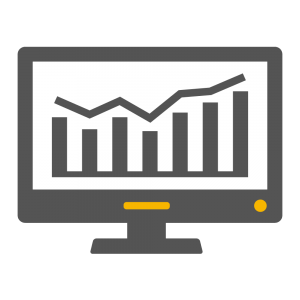 Desktop wallets are a great option for anyone sending frequent Bitcoin payments from their computer.
In this post we will cover some of the best bitcoin desktop wallets and help you decide which is right for you.
Heads Up!
Large amounts of bitcoins should not be stored on your computer! If you want the most secure Bitcoin wallet then you will need to use a hardware wallet like the Ledger Nano X or TREZOR.
You should always do research before downloading or installing any Bitcoin wallet.
Wasabi
Wasabi wallet is a desktop (as well as mobile) wallet designed around maintaining privacy through advanced features such as Coinjoin and tor routing.
Supported Platforms: MacOS, Linux, Windows
Pros
Full Segwit support
Coinjoin functionality
All traffic routed through Tor
Connect to full node
Works with Ledger, Trezor and Coldcard hardware wallets
Cons
Advanced features make this not a beginner wallet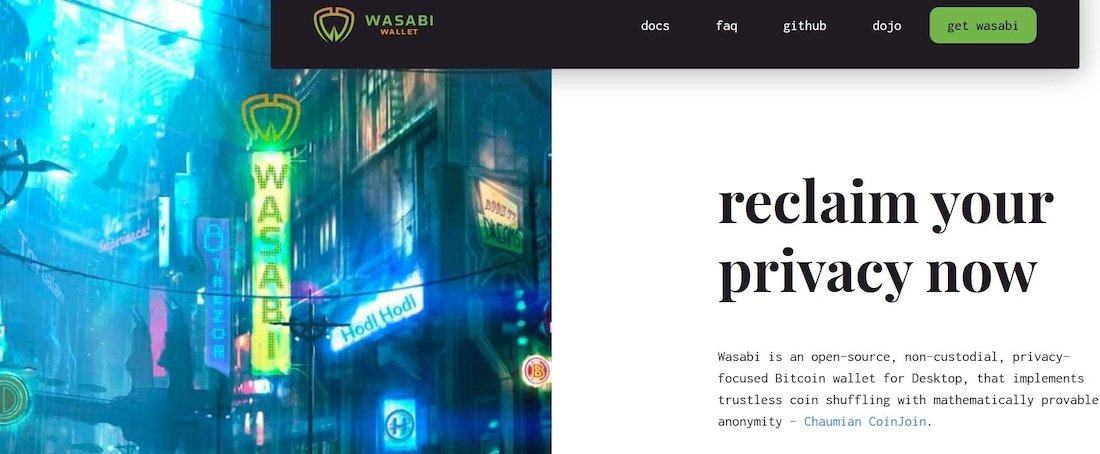 Specter
Specter makes multisig wallets on desktop a total breeze. You can use this easy and intuitive desktop wallet software to connect all your hardware wallets so that you have multiple keys protecting your Bitcoins! The simple interface and fast setup means anyone can hodl like a true pro.
Supported Platforms: MacOS, Linux, Windows
Pros
Multisig made easy
Connect Ledger, Trezor, and others
Connect to full node
DIY hardware compatible
OSX, Windows, and Linux compatible
Cons
Overkill for small amounts of Bitcoin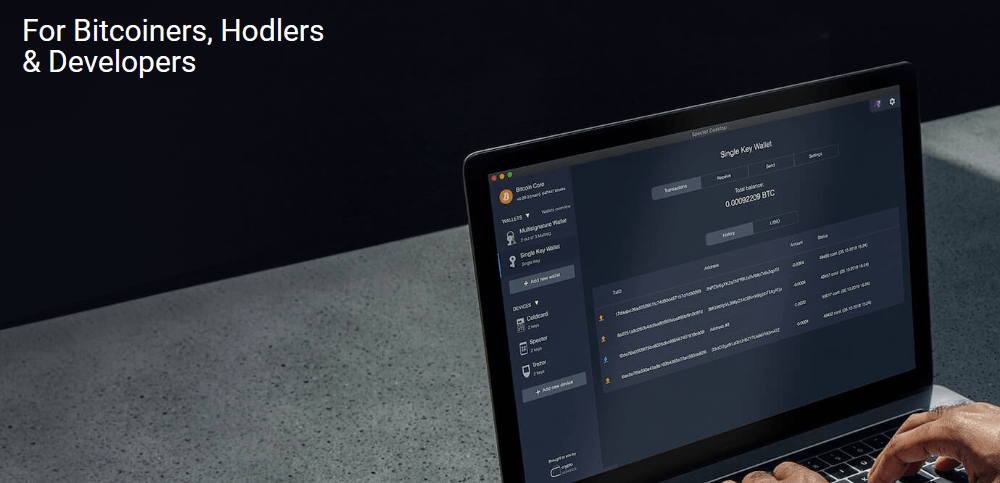 Ledger Live
Ledger Live is a little bit different than all the other desktop wallets on this list. That's because you actually need a Ledger hardware wallet for it to work. This makes it by far the most secure desktop wallet on this list, but it also means that using it isn't exactly 'free'.
Supported Platforms: Windows, MacOS, iOS, Android, Linux
Pros
Most secure
Easy to use
All crypto in one dashboard
Compatible with Ledger Hardware Wallets
Supports BTC, ETH, LTC, and hundreds of other coins
Cons
Must buy a Ledger hardware wallet to use
Confirming transactions can be confusing for new users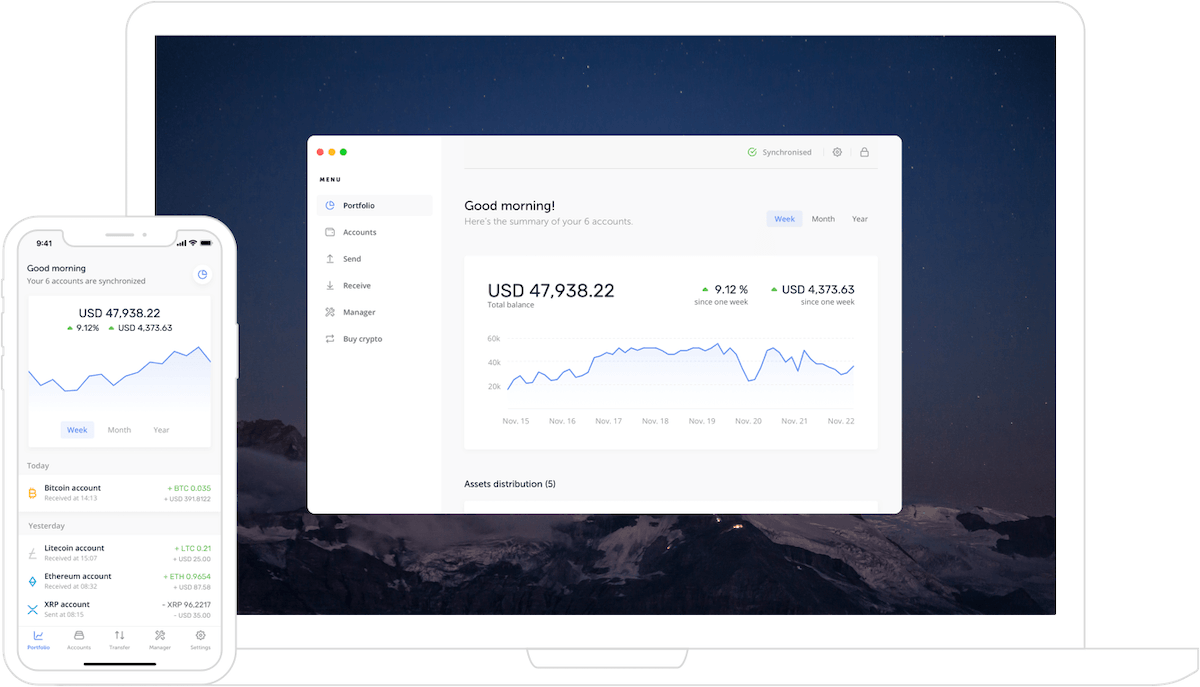 Blockstream Green
Blockstream Green is one of the most unique and secure desktop wallets on the market. It uses a 2-of-2 style backup so if you ever lose your backup, you can use any two factor authentication to recover it. It's also super simple to set up and requires no registration other than an email address. You can even store your Liquid assets on Blockstream Green now.
Supported Platforms: MacOS, Linux, Windows, iOS, Android, F-droid
Pros
Easy to set up
Excellent fee estimation
Two-Factor multi-sig
Multilingual
Great support
Cons
Some features are advanced for beginners
Using two-factor recovery can be confusing
Only Android version works with hardware wallets right now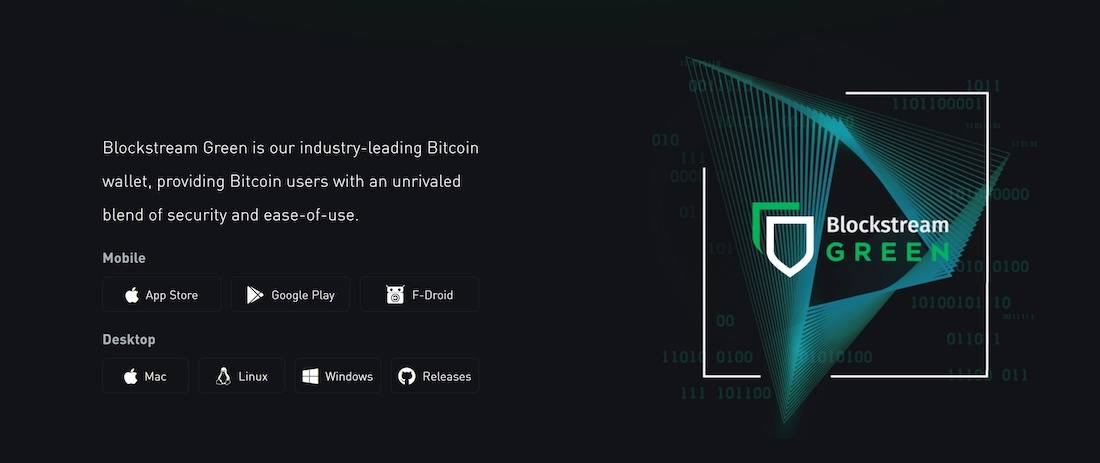 Electrum is one of the oldest and most trusted Bitcoin wallets on the market. It also sports advanced features for privacy and fee settings.
Supported Platforms: MacOS, Linux, Windows, Android, Python
WARNING
There are a lot of fake versions of Electrum out there. Make sure you verify you are installing the real Electrum.
Pros
Connect to full node
Compatible with most hardware wallets
One of the oldest Bitcoin wallets
Works with Ledger, Trezor, Keepkey, Bitbox, Coldcard
Cons
More advanced wallet not ideal for beginners
iOS version widely considered inferior to Android version
Traditional stock dashboard may distract from crypto-only holders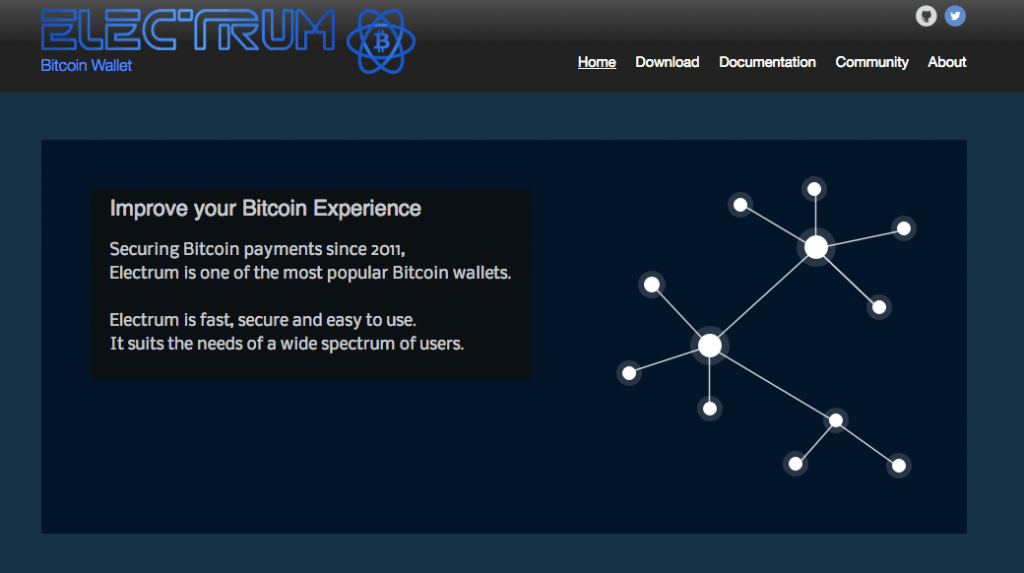 Bitcoin Core
Bitcoin Core is a Bitcoin full node wallet, meaning it downloads the entire Bitcoin blockchain. It is the most private Bitcoin wallet although it takes patience and quite some time to setup. You also need a reliable internet connection, as well plenty of bandwidth and hard drive space.
Supported Platforms: MacOS, Linux, Windows
Pros
Full node required
Great for Bitcoiners with no other coins
Compatible with most hardware wallets
Developed by some of the best devs in the crypto
Works with Ledger, Trezor, Keepkey, Bitbox, Coldcard
Cons
Bitcoin Only - no altcoin supported
Basic wallet with limited features

-
Chapter 1
How to Add Funds to Your Desktop Wallet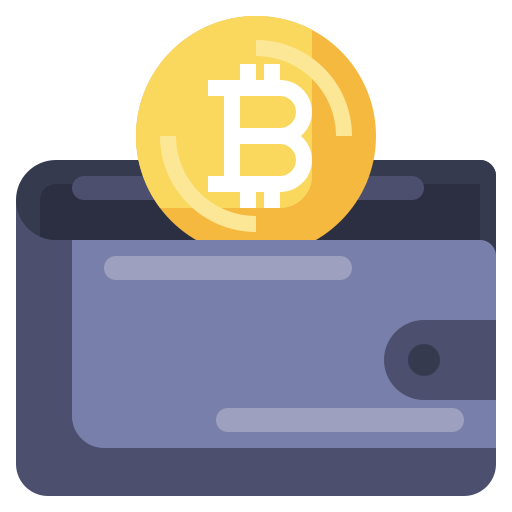 Now that you have chosen a wallet, let's transfer some funds into it.
In this brief walkthrough, we will show you how to add funds to your desktop wallet
For you to add funds to your desktop wallet, you will need to buy some cryptocurrency from an exchange and transfer it to your desktop wallet. Most desktop wallets do not have exchanges native to it.
You'll need to choose an exchange that services your country and/or state. The best place to do that is to go to our exchange finder.
After you have bought your crypto, you'll need to send it to your wallet. To do that, do the following:
1. Open your wallet and find an option to "receive"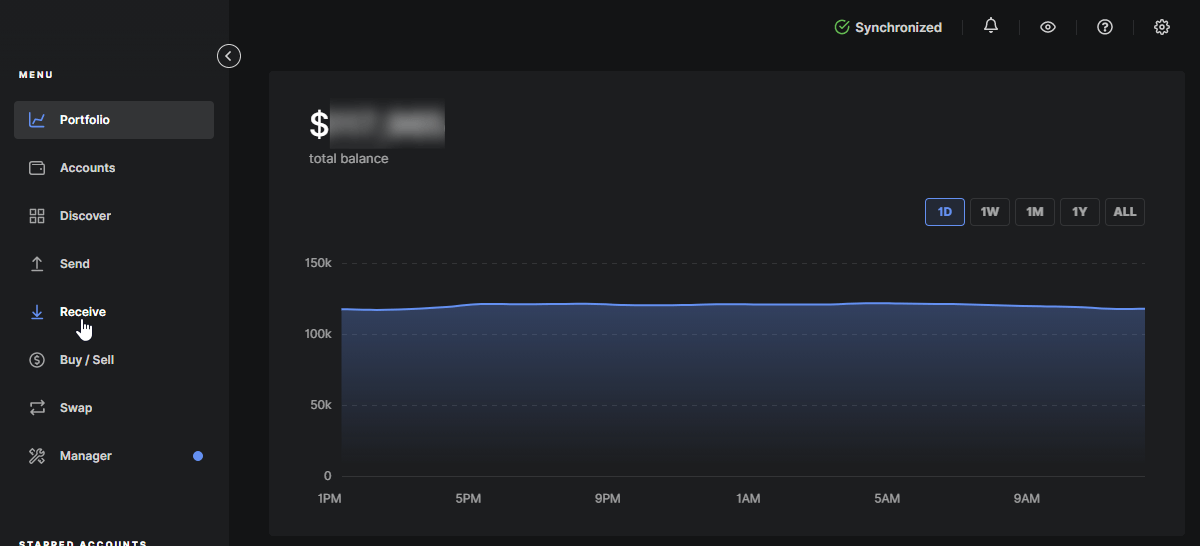 2. Copy the address given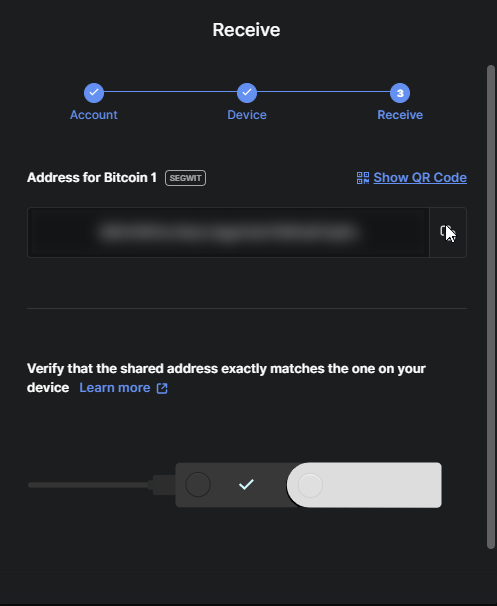 3. On your exchange where you bought your coins, select the "send" option.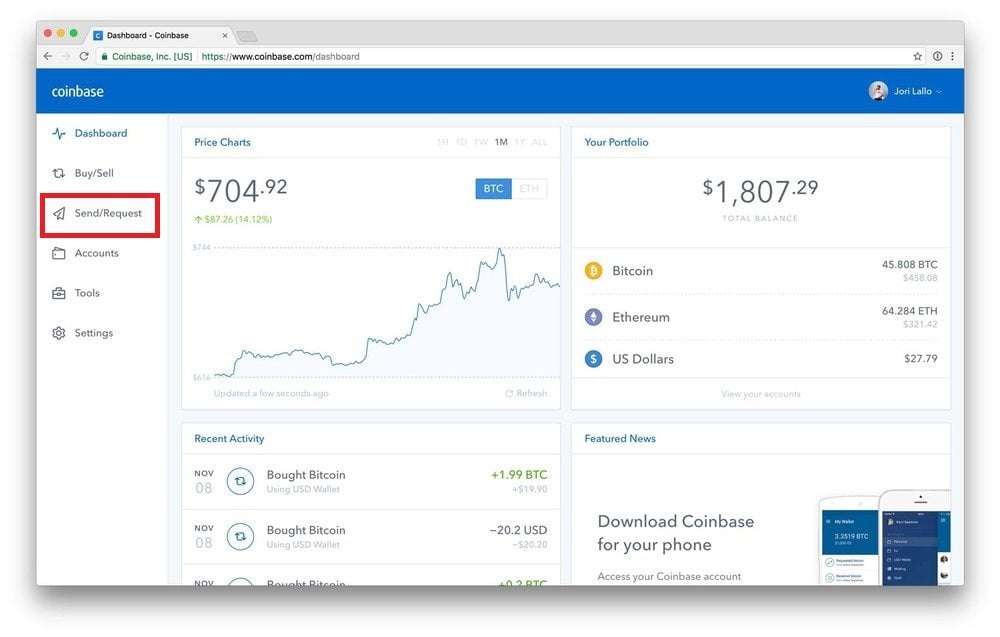 Above screenshot is from Coinbase.
4. There should be a field to input your wallet address copied in step 2. Paste it there.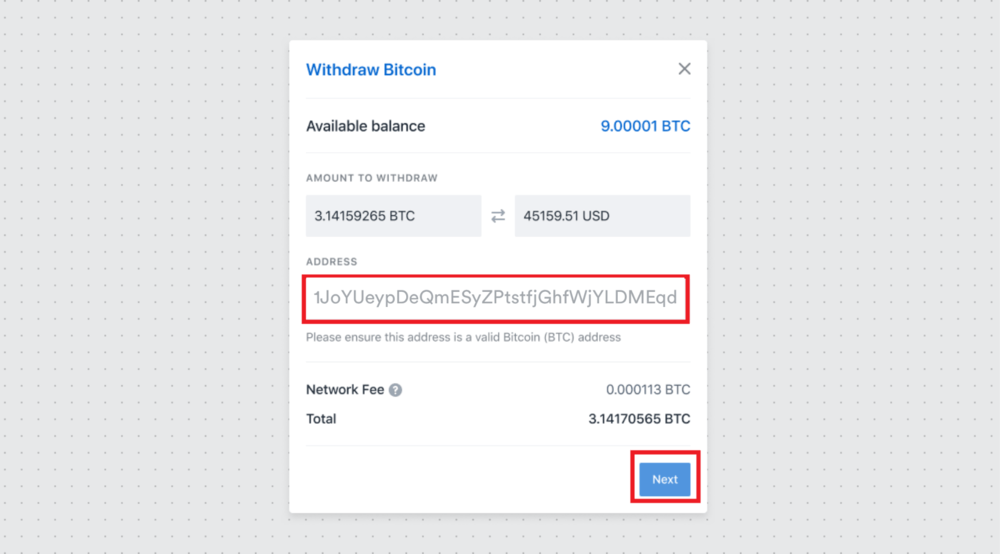 5. Confirm you want to send your coins.
After that, you should receive a confirmation with a transaction ID of some kind. Here is what that might look like.

What a transaction ID looks like (the number starting with "804")
Chapter 2
Hardware Wallets: A Great Addition to Desktop Wallets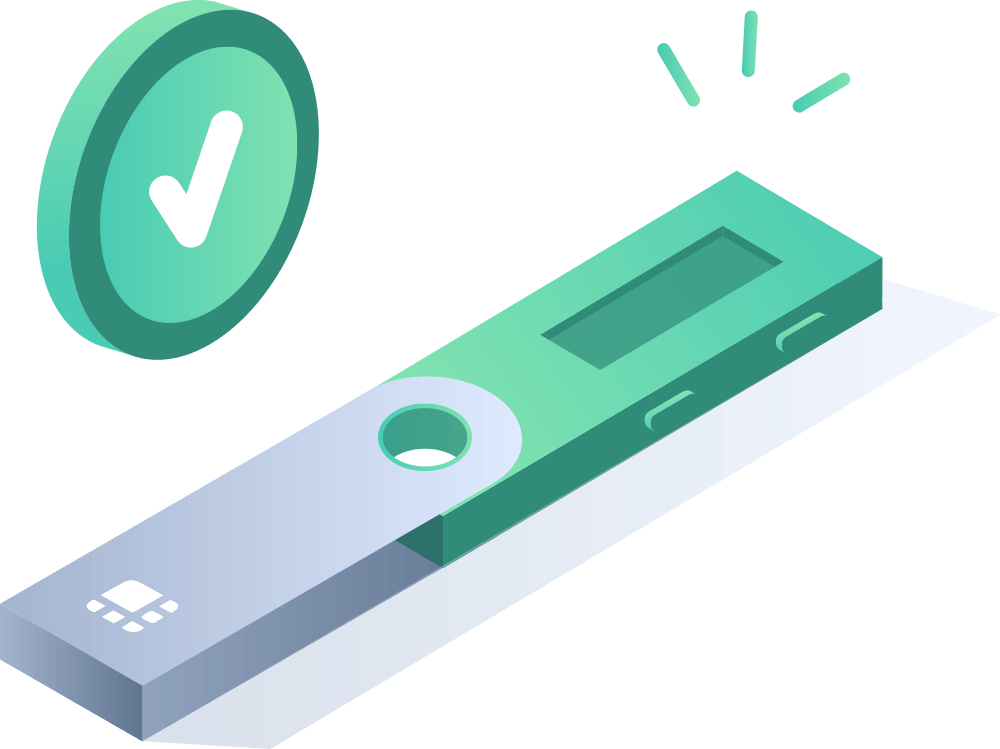 Desktop wallets have the advantage of being free and easy to use. However, using a desktop wallet also poses many dangers to your coins.
Making sure your coins are not stolen through malware or ransomware is difficult to avoid on a desktop wallet.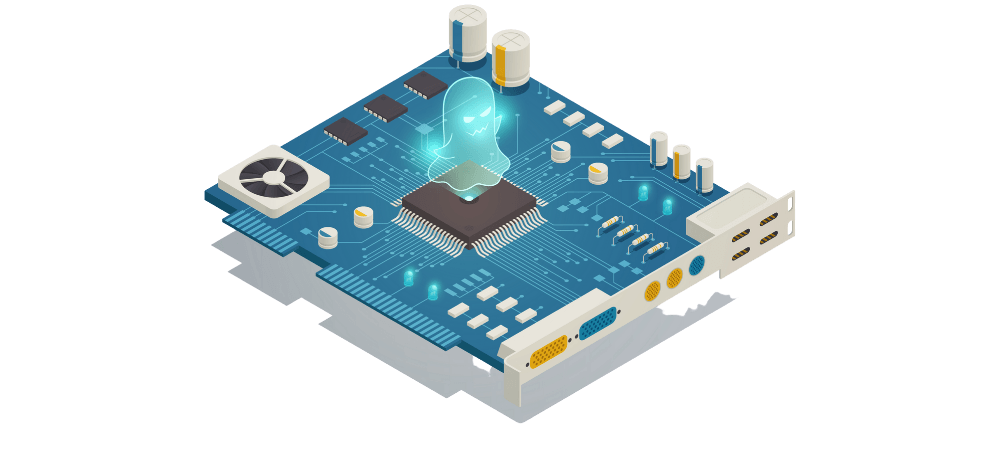 Malware and Ransomware on your computer can result in stolen coins
This is where hardware wallets come in. Hardware wallets are never connected to the internet. They store the private keys and sign transactions you send to them. You verify the transaction on the screen of the hardware wallet, and hand off the signed transaction back to interface on your desktop or mobile phone.

Some of our favorite hardware wallets.
Hardware wallets are a great way, then, to keep your coins safe if you want to use a desktop wallet. Instead of housing the coins on the desktop computer, you store them on the hardware wallet and the desktop just acts as your UI to control the hardware wallet.
You can learn more about each of the hardware wallets we recommend below: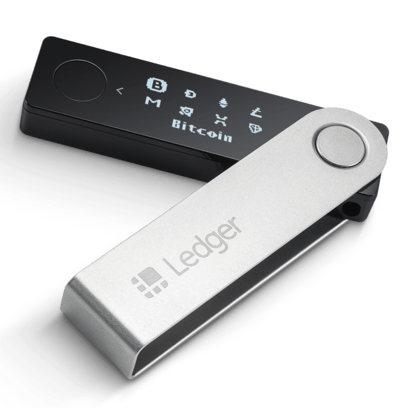 SCREEN:
RELEASED: 2019
PRICE: $150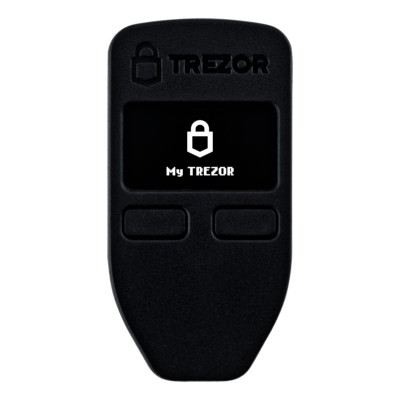 SCREEN:
RELEASED: 2013
PRICE: $119
Chapter 3
Security Tips for Desktop Wallets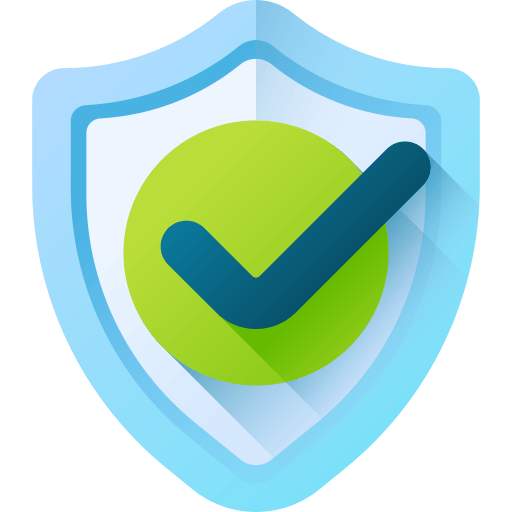 Now that we've got our desktop wallet set up with a hardware wallet, let's explore a few additional points on security.
PINs, VPNs, and Steel wallets are great additions to our security stack.
Always set up a PIN to protect your funds
Make sure your desktop wallet is protected by a 4 to 6 digit PIN number. Much like your bank account, most wallets have a PIN password that is the absolute minimum when it comes to protecting funds you keep on your wallet. This prevents someone who has your phone from accessing the coins and sending them to another wallet that they own.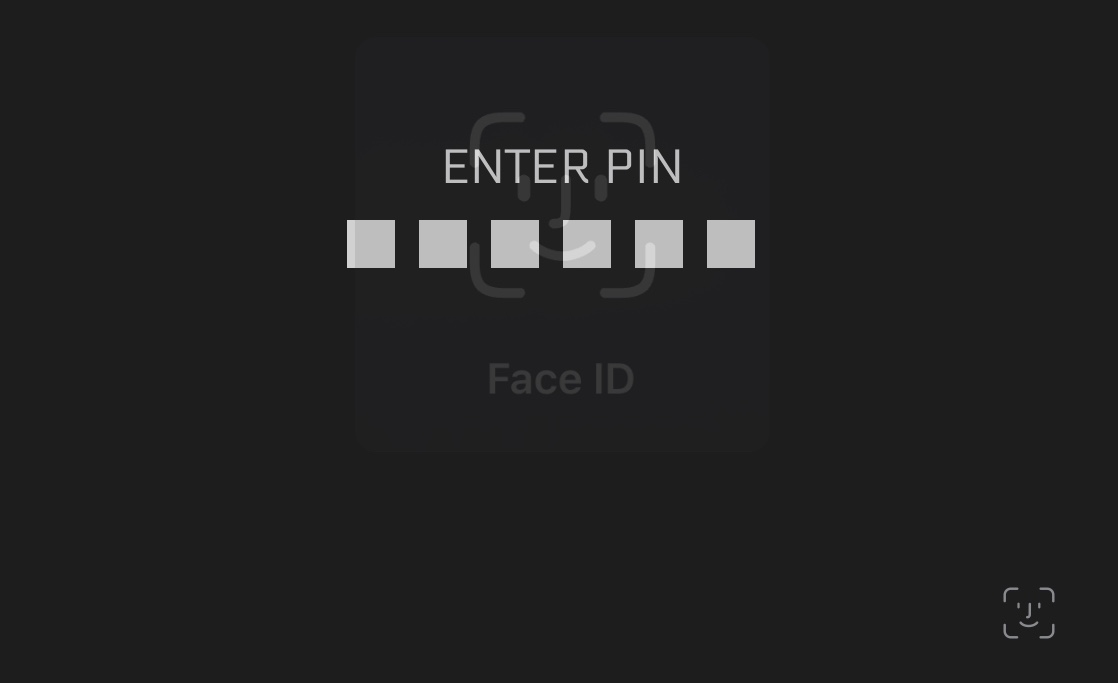 Setting up a PIN is a minimal requirement when it comes to mobile wallet security.
A PIN is not very strong security, but it's good enough to prevent most people who have temporary access to your unlocked phone from taking your money.
Store your recovery phrase on something that is water and fire proof
All the desktop wallets on this list support BIP39 seed words, otherwise known as 'recovery phrases'. If your phone is lost, destroyed, or stolen, you can use this phrase to recover your funds to a new device.
However, most people write down these words on a piece of paper. When their home catches fire or is flooded, they lose the device and the backup to the elements. You should therefore consider a steel backup device like the PrivacyPros Billfodl.

The Billfodl protects your funds from fire and flood.
DO NOT store a lot of coins on your desktop wallet
We've mentioned this before, but its worth repeating: you should treat your desktop wallet the same way you treat your real world wallet. You wouldn't carry every dollar you own in your pocket. You should also not hold all your coins on your desktop wallet. You need to store them on a hardware wallet.
Which Countries Do Desktop Wallets Support?
Desktop wallets are just software so they work in any country.
Use a VPN when transacting on an desktop wallet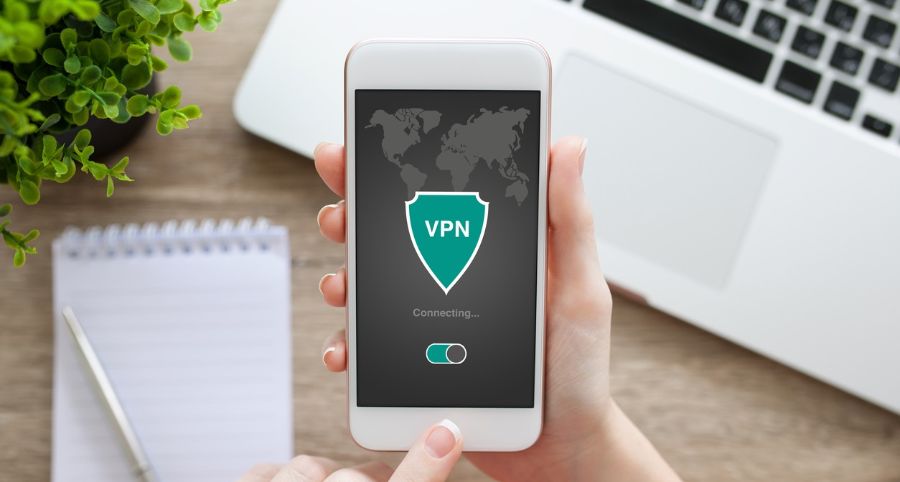 A VPN shields your IP address from leaking.
When making Bitcoin transactions on your desktop wallet, it is a good practice to use a VPN. This prevents your ISP or hackers listening in on your connection from tying your IP address (and therefore your personal identity) to your Bitcoin transactions. It's a good privacy practice that is cheap and easy to implement.
Chapter 4
Frequently Asked Questions

Below are some of our most asked questions by readers.
If you're wondering about a topic on this page, odds are we have the answer here.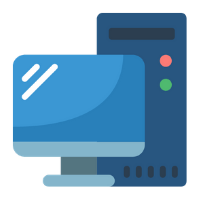 When should I use a desktop Bitcoin wallet?
If you're on your computer a lot and don't need super secure storage, a desktop wallet is a good choice.
Do desktop wallets work with hardware wallets?
Yes, many desktop wallets allow the user to utilize a hardware wallet as the signer of transactions. This means that the private key is not help on the computer the desktop wallet is installed on.
Instead, the private key is held on a hardware wallet, and the desktop wallet is used as an interface for the hardware wallet. The desktop wallets sends transaction data to the hardware wallet to sign off on. If you've ever used Ledger Live, this is essentially how it works as well.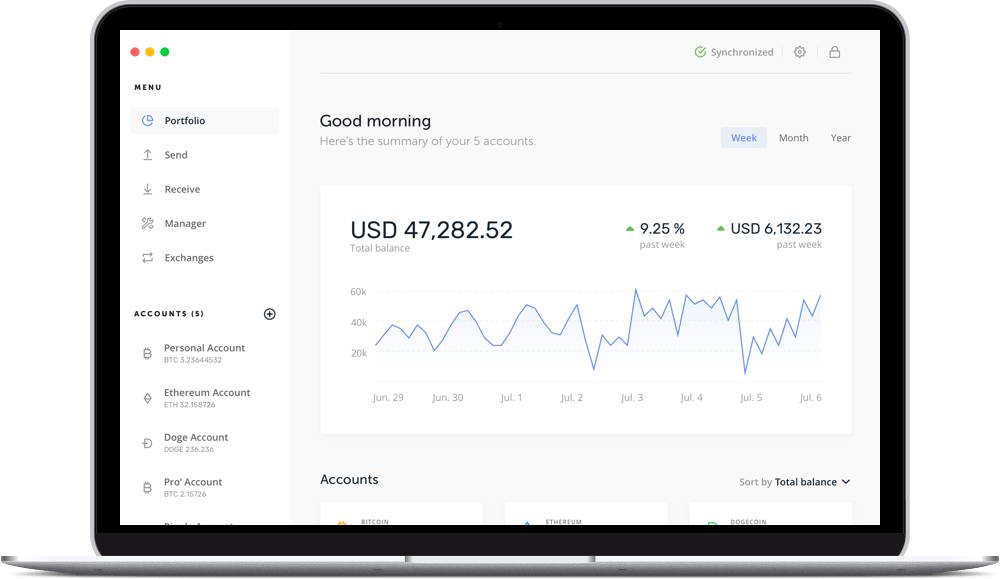 Ledger's Desktop wallet manager application, Ledger Live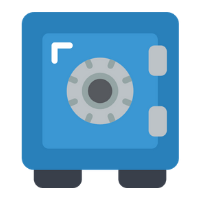 Can I store large amounts of bitcoins in a desktop wallet?
You can, but this isn't recommended.
If you want to use a desktop wallet but need to store large amounts of Bitcoin, its best to utilize a hardware wallet to sign transactions for the desktop wallet (as mentioned above).
KeepKey, TREZOR, and Ledger Nano X all work with Electrum. TREZOR One and Model T and the Ledger Nano S and X all work with Copay.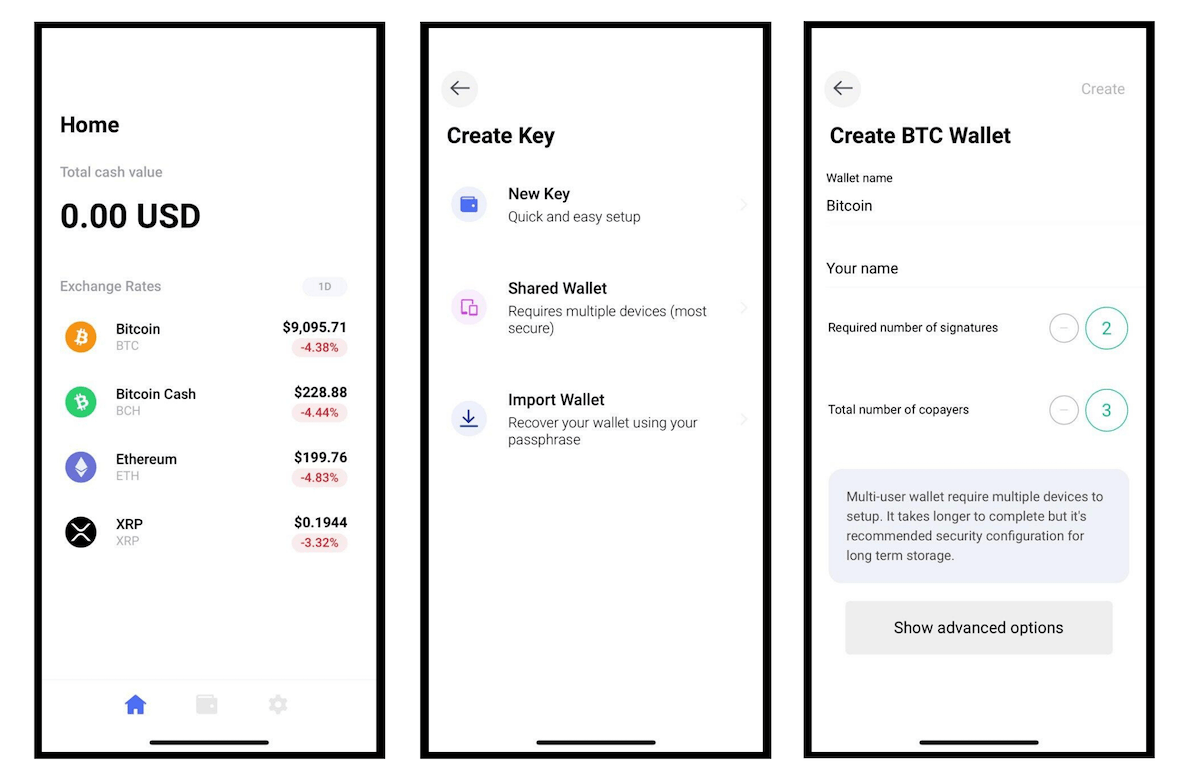 The copay app settings for adding a hardware wallet for multisig
Setup is very easy and you can have your hardware wallet securely signing transactions via your desktop wallet in just a few minutes.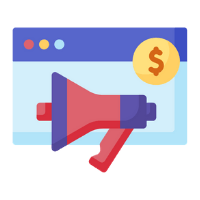 What's the difference between a desktop wallet and a web wallet?
Web wallets are more like accounts. A web wallet makes you set a passwords which it uses to encrypt your wallet on the web wallet server.
Desktop wallets are actual apps that are installed on your computer.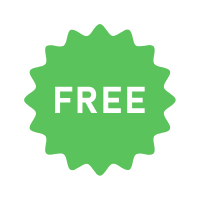 Are desktop wallets free?
Yes, all desktop wallets are free. Hardware wallets are the only type of wallet that costs money.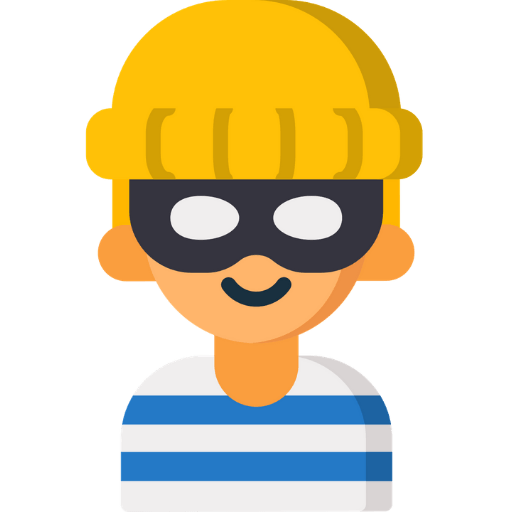 If someone has access to my computer can they access my bitcoins?
It depends. Many desktop wallets encrypt your private keys and request a password to decrypt it every time you open the wallet. This means that you need to enter a password in order to send bitcoins from most desktop wallets.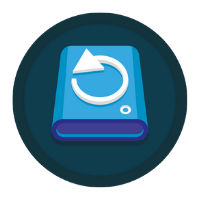 How do I backup my desktop wallet?
Most wallets generate a seed on setup. You write this seed down on a piece of paper and it can be used to restore your wallet if you lose your computer of have it stolen.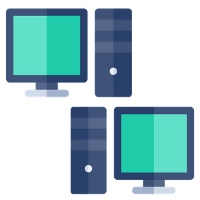 Can I use more than one desktop wallet at a time?
Yes, of course. We suggest trying many different desktop wallets and then deciding which one has the features you're interested in.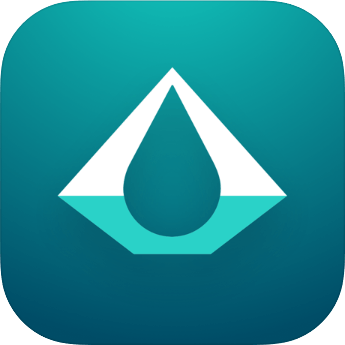 What is the difference between Blockstream Green and Aqua?
While both of these Bitcoin and Liquid wallets are made by Blockstream, only Blockstream Green is available for desktop. Aqua is only available as a mobile wallet on IOS (Android version available late 2021). The other difference is that Blockstream green uses a 2-of-2 multisig to protect your coins from hackers. Aqua is a single signature wallet, meaning anyone with access to your phone (either physically or remotely) could steal your coins. In exchange for the increased risk, the wallet is easier to use.
Aqua is new, and if you have an iOS device, it can be a great addition to Blockstream Green Desktop.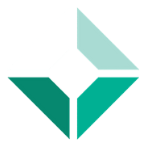 Does Blockstream Jade work with Blockstream Green Desktop?
Yes, you can now use the Blockstream Green app on your desktop to set up your wallet on your Blockstream Jade hardware wallet!