We may receive advertising compensation when you click certain products. Before jumping into this page, an important disclosure.
eToro
eToro allows you to buy Bitcoin & crypto in the United States.

It offers a free wallet, app, and is easy and quick to use for purchases.

Limited time offer: Get $10 free once you trade $100 worth of cryptocurrency.

eToro USA LLC; Investments are subject to market risk, including the possible loss of principal.
Visit eToro's Website
Pros
Trusted exchange with 25+ million users
Easy to use to buy
Interface is clean and many coins supported
Cons
You cannot deposit cryptocurrency, but you can deposit with other payment methods
Ease of Use
Easy
Privacy
Low
Speed
Average
Fees
Low
Reputation
Trusted
Limits
High
Coinbase
Coinbase one of the largest exchanges, with over 100 million users.

USA users can buy bitcoins and crypto fast and easily using Coinbase's free app or on its website.

Coinbase also offers a free wallet for its users.

Eligible US residents (excluding Hawaii) who successfully create an account and purchase crypto will receive $5 in Bitcoin (BTC) added to their Coinbase portfolio. Visit Coinbase's Website
Pros
Trusted exchange with 100 million+ users
Based in USA, free wallet included
App available on Apple App Store & Play Store
Cons
Easy to use but fees can be high
Coinbase may track how and where you spend your bitcoins
Ease of Use
Easy
Privacy
Low
Speed
Average
Fees
Average
Reputation
Trusted
Limits
High
Bitcoin IRA
Bitcoin IRA offers a tax-advantaged way to acquire Bitcoin via an IRA.
Visit Bitcoin IRA's Website
Pros
Tax Advantaged Bitcoin Savings
Easy to set up account
Cons
Cannot custody the Bitcoin yourself
Ease of Use
Average
Privacy
Low
Speed
Fast
Fees
High
Reputation
Trusted
Limits
High
Gemini
Gemini is one of the most trusted exchanges operating in California. Californians can fund their Gemini account using both ACH or Bank Wire transfer. Best of all, verification is fast and if you run into any trouble, Gemini is known for fantastic customer service.
Pros
Trustworthy and regulated exchange
Instant deposit lets you buy coins quickly (but not withdraw them)
Some of the lowest fees in the US and Canada
Cons
Somewhat confusing to use for new buyers
Ease of Use
Hard
Privacy
Low
Speed
Slow
Fees
Low
Reputation
Trusted
Limits
High
Uphold
Crypto exchange established in 2015. United States residents can buy bitcoin & crypto via wire transfer, credit card, debit card and ACH transfer.
Pros
Ability to also buy gold and silver
Cons
Requires ID verification, so not private
Ease of Use
Easy
Privacy
Low
Speed
Average
Fees
Low
Reputation
Trusted
Limits
High
Coinmama
Coinmama allows customers in almost every country to buy bitcoin. They charge a 4.9%-5.9% (depends on volume) fee on each purchase.

Customers in Europe can also purchase bitcoins with SEPA transfer for a lower fee.
Pros
Works in almost all countries
Highest limits for buying bitcoins with a credit card
Reliable and trusted broker
Cons
Some of the highest fees among credit/debit card bitcoin brokers
Ease of Use
Easy
Privacy
Low
Speed
Fast
Fees
Average
Reputation
Trusted
Limits
High
River
River makes it easy to buy bitcoin. It has a clean interface, low fees and allows for automatic purchases.

It currently offers its services in all US states besides New York and Nevada.

Be sure to read our River Financial review.
Pros
Very clean interface
Unique recurring buy feature
Cons
Bitcoin-only, no support for other coins
Ease of Use
Easy
Privacy
Low
Speed
Average
Fees
Low
Reputation
Trusted
Limits
High
Swan Bitcoin
Swan Bitcoin is a dollar cost averaging Bitcoin exchange, where users can set up recurring Bitcoin purchases to be drafted from their bank account or credit card every month or week.

Get $10 in free BTC when you make your first purchase.
Pros
Easy to set up
Automated dollar cost averaging
Very low fees
Cons
First purchase takes awhile
No way to sell on platform
Ease of Use
Hard
Privacy
Low
Speed
Fast
Fees
Low
Reputation
Trusted
Limits
High
Coinbase Advanced Trader
Coinbase's exchange, Coinbase Pro, is one of the largest Bitcoin exchanges in the United States. Users can fund their accounts via bank transfer, SEPA, or bank wire. Coinbase Pro offers good prices and low fees, but their confusing user interface may initially prove difficult to navigate.
Pros
Some of the lowest fees available for US and EU customers
Possible to buy bitcoins for 0% fees
Cons
User interface is confusing for first time buyers
Ease of Use
Hard
Privacy
Low
Speed
Average
Fees
Low
Reputation
Trusted
Limits
High
Bitcoin ATMs
You can use our Bitcoin ATM map to buy bitcoins with cash. Bitcoin ATMs can be a quick and easy way to buy bitcoins and they're also private. That convenience and privacy, however, comes with a price; most ATMs have fees of 5-10%. View Bitcoin ATMs
Pros
Our map makes it super easy to find a Bitcoin ATM near you
Cons
Bitcoin ATMs often have 5-10% fees per purchase
-
Chapter 1
Bitcoin & Cryptocurrency Trading in California
California, home to Silicon Valley and a large chunk of the U.S. tech industry, is unsurprisingly at the forefront of Bitcoin and cryptocurrency development.
In addition to the startup culture and deep talent pool:
California also has the most venture capital funding of any state in the U.S., making it easy (or easier) for good ideas to get the support they need.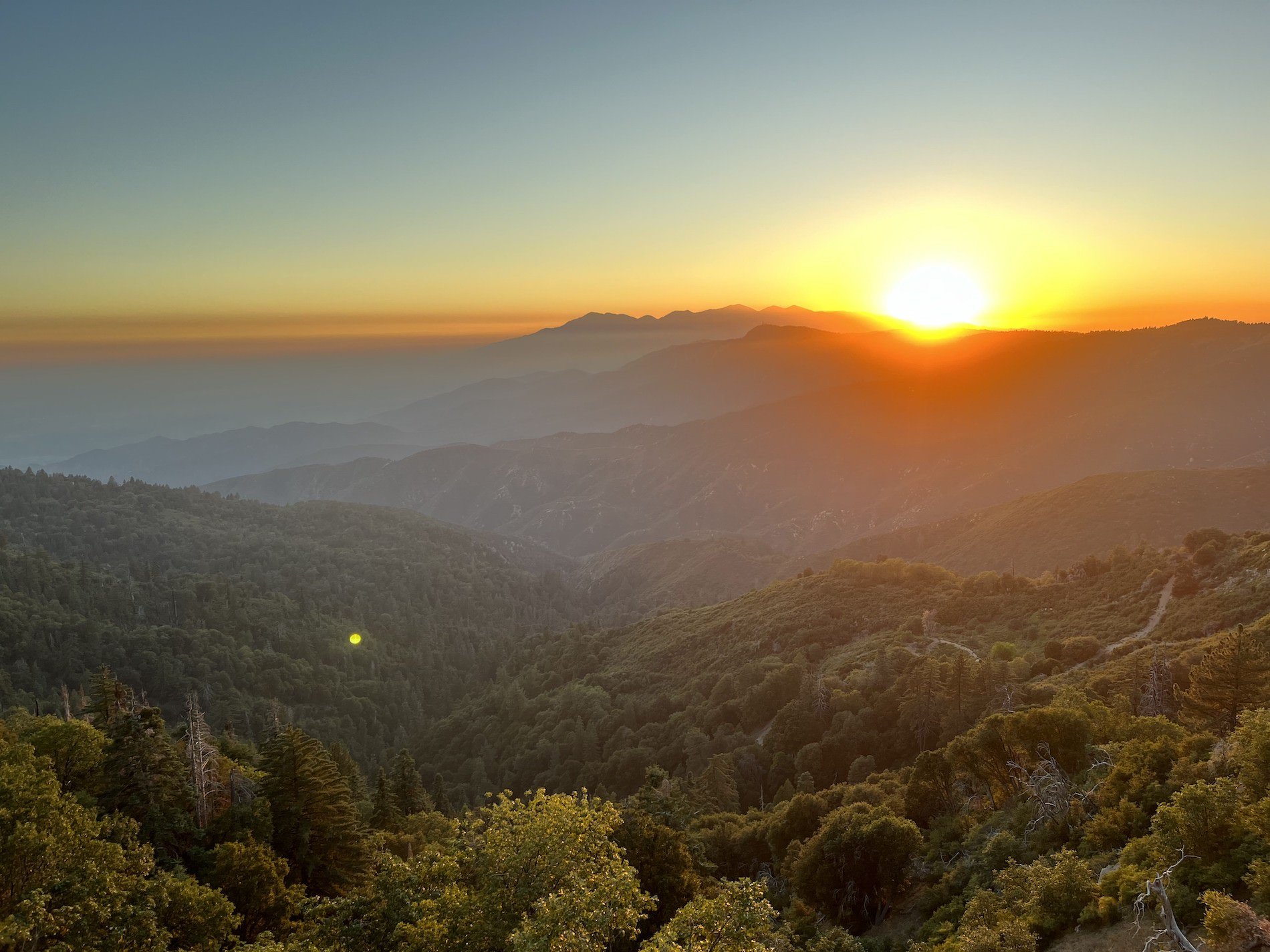 A view of the city Los Angeles and surrounding areas from Running Springs
Regulation & Exchanges
Why have exchanges thrived in California?
Minimal Regulation: Exchanges have grown due to lax regulations, unlike New York's restrictive BitLicense which caused many companies to exit.
California - The 'Crypto-Ready' State: Recent reports have dubbed California as the most 'crypto-ready' based on Crypto ATM availability, Google searches on crypto, and state legislation.
Ranking Drawbacks: California's regulatory challenges and the idea that the number of crypto ATMs might not be the best Bitcoin adoption metric.
Notable Cryptocurrency Exchanges: Coinbase and Kraken are both headquartered in San Francisco. Kraken left New York after BitLicense. Both have been instrumental in drafting California's crypto laws.
Crypto Adoption in California
High Adoption Rates: According to CoinTracker, 6 of the top 10 US cities with most crypto users are in California: San Francisco, Santa Clara, Mountain View, Sunnyvale, Palo Alto, San Mateo.
State Initiatives: California Attorney General's November 2022 initiative: A website to educate residents on crypto purchase, trading, and scam avoidance.
Satoshi in Suburbia?
One of the more bizarre chapters of Bitcoin history also took place in California, when a media circus descended upon a retired physicist's house in Temple City, half an hour east of Los Angeles.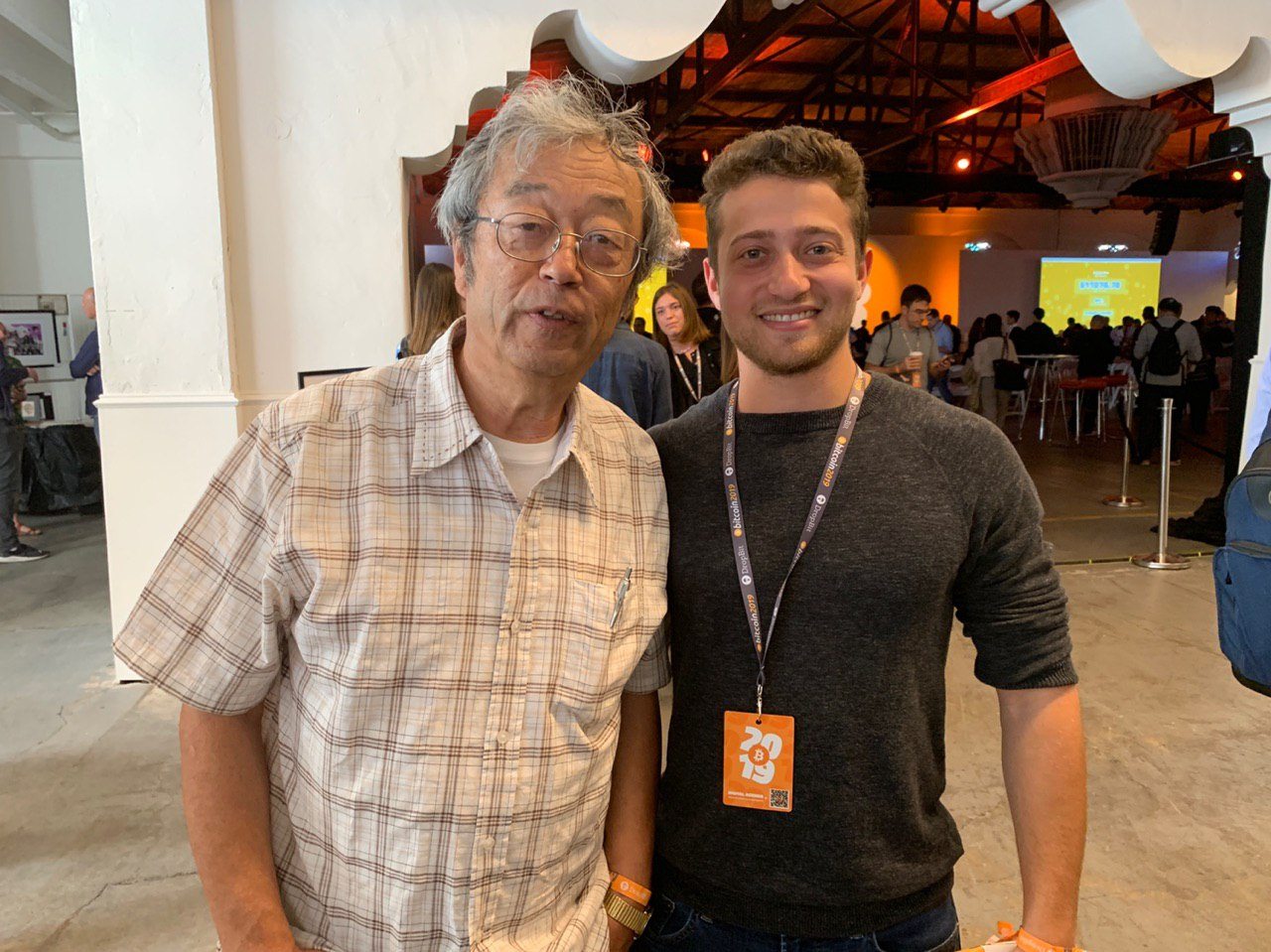 Me and Dorian Nakamoto (not the creator of Bitcoin) at a conference in California. This is the Mr. Nakamoto who Newsweek falsely claimed was the real Satoshi.
The saga began with an article in Newsweek that pointed the finger at Dorian Nakamoto, originally named Satoshi Nakamoto from Japan, as the mastermind behind Bitcoin.
Education and Career: After earning his degree from Cal Poly Pomona, Nakamoto contributed to classified defense projects and later transitioned into IT and financial sectors as a computer systems engineer.
Dorian Nakamoto's initial response to Newsweek's inquiry about his Bitcoin involvement was somewhat cryptic:
"I am no longer involved in that and I cannot discuss it. It's been turned over to other people. They are in charge of it now. I no longer have any connection."
However, after the article became a media sensation, Dorian Nakamoto clarified his position.
He outright denied any connection to or knowledge of Bitcoin.
The statement "I am no longer involved with it" was explained as him referring to past confidential work in government and private sectors, not the famed cryptocurrency.
The true identity of Satoshi Nakamoto remains one of the tech world's most tantalizing mysteries. Was Dorian Nakamoto's episode the closest we've come to unveiling the legend, or just another testament to our desire to personify the enigma? The conclusion is yours to draw.
How to Buy Bitcoin in California
One of the easiest ways to buy Bitcoin in California is through the cryptocurrency exchanges outlined above. There are several exchanges offering Bitcoin in California, and you can easily select one based on your requirements and preferences using our guide. Different exchanges have different transaction fees, withdrawal limits, payment modes, and verification processes that need to be kept in mind before users select one.
Additionally, Bitcoin buyers need to keep in mind the fact that certain exchanges might require them to get a wallet of their own before they are able to buy the digital currency. Also, it is recommended to have a wallet of your own for security reasons, preferably a hardware wallet.
Another way to buy Bitcoins and other popular cryptocurrencies in California is through automated teller machines (ATMs). These ATMs allow users to instantly purchase the cryptocurrency using cash, and most of them only require a telephone number for verification, so long as you aren't buying a lot of Bitcoin. This makes them more private than exchanges.
LocalBitcoins is another option. Here, you can buy and sell Bitcoin for a wide range of payment methods, from gift cards to bank transfers. LocalBitcoins is a peer-to-peer (P2P) exchange, where you buy and sell with another individual. Similar to craigslist, this does introduce a degree of risk,. You can minimize that risk by conducting all business on the platform, making use of its escrow services, and only trading with users who have a good reputation.
-
Chapter 3
Hacks and Crypto Scams in California
In good news for Californian Bitcoiners, neither Coinbase nor Kraken - the state's two largest exchanges - have been compromised to date. Kraken has played an important role in the investigation and distribution of reclaimed funds from the Mt Gox hack, one of the largest exchange hacks so far.
While there may have been no exchange hacks, there have definitely been individuals caught using crypto for illegal purposes, whether it's scamming investors or laundering money.
One Southern Californian man, who went by the username of Superman29, pled guilty to laundering somewhere between $15 and $20 million over a period of five years, from December 2014 to his arrest in November 2019. Kais Mohammad accepted cash from customers and laundered it through a network of Bitcoin ATMs that he owned, located in Orange, Los Angeles, Riverside, and San Bernadino counties.
Undercover agents processed multiple transactions on Mohammed's ATMs, all of which should have been reported to FinCEN - the Financial Crimes Enforcement Network. An agent also met with Mohammed in person and gave him $16,000 which he said had been obtained by illicit means. He received in return 1.58592 BTC, without the transaction being flagged. Mohammed pleaded guilty and now faces up to 30 years in federal prison.
Another case that occurred in California highlights the importance of app-based or hardware two-factor authentication in securing your account. A group of hackers, many of them just teenagers, stole more than $35 million worth of crypto from 50 victims by SIM swapping their phone numbers and gaining access to exchange accounts.
SIM swapping involves using social engineering to convince a telephone provider like AT&T or Verizon to port a particular phone number over to a new SIM card, one in the control of the scammer. Once complete, the scammer can receive all SMS verification codes, which can be used to change account passwords and authorize withdrawals.
While the blame rests squarely on the fraudsters, this kind of attack wouldn't be possible if the victims had kept their funds in a secure wallet rather than a web-based exchange. Hackers will never be able to access your Bitcoin wallet via SIM swapping if you keep your private key to yourself.
In this case, some of the attackers were brought to justice and punished to the full extent of the law. Joel Ortiz, 21, was sentenced in a Santa Clara court to 10 years in prison for what was the first prosecuted case of SIM swapping in the U.S.
The takeway for crypto users is simple: Use a secure form of two-factor authentication (2FA), and keep any funds you're not willing to lose in a secure wallet, with hardware wallets being among the safest.
-
| Exchange Name | Support for California |
| --- | --- |
| Binance.us | |
| Coinbase | |
| Coinmama | |
| Kraken | |
| Kucoin | |
| Gemini | |
| Uphold | |
| Luno | |
| Crypto.com | |
Where Can I Find a Bitcoin ATM in California?
California is exceptionally well served with Bitcoin ATMs. There are hundreds in the state, meaning you should never be too far from an ATM if you need to buy or sell Bitcoin in person. Many machines also support a handful of the next largest digital assets, such as Ethereum (ETH) and Litecoin (LTC).
You can use our Bitcoin ATM finder tool to find the one nearest you.
What Can I Buy With Bitcoin in California?
It has not always been easy to find retailers willing to accept Bitcoin outside of some niche industries, and of course the numerous darknet markets that began with the Silk Road and have proliferated since then.
In the last few years, however, more and more stores have been offering payment with crypto. The Microsoft Store supports payment with Bitcoin, and Overstock.com's partnership with Coinbase allows you to pay for any of their products with crypto.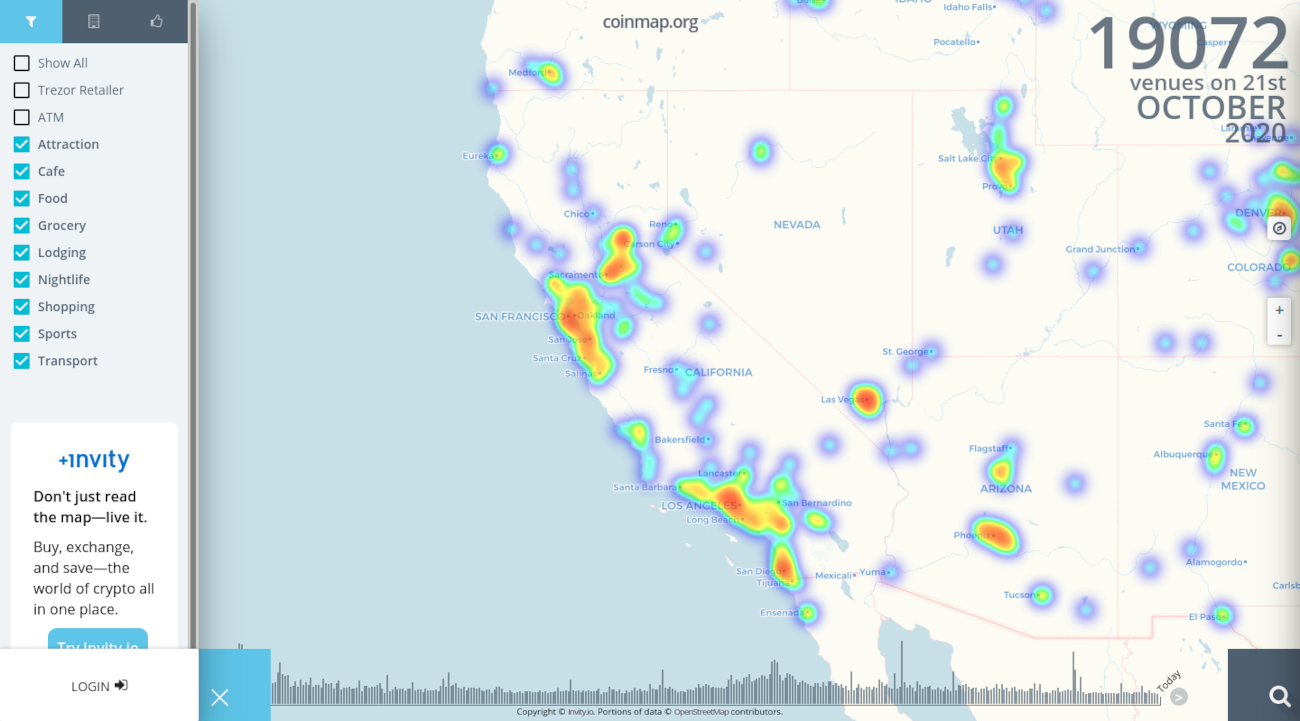 Source: CoinMap.org of California
Coinmap has a list of brick and mortar retailers that accept Bitcoin for payment.
A number of charities accept Bitcoin for donations. Wikileaks and Wikipedia are two of the biggest and best known. The Tor Project accepts Bitcoin donations, and in addition to BTC the Electronic Frontier Foundation also takes DAI, Dash, Ethereum, Litecoin, Ripple, and Zcash.
Some big news recently has massively expanded the number of businesses where you will be soon able to spend your Bitcoin. PayPal - a California company headquartered in San Jose - announced in October 2020 that customers will be able to buy and sell Bitcoin, Ethereum, Litecoin, and Bitcoin Cash within their platform. Additionally, you will be able to spend your crypto at all of the 26 million sellers around the world, whether it's paying for your monthly Netflix subscription or shopping on eBay. This feature - which is scheduled to launch in the U.S. in early 2021 - is a giant leap toward mainstream Bitcoin usage and adoption.
How Can I Mine Bitcoin in California?
Bitcoin mining is the process of using a computer to perform the difficult calculations that secure the network and make Bitcoin a proof of work cryptocurrency.
While in the early days of Bitcoin you could earn sizable amounts of Bitcoin (and many people did) with just a desktop computer, these days the emergence of commercial mining farms with specialized hardware has made that all but impossible. Still, there are software programs you can run on any computer if you wish to see how it works just for curiosity's sake.
The truth is, there is no real way to profitably mine in California right now.
Which California Banks Support Bitcoin Wallets?
With more and more institutions getting into crypto - and especially Bitcoin - you might be wondering if you can custody your own BTC with a bank. It's easy to imagine a future where you can log in to your online banking and simultaneously see that your paycheck has come through while watching the value of your crypto portfolio.
That future, however, is not a reality just yet. Banks do not currently offer cryptocurrency wallets to retail investors. You'll need to secure your holdings with one of the many great wallets outlined above.
There has definitely been a large amount of progress in that direction, though. Every year it gets easier to invest in Bitcoin, and crypto services become more and more beginner friendly. JPMorgan's recent announcement that it will be providing banking services for Coinbase and Gemini is a sign that big things may be just around the corner.
How Much Does It Cost To Get a Bitcoin ATM in California?
Bitcoin ATMs vary widely in price depending on the features you need.
Let's take for an example General Bytes' BATMThree. The base model starts at $5999, without delivery.
Adding an internal safe to the machine which secures cash with a code lock will add $1270.
A maximum input capacity of 600 banknotes is standard. Room for 1200 notes will cost an extra $313, and 2200 notes $600. Output volume (for cryptocurrency sale transactions) begins at 0 and goes up to 3100 banknotes, which will add $3150 to the model's price. A banknote recycler allows the machine to output banknotes inputted by customers and costs $958.
NFC-equipped card output ($300) allows the machine to dispense NFC cards which store private keys. This is like a paper wallet, but more durable.
Finally, you can also opt for a GSM alarm ($199), which includes a siren, SMS notifications, and a GPS tracker.
A fully specced-out BATMThree will cost $11,518. You may not require any or all of these optional extras, depending on the purpose you've got in mind for your Bitcoin ATM.
There are plenty of models on the market, some intended to sit on a countertop while others take up as much room as a traditional ATM.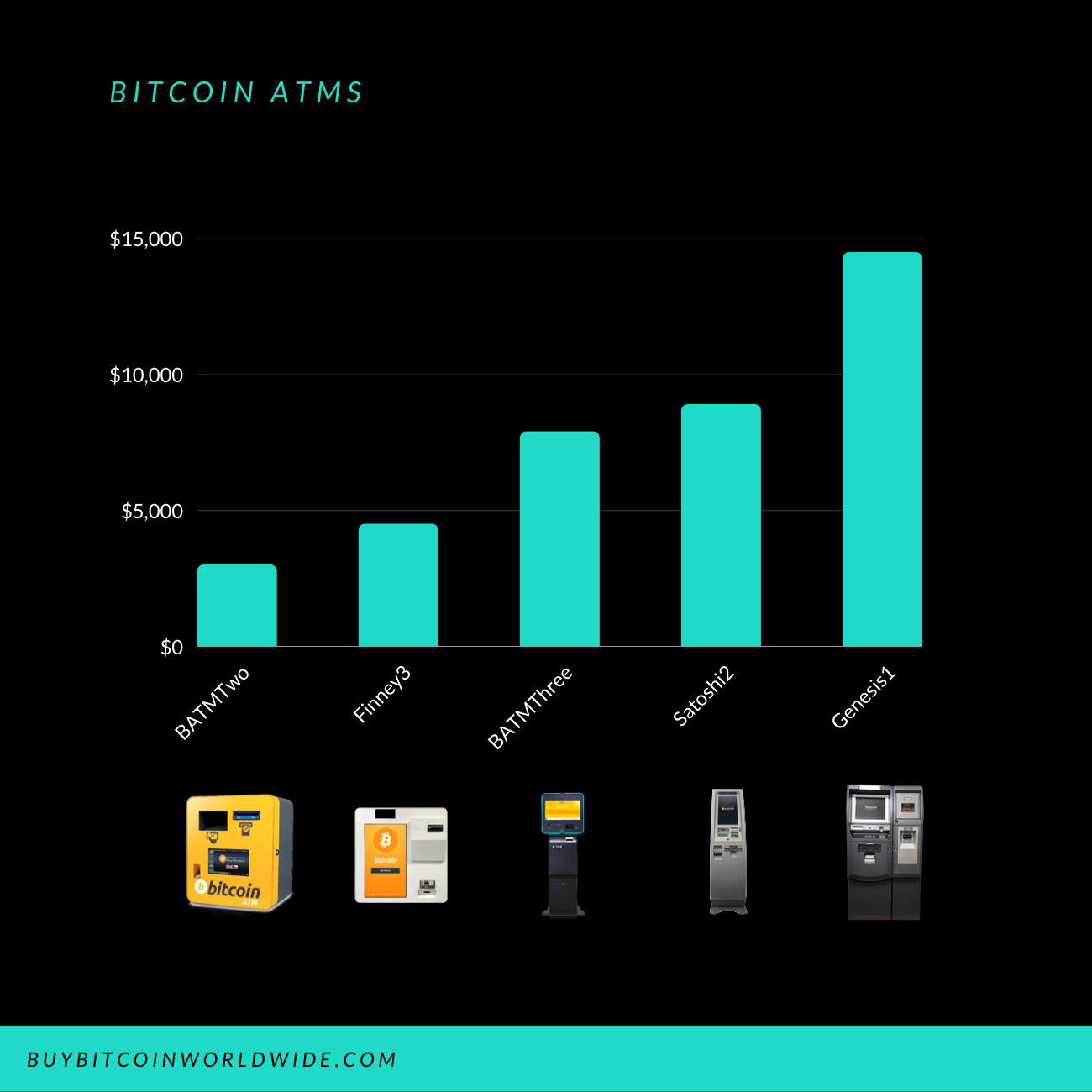 Who Regulates the Bitcoin Exchanges in California?
Bitcoin and cryptocurrency exchanges in California are regulated on the state level by the State Assembly, which has passed a number of bills relating to cryptocurrencies and digital assets.
First, in 2014, was Assembly Bill 129, which removed an obsolete ban on Bitcoin and allowed it to be used for purchasing goods and transmitting payments.
In 2015, AB 1326 was approved 55-32. This legislation called for digital currency companies (exchanges being the largest in this category) to be regulated similarly to banks. The bill enacts the Digital Currency Business Enrollment Program, which is administered by the Commissioner of Business Oversight who is in charge of defining rules and regulations relating to cryptocurrency companies. Crypto firms were mostly happy with this legislation, as it provided a wide range of exemptions and only applied to businesses that maintained full custody of client funds or operated as exchanges. Additionally, it did not lay out any specific restrictions or requirements, but rather opened up a pathway for stakeholders to consult with the Commissioner of Business Oversight.
Cryptocurrency operations in California are also subject to federal law, such as the Bank Secrecy Act of 1970 and various other anti-money laundering statutes.
Article Sources
BuyBitcoinWorldWide writers are subject matter experts and base their articles on firsthand information, like interviews with experts, whitepapers or original studies and experience. We also use trusted research and studies from other well-known sources. You can learn more about our editorial guidelines.