We may receive advertising compensation when you click certain products. Before jumping into this page, an important disclosure.
Bitstamp
Bitstamp is one of the world's largest and most well-known Bitcoin & crypto exchanges. Deposits can be made through bank transfer, SEPA transfer, international bank wire, and now even credit cards.
Pros
One of the longest-running Bitcoin exchanges
Very low 0.25% fee, falling to 0.1% with sufficient trading volume
Offers wide range of altcoins
Cons
High 8% fee on small credit card purchases, falling to 5% with sufficient trading volume
Ease of Use
Hard
Privacy
Low
Speed
Slow
Fees
Average
Reputation
Trusted
Limits
High
Coinbase
Coinbase is the world's largest Bitcoin (BTC) broker. They represent an easy and fast way for new users to purchase bitcoins. Coinbase supports customers in over 30 countries, including the United States, Europe, UK, Singapore, and Canada.

Customers in the above-mentioned countries can purchase bitcoins by debit card, bank transfer, SEPA transfer, and more.

Get $5 in free bitcoin after you sign up on Coinbase and make your first trade.
Pros
High liquidity and buying limits
Easy way for newcomers to get bitcoins
"Instant Buy" option available with debit card
Cons
Purchases made with bank transfer can take up to 5 days to complete
Coinbase may track how and where you spend your bitcoins
Ease of Use
Easy
Privacy
Low
Speed
Average
Fees
Average
Reputation
Trusted
Limits
High
Coinbase Advanced Trader
Coinbase's exchange, Coinbase Advanced Trader (formerly called Coinbase Pro), is one of the largest Bitcoin exchanges in the United States. Users can fund their accounts via bank transfer, SEPA, or bank wire. Coinbase Advanced Trader offers good prices and low fees, but its confusing user interface may initially prove difficult to navigate.
Pros
Some of the lowest fees available for US and EU customers
Possible to buy bitcoins for 0% fees
Cons
The user interface is confusing for first-time buyers
Ease of Use
Hard
Privacy
Low
Speed
Average
Fees
Low
Reputation
Trusted
Limits
High
Paybis
Paybis is a popular cryptocurrency exchange. They serve 180 countries and 48 US states and are registered with FinCEN, making them a more trusted, regulated exchange. Paybis offers incredibly high limits and super fast payouts, not to mention 5 minute ID verification and nearly perfect review scores on Trustpilot.
Pros
24/7 live support
Paybis has extremely high limits
5 Minute verification
Get payouts fast
Large selection of payment methods
Cons
No traditional order book for advanced traders
Ease of Use
Easy
Privacy
Low
Speed
Average
Fees
Low
Reputation
Trusted
Limits
High
bitcoinbon
bitcoinbon is an Austrian services which allows users to make cash purchases of bitcoins via redeemable paper coupons. The service is available at over 3,000 physical locations across Austria. Users may buy in amounts of €25, €50, or €100.
Pros
One of the best ways to buy bitcoins in Austria
Cons
Low buying limits
High fee of between 7% to 9%
Ease of Use
Easy
Privacy
High
Speed
Fast
Fees
High
Reputation
Trusted
Limits
Average
Coinfinity
Coinfinity is a Bitcoin exchange based in Austria. Customers can buy bitcoin via SOFORT. Coinfinity also operates Bitcoin ATMs in Vienna and Graz and owns the above-mentioned bitcoinbon voucher service.
Pros
Trusted and established exchange
Cons
Limited payment methods available
ID verification is required for their exchange, so not private
Ease of Use
Average
Privacy
Low
Speed
Fast
Fees
Low
Reputation
Trusted
Limits
High
Bity
Bity is a Bitcoin exchange and ATM operator, based in Switzerland. Their 5 ATMs allow for a quick first purchase and only require phone verification for an initial buy limit of 1,000 EUR or CHF. Their online service accepts wire transfers, SOFORT and online bank transfers.
Pros
Easy to start buying bitcoins after mobile phone verification
Payment limit of up to €100,000 annually after intensive verification
Cons
ID verification is required for most purchases, so not a private way to buy
Low annual limit of only €4,000 without intensive verification
Ease of Use
Average
Privacy
Low
Speed
Fast
Fees
Low
Reputation
Trusted
Limits
High
Bitcoin ATMs
You can use our Bitcoin ATM map to buy bitcoins with cash. Bitcoin ATMs can be a quick and easy way to buy bitcoins and they're also private. That convenience and privacy, however, comes with a price; most ATMs have fees of 5-10%. View Bitcoin ATMs
Pros
Our map makes it super easy to find a Bitcoin ATM near you
Cons
Bitcoin ATMs often have 5-10% fees per purchase
Bitfinex
Hong Kong-based Bitfinex has long been one of the largest USD Bitcoin exchanges in the world. Bitfinex accounts may be funded by bank wire only, their fee on accepting such transfers is low at only 0.1%.

In August 2016, however, it was hacked and lost around 30% of its users funds. While Bitfinex can be helpful for buying large amounts of bitcoins, it is probably best to not use the exchange until it fully compensates affected users.
Pros
Very low fees even for low volume buyers; 0.1% for market makers and 0.2% for market takers
One of the best ways to buy large amounts of bitcoins
Allows lending of fiat or bitcoin to margin traders at interest (but this is risky in light of the hack)
Very deep liquidity promotes a price close to fair market rate
Supports several altcoins
Cons
Was recently hacked and has yet to fully compensate all users for their loss
Geared towards traders; possibly quite confusing for first time buyers
Single payment option
Ease of Use
Hard
Privacy
Low
Speed
Varies
Fees
Average
Reputation
Low Trust
Limits
High
-
Bitcoin & Cryptocurrency Trading in Austria
In April 2022, major retailer MediaMarkt decided to install Bitcoin ATMs (also called BTMs or Bitcoin teller machines) in 12 of their retail locations. The company first did a pilot project in one store and has said that it proved "Bitcoin ATMs in shops offer an opportunity to attract new customers."(3)
Austria has a major economy and is expected to have a growth in Gross Domestic Product (GDP) into 2027 based on current forecast.(1)
With that kind of growth, it means many Austrians are looking to expand their portfolio to include more non-traditional assets like Bitcoin and other cryptocurrencies.
You may be one of them...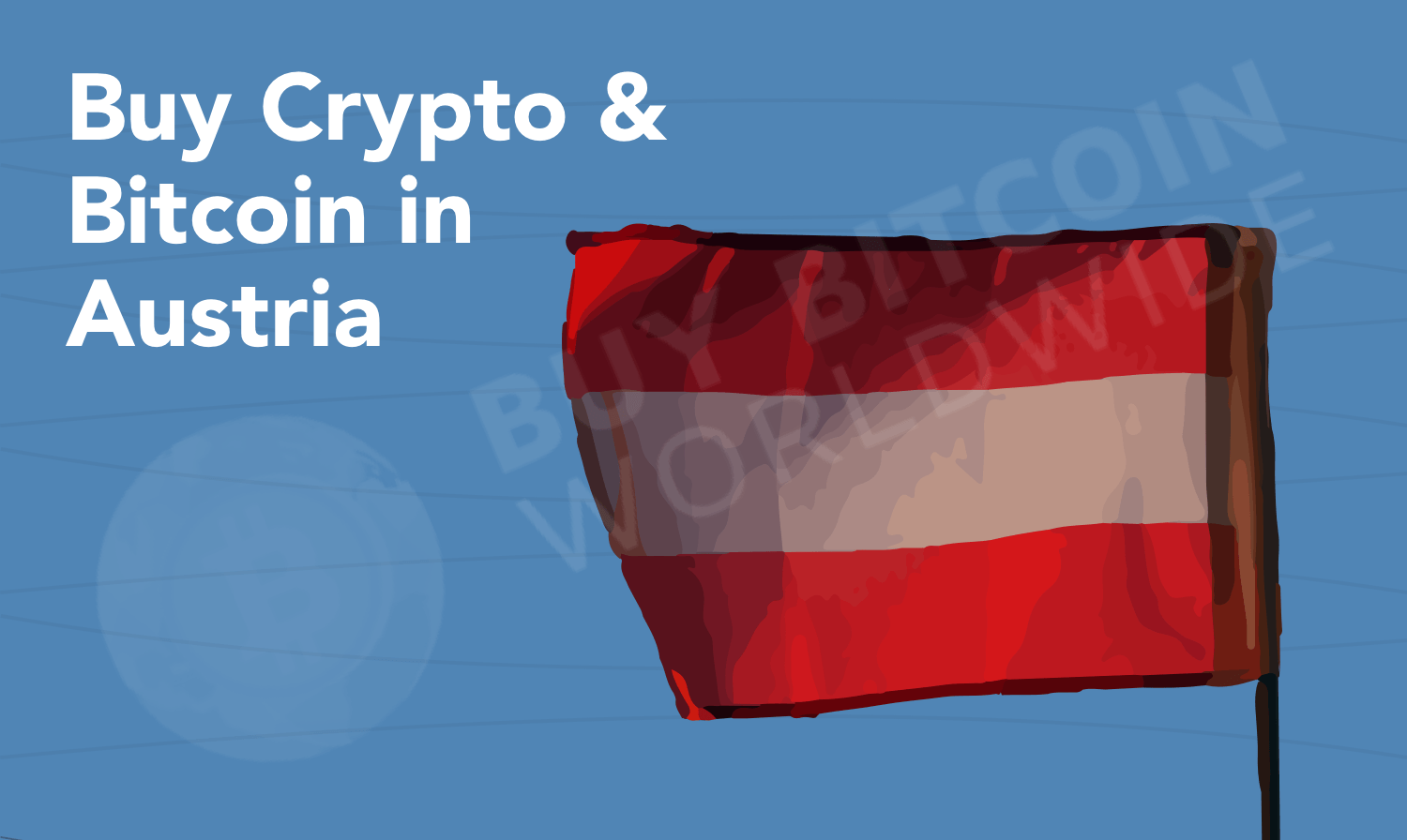 One of the easiest ways to buy Bitcoin in Austria is through the cryptocurrency exchanges outlined above. There are several exchanges offering Bitcoin in Austria, and you can easily select one based on your requirements and preferences using our guide. Different exchanges have different transaction fees, withdrawal limits, payment modes, and verification processes that need to be kept in mind before users select one.
Additionally, Bitcoin buyers need to keep in mind the fact that certain exchanges might require them to get a wallet of their own before they are able to buy the digital currency. Also, it is recommended to have a wallet of your own for security reasons, preferably a hardware wallet.
Another way to buy Bitcoins in Austria is through automated teller machines (ATMs). These ATMs allow users to instantly purchase the cryptocurrency using cash, and most of them only require a telephone number for verification, so long as you aren't buying a lot of Bitcoin. You can locate Bitcoin ATMs in Austria using our Bitcoin ATM Map.
-
Exchange Hacks and Crypto Scams in Austria
Optioment Scam
As reported by Bloomberg, in February of 2018, Interpol made mass arrests on a group of scammers spread out across Denmark, Germany, and Latvia. These scammers defrauded hundreds of victims in Austria, Poland, Germany, and several other Eastern European companies. The scam firm, known as 'Optioment' claimed to deliver its customers with returns of 4% a week through arbitrage trading of cryptocurrencies.(2)

Instead, the whole operation was likely a pyramid and ponzi scheme that eventually resulted in an exit scam
-
Does Coinbase work in Austria?
Citizens of Austria can convert, buy, and sell cryptocurrencies with fiat. Supported payment methods are:
Bank Deposit
PayPal
3D Secure Credit Card
Sofort
Debit Card
Credit Card
Where Can I Find a Bitcoin ATM in Austria?
There are 144 Bitcoin ATMs throughout Austria, making it a very accessible way for Austrians to buy Bitcoins with cash.
You can use our Bitcoin ATM finder tool to find one near you.
What is the price of Bitcoin in Austria?
Bitcoin prices are changing every second.
The best way to find the most up-to-date price of Bitcoin is to check out our Bitcoin price page.
How do I cash out of Bitcoin in Austria?
Any exchange with a Euro trading pair will allow you to sell your Bitcoin for fiat currency. Bitpanda has EUR trading pairs for many popular coins.
Which stores accept Bitcoin in Austria
Bitcoin is accepted at lots of stores and service providers all over Austria. So many, in fact, that we couldn't possibly list them all here. However, you can find specific kinds of services and goods filterable on a map over at coinmap.org.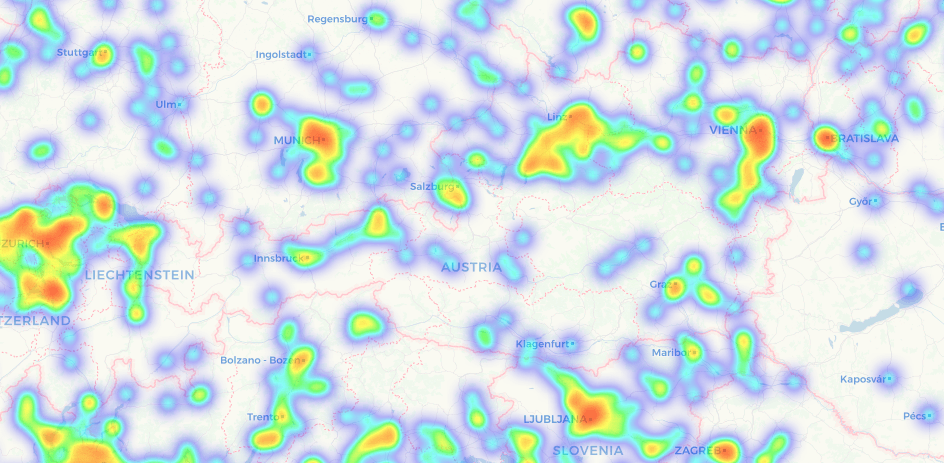 The colored sections indicate areas where there is heavier acceptance of Bitcoin
Article Sources
BuyBitcoinWorldWide writers are subject-matter experts and base their articles on firsthand information, like interviews with experts, white papers or original studies and experience. We also use trusted research and studies from other well-known sources. You can learn more about our editorial guidelines.
Wikipedia - Austria, https://en.wikipedia.org/wiki/Austria
Bloomberg - Austrian Bitcoin 'Scam' Triggers Police Search Across Europe, https://www.bloomberg.com/news/articles/2018-02-15/austrian-bitcoin-scam-triggers-police-search-across-europe
ATM Marketplace - German electronics retailer installs Bitcoin ATMs to 12 locations, https://www.atmmarketplace.com/news/german-electronics-retailer-installs-bitcoin-atms-to-12-locations/