Loading chart... (uses javascript)
| Period | Dollar Change | Percent Change | |
| --- | --- | --- | --- |
Key Takeaways
Bitcoin's price has ranged from $0 to its highest at $68,991.
In 2010, two pizzas were famously purchased for 10,000 BTC.
Institutional investments and global events like the COVID-19 pandemic have significantly impacted Bitcoin's price.
Table of Contents
How Much is Bitcoin Worth Today?
Bitcoin is currently worth $ as of the time you loaded this page.
Check what would have happened if you would have bought Bitcoin!
How Much was 1 Bitcoin Worth in 2009?
In the very early days of Bitcoin, there were no exchanges that look anything like the offerings today. But there was at least one exchange established in the first year since Bitcoin's inception.
The BitcoinTalk forum went online in late 2009 and soon enough one regular proposed the idea of an exchange where people could buy and sell Bitcoins for fiat currency. Keep in mind that this was when the block reward was 50 BTC and there were very few people mining.
The BitcoinTalk forum member NewLibertyStandard set up New Liberty Standard Exchange, and another forum user - Sirius - sent him 5050 BTC in exchange for $5.02 through PayPal. This puts the first recorded price at which Bitcoin exchanged hands at $0.00099/BTC.
How Much was 1 Bitcoin Worth in 2010?
Bitcoin's price never topped $1 in 2010! Its highest price for the year was just $0.39!
2010 is the year in which the famous purchase of two Dominos pizzas for 10,000 BTC took place.
BitcoinTalk forum member laszlo offered the following trade:
I'll pay 10,000 bitcoins for a couple of pizzas.. like maybe 2 large ones so I have some left over for the next day. I like having left over pizza to nibble on later. You can make the pizza yourself and bring it to my house or order it for me from a delivery place, but what I'm aiming for is getting food delivered in exchange for bitcoins where I don't have to order or prepare it myself, kind of like ordering a 'breakfast platter' at a hotel or something, they just bring you something to eat and you're happy!
I like things like onions, peppers, sausage, mushrooms, tomatoes, pepperoni, etc.. just standard stuff no weird fish topping or anything like that. I also like regular cheese pizzas which may be cheaper to prepare or otherwise acquire.
If you're interested please let me know and we can work out a deal.
Thanks,
Laszlo
BitcoinTalk Forum
(1)
2010 also saw the opening of the infamous Bitcoin exchange Mt. Gox in July.
How Much was 1 Bitcoin Worth in 2011?
Bitcoin Price during 2011
Bitcoin's adoption started to pick up steam in 2011. The Electronic Frontier Foundation (EFF) accepted Bitcoins as donations for a couple of months in 2011. Due to lack of legal precedent surrounding virtual currencies this arrangement was quickly rescinded, though this was later reversed in 2013 when the EFF began accepting Bitcoin again.
On February 9th, 2011, BTC reached a value of USD$1.00 for the first time ever. A few months later, in June, the price of one Bitcoin hit $10, then $30 on Mt. Gox. This represented a 100x appreciation since the beginning of the year, when the price of Bitcoin hovered around $0.30.
By the end of the year Bitcoin was trading just under $5, but at least two important psychological barriers had been broken.
How Much was 1 Bitcoin Worth in 2012?
Bitcoin Price during 2012
Bitcoin had a relatively flat 2012, trading within a $0.50 range of $5.00 for the first half of the year.
It then reached its yearly peak at the end of December, hitting a high of $13.45.
In November 2012, Bitcoin underwent its first ever halving. This dropped the block reward from 50 BTC to 25 BTC.
2012 also saw the creation of the influential Bitcoin Foundation by Gavin Andresen, Jon Matonis, Patrick Murck, Charlie Shrem, and Peter Vessenes. The Foundation's goal is to "accelerate the global growth of Bitcoin through standardization, protection, and promotion of the open source protocol".
Wordpress became the first major company to begin in 2012(2). The online content management system provider did this in response to PayPal's censorship.
PayPal alone blocks access from over 60 countries, and many credit card companies have similar restrictions. Some are blocked for political reasons, some because of higher fraud rates, and some for other financial reasons. Whatever the reason, we don't think an individual blogger from Haiti, Ethiopia, or Kenya should have diminished access to the blogosphere because of payment issues they can't control. Our goal is to enable people, not block them."
Wordpress
(3)
Though Wordpress's move was a big one for the four year-old cryptocurrency, the company wasn't handling Bitcoin transactions itself. Rather, it used BitPay, which was founded in 2011 and by October 2012 had grown to processing Bitcoin payments for more than 1,000 merchants.
How Much was 1 Bitcoin Worth in 2013?
Bitcoin Price during 2013
2013 saw the first major spike in the price of Bitcoin since 2011. From $13.00 at the beginning of the year, Bitcoin hit nearly $250 in April. It then cooled off for a while, before experiencing another rapid appreciation to over $1,100 in December of that year.
Bitcoin punched through $100 easily, though $1,000 proved to be a tougher psychological resistance level. Despite reaching prices that early Bitcoiners had only ever dreamed about, it took more than three years for the price to reach $1,000 again. The drawdown reached -85% at its bottom and the price of Bitcoin was relatively flat for years.
Bitcoin's record-breaking run pushed the cryptocurrency's market capitalization over $1 billion for the first time ever. It also attracted a lot of attention. In February of 2013, Coinbase reported selling more than $1 million worth of Bitcoin at an average price of $22.
The world's first Bitcoin ATM was installed in Vancouver, allowing people to turn their cash into crypto.
The internet's first cryptocurrency also gained some notoriety after the People's Bank of China prohibited Chinese financial institutions from transacting in Bitcoins. This came in December 2013 and led to the shutdown of BTC China - at that time the world's largest Bitcoin exchanges - and a sudden drop in price.
How Much was 1 Bitcoin Worth in 2014?
Bitcoin Price during 2014
2014 got off to a good start, but things quickly turned sour for Bitcoin.
Just one month after it closed, BTC China reopened for trading and Chinese Yuan deposits in January 2014.
However, in February Mt. Gox – still one of the largest and most important crypto exchanges – suspended withdrawals. Users had been reporting issues with withdrawals for months, but the exchange called it quits once and for all and filed for bankruptcy. It also reported that it had lost 744,000 BTC of user funds.
The price of Bitcoin reacted by selling off more than 55% from the beginning of February to April.
Despite the bear market, a number of big companies announced their support for Bitcoin. Overstock.com began accepting Bitcoin for all purchases on its website, as did Microsoft in the Xbox and Windows stores.
How Much was 1 Bitcoin Worth in 2015?
Bitcoin Price during 2015
The price of Bitcoin in 2015 started off weakly, with a -50% selloff in the first two weeks of the year. This included a -24% drop in just one day on the 14th of January. This may have been inspired by the announcement from prominent European exchange Bitstamp that they had lost 19,000 BTC in a hack. Coinbase had better news, though, as the exchange raised $75 million in its Series C funding round.
$150 marked the local bottom for the year, though. In fact, January 2015 was the last time you could ever buy 1 BTC for $150. The price of Bitcoin topped $500 for the first time in over a year later in 2015.
In June, the New York State Department of Financial Services began its investigation into Bitcoin and cryptocurrencies. This investigation would eventually lead to the creation of the BitLicense.
In November, the Unicode Committee adopted the current Bitcoin currency symbol (₿), giving the internet's first widespread native currency its own character.
How Much was 1 Bitcoin Worth in 2016?
Bitcoin Price during 2016
2016 saw the Bitcoin network's hash rate top 1 exahash/second. The hash rate reflects the amount of computing power committed to Bitcoin and is an important measure of the strength of the network.
The price of Bitcoin continued its slow but steady appreciation over the course of the year. After a spike to $750 in June, Bitcoin retraced before closing the year just shy of the all-important $1,000 mark.
How Much was 1 Bitcoin Worth in 2017?
Bitcoin Price during 2017
2017 is a year that lives in crypto history. As you can see in the chart above, the year saw a steady appreciation in the price of Bitcoin followed by a huge blow-off top to nearly $20,000.
This 1,300% increase in price wasn't the largest yearly growth – that title belongs to 2013 with its 6,600% gains – but it was the first time that Bitcoin truly broke into the mainstream of public opinion.
A $19,000 Bitcoin is impossible to ignore.
Bitcoin once again broke the $1,000 resistance on January 1st for the first time in three years, and after the 28th of March it never revisited that level.
The massive appreciation in price over the course of 2017 was driven in part by strong retail interest in the cryptocurrency. Trading volume on Bitso - Mexico's leading exchange - grew 1,500% in the six months ending March 2017. Poloniex experienced 600% growth in the number of active traders on its platform throughout the year.
Despite the huge increase in price and subsequent attention paid to Bitcoin, 2017 was not without difficulty for the cryptocurrency. This was the year of one of the most contentious and hotly-debated events in Bitcoin history: the Bitcoin Cash hard fork.
While many were concerned about the effects of this fork on Bitcoin, with the benefit of four years' hindsight its safe to say that Bitcoin Cash lost the war it started. Today, its market capitalization is less than 1% of Bitcoin's.
On December 11, Bitcoin futures trading opened at the Chicago Board Options Exchange, the largest U.S. options exchange. Bitcoin rallied 12% that day, though its stellar run came to an end just five days later. The high of $19,000 would not be broken for almost three more years.
How Much was 1 Bitcoin Worth in 2018?
Bitcoin Price during 2018
2018 was a tough year for many in Bitcoin, both seasoned investors and those new to the space who had been attracted by the hype of 2017.
Bitcoin's year-on-year (YoY) return for 2018 was a painful -73%.
Google, Twitter and Facebook all passed bans on Bitcoin and cryptocurrency advertisements on their platforms, with the latter claiming that they were "frequently associated with misleading or deceptive promotional practices."
Bitcoin closed 2018 at $3,693 – more than $10,000 down from where it ended the previous year.
The good news for investors (though they wouldn't know it just yet) was that the bottom of Bitcoin's bear market had come on December 15, when the price hit $3,122.
How Much was 1 Bitcoin Worth in 2019?
Bitcoin Price during 2019
2019 was a rollercoaster ride for Bitcoin hodlers. Starting the year under $4,000, the price of Bitcoin rose nearly $10,000 to hit $13,880 by the middle of the year.
Yet these gains did not prove to be sustainable. Bitcoin bled out over the next six months, a handful of pumps notwithstanding, and ended up closing the year around $7,160.
Still, the bounce from $3,500 to $13,500 proved that Bitcoin was not dead, despite the naysayers of the 2018 bear market.
2019 set the stage for what would prove to be one of the most extreme years in Bitcoin's history: 2020.
How Much was 1 Bitcoin Worth in 2020?
Bitcoin Price during 2020
Bitcoin rose strongly from $7,000 at the beginning of the year to more than $10,000 in mid-February.
$10,000 proved to be a critical level for Bitcoin throughout the year, though it would take until October for the price to leave the $10,000s once and for all.
First came the March crash. Triggered by the Covid-19 pandemic, a global liquidity event, and exchange liquidation engines run amok, Bitcoin sold off nearly 40% on March 12. It hit a low of $3,850 before doubling in price over the next six weeks.
Bitcoin then entered a months-long accumulation pattern, before charging above $10,000 in late July. It hit a high of over $12,000 before dumping back to below $10,000 in early September.
This proved to be the final fakeout, though. From September to the end of the year, the price of Bitcoin rallied 185% to close at just under $29,000. This was more than $10,000 above the previous all time high set in 2017.
From the agonizing March crash to the parabolic move into the end of the year, 2020 was a year of extreme highs and lows for Bitcoin.
This was driven in part by institutional investment. MicroStrategy's purchase of more than $1 billion worth of Bitcoin at an average price of $15,964 over the course of 2020 made headlines. So did the Massachusetts Mutual Life Insurance Company, spending more than $100 million on Bitcoin. This was a watershed moment for the cryptocurrency, as insurance companies are known to be conservative in their investments.
2020 proved that Bitcoin can bounce back strongly from major global events. In fact, it may even be stronger as a result. Many investors are looking to Bitcoin as a safe store of value in the face of unprecedented money printing in many countries.
While it's impossible to tell the future, one thing is for sure: 2021 is shaping up to be just as important a year in the history of Bitcoin.
How Much was 1 Bitcoin Worth in 2021?
Bitcoin Price during 2021
Starting the year just below the $30,000 mark, Bitcoin experienced a significant rally in the first half, reaching its peak close to $60,000 around April.
However, post-April, the cryptocurrency faced a decline, stabilizing around the $40,000 mark by July.
The remainder of the year showcased a consistent upward trajectory, with a few fluctuations but maintaining its value above the $50,000 mark for a significant duration.
The year ended with Bitcoin slightly retracing from its high but still showcasing an overall upward trend from the start of the year.
How Much was 1 Bitcoin Worth in 2022?
Bitcoin Price during 2022
The year 2022 saw a tumultuous start for Bitcoin. Beginning near the $50,000 mark in January, it experienced a steady decline through the initial months, reaching its lowest point around the $30,000 range in May.
After May, the cryptocurrency did not recover significantly past this point. The price stabilized, hovering between $20,000 to $30,000 for the rest of the year.
There were moments of slight upward movements, but they were met with subsequent declines, maintaining Bitcoin's price within this bracket. The year witnessed a notable constriction in its price volatility, especially when contrasted with previous years.
How Much is Bitcoin Worth in Gold
You can check the Bitcoin price in gold, by clicking here.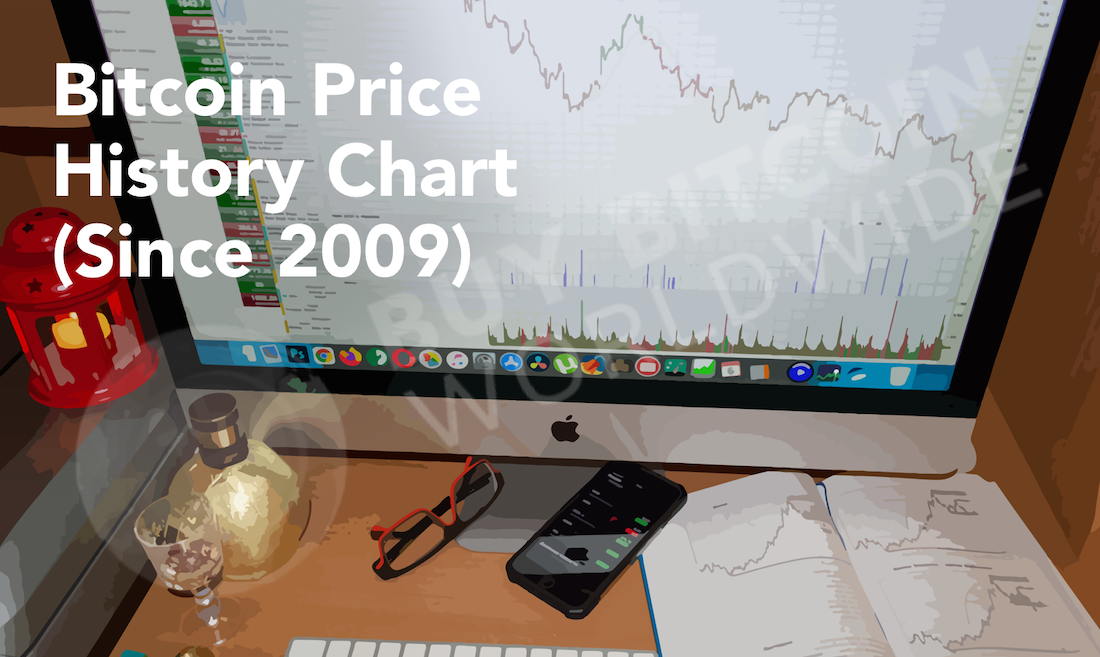 FAQ
How Much Was Bitcoin When it First Came Out?
Bitcoin did not have a price when it first came out.
Bitcoin was much different than the ICOs we've come to know in nowadays.
Bitcoin was just a passion project created by Satoshi Nakamoto and his online cypherpunk friends.
Everyone back then acquired Bitcoins by mining them on their personal computer and trading them with each other just to see if they could.
It really wasn't until Laszlo Hanyecz made the first Bitcoin trade for real goods (two Papa John's pizzas in exchange for 10,000 Bitcoins) that there was really even a price applied to Bitcoin at all.
What was The Bitcoin Price 10 Years Ago?
Bitcoin hit $1 for the first time ever on February 9th, 2011. On that day, forums posts began to emerge suggesting Bitcoiners around the world ought to throw "parity parties" (meaning a party celebrating Bitcoin's parity with the US Dollar).
What Was Bitcoin's Lowest Price Ever?
Technically, the lowest Bitcoin price ever was $0.00. That's because for many years, Bitcoins weren't worth anything.
Bitcoins lowest price after its all time high in 2017 was around $3,350.
How Much is a Share of Bitcoin
We don't really call anything in Bitcoin a "share". This is a term we generally use for stocks issued on a stock exchange. Bitcoin doesn't really work that way. All there is is the Bitcoin Price.
Currently the price of a Bitcoin (or a "share of Bitcoin", if you'd like) is displayed at the top of this page and is updated regularly.
Bitcoin All-Time High
$61,699.00
What is the Current Bitcoin All Time High?
The Bitcoin price all time high will depend on which exchange you reference.
Bitfinex is the largest Bitcoin exchange, so it's all time high of $68,958.00 per bitcoin is the most referenced all time high.
Why did Bitcoin Break its All Time High on February 23, 2017?
Before February 23, 2017, Bitcoin had experienced 2 years of downwards price action followed by about 2 years of upwards movement. Once it got close to its previous high, it busted through and continued to run up throughout all of 2017.
Why did Bitcoin Break its All Time High on November 5, 2013?
This was a wave driven by hype and greed. People had heard about Bitcoin throughout 2013, but never acted. On its second run, many people finally took the dive and started to get interested.
Why did Bitcoin Break its All Time High on February 20, 2013
Many believe that Cyprus's financial crisis(4) helped create new demand for bitcoins.
When Will Bitcoin Hit a New All Time High Again?
Nobody knows for sure! One trend to notice is that Bitcoin's supply halving have often preceded its historic runs. The next halving is in the first half of 2020, likely April or May.
Will Bitcoin Ever Hit a New High Again?
Again, nobody knows for sure!
Bitcoin's price has always moved in cycles. It's hard to say if that trend will continue or if the cycles will be different than in years past.
Bitcoin All Time High Marketcap
According to Coin Market Cap, the all time high Bitcoin marketcap was $1.15 trillion ($1,146,313,771,235) US dollars on March 13, 2021.
Bitcoin All Time High in INR
The all time high in rupees for Bitcoin is ₹4,482,975, set on March 13, 2021.
Bitcoin All Time High in CAD
The all time high in Canadian Dollars for Bitcoin was 77,589CAD on March 13, 2021.
Bitcoin All Time High in GBP
The all time high in British pound sterling was £45,077 on March 13, 2021.
Bitcoin All Time High in Euro
The all time high in euros pound sterling was 52,241 EUR on March 13, 2021.