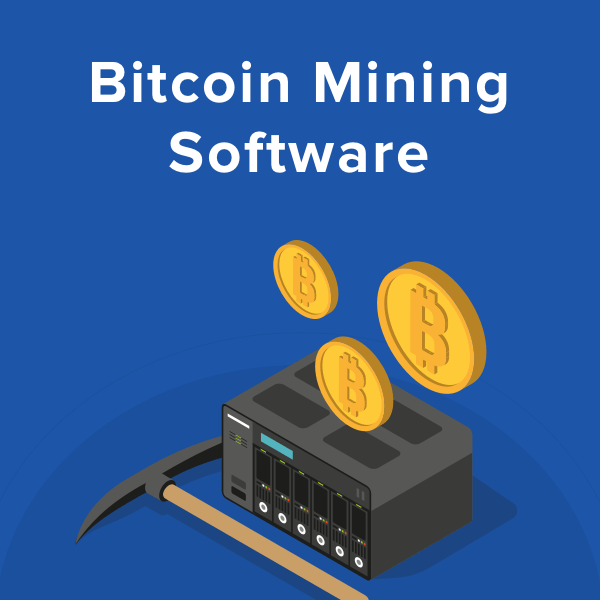 Now that you know the best Bitcoin mining hardware, we're going to talk about Bitcoin mining software.
What is Bitcoin Mining Software?
Where Bitcoin mining hardware is the equipment needed to mine Bitcoin. Bitcoin mining software controls the way this equipment runs, and interfaces with Bitcoin and the different mining pools. The software is used to manage your miner(s) and to optimize their performance.
To better understand the different types of Bitcoin Mining Software we will break these into several different categories:
ASIC mining firmware

This is the code that is running on the actual device. When you buy a miner from the manufacturer it comes installed with their stock firmware. While this firmware is sufficient to mine Bitcoin, it is not always the best to use. You also have the option of using third-party firmwares that are provided by other companies.

Monitoring and Management Tool

There are solutions that are solely used to understand the performance of your miner(s). This specialized tool is useful when managing multiple miners to help ensure that each mining device is running properly and efficiently.

Mining Protocol

This protocol is the communication bridge between the Bitcoin network and the mining pool. Stratum V1 is the most commonly used protocol by the majority of the mining pools. Stratum V1 has some shortcomings, but will be improved upon with Stratum V2. Stratum V2 helps reduce mining centralization, protect miners from having hashrate stolen and improve communication between miners and mining pools.

Mining Bit-streams

This software is responsible for communication between mining pools and the ASIC firmware. The pool and miners are able to communicate what work needs to be done and how the hashing needs to be used by the mining machines.

Knowing a bit about each of the mining software types we can dive into each of them in greater detail and explore the different options of software that exist.
➤ MORE: Bitcoin mining profit calculator
ASIC Mining firmware
By default your mining hardware comes installed with stock manufacturer firmware, but did you know that there are other options that can be used to add additional mining features and even improve mining efficiency?
Stock (Manufacturer) Firmware
This is the default firmware that will ship with your ASIC miner. This firmware is a closed-source, internally developed, firmware from the manufacturer.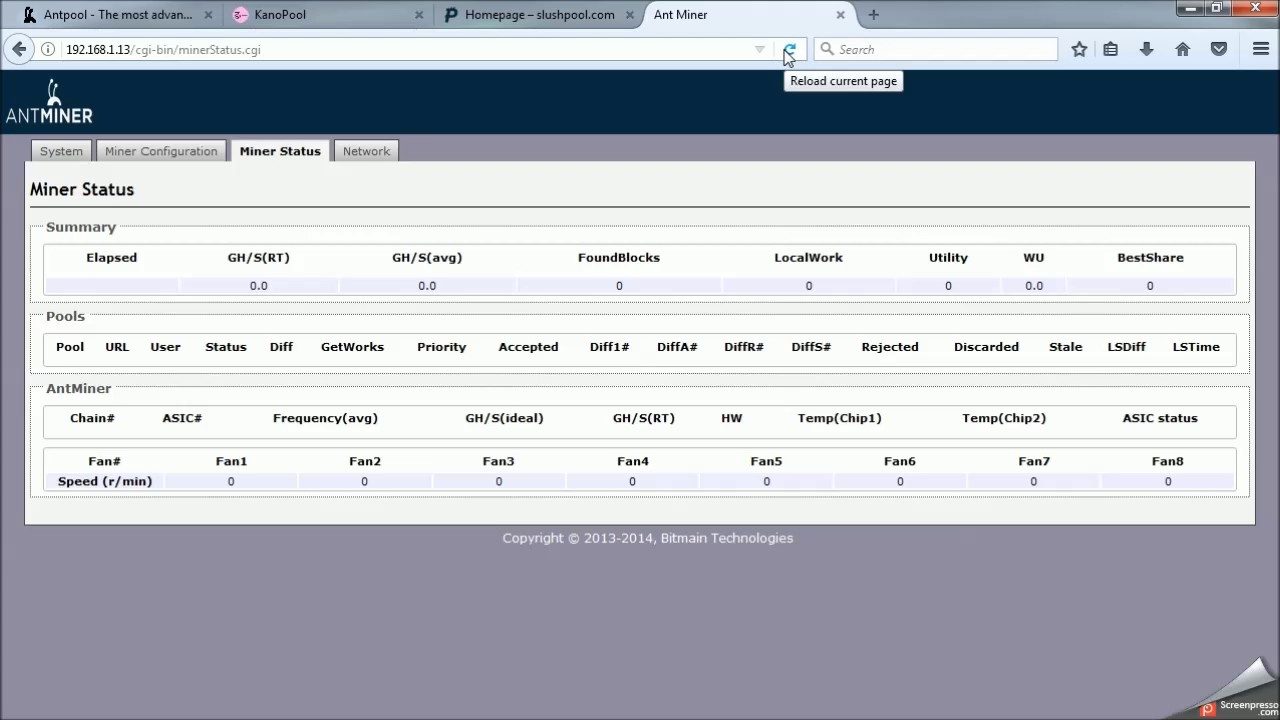 Bitmain's Antminer Firmware ships with the hardware.
This firmware allows you to customize some parameters of the mining hardware but restricts some features in order to protect their customers from damaging the hardware.
As an ASIC manufacturer, the last thing you would want is for your customers to break their newly acquired equipment.
Manufacturers claim that by keeping the software closed-source they can ensure the miner "works correctly" and remains "secure".
While it may protect your ASIC from damage or improper use, it severely limits the ASIC's full capabilities.
Following the ethos of Bitcoin, you may be able to see how closed sourced software is a bad approach for mining hardware manufacturers.
Over the years, there have been a couple of incidents that have shifted users preference away from closed-source stock firmware. Here are a few examples:
➤ MORE: Is bitcoin mining profitable in 2022?
Antbleed
In 2017, a hidden software component called "Antbleed'' was included in ASIC miners created by Bitmain.
It enabled Bitmain to take remote access of any of their customers' miners at any given time.
Bitmain argued that this "feature" was used as a management diagnostic tool, but in reality, this could allow Bitmain to disable any of their customers' miners at any time.

As people started to learn about this, they became very concerned that Bitmain might take advantage of this "feature".
AsicBoost
Two researchers by the names Timo Hanke and Sergio Lerner figured out how to tweak existing ASICs so that they could operate 10-20% more efficiently.
The invention was patented and available for manufacturers to add to their hardware. It was determined that the largest ASIC manufacturer, Bitmain, was using AsicBoost for their personal hardware and not sharing this efficiency gain with customers who purchased their equipment.
After criticisms and controversy, Bitmain has come clean and released AsicBoost compatible firmware to their customers.

Exploring open source firmware for your mining hardware can help avoid issues, such as these, while also adding efficiencies and additional features to your Bitcoin hardware.
3rd party Mining Firmware
Some companies have found ways to "jailbreak" or unlock manufacturers' hardware and install custom firmware which allows for numerous benefits that we will explore later.
While there are several larger mining farms running their own proprietary software, there are limited public options for 3rd party firmware.
Using open-source third party firmware helps Bitcoin stay decentralized as no single entity is being relied on for Bitcoin's security. We will explore the different options below.
➤ MORE: Bitcoin mining pools & sites

The Braiins OS+ Firmware is developed by the same Europe based team who created Slush Pool - the world's first (since 2010) and longest standing Bitcoin mining pool.
According to the Slush pool website, its users have mined almost 1.3 million BTC since 2010 and have a current hashing rate of around 11.12 EH/s.
Using Braiins OS+ firmware allows for greater customization of your hardware so that you can optimize your hardware to match your preferences.
This firmware also includes State-of-the-art autotuning optimization which allows you to maximize hash rate and miner efficiency.
Using the Braiins OS+ Autotuning feature users can get an additional 10-25% efficiency improvement to their miners.
| Software | Pricing | Best Feature |
| --- | --- | --- |
| Braiins OS+ | 0% if connected to Slushpool | Stratum V2 |
| MSK Miner | 0% if connected to Hiveon Pool. | Amazing mobile app |
| Vnish | Free | Wide hardware support |
| ASICseer | ~2-3% | Custom interface |
Users of Braiins OS+'s Autotuning feature donate 2-2.5% of their hash rate to Braiins for a developer fee. This allows Braiins to capitalize off a portion of the efficiency gains and continue to operate their business and develop firmware for more mining models.
The efficiency gains of their Autotuning feature greatly outweighs this development fee making it a win/win for the customer and Braiins.
Additionally Braiins OS+ brings a bunch of additional features to your miners to maximize customization and uptime. As an added benefit, miners who choose to mine with Slushpool get a 0% pool fee.
Supported Hardware
Firmware from the Braiins team currently supports:
Bitmain's Antminer X19
S17, S17 Pro, S17+, S17e
S19, S19 Pro, S19j Pro
T17, T17+, T17e
S9, S9i, S9j
The future development pipeline will have support for Whatsminer M20S and other Antminer X19 models.

The MSKminer was developed by the Hive OS team based in Russia. This firmware offers a 0% pool fee and 0% transaction fee when connecting your miner to their Hiveone pool. They offer servers in North America, Europe, Asia, and Russia to ensure your ASICs remain close to their servers and operate at a high efficiency.
Supported Hardware
Antminer S17 & S17 pro / S17e / S17+
Antminer S9/i/j
Antminer T17 / T17+ / T17e
Antminer T9+
Antminer S9K / S9SE
| Software | Pricing | Best Feature |
| --- | --- | --- |
| Braiins OS+ | 0% if connected to Slushpool | Stratum V2 |
| MSK Miner | 0% if connected to Hiveon Pool. | Amazing mobile app |
| Vnish | Free | Wide hardware support |
| ASICseer | ~2-3% | Custom interface |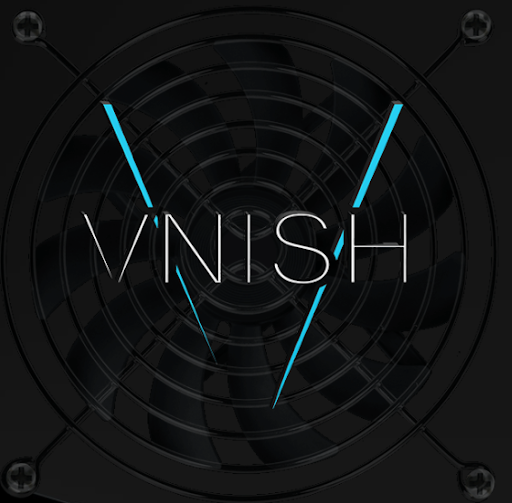 Vnish is a large international mining software development project with a highly technical team. Their first firmware was developed for the Antminer S9, and was later ported to ASIC miners from Whatsminer, Innosilicon, and Avalon. To date, their software has been used on more than 1.5 million ASIC miners around the world.
Supported Hardware
Bitmain's Antminer S17, S17Pro, S17+
Antminer S19 T19
Antminer S9, S9i S9j
Antminer T17, T17 Pro, T17+
Antminer L3+ L3++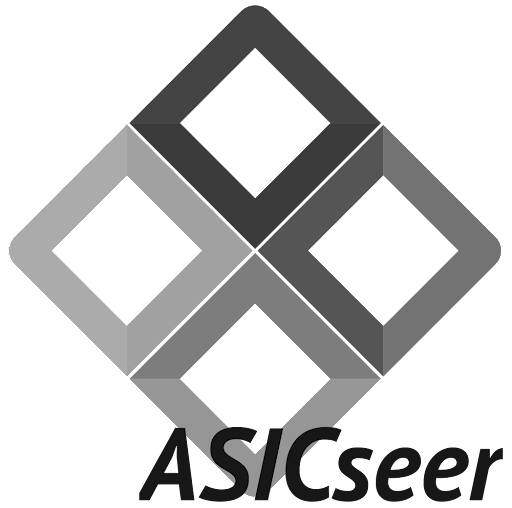 This firmware provider is relatively new to the mining landscape as their first version was developed in October 2018. However, to date, their firmware is being utilized by over 60,000 ASICs worldwide.
Supported Hardware
Bitmain's Antminer S9, S9i, S9j
T9, T9+
T17
S17 Pro
Planned support for all Bitmain SHA256 miners.
| Software | Pricing | Best Feature |
| --- | --- | --- |
| Braiins OS+ | 0% if connected to Slushpool | Stratum V2 |
| MSK Miner | 0% if connected to Hiveon Pool. | Amazing mobile app |
| Vnish | Free | Wide hardware support |
| ASICseer | ~2-3% | Custom interface |
Once you have selected a firmware option that meets your needs, stock or 3rd party, it is time to consider monitoring and management tools.
While this type of software mostly benefits larger mining operations, known as farms, they can also benefit people running a single miner.
Monitoring and management tools are used to provide an overview of your mining operation.
Using these tools allow you to quickly check the health of your operation, to ensure that all miners are running optimally and to root cause issues if they are not.
At a glance you can check if any miners are offline, running too hot or not hashing efficiently. You can imagine how this becomes more useful with an increased number of miners.
Braiins OS+ Manager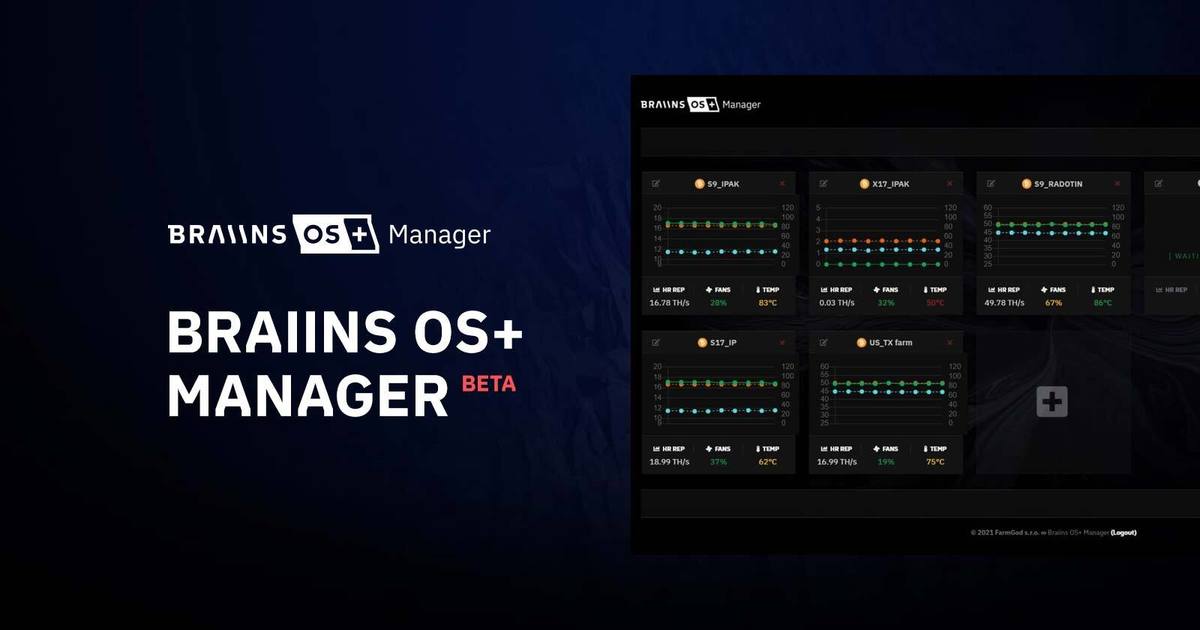 Braiins OS+ Manager is a tool that works alongside Braiins OS+ firmware, as previously described.
The tool allows miners to access all the great features of the Braiins firmware from anywhere in the world. By packaging your miners into different farms, miners can be monitored for troubleshooting and mining configuration changes can be made on the fly from anywhere with an internet connection.
If you wanted to change the settings of all of your Antminer S9's you could do so all at once with a few clicks.
Hive OS

Hive OS is the ultimate mining platform which allows users to setup, mine and control processes more effectively and hassle-free across thousands of rigs all from a single place.
Everything you and your team need to keep your farm at peak efficiency. Monitor your rigs from a single dashboard.
Keep track of hashrate, online statuses, GPU errors, team activity, pool configurations, power consumption.
Remote access from anywhere across the globe. Troubleshoot and reboot GPUs remotely or perform bulk updates across your entire farm.
Minerstat

Minerstat offers a complete stack of solutions for crypto mining professionals.
Monitor and manage all your mining machines from a single powerful dashboard. Optimize your efficiency, automate your mining and drastically shorten time spent on debugging and error handling.
Access all important historical and live mining data from the dashboard. Whether you're running ASIC machines or GPU rigs, Minerstat has the software for you.
Awesome Miner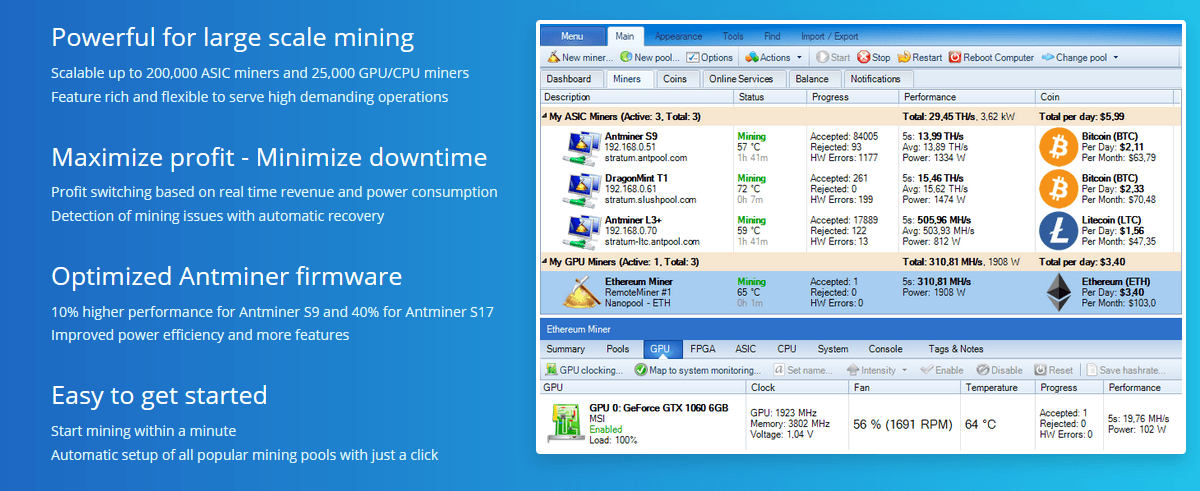 Awesome Miner is a complete solution to manage and monitor mining operations.
This tool is powerful for large scale mining and can be used to optimize Antminer firmware, maximize profits and minimize downtime.
Firmware can improve performance by 10% and the Awesome Miner tool allows you to profit switch coins based on real time revenue and power consumption.
Start mining within a minute with automatic pool setups.
Cudo Farm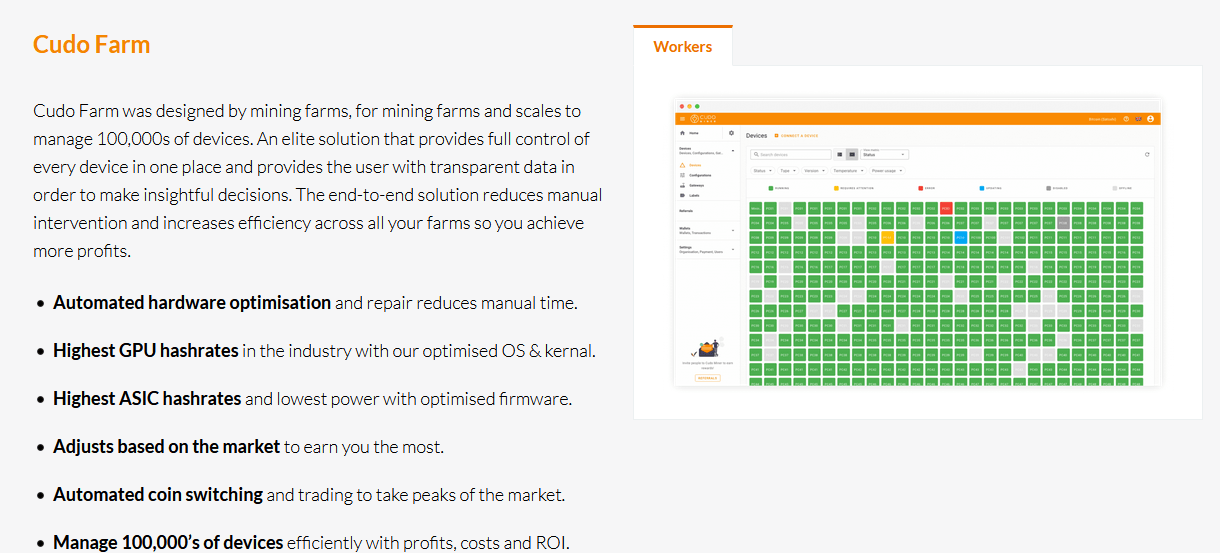 Cudo Farm is an end-to-end solution that combines full metrics, stats, automation, intelligent decision making, forecasting and complete management in one platform creating improved efficiency and profits.
Cudo's mining operating system CudoOS and optimized ASIC firmware provides the highest hashrates with the lowest power consumption in the industry.
Gain maximum efficiency and profitability from your mining farm.
Titan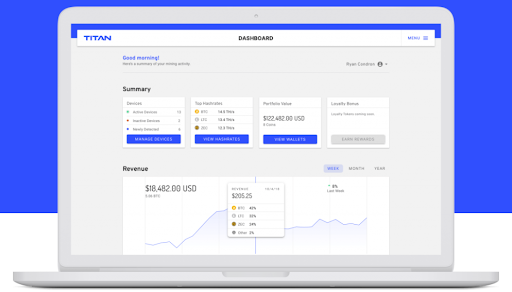 Titan software makes mining easier and more profitable. Bring your entire mining facility online in minutes. Use powerful device management tools to save you time while Titan optimizes your performance and profitability.
Genesis Hexa

Genesis Hexa is an enterprise-grade mining management solution. It is THE All-In-One Software you need to build and operate massive mining farms.
It enables quick and painless deployment, easy monitoring, and advanced reporting. Six years in the crypto industry are comparable to a lifetime in any other field.
Having to figure out everything on our own in the middle of abruptly changing market conditions taught us invaluable lessons and made us industry leaders.
We've packaged everything we know about building mining farms into Hexa, and soon it will be available for You as well.
Pooled Mining Protocols
Prior to mining pools, Bitcoin mining required solo miners to connect and interact with the Bitcoin protocol itself by running full nodes. To standardize communication between miners and the Bitcoin protocol, an open-source "getwork" protocol was used as a quick and easy solution for standalone miners to start mining.
By 2012, getwork's protocol wasn't as capable as mining underwent radical changes and network hashrate grew exponentially. True solo mining wasn't possible in the ASIC era: you need some sort of pool software between your node (Bitcoin Core) and miners which constructs the blocks
In late 2012, the Stratum V1 protocol was introduced as an evolution of the getwork protocol for Bitcoin mining. Stratum V1 solved some of the growing pains that Bitcoin mining was experiencing when it first became popular. Since the release of Stratum V1, it has been the standard protocol used during the past 8 years and to this day by most pools.
Despite its success, Stratum V1 has some shortcomings. Thus, many new improvements have been suggested over the years, which have led to development of Stratum V2.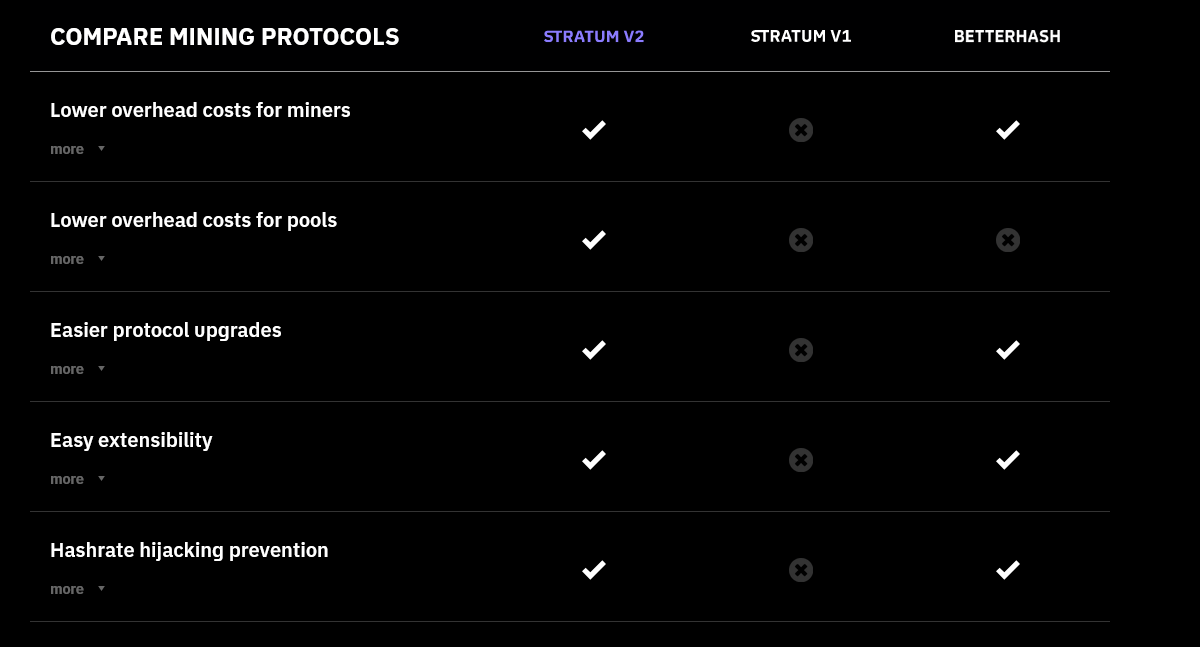 Stratum V2 is not yet supported by Bitcoin Core but should be considered in the future as it improves decentralization of the network while reducing data requirements when passing information between miners and mining pools.
There was also a draft of the so-called Better Hash mining protocol by Matt Corallo - this protocol introduced the concept of miners selecting their own transactions (blocks).
Work on this protocol was discontinued and Matt became a co-author of the Stratum V2 mining protocol which includes the custom work selection feature first proposed in Better Hash.
Mining Bit-streams
ASIC miners are required to have operating software that allows users to operate their miner. This software is also used to communicate with the pool.
Miners will receive uncompleted work from the pool and in return submit back proof of work. Pools will then publish the block to the blockchain if a valid hash is found.
In the early days of Bitcoin mining, the standard open-source software used by most GPU and FPGA miners was called CGminer.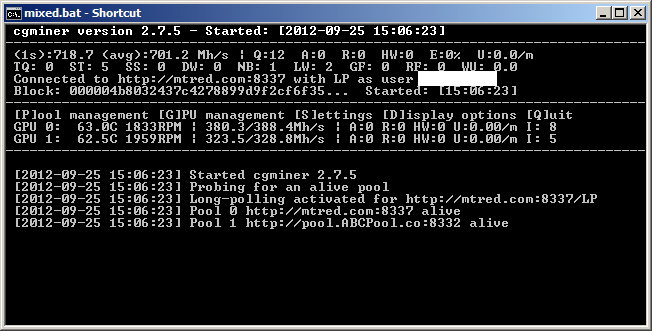 CG Miner command line interface - the early days of mining
Over time, certain parts of the open-source CGminer code began to disappear and people were left with a half-functional software to run their miners.
People who had functioning software kept it to themselves and no development was made to fix bugs on CGminer.
With the introduction of ASICs, manufacturers began shipping their miners with their own custom software.
Due to incidents such as ASICBoost and Antbleed, people have lost trust in manufacturers' default software. During this time, Braiins recognized the need to develop an open-source software program that was free of bugs and maintained by industry experts.

And best of all, BOSminer is completely released now, so you can put it into action today!
Other Mining Utility Software
The BTC Tool helps you manage miners remotely by continually refreshing miner information. The tool provides data about current hash rate, temperature, and other important mining information. It enables you to batch miners together and make configuration changes to all miners in the batch or only selected miners.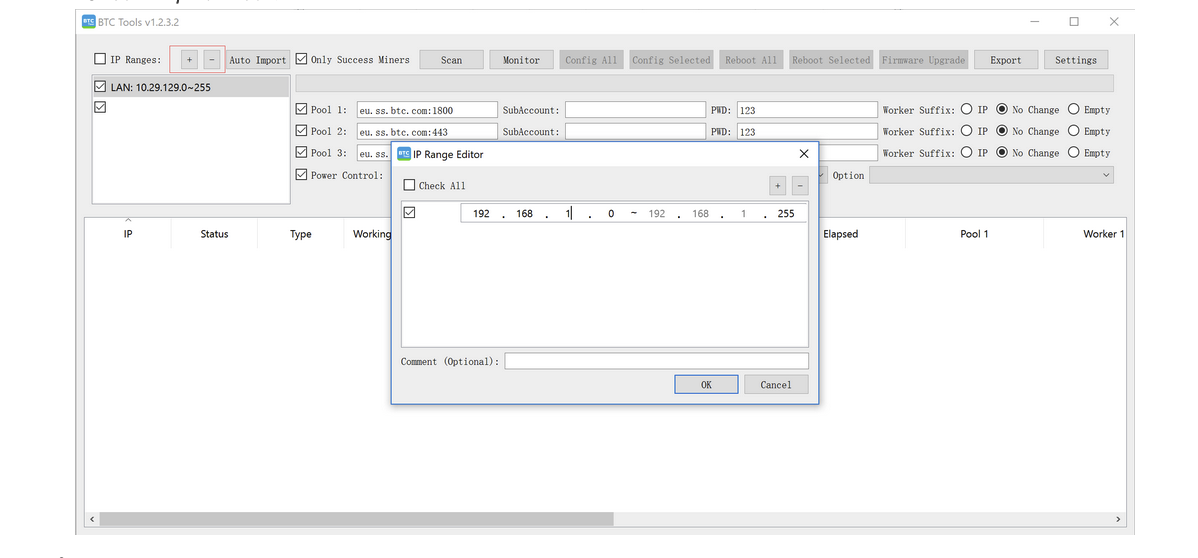 Frequently Asked Questions
Below are some of our most asked questions by readers.
If you're wondering about a topic on this page, odds are we have the answer here.
What is an ASIC miner?
ASIC stands for 'Application Specific Integrated Circuit' and is a computer dedicated specifically to one thing. In our case it's dedicated to Mine Bitcoin and only to mine Bitcoin.
Can I Mine Bitcoin on my PC?
You can, but you will lose lots of money doing this. The cost of electricity to mine using a computer will cost significantly more than the amount of Bitcoin you are able to mine.
Even if you have the very best computer on the market, it will never compete with the profitability of an ASIC mining machine which is specifically developed to mine Bitcoin.
Historically you could profitably mine with a computer but those days are long gone. In the early years of Bitcoins existence people used to mine with computer processors (CPUs).
Eventually people realized that graphics cards, or GPUs, could mine much more profitably than CPUs. This was once again replaced when people started building FGPA (Field Programmable Gate Array) computers.
Today CPUs, GPUs and FGPAs are outdated and have been replaced by ASIC computers. Mining with anything other than an ASIC today is very unprofitable and you are better off buying the Bitcoin on the market than using them.
Where Can I Mine Bitcoin for Free?
Unless you can find free electricity through your government or housing contract you cannot mine Bitcoin for free.
Even if you can secure free electricity you will still need to buy some kind of mining hardware in order to mine Bitcoin.
Should I mine Bitcoin?
In most cases you probably should not mine bitcoin.
Unless you can acquire mining hardware and have a cheap or free electricity rate it is difficult to mine bitcoin profitably. Bitcoin mining is a very competitive global industry that is open to anybody with mining hardware.
If you can profitably compete with those in the industry it may be worth it but in most cases you will get more for your money by buying from the market.
If you don't believe us, just use our Bitcoin mining profitability calculator to see for yourself.
Why Do You Need a Bitcoin Mining Operating System?
Bitcoin mining rigs and systems have come a long way since the beginning. The first Bitcoin miners made do with the tools they had at their disposal and set up various software to control the mining hardware in their rigs.
While these make-shift solutions were better than nothing, they didn't exactly work efficiently. Not only did that slow down the mining process, but it also made it difficult for newcomers to join in on the fun.
Necessity is the mother of all invention, so along came solutions like Awesome Miner, ethOS, and SimpleMining that streamlined the mining process. Let's briefly review some of these early solutions.
What is CGMiner?
CGMiner is an open source ASIC/FPGA mining software written in C designed for several platforms - Windows, OS X and Linux. CGMiner is one of the oldest bitcoin mining software and it has the ability to run on any computer and is compatible with multiple mining hardware.
What us BFGMiner?
BFGMiner is designed for FPGA and ASIC mining. BFGMiner offers advanced users the opportunity to mine multiple cryptocurrencies by simultaneously hashing on mining algorithms like Scrypt and SHA256d. BFGMiner has remote interface capabilities.
What is Awesome Miner?
Awesome miner is a total software suite to manage your mining operation. It features support for as little as one and as many as 200,000 miners. Users can also use the 'profit switching' feature to switch which coins your miners are mining in real time, based on revenue and power consumption. Users of Awesome Miner can expect 10% higher performance for their Antminer S9s and a whopping 40% for Antminer S17.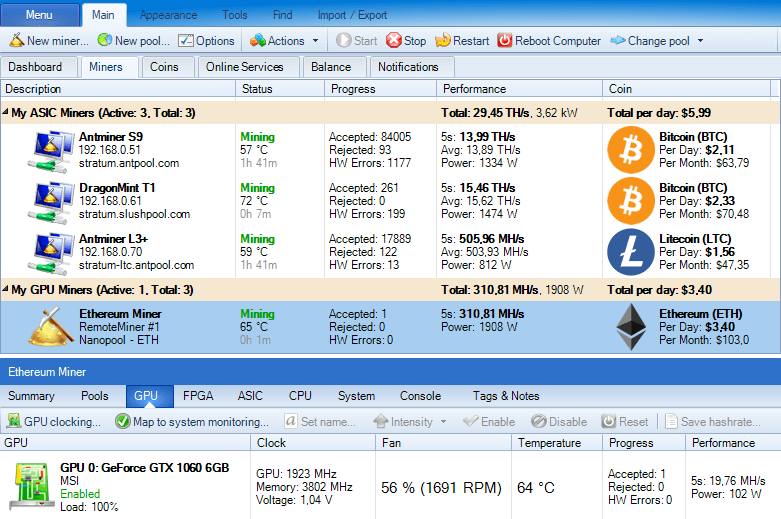 @@ -451,36 +472,64 @@ But many users of the existing systems still experience issues with:
Managing the mining system remotely.
Maximizing the efficiency of their hardware.
Difficulty adjustments
What are FPGA miners?
FPGA stands for 'Field Programmable Gate Array'. According to BH Miner, the company that produces FPGA mining hardware, FPGA chips supposedly deliver higher hash power at lower rates of energy consumption compared to ASICs. However, given than these are multi-algorithm mining hardware, you should be very skeptical that these claims actually bear out.
What is a GPU Miner?
GPU involves using a Graphics Processing Unit (normally used to play video games on PC) to mine cryptocurrencies. GPU mining was very popular in Bitcoin mining a few years ago, but that is no longer profitable due to highly advanced ASIC miners. Now, GPU mining is mainly done on Ethereum and Monero.
What is a CPU Miner?
GPU involves using a Central Processing Unit (normally used to run desktop PCs) to mine cryptocurrencies. Almost no one uses their CPU to mine any coins today, but it can be a god way to learn how mining works without spending much money.
What is EasyMiner?
EasyMiner is another free open-source mining software available to anyone who wants to use it and mine using their GPU or CPU.