Bitcoin mining software controls your mining hardware. It also helps you point your hardware at mining pools. Software can also used to manage and monitor your miners and optimize their performance.
We've spoken to real Bitcoin miners. Based on our conversations with them, we've collected the best bitcoin mining software that's on the market today.
Key Takeaways
Mining software allows you to connect your mining ASIC hardware to the internet and mining pools.
Awesome Miner and Foreman Mining are the most popular mining software today.
Just because software is free, doesn't mean it's legit. There are many mining software scams.
➤ MORE: Bitcoin mining profit calculator
Best Bitcoin Mining Software
Once you have selected a firmware option that meets your needs, stock or 3rd party, it is time to consider monitoring and management tools.
While this type of software mostly benefits larger mining operations, known as farms, they can also benefit people running a single miner.
Monitoring and management tools are used to provide an overview of your mining operation.
Using these tools allow you to quickly check the health of your operation, to ensure that all miners are running optimally and to root cause issues if they are not.
At a glance you can check if any miners are offline, running too hot or not hashing efficiently. You can imagine how this becomes more useful with an increased number of miners.
Awesome Miner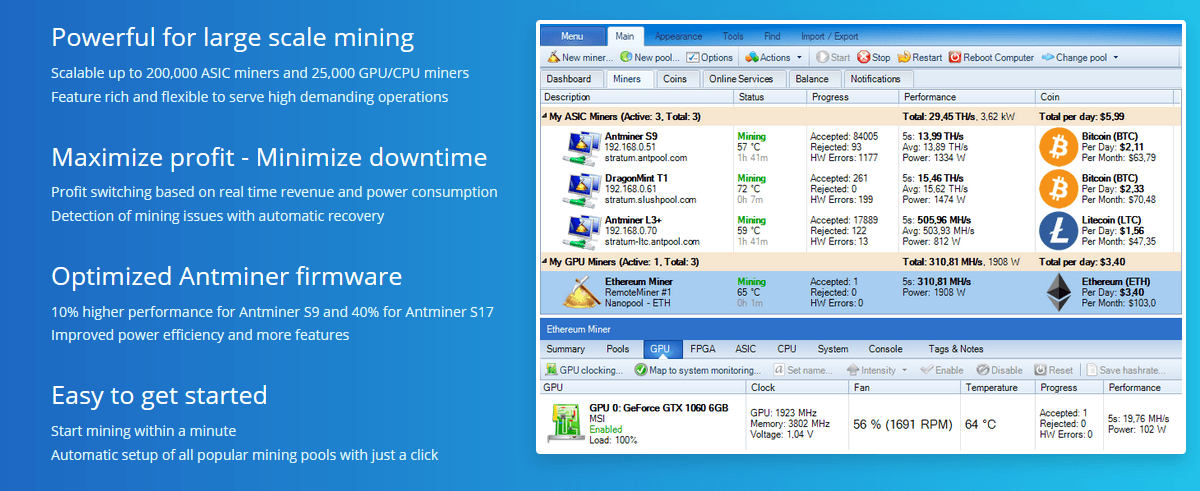 Awesome Miner is a complete solution to manage and monitor mining operations.
This tool is powerful for large scale mining and can be used to optimize Antminer firmware, maximize profits and minimize downtime.
Pros of Awesome Miner:
Firmware can improve performance by 10%
Awesome Miner tool allows you to profit switch coins based on real time revenue and power consumption.
Start mining within a minute with automatic pool setups.
Foreman Mining
Foreman Mining is a new mining software company, but is now the choice among large miners. The company offers custom setups for operations with over 1,000 ASICs.
Pros of Foreman Mining:
Manage your entire mining facility from a single platform.
Comprehensive infrastructure support. Foreman is a real company, so you can get custom support.
Efficiently manage your power strategy.
Data-driven approach for optimal mine operations.
Real-time insights into your facility's activities.
Automated demand response and curtailment.
Cons of Foreman Mining:
Foreman's software is not open source
Hive OS

Hive OS is the ultimate mining platform which allows users to setup, mine and control processes more effectively and hassle-free across thousands of rigs all from a single place.
Everything you and your team need to keep your farm at peak efficiency. Monitor your rigs from a single dashboard.
Keep track of hashrate, online statuses, GPU errors, team activity, pool configurations, power consumption.
Remote access from anywhere across the globe. Troubleshoot and reboot GPUs remotely or perform bulk updates across your entire farm.
Minerstat

Minerstat offers a complete stack of solutions for crypto mining professionals.
Monitor and manage all your mining machines from a single powerful dashboard. Optimize your efficiency, automate your mining and drastically shorten time spent on debugging and error handling.
Access all important historical and live mining data from the dashboard. Whether you're running ASIC machines or GPU rigs, Minerstat has the software for you.
Frequently Asked Questions
Mining software is confusing, so we've answered some of the most common questions below.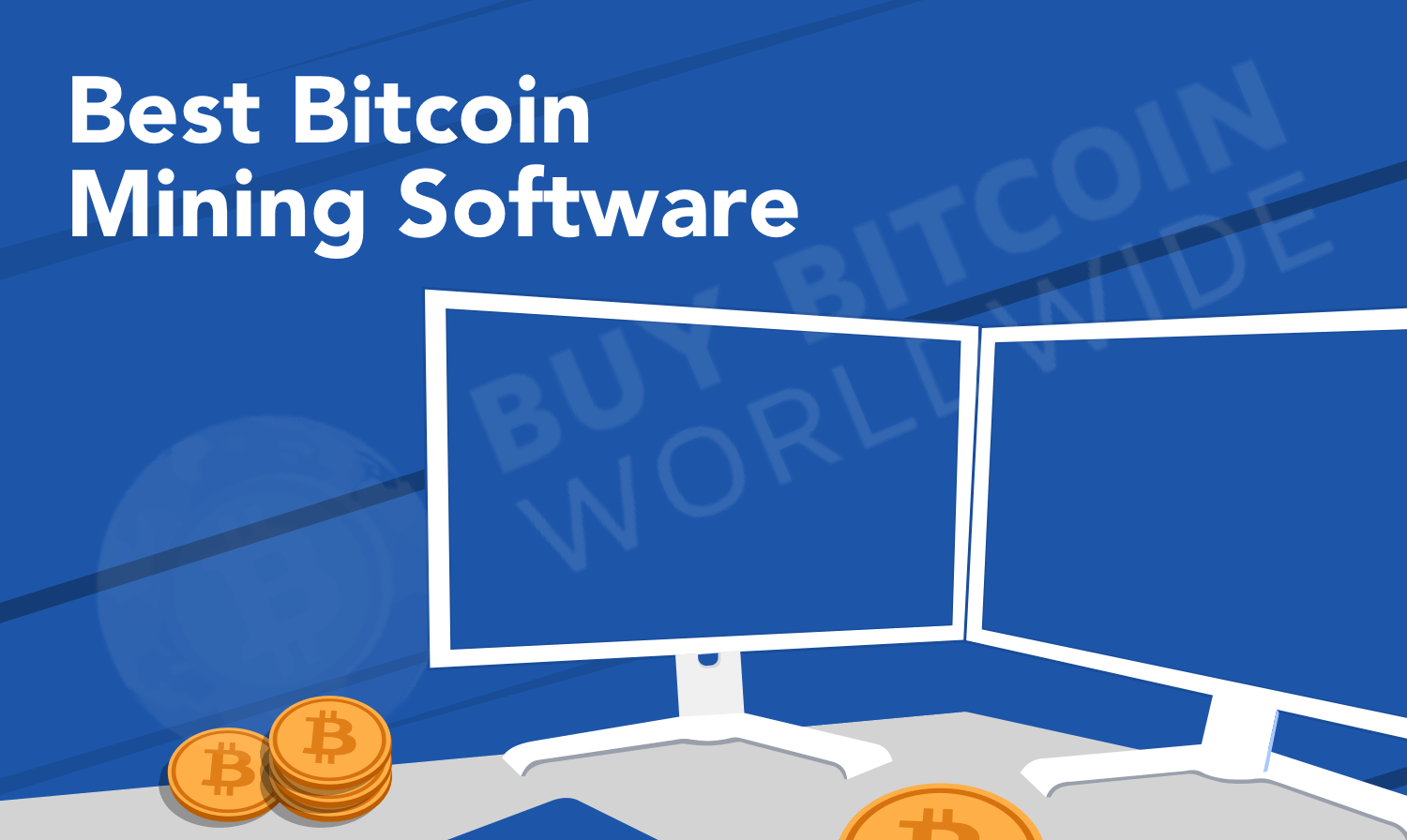 Can I Mine Bitcoin on my PC?
You can.
But you will lose lots of money doing this.
Cost of Mining with a Computer:
Electricity cost: Mining on a computer costs more in electricity than the value of Bitcoin mined.
Computer vs. ASIC Machine:
Even with the best computer, it can't match the profitability of an ASIC mining machine.
ASIC machines are specifically developed for Bitcoin mining.
Evolution of Mining Hardware:
Historical methods: Initially, people mined using computer processors (CPUs).
Shift to GPUs: Graphics cards (GPUs) were found to be more efficient than CPUs.
Introduction of FPGA: Mining then evolved to use Field Programmable Gate Array (FPGA) computers.
Current State:
Outdated hardware: CPUs, GPUs, and FPGAs are now outdated for mining.
ASIC dominance: Today, ASIC computers are the gold standard.
Mining with non-ASIC machines is very unprofitable. It's more cost-effective to buy Bitcoin directly.
Where Can I Mine Bitcoin for Free?
Unless you can find free electricity through your government or housing contract you cannot mine Bitcoin for free.
Even if you can secure free electricity you will still need to buy some kind of mining hardware in order to mine Bitcoin.
Should I mine Bitcoin?
In most cases you probably should not mine bitcoin.
Unless:
You can acquire mining hardware for free
Have a cheap or free electricity rate
Bitcoin mining is a very competitive global industry and not for amateurs.
If you don't believe us, just use our Bitcoin mining profitability calculator to see for yourself.
Why Do You Need a Bitcoin Mining Operating System?
The process of mining evolved.
Beginning: Miners used available tools and created various software for mining control.
Issues:
Not efficient.
Slowed down mining.
Hard for newcomers to join.
Innovative Solutions:
Dedicated companies now exist to manage miners.
These solutions streamlined the mining process.
What is CGMiner?
CGMiner is an open source ASIC/FPGA mining software written in C designed for several platforms - Windows, OS X and Linux. CGMiner is one of the oldest bitcoin mining software and it has the ability to run on any computer and is compatible with multiple mining hardware.
What us BFGMiner?
BFGMiner is designed for FPGA and ASIC mining.
BFGMiner offers advanced users the opportunity to mine multiple cryptocurrencies by simultaneously hashing on mining algorithms like Scrypt and SHA256d. BFGMiner has remote interface capabilities.
What is Awesome Miner?
Awesome miner is a total software suite to manage your mining operation.
It features support for as little as one and as many as 200,000 miners.
Users of Awesome Miner can expect 10% higher performance for their Antminer S9s and a whopping 40% for Antminer S17.
But many users of the existing systems still experience issues with:
Managing the mining system remotely.
Maximizing the efficiency of their hardware.
Difficulty adjustments
What are FPGA miners?
FPGA stands for 'Field Programmable Gate Array'.
According to BH Miner:
FPGA chips supposedly deliver higher hash power at lower rates of energy consumption compared to ASICs.
However:
Given than these are multi-algorithm mining hardware, you should be very skeptical that these claims actually bear out.
What is a GPU Miner?
GPU involves using a Graphics Processing Unit (normally used to play video games on PC) to mine cryptocurrencies. GPU mining was very popular in Bitcoin mining a few years ago, but that is no longer profitable due to highly advanced ASIC miners. Now, GPU mining is mainly done on Ethereum and Monero.
What is a CPU Miner?
GPU involves using a Central Processing Unit (normally used to run desktop PCs) to mine cryptocurrencies. Almost no one uses their CPU to mine any coins today, but it can be a god way to learn how mining works without spending much money.
What is EasyMiner?
EasyMiner is another free open-source mining software available to anyone who wants to use it and mine using their GPU or CPU.
Article Sources
BuyBitcoinWorldWide writers are subject-matter experts and base their articles on firsthand information, like interviews with experts, white papers or original studies and experience. We also use trusted research and studies from other well-known sources. You can learn more about our editorial guidelines.
Bitcoin Miner Riot Platform Made a Record $31 Million From Power Credits in August - Bloomberg, https://www.bloomberg.com/news/articles/2023-09-06/bitcoin-btc-miner-riot-riot-made-record-31-million-from-power-credits
Foreman Mining - YouTube, https://www.youtube.com/channel/UCm0RnOG6F0mQxC2pdG4JwPQ
Bitcoin Mining Software - Bitcoin Wiki, https://en.bitcoin.it/wiki/Mining_software