We may receive advertising compensation when you click certain products. Before jumping into this page, an important disclosure.
eToro
eToro is a trading platform and crypto exchange. It supports Bitcoin, Ethereum, Litecoin, Zcash and many other coins.

Deposits can be made quickly via bank transfer, SEPA, NETELLER, PayPal and more. It also offers unique features like copy trading.

Cryptoasset investing is highly volatile and unregulated in some EU countries. No consumer protection. Tax on profits may apply.
Visit eToro's Website
Pros
Offers unique copy trading feature
Trusted exchange that has been active in traditional finance
Interface is clean and easy to use
Cons
You cannot deposit cryptocurrency, but you can deposit with other payment methods
Ease of Use
Easy
Privacy
Low
Speed
Average
Fees
Low
Reputation
Trusted
Limits
High
Coinmama
Coinmama allows customers in almost every country to buy bitcoin. They charge a 4.9%-5.9% (depends on volume) fee on each purchase.

Customers in Europe can also purchase bitcoins with SEPA transfer for a lower fee.

Pros
Works in almost all countries
Highest limits for buying bitcoins with a credit card
Reliable and trusted broker
Cons
Some of the highest fees among credit/debit card bitcoin brokers
Ease of Use
Easy
Privacy
Low
Speed
Fast
Fees
Average
Reputation
Trusted
Limits
High
Coinbase
Coinbase is the world's largest Bitcoin (BTC) broker. They represent an easy and fast way for new users to purchase bitcoins. Coinbase supports customers in over 30 countries, including the United States, Europe, UK, Singapore, and Canada.

Customers in the above-mentioned countries can purchase bitcoins by debit card, bank transfer, SEPA transfer, and more.

Get $5 in free bitcoin after you sign up on Coinbase and make your first trade.
Pros
High liquidity and buying limits
Easy way for newcomers to get bitcoins
"Instant Buy" option available with debit card
Cons
Purchases made with bank transfer can take up to 5 days to complete
Coinbase may track how and where you spend your bitcoins
Ease of Use
Easy
Privacy
Low
Speed
Average
Fees
Average
Reputation
Trusted
Limits
High
Coinbase Advanced Trader
Coinbase's exchange, Coinbase Advanced Trader (formerly called Coinbase Pro), is one of the largest Bitcoin exchanges in the United States. Users can fund their accounts via bank transfer, SEPA, or bank wire. Coinbase Advanced Trader offers good prices and low fees, but its confusing user interface may initially prove difficult to navigate.
Pros
Some of the lowest fees available for US and EU customers
Possible to buy bitcoins for 0% fees
Cons
The user interface is confusing for first-time buyers
Ease of Use
Hard
Privacy
Low
Speed
Average
Fees
Low
Reputation
Trusted
Limits
High
Bity
Bity is a Bitcoin exchange and ATM operator, based in Switzerland. Their 5 ATMs allow for a quick first purchase and only require phone verification for an initial buy limit of 1,000 EUR or CHF. Their online service accepts wire transfers, SOFORT and online bank transfers.
Pros
Easy to start buying bitcoins after mobile phone verification
Payment limit of up to €100,000 annually after intensive verification
Cons
ID verification is required for most purchases, so not a private way to buy
Low annual limit of only €4,000 without intensive verification
Ease of Use
Average
Privacy
Low
Speed
Fast
Fees
Low
Reputation
Trusted
Limits
High
Bitstamp
Bitstamp is one of the world's largest and most well-known Bitcoin exchanges. Deposits can be made through bank transfer, SEPA transfer, international bank wire, and now even credit cards.
Pros
One of the longest-running Bitcoin exchanges
Very low 0.25% fee, falling to 0.1% with sufficient trading volume
Good range of deposit and withdrawal options
Deep liquidity promotes a price close to fair market rate
Offers wide range of altcoins
Cons
Geared towards traders; slightly confusing for first time buyers
Ease of Use
Hard
Privacy
Low
Speed
Slow
Fees
Average
Reputation
Trusted
Limits
High
Bitcoin ATMs
You can use our Bitcoin ATM map to buy bitcoins with cash. Bitcoin ATMs can be a quick and easy way to buy bitcoins and they're also private. That convenience and privacy, however, comes with a price; most ATMs have fees of 5-10%. View Bitcoin ATMs
Pros
Our map makes it super easy to find a Bitcoin ATM near you
Cons
Bitcoin ATMs often have 5-10% fees per purchase
Bitfinex
Hong Kong-based Bitfinex has long been one of the largest USD Bitcoin exchanges in the world. Bitfinex accounts may be funded by bank wire only, their fee on accepting such transfers is low at only 0.1%.

In August 2016, however, it was hacked and lost around 30% of its users funds. While Bitfinex can be helpful for buying large amounts of bitcoins, it is probably best to not use the exchange until it fully compensates affected users.
Pros
Very low fees even for low volume buyers; 0.1% for market makers and 0.2% for market takers
One of the best ways to buy large amounts of bitcoins
Allows lending of fiat or bitcoin to margin traders at interest (but this is risky in light of the hack)
Very deep liquidity promotes a price close to fair market rate
Supports several altcoins
Cons
Was recently hacked and has yet to fully compensate all users for their loss
Geared towards traders; possibly quite confusing for first time buyers
Single payment option
Ease of Use
Hard
Privacy
Low
Speed
Varies
Fees
Average
Reputation
Low Trust
Limits
High
-
Bitcoin & Cryptocurrency Trading in Italy
A 2021, the Gimmelike survey showed that about 10% of the Italian respondents already owned cryptocurrencies and about 40% more were interested, but weren't sure how to go about purchasing crypto.
Buying Bitcoin in Italy is easy thanks to the European Union's friendly attitude towards the decentralized asset.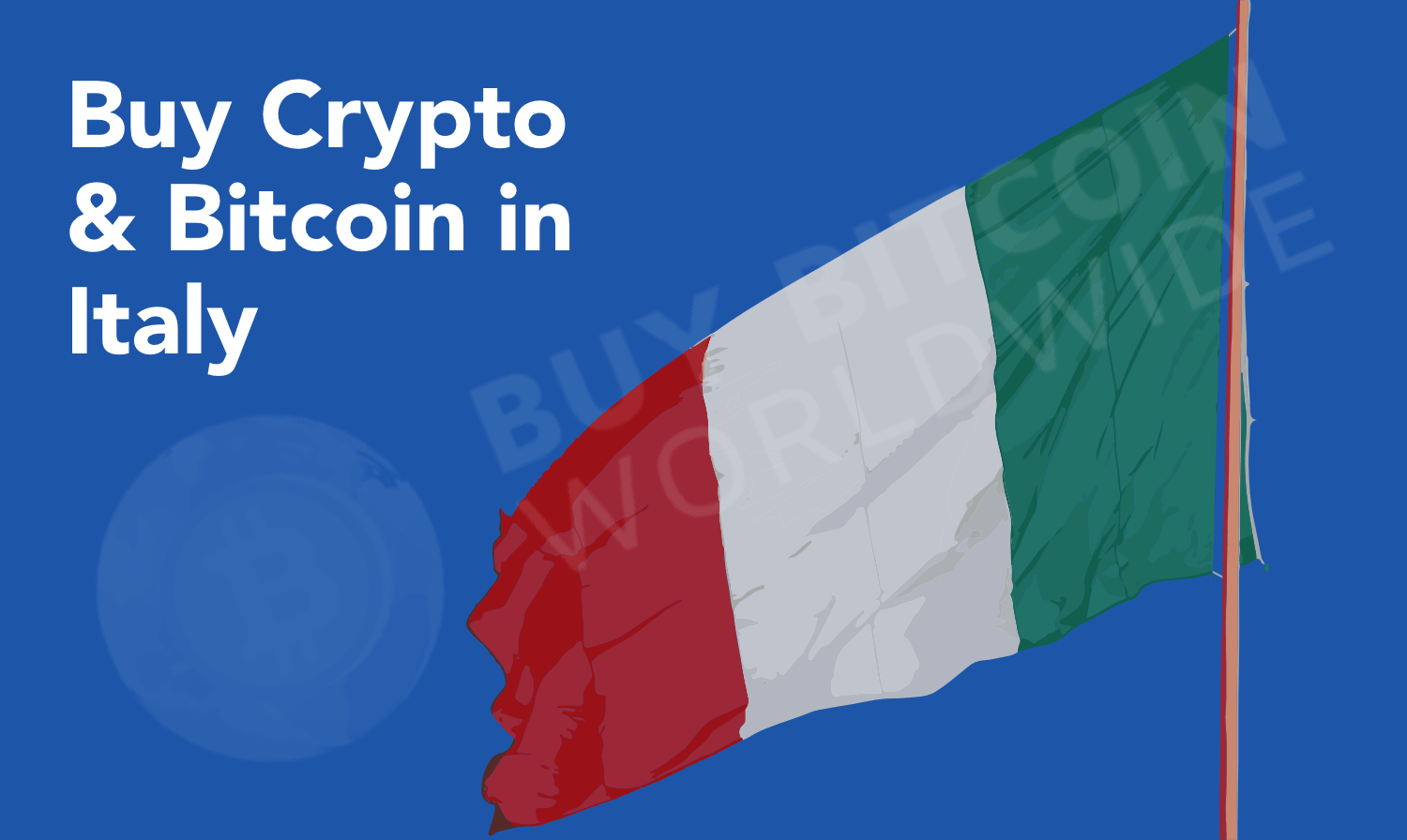 Using an Italian bank, you can buy Bitcoin from any of the mainstream exchanges, based in Europe and abroad, using Euros.
There are several exchanges offering Bitcoin in Italy, allowing you to easily select one based on your requirements and preferences using our list outlined above. Different exchanges have different transaction fees, withdrawal limits, payment modes, and verification processes that need to be kept in mind before users select one.
The Organismo Agenti e Mediatori (OAM), a supervisory body in Italy is tasked with regulatory approval and registration of companies that provide crypto services. This process started in May 2022 and thus far Italy's OAM has added 73 crypto firms to their roster of virtual currency service providers. This should inform investors that a company has been scrutinized by relevant authorities and has "regulatory approval." While companies have been registering, the OAM has yet to vet any of these companies and admitted they are still trying to decide the relevant data needed to determine approval.(2)
Be aware of this as you determine the exchange to use when purchasing cryptocurrency. See the list of exchanges above for recommendations to use in Italy.
Additionally, Bitcoin buyers need to keep in mind that certain exchanges might require you to get a wallet of your own before being able to buy the digital currency. Even if there is no requirement, it is recommended to have a wallet of your own for security reasons (preferably a hardware wallet). If you don't have a wallet, refer to our guide on the Best Bitcoin and Cryptocurrency Wallets to choose one.
First, you'll need a wallet. When you buy Bitcoin with a popular exchange, you'll have a wallet on the exchange. However, your coins are best kept on cold storage, safe from theft.
We recommend the Ledger Nano X, one of the safest and most popular wallets on the market.
Next, sign up with one of the above exchanges, add a payment method, and start trading Bitcoin.
Another way to buy Bitcoins in Italy is through automated teller machines (ATMs). These ATMs allow users to instantly purchase the cryptocurrency using cash, and most of them only require a telephone number for verification, so long as you aren't buying a lot of Bitcoin, they are more private than exchanges.
-
Exchange Hacks and Crypto Scams in Italy
BitGrail Hack
In July of 2017, Italian crypto exchange BitGrail had 2.5 million Nano coins stolen from its wallets. It later came to light that the exchange was storing all client funds in a hot wallet. The exchanges founder, Francesco Firano, apparently did not learn his lesson, as another 7.5 million Nano were stolen the following October.
In December, Firano moved the coins from a hot wallet to a cold wallet and would intermittently suspend all exchange activity, including withdrawals.(3)

It was then later made evident that mere days before these hacks were announced in February of 2019 (months after they occurred), Firano moved 230 Bitcoins from the BitGrail exchange wallet into his personal account on another cryptocurrency exchange.
Finally, as a result of US law firm's suits against both Nano and BitGrail, it came to light that Nano marketing teams had directed uses to deposit coins on BitGrail.
Firano was eventually forced by the courts to file for bankruptcy and hand over all exchange and personal assets to a trust to pay back BitGrail customers as much as possible.
Altsbit Hack
In February of 2020, a tiny Italian exchange named Altsbit had "almost all" of its customer coins stolen in a hack. The grand total of the value of the coins comes out to US $27,000. Despite the tiny amount of money stolen, it was cold comfort to anyone who had their coins deposited on the exchange and acts a cautionary tale for all traders to stick to large exchanges with deep pockets and a dedicated security team whenever possible.(4)
Avalon Life Scams
In December of 2018, the Italian Commissione Nazionale per le Società e la Borsa (CONSOB) - basically the equivalent of the Securities and Exchange Commission - suspended the operations of a company called Avalon Life. In particular, the two businesses that Avalon Life was running were called Bitsurge token and Green Energy Certificates.(5)

In both cases, Avalon Life was guaranteeing returns to investors in these projects (returns that were also unrealistic, ranging from 6 to 13%.). In the case of Green Energy Certificates, it was especially dubious, as the company marketed the certificates as a way to buy parts of "the rainforest" on the blockchain.
-
In Borgo d'Anaunia, a small municipality in the northern Italy, became the first municipality to run a crypto data center. The data center is located at the Alta Novella hydropower plant in the turbine room and has 40 ASIC mining machines. Alps Blockchain, the Italian tech company, set up and maintains the mining farm, then purchases the computing power produced by the facility's mining farm for at least 35% more than what the municipality pays for its energy. The setup is a win-win for both organizations, and as of March 2022, Alps Blockchain has setup similar operations in 18 hydropower plants in northern Italy.(6)
While most individuals in Italy choose to buy Bitcoin from one of the trusted exchanges listed above, tech savvy Bitcoin enthusiasts can mine their Bitcoin instead.
All of the Bitcoin in circulation today was created thanks to miners, who use powerful mining hardware to verify the network and earn Bitcoin as their reward.
The main factors contributing to mining profitability are electricity cost and the price of Bitcoin. Each time a miner successfully validates a block, they're given a block reward (which is halving soon, by the way.)
If the cost of electricity used to power your mining hardware is lower than the price of Bitcoin, you're profitable - otherwise, you're losing money.
Bitcoin mining is not what it used to be, and has come far from its golden age. Advanced mining hardware is required to mine Bitcoin, and is usually only profitable in a large-scale mining operation in a country where electricity is cheap.
Using a simple Bitcoin mining profitability calculator is a great way to determine the mining profitability in your area. Enter the hashing power of your mining hardware and the cost of electricity where you live to figure your mining profitability.
In Italy, the price of electricity per kWh is EUR 0.24, which is approximately double that of the United States. Even with a powerful ASIC miner like the Antminer S19 Pro, you'll lose thousands in electricity cost. $6,461.66, to be exact!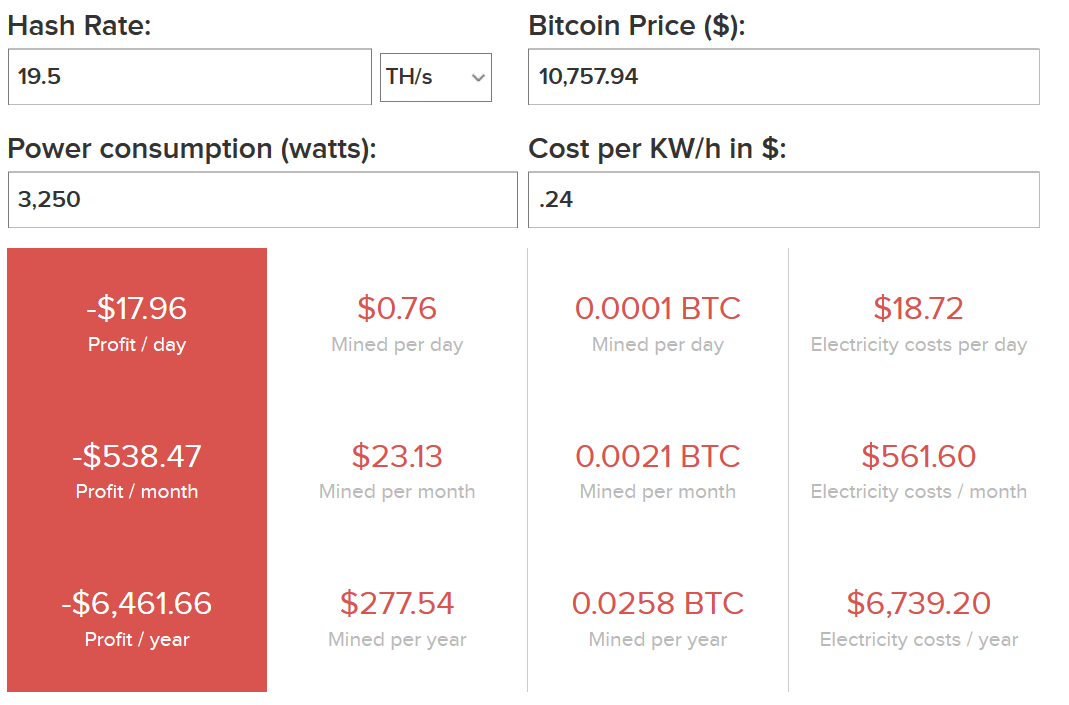 Mining Bitcoin in Italy is far from profitable, and should only be done as a hobby or for fun, without the intention of turning a profit. That means if you're interested in acquiring Bitcoin, use one of the exchanges listed above, like Coinbase or Coinmama.
-
Does Coinbase work in Italy?
Citizens of Italy can convert, buy, and sell cryptocurrencies with fiat. Supported payment methods are:
Bank Deposit
PayPal
3D Secure Credit Card
Debit Card
Credit Card
Where Can I Find a Bitcoin ATM in Italy?
There are many Bitcoin ATMs all over Italy, so you are likely never too far away from one if you need to pick up some Bitcoin quickly with cash.
You can use our Bitcoin ATM finder tool to find the one nearest you.
What is the price of Bitcoin in Italy?
Bitcoin prices are changing every second.
The best way to find the most up-to-date price of Bitcoin is to check out our Bitcoin price page.
How do I cash out of Bitcoin in Italy?
Any exchange with a Euro trading pair will allow you to sell your Bitcoin for fiat currency. Bitpanda has EUR trading pairs for many popular coins.
Article Sources
BuyBitcoinWorldWide writers are subject-matter experts and base their articles on firsthand information, like interviews with experts, white papers or original studies and experience. We also use trusted research and studies from other well-known sources. You can learn more about our editorial guidelines.