We may receive advertising compensation when you click certain products. Before jumping into this page, an important disclosure.
eToro
eToro is a trading platform and crypto exchange. It supports Bitcoin, Ethereum, Litecoin, Zcash and many other coins.

Deposits can be made quickly via bank transfer, SEPA, NETELLER, PayPal and more. It also offers unique features like copy trading.

Crypto investing is offered by eToro (Europe) Ltd as a DASP, registered with the AMF. Cryptoasset investing is highly volatile. No consumer protection.
Visit eToro's Website
Pros
Offers unique copy trading feature
Trusted exchange that has been active in traditional finance
Interface is clean and easy to use
Cons
You cannot deposit cryptocurrency, but you can deposit with other payment methods
Ease of Use
Easy
Privacy
Low
Speed
Average
Fees
Low
Reputation
Trusted
Limits
High
Bitstamp
Bitstamp is one of the world's largest and most well-known Bitcoin & crypto exchanges. Deposits can be made through bank transfer, SEPA transfer, international bank wire, and now even credit cards.
Pros
One of the longest-running Bitcoin exchanges
Very low 0.25% fee, falling to 0.1% with sufficient trading volume
Offers wide range of altcoins
Cons
High 8% fee on small credit card purchases, falling to 5% with sufficient trading volume
Ease of Use
Hard
Privacy
Low
Speed
Slow
Fees
Average
Reputation
Trusted
Limits
High
Coinbase
Coinbase is the world's largest Bitcoin (BTC) broker. They represent an easy and fast way for new users to purchase bitcoins. Coinbase supports customers in over 30 countries, including the United States, Europe, UK, Singapore, and Canada.

Customers in the above-mentioned countries can purchase bitcoins by debit card, bank transfer, SEPA transfer, and more.

Get $5 in free bitcoin after you sign up on Coinbase and make your first trade.
Pros
High liquidity and buying limits
Easy way for newcomers to get bitcoins
"Instant Buy" option available with debit card
Cons
Purchases made with bank transfer can take up to 5 days to complete
Coinbase may track how and where you spend your bitcoins
Ease of Use
Easy
Privacy
Low
Speed
Average
Fees
Average
Reputation
Trusted
Limits
High
Kriptomat
Kriptomat is a Bitcoin & crypto exchange based in Europe. It offers quick verification and the ability to buy bitcoin, ether, litecoin and other coins. Buyers can get coins using a credit card, debit card, SEPA, Skrill, Sofort and other payment methods.
Pros
Available in 23 languages
Quick verification process
Cons
Limited payment methods
Only supports EU countries
Ease of Use
Easy
Privacy
Low
Speed
Average
Fees
Low
Reputation
Trusted
Limits
High
Bity
Bity is a Bitcoin exchange and ATM operator, based in Switzerland. Their 5 ATMs allow for a quick first purchase and only require phone verification for an initial buy limit of 1,000 EUR or CHF. Their online service accepts wire transfers, SOFORT and online bank transfers.
Pros
Easy to start buying bitcoins after mobile phone verification
Payment limit of up to €100,000 annually after intensive verification
Cons
ID verification is required for most purchases, so not a private way to buy
Low annual limit of only €4,000 without intensive verification
Ease of Use
Average
Privacy
Low
Speed
Fast
Fees
Low
Reputation
Trusted
Limits
High
Bitcoin ATMs
You can use our Bitcoin ATM map to buy bitcoins with cash. Bitcoin ATMs can be a quick and easy way to buy bitcoins and they're also private. That convenience and privacy, however, comes with a price; most ATMs have fees of 5-10%. View Bitcoin ATMs
Pros
Our map makes it super easy to find a Bitcoin ATM near you
Cons
Bitcoin ATMs often have 5-10% fees per purchase
Bitfinex
Hong Kong-based Bitfinex has long been one of the largest USD Bitcoin exchanges in the world. Bitfinex accounts may be funded by bank wire only, their fee on accepting such transfers is low at only 0.1%.

In August 2016, however, it was hacked and lost around 30% of its users funds. While Bitfinex can be helpful for buying large amounts of bitcoins, it is probably best to not use the exchange until it fully compensates affected users.
Pros
Very low fees even for low volume buyers; 0.1% for market makers and 0.2% for market takers
One of the best ways to buy large amounts of bitcoins
Allows lending of fiat or bitcoin to margin traders at interest (but this is risky in light of the hack)
Very deep liquidity promotes a price close to fair market rate
Supports several altcoins
Cons
Was recently hacked and has yet to fully compensate all users for their loss
Geared towards traders; possibly quite confusing for first time buyers
Single payment option
Ease of Use
Hard
Privacy
Low
Speed
Varies
Fees
Average
Reputation
Low Trust
Limits
High
-
Bitcoin & Cryptocurrency Trading in France
A court case in 2020 laid the ground work for cryptocurrency to be treated as currency in France.(2)
While France is a very crypto positive environment, recent statements by Finance Minister Bruno Le Maire note a cautious pullback. Le Maire wants a review of the crypto tax rules, has stated concern about crypto mining energy consumption, and the potential of blockchain technology to usurp the role of France's fiat currency, the euro. However, Le Maire has also said, "We want France to be the European hub of the crypto asset ecosystem."(3)
Keep reading to learn more about Bitcoin in France and how you can get started in bitcoin.
Bitcoin was first created in 2008 and gained traction slowly for the first few years. Once it started getting big, people from all over the world were involved in the mining, exchanging, and purchasing of Bitcoins.
In 2019, the French government allowed Bitcoin to be accepted as a form of currency.

Thanks to the integration between Bitcoin software and point-of-sale software, it's now easy to pay for physical merchandise with cryptocurrency. Because of this, it's expected that Bitcoin will continue to gain popularity in France. Those who already have it will finally be able to use it and those who don't have any can look into getting some.
Where to Get Bitcoin in France
If you're interested in getting Bitcoins, let's look into a few of the ways you can do that in France.
One of the easiest ways to buy Bitcoin in France is through cryptocurrency exchanges. There are several exchanges offering Bitcoin in France, allowing you to select one based on your requirements and preferences using our guide. Different exchanges have different transaction fees, withdrawal limits, payment modes, and verification processes that need to be kept in mind before users select one.
Additionally, Bitcoin buyers need to keep in mind that certain exchanges might require you to get a wallet of your own before being able to buy the digital currency. Even if there is no requirement, it is recommended to have a wallet of your own for security reasons (preferably a hardware wallet).
Another way to buy Bitcoins in France is through automated teller machines (ATMs). These ATMs allow users to instantly purchase and sell cryptocurrency using cash, however most of them require at least a phone number, so they aren't totally private.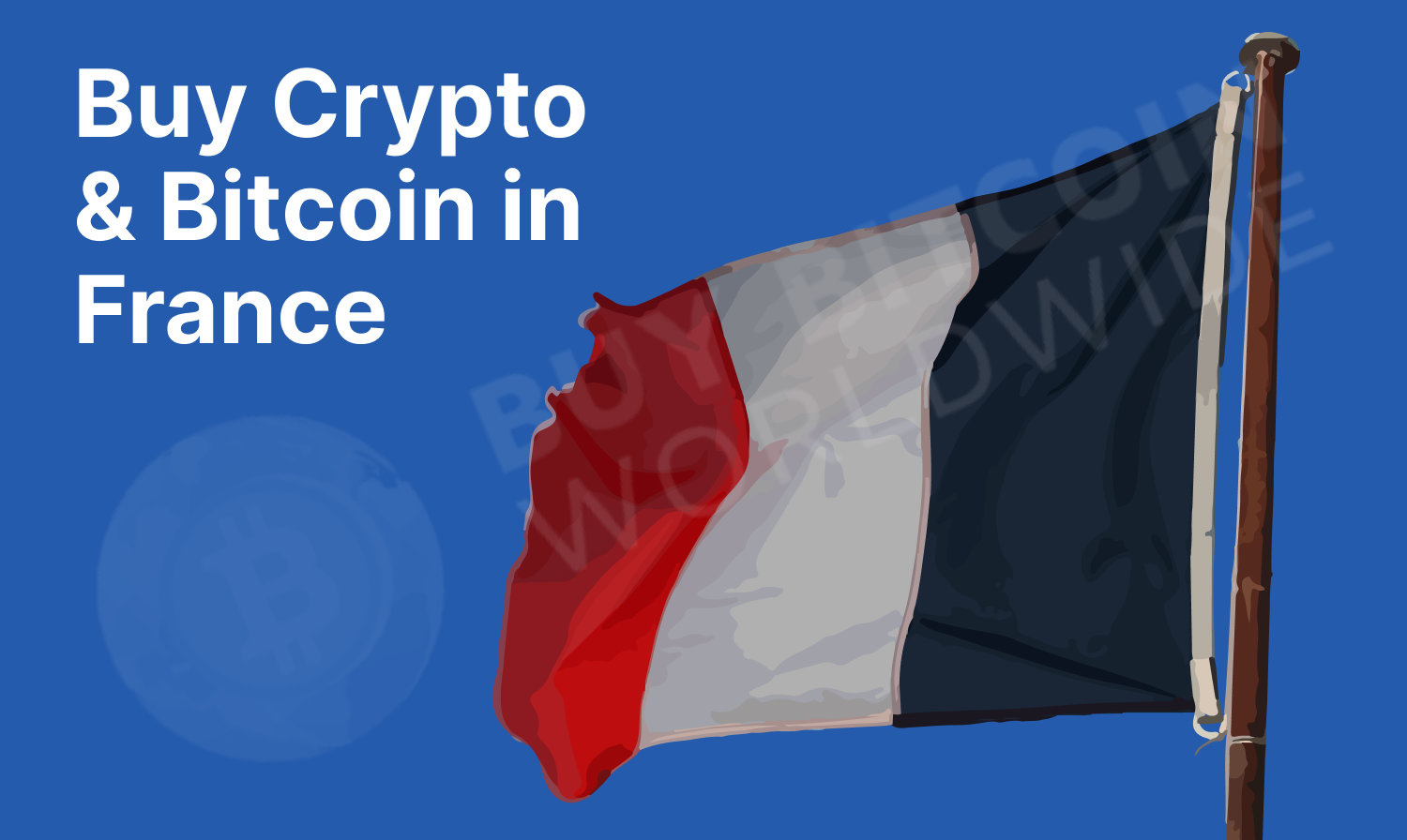 -
Exchange Hacks and Crypto Scams in France
Twenty-Five Percent of Financial Fraud Cases Involved Crypto
Marielle Cohen-Branche, of France's national financial markets authority (AMF), released a report for 2021 stating that 25% of suspected financial fraud cases reviewed by the organization involved crypto. This was a large increase over the 6% reported in 2020. The AMF warned French crypto investors that they should use registered providers or they may be left without protection from fraud.(4)
In order to avoid scams, individuals should always use reputable exchanges like those listed above for investing in bitcoin.
Kylian Mbappé Impersonation
In March of 2020, a cryptocurrency investing fund scam put out advertisements with French Soccer player Kylian Mbappé's image that attributed fabricated quotes from him endorsing the company.
More specifically, the quotes attributed to Mbappé claimed that the algorithms used to trade investor money were so good they could make you a millionaire in a couple of months and the big banks were scared of this company.
Of course, Mbappé never made any of these claims, and this company doesn't invest any of the money given to them by customers. Instead they are likely running a ponzi scheme.(5)
-
Does Coinbase work in France?
Citizens of Spain can convert, buy, and sell cryptocurrencies with fiat. Supported payment methods are:
Bank Deposit
PayPal
3D Secure Credit Card
Debit Card
Credit Card
Where Can I Find a Bitcoin ATM in France?
You can use our Bitcoin ATM finder tool to find the one nearest you.
What is the price of Bitcoin in France?
Bitcoin prices are changing every second.
The best way to find the most up-to-date price of Bitcoin is to check out our Bitcoin price page.
How do I cash out of Bitcoin in France?
Any exchange with a Euro trading pair will allow you to sell your Bitcoin for fiat currency. Bitpanda has EUR trading pairs for many popular coins.
You could also use a service like eGifter to sell your Bitcoin for gift cards.
Is Bitcoin Legal in France?
As of now, Bitcoin is legal in France. The French government recognizes its use in some forms. However, banks and financial institutions might have restrictions. Users are required stay updated on the latest regulations.
Is Bitcoin taxed in France?
Yes, Bitcoin is taxed in France. Capital gains from Bitcoin sales are subject to taxation in France. The French tax authorities classify them as movable property. Reporting obligations apply to individuals and businesses, so be sure to check with a professional.
Are there bitcoin conferences in France?
Indeed, France hosts multiple Bitcoin conferences annually. It used to host the main Bitcoin Magazine conference. Paris, as a major European hub, often witnesses these gatherings. Professionals, enthusiasts, and startups frequently participate, sharing the latest Bitcoin insights and software developments.
Article Sources
BuyBitcoinWorldWide writers are subject-matter experts and base their articles on firsthand information, like interviews with experts, white papers or original studies and experience. We also use trusted research and studies from other well-known sources. You can learn more about our editorial guidelines.