We may receive advertising compensation when you click certain products. Before jumping into this page, an important disclosure.
Kraken and Kucoin do NOT support residents of Washington. We've listed alternative exchanges that DO allow customers to buy crypto and Bitcoin in Washington.
eToro
eToro allows you to buy Bitcoin & crypto in the United States.

It offers a free wallet, app, and is easy and quick to use for purchases.

Limited-time offer: Get $10 free once you trade $100 worth of cryptocurrency.

Cryptocurrency is offered by eToro USA LLC ("the MSB") (NMLS: 1769299) and is not FDIC or SIPC insured. Investing involves risk, and content is provided for educational purposes only, does not imply a recommendation, and is not a guarantee of future performance. BuyBitcoinWorldwide.com is not an affiliate and may be compensated if you access certain products or services offered by the MSB.
Visit eToro's Website
Pros
Trusted exchange with 25+ million users
Easy to use to buy
The interface is clean and many coins supported
Cons
You cannot deposit cryptocurrency, but you can deposit with other payment methods
Ease of Use
Easy
Privacy
Low
Speed
Average
Fees
Low
Reputation
Trusted
Limits
High
Coinbase
Coinbase is one of the largest exchanges, with over 100 million users.

USA users can buy bitcoins and crypto fast and easily using Coinbase's free app or on its website.

Coinbase also offers a free wallet for its users.

Eligible US residents (excluding Hawaii) who successfully create an account and purchase crypto will receive $5 in Bitcoin (BTC) added to their Coinbase portfolio. Visit Coinbase's Website
Pros
Trusted exchange with 100 million+ users
Based in the USA; with a free wallet included
App available on Apple App Store & Play Store
Cons
Easy to use but fees can be high
Coinbase may track how and where you spend your bitcoins
Ease of Use
Easy
Privacy
Low
Speed
Average
Fees
Average
Reputation
Trusted
Limits
High
Bitcoin IRA
Bitcoin IRA offers a tax-advantaged way to acquire Bitcoin via an IRA.
Visit Bitcoin IRA's Website
Pros
Tax-advantaged Bitcoin savings
Easy to set up an account
Cons
Cannot custody the Bitcoin yourself
Ease of Use
Average
Privacy
Low
Speed
Fast
Fees
High
Reputation
Trusted
Limits
High
Gemini
Gemini is a New York-based Bitcoin exchange, open to residents of the United States, UK, Canada, Hong Kong, Japan, Singapore and South Korea. Deposits can be made via wire transfer, SEPA or ACH transfer.
Get $20 of free BTC after trading $100 or more within 30 days.
Pros
Trustworthy and regulated exchange
Instant deposit lets you buy coins quickly (but not withdraw them)
Some of the lowest fees in the US and Canada
Cons
Somewhat confusing to use for new buyers
Ease of Use
Hard
Privacy
Low
Speed
Slow
Fees
Low
Reputation
Trusted
Limits
High
Uphold
Crypto exchange established in 2015. United States residents can buy bitcoin & crypto via wire transfer, credit card, debit card and ACH transfer.
Pros
Ability to also buy gold and silver
Cons
Requires ID verification, so not private
Ease of Use
Easy
Privacy
Low
Speed
Average
Fees
Low
Reputation
Trusted
Limits
High
Coinmama
Coinmama allows customers in almost every country to buy bitcoin. They charge a 4.9%-5.9% (depends on volume) fee on each purchase.

Customers in Europe can also purchase bitcoins with SEPA transfer for a lower fee.
Pros
Works in almost all countries
Highest limits for buying bitcoins with a credit card
Reliable and trusted broker
Cons
Some of the highest fees among credit/debit card bitcoin brokers
Ease of Use
Easy
Privacy
Low
Speed
Fast
Fees
Average
Reputation
Trusted
Limits
High
River
River makes it easy to buy bitcoin. It has a clean interface, low fees and allows for automatic purchases.

It currently offers its services in all US states besides New York and Nevada.

Be sure to read our River Financial review.
Pros
Very clean interface
Unique recurring buy feature
Cons
Bitcoin-only, no support for other coins
Ease of Use
Easy
Privacy
Low
Speed
Average
Fees
Low
Reputation
Trusted
Limits
High
Swan Bitcoin
Swan Bitcoin is a dollar cost averaging Bitcoin exchange, where users can set up recurring Bitcoin purchases to be drafted from their bank account or credit card every month or week.

Get $10 in free BTC when you make your first purchase.
Pros
Easy to set up
Automated dollar cost averaging
Very low fees
Cons
First purchase takes awhile
No way to sell on platform
Ease of Use
Hard
Privacy
Low
Speed
Fast
Fees
Low
Reputation
Trusted
Limits
High
Coinbase Advanced Trader
Coinbase's exchange, Coinbase Advanced Trader (formerly called Coinbase Pro), is one of the largest Bitcoin exchanges in the United States. Users can fund their accounts via bank transfer, SEPA, or bank wire. Coinbase Advanced Trader offers good prices and low fees, but its confusing user interface may initially prove difficult to navigate.
Pros
Some of the lowest fees available for US and EU customers
Possible to buy bitcoins for 0% fees
Cons
The user interface is confusing for first-time buyers
Ease of Use
Hard
Privacy
Low
Speed
Average
Fees
Low
Reputation
Trusted
Limits
High
Bitcoin ATMs
You can use our Bitcoin ATM map to buy bitcoins with cash. Bitcoin ATMs can be a quick and easy way to buy bitcoins and they're also private. That convenience and privacy, however, comes with a price; most ATMs have fees of 5-10%. View Bitcoin ATMs
Pros
Our map makes it super easy to find a Bitcoin ATM near you
Cons
Bitcoin ATMs often have 5-10% fees per purchase
-
Bitcoin & Cryptocurrency Trading in Washington
Washington's technology industry in concentrated in the Seattle area, which has launched leading companies like Microsoft and Amazon. The presence of these innovative and rapidly growing companies in the state has not been without controversy and a string of well-publicized legal battles in courts, both state and federal.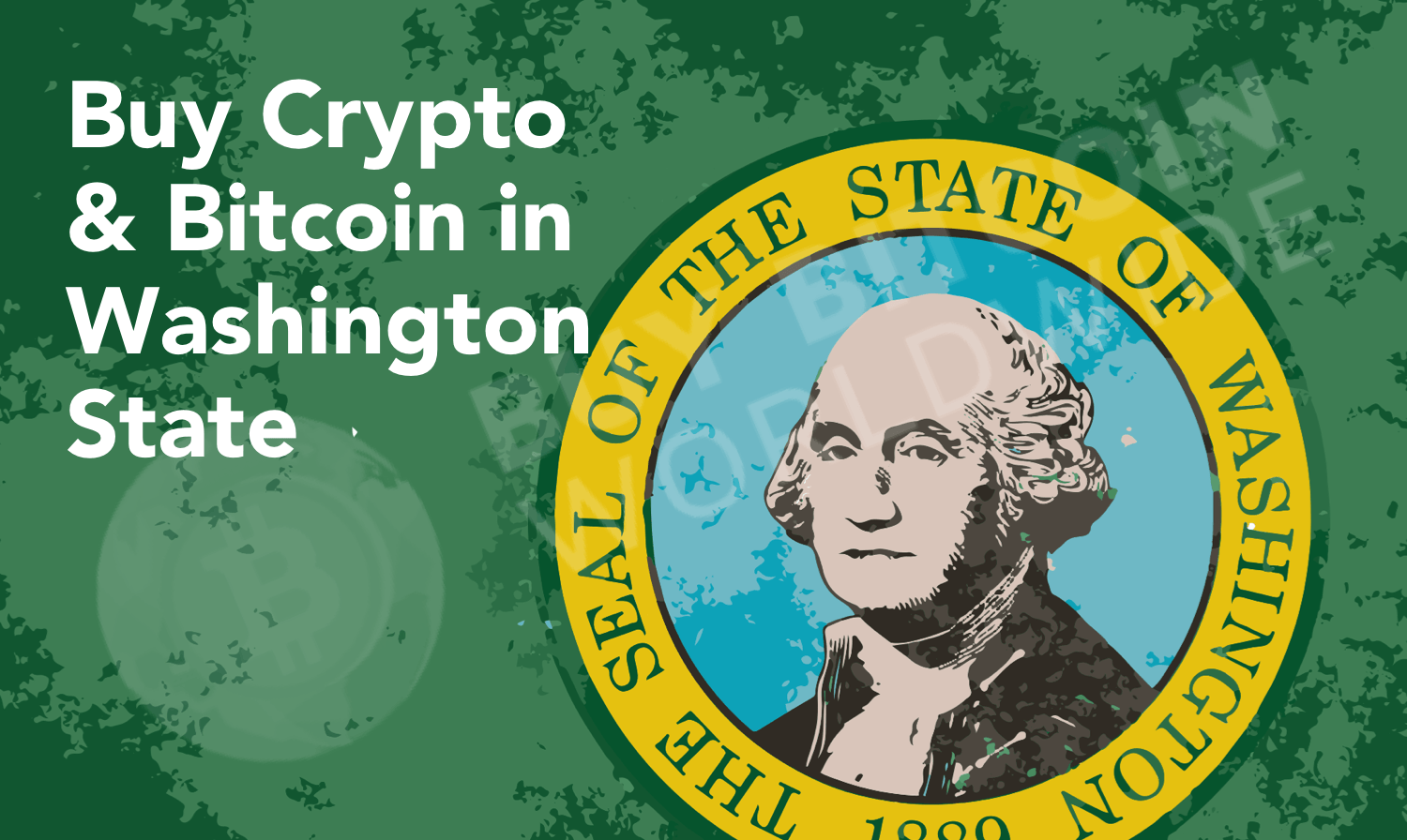 Washington has also taken an active approach to recognizing and regulating Bitcoin and cryptocurrency operations. The Washington State Department of Financial Institutions describes its mission as "striv[ing] to protect businesses and consumers while not unnecessarily impeding the development of new technologies that might improve existing payments systems or create alternative payment systems." While the resulting laws have provided some much needed clarity about the laws applying to the blockchain space, they have also forced out a number of exchanges which find the regulations too onerous.(2)
State Bill 5031 - passed in 2017 - defined cryptocurrency exchanges as money transmitter businesses and required them to register as such before operating in the state. In addition to posting a surety bond of up to $250,000, exchanges must undergo third-party audits of their data systems and hold non-tradeable reserves equal to the volume of cryptocurrency maintained as customer deposits.(3)
These obligations caused the exit of major exchanges from Washington, including Bitfinex, Kraken, Poloniex, and ShapeShift. The latter released a statement taking issue with being "required to spend hundreds of thousands of dollars to maintain a license, only to extract our users' personal information and store that information for hackers to steal." ShapeShift had not long before acquired KeepKey - a Seattle-based hardware wallet manufacturer - but announced that it would be permanently relocating the division and all its jobs out of the Evergreen State.
Regulators recognized that SB 5031 resulted in a blockchain-unfriendly reputation for their state and have moved to remedy that in recent years. A 2019 bill aimed to establish legal definitions for "blockchain" and "distributed ledger technology." Senate Bill 5638 also proposed to give the same legal status to documents and signatures "generated, communicated, received, and/or stored using distributed ledger technology" as any other legal document.(4)
The bill is clearly a step toward integrating blockchain technology into the existing legal framework, yet it does nothing to address the restrictions and requirements that led to the exodus of companies previously operating in the state.
In March 2022, Senate Bill 5544 was signed into law, establishing the Washington State Blockchain Work Group, which will look at ways for Washington State to support and use blockchain technologies to support business development in the state.(5)
Despite the demanding money transmitter license requirements, the best way to purchase Bitcoin in Washington is still through one of the reputable exchanges open for business in the state. See below for our review of the best U.S.-based and international options.
Another option is to use LocalBitcoins, which is a peer-to-peer marketplace where you can organize trades with other individuals who are looking to buy or sell Bitcoin. This means that you can use any payment method you on which you both agree. PayPal, bank transfers, and gift cards are some of the most common on the site.
Bitcoin ATMs allow you to purchase Bitcoin using cash. A Bitcoin ATM transaction takes just a matter of minutes, making it one of the quickest ways to turn cash into cryptocurrency in your (virtual) wallet.
Regardless of how you obtain your Bitcoin, you'll need to store it securely. If you lose your funds, Bitcoin's trustless and decentralized nature means there's no one you can turn to. This means that storing it safely in a wallet is important. Read on to find out more about the best Bitcoin and cryptocurrency wallets.
-
Hacks and Crypto Scams in Washington
In March 2021, a group of investors sued Malachi Salcido after they invested $8.5 million into his bitcoin mining company, StepChange.(6)
They claim that Salcido misappropriated, embezzled, and misspent $2.4 million in StepChange assets over three years.
Salcido had a a controlling interest in StepChange, while he was also charging the company $57,000 a month in management fees.
The investors also believe that Salcido overbilled for rent on the data centers, owned by Salcido Enterprises, used for the mining operation.
The biggest blow came when Salcido Enterprises filed suit against StepChange in 2020, claiming that StepChange owed $439,250 in back rent.
Even though Salcido had a controlling interest in StepChange and was being paid to manage the company, he never had the company respond to the lawsuit and by default lost the suit.
Investors use this as proof that Salcido failed to share crucial information with investors.
Unfortunately, the courts will have to work this out.
Be careful who you invest with and how you invest in bitcoin and bitcoin mining. While mining is one way to obtain cryptocurrencies, the easiest way is to purchase bitcoin using an exchange listed above.
Bitcoin has about as much of a role in illegal activities as cash does: it's an easy method of payment but doesn't do anything to actually promote crime. That is usually the domain of the petty scammers and fraudsters who lure inexperienced investors in with get-rich-quick schemes before making off with their money. This peaked in late 2017 with the Initial Coin Offering (ICO) craze where hundreds of projects were launched. Some had little more than a website and a logo, but that didn't stop many from briefly peaking at thousands of times their initial value.
One of these coins had the prestige of being backed by a former Washington state Senator, David Schmidt. Schmidt served as a Republican in the Senate from 2003-06 and first tasted notoriety after his failed reelection bid, when he was found guilty of misappropriating $41,518 of campaign donations. He had reimbursed himself $32,260 for wages he claimed he lost while serving as a senator, and spent the remaining amount on his personal mortgage payments and HOA fees for the condo which housed his "campaign office."(7)
After another failed reelection bid in 2010, Schmidt turned to promoting gold on his personal website in 2016, using photos of his vast gold reserves that were actually lifted from the Bank of England's website. Soon after, he founded Meta 1. This was a cryptocurrency that alternately claimed to be backed by $2 billion worth of gold, or $1 billion of fine art. Schmidt and his co-conspirators also claimed that their reserves were audited by KPMG, which was just a precaution as the coin was risk-free and would never lose value.(8)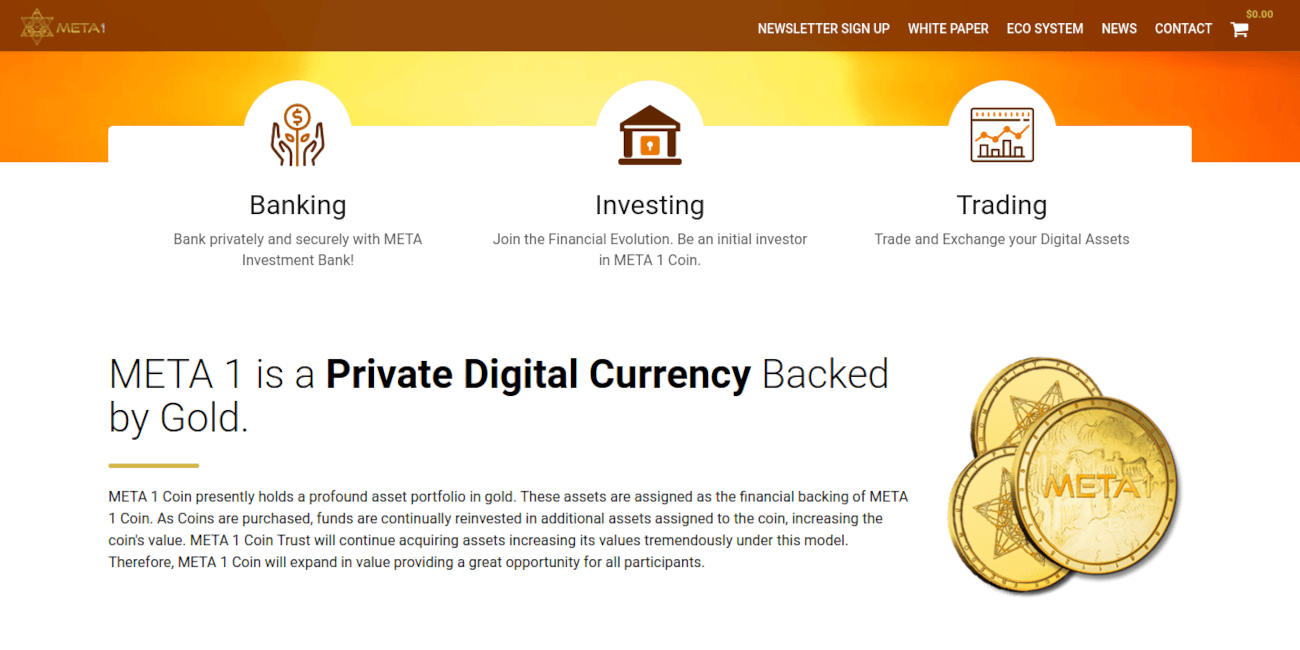 Meta 1 tokens sold for either $22.22 or $44.44, depending on when you bought in. Schmidt & Co. claimed that each token would eventually be worth up to $50,000, "at a conservative value." The SEC, however, thought otherwise(8), and froze Meta 1's assets and charged the scam's operators with fraud. Meta 1 had drawn in over $4.38 million despite being "nothing but a vehicle to steal investors' money," according to the SEC.
Operation Software Slashers
Bitcoin and Litecoin were seized from a Seattle businessman in 2015 as part of one of the largest software piracy operations ever prosecuted by the U.S. Department of Justice. Waiving his right to a grand jury, Rex Yang Jr. pleaded guilty to charges of participating in a criminal conspiracy from 2009 to late 2014. The 105 BTC forfeited had a market value of $25,087 at the time, while as of late 2020 it would be worth over $1.6 million.(9)
Yang, the owner and operator of Digisoft LLC and Premiere Software Inc. was the sixth and final member of the international scheme to plead guilty. The six men, located in China, Singapore, Germany, and a number of U.S. states, illegally sold thousands of Microsoft and Adobe product key codes online. Yang alone possessed more than 10,000 Microsoft certificates of authenticity, which were obtained from sources in China and resold through fraudulent websites masquerading as charities, including an eBay store named Project Contact Africa which took in $12 million in revenue. Customers were led to believe that 100% of sales would go to the charity, though only a small portion did. The conspirators instead benefitted from eBay and PayPal's fee waivers for charities, and used proceeds to purchase new inventory.
In addition to the cryptocurrency, investigators also seized more than $20 million in assets, including 10 luxury vehicles, hundreds of gold and silver bars and coins, and a diamond-encrusted Rolex.
-
Bitcoin Mining in Washington
Central Washington's abundance of cheap hydroelectric power has made the state a popular location for Bitcoin mining operations(10). The public utility districts (PUDs) of Chelan, Douglas and Grant counties own their own dams on the Columbia River which produce power far in excess of local household demand.(11) This means that they have power to sell to industries which historically included aluminum smelters and more recently Bitcoin miners, who are eager to take advantage of what are among the world's cheapest electricity prices. Bitcoin miners join Google, Yahoo, and Dell, who all operate data centers in the region.
Grant County alone has a dozen commercial cryptocurrency mining operations. Yet the relationship between Bitcoin miners and the local government has not always been a happy one. A group of miners took the Grant County PUD to court over a proposed rate increase, which they labeled "discriminatory... illegally arbitrary and capricious." The PUD hiked rates specifically for commercial customers operating in "emerging and highly speculative markets."(12)
In June 2022, Merkle Standard was granted a permit to convert the closed Ponderay Newsprint Mill located in Usk, Washington into a cryptocurrency mining farm. The permit will allow the operation of 30,000 servers on the nearly 1,000-acre site. The mill had been the largest employer in the county before closing in 2020 and was purchased by Allrise Capital, the holding company for Merkle, for $18.1 million.(13)
There are clearly strong economic incentives for miners to operate in Central Washington, and for local electricity providers to sell their excess energy to these willing customers. Bitcoin mining is still a very new industry that is in the process of ironing out the kinks in its operation.
-
| Exchange Name | Support for Washington |
| --- | --- |
| Binance.us | |
| Coinbase | |
| Coinmama | |
| Kraken | |
| Kucoin | |
| Gemini | |
| Uphold | |
| Luno | |
| Crypto.com | |
Where Can I Find a Bitcoin ATM in Washington State?
The best way to find a Bitcoin ATM in Washington is to use our Bitcoin ATM finder tool.
Here, you can filter by any of the most popular cryptocurrencies and find ATMs that support buying, selling, or both.
What Bitcoin Exchanges are Available in Washington State?
You can buy Bitcoin in Washington from any one of the many quality exchanges that serve residents of the state. As outlined above, this includes Coinbase, Coinmama, and Gemini.
Other options include peer-to-peer marketplaces such as LocalBitcoins, and Bitcoin ATMs that accept cash. See above for an overview of the best cryptocurrency exchanges and wallets available in Washington.
Where Should I Mine Bitcoins in Washington State?
The best place to mine Bitcoin in Washington is in the center of the state, along the Columbia River with its copious amounts of cheap hydropower. The cost of electricity is one of the two main determinants of mining profitability, along with the cost of hardware. It's important to calculate the economics of mining before getting into it, as smaller operations often struggle to be profitable.
How Do I Withdraw Bitcoin to a Bank Account in Washington State?
While you're currently unable to withdraw actual Bitcoin (BTC) to a bank account, there are a number of ways to sell your BTC for USD and withdraw that to your bank account. The best way to do this via an exchange that supports crypto-to-fiat conversions. Coinbase, Gemini, and Coinmama all allow you to sell your Bitcoin for cash and withdraw to your account using a SWIFT or wire transfer.
Peer-to-peer marketplaces such as LocalBitcoins and LocalCryptos also support bank transfers. All you need to do is find a buyer who is willing to send a transfer using your preferred method of payment and organize a trade.
Article Sources
BuyBitcoinWorldWide writers are subject-matter experts and base their articles on firsthand information, like interviews with experts, white papers or original studies and experience. We also use trusted research and studies from other well-known sources. You can learn more about our editorial guidelines.