We may receive advertising compensation when you click certain products. Before jumping into this page, an important disclosure.
Key Takeaways
eToro, CoinJar and Kraken are three of the best places to buy bitcoin in the UK.
How you purchase bitcoin will depend on the quantity and payment method you wish to use.
Most exchanges support Bitcoin and numerous other cryptocurrencies.
eToro
eToro is a trading platform and crypto exchange. It supports Bitcoin, Ethereum, Litecoin, Zcash and many other coins.

Deposits can be made quickly via bank transfer, SEPA, NETELLER, PayPal and more. It also offers unique features like copy trading.

Don't invest unless you're prepared to lose all the money you invest. This is a high-risk investment, and you should not expect to be protected if something goes wrong. Take 2 minutes to learn more.
Visit eToro's Website
Pros
Offers unique copy trading feature
Trusted exchange that has been active in traditional finance
Interface is clean and easy to use
Cons
You cannot deposit cryptocurrency, but you can deposit with other payment methods
Ease of Use
Easy
Privacy
Low
Speed
Average
Fees
Low
Reputation
Trusted
Limits
High
CoinJar
Established in 2013, CoinJar makes it easy to buy, sell and spend cryptocurrency. CoinJar's iOS and Android apps allow users to trade cryptocurrencies on the go, while CoinJar Exchange and CoinJar OTC Trading Desk cater for professional traders, as well as individuals and institutions looking to make larger transactions.
Don't invest unless you're prepared to lose all the money you invest. This is a high-risk investment, and you should not expect to be protected if something goes wrong. Take 2 minutes to learn more.
Visit CoinJar's Website
This is an ad. We may receive compensation when you use CoinJar. Please visit CoinJar for its exact pricing terms.
Pros
Fees 0-2% (lower for high trading volumes)
Clean interface makes it easy for first-time buyers
Instant bank transfer
Established in 2013
Cons
Once off ID verification required to deposit or withdraw
Ease of Use
Easy
Privacy
Low
Speed
Average
Fees
Low
Reputation
Average
Limits
High
Uphold
Uphold is a global crypto exchange that started in 2015. GB residents can buy bitcoin & crypto via wire transfer, credit card, debit card and SWIFT transfer.
Pros
Ability to also buy gold and silver
Established exchange
Cons
Requires ID verification, so not private
Ease of Use
Easy
Privacy
Low
Speed
Average
Fees
Low
Reputation
Trusted
Limits
High
Kraken
Founded in 2011, Kraken is one of the world's foremost cryptocurrency exchanges and has established a significant presence in the UK region.
Pros
Very low 0.25% taker fee, falling to 0.1% with sufficient trading volume
Very low maker fee, falling to 0% with sufficient trading volume
Highly-rated for security and data protection
Cons
Requires ID verification, so not private
Ease of Use
Hard
Privacy
Low
Speed
Average
Fees
Low
Reputation
Trusted
Limits
High
Bitcoin ATMs
You can use our Bitcoin ATM map to buy bitcoins with cash. Bitcoin ATMs can be a quick and easy way to buy bitcoins and they're also private. That convenience and privacy, however, comes with a price; most ATMs have fees of 5-10%. View Bitcoin ATMs
Pros
Our map makes it super easy to find a Bitcoin ATM near you
Cons
Bitcoin ATMs often have 5-10% fees per purchase
-
Bitcoin & Cryptocurrency Trading in the UK
The UK's capital, London, is one of the largest financial centres worldwide. It's not surprising that fintech adoption in the nation remains robust with both Deloitte and EY ranking London as a leading global hub for financial technology.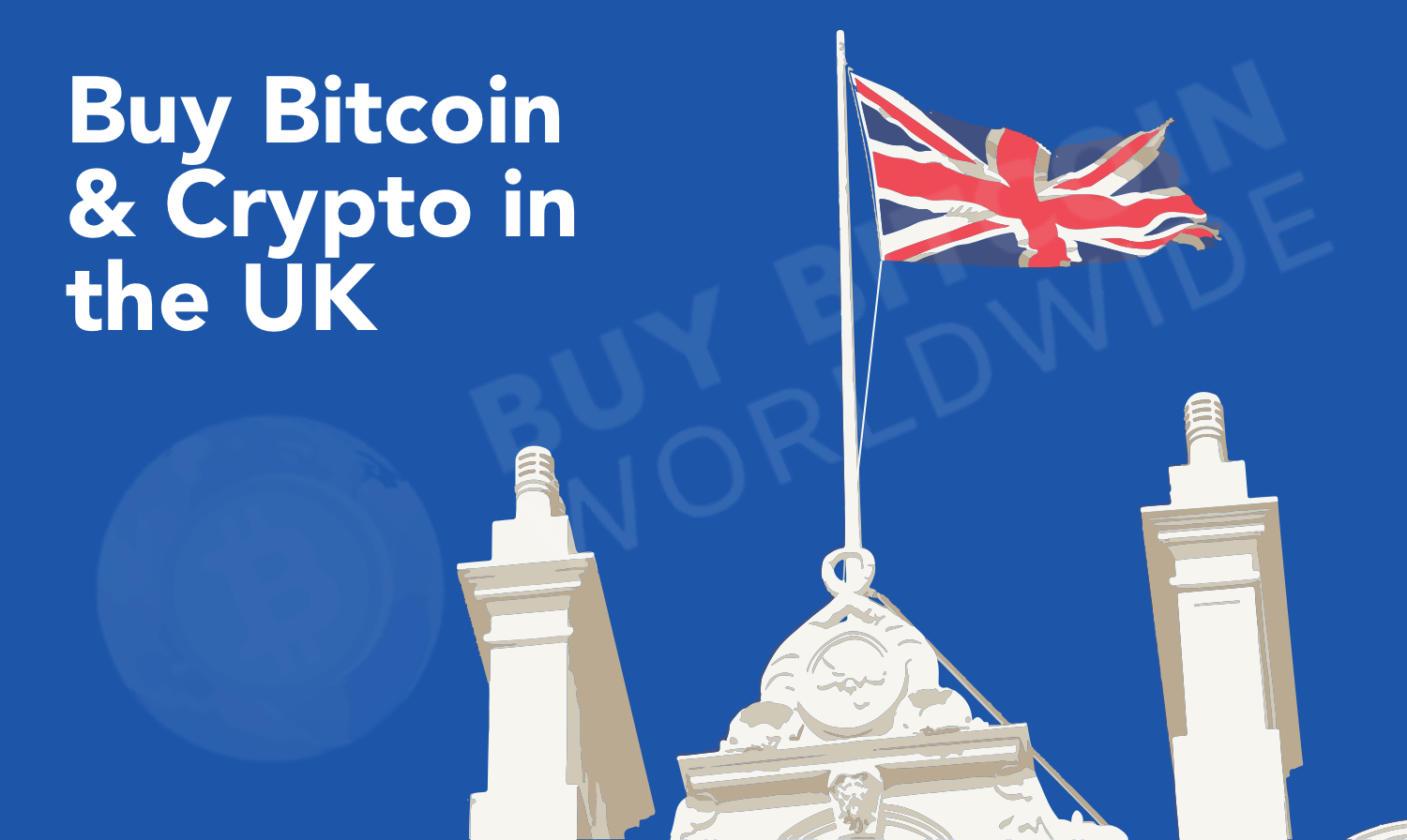 Bitcoin Awareness and Adoption in the UK
93% of UK individuals have heard of Bitcoin, according to a recent YouGov survey.
Nearly 25% claim to understand Bitcoin "quite well".
Only 4% have made a Bitcoin purchase.
UK regulatory environment is increasingly becoming favourable for crypto.
In October 2022, a landmark decision was made by UK lawmakers to recognise crypto assets as regulated financial instruments. Andrew Griffith, a prominent financial authority, stressed the aim is to treat cryptocurrencies similarly to other financial assets, officially integrating them into the regulatory framework.
In a significant development in August 2021, PayPal launched its cryptocurrency services in the UK, allowing users to buy, hold, and sell major cryptocurrencies such as Bitcoin, Ethereum, and Litecoin. However, it's vital to recognise that cryptocurrency assets in PayPal cannot be transferred to an external wallet but can only be kept or sold within the app.
Purchasing Bitcoin in the UK
Several cryptocurrency exchanges offer Bitcoin in the UK, each with its distinct set of fees, limits, and verification methods.
It's recommended for Bitcoin buyers to have a personal wallet, especially for security reasons.
Automated teller machines (ATMs) offer an immediate method for Bitcoin purchases, typically only requiring a phone number for verification. A useful Bitcoin ATM Map can guide users to the closest locations.
-
Exchange Hacks and Crypto Scams in United Kingdom
Crypto exchange based in UK gets hacked
At the end of 2020, cryptocurrency exchange EXMO was hacked, losing 5% of its assets held in its hot wallets (worth $4M USD). After the exchange platform noticed massive withdrawals of Bitcoins and five other cryptocurrencies, it suspended all transactions until further notice. EXMO also assured its users that they would be compensated for the financial losses from its own insurance funds.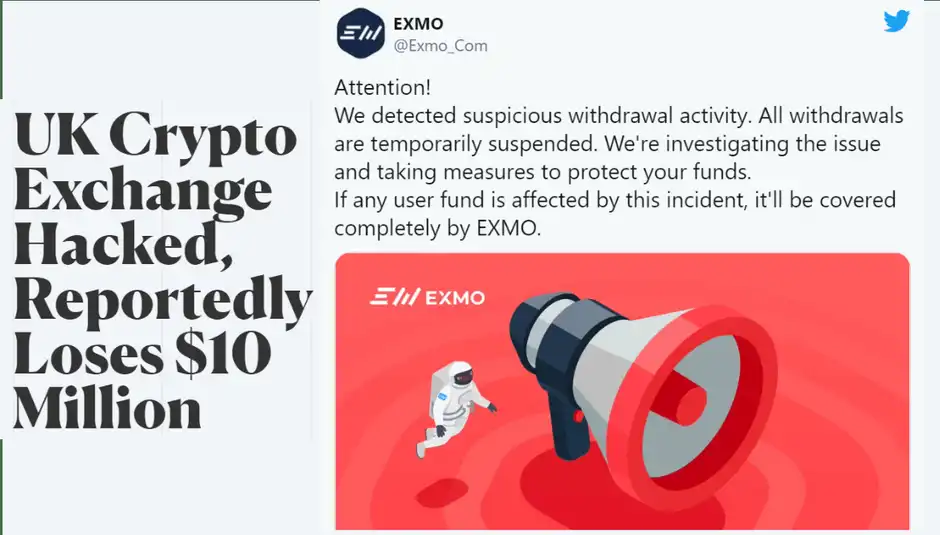 EXMO representatives declared they were also conducting an investigation, in addition to the one conducted by the police.
This story is still developing, so check back regularly for updates.
-
Impact of Brexit on Bitcoin
Boost in Bitcoin Demand: Britain's exit from the EU may increase Bitcoin demand.
Why? Bitcoin is a borderless digital currency, aiding in payments and as a hedge during a "hard" Brexit.
Warning from Bank of England: Governor Mark Carney says the pound could lose 25% of its value with a no-deal Brexit.
Rise in Alternative Currencies: This potential devaluation sparks interest in Bitcoin, not controlled by governments.
Binance in Jersey: The crypto exchange has seen a surge in registrations, enabling pound and euro trades with Bitcoin.
The overall health of Bitcoin in the U.K. appears positive due to the reasons above.
-
Chase Bank Bans Crypto Transactions
Chase to halt crypto payments for U.K. customers from Oct. 16.
Payments via debit cards and outgoing bank transfers to be affected.
Chase's reason: surge in crypto-related scams targeting consumers.
Customers advised to use other banks for crypto investments.
Chase sent out emails to customers highlighting its concerns about increasing fraud with crypto assets. It emphasized its dedication to keeping their clients' money safe.
Finding a crypto-friendly bank in the U.K. might be challenging due to historical restrictions by credit institutions. The Financial Conduct Authority (FCA) has even mediated discussions between banks and crypto entities, recognizing the hesitance of banks to serve this sector.
Chase's move mirrors other U.K. banks that have introduced similar limitations, all citing concerns over potential scams and fraudulent activities.
New UK Regulations for Exchanges
New rules coming on Oct. 8 require crypto firms to add clear risk labels and make significant system changes.
Some firms, including Bybit and Luno, are suspending services in the U.K. to ensure compliance.
PayPal is also pausing certain crypto services until compliant with these regulations.
Only firms registered with the Financial Conduct Authority (FCA) can authorize their own promotions.
Crypto companies are gearing up for stringent U.K. advertising regulations. Though they can temporarily authorize their own promotions, this power is limited to firms registered with the FCA as virtual asset service providers. Furthermore, the rules necessitate significant online platform alterations to caution potential investors of risks.
Unregistered firms are making changes: ByBit is ceasing services to U.K. clients by the effective date, while Luno is restricting certain U.K. clients from crypto investments. Additionally, the FCA has provided an option for firms to request a three-month extension to implement the required adjustments. However, there's concern about overseas companies' willingness to comply with this new regime.
The guidelines demand that any communication that could be seen as an invitation or inducement to invest in crypto assets must comply. For many online-based crypto companies, this translates to substantial website changes and addressing challenges like implementing a 24-hour cooling period for first-time buyers.
Introduction of the UK's Travel Rule for Crypto
The Travel Rule for crypto in the United Kingdom has been initiated on Sept. 1, aiming to regulate crypto transfers and prevent money laundering and terrorist financing activities on blockchain platforms.
The Financial Conduct Authority (FCA) unveiled these regulations on Aug. 17, mandating Virtual Asset Service Providers (VASPs) in the U.K. to "collect, verify and share information" associated with crypto transfers.
Should a VASP receive an inbound payment from a non-compliant overseas entity, they are required to conduct a "risk-based assessment" to decide if the assets should be made available to the recipient.
The rule is applicable for U.K. residents wishing to make outbound payments as well.
Originally crafted by the UN's Financial Action Task Force (FATF) in June 2019, the U.K. legislated its enforcement in July 2022.
Countries like the U.S., Germany, Japan, Singapore, Switzerland, and others have also adopted the Travel Rule as per Sygna.io.
However, on June 23, FATF criticized its members for inadequate rule implementation. By March 2022, only 29 out of 98 jurisdictions met the required standards, with just a fraction starting enforcement. Ian Andrews of Chainalysis highlighted the initial challenges of coordinating information exchange between VASPs across borders.
-
Does Coinbase work in United Kingdom?
Citizens of United Kingdom can convert, buy, and sell cryptocurrencies with fiat. Supported payment methods are:
Bank Deposit
PayPal
UK Bank Account
SWIFT Account
3D Secure Credit Card
Debit Card
Credit Card
Where Can I Find a Bitcoin ATM in United Kingdom?
United Kingdom offers many ATMs for its citizens to buy Bitcoins with Cash.
You can use our Bitcoin ATM finder tool to find the one nearest you.
What is the price of Bitcoin in United Kingdom?
Bitcoin prices are changing every second.
The best way to find the most up-to-date price of Bitcoin is to check out our Bitcoin price page.
How do I cash out of Bitcoin in United Kingdom?
Any exchange with a Pound sterling trading pair will allow you to sell your Bitcoin for fiat currency. Bitpanda has GBP trading pairs for many popular coins.
Another way to sell Bitcoins in United Kingdom is through automated teller machines (ATMs). These ATMs allow users to instantly purchase and sell cryptocurrency using cash, however most of them require at least a phone number, so they aren't totally private. You can locate Bitcoin ATMs in United Kingdom using our Bitcoin ATM Map.
LocalBitcoins is another option. Here, you can buy and sell Bitcoin for a wide range of payment methods, from gift cards to bank transfers. LocalBitcoins is a peer-to-peer (P2P) exchange, where you buy and sell with another individual. This does introduce a degree of risk, though by ensuring that you conduct all business on the platform, make use of its escrow services, and only trade with users who have a good reputation, you'll minimize any potential problems.
You could also use a service like eGifter to sell your Bitcoin for gift cards.
What is the regulatory environment around Bitcoin like in the UK?
The Financial Conduct Authority (FCA) is the U.K.'s financial regulatory body. Though the FCA regulates some crypto-assets in the U.K., Bitcoin is still out of its purview and is not considered legal tender. However, the U.K. government is in favour of Bitcoin being regulated by the FCA in a bid to prevent money laundering and protect the interests of investors.
So far, the FCA hasn't had jurisdiction over Bitcoin as it doesn't put virtual currencies into the same bracket as commodities or currencies. According to the FCA, "cryptoassets designed primarily as a means of payment or exchange would not generally sit within the scope of FCA authority." However, since the agency is tasked with providing protection to consumers and investors, it has followed a wait-and-watch strategy.
But it looks like the FCA could bring Bitcoin under its umbrella this year. According to John Glen, the economic secretary to the Treasury, "The government will consult early next year to explore whether other crypto-assets that have comparable features to specified investments but that fall outside the current perimeter should be captured in regulation."
Glen further added that the U.K. government believes that "benefits could potentially develop in the future through the use of initial coin offerings as a capital raising tool." This indicates that the British government is potentially looking at promoting Bitcoin in a more regulated manner going forward by putting structures in place that will provide avenues for investor compensation and consumer grievances.
As it stands, cryptocurrency exchanges are required to register with the FCA, and are subject to the agency's anti-money laundering standards just like the other financial institutions in the country. So a move aimed at providing investor protection can boost Bitcoin demand in the U.K. going forward as potential buyers will be assured that there interests will be looked after by a governing agency.