We may receive advertising compensation when you click certain products. Before jumping into this page, an important disclosure.
Popular Exchanges to Buy Bitcoin in Canada
Popular

Fast way to buy bitcoins
Very high buy and sell limits
Can handle large buys through OTC desk

Fees: 0.5% - 1.5%

Account Minimum: $50

Promotion: Earn $40

BUY NOW

at Bitbuy's Secure Site

Crypto exchange based in Canada
Supports bank account, Interac, credit/debit
$20 CAD in free BTC upon $100 CAD+ deposit

Fees: 0% - 6%

Account Minimum: None

Promotion: Earn $50

BUY NOW

at CoinSmart's Secure Site
bitbuy is a cryptocurrency exchange based in Canada. You can buy bitcoins, litecoin, ethereum and other coins with Interace e-Transfer or bank wire for as low as 0.1% fees. The exchange has good support available through its live chat, or via phone & email.
New users will receive $50 CAD in BTC once they deposit at least $250 CAD.
Pros
Fast way to buy bitcoins
Very high buy and sell limits
Can handle large buys through OTC desk
Only Canadian exchange to offer 1:1 BTC insurance
Cons
No longer supports Flexepin
Ease of Use
Easy
Privacy
Low
Speed
Fast
Fees
Low
Reputation
Trusted
Limits
High
CoinSmart is a Canadian exchange. It allows users to buy and sell Bitcoin and all major cryptocurrencies in Canada.
Customers can buy and sell bitcoin and ether using Interac e-Transfers, bank transfers, SWIFT, and credit/debit card. New users will receive $50 CAD in BTC once they deposit at least $200 CAD.
Pros
Many payment methods accepted
Many coins offered
Fast verification
Ease of Use
Average
Privacy
Low
Speed
Fast
Fees
Low
Reputation
Trusted
Limits
High
Satstreet is a Canadian OTC (over the counter) exchange serves individuals and businesses looking to buy larger amounts from $25k to over $10M CAD.
Because you are buying Bitcoin, ETH or other crypto in bulk, you will pay some of the lowest fees in Canada.
Pros
Some of the lowest fees in Canada
Private banking experience
Great customer service
Regulated and compliant MSB under FINTRAC
Cons
Must buy at least CAD $25k of Bitcoin
Ease of Use
Average
Privacy
Low
Speed
Fast
Fees
Low
Reputation
Trusted
Limits
High
Netcoins is a Canadian exchange based in Vancouver. You can buy and sell Bitcoin, Ethereum, Litecoin and other major cryptocoins with Interac e-Transfer, online bill payment or wire.
They charge 0% on funding and FIAT withdrawal fees and .5% on trading. Customers receive support during business hours through live chat, email or phone call. Getting started and verified takes a couple of minutes.
New users will receive a $10 CAD bonus once they complete $100 in cumulative transactions.
Pros
Deep liquidity with no slippage
Instant withdrawals
Fully audited
Fast verification
Great customer support
Regulated and compliant MSB under FINTRAC
Ease of Use
Average
Privacy
Low
Speed
Fast
Fees
Low
Reputation
Trusted
Limits
High
Coinberry
Coinberry is a Canadian exchange. It allows users to buy and sell Bitcoin, Ethereum, Litecoin and other coins in Canada.
Customers can buy and sell bitcoin and ether using Interac e-Transfers, bank transfers, SWIFT, and credit/debit card.
Pros
Many payment methods accepted
Many coins offered
Fast verification
Cons
Only supports Canadian clients
Ease of Use
Average
Privacy
Low
Speed
Fast
Fees
Low
Reputation
Trusted
Limits
High
Coinsquare
Coinsquare is Canada's largest crypto and Bitcoin exchange. It allows users to buy and sell Bitcoin, Ethereum, Litecoin and other coins in Canada.
Customers can buy and sell bitcoin and ether using Interac e-Transfers, bank transfers and SWIFT.
Pros
Many payment methods accepted
Many coins offered
Fast verification
Cons
Orderbook may be confusing for new buyers
Ease of Use
Average
Privacy
Low
Speed
Fast
Fees
Low
Reputation
Trusted
Limits
High
MyBTC.ca
MyBTC.ca allows Canadians to buy between $20-$250,000 worth of bitcoin. ID for verification can be submitted online or done in-person at any Canada Post location nation-wide. Support available through live chat, SMS, phone or email.
MyBTC.ca payment options include the following:
Interac e-Transfer
Bank Wire
Cash or Debit
Flexepin Voucher
Credit card
Pros
Easy way to buy bitcoins in Canada
Numerous payment methods accepted
Ease of Use
Average
Privacy
Low
Speed
Fast
Fees
Low
Reputation
Trusted
Limits
High
Coinbase Pro
Coinbase's exchange, Coinbase Pro, is one of the largest Bitcoin exchanges in the United States. Users can fund their accounts via bank transfer, SEPA, or bank wire. Coinbase Pro offers good prices and low fees, but their confusing user interface may initially prove difficult to navigate.
Pros
Some of the lowest fees available for US and EU customers
Possible to buy bitcoins for 0% fees
Cons
User interface is confusing for first time buyers
Ease of Use
Hard
Privacy
Low
Speed
Average
Fees
Low
Reputation
Trusted
Limits
High
You can use our Bitcoin ATM map to buy bitcoins with cash. Bitcoin ATMs can be a quick and easy way to buy bitcoins and they're also private. That convenience and privacy, however, comes with a price; most ATMs have fees of 5-10%.
Pros
Our map makes it super easy to find a Bitcoin ATM near you
Cons
Bitcoin ATMs often have 5-10% fees per purchase
Canada's Recent Attempt to Freeze Bitcoin Addresses
In February 2022, during the Canadian Trucker's Freedom Convoy, the government of Canada attempted to freeze the assets that were funding the protest. When the government was successful in shutting down a Gofundme site using the Mareva Order, contributors then started doing crypto fundraisers. The Ontario Superior Court then sent Mareva injunctions to banks and exchanges insisting that they "cease facilitating any transactions" from flagged addresses.
This caused concern among crypto owners that the government could control access and use of their crypto. But as nunchuk.io pointed out on Twitter after being sent a letter from the Canadian government to freeze the 'accounts' of its users, it is impossible to "freeze" a bitcoin address and since they are never the holder of any keys, they are not in a position to "freeze" the asset. The only way to enforce this type of "freeze" is if bitcoin is stored on an exchange that complies with government-controlled enforcement of your account.
In a discussion on Twitter, Kraken's CEO Jesse Powell explained that if you are worried about your crypto being frozen do not keep it on centralized platforms. Powell said, "100% yes it has/will happen and 100% yes, we will be forced to comply. If you're worried about it, don't keep your funds with any centralized/regulated custodian. We cannot protect you."
See the review below for Coinberry another non-custodial exchange.
The History of Bitcoin in Canada
The rate at which Bitcoin is gaining popularity can be seen in the increased number of people who have started investing in this digital currency. According to research by The Bank of Canada released in October 2022, Bitcoin ownership and use in Canada from 2018 to 2020 was around 5%, but in 2021 that rose to 13%.
The history of Bitcoin in Canada can be viewed in comparison with the former currencies of Canada. Canada has not legalized Bitcoins or other cryptocurrencies in the country. The bank of Canada had recently released a report that compares the time when they handled private bank notes and governments issued notes. The features of these two were seen to portray some similarity with the way cryptocurrencies operate today.
There are numerous places in Canada that allow people to acquire Bitcoins. Canada has over 140 Bitcoin ATMs and 6,000 Flexipin retailers. The ATMS offer people an opportunity to exchange Bitcoin into Canadian Dollars.
Royal Canadian Mint introduced the MintChip in 2012, which was a digital currency. The currency didn't survive as a result of the demands that arose from it as regards to the expenses that the merchant shops incurred. It was quite unfortunate that the currency didn't win the hearts of people due to its expensive hardware. By 2016, the MinChip was bought by a private company that in turn transformed it into a smartphone app.
In 2013, a Vancouver, Waves a coffee house opened a Bitcoin ATM which was the world's first. The government of Canada officially met with its representatives the following year as well the Canadian Committee on Banking, Trade, and Commerce.
Still, many people are yet to adopt Bitcoin as well as other digital currencies, and there is a high possibility that there will come a time when both national currencies and digital currencies will coexist.
Canada has been noted to be a Bitcoin-friendly nation. With the increase in the value of Bitcoin in Canada, several institutions have taken up Bitcoin as their payment mode for goods and services on online platforms. Toronto and Vancouver are believed to be the home of Bitcoins in Canada. The two have recorded a high rate of digital currency operations in Canada. In 2014, it was reported that workers based in Toronto preferred their salaries to be paid in Bitcoins rather than the local currency.
The bank of Canada has attempted to adopt a blockchain technology within their banking system, but this was put on hold in March 2017. This was because the bank needed to come up with solutions that could make the process more efficient. The value of Bitcoin in Canada has come a long way in the country's economy, and it would not be surprising if it will be adopted in the near future.
Currently, the price of 1 Bitcoin is more than $7,000. This is has proven it to be a profitable investment for people. As a result, more and more people are taking up Bitcoin technology in Canada.
Stores Accepting Bitcoin in Canada
More and more Canadian Businesses are accepting Bitcoin. There are a few Canadian businesses that have adopted the use of Bitcoin.
Among the retailers is Quebec Bed-and-Breakfast. The operator David Mancini expects the payment method to particularly appeal to foreign tourists visiting the Baie-Saint-Paul community.
Vancouver saw its first Bitcoin ATM launch in a coffee shop found in downtown Vancouver last fall, and this was closely followed by Ottawa and Toronto. The ATM allows consumers to exchange their Canadian money for digital currency at the current exchange rate.
Canada's major online retailer ClearlyContacts.ca has also started accepting Bitcoin as a payment method for the sale of contact lenses.
CEO and founder of Roger Hardy also revealed that his company allows payments in 20 currencies and Bitcoin is an addition.
The Bitcoin Alliance of Canada makes pitches to entrepreneurs as well as organizations about the digital currency. Di lorio, the executive director, has a positive view of Bitcoin. He states that the price of this digital currency will continue to rise as more and more businesses start accepting it.
Bitcoin Mining in Canada
China is viewed to be a country that is prolific at making anything including Bitcoin. It is the home to some of the largest cryptocurrency mining companies, such as the BTCC, BW, and F2Pool. This doesn't stop others from diving into cryptocurrency mining. Canada just like other countries has taken advantage of the available space to get into Bitcoin mining.
Canada has taken up the north border for cryptocurrency mining. Quebec has over time been noted for its inexpensive power. For crypto mining to be effective, power is needed and a lot of it. It is due to this that many companies have focused on building their companies in Quebec. This is a renewable energy source in the form of hydropower which is vital to sustaining mining.
The First Public Digital Currency Company Globally
Canadian mining Company Hive made history by going public on Toronto Venture stock last year September. They launched assets into the public market to expose them to the digital currency space. They partnered with Genesis Mining which is one of the largest Cryptocurrency miners in the world and saw an increase in stock price by more than 220 percent.
The stock steadily rose from $1 to more than $6 between October and December. This triggered some interest in new companies that had their focus on Cryptocurrency mining in Canada. It was after this that Crypto Global and Hut 8 went public.
The Government's View of Bitcoin in Canada
This is more of a legal perspective based on Cryptocurrency and the Canadian Tax Landscape.
There is no federal or provincial legislation that explicitly addresses cryptocurrencies and block chains. This raises the question of what Canadian laws apply to cryptocurrencies.
CRA-Canadian Revenue Agency declared that cryptocurrencies are taxable as commodities rather than currencies. This means that any transactions that involve cryptocurrencies will be viewed as if they are barter transactions.
On CRA's website, the agency maintains that any good bought using digital currency must, for tax purposes, be included in the seller's income tax. CRA has also continued to affirm that barter transactions can allow for the procurement of capital property for the purpose of Income Tax Act Part C.
Any profits gained from the sales of cryptocurrencies are characterized as capital gains. This is because only a part of that profit is taxable and at the applicable tax rate. When it comes to salary payments using the digital currencies, the amount payable will be included in the employee's income following subsection 5(1) of the income Tax-Act.
Bitbuy.ca Review
A Popular Canadian Exchange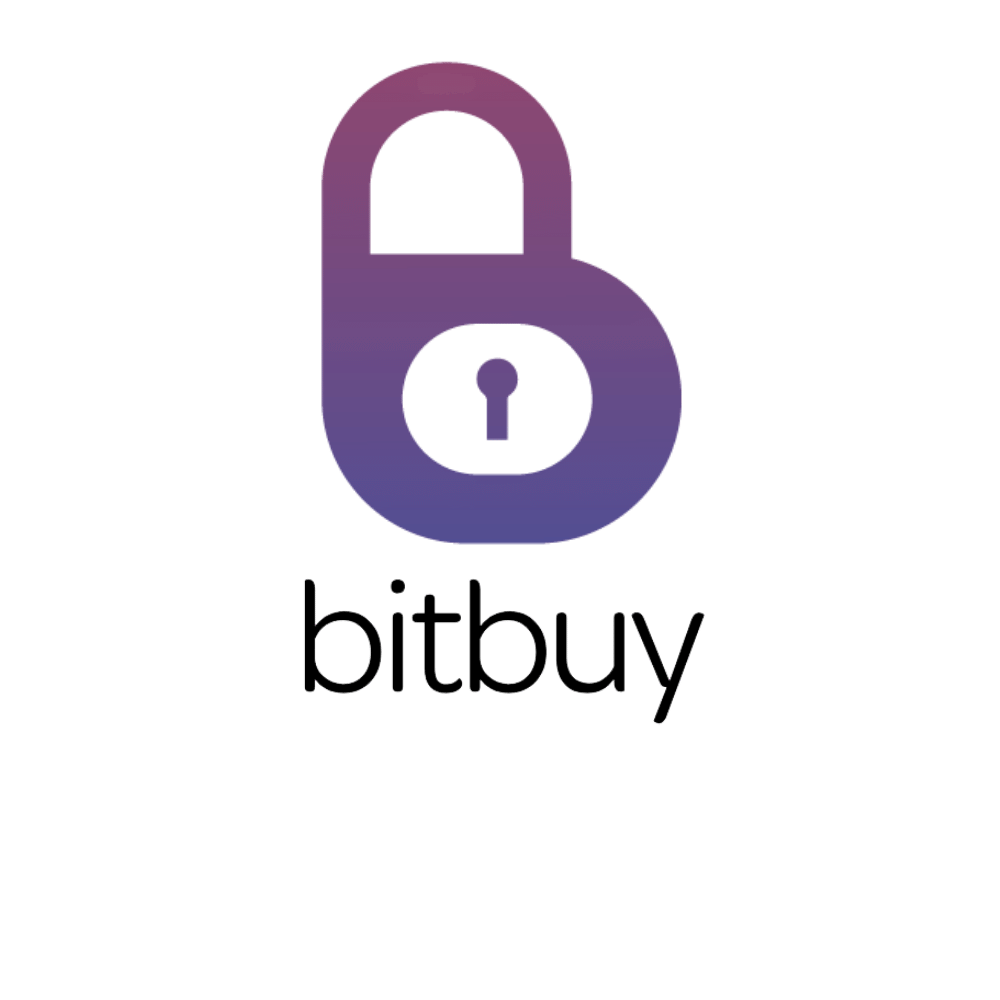 Although not many people have heard of Bitbuy, they're definitely worth your time and consideration.
Bitbuy.ca is a crypto exchange aiming to give the general public access to some of the more popular cryptocurrencies.
So let's explore Bitbuy's history, business, and service
Overview of Bitbuy.ca
The company was originally founded seven years ago by Adam Goldman and Ademar Gonzalez. They are one of the oldest crypto exchanges in Canada, so you know you can trust them. For almost five years, they worked with only a small number of users, but then, they decided to expand their operations.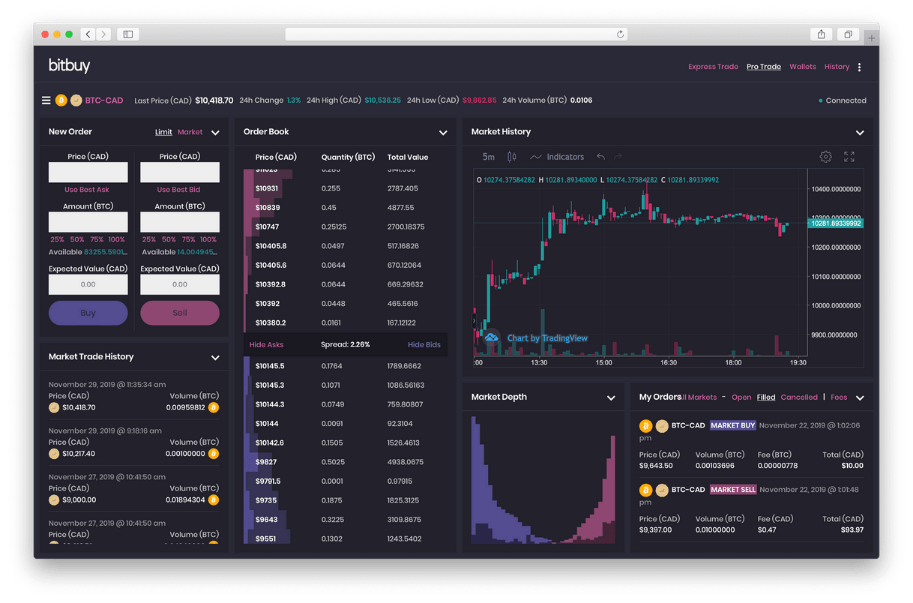 BitBuy's order book view
In 2018, after the company receives additional funding from a PEF, Ademar left the board. He was soon replaced by Chris Ragobeer, who worked as a mobile developer and an IT project manager. It's also worth mentioning that the company is a part of the First Ledger Corp.
As a company, Bitbuy is fully transparent about their operations and actions. So much so that they've provided a link to a report about their operations, conducted by Cipher Blade. The aforementioned company provides blockchain forensics services and analyzes crypto-related business and here are their biggest findings of Bitbuy: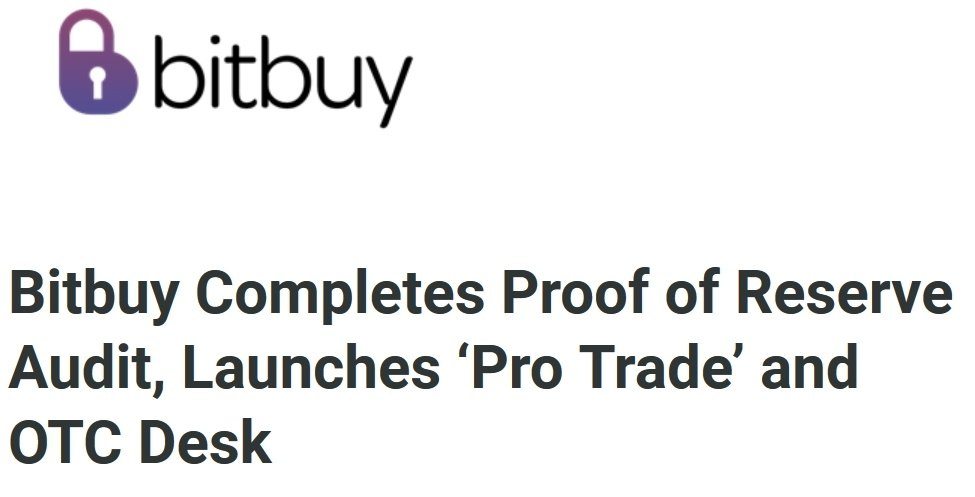 BitBuy's Proof of Reserves Certificate
Fiat Currency Holdings: Bank reports were recovered, checked, and verified by international banks. The statements were all correctly filled in the Bitbuy system.

Cryptocurrency Holdings: The number of assets and coin holders matched the one Bitbuy reported. Customer assets match those in Bitbuy's system.

Staff and Operators: Every worker in the company had their personal records checked. The company discovered that none of them had any criminal activities on their records.
Bitbuy.ca Assets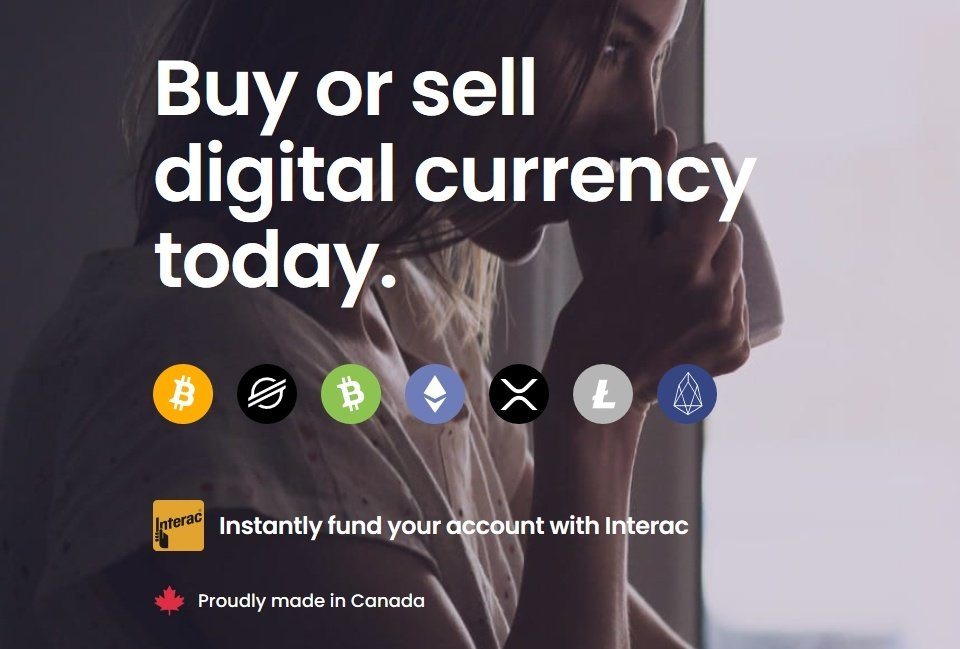 BitBuy's tradable assets
Like many other medium-size exchanges in the industry, Bitbuy.ca has a small offering of five main cryptocurrencies. These currencies are Bitcoin, Litecoin, Ripple, Ethereum, and Bitcoin Cash. They will probably expand their offering in the near future, but for now, these five coins are it.
The small offering gives you an insight into what's Bitbuy.ca best for: it's basically a gateway that allows Canadian citizens to turn their dollars into Bitcoin, Ethereum, etc. You can always connect your Bitbuy account with another exchange and use it to buy other coins.
Bitbuy.ca Fees
Although Bitbuy fees are slightly above the market average, the company makes up for with lower withdrawal and deposit fees.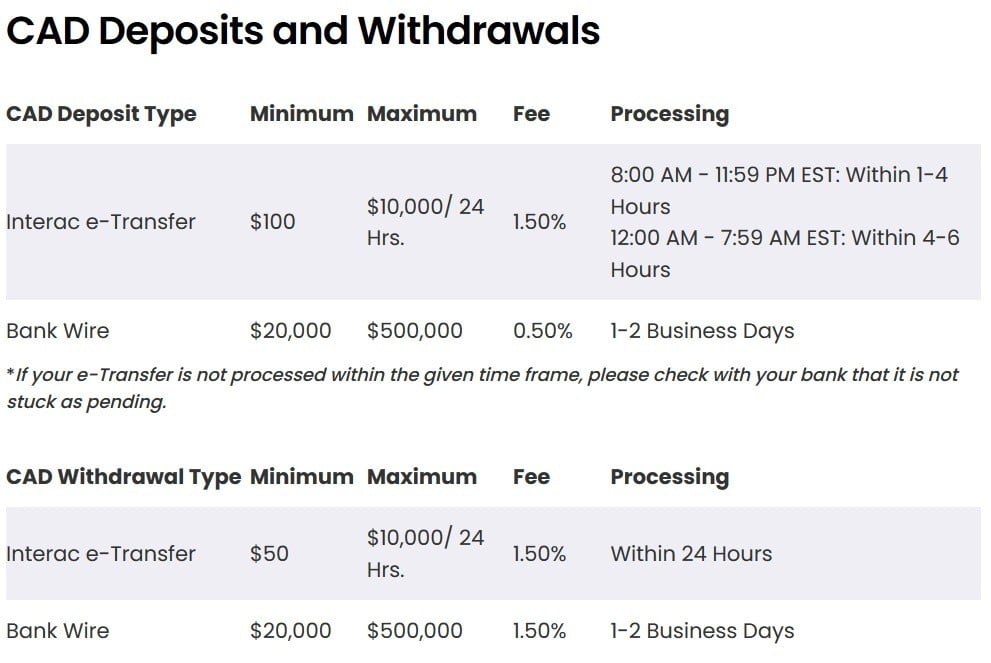 Cad fees at BitBuy
When it's all added up, the fees are quite average. Let's take a look at the standard Bitbuy.co fees:
0.75% (buying rate)

0.50% (selling rate)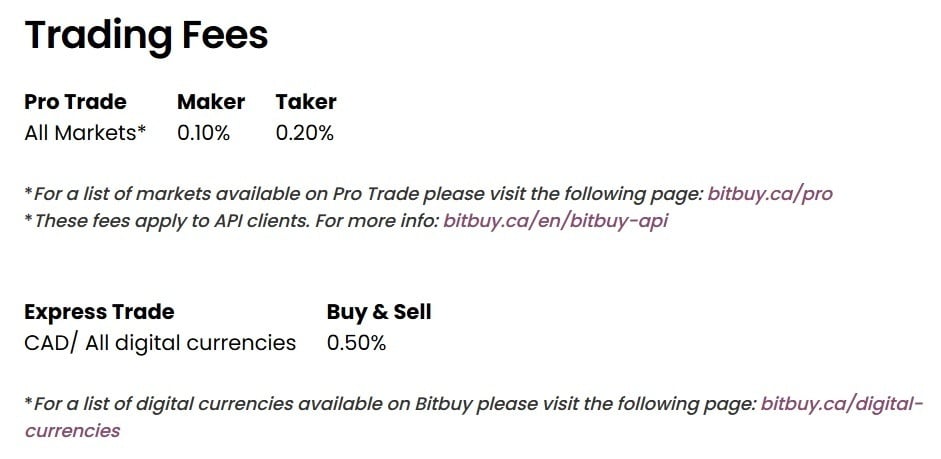 BitBuy trading fees
Furthermore, if you're looking to combine express trade with e-transfer, the exchange rate is 2.5%. Again, this is not that above average, but some Canadian competitors charge less than 2% for the exact transaction. You can check their fees in more detail by visiting this page here.
Bitbuy.ca Support
When it comes to customer support, Bitbuy operatives are surprisingly efficient. While many larger and well-known names in the crypto industry will have you waiting for hours and hours for a response to a simple inquiry, Bitbuy answers almost immediately. This shows that they value their customers and want to take care of them to the best of their abilities.
There's a support hotline, which allows you to talk a Bitbuy representative in a matter of minutes. People who have something to ask urgently should use this channel. You also have email support available. They answer emails in less than 12 hours and you can expect their answer on the same day. You can check Reddit to see just how many people are satisfied with their experience.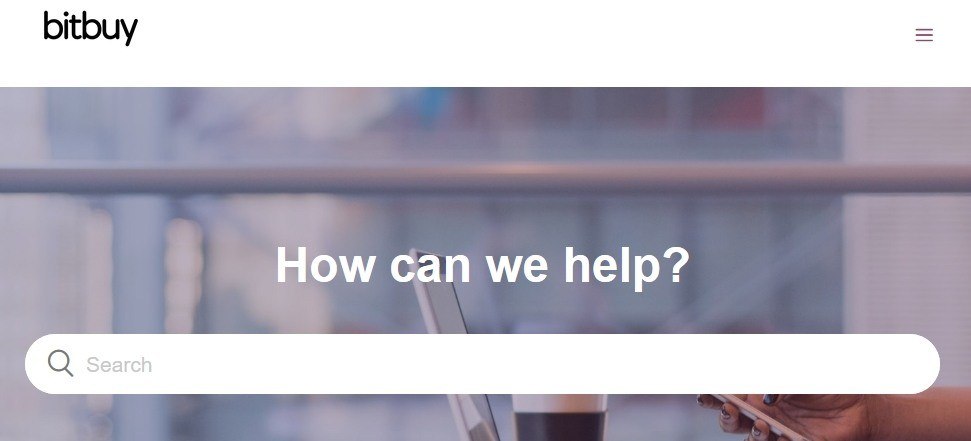 BitBuy's support desk
Bitbuy.ca Safety
There's no point in using an exchange if you're not sure whether or not it can keep your investment safe. Hackers and cyber thieves are possibly the biggest enemies of the crypto industry. Just last year, cybercriminals stole more than $40 million in Bitcoin from Binance users.
They will keep a majority of your coins in cold storage, which will keep your assets in a locked environment, away from all of those cybercriminals. The company also performs data backups on a daily basis, which makes your assets safe in case of a DDoS attack.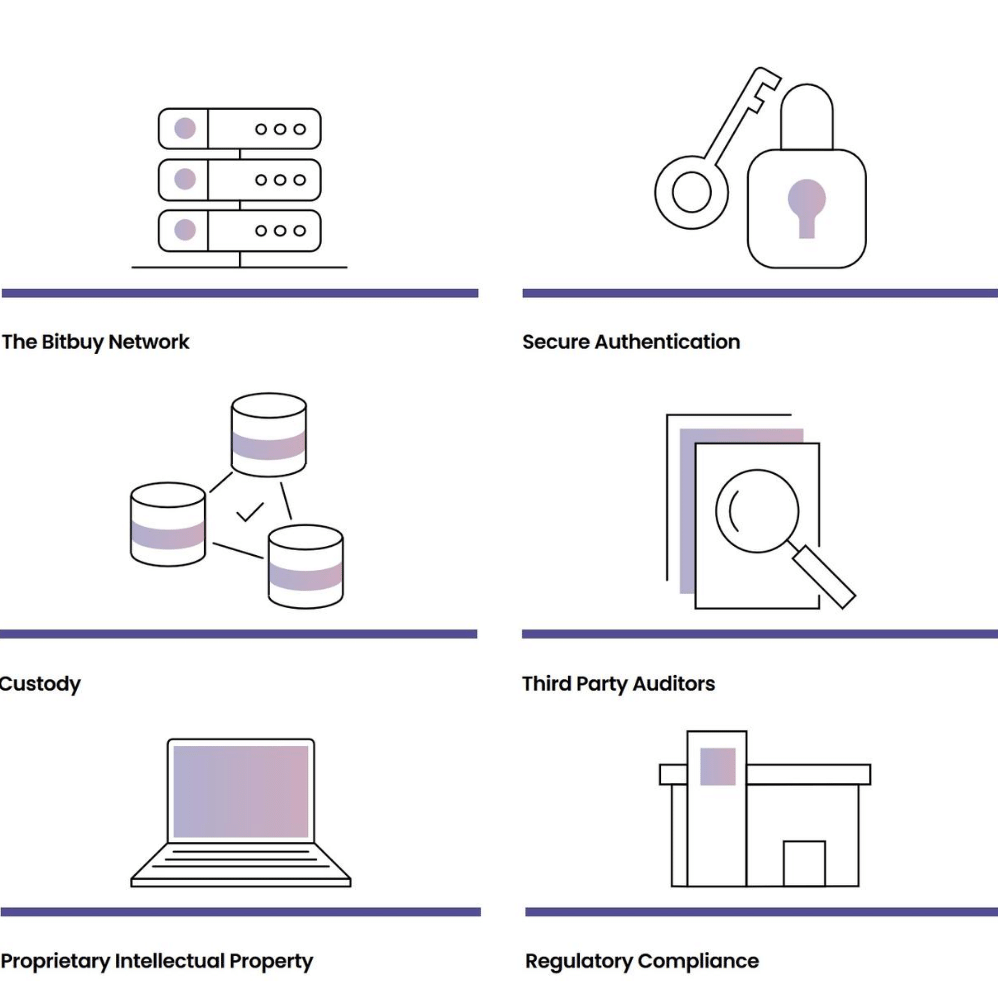 BitBuy's security measures
Bitbuy.ca Pros and Cons
Seeing how most people like to have all of the necessary information in one place, we've made a list of both positive and negative aspects of Bitbuy. Just take a look at these lists and compare the exchange to others if you're not sure which platform to pick.
Bitbuy.ca Pros
The company has a seamless reputation and is ran by reputable people

One of the oldest crypto platforms in Canada and even North America

Possibly the most transparent crypto exchange we have working today

It's extremely safe for use, even when compared to large Bitcoin exchanges

Data backups are done every day so your assets are safe even if the site crashes

They have some of the best customer support agents in the business
Bitbuy.ca Cons
It's still a small platform designed mainly for first-time crypto users

Although they are not below average, their fees leave something to be desired

The platform doesn't support any credit cards, which makes withdrawals difficult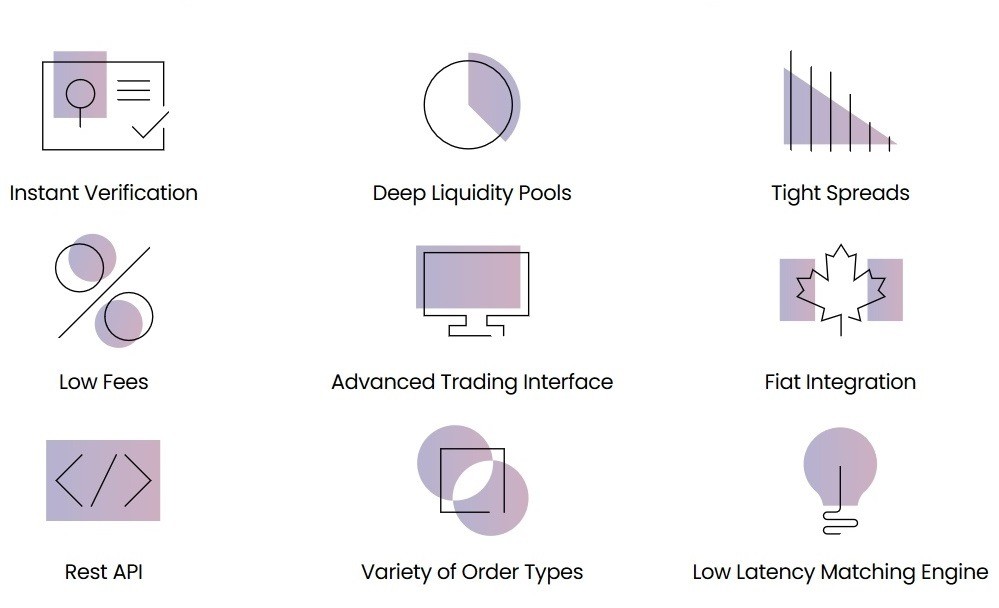 BitBuy's many features
Final Thoughts on Bitbuy.ca
In such a competitive market, can such a modest company attract the interest of your average crypto user? In our opinion, it can. The company does what it advertises: gives you a simple way of exchanging your coins into Canadian dollars, and vice versa.
The organization is caring for their clients, their communication is top-notch, plus their verification process is extremely quick. Bitbuy is also safe and while their fees aren't anything to write about, they still fall in line with the rest of the market.
If you're a Canadian crypto user, you should try Bitbuy.ca out.
We hope that you found our review interesting and informative. What's the best crypto exchange in your opinion? If you have any additional questions about Bitbuy.ca leave a comment in the section below.