We may receive advertising compensation when you click certain products. Before jumping into this page, an important disclosure.
eToro
eToro is a trading platform and crypto exchange. It supports Bitcoin, Ethereum, Litecoin, Zcash and many other coins.

Deposits can be made quickly via bank transfer, SEPA, NETELLER, PayPal and more. It also offers unique features like copy trading.

Crypto investing is offered by eToro (Europe) Ltd. and custody is provided by eToro Germany GmbH. Your capital is at risk.
Visit eToro's Website
Pros
Offers unique copy trading feature
Trusted exchange that has been active in traditional finance
Interface is clean and easy to use
Cons
You cannot deposit cryptocurrency, but you can deposit with other payment methods
Ease of Use
Easy
Privacy
Low
Speed
Average
Fees
Low
Reputation
Trusted
Limits
High
Bitstamp
Bitstamp is one of the world's largest and most well-known Bitcoin & crypto exchanges. Deposits can be made through bank transfer, SEPA transfer, international bank wire, and now even credit cards.
Pros
One of the longest-running Bitcoin exchanges
Very low 0.25% fee, falling to 0.1% with sufficient trading volume
Offers wide range of altcoins
Cons
High 8% fee on small credit card purchases, falling to 5% with sufficient trading volume
Ease of Use
Hard
Privacy
Low
Speed
Slow
Fees
Average
Reputation
Trusted
Limits
High
Coinbase
Coinbase is the world's largest Bitcoin (BTC) broker. They represent an easy and fast way for new users to purchase bitcoins. Coinbase supports customers in over 30 countries, including the United States, Europe, UK, Singapore, and Canada.

Customers in the above-mentioned countries can purchase bitcoins by debit card, bank transfer, SEPA transfer, and more.

Get $5 in free bitcoin after you sign up on Coinbase and make your first trade.
Pros
High liquidity and buying limits
Easy way for newcomers to get bitcoins
"Instant Buy" option available with debit card
Cons
Purchases made with bank transfer can take up to 5 days to complete
Coinbase may track how and where you spend your bitcoins
Ease of Use
Easy
Privacy
Low
Speed
Average
Fees
Average
Reputation
Trusted
Limits
High
Coinmama
Coinmama allows customers in almost every country to buy bitcoin. They charge a 4.9%-5.9% (depends on volume) fee on each purchase.

Customers in Europe can also purchase bitcoins with SEPA transfer for a lower fee.

Pros
Works in almost all countries
Highest limits for buying bitcoins with a credit card
Reliable and trusted broker
Cons
Some of the highest fees among credit/debit card bitcoin brokers
Ease of Use
Easy
Privacy
Low
Speed
Fast
Fees
Average
Reputation
Trusted
Limits
High
Bitcoin.de
Bitcoin.de is a major European peer-to-peer Bitcoin exchange. Users can buy bitcoin online from other Bitcoin.de users through SEPA bank transfers.
Pros
One of the oldest and largest exchanges in Europe
Claims to have high security and regular audits
Cons
Limited to SEPA as a payment method
Ease of Use
Hard
Privacy
Average
Speed
Average
Fees
High
Reputation
Trusted
Limits
Average
Bity
Bity is a Bitcoin exchange and ATM operator, based in Switzerland. Their 5 ATMs allow for a quick first purchase and only require phone verification for an initial buy limit of 1,000 EUR or CHF. Their online service accepts wire transfers, SOFORT and online bank transfers.
Pros
Easy to start buying bitcoins after mobile phone verification
Payment limit of up to €100,000 annually after intensive verification
Cons
ID verification is required for most purchases, so not a private way to buy
Low annual limit of only €4,000 without intensive verification
Ease of Use
Average
Privacy
Low
Speed
Fast
Fees
Low
Reputation
Trusted
Limits
High
Bitcoin ATMs
You can use our Bitcoin ATM map to buy bitcoins with cash. Bitcoin ATMs can be a quick and easy way to buy bitcoins and they're also private. That convenience and privacy, however, comes with a price; most ATMs have fees of 5-10%. View Bitcoin ATMs
Pros
Our map makes it super easy to find a Bitcoin ATM near you
Cons
Bitcoin ATMs often have 5-10% fees per purchase
Bitfinex
Hong Kong-based Bitfinex has long been one of the largest USD Bitcoin exchanges in the world. Bitfinex accounts may be funded by bank wire only, their fee on accepting such transfers is low at only 0.1%.

In August 2016, however, it was hacked and lost around 30% of its users funds. While Bitfinex can be helpful for buying large amounts of bitcoins, it is probably best to not use the exchange until it fully compensates affected users.
Pros
Very low fees even for low volume buyers; 0.1% for market makers and 0.2% for market takers
One of the best ways to buy large amounts of bitcoins
Allows lending of fiat or bitcoin to margin traders at interest (but this is risky in light of the hack)
Very deep liquidity promotes a price close to fair market rate
Supports several altcoins
Cons
Was recently hacked and has yet to fully compensate all users for their loss
Geared towards traders; possibly quite confusing for first time buyers
Single payment option
Ease of Use
Hard
Privacy
Low
Speed
Varies
Fees
Average
Reputation
Low Trust
Limits
High
-
Bitcoin & Cryptocurrency Trading in Germany
Germany's capital, Berlin, was dubbed as the Bitcoin Capital of Europe by British publication The Guardian back in 2013 thanks to the widespread acceptance of the cryptocurrency in the city.(2) Not surprisingly, Germany is a leader in Bitcoin adoption as various developments suggest. For instance, over 25% of the young Germans surveyed by the German Consumer Center were willing to invest in cryptocurrency.(3)
A new law passed by Germany's parliament in April 2021, will allow institutional investment into the cryptocurrency market. Under the legislation, wealth and institutional investment fund managers, known as Spezialfonds (special funds), will be able to invest up to 20% of their portfolio in crypto, allowing as much as €350 billion (~$425 billion) to be invested in cryptocurrency.(4) Since Germany is a strategic player in the European Union this type of acceptance could occur in other countries. Other signs that show acceptance of cryptocurrencies is Deutsche Bank announcing its intentions to offer custody and brokerage services to its institutional clients by December of 2021.
The new law allows banks to get a license to deal in crypto, but as of October 2022 only 4 licenses have been issued and 14 provisional permits granted. Germany continues to be among the world's most crypto-friendly countries with favorable tax rules and stable regulations.
A survey by German retail bank Postbank suggests that 29% of Germans treat cryptocurrencies as a desirable investment avenue. Additionally, leading corporate houses in the European nation have been integrating Blockchain technologies in their businesses. More importantly, the German government has been supportive of Bitcoin and that has played a critical role in the adoption of the cryptocurrency.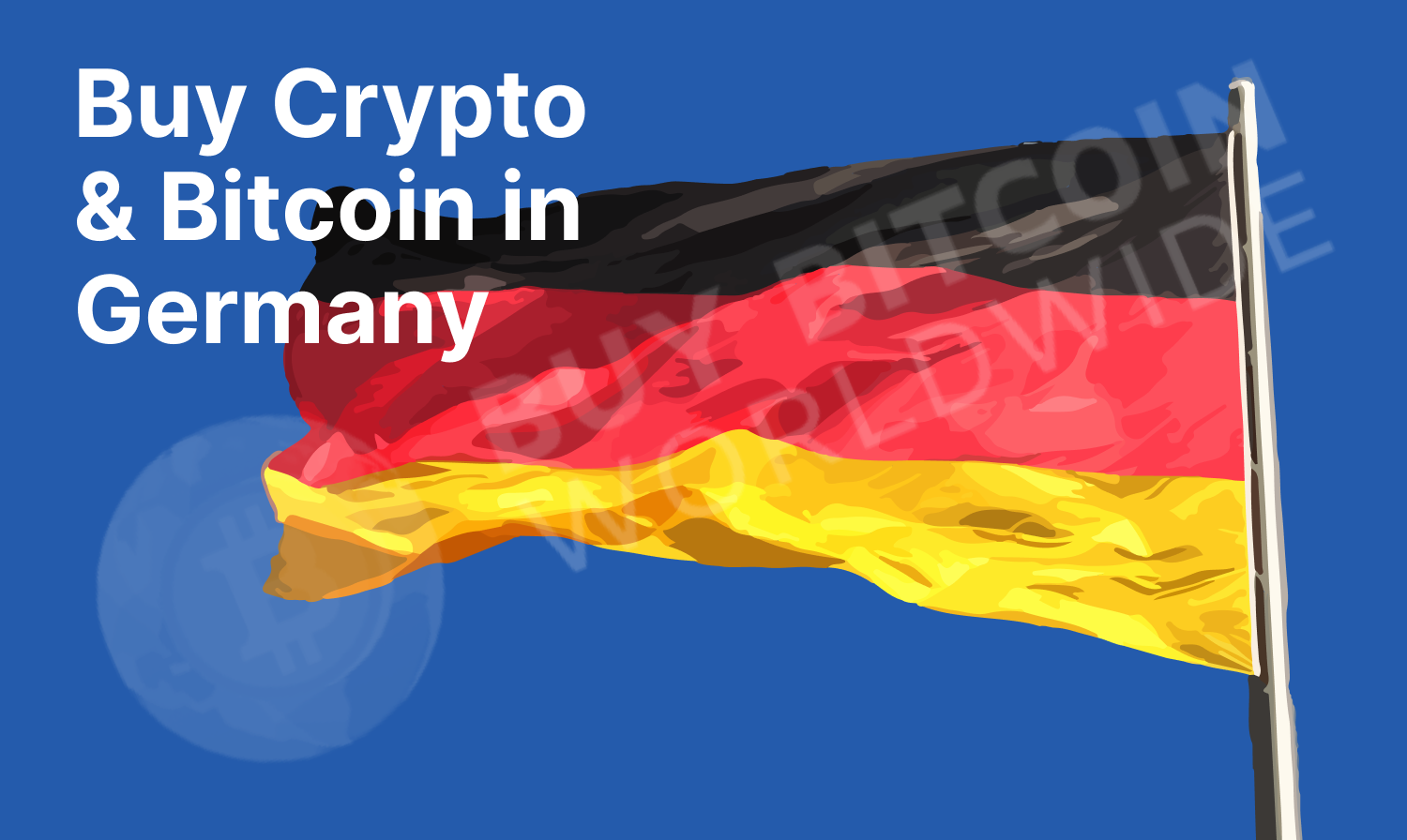 One of the easiest ways to buy Bitcoin in Germany is through cryptocurrency exchanges. There are several exchanges offering Bitcoin in Germany, allowing you to select one based on your requirements and preferences using our guide. Different exchanges have different transaction fees, withdrawal limits, payment modes, and verification processes that need to be considered before selecting one.
Additionally, Bitcoin buyers need to keep in mind that certain exchanges might require you to get a wallet of your own before being able to buy the digital currency. Even if there is no requirement, it is recommended to have a wallet of your own for security reasons (preferably a hardware wallet). If you don't have a wallet, refer to our guide on the Best Bitcoin and Cryptocurrency Wallets to choose one.
Another way to buy Bitcoins in Germany is through automated teller machines (ATMs). These ATMs allow users to instantly purchase the cryptocurrency using cash, and most of them don't require any verification either, thereby ensuring the buyer's anonymity. You can locate Bitcoin ATMs in Germany using our Bitcoin ATM Map, though there are only three of them available for now in the cities of Berlin, Stuttgart, and Munich.
As far as spending Bitcoin is concerned, we have already seen that the scenario is a positive one in the country as evident from the Tourism Board's decision to accept payments in Bitcoin. In fact, a closer look suggests that there are quite a few businesses accepting Bitcoin payments in Germany's major cities such as Munich and Berlin.
In all, Germany has a thriving Bitcoin environment that could get better in the future, assuming that the government takes positive steps toward protecting investors' interests.
-
Exchange Hacks and Crypto Scams in Germany
Call Centre Scam
In October 2021, German and Georgian authorities raided a scam call centre. The fraud ring had set up 6 companies in Georgia targeting people living in Europe. The companies offered various financial instruments, including cryptocurrencies with assurances of a solid profit. Authorities reported that the scheme involved €9.5 million and so far 7 people have been arrested.
Reputable businesses will never call you to solicit buying crypto. To avoid scams, individuals should always use reputable exchanges like those listed above for investing in bitcoin.(5)
Karatbars
Karatbars was a German based cryptocurrency pyramid scheme that enlisted the faces of some of Germany's biggest soccer stars, Lothar Matthäus, Roberto Carlos and Patrick Kluivert to promote its scam.(6)
Here is what the home page of the scam looks like; not exactly something that inspires confidence.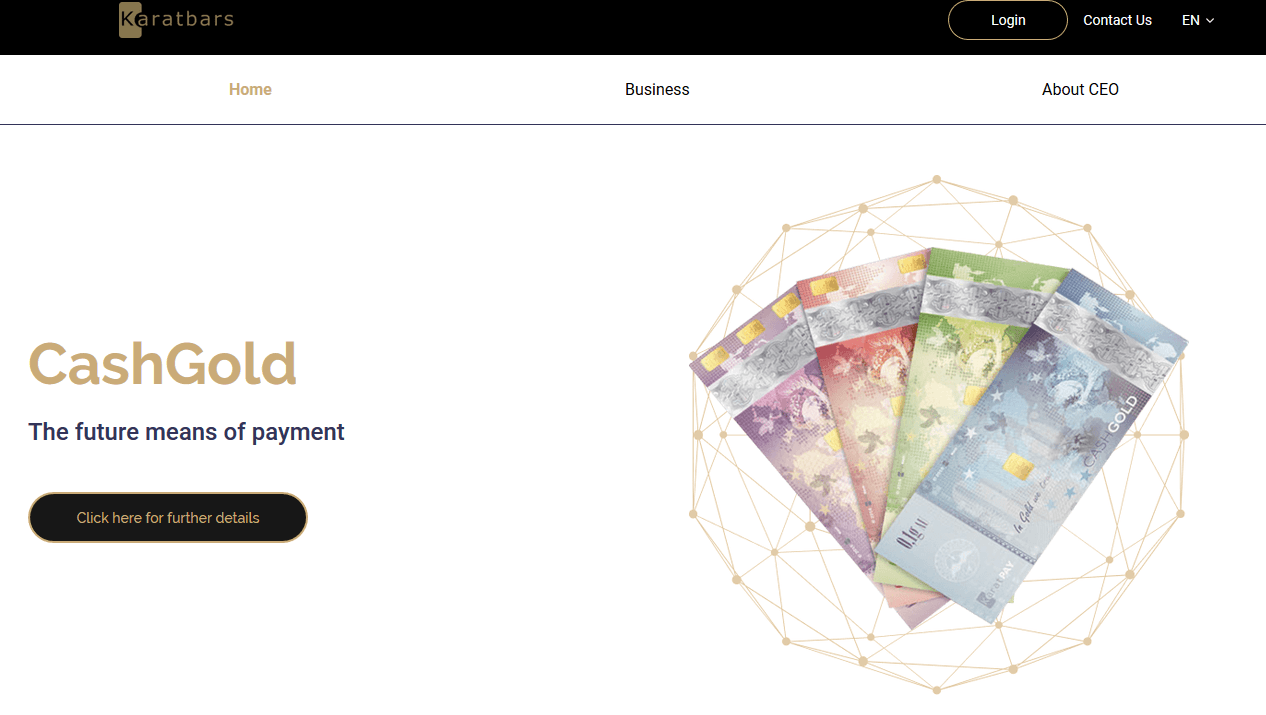 Karatbars would sell what it called "cryptonyzed gold" to prospective affiliates who would then bring in their friends and earn a commission. The coins were allegedly backed by gold bars out of a mine in Madagascar operated and owned by Karatbars.
The company managed to raise $100 million through sales of the coin. The claim was that once so many people owned this crypto, it would revolutionize the economic system.
Unfortunately for Karatbars, German regulators swiftly swooped in and demanded that the scheme be shut down.
-
Does Coinbase work in Germany?
Coinbase does NOT support customers in Germany as of September of 2020.
Where Can I Find a Bitcoin ATM in Germany?
You can use our Bitcoin ATM finder tool to find the one nearest you.
What is the price of Bitcoin in Germany?
Bitcoin prices are changing every second.
The best way to find the most up-to-date price of Bitcoin is to check out our Bitcoin price page.
How do I cash out of bitcoin in Germany?
Any exchange with a Euro trading pair will allow you to sell your Bitcoin for fiat currency. Bitpanda and Bitcoin.de has EUR trading pairs for many popular coins.
Article Sources
BuyBitcoinWorldWide writers are subject-matter experts and base their articles on firsthand information, like interviews with experts, white papers or original studies and experience. We also use trusted research and studies from other well-known sources. You can learn more about our editorial guidelines.