We may receive advertising compensation when you click certain products. Before jumping into this page, an important disclosure.
eToro
eToro is a trading platform and crypto exchange. It supports Bitcoin, Ethereum, Litecoin, Zcash and many other coins.

Deposits can be made quickly via bank transfer, SEPA, NETELLER, PayPal and more. It also offers unique features like copy trading.

Cryptoasset investing is highly volatile and unregulated in some EU countries. No consumer protection. Tax on profits may apply.
Visit eToro's Website
Pros
Offers unique copy trading feature
Trusted exchange that has been active in traditional finance
Interface is clean and easy to use
Cons
You cannot deposit cryptocurrency, but you can deposit with other payment methods
Ease of Use
Easy
Privacy
Low
Speed
Average
Fees
Low
Reputation
Trusted
Limits
High
Bitstamp
Bitstamp is one of the world's largest and most well-known Bitcoin & crypto exchanges. Deposits can be made through bank transfer, SEPA transfer, international bank wire, and now even credit cards.
Pros
One of the longest-running Bitcoin exchanges
Very low 0.25% fee, falling to 0.1% with sufficient trading volume
Offers wide range of altcoins
Cons
High 8% fee on small credit card purchases, falling to 5% with sufficient trading volume
Ease of Use
Hard
Privacy
Low
Speed
Slow
Fees
Average
Reputation
Trusted
Limits
High
Coinbase
Coinbase is the world's largest Bitcoin (BTC) broker. They represent an easy and fast way for new users to purchase bitcoins. Coinbase supports customers in over 30 countries, including the United States, Europe, UK, Singapore, and Canada.

Customers in the above-mentioned countries can purchase bitcoins by debit card, bank transfer, SEPA transfer, and more.

Get $5 in free bitcoin after you sign up on Coinbase and make your first trade.
Pros
High liquidity and buying limits
Easy way for newcomers to get bitcoins
"Instant Buy" option available with debit card
Cons
Purchases made with bank transfer can take up to 5 days to complete
Coinbase may track how and where you spend your bitcoins
Ease of Use
Easy
Privacy
Low
Speed
Average
Fees
Average
Reputation
Trusted
Limits
High
Coinbase Advanced Trader
Coinbase's exchange, Coinbase Advanced Trader (formerly called Coinbase Pro), is one of the largest Bitcoin exchanges in the United States. Users can fund their accounts via bank transfer, SEPA, or bank wire. Coinbase Advanced Trader offers good prices and low fees, but its confusing user interface may initially prove difficult to navigate.
Pros
Some of the lowest fees available for US and EU customers
Possible to buy bitcoins for 0% fees
Cons
The user interface is confusing for first-time buyers
Ease of Use
Hard
Privacy
Low
Speed
Average
Fees
Low
Reputation
Trusted
Limits
High
Bity
Bity is a Bitcoin exchange and ATM operator, based in Switzerland. Their 5 ATMs allow for a quick first purchase and only require phone verification for an initial buy limit of 1,000 EUR or CHF. Their online service accepts wire transfers, SOFORT and online bank transfers.
Pros
Easy to start buying bitcoins after mobile phone verification
Payment limit of up to €100,000 annually after intensive verification
Cons
ID verification is required for most purchases, so not a private way to buy
Low annual limit of only €4,000 without intensive verification
Ease of Use
Average
Privacy
Low
Speed
Fast
Fees
Low
Reputation
Trusted
Limits
High
Bitonic
Bitonic was founded in 2012 and is the most popular Bitcoin service in the Netherlands. Their brokerage service is a fast and easy way to buy bitcoins via iDEAL, Bancontact , Giropay, or Mybank. You may also fund your Bitonic BL3P exchange account via the bunq app, iDEAL or SEPA transfer.
Pros
First and highly-trusted Bitcoin service in the Netherlands
Super fast delivery of bitcoins
BL3P exchanges offers a very low 0.25% fee and promises fast deposits and withdrawals
Cons
Brokerage fees not publically stated; included in price at checkout
Semi-private brokering service; bank account verification required but TOR connections allowed
Ease of Use
Easy
Privacy
Average
Speed
Fast
Fees
Average
Reputation
Trusted
Limits
Average
Bitcoin ATMs
You can use our Bitcoin ATM map to buy bitcoins with cash. Bitcoin ATMs can be a quick and easy way to buy bitcoins and they're also private. That convenience and privacy, however, comes with a price; most ATMs have fees of 5-10%. View Bitcoin ATMs
Pros
Our map makes it super easy to find a Bitcoin ATM near you
Cons
Bitcoin ATMs often have 5-10% fees per purchase
Bitfinex
Hong Kong-based Bitfinex has long been one of the largest USD Bitcoin exchanges in the world. Bitfinex accounts may be funded by bank wire only, their fee on accepting such transfers is low at only 0.1%.

In August 2016, however, it was hacked and lost around 30% of its users funds. While Bitfinex can be helpful for buying large amounts of bitcoins, it is probably best to not use the exchange until it fully compensates affected users.
Pros
Very low fees even for low volume buyers; 0.1% for market makers and 0.2% for market takers
One of the best ways to buy large amounts of bitcoins
Allows lending of fiat or bitcoin to margin traders at interest (but this is risky in light of the hack)
Very deep liquidity promotes a price close to fair market rate
Supports several altcoins
Cons
Was recently hacked and has yet to fully compensate all users for their loss
Geared towards traders; possibly quite confusing for first time buyers
Single payment option
Ease of Use
Hard
Privacy
Low
Speed
Varies
Fees
Average
Reputation
Low Trust
Limits
High
-
Bitcoin & Cryptocurrency Trading in the Netherlands
Ask anyone which countries they think use Bitcoin most and they will immediately think of places like the USA, France and Germany, who between them account for over 50% of all operational nodes on the network. But it might surprise them to learn that the Netherlands too, has embraced the use of Bitcoin along with other European countries.(3)
Initially, the mining and selling of Bitcoin and other cryptos was totally unregulated. That has changed though, as the Dutch Central Bank has said that crypto firms would begin to be regulated starting in January 2020.(2) What this means in real terms is that all firms offering exchange services between cryptos and regular currency, as well as crypto wallet providers, have to register with De Nederlandsche Bank.
There have been calls from various officials for increased regulation of and even bans of cryptocurrencies. In June 2021, the director of the Dutch Bureau for Economic Analysis, Pieter Hasekamp argued that the Dutch government must enforce an immediate total ban on mining, trading and holding of Bitcoin. This was countered by the Dutch finance minister, Wopke Hoekstra, saying, "My observation is now that supervision is more effective than a total ban in the Netherlands."(4)
Despite these warnings, Bitcoin ownership continues to rise in the country. At the end of 2021, it is estimated that over 3% of the population owns cryptocurrency, and 68% of those own Bitcoin.(5)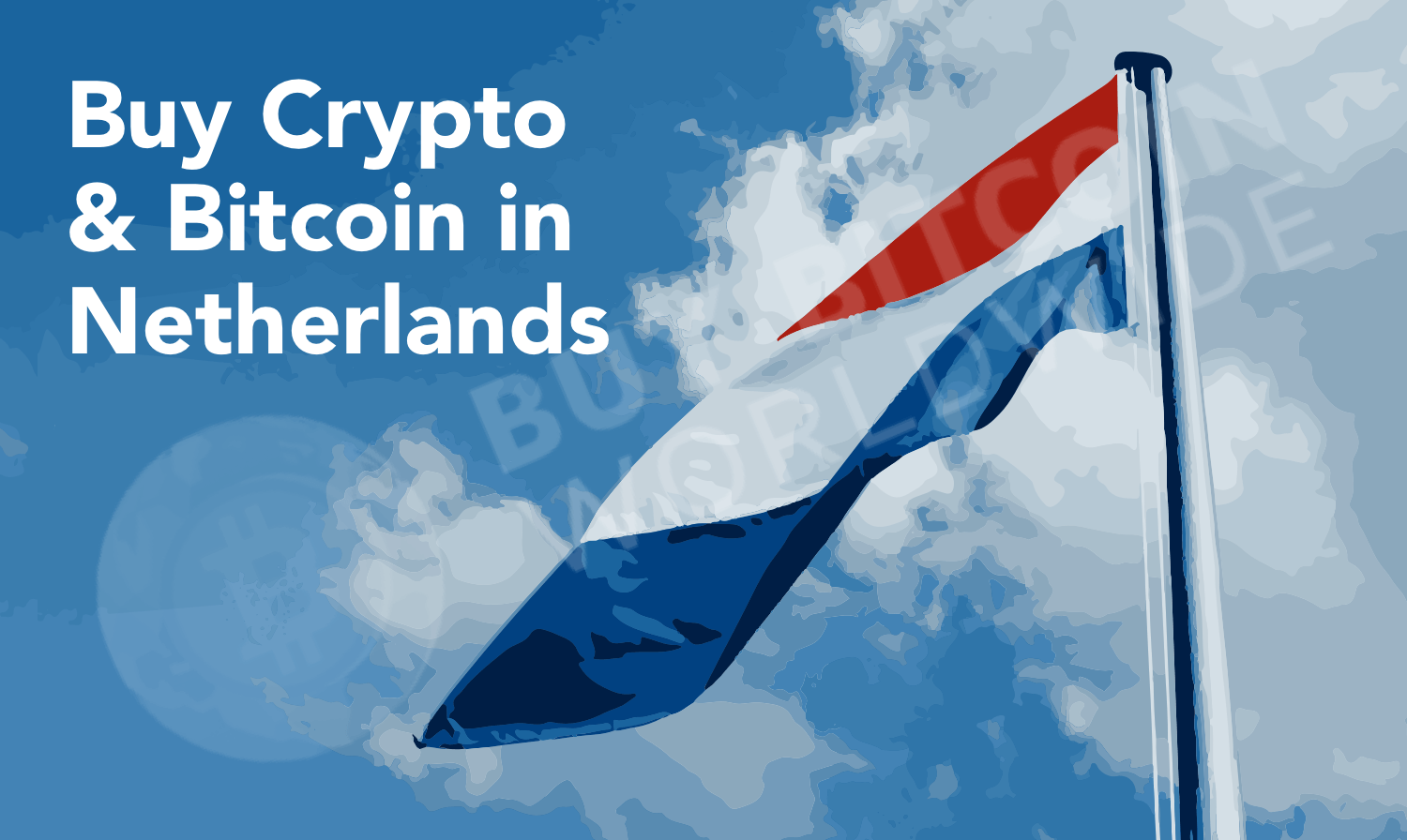 For those in the Netherlands who are interested in investing in cryptocurrency there is plenty of choice as there are (as of 2020) 28 exchanges that offer services. Of course, they will also need a wallet before they can invest.
After you get a wallet, you can easily select an exchange based on your requirements and preferences using our guide. Different exchanges have different transaction fees, withdrawal limits, payment modes, and verification processes that need to be kept in mind before users select one.
Another way to buy Bitcoins in the Netherlands is through automated teller machines (ATMs). These ATMs allow users to instantly purchase the cryptocurrency using cash, and most of them only require a telephone number for verification, so long as you aren't buying a lot of Bitcoin, they are more private than exchanges You can use our Bitcoin ATM finder tool to locate one near you.
-
Exchange Hacks and Crypto Scams in the Netherlands
Typosquatting
In June of 2019, police in the UK and the Netherlands arrested 6 people for their involvement in an exchange phishing scam believed to have victimized 4,000 people in 12 countries.

The scammers created a mirror look-a-like site of a well-known crypto exchange and fooled people into visiting it and inputting their user credentials. Once the scammers had the credentials, they logged onto the real exchange and drained the accounts of any funds deposited on them.
The investigation that led up to these arrest took nearly 14 months and authorities have dubbed this type of phishing scam as 'typosquatting', due to the slight variation of the domain name used to imitate the actual domain of the real exchange.(6)
-
Does Coinbase work in the Netherlands?
Citizens of the Netherlands can convert, buy, and sell cryptocurrencies with fiat. Supported payment methods are:
Bank Deposit
PayPal
3D Secure Credit Card
Debit Card
Credit Card
Where Can I Find a Bitcoin ATM in the Netherlands?
As of September 2023, in our findings, there are 20 Bitcoin ATMs all over the Netherlands, so you are likely never too far away from one if you need to pick up some Bitcoin quickly with cash.
You can use our Bitcoin ATM finder tool to find one in the Netherlands.
What is the price of Bitcoin in the Netherlands?
The best way to find the most up-to-date price of Bitcoin in the Netherlands is our Bitcoin price page live.
Can I buy a home with Bitcoin in the Netherlands?
As of September of 2020, there does not appear to be any sellers or real estate developers selling property for Bitcoin in The Netherlands.
How do I cash out of Bitcoin in the Netherlands?
Any exchange with a Netherlands Antillean Guilder trading pair will allow you to sell your Bitcoin for fiat currency. Bitonic has ANG trading pairs for many popular coins.
Article Sources
BuyBitcoinWorldWide writers are subject-matter experts and base their articles on firsthand information, like interviews with experts, white papers or original studies and experience. We also use trusted research and studies from other well-known sources. You can learn more about our editorial guidelines.