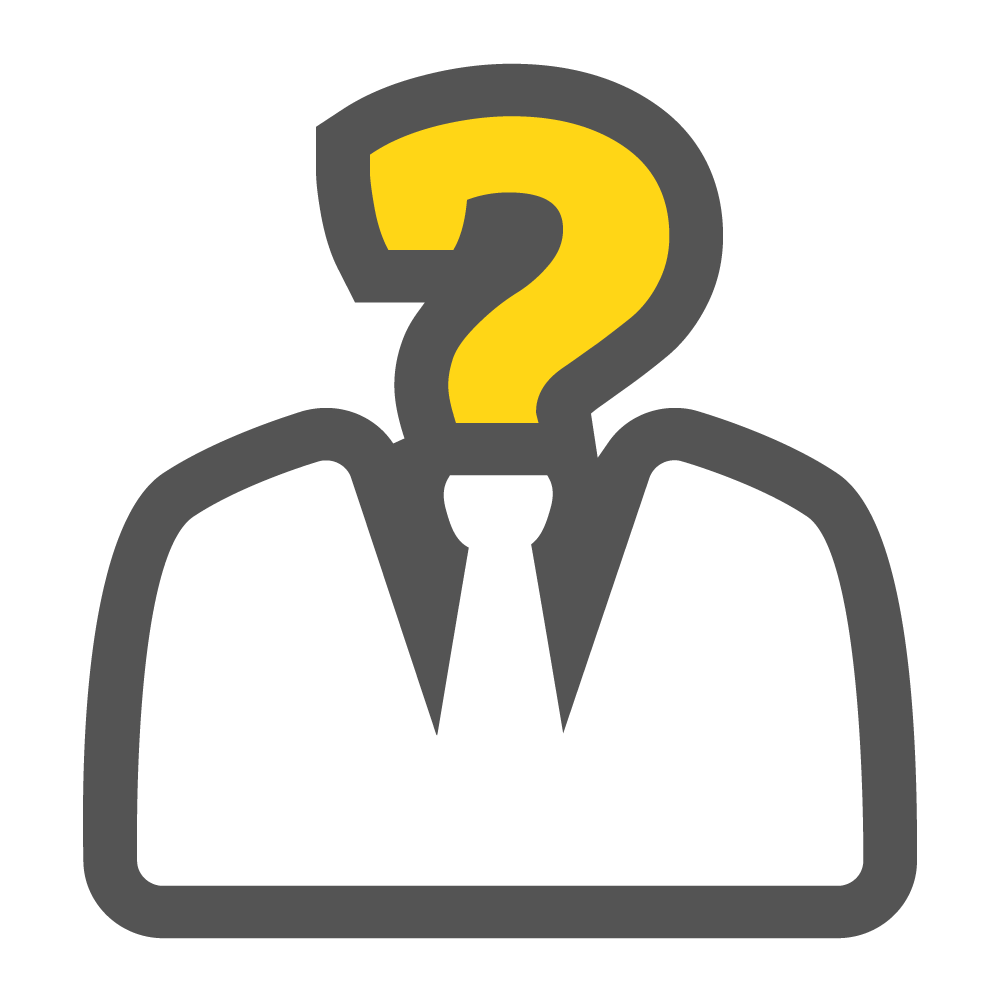 This guide will help you buy bitcoins with no verification or ID.
Get this:
You can do this with cash or a credit card.
We'll show you exactly how. Keep reading!
Chapter 1
Introduction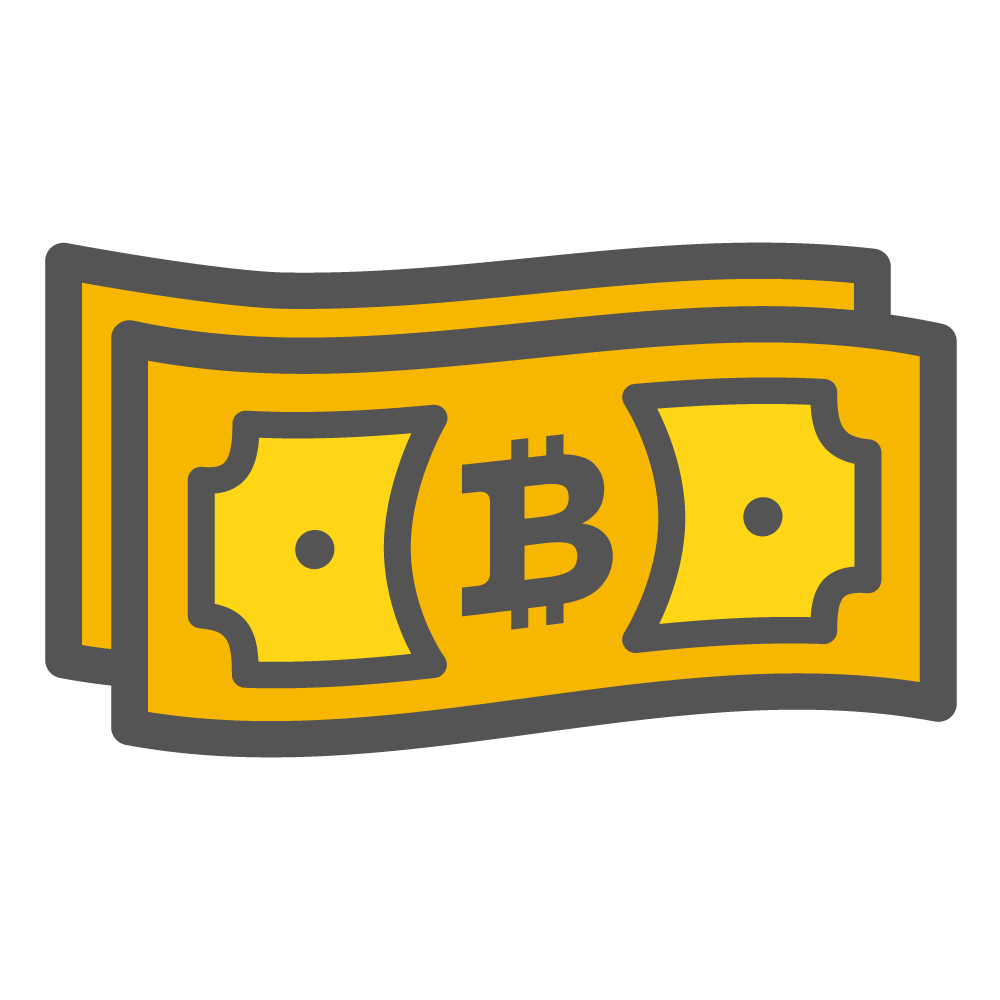 We can both agree on one thing:
Buying bitcoins is REALLY confusing!
Or is it?
Luckily for you, the content below is going to make the process much easier for you!
In today's post, I'm going to show you exactly how to buy bitcoins with no ID or verification using a number of payment methods so you can avoid going through KYC(1) and preserve your privacy.
By the way:
You'll need a Bitcoin wallet before you buy since some exchanges require one.
If you don't have a wallet, read our guide on the best Bitcoin wallets.
Buying bitcoin with no ID usually has very high fees. For lower fees, try one of the exchanges below and deposit using bank transfer or credit/debit card, like visa or MasterCard.
We suggest using the exchanges listed below or doing research before buying from any exchange.
Many exchanges are simply trying to steal your credit card information!
We do research on every exchange we list and are very careful not to include scam exchanges on our site.
Chapter 2
Buying Bitcoin with No ID: 7 of Your Exchange Options
LocalBitcoins: Buy Your Digital Currency Anywhere
LocalBitcoins is a peer-to-peer market place, similar to eBay or Bisq, which is built on top of the Tor network, where there are no central servers.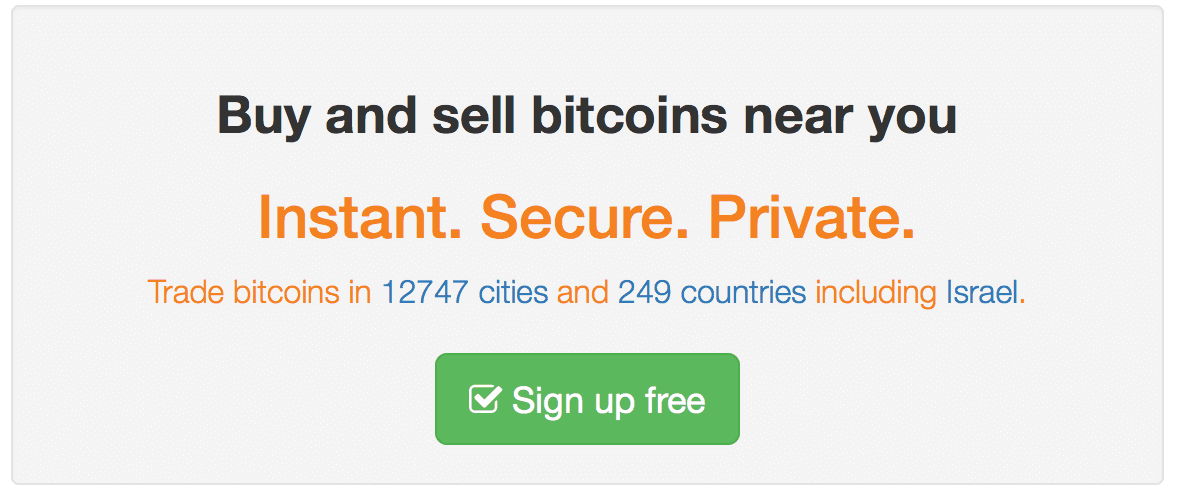 Buyers and sellers create offers and must agree on a price and terms of a trade before a transaction can be made. It's possible to buy bitcoins with no ID on LocalBitcoins either by buying bitcoins with cash deposit or meeting in person and trading cash. Still, in 2019, Localbitcoins implemented new KYC (Know Your Customer) rules.
LocalBitcoins is available anywhere where there is a willing seller.
BitQuick: Buy Your Digital Currency with Cash
Want to buy with cash?
BitQuick facilitates the buying of bitcoin via cash deposit at thousands of banks across the US.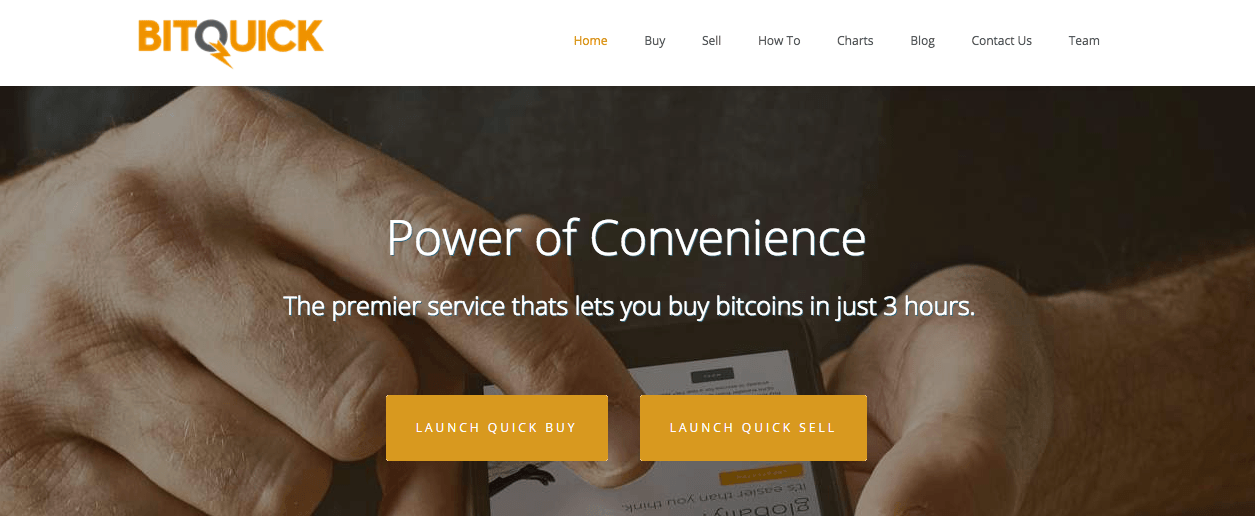 Users agree on a trade price, and the seller hands over bitcoins to BitQuick that then acts as escrow.
The buyer of bitcoin (BTC) deposits cash into the bitcoin seller's bank account. Once the seller confirms payment, BitQuick releases the bitcoins to the buyer.
Bitit.gift

Note: Bitit is Europe ONLY!
Bitit allows users to buy bitcoin (BTC) online with a 3D Secure credit or debit card in 10 minutes and with cash in more than 150K+ Local Stores using Neosurf, Flexepin or Cashlib gift cards.
Your first 25 euros worth can be purchased without ID verification although you will need to fill in personal details like your full name, birthday date, country, city, address, phone number.
Bitcoin ATMs: Do You Have One Near You?
Bitcoin ATMs are similar to regular ATMs, but instead of spitting out fiat currency, like dollars (USD), sterling pounds (GBP) or euro (EUR), Bitcoin ATMs deliver bitcoins to your wallet address upon the insertion of cash.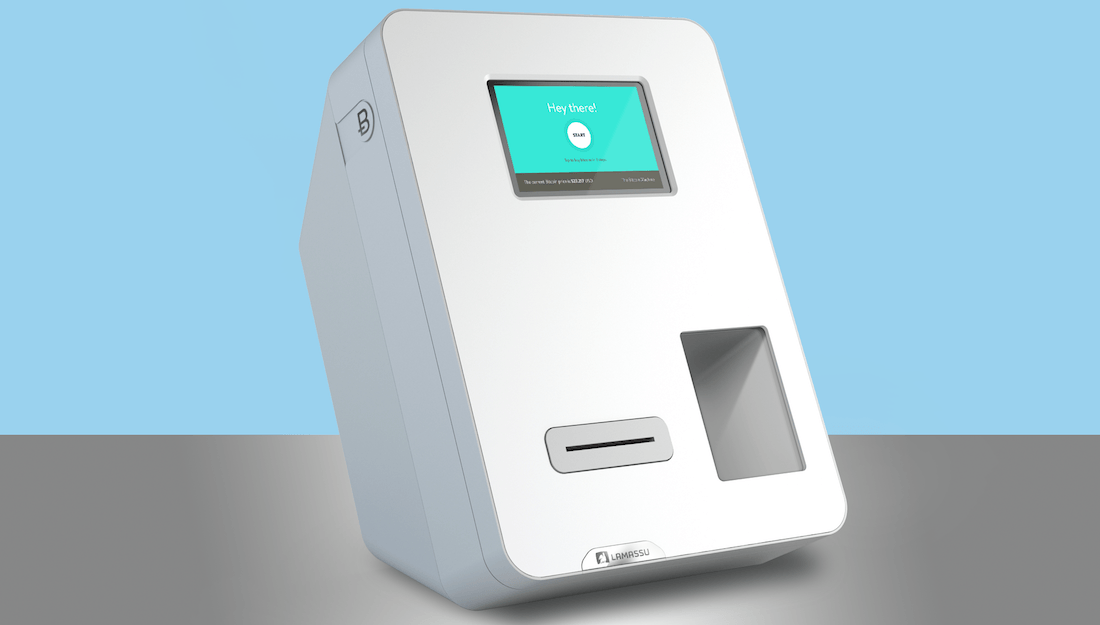 There are different types of Bitcoin ATMs made by a variety of companies. Most, however, require no identity verification whatsoever.
How can you know if there is a Bitcoin ATM near you?
We have a Bitcoin ATM map that will show you how to find a Bitcoin ATM near you.
Before buying from an ATM, know this:
Bitcoin ATMs are private, but there are some downsides. Bitcoin ATMs generally sell bitcoins (BTC) at a mark-up of 5-10%.
This markup is the price people are willing to pay for the privacy that Bitcoin ATMs provide.
Before you buy bitcoin from an ATM, check the ATM's price against a Bitcoin price index like our Bitcoin price page.
Bitcoin (BTC) Exchanges without Verification
Want to trade bitcoins?
At BitFinex you can start trading without identity verification if you only deposit cryptocurrency.
ShapeShift
Using ShapeShift you can buy bitcoins (BTC) with no ID, but that is because you need to buy altcoins or another digital token before buying. If you already have a token like Litecoin, Ripple (XRP), Tether (USDT), Monero (XMR) or Ethereum (ETH) then you can buy bitcoins in seconds with no verification. No account required.
Chapter 3
Tutorials: Buy Bitcoin in Less than 20 Minutes
How to Buy From a Bitcoin ATM Near You with Coin ATM Radar
Pro Tip
You will need a Bitcoin wallet BEFORE you can buy bitcoins at any ATM. This is because Bitcoin ATMs send the coins directly to your Bitcoin address.
You can read through our Bitcoin wallet guide to find a wallet.
2. Search by Location
In the search box in the top left, type in the name of your country or city and click enter.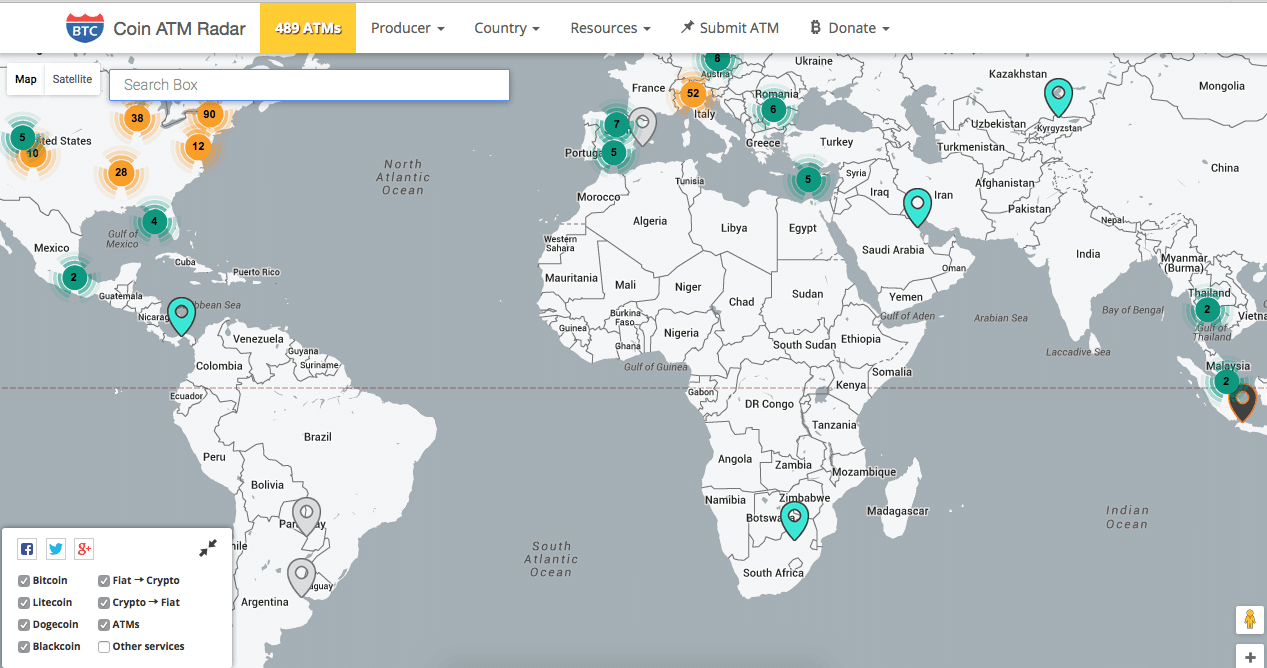 3. Find an ATM
Once you search, you'll be taken to the location you entered on the map. If you see map pin markers, you're in luck! That means there are Bitcoin ATMs in your area.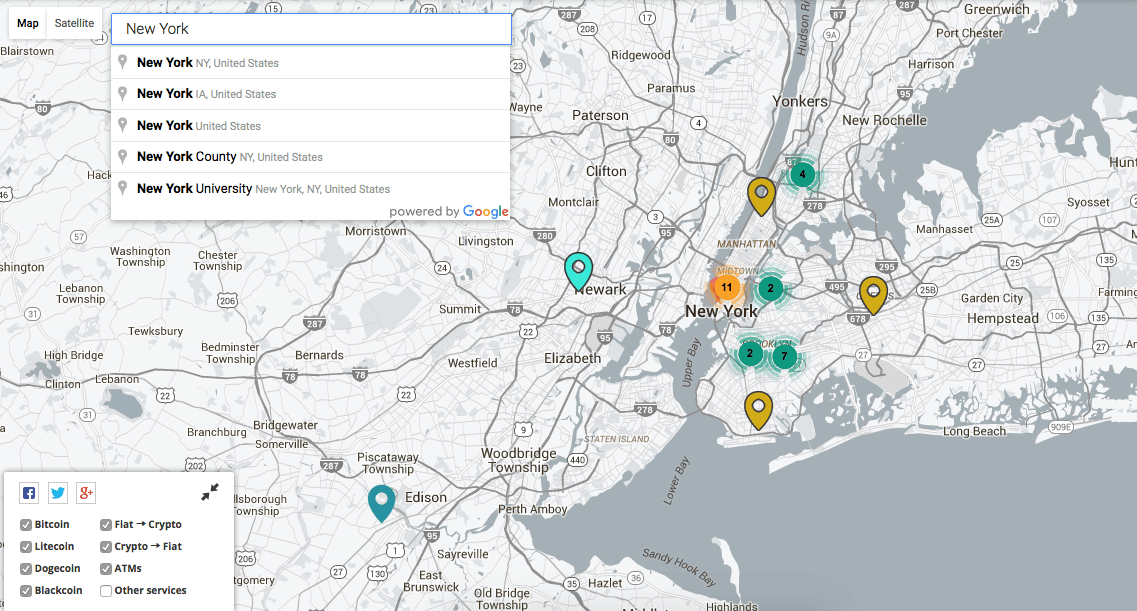 4. Choose an ATM
Click on one of the map markers for more details about a specific ATM. From there, you can also click on "Read More" at the bottom for even more details.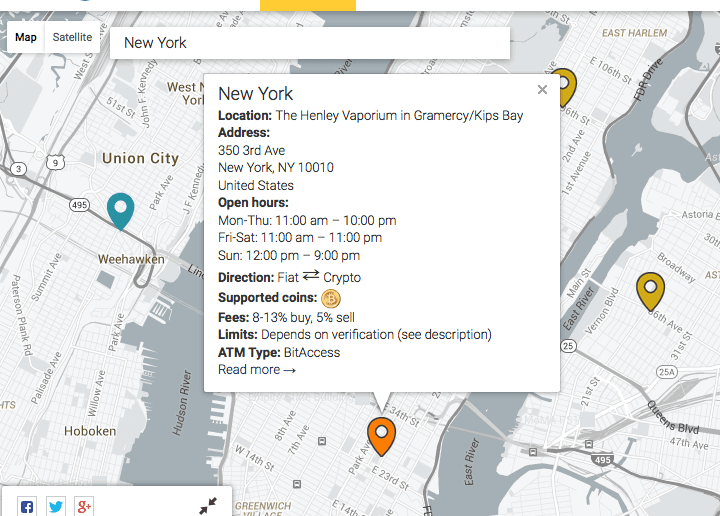 How to Use ShapeShift
Remember:
With Shapeshift you need to have some other digital token in order to trade it for bitcoins.
We like ShapeShift because it never holds your coins and only makes a "swap". So there is no need to create an account or give ShapeShift any personal information.
To use it, go to Shapeshift.io. You should then see a box on the right side where you can choose the coins for your trade: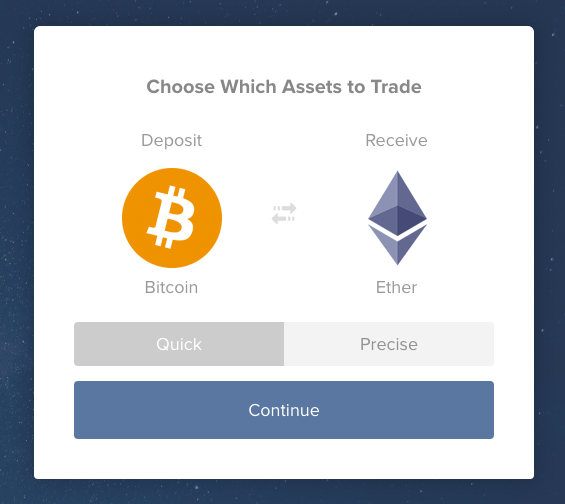 In this case ShapeShift auto-set the trade to be Bitcoin for Ether. But who's buying Ether? We want bitcoins!
Click on one of the coins and then you can select the coins you want to deposit and receive. The selection looks like this: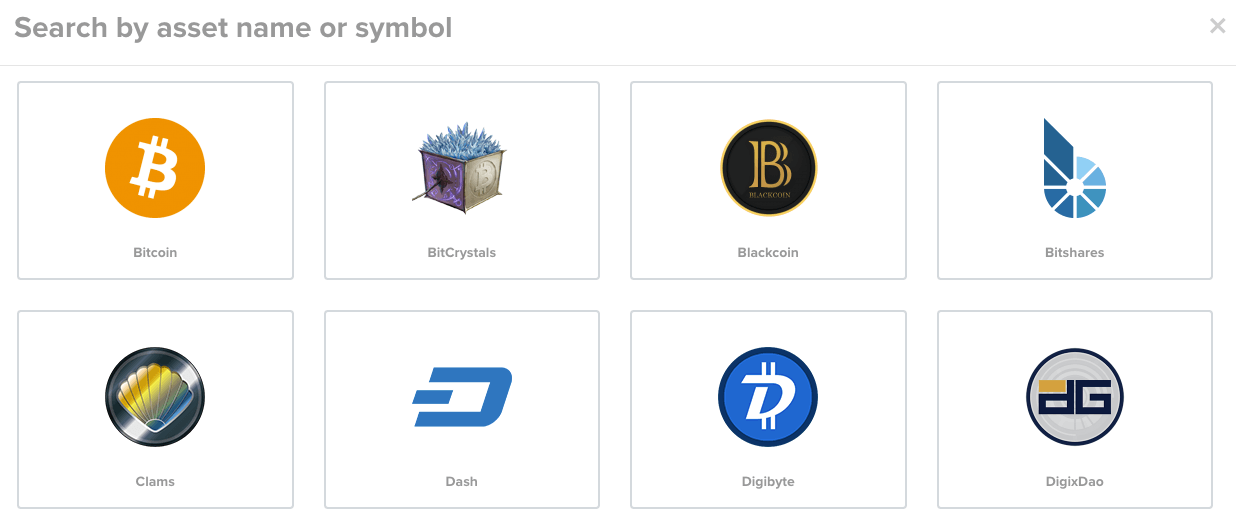 In our case we have decided to trade some litecoins for bitcoins. So the screen on the main page should now look like this (with Litecoin under "Deposit" and Bitcoin under "Receive"):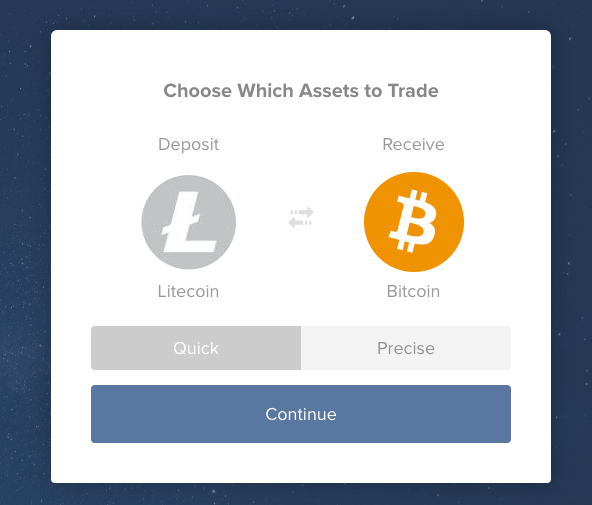 So click "Continue" to proceed and you will see a screen like this: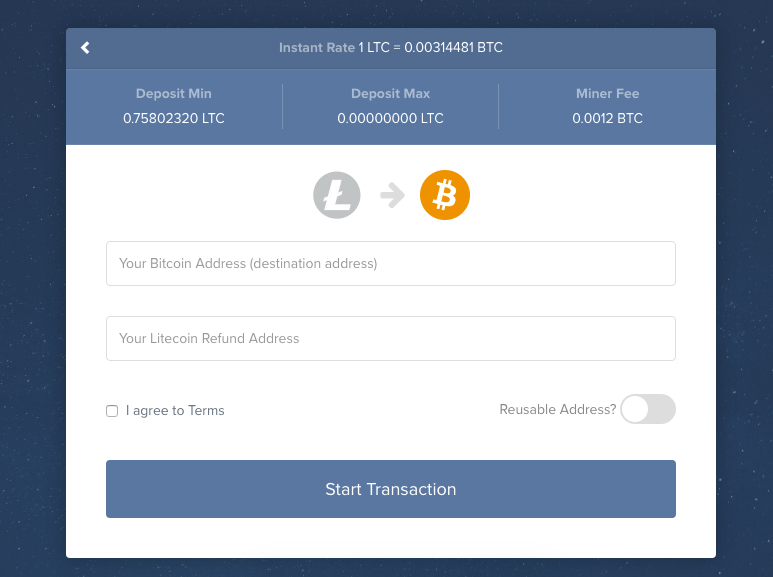 On the screen above you must enter the Bitcoin address that will receive the coins, along with the Litecoin refund address (in case there is a problem with the transaction).
Once you enter both address click "Start Transaction". You will now see a screen like this: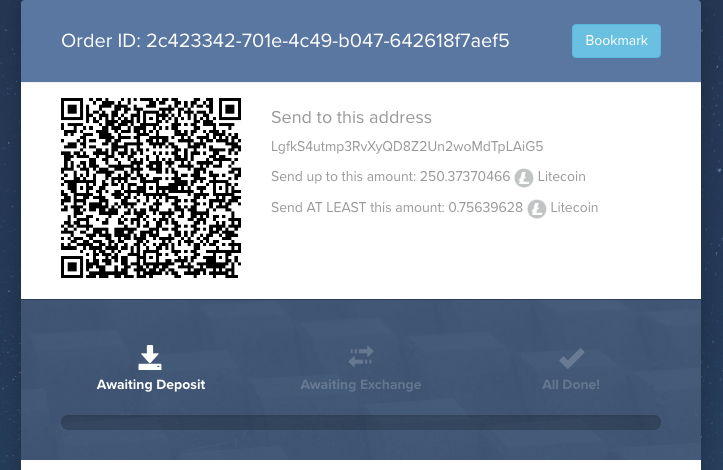 Now just send litecoins (or whatever coin you are trading) to the address displayed. You can send any amount since in the previous step we already agreed to the Litecoin/Bitcoin exchange rate. Also, notice the max and minimum amounts!
Once you send the litecoins you should see your newly purchased bitcoins in your wallet within a few minutes. Yes, using ShapeShift is that easy!
Chapter 4
Frequently Asked Questions
If you're still a bit confused, that's okay. Buying bitcoins is hard and that's why I built this site.
I hope the following FAQ section will answer any of your remaining questions.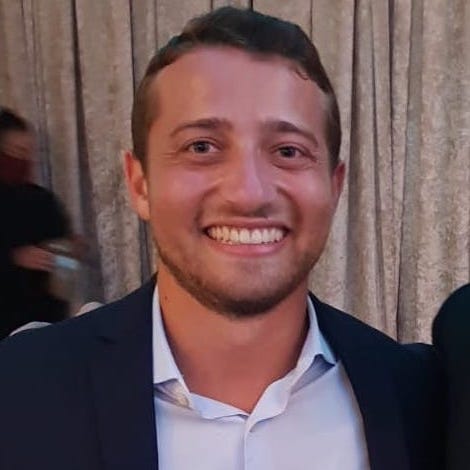 Jordan Tuwiner
Founder, Buy Bitcoin Worldwide
Why would I want to buy bitcoins with no verification?
The verification process for buying on some crypto exchanges can take days to complete. This makes buying bitcoins fast hard.
Why do some people not want to buy if there is a need to upload an ID scan?
It depends how much you trust the cryptocurrency exchanges. Just like any information you give up online, there is always the risk that it can be hacked or stolen from the website you give it to.
Even Yahoo was hacked and information on 400 million accounts was stolen.(2)
BitQuick was hacked, although it claims no customer information was stolen. Still, there is always a risk with any exchange that collects your personal information.(3)
Should I leave my bitcoins on the exchange after I buy?
We really recommend storing any bitcoins you want to keep safe in a wallet you own. Many Bitcoin exchanges have been hacked and lost customer funds. If you don't want to fall victim to these hacks then the easiest way is to store your coins in a wallet you control.
Chapter 5
Scam Warning
Here's a headline that was posted on Reddit in February 2017:

On the same post, here's what another commenter wrote(4):
Similar thing happened to me in Perth, Western Australia. Dude pulled a knife in a cafe and demanded my phone and to withdrawal all my bitcoins to him. The cafe owner saw this and called the police, who arrived in 2 minutes as he was going through my phone for bitcoin apps.
The guy apparently had a history of violent offenses and recently got sentenced for 4 years.
This is not meant to scare you.
These are extreme cases and most trades go through with no issue. These warnings are aimed at people making in-person cash trades.
It is simply a reminder to use common sense. You should always meet for your trades in a public place and even bring a friend or two.
Article Sources
BuyBitcoinWorldWide writers are subject-matter experts and base their articles on firsthand information, like interviews with experts, white papers or original studies and experience. We also use trusted research and studies from other well-known sources. You can learn more about our editorial guidelines.