We may receive advertising compensation when you click certain products. Before jumping into this page, an important disclosure.
eToro
eToro is a popular way for residents of Sweden to buy crypto. The company offers an easy-signup with a free wallet and app also included. Visit eToro's Website
Pros
Offers unique copy trading feature
Trusted exchange that has been active in traditional finance
Interface is clean and easy to use
Cons
You cannot deposit cryptocurrency, but you can deposit with other payment methods
Ease of Use
Easy
Privacy
Low
Speed
Average
Fees
Low
Reputation
Trusted
Limits
High
Safello
Safello is a Bitcoin exchange based in Sweden and fully-registered as a financial institution. It offers a wide range of payment methods - Swish, SEPA, Bank Cards, SWIFT, Faster Payments and Bankgiro - to Swedish customers. Visit Safello's Website
Pros
Available from 32 countries
Offers a wide variety of payment methods
Deep liquidity ensures prices near the fair market rate
Cons
Not a private way to buy since ID verification is required
Ease of Use
Easy
Privacy
Low
Speed
Fast
Fees
Low
Reputation
Trusted
Limits
High
Bitstamp
Bitstamp is one of the world's largest and most well-known Bitcoin & crypto exchanges. Deposits can be made through bank transfer, SEPA transfer, international bank wire, and now even credit cards.
Pros
One of the longest-running Bitcoin exchanges
Very low 0.25% fee, falling to 0.1% with sufficient trading volume
Offers wide range of altcoins
Cons
High 8% fee on small credit card purchases, falling to 5% with sufficient trading volume
Ease of Use
Hard
Privacy
Low
Speed
Slow
Fees
Average
Reputation
Trusted
Limits
High
Coinmama
Coinmama allows customers in almost every country to buy bitcoin. They charge a 4.9%-5.9% (depends on volume) fee on each purchase.

Customers in Europe can also purchase bitcoins with SEPA transfer for a lower fee.

Pros
Works in almost all countries
Highest limits for buying bitcoins with a credit card
Reliable and trusted broker
Cons
Some of the highest fees among credit/debit card bitcoin brokers
Ease of Use
Easy
Privacy
Low
Speed
Fast
Fees
Average
Reputation
Trusted
Limits
High
Coinbase
Coinbase is the world's largest Bitcoin (BTC) broker. They represent an easy and fast way for new users to purchase bitcoins. Coinbase supports customers in over 30 countries, including the United States, Europe, UK, Singapore, and Canada.

Customers in the above-mentioned countries can purchase bitcoins by debit card, bank transfer, SEPA transfer, and more.

Get $5 in free bitcoin after you sign up on Coinbase and make your first trade.
Pros
High liquidity and buying limits
Easy way for newcomers to get bitcoins
"Instant Buy" option available with debit card
Cons
Purchases made with bank transfer can take up to 5 days to complete
Coinbase may track how and where you spend your bitcoins
Ease of Use
Easy
Privacy
Low
Speed
Average
Fees
Average
Reputation
Trusted
Limits
High
Coinbase Advanced Trader
Coinbase's exchange, Coinbase Pro, is one of the largest Bitcoin exchanges in the United States. Users can fund their accounts via bank transfer, SEPA, or bank wire. Coinbase Pro offers good prices and low fees, but their confusing user interface may initially prove difficult to navigate.
Pros
Some of the lowest fees available for US and EU customers
Possible to buy bitcoins for 0% fees
Cons
User interface is confusing for first time buyers
Ease of Use
Hard
Privacy
Low
Speed
Average
Fees
Low
Reputation
Trusted
Limits
High
Bity
Bity is a Bitcoin exchange and ATM operator, based in Switzerland. Their 5 ATMs allow for a quick first purchase and only require phone verification for an initial buy limit of 1,000 EUR or CHF. Their online service accepts wire transfers, SOFORT and online bank transfers.
Pros
Easy to start buying bitcoins after mobile phone verification
Payment limit of up to €100,000 annually after intensive verification
Cons
ID verification is required for most purchases, so not a private way to buy
Low annual limit of only €4,000 without intensive verification
Ease of Use
Average
Privacy
Low
Speed
Fast
Fees
Low
Reputation
Trusted
Limits
High
Bitcoin ATMs
You can use our Bitcoin ATM map to buy bitcoins with cash. Bitcoin ATMs can be a quick and easy way to buy bitcoins and they're also private. That convenience and privacy, however, comes with a price; most ATMs have fees of 5-10%. View Bitcoin ATMs
Pros
Our map makes it super easy to find a Bitcoin ATM near you
Cons
Bitcoin ATMs often have 5-10% fees per purchase
Bitfinex
Hong Kong-based Bitfinex has long been one of the largest USD Bitcoin exchanges in the world. Bitfinex accounts may be funded by bank wire only, their fee on accepting such transfers is low at only 0.1%.

In August 2016, however, it was hacked and lost around 30% of its users funds. While Bitfinex can be helpful for buying large amounts of bitcoins, it is probably best to not use the exchange until it fully compensates affected users.
Pros
Very low fees even for low volume buyers; 0.1% for market makers and 0.2% for market takers
One of the best ways to buy large amounts of bitcoins
Allows lending of fiat or bitcoin to margin traders at interest (but this is risky in light of the hack)
Very deep liquidity promotes a price close to fair market rate
Supports several altcoins
Cons
Was recently hacked and has yet to fully compensate all users for their loss
Geared towards traders; possibly quite confusing for first time buyers
Single payment option
Ease of Use
Hard
Privacy
Low
Speed
Varies
Fees
Average
Reputation
Low Trust
Limits
High
-
Chapter 1
Bitcoin & Cryptocurrency Trading in Sweden
Get yourself a hardware wallet like the Trezor before you sign up for an exchange. Some exchanges don't include built-in wallets, and the ones that do are vulnerable to theft.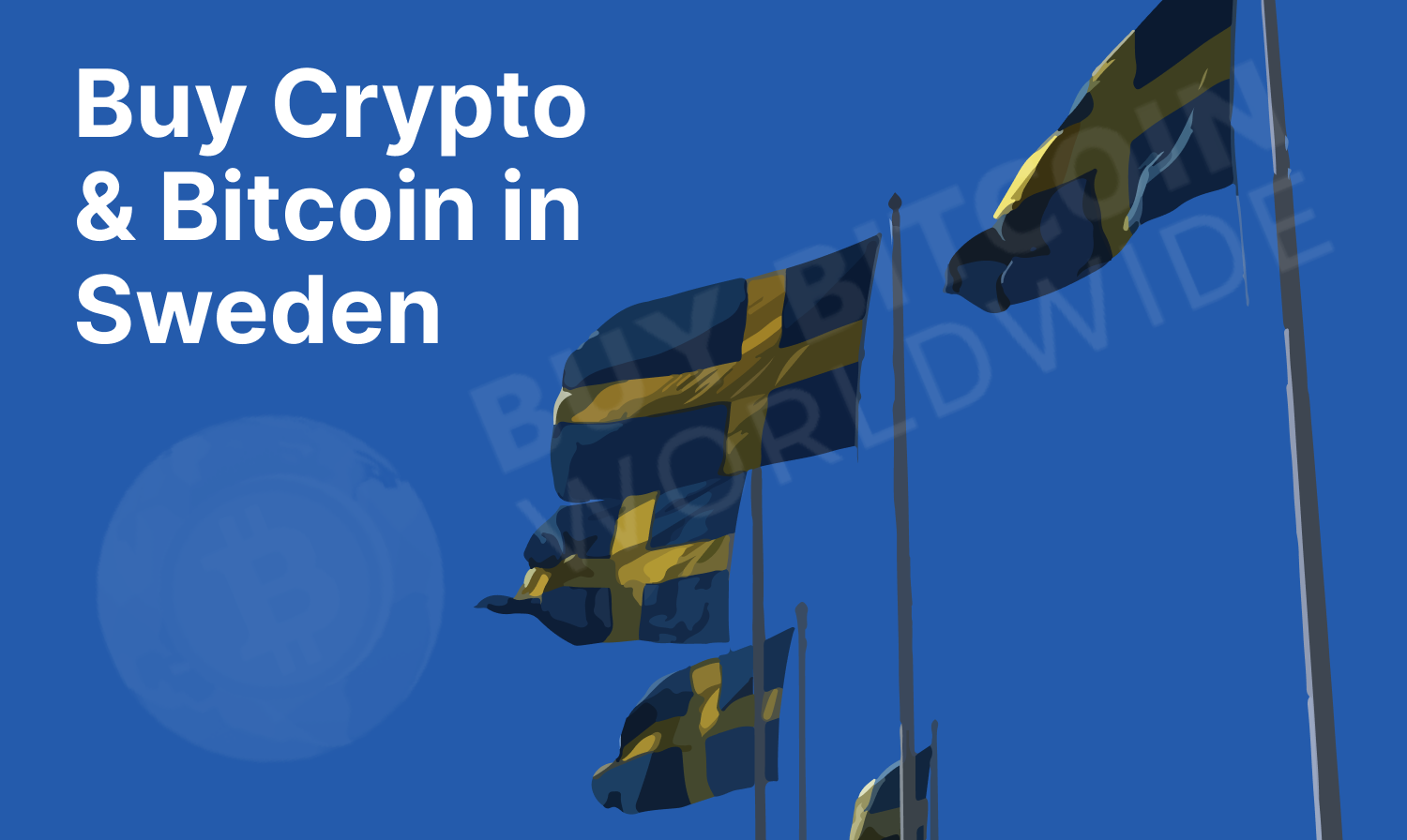 Investing in Bitcoin is no joke, and your top priority should be protecting your coins.
Thanks to Sweden's Bitcoin-friendly regulation, the next steps are pretty easy. Select one of the exchanges above that best fits your privacy, fee, liquidity, and payment criteria.
Verify your identity, connect a supported payment method and trade to your heart's content!
If you want to support a local exchange based in Sweden, Safello is a trusted option with high limits and fast transactions.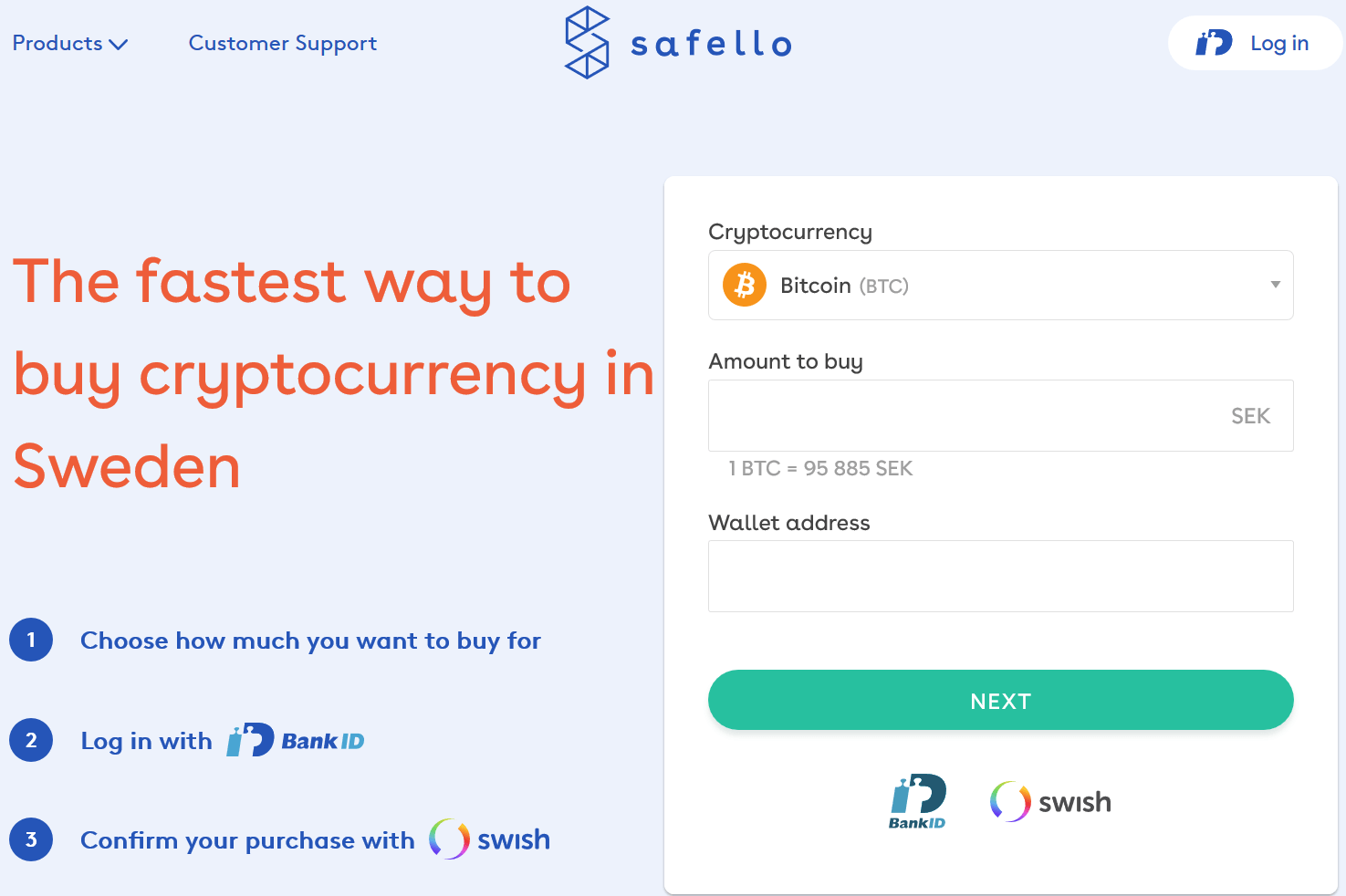 Safello's homepage
Safello's platform is easy to use, and available in 31 countries including Sweden. With a wide variety of payment methods, most European citizens will love this exchange. However, it's only available to citizens of the EEA and the UK.
Safello promotes three primary value propositions: speed, security, and transparency and excels in all three areas. This is why they've earned a trusted reputation among their customer base, both in Sweden and abroad.
You can also opt for one of the cryptocurrency exchanges outlined above, all of which also support Sweden. You can select one based on your requirements and preferences since different exchanges have different transaction fees, withdrawal limits, payment modes, and verification processes that need to be kept in mind before users select one.
Additionally, Bitcoin buyers need to keep in mind that certain exchanges might require you to get a wallet of your own before being able to buy the digital currency. Even if there is no requirement, it is recommended to have a wallet of your own for security reasons (preferably a hardware wallet).
-
Chapter 3
Exchange Hacks and Crypto Scams in Sweden
QuickBit Data Breach
In July of 2019, Swedish digital currency exchannge QuickBit announced that a data breach on their customer databases had occured, affecting 2% of their client's information. Of the data exposed included names, addresses, email addresses, and card information. Passwords and social security numbers were not exposed, so no account funds were at risk of being stolen.
Managing director Jörgen Eriksson wrote in a release what caused the breach:
QuickBit has recently adopted a third-party system for supplementary security screening of customers. In connection with the delivery of this system, it has been on a server that has been visible outside QuickBits firewall for a few days, and thus accessible to the person who has the right tools.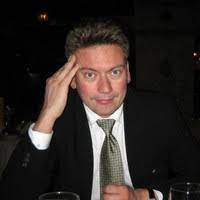 Jörgen Eriksson
Managing Director, QuickBit
e-Krona Scam
In 2017, Sweden's Riksbank launched a project to digitize the Swedish Krona on a blockchain. However, the project has not been completed and no news of whether it will ever see the light of day has been announced by Riksbank.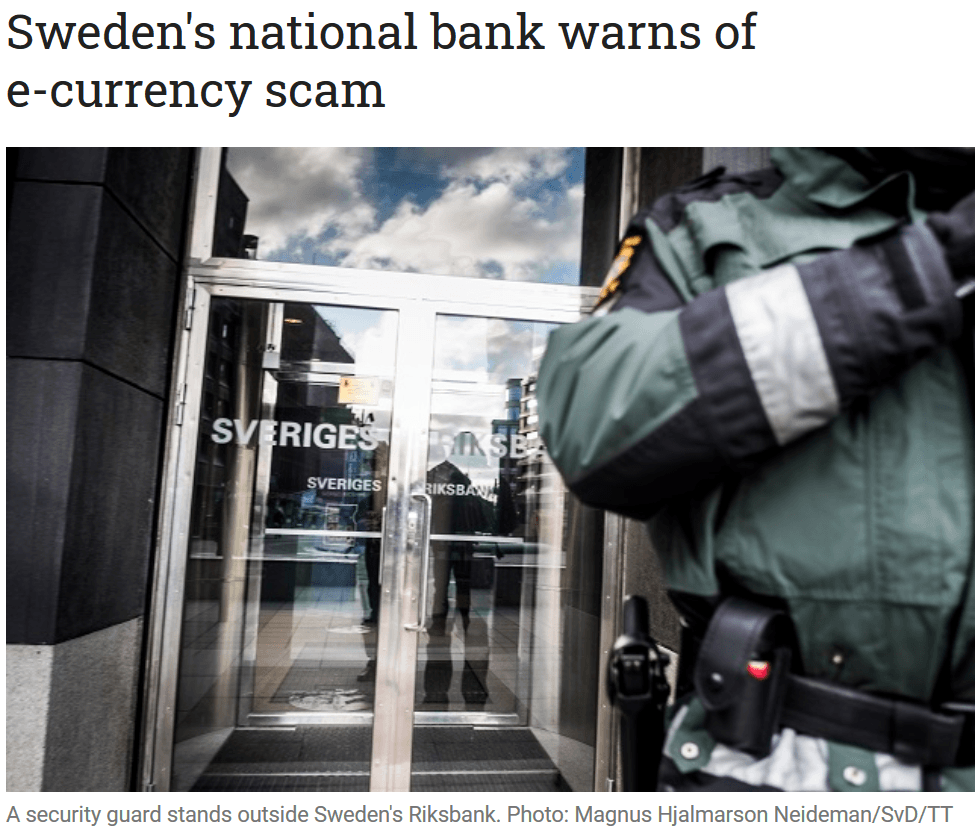 That did not stop some scammers from pretending to issue releases as Riksbank in order to get unsuspecting victims to send real Krona in exchange for fraudulent 'e-Krona'. Riksbank was quick to issue a statement on this phenomenon.
On certain websites and in social media, claims have been made that it is possible to purchase e-kronas.

The Riksbank has also been contacted by individuals describing how they have been called by companies claiming to be selling e-kronas on behalf of the Riksbank.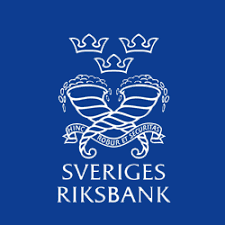 Riksbank
Public Relations
Citizens are urged to reject and report solicitations to buy e-Krona to Swedish authorities since there are currently no plans on the part of the Swedish government to sell e-Krona to the public.
-
Chapter 4
Bitcoin Mining in Swedenn
Bitcoin mining is not the fastest or the easiest way to acquire Bitcoin, and for most people, it's better to buy Bitcoin directly from an exchange or a trusted peer.
Mining requires expensive hardware, lots of time, and a huge electricity bill, especially considering Sweden's electricity price of ~1.776 Kronas per kWh.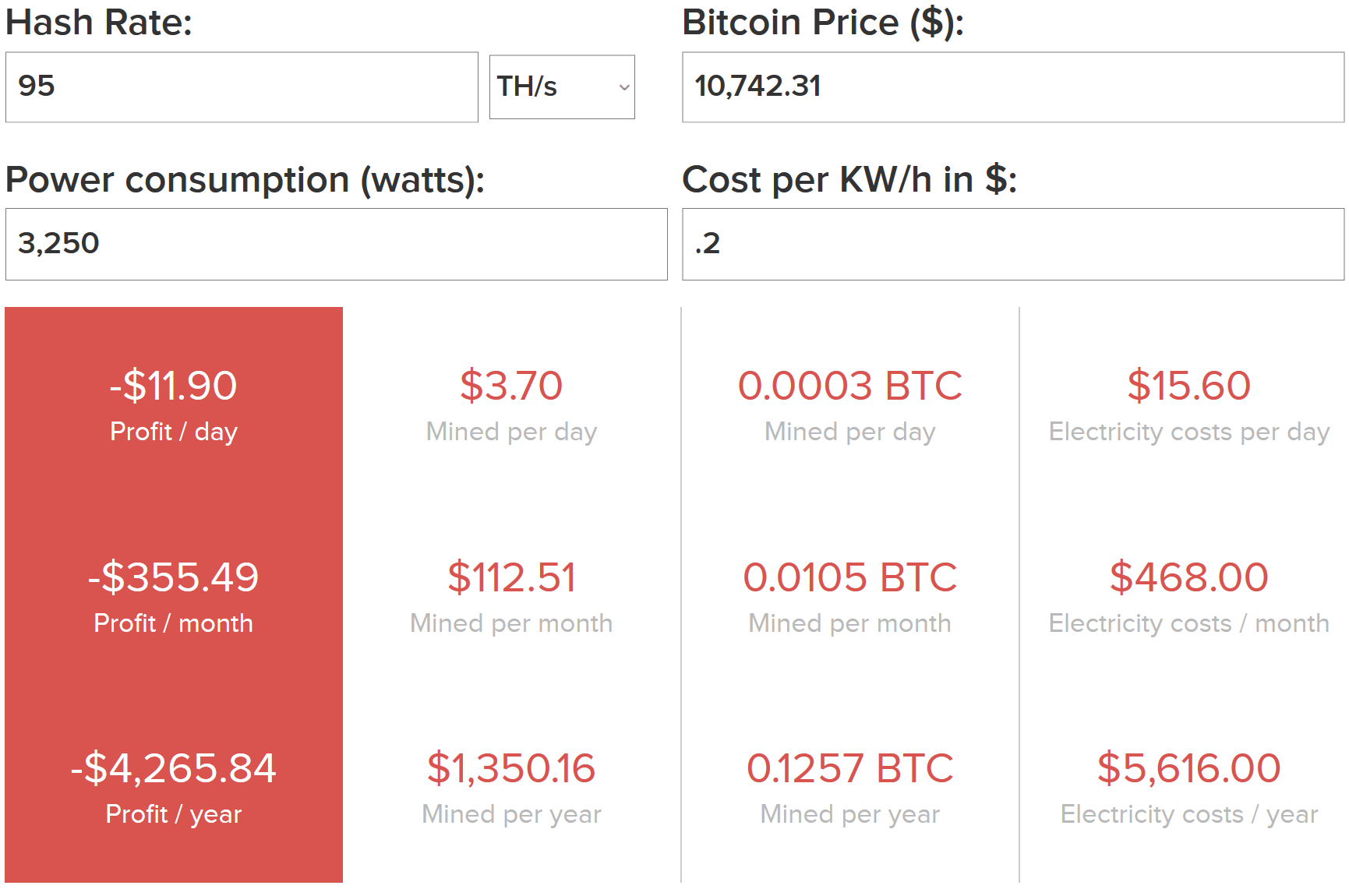 In comparison, the United States' citizens pay roughly $0.12 per kWh, and Bitcoin mining isn't profitable there either.
If you want to run a profitable mining operation, you have to mine in a country with dirt-cheap electricity like Georgia, China, or India. And even then, only large scale mining farms run by big corporations are profitable.
To calculate your profitability given your specific hash rate and electricity cost, check out our mining profitability calculator.
Otherwise, choose one of the exchanges listed above, and buy Bitcoin directly instead.
-
Does Coinbase work in Sweden?
Citizens of Sweden can convert, buy, and sell cryptocurrencies with fiat. Supported payment methods are:
Bank Deposit
PayPal
3D Secure Credit Card
Debit Card
Credit Card
Where Can I Find a Bitcoin ATM in Sweden?
Unfortunately, there aren't any Bitcoin ATMs in Sweden as of October of 2020.
You can use our Bitcoin ATM finder tool to check back in occasionally and see if one has opened.
What is the price of Bitcoin in Sweden?
Bitcoin prices are changing every second.
The best way to find the most up-to-date price of Bitcoin is to check out our Bitcoin price page.
Which stores accept Bitcoin in Sweden
Bitcoin is accepted at lots of stores and service providers all over Sweden. So many, in fact, that we couldn't possibly list them all here. However, you can find specific kinds of services and goods filterable on a map over at coinmap.org.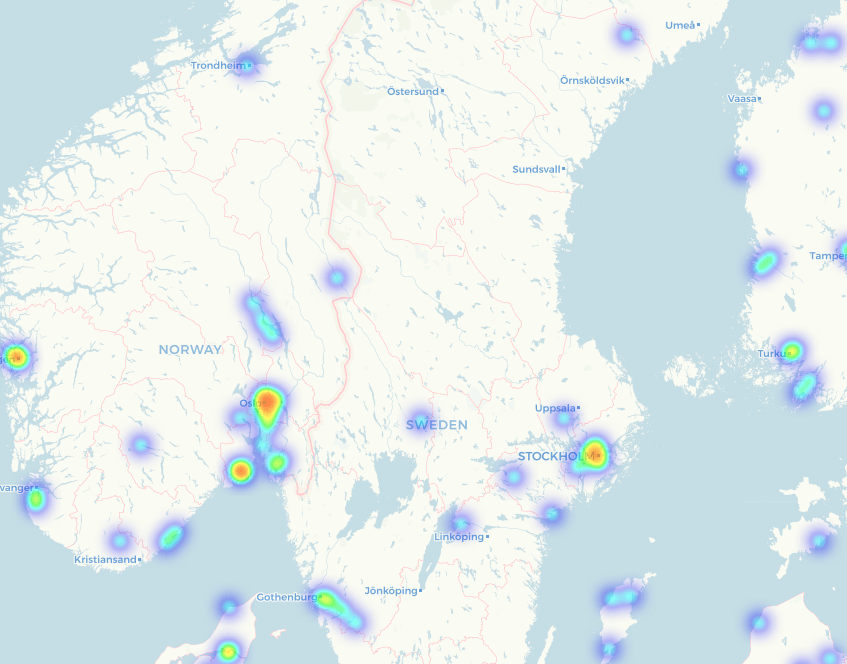 The colored sections indicate areas where there is heavier acceptance of Bitcoin
How do I cash out of Bitcoin in Sweden?
Any exchange with a Swedish Krona trading pair will allow you to sell your Bitcoin for fiat currency. Safello has SEK trading pairs for many popular coins.
LocalBitcoins is another option. Here, you can buy and sell Bitcoin for a wide range of payment methods, from gift cards to bank transfers. LocalBitcoins is a peer-to-peer (P2P) exchange, where you buy and sell with another individual. This does introduce a degree of risk, though by ensuring that you conduct all business on the platform, make use of its escrow services, and only trade with users who have a good reputation, you'll minimize any potential problems.
You could also use a service like eGifter to sell your Bitcoin for gift cards.