What is Electrum Wallet?
Electrum is one of the earliest Bitcoin wallets, having been introduced near the end of 2011. It is a lightweight, no frills wallet that's designed to be easy to use while also maintaining a high level of security.

Electrum supports a number of features, like hardware wallet support and the ability to set the Bitcoin transaction fee as well as rbf and childpaysforparent.
Heads Up!
Large amounts of bitcoins should not be stored on your Electrum wallet! If you want the most secure Bitcoin wallet then you will need to use a hardware wallet like the Ledger Nano X or TREZOR T.
You should always do research before downloading or installing any Bitcoin wallet.
With that in mind, it can be helpful to look at what type of cryptocurrency investor the Electrum wallet is designed for.
Who is Electrum Wallet Good For?

Electrum isn't designed for people just joining the blockchain space. It's meant for cryptocurrency traders and investors who already know how Bitcoin works. There are no animated guides or walkthroughs and the GUI has not changed much since the wallet was introduced nearly a decade ago.
People holding Bitcoin who want a feature rich wallet with lots of privacy settings will find Electrum useful.
How to Setup & Use Electrum
Download Electrum
The first step is to download Electrum directly from the official website.
Head to electrum.org and select 'Download' in the top right menu bar.
WARNING
You should type this URL into your browser address bar manually so you know you are going to the real electrum.org. Never follow hyperlinks on websites or emails. There are many third party websites that may be hosting a version of Electrum wallet that's been designed to steal any Bitcoin that gets sent to it. There are also fake Electrum sites as well.

Select the version of Electrum made for your operating system:

If you are using Windows, Windows may try to block the download, so just hit 'Details' then 'Run Anyway'.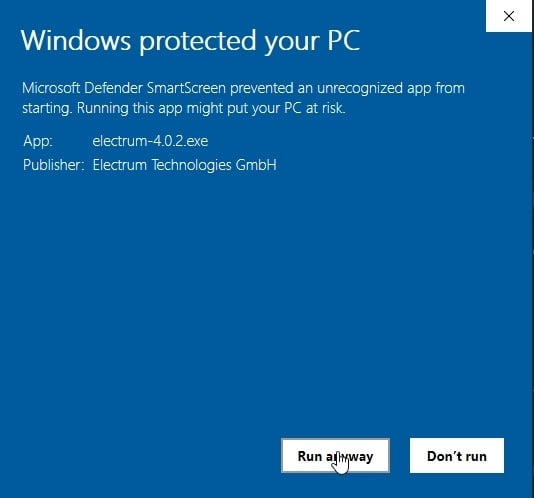 Install Electrum
After downloading the executable, open the .exe file to install the application.

Now follow these steps.
1. Name your wallet
Since Electrum allows you to have several different wallets within the desktop app, you need to give each wallet a name.
Give your new wallet a unique name here.
2. Choose 'Standard'
In most cases you will choose standard here (unless you know what the other options mean and specifically want that kind of wallet).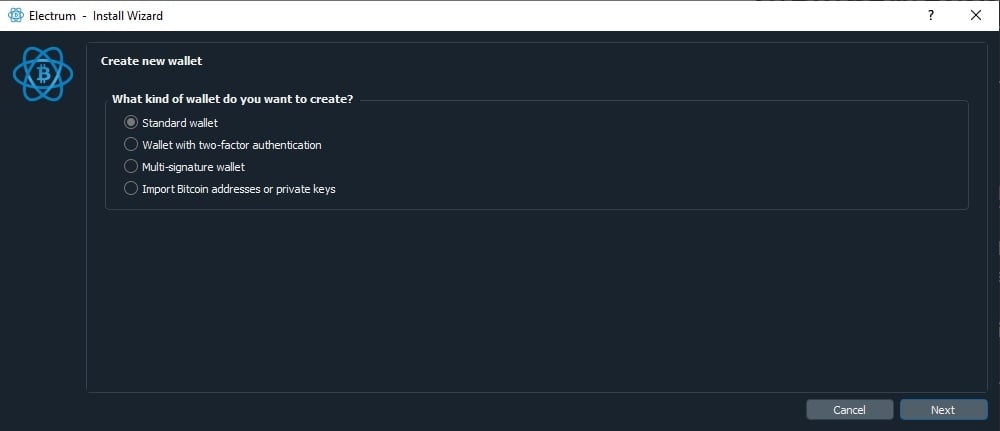 3. Select Keystore option
Here you have a few options. If you really want to create a new wallet, then you will choose 'Create new seed' - option 1.
If you are restoring an old wallet (because you lost it or it was stolen or destroyed), then you can do so via either a recovery phrase (12 to 24 words usually) - option 2 - or from a master private key - option 3.
You can also connect an existing hardware wallet, such a Ledger or Trezor, and use Electrum as your wallet managing software - option 4.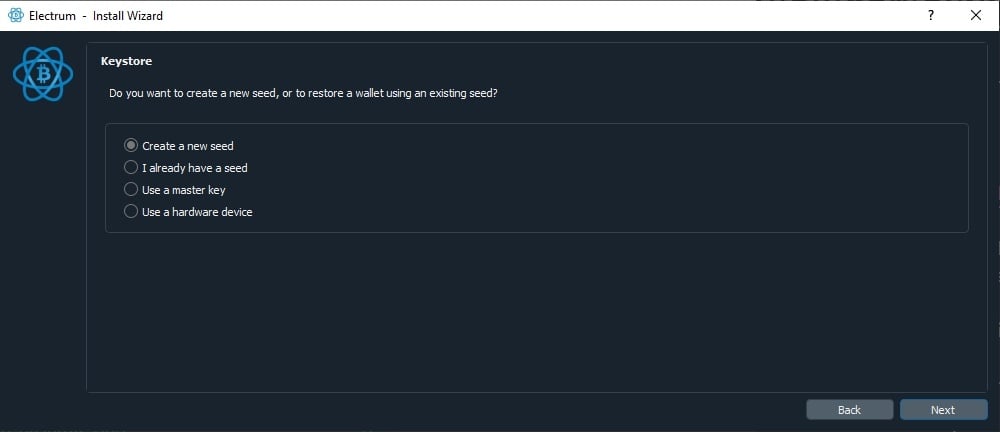 Managing volatility is a huge hurdle for investors - dollar cost averaging helps
4. Choose Legacy or Segwit
This is a matter of preference.
If you are doing a lot of trading on an exchange that supports Segwit addresses, then you'll want to choose Segwit, as transactions are cheaper using Segwit addresses.
However, a lot of exchanges do not yet support Segwit addresses yet, and so you would need a Legacy address to transfer BTC to those.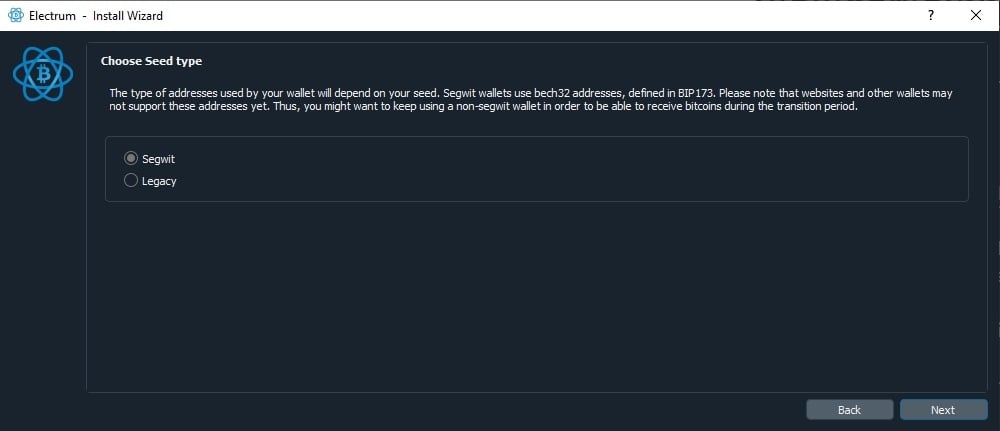 Legacy is more flexible. Segwit has cheaper fees.
5. Write Down Seed Phrase
Write down your seed words. You will need these in case your wallet is ever lost, destroyed, or stolen.
If you do not have either the seed phrase of the master key, you will not be able to get your coins back.
WARNING
Never write down these words on an internet connected device like your phone or laptop (or any electronic device). Do not screenshot the recovery words either. If someone hacks your phone or finds the recovery phrase, they can take all your coins on the wallet. These words should be kept on paper or preferably on one of Privacy Pro's Billfodl steel backup devices.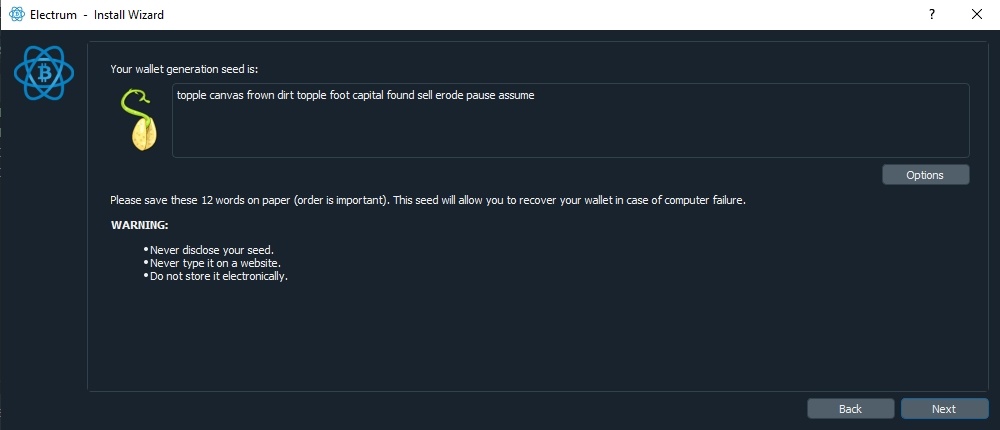 6. Confirm Seed Phrase
Input the seed phrase you just wrote down into this box to confirm you copied it correctly.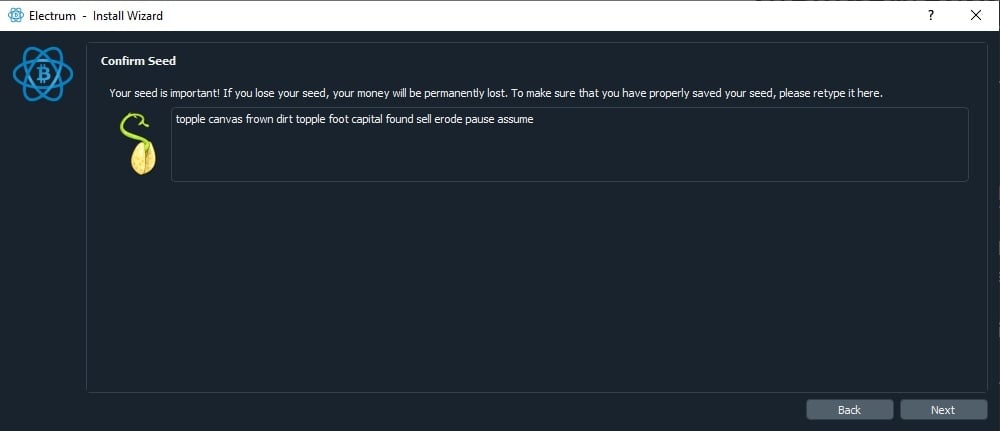 7. Encrypt wallet
This step is optional, but recommended.
Here you can encrypt the wallet so that if someone ever gets access to your desktop, they will need your password to access the wallet.
It's just one more way to protect your coins - just don't forget what the password is because there is no one to call to reset it.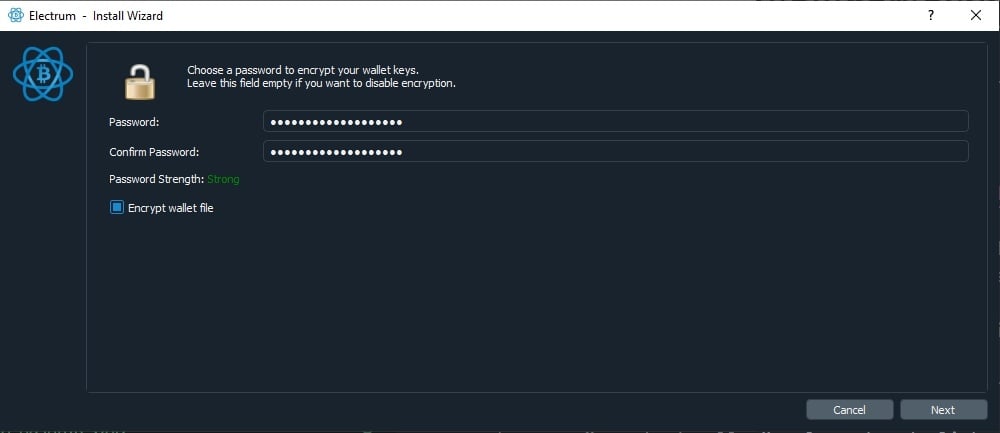 That's it, the wallet is now set up and you can begin using Electrum.
Can you Buy Bitcoin on Electrum?

Electrum does not support the buying or selling of cryptocurrencies. As mentioned, it's a simple wallet designed to safely store Bitcoin.
You can buy bitcoins on an exchange and send them to your Electrum wallet.
Try buying other ways: with ACH in the USA, or Skrill in Europe.
How to Get an Electrum Address
Getting an Electrum address is simple. All you need to do is open the wallet and click on "Receive."
Then select "Request" and a Bitcoin address will appear on the right.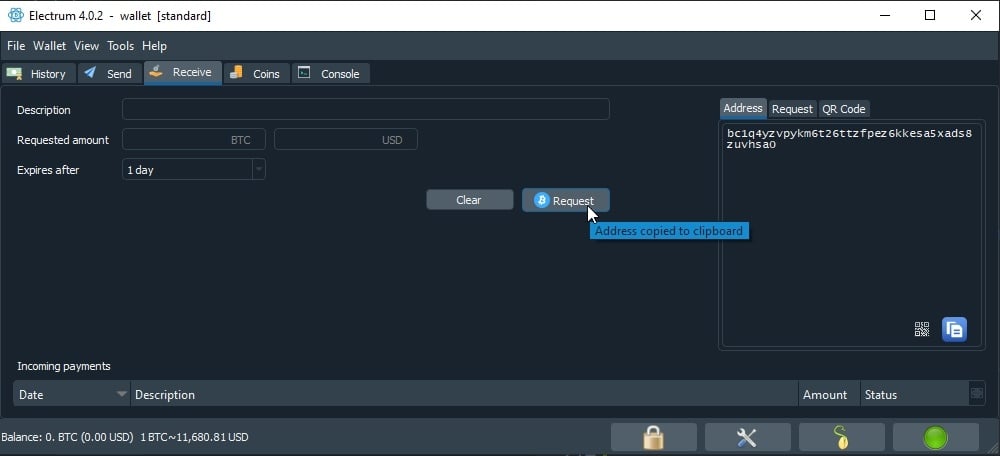 Request a specific amount
You can also select a specific amount of Bitcoin when you generate an address and add some meta-data like a description for the transaction as well as an expiry date for the transaction.
After you hit 'Receive', the address will appear in the right-hand side box and you can hit the copy button to copy the address to your clipboard.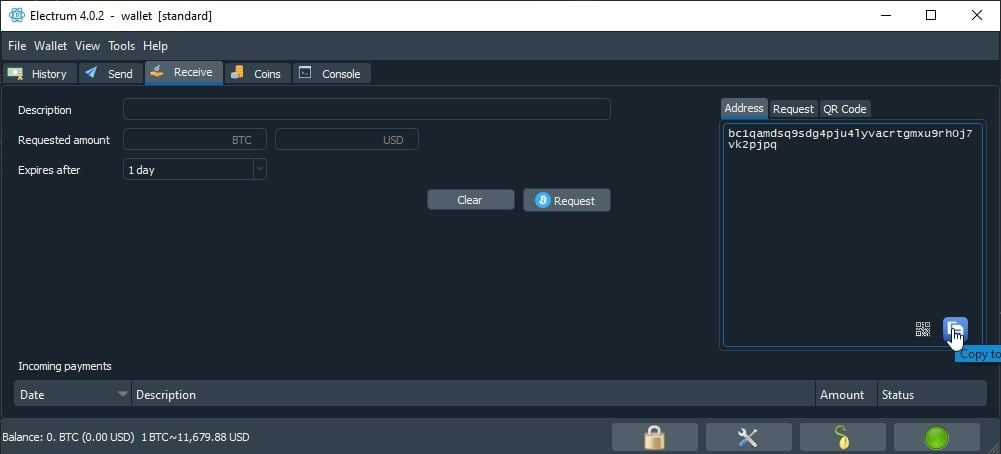 You can also generate a QR code that includes all the expiry data and description information within it. This can be shared with the person paying you so make it easy for them and prevent making mistakes.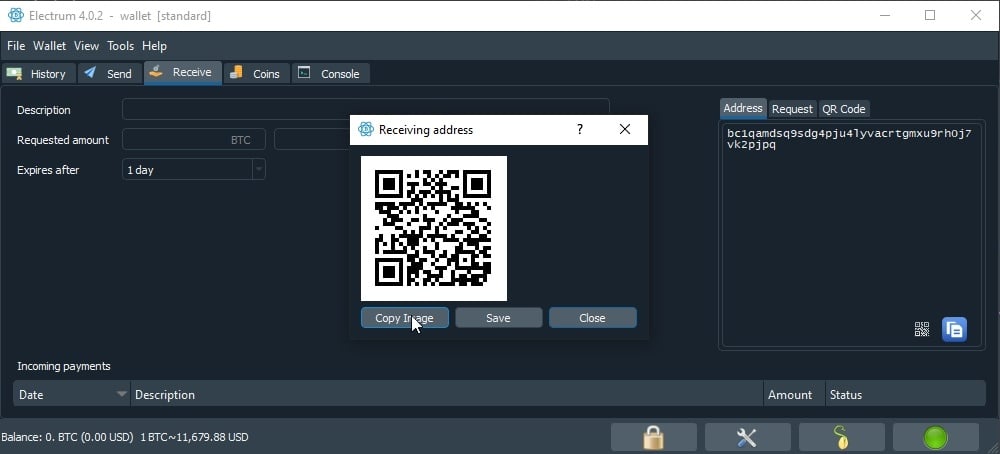 You can send any amount of Bitcoin to these addresses. Just make sure that you have your seed phrase backed up in redundant locations before you use Electrum to store significant amounts of Bitcoin.
What Platforms Does Electrum Support?
Electrum will run on MacOS, Windows, and Linux operating systems for desktop and is now supporting Android devices. See above for a list.
Electrum also supports any valid Bitcoin transaction, regardless of where it originates from. Whether you're receiving a transaction from a person, an organization or a business, so long as it's being broadcast on the Bitcoin blockchain, Electrum can support it.
Is Electrum Safe?

For the most part, yes. Electrum has a proven security record and the wallet itself has never been hacked. What has been hacked, however, is the update mechanism.
Through the use of a sophisticated DoS attack, hackers were able to push a recommendation to Electrum users that they update their wallet. Unfortunately users who clicked on the link to update ended up downloading a malicious version of Electrum that stole all of their funds.

Millions were reportedly lost to this scam before Electrum was able to shut it down. While this event was very unfortunate, as already noted it only affected users who downloaded a new version of Electrum, the wallet itself was not compromised.
Unfortunately a similar attack was replicated in 2019 as well.

These attacks rendered any Electrum version older than 3.3.4 totally vulnerable. So much so that at the top of Electrum's website there is a warning to bring it to your attention. The current release is 4.2.1 and the site recommends that you verify the installion of the distributed files using GPG signatures explained on their website. This insures that the files have not been compromised.

So with this in mind, Electrum is safe provided that you keep your seed phrase safe and only ever download new versions of Electrum directly from the website. Be extremely skeptical of any message pushing you to update which originates from within the Electrum wallet.
What Coins Does Electrum Support?
Since its inception in 2011, Electrum has only ever supported Bitcoin and it's likely to stay that way for the foreseeable future.
If any other coins were ever to be supported the most likely candidates would be Bitcoin Cash or Litecoin, which run on code similar to Bitcoin's.
How to Backup Electrum Wallet
Backing up an Electrum wallet is simple. As mentioned, you should write down the seed phrase when you first create an Electrum wallet. The seed phrase is the best backup for an Electrum wallet.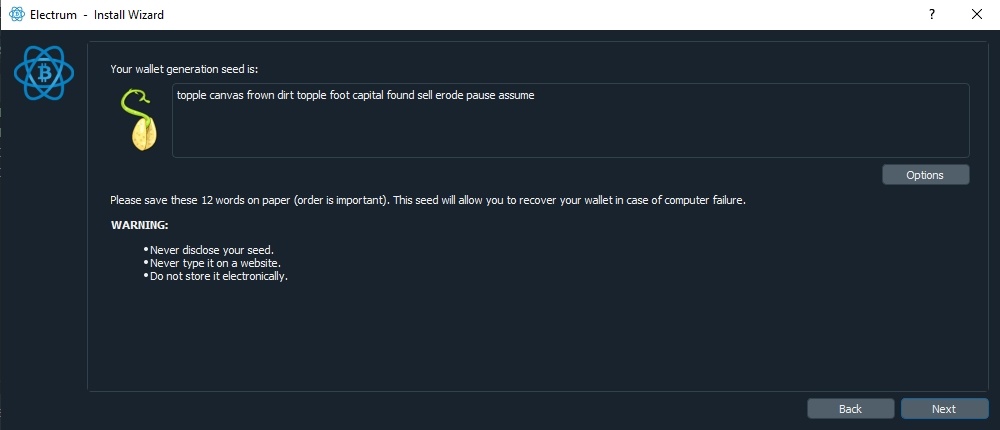 After creating the wallet you can also backup your private keys. To do so click on "wallet," select "private keys" and then "export."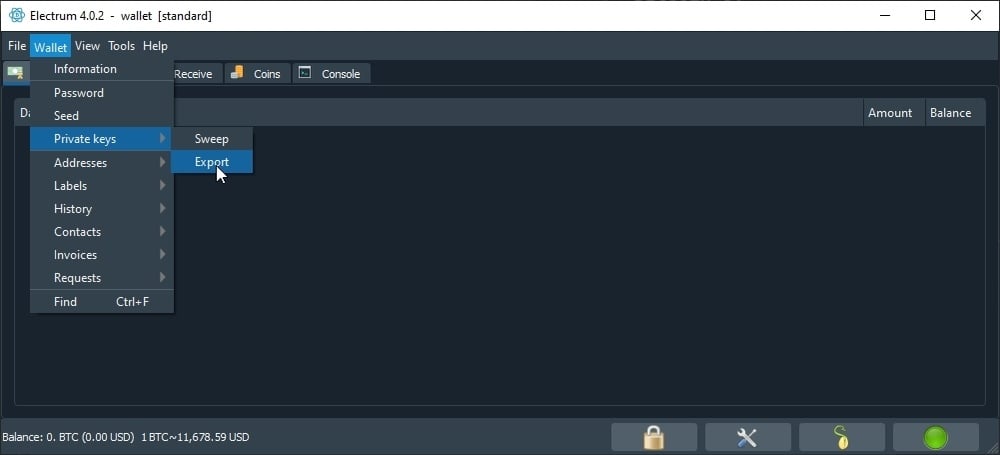 Ideally, these private keys should only be kept on a cold device (one not connected to the internet) like a clean, never used USB thumb drive.
Finally, if you forgot to write down your seed phrase when you created your wallet you can view it by clicking on "wallet" and then "seed."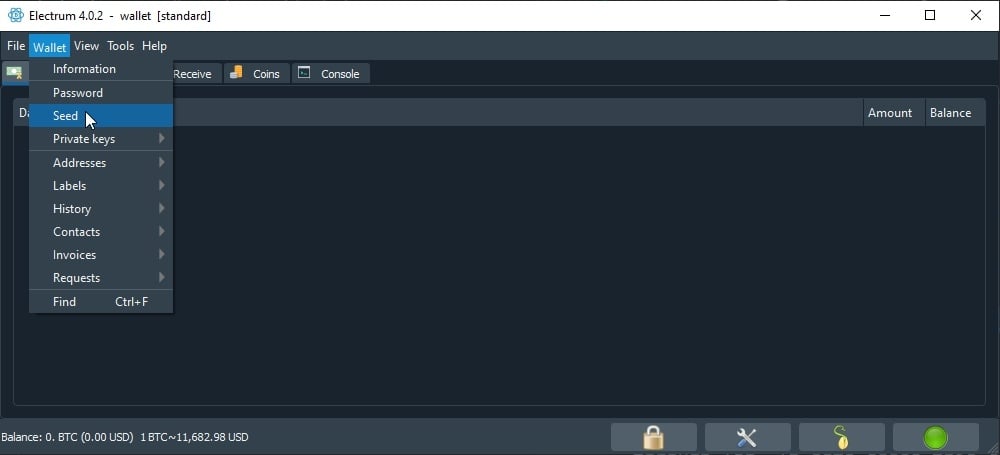 If you have set up password encryption on this wallet, you will need to enter your password to view the seed again.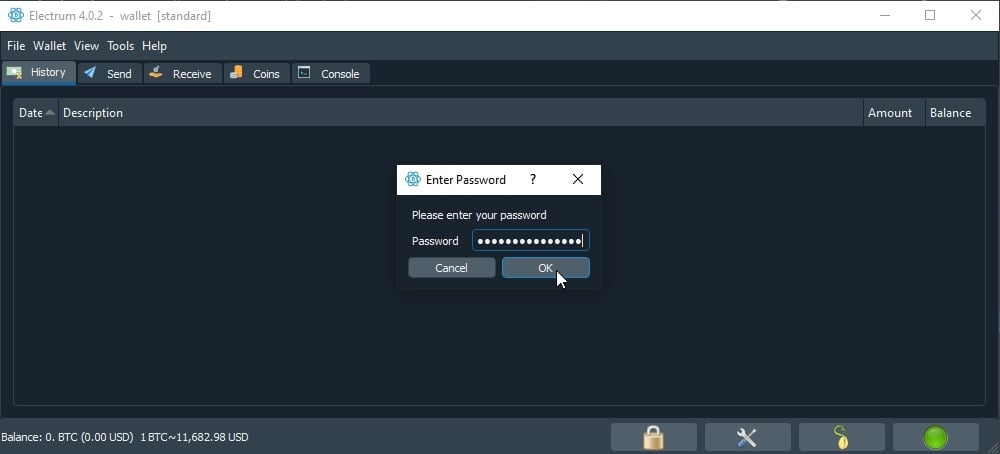 Now you will be shown your seed. Once finished, hit close.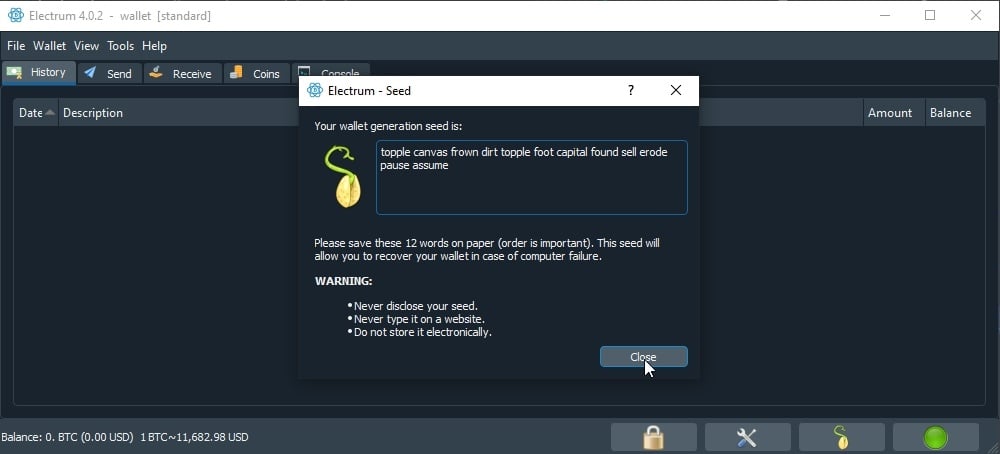 Which Countries Does Electrum Support?
Electrum supports all countries. It is just software that can be installed on a computer.
'Electrum Server Did Not Answer' Error - What is it?
This error message happens when the Electrum wallet is having trouble connecting to a server. One possible reason is that a user is connecting through Tor. In some cases this can cause a delay in connection between the wallet and the server.
To fix the problem try connecting without Tor. Also, in the bottom right hand corner click on the red or green bubble.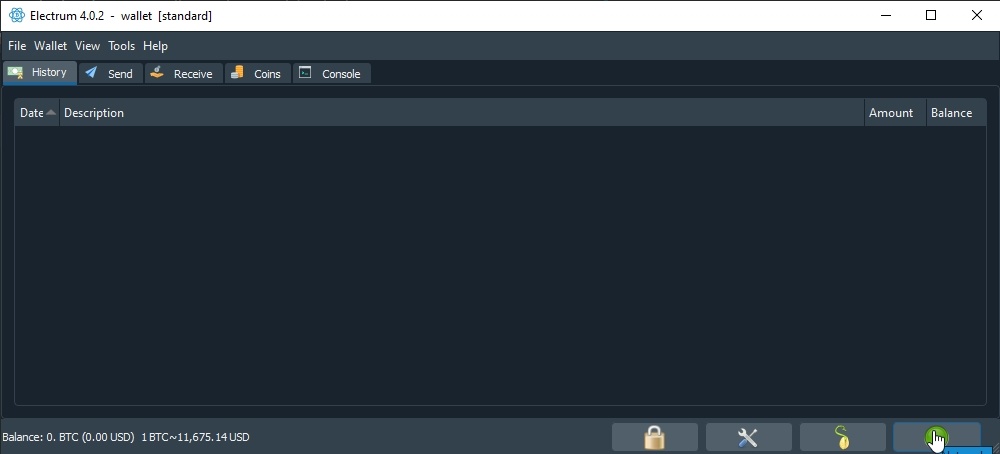 In the 'Overview' tab, unclick "Select server automatically."

Now try selecting different servers until the Electrum wallet connects.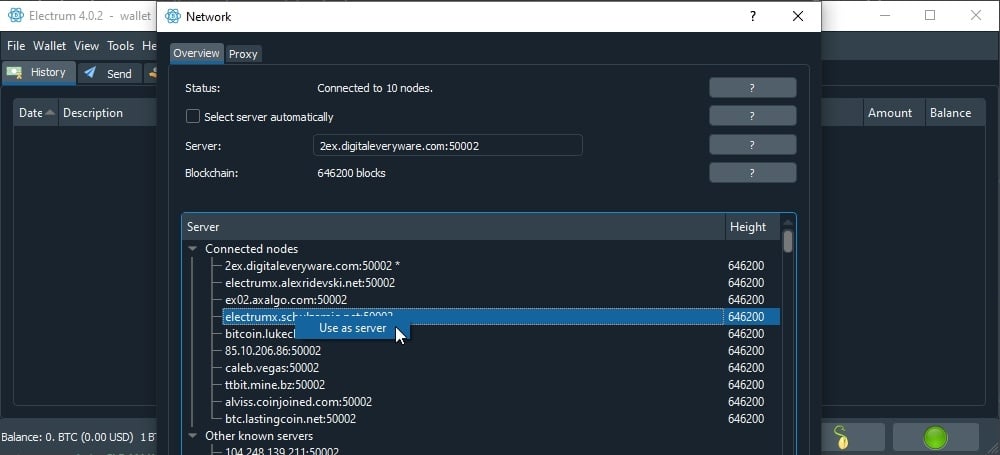 You will know the server is working when the bubble on the bottom right turns from red to green.
How Does Electrum Calculate Transaction Fees?
To calculate transaction fees, Electrum takes an average of all transaction fees paid recently on the Blockchain network and then analyzes how long it took for a transaction to be included in a block.
Using these historical averages, Electrum is able to make a fairly accurate prediction of what size fee is required for a transaction to go through.
For the most accurate estimations though, you can use our transaction fee estimator and calculator tool.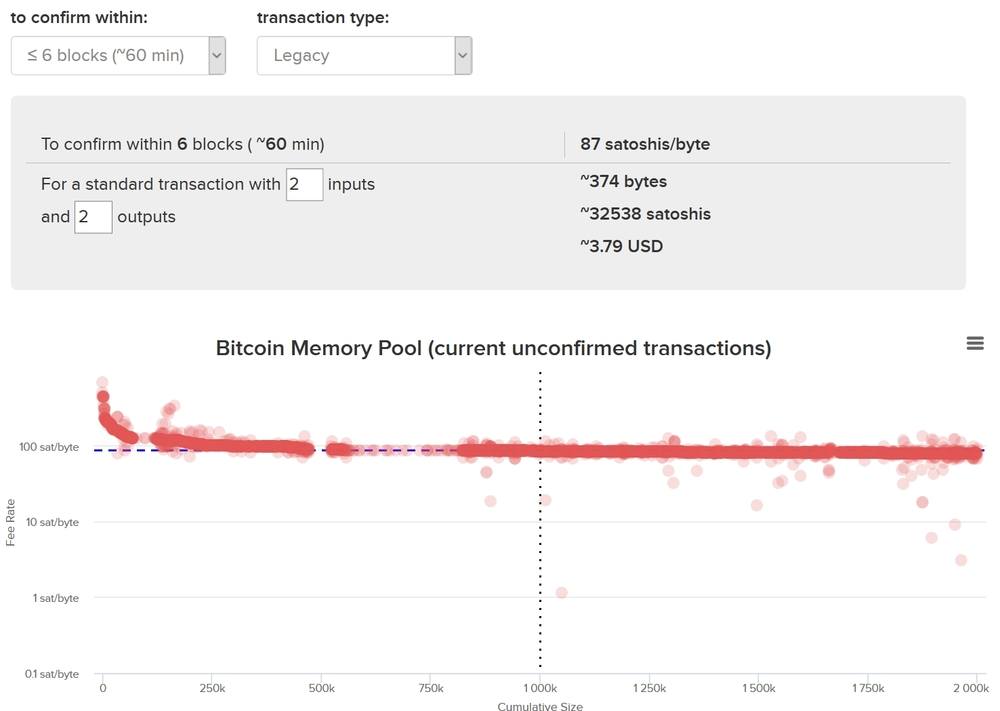 It's important to realize, however, that these are only estimates and if a transaction must clear immediately it's always better to pay a bit more. Also, if a transaction is not confirming fast enough it's possible to increase the fee so that it's included sooner in a block. A full guide on doing so is available here.
How to Restore Electrum Wallet
To restore an Electrum wallet you should have your seed phrase. After that follow these steps.
Just as we did when we set up our electrum wallet,
Download Electrum from the official website
Run the .exe file
Give your wallet a name
Select 'Standard Wallet'
Then when we get to this screen, we are going to select, 'I already have a seed'.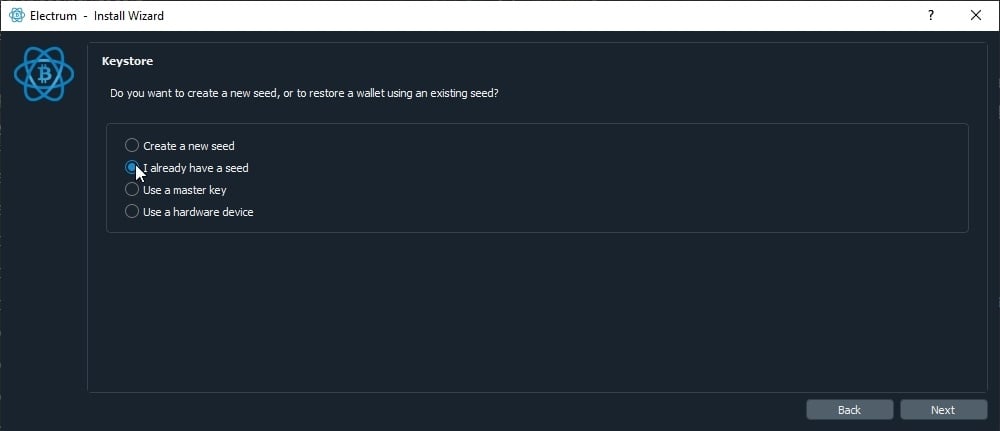 Then, input your seed.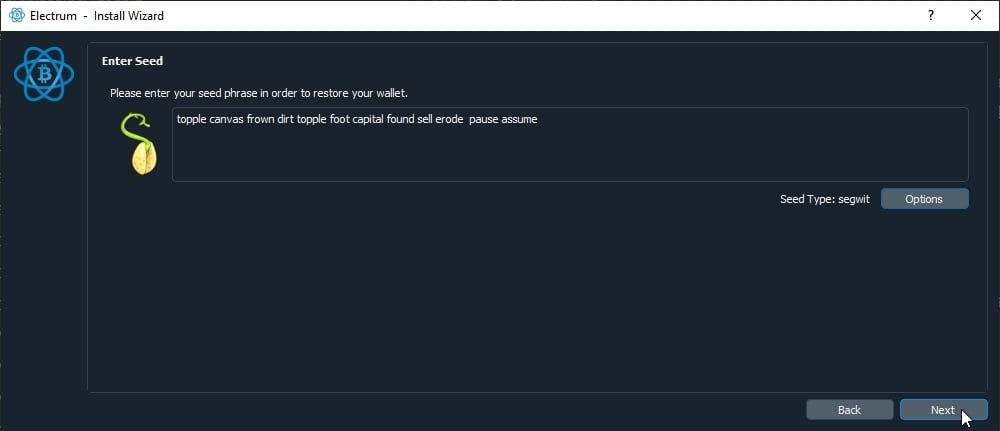 Then, encrypt the new wallet with as password (if you want to - this is optional)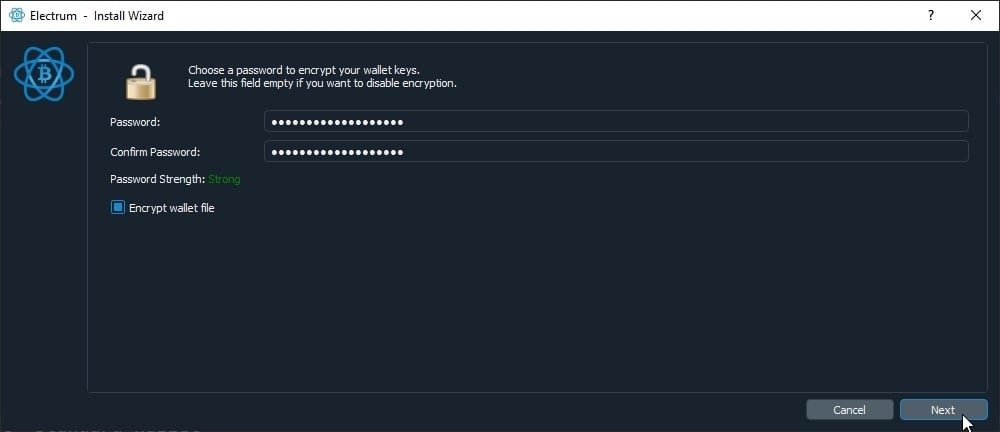 That's it, Electrum will automatically import your wallet and your Bitcoin.
How to Get Bitcoin Cash From Electrum Wallet
The best way to claim Bitcoin Cash is to import the private keys from your Electrum wallet into an Electron Cash wallet.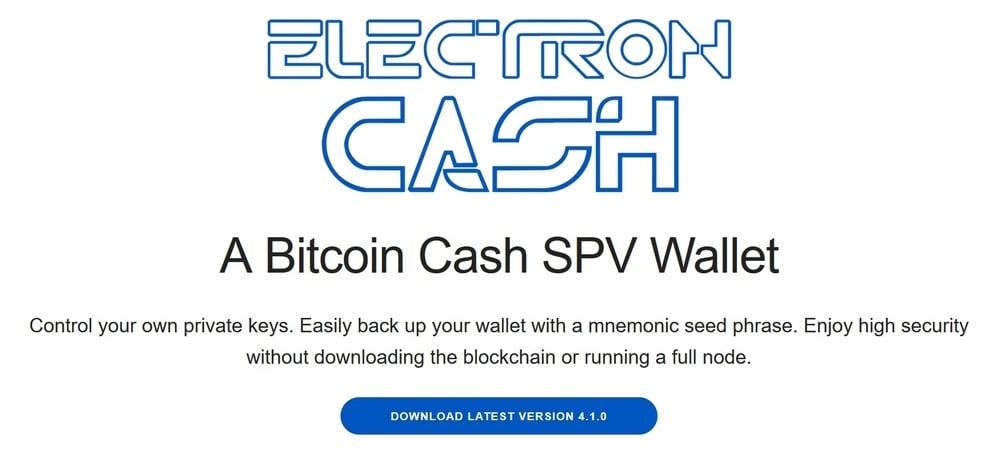 Electron Cash supports Bitcoin Cash and can be used to access any BCH which a user has from the fork. A full guide on how to get Bitcoin Cash is available here.
What is the Electrum Public Key?
The Electrum public key is derived from the private key and is used to generate wallet addresses. Another use case is for encryption. Someone can use a wallet's public key to encrypt a message which can only be decrypted by someone with the private key.
Altogether though the public key is mostly a backend feature and most traders and investors will never have a reason to use their public key.
How to Update Electrum Wallet
As mentioned already in this review, the best way to update Electrum is to download a new copy of the wallet directly from Electrum's website.
Simply download the .exe file and follow the prompts. Updating Electrum should only take several minutes.
Which Hardware Wallets Work with Electrum?
The Ledger Nano S and Ledger Nano X are the best hardware wallets to use with Electrum. A guide to using these hardware wallets with Electrum can be found on Ledger's website.
How to Send Bitcoin from Coinbase to Electrum
Sending Bitcoin from Coinbase to Electrum is simple and should only take a few minutes.
1. Get a receive address on Electrum
As laid out in the section above, generate an address in the 'Receive' tab of your electrum wallet.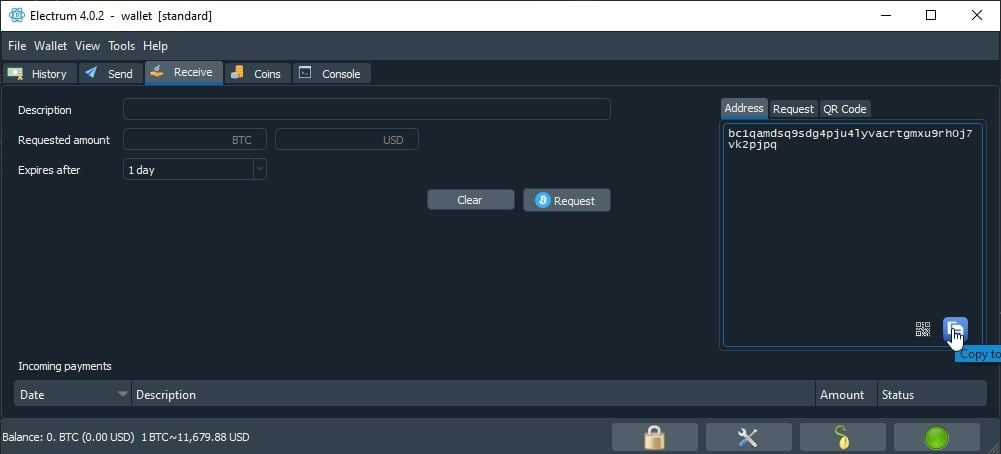 Copy the address.
2. Go to Coinbase
Select 'Send/Request' in the Coinbase dashboard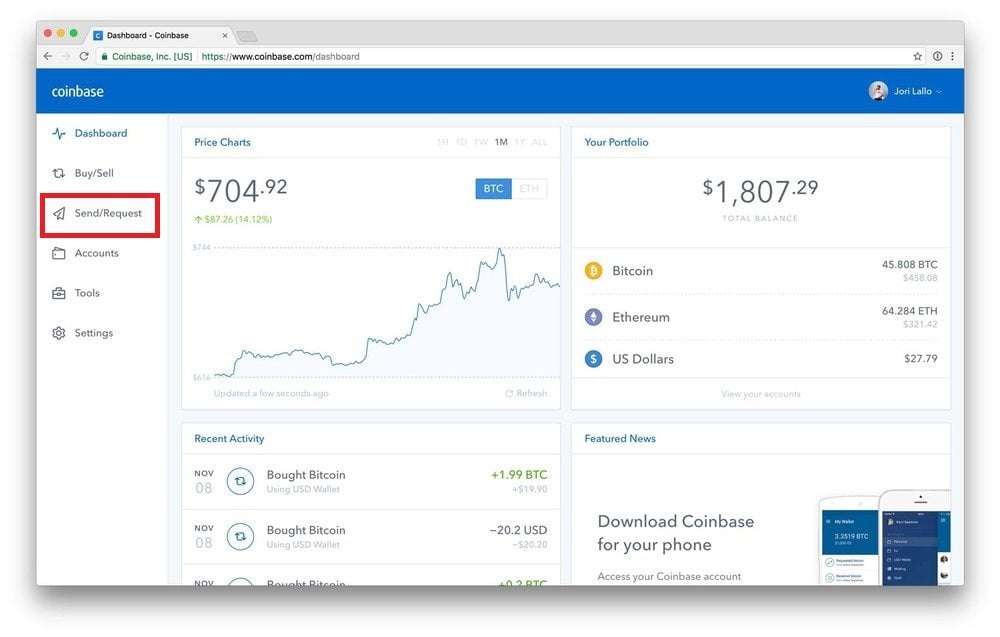 There should be a field to input your wallet address copied in step 1. Paste it there.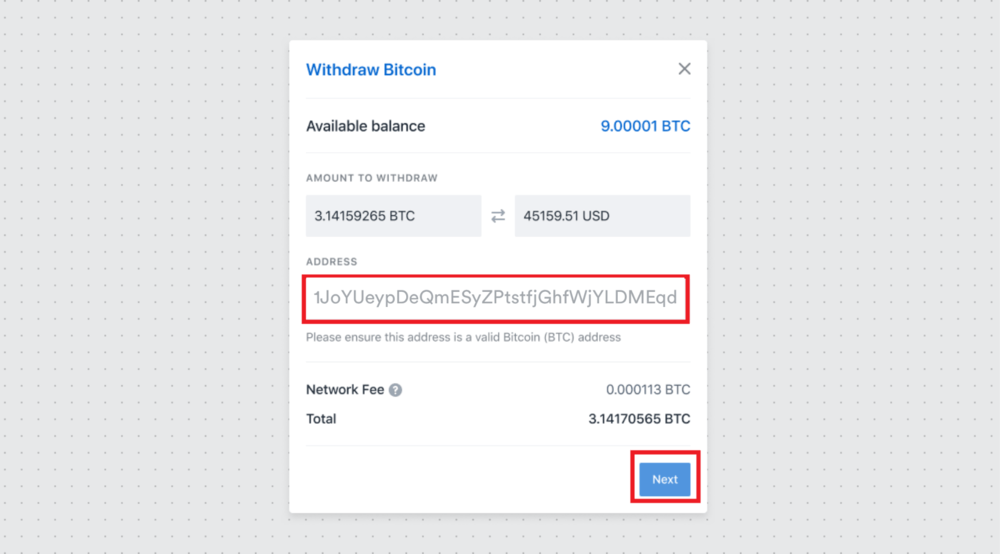 3. Confirm and Send
Confirm that the address is right and then hit send.
Depending on how congested the Bitcoin network is, the transaction might appear immediately in Electrum or it could take up to an hour or two.
How to Send from Electrum to Blockfi
Many want to earn interest on Bitcoin, including Electrum users. Just paste your Blockfi deposit address into Electrum, and send the BTC.
Bitcoin core vs Electrum
The biggest differences between Electrum and Bitcoin Core is that with Bitcoin Core you must download the entire Bitcoin blockchain. That's because the Bitcoin Core wallet is a full node wallet, allowing you to personally verify all your transactions on your own.
You can do this with Electrum too, but you don't need to download the entire blockchain if you don't want to (though you should).
Electrum is also easier to use than Bitcoin Core.
However, it is MUCH easier to download an unsafe version of electrum due to phishing and scam versions of the software (or downloading an old version that is no longer safe). Bitcoin core are far easier to get right in this regard, so know you own limitations when choosing between the two.
Does Electrum Support Ethereum?
No, Electrum only supports Bitcoin, and they have not announced an intention to support any other altcoins at this time.
Latest Electrum Version - 4.1.5
The latest release of Electrum is 4.1.5 (July 19, 2021)
It includes the following fixes:
Disk Image files (.dmg) in MacOS binary builds are now reproducible, meaning you can verify that the app builds the way it is supposed to.
Fixed an issue with paying bip70 invoices on Kivy/Android devices
Fixed an issue where payment requests were not saved if the request process is killed
Improved payment success when using trampoline to make lightning payments
Added support for the signet test network
Now allows restoring from SLIP39 seeds
QR code scanning reworked on Windows and macOS devices
User Interface now supports smaller window sizes
Added a "funded or unused" filter option to the Addresses tab
Review by: Jordan Tuwiner
Rating: 4.9