Pros
Screen offers extra protection and verification
Second generation of TREZOR
Cons
High price tag may put it out of reach for some
The TREZOR Model-T is a second generation Bitcoin/Altcoin hardware wallet manufactured by SatoshiLabs. The TREZOR line debuted in 2014 with the TREZOR One (T-One) and has remained one of the most popular cryptocurrency hardware wallet solutions to date. The Trezor Model T supports over 1,800 coins and tokens.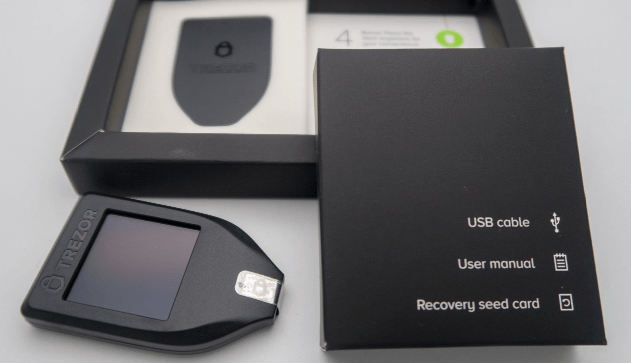 The footprint of the Model-T is similar to the T-One, with the biggest differentiator being the color touchscreen and lack of physical buttons. The Model-T's firmware (dubbed TREZOR Core) was written from scratch to further optimize security. As with the T-One, this hardware wallet is designed to be used safely even on malware infected devices (although this is not recommended).
TREZOR T Price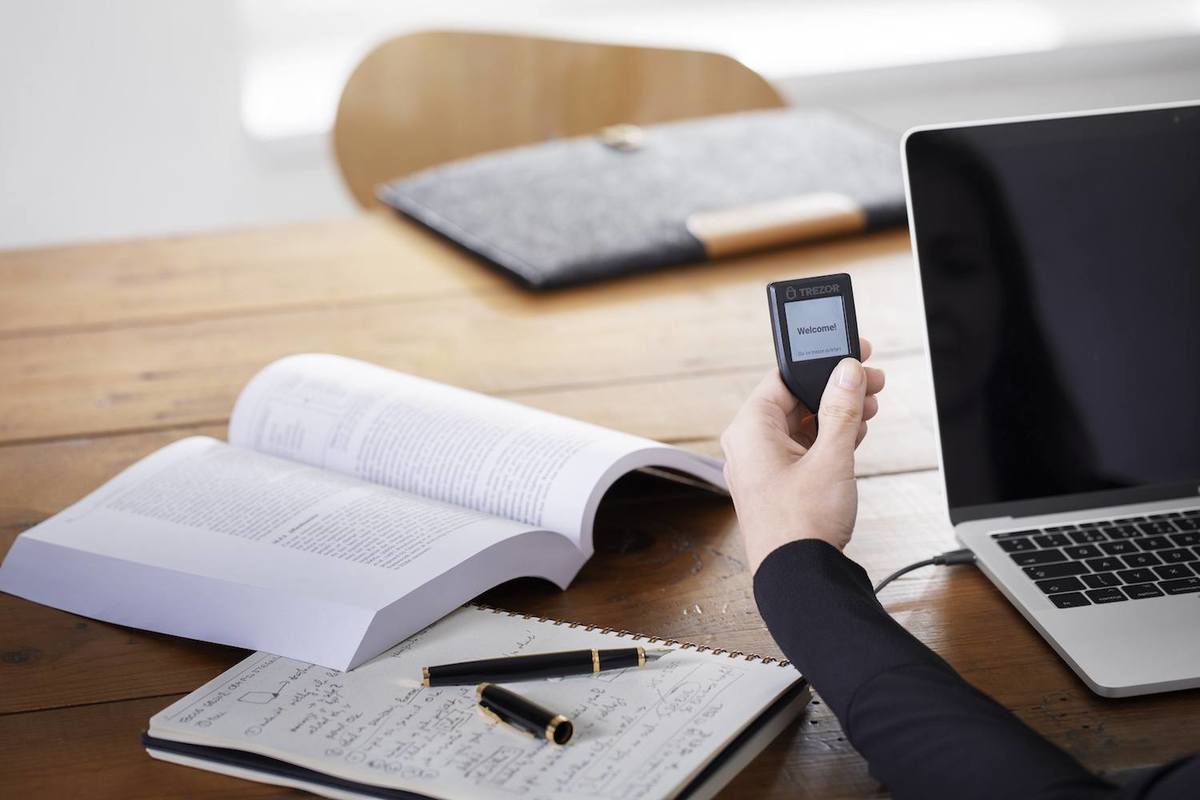 At the time of this review the Model-T costs $255 USD or 249EUR. This price tag is steeper than the popular Ledger Nano X. The inclusion of a color touchscreen makes the Model-T competitively priced.
Due to the popularity of the Trezor products, they are often out of stock and may have delayed delivery, so check when placing an order.
Make sure you NEVER buy a TREZOR or any other hardware wallet from eBay.
Only buy from the TREZOR store, PrivacyPros.io, or any other authorized reseller.
Here is the TREZOR T compared to the other three popular Bitcoin wallets:
Security
TREZOR has a reputation for providing industry leading security for Bitcoin (BTC) and other cryptocurrencies, protecting against both physical as well as virtual theft.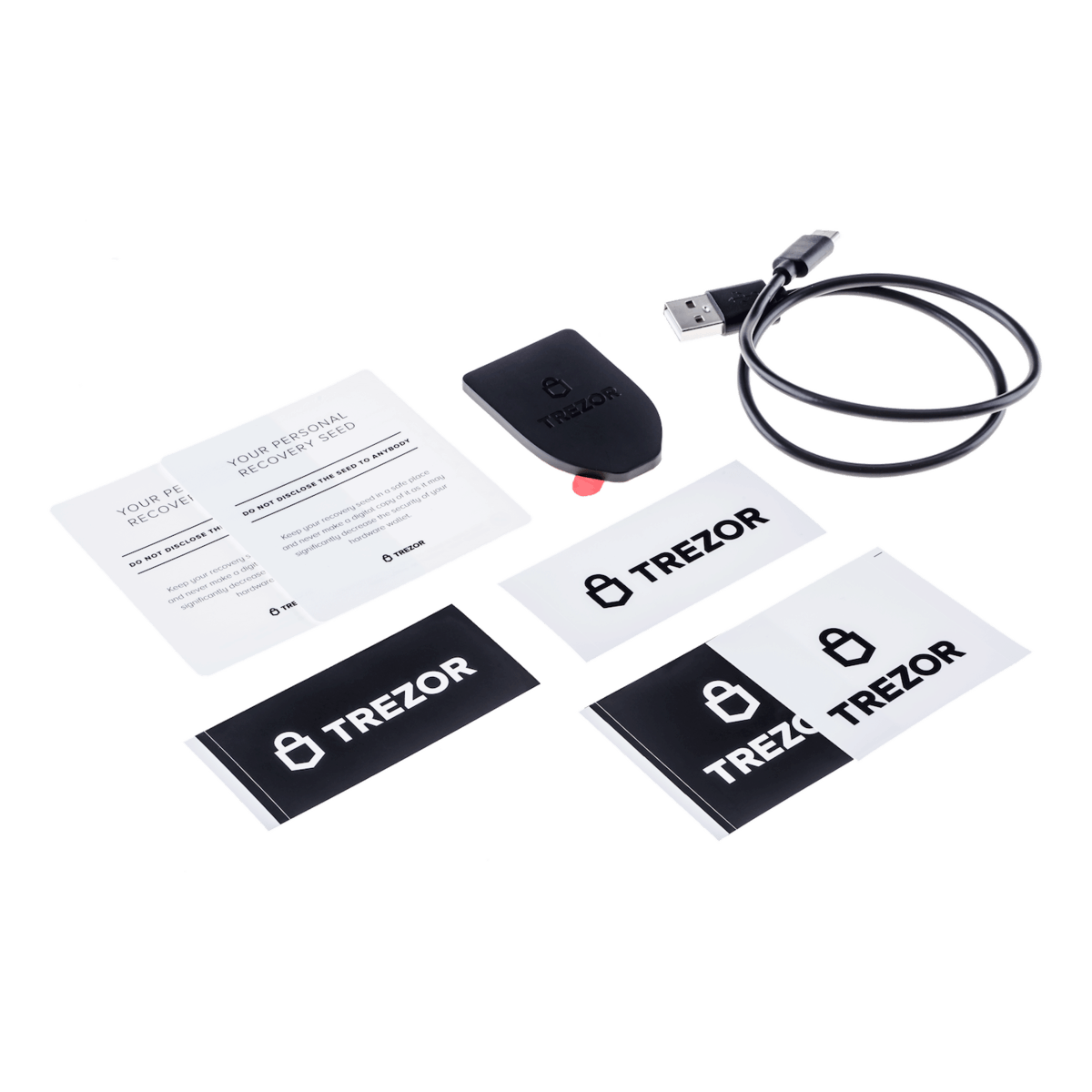 TREZOR is a hierarchical deterministic (HD) wallet where you control the private keys, so an entire wallet can be backed up with the 12-word recovery seed. The original 12-word seed is generated using random generation from the device and the computer. The seed is generated offline and displayed on the TREZOR's screen, which ensures that the seed is never on an internet-connected device.
You can recover the entire wallet with the 12-word seed in the event that your TREZOR is lost or damaged. Recovery can be done with another TREZOR or with other software wallets like Electrum on Android/Desktop or Mycelium.
The Model-T ships with a tamper proof seal over the USB-C port that leaves holographic residue on the device when peeled away. We attempted to remove the seal as carefully as possible but were unable to do so without it being evident. While the seal shows to be good tamper-proofing it is worth repeating that you should only ever purchase crypto hardware wallets directly from the manufacturer or an Authorized reseller like PrivacyPros.
A PIN code is required on initial setup as well as for spending.
The PIN number layout on the device shuffles at each prompt for added security. Additionally, the TREZOR T does not share PIN info with the computer. The old TREZOR shared PIN info–like the PIN length–but the TREZOR T does not.
TREZOR's screen allows you to confirm that you're sending to the intended recipient, but this does not prevent against phishing attacks (whereby you are provided an incorrect address on your computer screen).
A full overview of how TREZOR handles security threats can be found on the SatoshiLabs website. The firmware for the Model-T has been completely re-written from scratch for enhanced security over the T-One. The code is open source and can be reviewed on GitHub.
Because of this, though, there have been issues with the TREZOR T firmware that don't affect the TREZOR One.
TREZOR has also started an initiative to develop its own open-source secure element chip. This project is called 'Tropic square' standing for "TRuly OPen Integrated Circuit". One reason TREZOR does not use a secure element, like the Ledger Nano X does, is that all secure elements are closed source. This means you must trust the hardware manufacturer not to create a back door.
TREZOR is trying to solve this by creating one that is open-source like the rest of the TREZOR stack.
Altcoin/Token Support
In addition to Bitcoin (BTC), the Model-T supports Monero, Bcash, Bitcoin Gold, Dash, Litecoin, Bitcoin Cash, Zcash, NEM, Ethereum (ETH), Ripple (XRP) and Ethereum Classic, as well as hundreds of other coins (1,816, to be exact).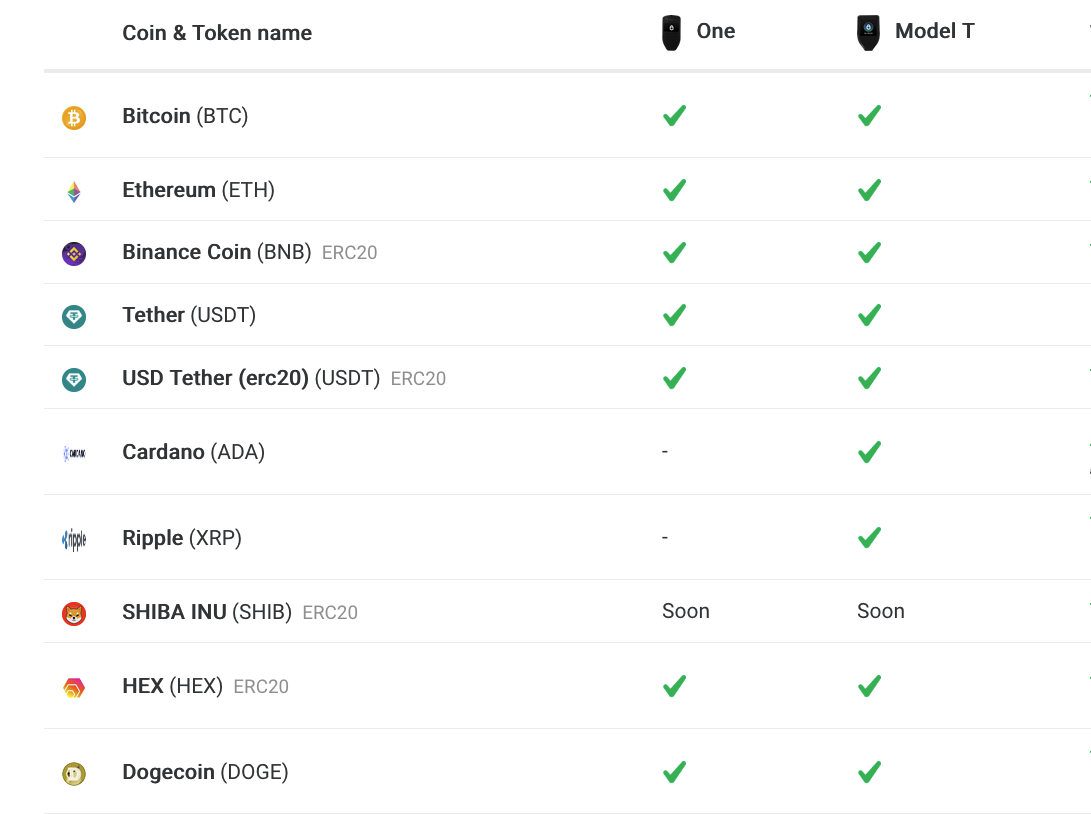 Passphrase
The TREZOR T's best security feature is its ability to allow the user to enter the BIP39 passphrase on the device's screen.
This was not possible on older TREZOR devices.
Setup & Initialization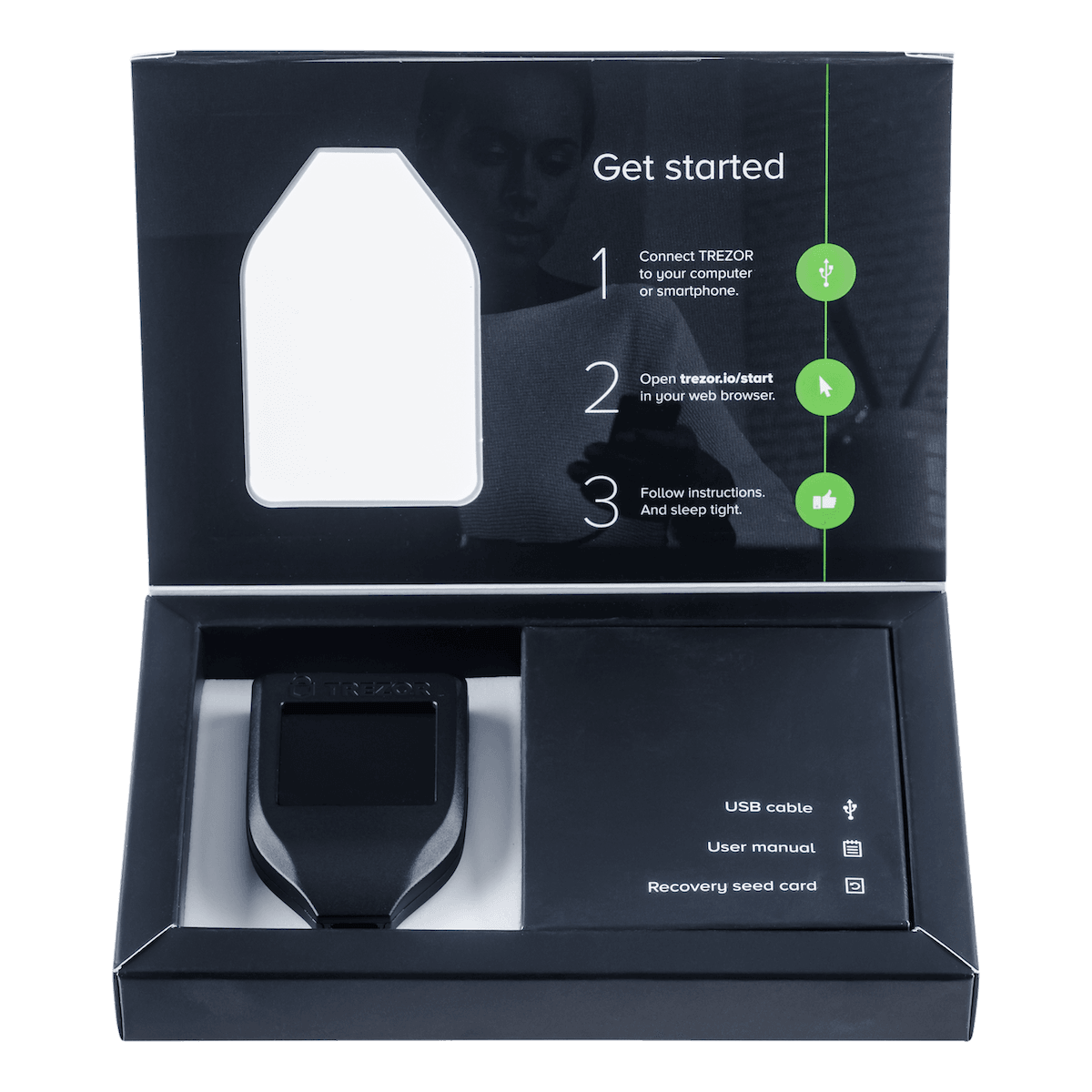 The Model-T is compatible with all major operating systems and works with up to date versions of both Chrome and Firefox. Per the 4-step instructions on your device packaging:
Connect TREZOR to your computer or smartphone.
Open trezor.io/start.
Choose the Model-T option & follow the on-screen prompts.
Once the device firmware has been updated the Model-T will reboot and ask you if you are setting up a new device or if you want to recover a pre-existing wallet. If you choose to generate a new wallet, the device will process your request.
Now it is time to backup your wallet and create your recovery seed. Click the "Create a backup in 3 minutes" prompt and follow the prompts to write down your seed and then verify it.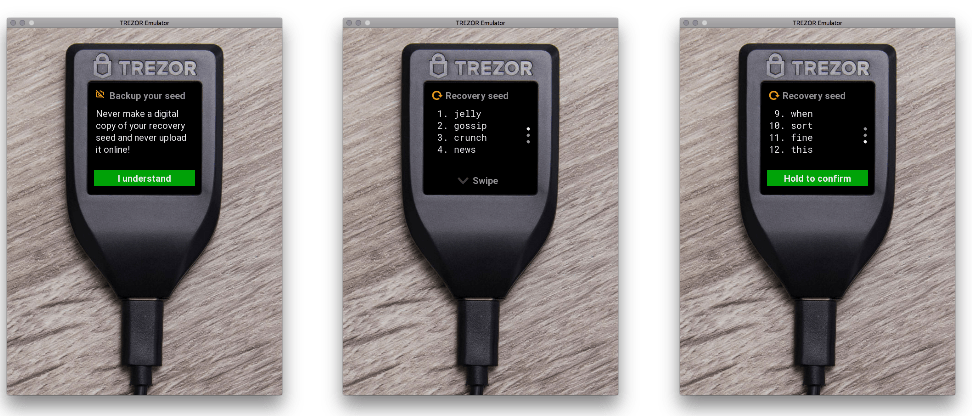 Store the recovery seed in a safe place and do not share it with anyone. It is also advised to never save your recovery phrase in digital format or to take pictures of it.
Remember, your device is only as secure as your recovery seed. If this falls into the wrong hands they can import your wallet and sweep your funds.
Next, you'll configure a 4 to 9 digit access PIN. This PIN is your security mechanism should the physical device be stolen, so be sure to set it to something unique and ideally with more than the minimum 4 digits.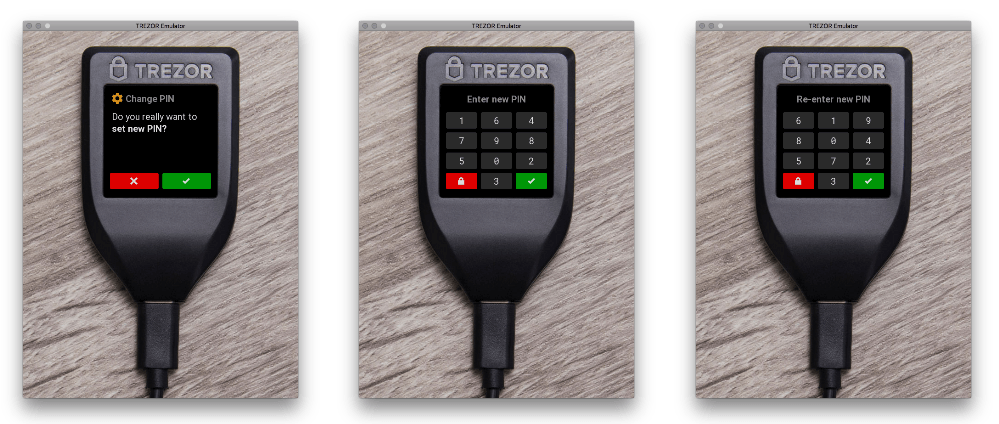 TREZOR T Backup Seed
You backup your TREZOR T by writing down 24 words. These 24 words can then recreate your TREZOR wallet in the event your TREZOR is lost, stolen or damaged.
The TREZOR also has the unique ability to restore a wallet from a seed on the device itself.
The TREZOR comes with paper to write down the words: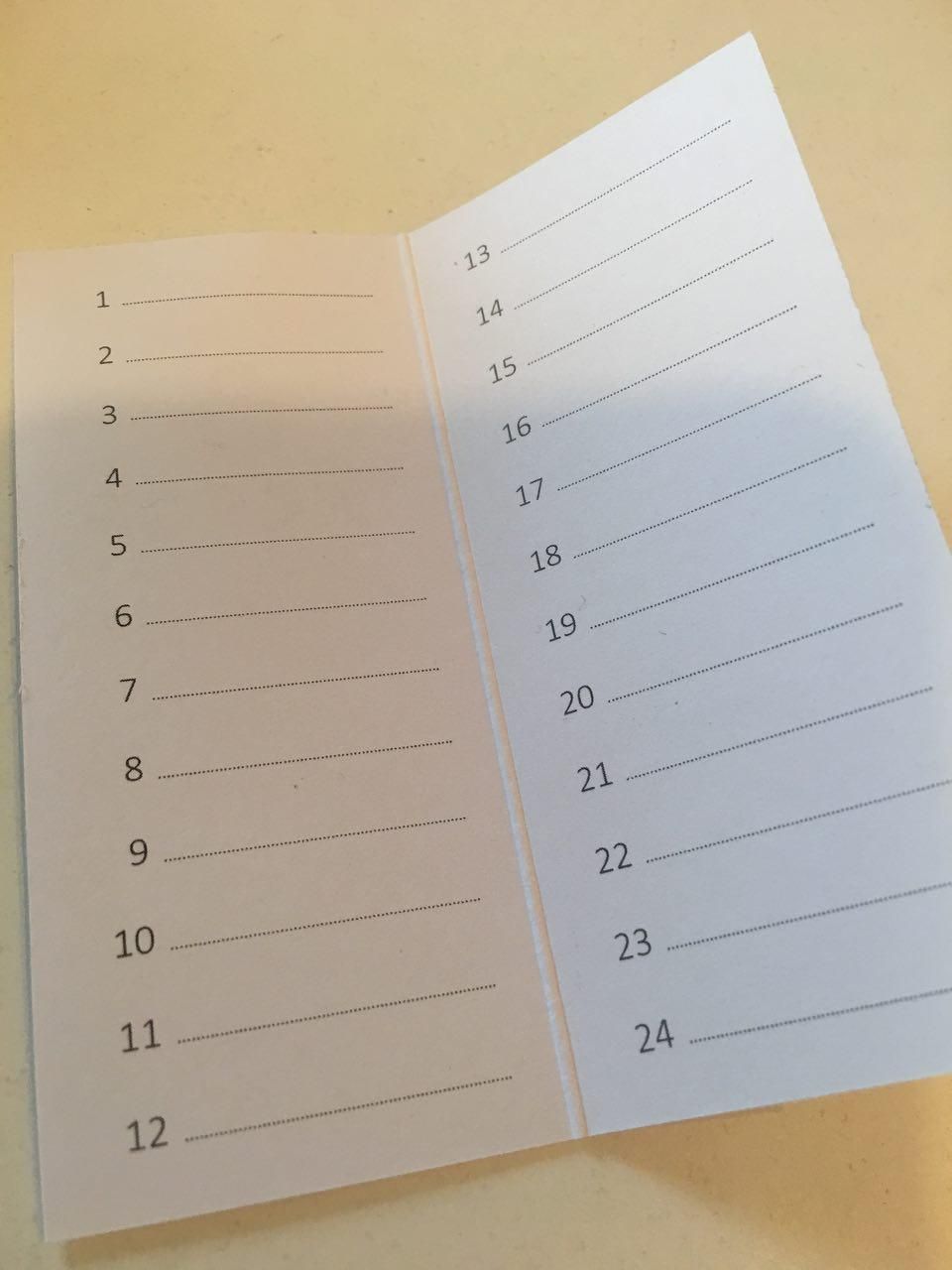 For the extra paranoid user, you may want to store your seed in a fireproof safe. Or, get something like the Billfodl from Privacy Pros.
The Billfodl is stainless steel backup solution. It allows you to store your 24 word backup seed on material that is much more resistant to fire, electricity, water and other potential dangers to your backup seed.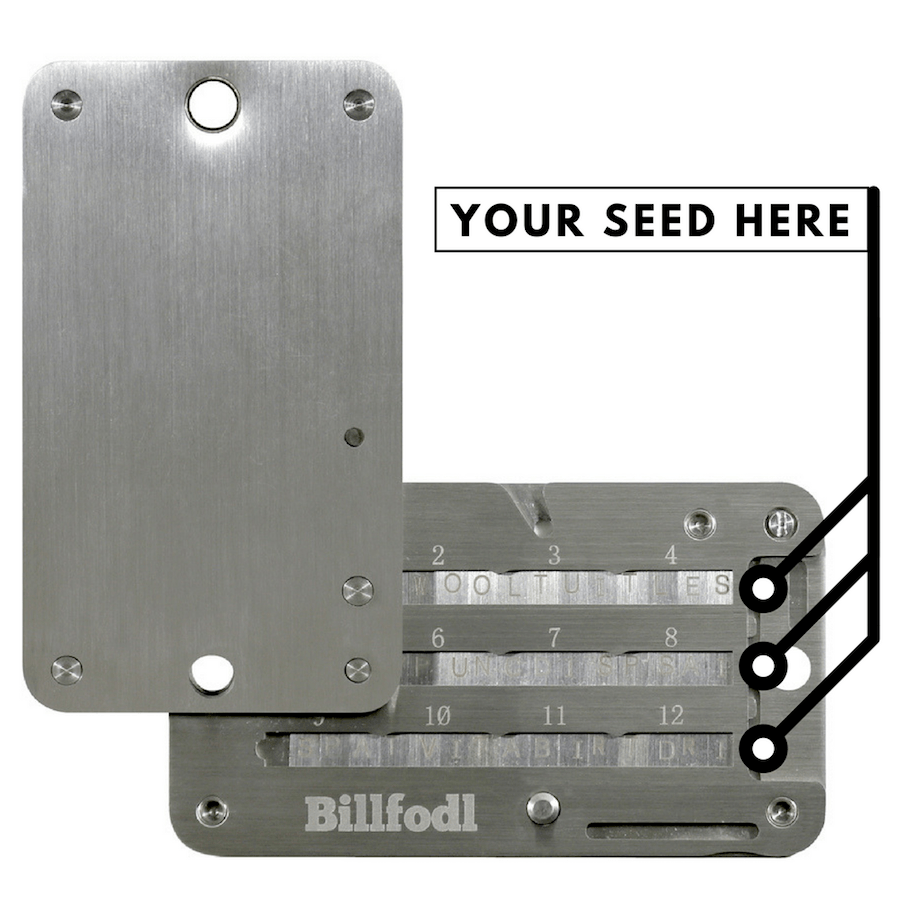 For example, one user had $1 million worth of cryptocurrency backed up on a seed. His house was flooded, and the water destroyed his paper backup seed. This would not have happened had the user been storing his backup seed on stainless steel like the Billfodl.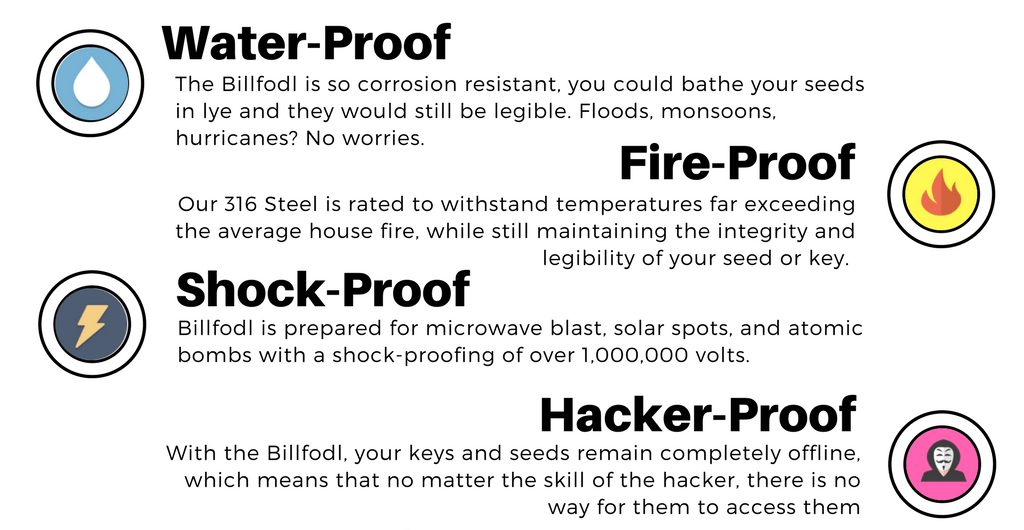 The Billfodl protects your seed from both fire and potential floods. For $99, this can be worth it depending on the amount of cryptocurrency you're storing on your device.
Wallet UI (Trezor Suite)
Trezor used to use a web portal to manage funds on the Trezor hardware.
However, phishing websites were a common problem, so Trezor has since created a native desktop software called Trezor Suite.
This software has a clean UI that covers everything from device setup to sending and receiving transactions.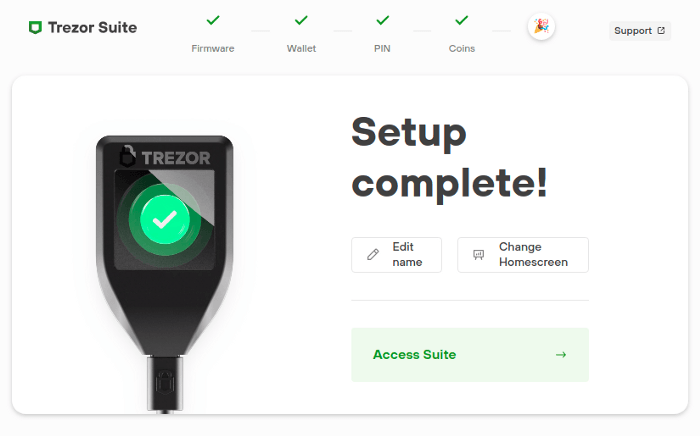 Best of all, it's clean and easy to understand for both beginners and advanced users alike.
It also boasts an array of privacy features on all the coins that it supported natively.
Features such as connecting to Trezor's node via Tor is one of them.

This is something you should definitely configure so that TREZOR (the company) will not have access to your IP address.
Additionally, if you do not hide your XPUB (by running a full node), TREZOR will know about all of your transactions (even if they cannot tie them to your identity directly). This is because you need to connect to a node of some kind to broadcast transactions. If you aren't running one yourself, then you must use TREZOR's hosted node.
Invity
As part of Trezor Suite you get access to Invity.
Invity is a new way to buy bitcoin and other crypto right on your hardware wallet and have the coins deposited straight to the your wallet.
The really innovative part of Invity is that it actually saves you money.
In the past, buying coins through your hardware wallet was very expensive.
However, with Invity, Trezor has partnered with dozens of exchanges it has vetted for good customer service and allows you to price compare in real time, so you pay the lowest fees for your crypto purchases.
Check it out below: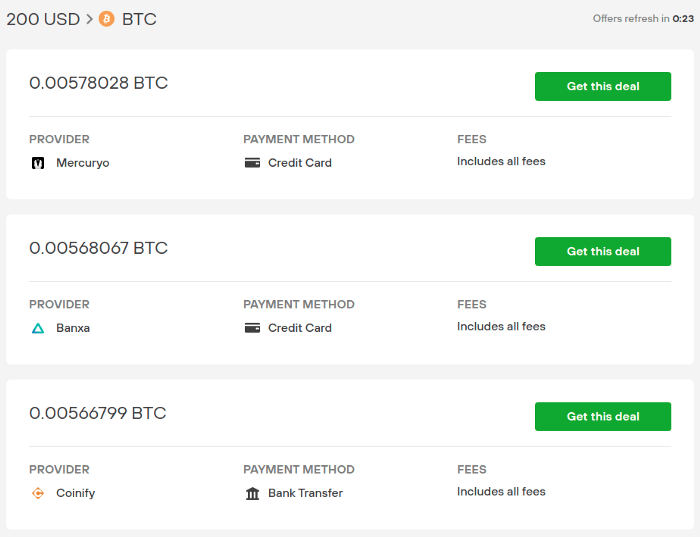 Multisig Support
If you'd prefer to do proper multisig over seed sharding, as with SSSS, then there is a way to do it with TREZOR. However, trezor has no native support for this.
Instead, you will need to use a software wallet like Electrum to set up the multiple signatures.
The nice thing about using Electrum is you can use multiple crypto hardware wallet brands like Ledger and TREZOR.
If you run your own Node, you can use MyNode to help you run either Specter or UnchainedCapital's Caravan. This makes multisig with TREZOR even simpler!
You can see an image of Specter's multisig wallet user interface below: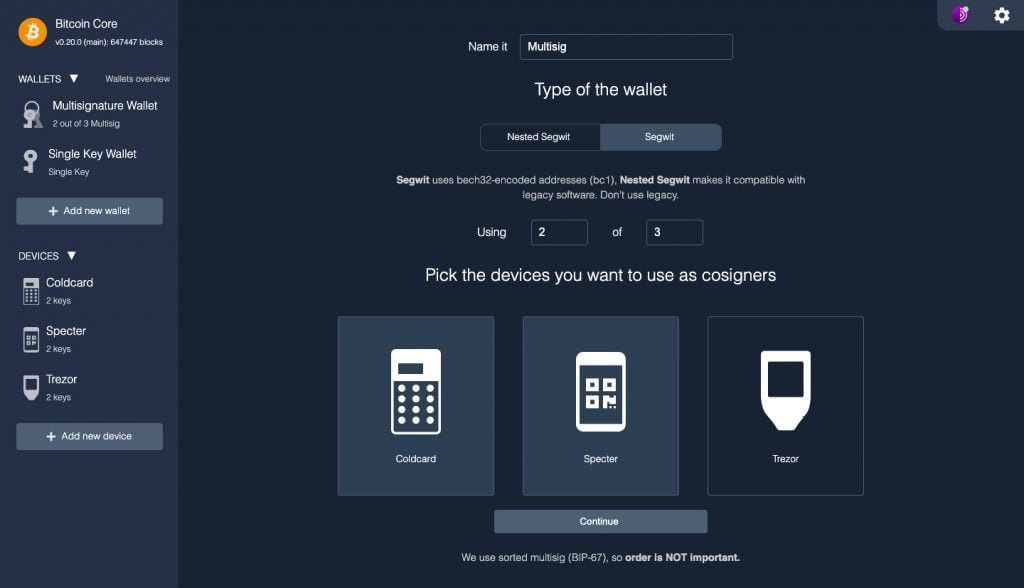 The UI of Specter's open-source multisig software. You can see a TREZOR holds one of the keys in this example.
MicroSD Slot
The TREZOR T features a MicroSD slot. This allows you to send Bitcoin without connecting the trezor to an internet connected device at all.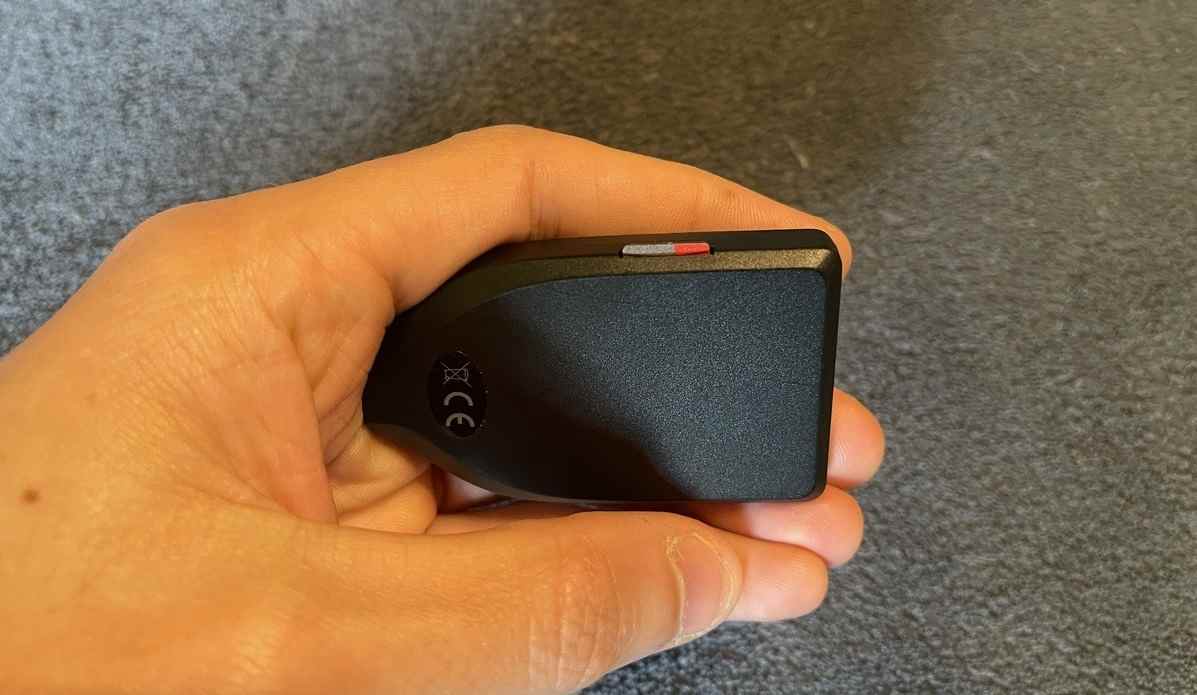 Using an SD card is widely regarded to be safer than connecting the TREZOR to your computer using a USB cable.
Password Manager and FIDO2
You TREZOR Model T can also act as a password manager and FIDO2 Authentication. This means that you can use the TREZOR to store all your passwords to various accounts online and/or require that the accounts only login when they receive a signature from the TREZOR device itself.
Quick Tip
If you are using your TREZOR to hold crypto, it is best not to connect it to other devices if you can avoid it. For this reason, we DO NOT recommend that you use your TREZOR as both a password manager and a crypto wallet. It is best to use each TREZOR device as one or the other. If you want to use it for both, buy two TREZOR's and dedicate one to holding crypto and another to managing passwords and authenticating accounts.
TREZOR Model-T vs. Ledger Nano X
Ledger launched the Ledger Nano X in March 2019.
The main difference between the two are that the Ledger Nano X has Bluetooth. Because of this, the Nano X can work directly with an iOS device, while the TREZOR T cannot.
TREZOR Model-T vs. Ledger Nano S
TREZOR and the Ledger Nano S are often compared.
The main differences are that the TREZOR Model-T has more compute functionality, as well as a color touchscreen, while the Ledger Nano S uses a secure chip and small LED screen with physical button functionality.
In summation, the Model-T is another solid product from SatoshiLabs and the most feature rich hardware wallet to date. If you are looking for a secure and user friendly option to store your cryptocurrency, the Model-T is a great choice.
TREZOR Model-T vs. TREZOR One
The main advantage offered by the TREZOR Model T is that it has a larger, full-color LCD touch screen.
The TREZOR One only has a small, black and white screen with no touch capabilities.
The TREZOR T also supports SD card support for truly air-gapped transactions, however with the TREZOR One, you must use a USB cable to connect it with the wallet software.
Both TREZOR models have Windows 8+, macOS 10.8+, and Linux compatibility and support for over 1000 ERC-20 tokens.
Review By: Jordan Tuwiner
Rating: 4.7