We may receive advertising compensation when you click certain products. Before jumping into this page, an important disclosure.
We've researched the best exchanges to buy bitcoins in Poland. We're careful not to include scam exchanges on our list.
eToro
Pros
Offers unique copy trading feature
Trusted exchange that has been active in traditional finance
Interface is clean and easy to use
Cons
You cannot deposit cryptocurrency, but you can deposit with other payment methods
Ease of Use
Easy
Privacy
Low
Speed
Average
Fees
Low
Reputation
Trusted
Limits
High
Coinbase
Coinbase is the world's largest Bitcoin (BTC) broker. They represent an easy and fast way for new users to purchase bitcoins. Coinbase supports customers in over 30 countries, including the United States, Europe, UK, Singapore, and Canada.

Customers in the above-mentioned countries can purchase bitcoins by debit card, bank transfer, SEPA transfer, and more.

Get $5 in free bitcoin after you sign up on Coinbase and make your first trade.
Pros
High liquidity and buying limits
Easy way for newcomers to get bitcoins
"Instant Buy" option available with debit card
Cons
Purchases made with bank transfer can take up to 5 days to complete
Coinbase may track how and where you spend your bitcoins
Ease of Use
Easy
Privacy
Low
Speed
Average
Fees
Average
Reputation
Trusted
Limits
High
Coinbase Advanced Trader
Coinbase's exchange, Coinbase Advanced Trader (formerly called Coinbase Pro), is one of the largest Bitcoin exchanges in the United States. Users can fund their accounts via bank transfer, SEPA, or bank wire. Coinbase Advanced Trader offers good prices and low fees, but its confusing user interface may initially prove difficult to navigate.
Pros
Some of the lowest fees available for US and EU customers
Possible to buy bitcoins for 0% fees
Cons
The user interface is confusing for first-time buyers
Ease of Use
Hard
Privacy
Low
Speed
Average
Fees
Low
Reputation
Trusted
Limits
High
Coinmama
Coinmama allows customers in almost every country to buy bitcoin. They charge a 4.9%-5.9% (depends on volume) fee on each purchase.

Customers in Europe can also purchase bitcoins with SEPA transfer for a lower fee.

Pros
Works in almost all countries
Highest limits for buying bitcoins with a credit card
Reliable and trusted broker
Cons
Some of the highest fees among credit/debit card bitcoin brokers
Ease of Use
Easy
Privacy
Low
Speed
Fast
Fees
Average
Reputation
Trusted
Limits
High
Paybis
Paybis is a popular cryptocurrency exchange. They serve 180 countries and 48 US states and are registered with FinCEN, making them a more trusted, regulated exchange. Paybis offers incredibly high limits and super fast payouts, not to mention 5 minute ID verification and nearly perfect review scores on Trustpilot.
Pros
24/7 live support
Paybis has extremely high limits
5 Minute verification
Get payouts fast
Large selection of payment methods
Cons
No traditional order book for advanced traders
Ease of Use
Easy
Privacy
Low
Speed
Average
Fees
Low
Reputation
Trusted
Limits
High
Bity
Bity is a Bitcoin exchange and ATM operator, based in Switzerland. Their 5 ATMs allow for a quick first purchase and only require phone verification for an initial buy limit of 1,000 EUR or CHF. Their online service accepts wire transfers, SOFORT and online bank transfers.
Pros
Easy to start buying bitcoins after mobile phone verification
Payment limit of up to €100,000 annually after intensive verification
Cons
ID verification is required for most purchases, so not a private way to buy
Low annual limit of only €4,000 without intensive verification
Ease of Use
Average
Privacy
Low
Speed
Fast
Fees
Low
Reputation
Trusted
Limits
High
BitMarket
BitMarket is a Bitcoin exchange based in Poland. Users can deposit EUR or PLN via local bank transfer, SEPA, or bank wire.
Pros
One of the few Poland based Bitcoin exchanges
The lowest trading fees for Poland, 0.15% for market markers, falling to 0% for sufficient volume and 0.45% for market takers, falling to 0.3% for sufficient volume
Free PLN deposits
Cons
Slightly confusing for first time buyers
Requires ID verification; not private
Ease of Use
Hard
Privacy
Low
Speed
Average
Fees
Low
Reputation
Average
Limits
Average
Bitstamp
Bitstamp is one of the world's largest and most well-known Bitcoin exchanges. Deposits can be made through bank transfer, SEPA transfer, international bank wire, and now even credit cards.
Pros
One of the longest-running Bitcoin exchanges
Very low 0.25% fee, falling to 0.1% with sufficient trading volume
Good range of deposit and withdrawal options
Deep liquidity promotes a price close to fair market rate
Offers wide range of altcoins
Cons
Geared towards traders; slightly confusing for first time buyers
Ease of Use
Hard
Privacy
Low
Speed
Slow
Fees
Average
Reputation
Trusted
Limits
High
Bitcoin ATMs
You can use our Bitcoin ATM map to buy bitcoins with cash. Bitcoin ATMs can be a quick and easy way to buy bitcoins and they're also private. That convenience and privacy, however, comes with a price; most ATMs have fees of 5-10%. View Bitcoin ATMs
Pros
Our map makes it super easy to find a Bitcoin ATM near you
Cons
Bitcoin ATMs often have 5-10% fees per purchase
Bitfinex
Hong Kong-based Bitfinex has long been one of the largest USD Bitcoin exchanges in the world. Bitfinex accounts may be funded by bank wire only, their fee on accepting such transfers is low at only 0.1%.

In August 2016, however, it was hacked and lost around 30% of its users funds. While Bitfinex can be helpful for buying large amounts of bitcoins, it is probably best to not use the exchange until it fully compensates affected users.
Pros
Very low fees even for low volume buyers; 0.1% for market makers and 0.2% for market takers
One of the best ways to buy large amounts of bitcoins
Allows lending of fiat or bitcoin to margin traders at interest (but this is risky in light of the hack)
Very deep liquidity promotes a price close to fair market rate
Supports several altcoins
Cons
Was recently hacked and has yet to fully compensate all users for their loss
Geared towards traders; possibly quite confusing for first time buyers
Single payment option
Ease of Use
Hard
Privacy
Low
Speed
Varies
Fees
Average
Reputation
Low Trust
Limits
High
-
Bitcoin & Cryptocurrency Trading in Poland
Bitcoin and cryptocurrency is a popular activity in Poland, and the country is well-served by crypto exchanges and facilities. There are over 200 Bitcoin ATMs throughout the country and all the major exchanges allow Polish users.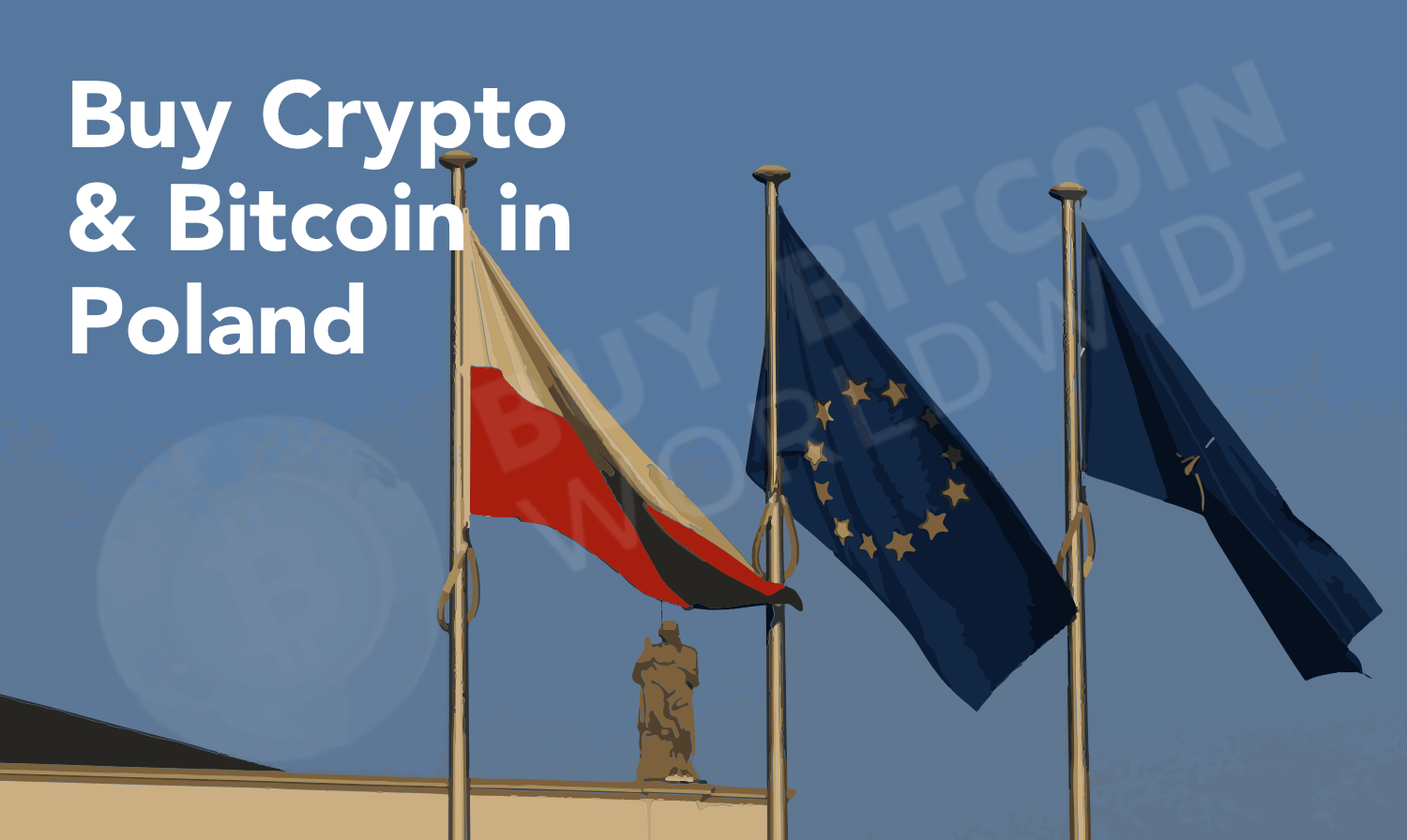 The cryptocurrency markets are currently not officially regulated in Poland, although the government regulator has announced its plans to begin looking into it.
In this article, we'll take a look at the specific options available for crypto enthusiasts in Poland, the history of some local exchanges, and one uniquely home-grown idea for an improvement to the Bitcoin protocol.
Read on to find out more about Bitcoin in Poland.
Top Bitcoin & Cryptocurrency Exchanges in Poland
Coinbase is one of the world's most popular cryptocurrency exchanges. Its full suite of services - buying, selling, converting, as well as a range of payment methods - are available to Polish users.
Kraken is the choice of many European Bitcoiners. Poland is a supported country, though the exchange doesn't offer deposits of fiat PLN or any PLN trading pairs.
-
Exchange Hacks and Crypto Scams in Poland
One scam that made it to Polish news targeted those new to crypto, who still make up a large majority of people. The scammers would cold-call people and explain that they represent a cryptocurrency investment fund. Starting off with a friendly, businesslike tone that became relentlessly persistent, they would try to persuade their unwitting mark to purchase Bitcoin. The scammers would walk the "client" through the process of purchasing crypto, with the transaction done on the client's end, adding to the legitimacy of the operation.
Once the crypto was purchased, the scammers would explain that it would need to be transferred to a wallet belonging to Poland's financial supervision authority - the Komisja Nadzoru Finansowego (KNF)- where it would be cleared by the Warsaw regulator as a legal and legitimate purchase. Once approved, the crypto would be sent to the "investment fund's" wallet and they could then begin actively managing it.
Sounds like a fair deal, a small inconvenience that's to be expected when dealing with such a new asset class. But not so. The wallet purportedly belonging to the KNF belonged in actual fact to the scammers themselves. No funds deposited there would ever see reinvestment for anyone but the scammers' benefit. The investors left were with nothing.(2)
We would like to remind you that the cryptocurrency market in Poland is not a regulated or supervised market. KNF does not license, supervise or exercise any other powers with regard to cryptocurrency trading activities.
KNF
Polish Financial Supervision Authority
In January 2018, Polish exchange Bidextreme.pl was hacked, with customers losing all of their Bitcoin and Litecoin.(3)
-
We've got a chart here at Buy Bitcoin Worldwide that tracks the up to the minute price of Bitcoin and provides historical data in USD.
You can check out the Bitcoin Volatility Index or see how many days it's been since the last all time high (ATH).
For price data in a range of foreign currencies such as PLN, Luno has a page where you can check the price of Bitcoin in any of their supported fiat pairs, which include EUR, GBP, IDR, MYR, NGN, PLN, SGD, UGX, USD, ZAR, and ZMW.
-
Polish Police Mining Site
In July 2021, Polish Police uncovered a bitcoin mining site in the Warsaw Police headquarters. Police spokesman Mariusz Ciarka said the employee was not a police officer and that the discovery was made quickly. The employee was fired and charges are being considered. It is unknown how much bitcoin the employee may have mined.
Don't steal electricity from your employer to mine bitcoin, especially so close to jail.(4)
Mining is not profitable for most people, and the easiest way to own bitcoin is by purchasing it through an exchange.
-
Does Coinbase work in Poland?
Coinbase does work in Poland. It is on Coinbase's list of supported countries, where you can also see which payment methods and cryptocurrency activities are enabled.
As you can see, Polish Coinbase users have the full suite of services available to them. Buying, selling, and converting cryptocurrencies are supported, as are wire transfers, debit and credit cards, and Paypal for payment.
Where Can I Find a Bitcoin ATM in Poland?
You can use our Bitcoin ATM finder tool to find the one nearest you.
How do I cash out of Bitcoin in Poland?
There are a number of options that make cashing out of Bitcoin in Poland simple and easy.
Coinbase supports a number of methods of cashing out, including bank transfer to your account and withdrawal to your PayPal account.
You can also use Bitcoin ATMs to cash out. The machine will generate an address to which you send your Bitcoin or any other supported cryptocurrency. Once the transaction is confirmed, the machine will dispense your cash. This is one of the simplest ways to literally cash out.
There are other options, including LocalBitcoins and Paxful. These are both peer-to-peer (P2P) exchanges, where you're buying and selling with another individual. This does introduce a degree of risk, though by ensuring that you conduct all business on the platform and make use of its escrow services while trading only with users who have a good reputation, you'll minimize any potential problems. Additionally, after looking at the numerous exchange collapses of the last few years, maybe P2P is the way forward.
Centralized exchanges are also getting in on the P2P game, with Binance unveiling its offering earlier this year.
As you can see, the number of providers is quite low, but this should increase with time so it's worth checking back now and then.
What happened to Coinroom?
On April 2nd, Coinroom became the first of two major Polish exchanges to shut down in 2019, taking more than a million PLN in users' money with them.(5)
The only contact from the operators of Coinroom came in the form of an email. This email notified users that the exchange would be closing the next day, and anyone who didn't claim their funds before then would lose them. To claim, users had to get in touch directly with the administrators. This was all framed as being a standard part of the agreement that all users had accepted on signup.
The next day, the exchange did indeed shutdown, and any users who hadn't gone through the process outlined in the email lost their funds.
What happened to BitMarket?
BitMarket was the other major Polish crypto exchange to shut up shop in 2019, although this happened in a decidedly nastier fashion that Coinroom.
Visitors to BitMarket's site found the following message:
"Dear Users, We regret to inform you that due to the loss of liquidity, since 08/07/2019, Bitmarket.pl/net was forced to cease its operations. We will inform you about further steps."
Over 400 users of BitMarkets lost nearly 2300 BTC, worth about $23 million at the time.
The operators of BitMarket at the time - Tobiasz Niemiro and Marcin Aszkiełowicz - had taken it over in 2015, when the exchange had an outstanding deficit of over 600 BTC. Earlier that year, it had been temporarily shutdown by a Polish bank for its apparent insolvency. This is disputed by BitMarket's original founder, Michał Pleban .
Whatever the facts surrounding the transfer of ownership in 2015, the story of BitMarket came to a sad end in July 2019. Three weeks after the exchange's closure, Tobiasz Niemiro was found dead in a forest.
Article Sources
BuyBitcoinWorldWide writers are subject-matter experts and base their articles on firsthand information, like interviews with experts, white papers or original studies and experience. We also use trusted research and studies from other well-known sources. You can learn more about our editorial guidelines.