We may receive advertising compensation when you click certain products. Before jumping into this page, an important disclosure.
eToro
eToro is a trading platform and crypto exchange that works in Kuwait. It supports Bitcoin, Ethereum, Litecoin, and many other coins.

Deposits in Kuwait can be made via bank transfer, SEPA, NETELLER, PayPal, and others.

Cryptoassets are unregulated & highly speculative. No consumer protection. Capital at risk.
Visit eToro's Website
Pros
Offers unique copy trading feature
Trusted exchange that has been active in traditional finance
Interface is clean and easy to use
Cons
You cannot deposit cryptocurrency, but you can deposit with other payment methods
Ease of Use
Easy
Privacy
Low
Speed
Average
Fees
Low
Reputation
Trusted
Limits
High
Rain
Rain is a crypto exchange focused on serving UAE, Saudi Arabia, Bahrain, Oman and Kuwait. They offer 24/7 support and meet all CCSS requirements as a crypto custodian and is licensed by the Central Bank of Bahrain as a Crypto Asset Brokerage.
Pros
Middle East Exchange based in Bahrain
Low fees
24/7 customer support
Licensed by Central Bank of Bahrain
Cons
Brokerage only - order book coming soon
Ease of Use
Easy
Privacy
Low
Speed
Average
Fees
Low
Reputation
Trusted
Limits
High
BitOasis
BitOasis is a digital currency platform serving the MENA region. Customers can buy bitcoin via wire transfer or credit/debit card in the United Arab Emirates, Saudi Arabia, Oman, Kuwait, Egypt, Morocco, Jordan and Bahrain. UAE clients may also deposit funds via exchange houses.
Pros
Trusted and regulated company in MENA since 2015
Local bank deposit option with zero fees
User friendly interface on Android and iOS
Cons
Only supports users in MENA
Ease of Use
Easy
Privacy
Low
Speed
Fast
Fees
Low
Reputation
Trusted
Limits
High
Coinmama
Coinmama allows customers in almost every country to buy bitcoin. They charge a 4.9%-5.9% (depends on volume) fee on each purchase.

Customers in Europe can also purchase bitcoins with SEPA transfer for a lower fee.

Pros
Works in almost all countries
Highest limits for buying bitcoins with a credit card
Reliable and trusted broker
Cons
Some of the highest fees among credit/debit card bitcoin brokers
Ease of Use
Easy
Privacy
Low
Speed
Fast
Fees
Average
Reputation
Trusted
Limits
High
Paybis
Paybis is a popular cryptocurrency exchange. They serve 180 countries and 48 US states and are registered with FinCEN, making them a more trusted, regulated exchange. Paybis offers incredibly high limits and super fast payouts, not to mention 5 minute ID verification and nearly perfect review scores on Trustpilot.
Pros
24/7 live support
Paybis has extremely high limits
5 Minute verification
Get payouts fast
Large selection of payment methods
Cons
No traditional order book for advanced traders
Ease of Use
Easy
Privacy
Low
Speed
Average
Fees
Low
Reputation
Trusted
Limits
High
Bitcoin ATMs
You can use our Bitcoin ATM map to buy bitcoins with cash. Bitcoin ATMs can be a quick and easy way to buy bitcoins and they're also private. That convenience and privacy, however, comes with a price; most ATMs have fees of 5-10%. View Bitcoin ATMs
Pros
Our map makes it super easy to find a Bitcoin ATM near you
Cons
Bitcoin ATMs often have 5-10% fees per purchase
BitFils
BitFils is a Bitcoin broker in Kuwait. You can buy bitcoin online quickly, using a debit card.
Pros
Easy and fast way to buy bitcoin in Kuwait
Cons
Not private since identity verification is required
Ease of Use
Hard
Privacy
Low
Speed
Average
Fees
Low
Reputation
Trusted
Limits
High
-
Bitcoin & Cryptocurrency Trading in Kuwait
Bitcoin in Kuwait is in a tricky situation. The Kuwaiti government banned financial institutions from trading Bitcoin during its run in late 2017 due to high volatility, and Bitcoin is not legal tender in the country.(2)
In May of 2021, the Central Bank of Kuwait (CBK) issued a statement warning the public about the volatility in cryptocurrency markets, reminding them that cryptos are not considered "real currency" that is regulated by state authorities, such as banks or monetary institutions."(3)
However, Bitcoin is legal for residents of the country and citizens can buy and sell cryptocurrency without restrictions from supported exchanges like BitOasis and other exchanges listed above.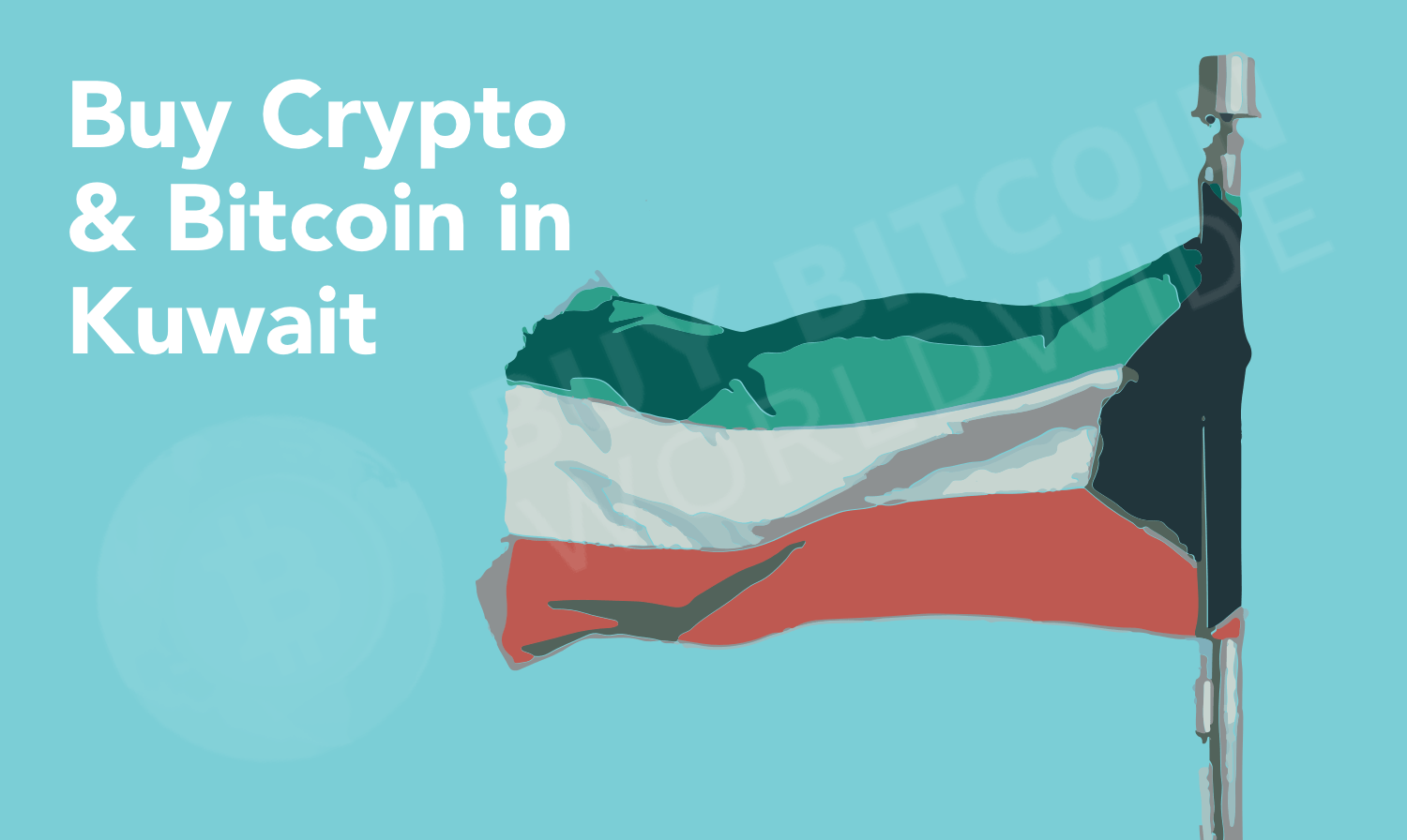 BitOasis is a cryptocurrency exchange that focuses on serving the Middle East. Based in Dubai, it's one of the best exchanges for residents of the Middle East thanks to its low fees and security.
Still, you shouldn't trust an exchange with your Bitcoin. Not because they'll steal it, but because centralized exchanges are vulnerable to theft from hackers.
The best way to store and protect your investment is with a hardware wallet like the Ledger Nano X or the Trezor T. Storing your Bitcoin on a form of cold storage will prevent hackers from stealing your private key.
Once you have your wallet situation figured out, buying Bitcoin in Kuwait is simple. Select one of the exchanges above, and verify your identity if necessary. Connect your fiat payment method and trade away!
-
Exchange Hacks and Crypto Scams in Kuwait
As of September of 2023, we could find no exchange hacks or significant scams affecting Kuwait or its citizens. We will update this page if/when any news of scams or exchange hacks occur in Kuwait.
-
Unlike most other countries, Bitcoin mining in Kuwait can be profitable with the newest Bitcoin mining hardware.
Kuwait enjoys some of the lowest electricity prices in the world, sitting at just 0.008 Kuwaiti Dinars per kWh ($0.026), which is lower than in most countries worldwide.
Considering electricity prices are one of the leading factors in determining Bitcoin mining profitability, mining operations need to make use of cheap electricity to remain profitable.
If you want to mine Bitcoin in Kuwait with one of Bitmain's newest pieces of mining hardware like the Antminer S19, you'll earn an average of $593 per year, per miner.
The S19 has an excellent hash rate to power consumption ratio, hashing at 95 TH/s, and drawing 3,250 watts from the wall.
To calculate your mining profitability, check out our profitability calculator tool.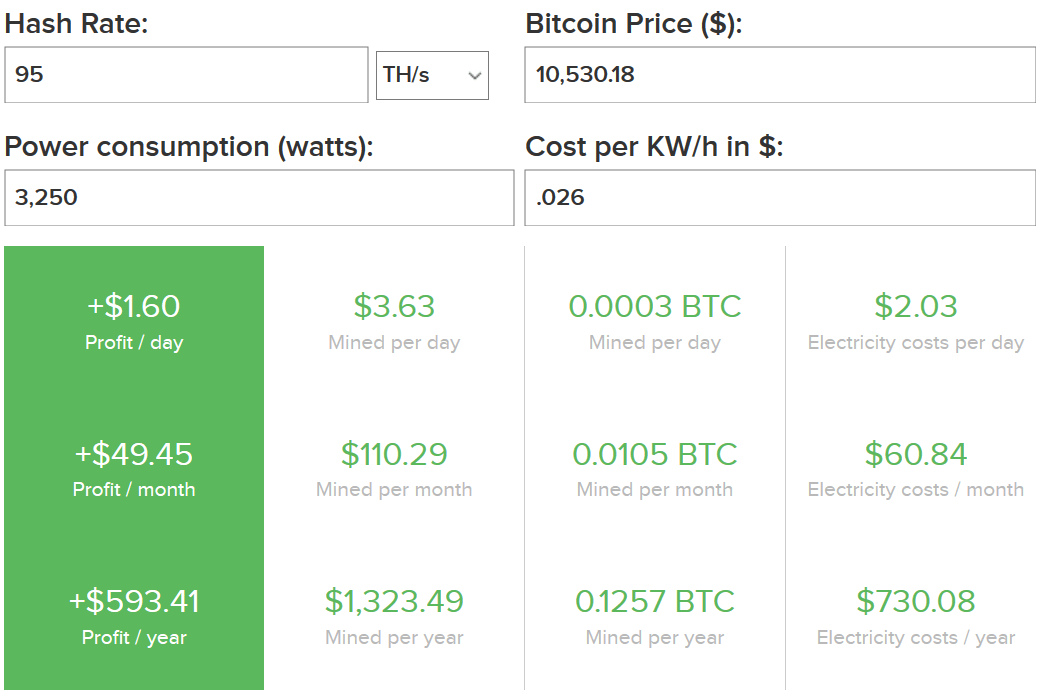 However, Bitcoin mining is best suited for tech-savvy individuals only. It requires a significant upfront investment of time, money, and energy.
For those that wish to acquire Bitcoin as soon as possible, buying it directly from an exchange is your best bet.
Still, if you were to mine Bitcoin anywhere in the world, it's hard to beat Kuwait's electricity prices. They're even lower than China's, which is home to some of the largest Bitcoin mining farms in the world.
-
Does Coinbase work in Kuwait?
Coinbase ONLY allows crypto-to-crypto conversions for Kuwaiti residents as of September of 2020.
Where Can I Find a Bitcoin ATM in Kuwait?
We researched, and as of September 2023 there are currently no Bitcoin ATMs in Kuwait.
You can use our Bitcoin ATM finder tool to check back in occasionally and see if one has opened.
What is the price of Bitcoin in Kuwait?
Bitcoin prices are changing every second.
The best way to find the most up-to-date price of Bitcoin is to check out our Bitcoin price page.
How do I cash out of Bitcoin in Kuwait?
Any exchange with a Euro trading pair will allow you to sell your Bitcoin for fiat currency. Bitpanda has EUR trading pairs for many popular coins.
Article Sources
BuyBitcoinWorldWide writers are subject-matter experts and base their articles on firsthand information, like interviews with experts, white papers or original studies and experience. We also use trusted research and studies from other well-known sources. You can learn more about our editorial guidelines.
Wikipedia - Kuwait, https://en.wikipedia.org/wiki/Kuwait
The Street - https://www.thestreet.com/crypto/investing/kuwait-bans-cryptocurrencies-bitcoin-mining, https://www.thestreet.com/crypto/investing/kuwait-bans-cryptocurrencies-bitcoin-mining
Central Bank of Kuwait - CBK Issues a Statement on Crypto-assets and their Risks, https://www.cbk.gov.kw/en/cbk-news/announcements-and-press-releases/press-releases/2021/05/202105221100-cbk-issues-a-statement-on-crypto-assets-and-their-risks