We may receive advertising compensation when you click certain products. Before jumping into this page, an important disclosure.
Bitstamp
Bitstamp is one of the world's largest and most well-known Bitcoin & crypto exchanges. Deposits can be made through bank transfer, SEPA transfer, international bank wire, and now even credit cards.
Pros
One of the longest-running Bitcoin exchanges
Very low 0.25% fee, falling to 0.1% with sufficient trading volume
Offers wide range of altcoins
Cons
High 8% fee on small credit card purchases, falling to 5% with sufficient trading volume
Ease of Use
Hard
Privacy
Low
Speed
Slow
Fees
Average
Reputation
Trusted
Limits
High
Coinbase
Coinbase is the world's largest Bitcoin (BTC) broker. They represent an easy and fast way for new users to purchase bitcoins. Coinbase supports customers in over 30 countries, including the United States, Europe, UK, Singapore, and Canada.

Customers in the above-mentioned countries can purchase bitcoins by debit card, bank transfer, SEPA transfer, and more.

Get $5 in free bitcoin after you sign up on Coinbase and make your first trade.
Pros
High liquidity and buying limits
Easy way for newcomers to get bitcoins
"Instant Buy" option available with debit card
Cons
Purchases made with bank transfer can take up to 5 days to complete
Coinbase may track how and where you spend your bitcoins
Ease of Use
Easy
Privacy
Low
Speed
Average
Fees
Average
Reputation
Trusted
Limits
High
Bity
Bity is a Bitcoin exchange and ATM operator, based in Switzerland. Their 5 ATMs allow for a quick first purchase and only require phone verification for an initial buy limit of 1,000 EUR or CHF. Their online service accepts wire transfers, SOFORT and online bank transfers.
Pros
Easy to start buying bitcoins after mobile phone verification
Payment limit of up to €100,000 annually after intensive verification
Cons
ID verification is required for most purchases, so not a private way to buy
Low annual limit of only €4,000 without intensive verification
Ease of Use
Average
Privacy
Low
Speed
Fast
Fees
Low
Reputation
Trusted
Limits
High
Bitcoin ATMs
You can use our Bitcoin ATM map to buy bitcoins with cash. Bitcoin ATMs can be a quick and easy way to buy bitcoins and they're also private. That convenience and privacy, however, comes with a price; most ATMs have fees of 5-10%. View Bitcoin ATMs
Pros
Our map makes it super easy to find a Bitcoin ATM near you
Cons
Bitcoin ATMs often have 5-10% fees per purchase
Bitfinex
Hong Kong-based Bitfinex has long been one of the largest USD Bitcoin exchanges in the world. Bitfinex accounts may be funded by bank wire only, their fee on accepting such transfers is low at only 0.1%.

In August 2016, however, it was hacked and lost around 30% of its users funds. While Bitfinex can be helpful for buying large amounts of bitcoins, it is probably best to not use the exchange until it fully compensates affected users.
Pros
Very low fees even for low volume buyers; 0.1% for market makers and 0.2% for market takers
One of the best ways to buy large amounts of bitcoins
Allows lending of fiat or bitcoin to margin traders at interest (but this is risky in light of the hack)
Very deep liquidity promotes a price close to fair market rate
Supports several altcoins
Cons
Was recently hacked and has yet to fully compensate all users for their loss
Geared towards traders; possibly quite confusing for first time buyers
Single payment option
Ease of Use
Hard
Privacy
Low
Speed
Varies
Fees
Average
Reputation
Low Trust
Limits
High
-
Bitcoin & Cryptocurrency Trading in Denmark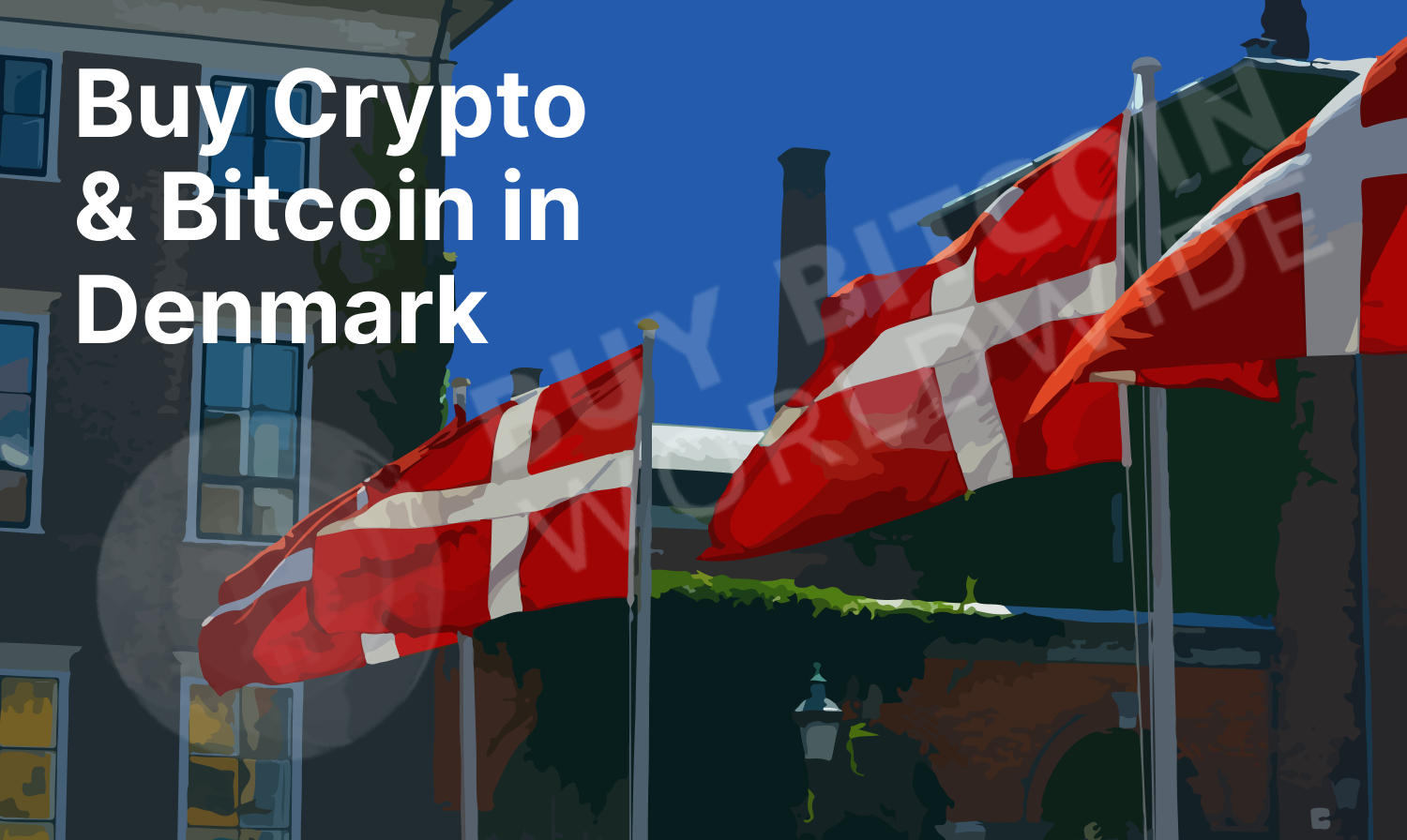 Denmark's Population and Bitcoin
Denmark has a population of over 5.8 million people as of 2021.
The population is among the best educated in Europe.
Residents show a significant interest in Bitcoin.
Denmark's Contribution to Blockchain
The country plays a role in blockchain technology development.
This is due to Denmark's warm investment climate.
Government's Stance on Bitcoin
The government doesn't regulate Bitcoin.
Bitcoin isn't seen as legal tender.
Bitcoin can be used as an asset and a good.
Residents can use Bitcoin for any legal activity and supported exchanges.
Tax Implications
In 2021, there was a crackdown on tax evasion related to cryptocurrency:
In February 2021, the Danish Tax Agency reported 48 people to their crimes unit for tax code violations related to crypto earnings.
Note: It's crucial to understand the tax requirements for gains and losses from trading in bitcoin.
Buying Bitcoin in Denmark is fast and easy. There are more than 20 popular exchanges available to residents of Denmark, including Coinbase and Coinmama.
Both of those exchanges have built-in wallets where you can store your Bitcoin and other tokens, as do most of the exchanges on this list.
But that doesn't mean you should use them - storing your Bitcoin on an exchange is risky, as wallets on centralized exchanges aren't secure.
Using a hardware wallet to store your private key securely is the best way to protect your investment, which should be of the utmost priority. We recommend the Coldcard or Trezor T, two of the most popular and trusted wallets on the market.
After your wallet situation is taken care of, it's all downhill from there. Choose one of the exchanges above, verify your identity (if necessary), and trade away.
If privacy is a concern for you and you'd prefer not to expose your identity, Denmark also has three Bitcoin ATMs, which are usually far more private than an online exchange. You can locate Bitcoin ATMs in Denmark using our Bitcoin ATM Map.
-
Exchange Hacks and Crypto Scams in Denmark
As of September of 2020, we could find no exchange hacks or significant scams affecting Denmark or its citizens. We will update this page if/when any news of scams or exchange hacks occur in Denmark.
-
Bitcoin Mining in Denmark
Denmark is probably one of the last places on earth you'd want to mine Bitcoin. Electricity prices in Denmark are absurdly high in comparison to countries like China, India, Kuwait, and Georgia.
Your hash rate to power consumption ratio is key for Bitcoin mining profitability, and they're two variables you have control over in the profitability equation.
Using the latest, most efficient mining hardware is the first step. At the time of writing, Bitmain's Antminer S19 is top-of-the-line, hashing at 95 Th/s, and drawing 3250 watts from the wall.
When we plug those numbers into our mining profitability calculator, and using Denmark's electricity price of $0.30 per kWh, profitability comes out to negative $6,700 per year.
The same miner would turn a profit of $1,162 with the current price of BTC in Kuwait because Kuwait's electricity is only $0.02 per kWh.
Bitcoin mining may be a profitable way to acquire Bitcoin for tech-savvy individuals with a lot of time, energy, and money to invest upfront, but only in certain situations, and certainly not in Denmark.
If you want Bitcoin now, buying it from an exchange or a peer is your best bet.
-
Does Coinbase work in Denmark?
Citizens of Denmark can convert, buy, and sell cryptocurrencies with fiat. Supported payment methods are:
Bank Deposit
PayPal
3D Secure Credit Card
Debit Card
Credit Card
Where Can I Find a Bitcoin ATM in Denmark?
We researched and found that there are 3 Bitcoin ATMs in Denmark, all located in Copenhagen. One in each of The Dubliner locations (one at Ny Østergade 14, and one at Amagertorv 5), as well as the Ahaaa! Det Arabiske Madhus! located at Nørrebrogade 51.
You can use our Bitcoin ATM finder tool to find the one nearest you.
What is the price of Bitcoin in Denmark?
Bitcoin prices are changing every second.
The best way to find the most up-to-date price of Bitcoin is to check out our Bitcoin price page.
Which stores accept Bitcoin in Denmark
Bitcoin is accepted at lots of stores and service providers all over Denmark. So many, in fact, that we couldn't possibly list them all here. However, you can find specific kinds of services and goods filterable on a map over at coinmap.org.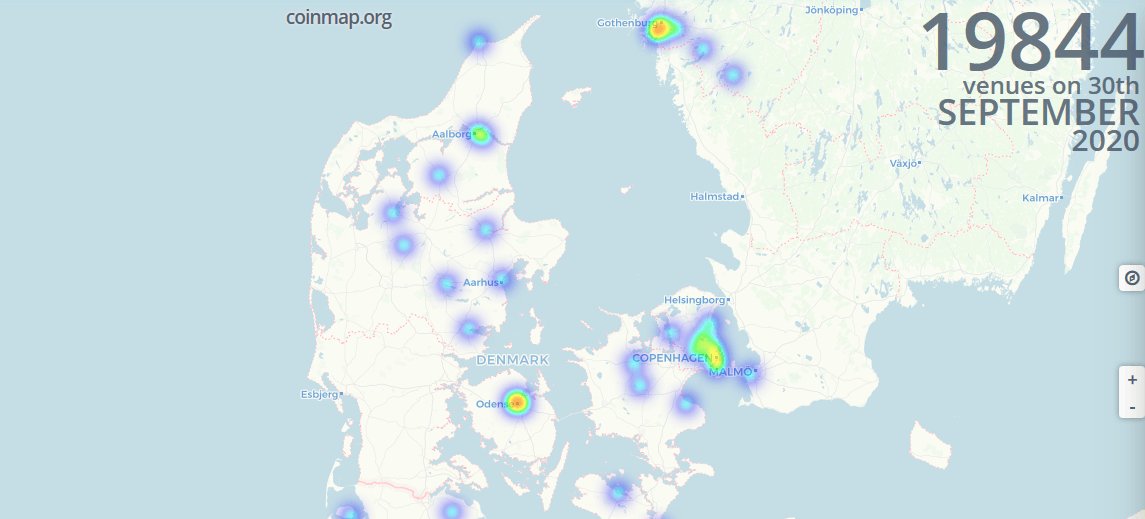 The colored sections indicate areas where there is heavier acceptance of Bitcoin
Does Bitcoin use more electricity than Denmark?
According to the International Energy Agency, a non-profit that works with governments and corporations to secure sustainable energy policies internationally claims that Denmark consumes about 33.4 TWh of electricity each year. It also emits about 32. Mt of CO2 each year.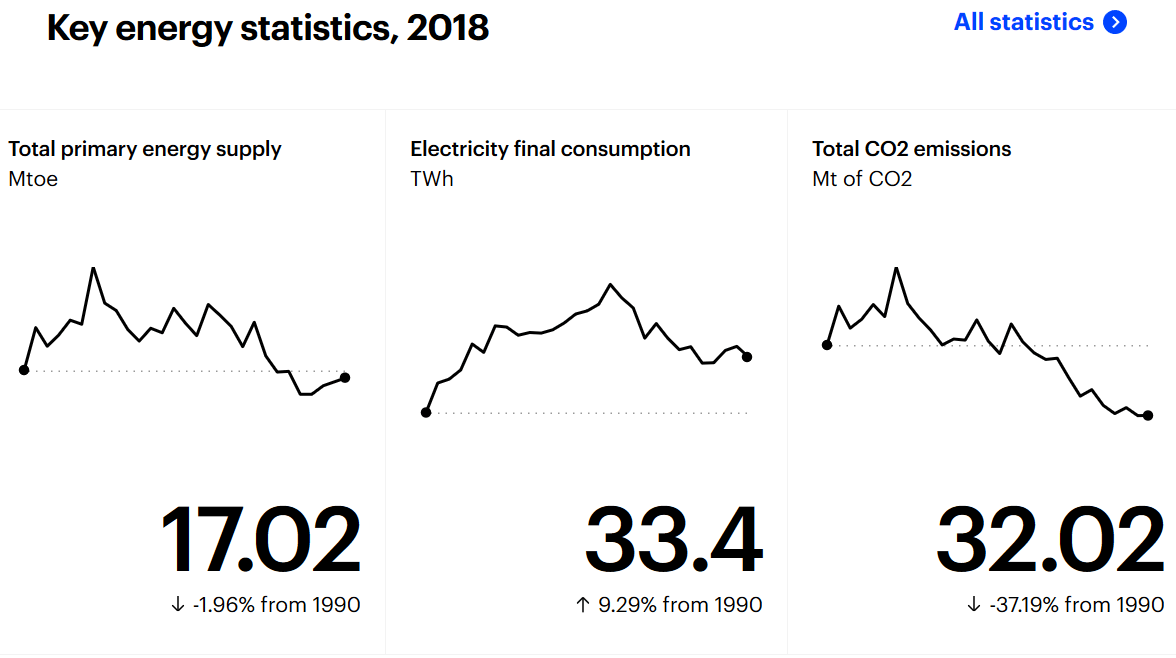 By contrast, according to Digiconomist, Bitcoin consumes about 70 TWh of electricity and emits ~33 Mt of CO2 each year.

That means that Bitcoin actually consumes more than double the electricity that Denmark consumes while emitting about the same amount of CO2.
Denmark is considered the most climate friendly country in the world. Bitcoin emits about half the CO2 per KWh that Denmark does. So if Bitcoin were a country, it would actually be the most climate friendly country on Earth by double the next most climate friendly country.
How do I cash out of Bitcoin in Denmark?
Any exchange with a DKK trading pair will allow you to sell your Bitcoin for fiat currency. Bitit has DKK trading pairs for many popular coins.
Recent Bitcoin Trends in Denmark
Recent news stories and interesting bits about Bitcoin in Denmark:
New Regulations
Denmark's financial regulators have instructed local banks not to hold cryptocurrency as a hedge against trading risks. On July 4, the Danish Financial Supervisory Authority (DFSA) directed Saxo Bank to liquidate its cryptocurrency holdings.
DFSA argues that the bank's involvement in crypto is "outside of the legal business area of financial institutions," as referenced in Denmark's Financial Business Act.
Saxo Bank lets clients trade various cryptocurrency products and also provides crypto-linked exchange-traded funds and notes.
The bank has its own cryptocurrency portfolio, used as a hedge against the market risks of its crypto offerings.
According to Annex 1 of the Financial Business Act, cryptocurrency trading isn't legally covered by financial institutions in Denmark.
However, the DFSA's order does not prevent Saxo Bank from offering crypto services. The bank stated that this directive will have a "very limited impact" on its operations and no significant changes for its customers.
Danish Authorities Grant Full Payments License to Crypto Financial Firm Januar
On April 19, Danish startup Januar received a Payment Institution License from the Financial Supervisory Authority (DFSA). This allows them to operate in 30 European Economic Area markets. Januar connects crypto businesses to IBAN infrastructure, enabling them access to compliant fiat banking services. The firm, founded by former Chainalysis staff in 2021, addresses the industry's banking service challenges.
Article Sources
BuyBitcoinWorldWide writers are subject-matter experts and base their articles on firsthand information, like interviews with experts, white papers or original studies and experience. We also use trusted research and studies from other well-known sources. You can learn more about our editorial guidelines.