We may receive advertising compensation when you click certain products. Before jumping into this page, an important disclosure.
Rain
Rain is a crypto exchange focused on serving UAE, Saudi Arabia, Bahrain, Oman and Kuwait. They offer 24/7 support and meet all CCSS requirements as a crypto custodian and is licensed by the Central Bank of Bahrain as a Crypto Asset Brokerage.
Pros
Middle East Exchange based in Bahrain
Low fees
24/7 customer support
Licensed by Central Bank of Bahrain
Cons
Brokerage only - order book coming soon
Ease of Use
Easy
Privacy
Low
Speed
Average
Fees
Low
Reputation
Trusted
Limits
High
BitOasis
BitOasis is a digital currency platform serving the MENA region. Customers can buy bitcoin via wire transfer or credit/debit card in the United Arab Emirates, Saudi Arabia, Oman, Kuwait, Egypt, Morocco, Jordan and Bahrain. UAE clients may also deposit funds via exchange houses.
Pros
Trusted and regulated company in MENA since 2015
Local bank deposit option with zero fees
User friendly interface on Android and iOS
Cons
Only supports users in MENA
Ease of Use
Easy
Privacy
Low
Speed
Fast
Fees
Low
Reputation
Trusted
Limits
High
Coinmama
Coinmama allows customers in almost every country to buy bitcoin. They charge a 4.9%-5.9% (depends on volume) fee on each purchase.

Customers in Europe can also purchase bitcoins with SEPA transfer for a lower fee.

Pros
Works in almost all countries
Highest limits for buying bitcoins with a credit card
Reliable and trusted broker
Cons
Some of the highest fees among credit/debit card bitcoin brokers
Ease of Use
Easy
Privacy
Low
Speed
Fast
Fees
Average
Reputation
Trusted
Limits
High
Paybis
Paybis is a popular cryptocurrency exchange. They serve 180 countries and 48 US states and are registered with FinCEN, making them a more trusted, regulated exchange. Paybis offers incredibly high limits and super fast payouts, not to mention 5 minute ID verification and nearly perfect review scores on Trustpilot.
Pros
24/7 live support
Paybis has extremely high limits
5 Minute verification
Get payouts fast
Large selection of payment methods
Cons
No traditional order book for advanced traders
Ease of Use
Easy
Privacy
Low
Speed
Average
Fees
Low
Reputation
Trusted
Limits
High
Bitcoin ATMs
You can use our Bitcoin ATM map to buy bitcoins with cash. Bitcoin ATMs can be a quick and easy way to buy bitcoins and they're also private. That convenience and privacy, however, comes with a price; most ATMs have fees of 5-10%. View Bitcoin ATMs
Pros
Our map makes it super easy to find a Bitcoin ATM near you
Cons
Bitcoin ATMs often have 5-10% fees per purchase
-
Bitcoin & Cryptocurrency Trading in Saudi Arabia
Bitcoin is legal in Saudi Arabia and there are no restrictions on individuals purchasing or spending Bitcoin. Banks, on the other hand, are banned from dealing with the cryptocurrency. The Saudi Arabian Monetary Authority has warned against Bitcoin as it is not monitored or supported by any regulatory body. Additionally, concerns have been raised over Bitcoin's role in crypto in crypto-malware such as WannaCry and Petya.(2)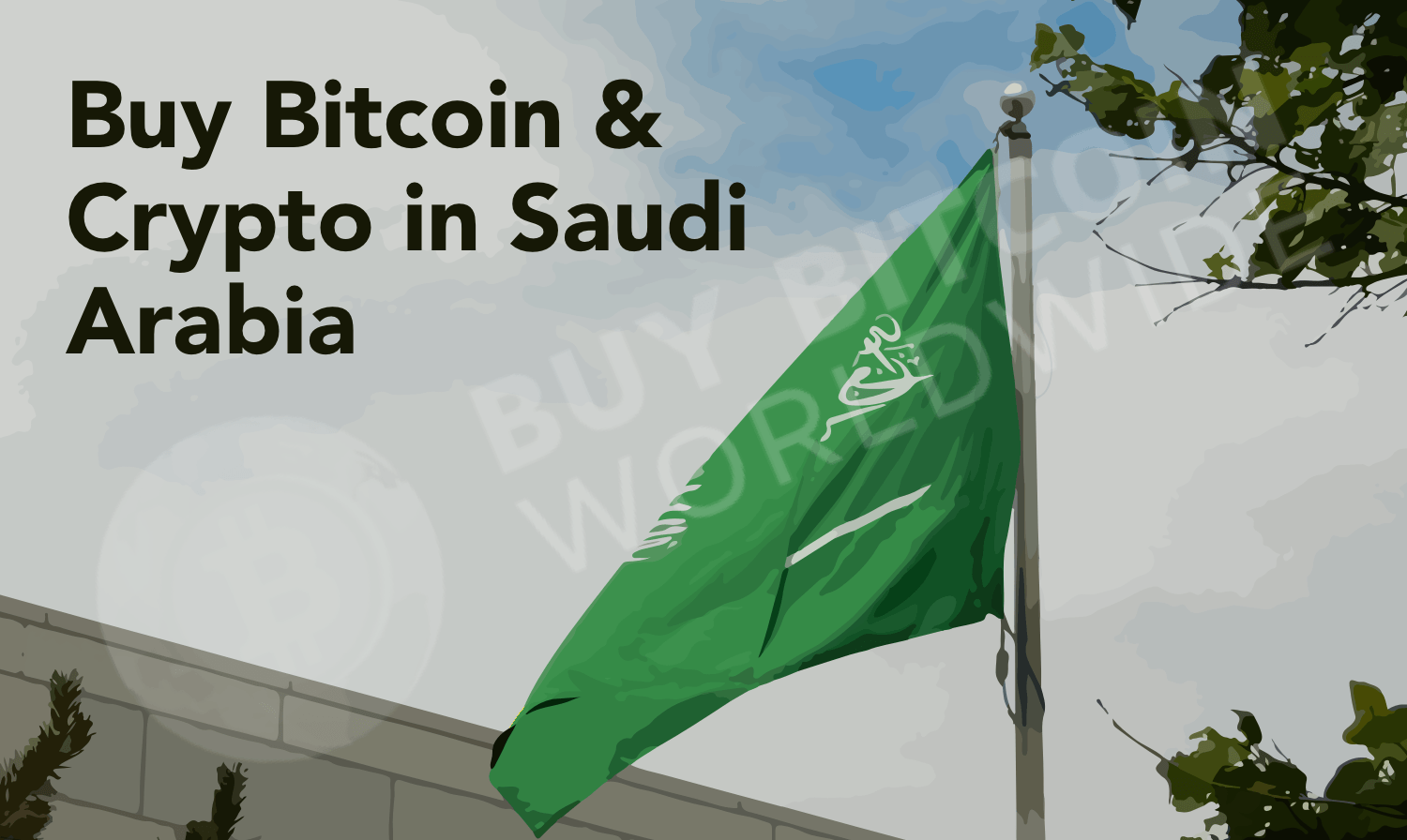 In October 2022, the Saudi Central Bank (SAMA), that acts as the kingdom's national banking regulator, appointed Mohsen AlZahrani to lead its virtual assets and central bank digital currency program. It is thought that not only this hire but the creation of the position may indicate a change in the country's approach to cryptocurrencies.(3)
There are a range of international exchanges such as CoinMama open to Saudi Arabian cryptocurrency enthusiasts, and some polished regional offerings such as BitOasis and Rain, which we will cover below.
One of the easiest ways to buy Bitcoin in Saudi Arabia is through cryptocurrency exchanges. There are several exchanges offering Bitcoin in Saudi Arabia, allowing you to select one based on your requirements and preferences using our list outlined above. Different exchanges have different transaction fees, withdrawal limits, payment modes, and verification processes that need to be considered before selecting one.
Additionally, Bitcoin buyers need to keep in mind that certain exchanges might require you to get a wallet of your own before being able to buy the digital currency. Even if there is no requirement, it is recommended to have a wallet of your own for security reasons (preferably a hardware wallet). If you don't have a wallet, refer to our guide on the Best Bitcoin and Cryptocurrency Wallets to choose one.
-
More Bitcoin Exchanges in Saudi Arabia
BitOasis
BitOasis is a UAE-based exchange that serves customers across the Middle East and North Africa. It is currently available to customers in Saudi Arabia, the UAE, Bahrain, Kuwait, Oman, Jordan, Egypt, and Morocco.
BitOasis has two main interfaces, Core and Pro.
This is the beginner-friendly interface, where you can easily buy and sell Bitcoin, Ethereum, Bitcoin Cash, Ripple, Litecoin, Ethereum Classic, and Stellar.
BitOasis Pro is a trading interface. The Pro version allows for advanced order types and gives access to charting tools and BitOasis's orderbooks.
The one fiat currency that BitOasis supports is the UAE Dirham. Users can trade all digital assets against the AED pair, where fees start at 0.5% for taker orders and 0.25% for maker orders. Fees for digital asset pairs (i.e. ETH-BTC) are lower, at 0.1% for maker orders and 0.15% for taker.
You AED balance can be withdrawn to any bank account located in the United Arab Emirates, Saudi Arabia, Kuwait, or Bahrain. Users in Oman may withdraw AED to their account after providing BitOasis with their IBAN number.
Rain
Rain is a cryptocurrency exchange located in Bahrain and licensed and regulated by the Central Bank of Bahrain (CBB) as an approved crypto-asset brokerage.
One reason to consider Rain is the large number of fiat trading pairs it offers. Users can trade with Emirati dirhams (AED), Bahraini dinar (BHD), Kuwaiti dinar (KWD), Omani rial (OMR), Saudi riyal (SAR), and United States dollars (USD).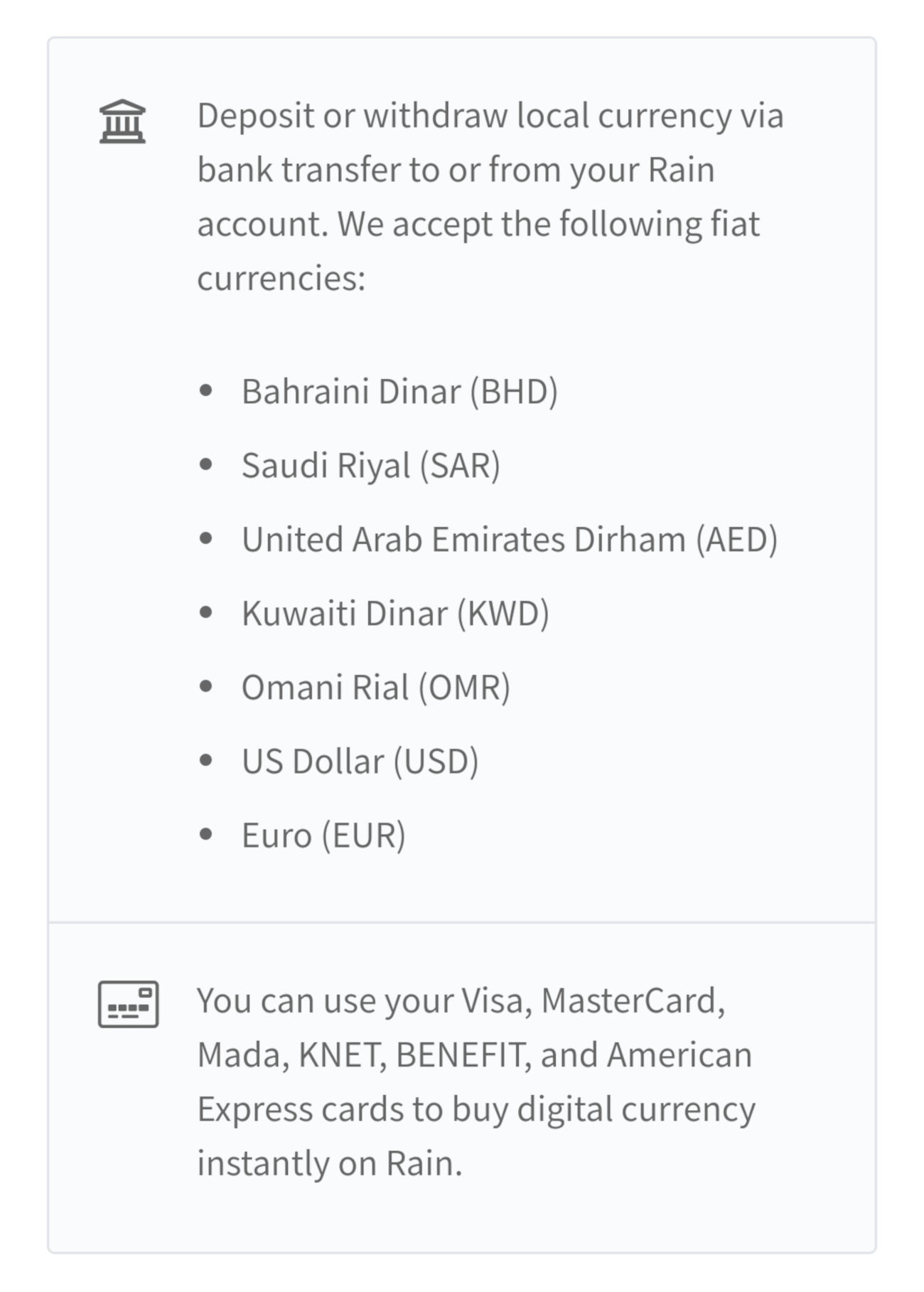 Fees are high, more comparable to fiat on/off ramp like Coinbase than a trading exchange like Binance or BitOasis. Users pay a 1.5% fee on all transactions funded via bank transfer, and 4% on transactions paid for with a debit or credit card.
Deposits are free, as are fiat currency withdrawals inside Bahrain. Bank transfers outside of Bahrain will incur a 50 SAR flat fee.
Withdrawals of Bitcoin or Ethereum will incur a dynamic network fee, which varies depending on network congestion. Withdrawals of Litecoin and XRP are free.
-
Exchange Hacks and Crypto Scams in Saudi Arabia
SmartRiyal and CryptoRial
Saudi Arabia's approach to Bitcoin and blockchain is similar to China's: against the former, in favor of the latter. The Kingdom has invested heavily in tech-focused projects, such as the planned smart city and tourism hub of >Neom.
This is part of Saudi Vision 2030, which is a wide-ranging plan to position Saudi Arabia at the forefront of international development as well as to rehabilitate the Kingdom's image to foreign investors.(4)
Neom is located in the far north-west of Saudi Arabia, by the Red Sea near Jordan and Egypt. The city, which will cover a vast area of 26,500 km2 (10,200 sq mi), will be entirely powered by renewable energy. It will also feature technology such as flying cars, robot dinosaurs and a giant artificial moon. Completion of the first stage is expected in 2025.(5)
With these kinds of ambitious goals included in the project, it's perhaps not surprising that someone took advantage of the hype to promote two cryptocurrencies which they claimed were tied to the development of Neom. SmartRiyal and CryptoRial were two cryptocurrencies issued by a Singaporean firm that purported to finance the construction of the smart city.
The Saudi Ministry of Finance warned in August 2019 that the cryptocurrencies were in no way linked to Neom."Any use of the KSA name, national currency or national emblem by any entity for virtual or digital currencies marketing will be subject to legal action by the competent authorities in the Kingdom," the statement continued(6).
Most mentions of the project seem to be scrubbed from the internet, and CryptoRiyal.io is inaccessible. Yet a cached version of the website shows CryptoRiyal's promoters being remarkably honest even while they fraudulently claim that "CryptoRiyal was created to meet the needs of Neom City, Saudi Arabia's newly constructed metropolis running entirely on renewable energy."(7)

"Financing the city of Neom is the ultimate goal of the project," CryptoRiyal's creators say, "but its execution may prove difficult…"
The token is now not listed on any exchange and is essentially worthless, so the team's initial outlook was not far off the mark.
-
Does Coinbase work in Saudi Arabia?
Coinbase is not available in Saudi Arabia.
See above for a list of exchanges that do serve Saudi Arabian customers.
Where Can I Find a Bitcoin ATM in Saudi Arabia?
Bitcoin ATMs are a convenient way to buy and sell Bitcoin and other cryptocurrencies for cold hard cash. This method usually incurs relatively high (5-10%) fees, but that's the price to be paid for the convenience of getting cash for your Bitcoin in less than half an hour.
Many ATM operators publish live prices for their machines, so you can see the exact rate you'll get before even visiting the ATM.
Some will require you to complete identity verification, though for many this is as simple as confirming a phone number.
Our Bitcoin ATM locator lists just one Bitcoin ATM in Saudi Arabia, located in Jeddah.

As you can see, the fees are steep (20% spread from Coinbase), but if you really need a Bitcoin ATM in Saudi Arabia then this is your only choice.
Is Saudi Arabia Issuing Its Own Cryptocurrency?
Central Bank Digital Currencies (CBDCs) are seen by governments around the world as a way to harness the power of blockchain technology while keeping it firmly within the purview of the state.
In November 2019, Saudi Crown Prince Mohammed bin Salman visited the United Arab Emirates to discuss a range of joint policy initiatives, including a digital currency platform that would smooth inter-bank transfers between the two countries. The goal of Project Aber, as the proof-of-concept is named, is to make trade and remittances between Saudi Arabia and its neighbor to the north-east quicker, safer, and cheaper.(8)
The UAE has taken a hands-on approach to cryptocurrency. The UAE's Securities and Commodities Authority (SCA) unveiled a plan in September 2019 to legalize and regulate initial coin offerings (ICOs) as financial securities.(9) In 2018, Abu Dhabi's Al Hilal Bank successfully issued a $500 MM sukuk, which is a type of sharia compliant bond.(10)
Saudi Arabia sees its smaller neighbor as the perfect proving ground for new technologies while it takes a more conservative approach. It remains to be seen how the proof-of-concept progresses, and if it expands beyond bank server rooms to reach the general public, but it's definitely a step toward Saudi Arabia embracing blockchain technology.
What is the Price of Bitcoin in Saudi Arabia?
Bitcoin prices are changing every second.
Another great way to find the most up-to-date price of Bitcoin is to check out our Saudi Arabia Bitcoin price page.(11)
The best way to check the price of Bitcoin in Saudi Arabia is to go the your exchange of choice and check the price in your local currency that Bitcoin last sold for. The price of an asset is just this - the value of the compensation for which it was most recently exchanged. This price differs across markets, i.e. one exchange may have a slightly lower or higher price depending on varying barriers to entry and liquidity. So, the price that most matters is the one you can actually trade at. This is most likely to be the price on the exchange you use the most.
See above for a list of the best Bitcoin exchanges in Saudi Arabia.
There are also a range of websites such as CoinMarketCap and Nomics that list the prices of hundreds of digital assets, drawn from a range of exchanges and averaged out.
How Do I Cash Out Of Bitcoin in Saudi Arabia?
The easiest way to cash out of Bitcoin in Saudi Arabia is to use an exchange that supports withdrawals of your preferred fiat currency. This could be USD, EUR, or SAR. BitOasis allows users located in the United Arab Emirates, Saudi Arabia, Kuwait, and Bahrain to withdraw AED to the bank account registered with the exchange.
The Bitcoin debit cards mentioned above allow you to withdraw cash from any ATM. If you're able to get your hands on a Uquid debit card, this may be the easiest way to convert your Bitcoin into cash.
Bitcoin ATMs are another way to exchange your BTC for fiat currency. There is just the one in Saudi Arabia, located in Jeddah.
Use our Bitcoin ATM finder tool to get more info on that ATM.
LocalBitcoins and other P2P exchanges are another option. Here, you can buy and sell Bitcoin for a wide range of payment methods, from gift cards to bank transfers. LocalBitcoins is a peer-to-peer (P2P) exchange, where you buy and sell with another individual. This does introduce a degree of risk, though by ensuring that you conduct all business on the platform, make use of its escrow services, and only trade with users who have a good reputation, you'll minimize any potential problems.
As selling Bitcoin for fiat currency is usually considered a taxable event, you'll want to make sure you comply with local regulations regarding taxation of capital gains. Check out our guide to the best cryptocurrency tax software to help you maximize your profits.
Article Sources
BuyBitcoinWorldWide writers are subject-matter experts and base their articles on firsthand information, like interviews with experts, white papers or original studies and experience. We also use trusted research and studies from other well-known sources. You can learn more about our editorial guidelines.