We may receive advertising compensation when you click certain products. Before jumping into this page, an important disclosure.
Coinmama
Coinmama allows customers in almost every country to buy bitcoin. They charge a 4.9%-5.9% (depends on volume) fee on each purchase.

Customers in Europe can also purchase bitcoins with SEPA transfer for a lower fee.

Pros
Works in almost all countries
Highest limits for buying bitcoins with a credit card
Reliable and trusted broker
Cons
Some of the highest fees among credit/debit card bitcoin brokers
Ease of Use
Easy
Privacy
Low
Speed
Fast
Fees
Average
Reputation
Trusted
Limits
High
Paybis
Paybis is a popular cryptocurrency exchange. They serve 180 countries and 48 US states and are registered with FinCEN, making them a more trusted, regulated exchange. Paybis offers incredibly high limits and super fast payouts, not to mention 5 minute ID verification and nearly perfect review scores on Trustpilot.
Pros
24/7 live support
Paybis has extremely high limits
5 Minute verification
Get payouts fast
Large selection of payment methods
Cons
No traditional order book for advanced traders
Ease of Use
Easy
Privacy
Low
Speed
Average
Fees
Low
Reputation
Trusted
Limits
High
Kraken
Founded mid-2011, Kraken is the one of the world's largest cryptocurrency exchanges, and the largest in Europe based on daily average trading volume. It is available in almost all countries.

Deposits can be made via bank wire, SEPA, ACH and SWIFT. Users can buy bitcoin, ethereum, dogecoin and dozens of other coins.
Pros
Very low 0.25% taker fee, falling to 0.1% with sufficient trading volume
Very low maker fee, falling to 0% with sufficient trading volume
Highly-rated for security and data protection
Cons
Requires ID verification, so not private
Ease of Use
Hard
Privacy
Low
Speed
Average
Fees
Low
Reputation
Trusted
Limits
High
Bitcoin ATMs
You can use our Bitcoin ATM map to buy bitcoins with cash. Bitcoin ATMs can be a quick and easy way to buy bitcoins and they're also private. That convenience and privacy, however, comes with a price; most ATMs have fees of 5-10%. View Bitcoin ATMs
Pros
Our map makes it super easy to find a Bitcoin ATM near you
Cons
Bitcoin ATMs often have 5-10% fees per purchase
How to Buy Bitcoin in Haiti
Bitcoin is legal in Haiti, and its citizens are free to buy, sell, and own Bitcoin.
There aren't a ton of exchanges that support Haitian investors, but there are several excellent options for Haitians nonetheless.
Coinmama is one of the best exchanges in Haiti, and works in almost all countries. Other mainstream exchanges (Coinmama included) require identity verification before trading.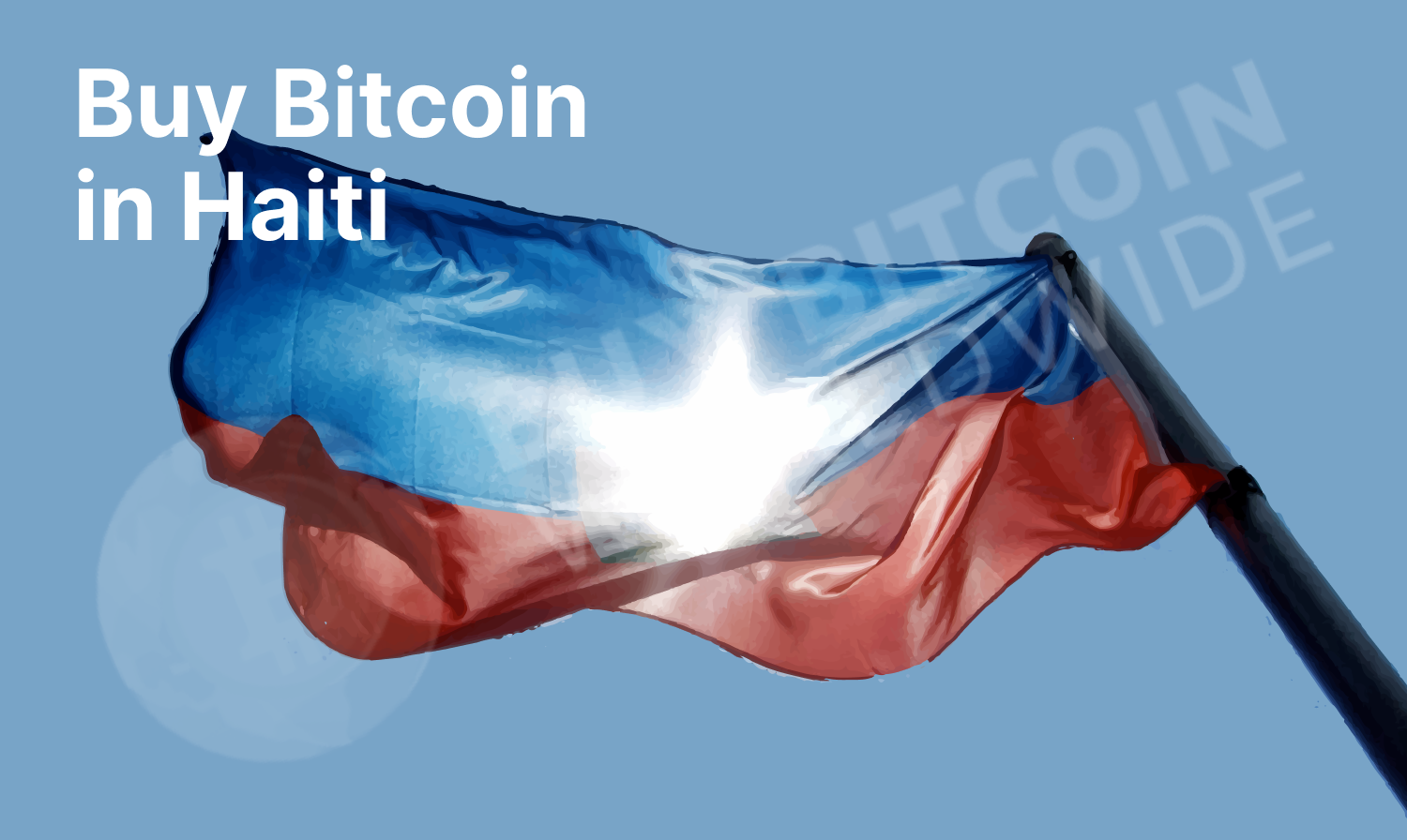 LocalBitcoins is a better idea for Haitians that don't want to reveal their identity. LocalBitcoins matches buyers and sellers on the blockchain, both in Haiti and around the world, facilitating private Bitcoin payments.
Make sure you follow LocalBitcoin's rules, so you don't run into any thieves. On that note, the importance of protecting your investment cannot be overstated. Centralized exchanges know hackers and thieves all too well - storing your Bitcoins on a cold storage hardware wallet like the Ledger Nano X is the best way to protect them.
Bitcoin Mining in Haiti
The value of the Bitcoin awarded for mining, minus the cost of electricity to mine, equals your profitability margin. Unfortunately, most miners end up on the losing end of the equation with negative margins(2).
Mining with hardware that's not just powerful but efficient as well is one of the best ways to maximize profitability. The idea is maximizing hash rate while minimizing power consumption.
But even more important is the price of electricity.
Mining in a country with cheap electricity is vital for the health and profitability of a mining operation, especially with Bitcoin's block difficulty on the rise.
You can use the most efficient miner in the world, but if you're paying $1.00 per kWh, you'll never turn a profit.
Haiti is an island nation in the Caribbean, a region known for its high electricity prices. Most countries in the Caribbean rely on importing oil for their electricity, Haiti included. As a consequence, electricity prices in Haiti are high, coming in at approximately $0.33 per kWh.
Considering most Bitcoin mining operations are located in countries with cheap electricity - $0.06 per kWh or less - mining in Haiti is not an option. At least, if you want any hope of mining profitably.
Even with the best mining hardware on the market today, you'd lose close to $10,000 per year mining Bitcoin in Haiti. After buying the expensive mining hardware and paying for electricity - not to mention other fees you'll encounter along the way - Bitcoin mining isn't profitable.
If you want to acquire Bitcoin as quickly and efficiently as possible, buying it directly from an exchange is your best bet.
Article Sources
BuyBitcoinWorldWide writers are subject-matter experts and base their articles on firsthand information, like interviews with experts, white papers or original studies and experience. We also use trusted research and studies from other well-known sources. You can learn more about our editorial guidelines.
Wikipedia - Haiti, https://en.wikipedia.org/wiki/Haiti
BloombergNEF - Haiti, https://www.global-climatescope.org/markets/ht/