Curious if you can buy and trade Bitcoin on Charles Schwab?
Well, as of September 2023, you cannot buy or trade actual Bitcoin on Charles Schwab.
If you want to buy and trade Bitcoin directly, you can head over to our exchange page to find the best exchanges in your country.
This tool makes it dead simple to acquire Bitcoin from a reputable exchange that serves customers in your region.
Key Takeaways
You cannot buy and trade Bitcoin on Schwab
But...you can buy and sell Bitcoin futures contracts.
Owning futures contracts is not the same as owning Bitcoin.
Bitcoin Trusts
If you really want to use Schwab though, it is possible to gain exposure to Bitcoin through publicly traded investment trusts or funds, like the Grayscale Bitcoin Trust (GBTC)(1).
➤ MORE: What is GBTC?

Schwab's GBTC page
Schwab also offers two other Bitcoin trust products:
Bitcoin Futures
You can also trade Bitcoin futures contracts through their platform, though you will be required to open a separate futures account on Schwab.
Standard brokerage accounts on Schwab cannot trade futures.
Schwab's Available Bitcoin Futures Products
| | CME Micro Bitcoin Futures | CME Bitcoin Futures |
| --- | --- | --- |
| Symbol | /MBT | /BTC |
| Contract size | 0.1 bitcoin | 5 bitcoin |
| Minimum tick | 5 | 5 |
| Minimum value of one tick | $0.5 | $25.00 |
| Margin requirement | $1,898 | $94,397 |
| Notional value | $3,946 | $197,275 |
The primary difference between the Bitcoin Futures product and the Micro Bitcoin futures product is that in the Micro product, you can buy contracts for 1/10th of a Bitcoin as opposed to an entire Bitcoin.
➤ MORE: Can you buy crypto on Ameritrade?
Other than that, they are the same.
Crypto ETF
Schwab also manages a Crypto ETF called Schwab Crypto Thematic ETF (STCE).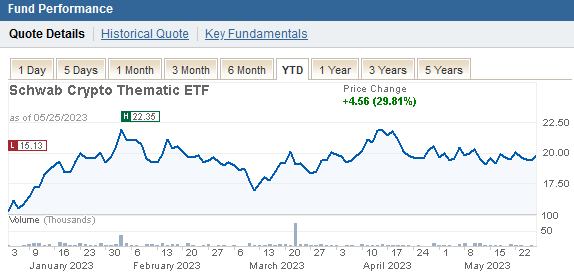 Schwab's Crypto Thematic ETF page
According to their documentation,
The investment seeks to track as closely as possible, before fees and expenses, the total return of the Schwab Crypto Thematic Index that is designed to deliver global exposure to companies that may benefit from the development or utilization of cryptocurrencies (including bitcoin) and other digital assets, and the business activities connected to blockchain and other distributed ledger technology.The fund will not invest in cryptocurrency or digital assets directly.
So its important to keep in mind that if you invest in this ETF,
You are not investing in Bitcoin directly.
You are not investing in a fund that holds Bitcoin.
You are investing in a fund that invests in companies that might benefit from higher crypto prices and may hold bitcoin or crypto on their balance sheets.
Not the Same As Owning Bitcoin
Trading futures contracts, ETFs, or investment trusts isn't the same as owning Bitcoin itself.
➤ MORE: The Difference Between Bitcoin & GBTC
When you buy or trade these assets, you're essentially speculating on the future price of Bitcoin - not purchasing the cryptocurrency directly.
Article Sources
BuyBitcoinWorldWide writers are subject matter experts and base their articles on firsthand information, like interviews with experts, whitepapers or original studies and experience. We also use trusted research and studies from other well-known sources. You can learn more about our editorial guidelines.
Schwab - GBTC Page, https://www.schwab.com/research/etfs/quotes/chart/gbtc
Osprey Funds - Osprey Bitcoin Trust, https://ospreyfunds.io/products/obtc/
Bitwise - Bitwise 10 Crypto Index Fund, https://bitwiseinvestments.com/crypto-funds/bitw