Pros
Buy bitcoin easily in the Middle East
Shari'a Compliant
Licensed and regulated by the Central Bank of Bahrain (CBB)
Cons
Only available in Bahrain, Kuwait, Oman, Saudi Arabia, and UAE
-
Rain is a cryptocurrency exchange located in Bahrain that serves a number of countries in the Middle East. Rain supports multiple fiat currencies, including the U.S. dollar.
Its solid reputation and comprehensive exchange offerings make it worth considering if you're looking for a cryptocurrency exchange tailored to Middle Eastern customers. Read on to find out more about Rain's safety, supported assets, trading platforms, and more.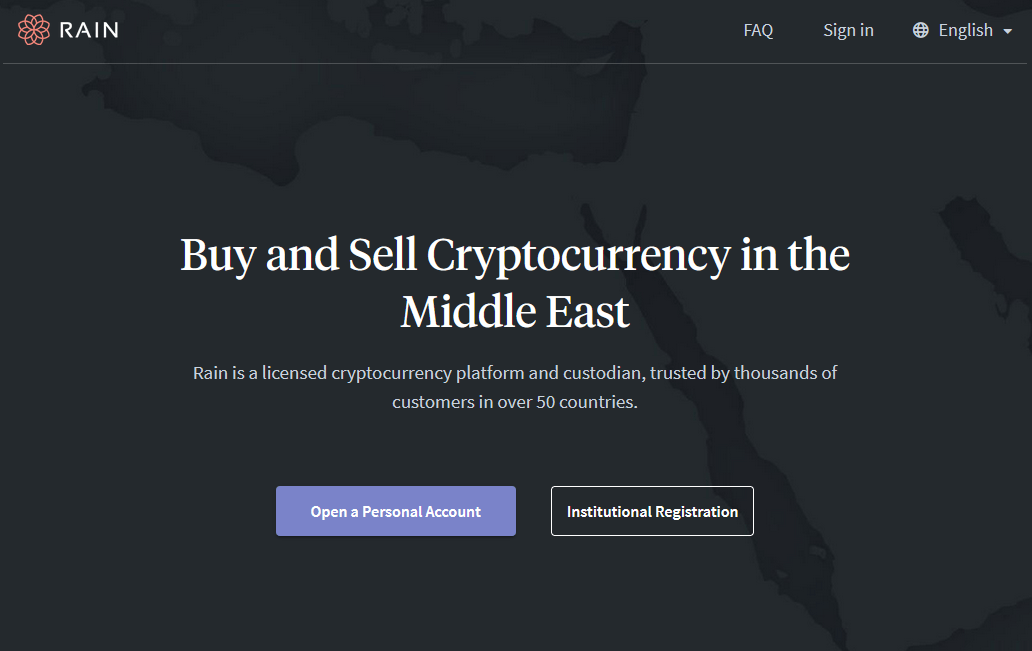 Rain opened its doors for business in early 2019, after acquiring a Crypto-Asset Module license from the Central Bank of Bahrain (CBB) and closing a $2.5 million seed funding round.
This funding round was co-led by BitMEX Ventures and Blockwater, a Kuwait-based cryptocurrency fund. Other participants included Vision Ventures, 500 Startups MENA, and Taibah Valley.
BitMEX Ventures is devoted to encouraging greater global access to cryptocurrency trading as we start to see the maturation of cryptocurrencies as a legitimate asset class.
As the first licensed cryptocurrency exchange in the Middle East, Rain has an unprecedented opportunity to tap into the incredible potential that cryptocurrency trading will bring to the region.
We believe that Rain will bring greater diversification to Middle-Eastern traders with its exchange offering and experienced team, and we are thrilled to contribute to this defining moment.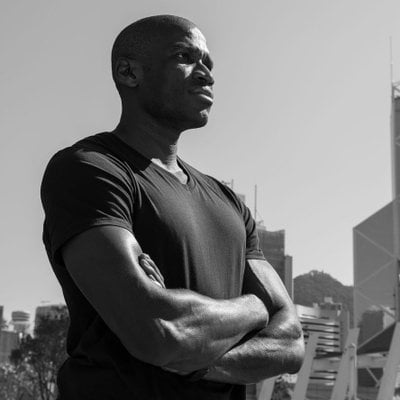 Arthur Hayes
CEO, BitMEX
Before we dive into how to create an account and buy and sell on Rain, let's take a look at some of the exchange's features and frequently asked questions so you can see if it suits your needs.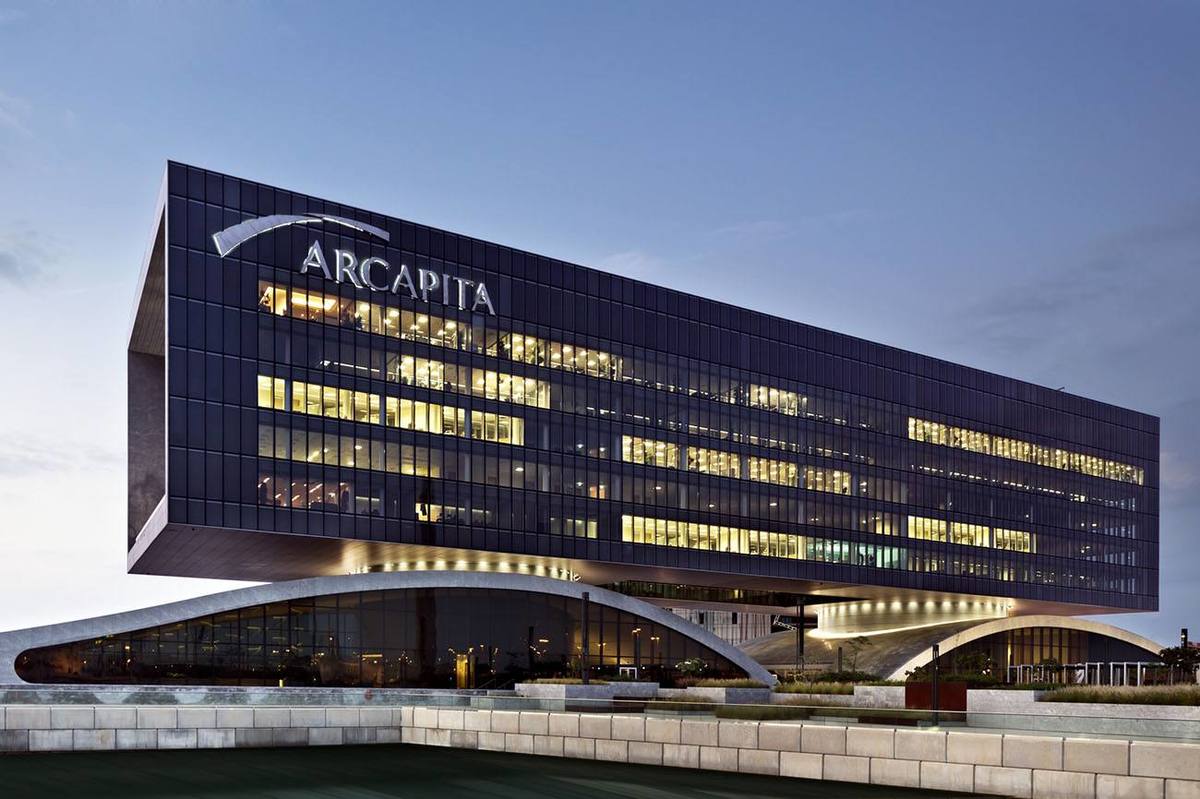 Rain headquarters in the Arcapita building Source: Werner Sobek Architecture
-
Step-by-Step Guide to Using Rain
How to Create an Account on Rain
Now that we've gone through what Rain offers, which countries and currencies it supports, and the applicable fees and limits, let's take a look at how to create an account on Rain so you can get started buying and selling cryptocurrencies.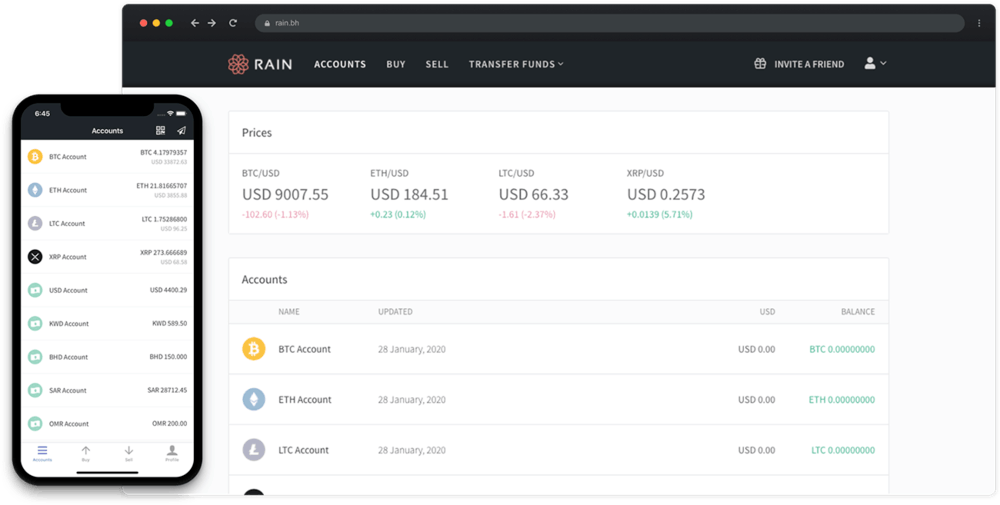 In keeping with the rest of the exchange's offerings, creating an account on Rain is a clear but comprehensive process.
On Rain's homepage, select Open a Personal Account. To sign up, you'll need to provide an email address and a phone number. After confirming each of these, you'll be ready to verify your account.
As you can see, Rain's account verification is quite lengthy and in-depth. Take a look through each step to make sure you have the required documents(1).

Once your account has been verified, you'll be able to link a payment method and begin buying and selling.
How to Link a Bank Account to Rain
To take advantage of the lower fees incurred by using a bank account to fund your purchases, first you'll need to link one in your name. To do this, log in to your Rain account and hover over the profile icon in the top right. Select Payment Methods(2).

Click on Add Bank Account.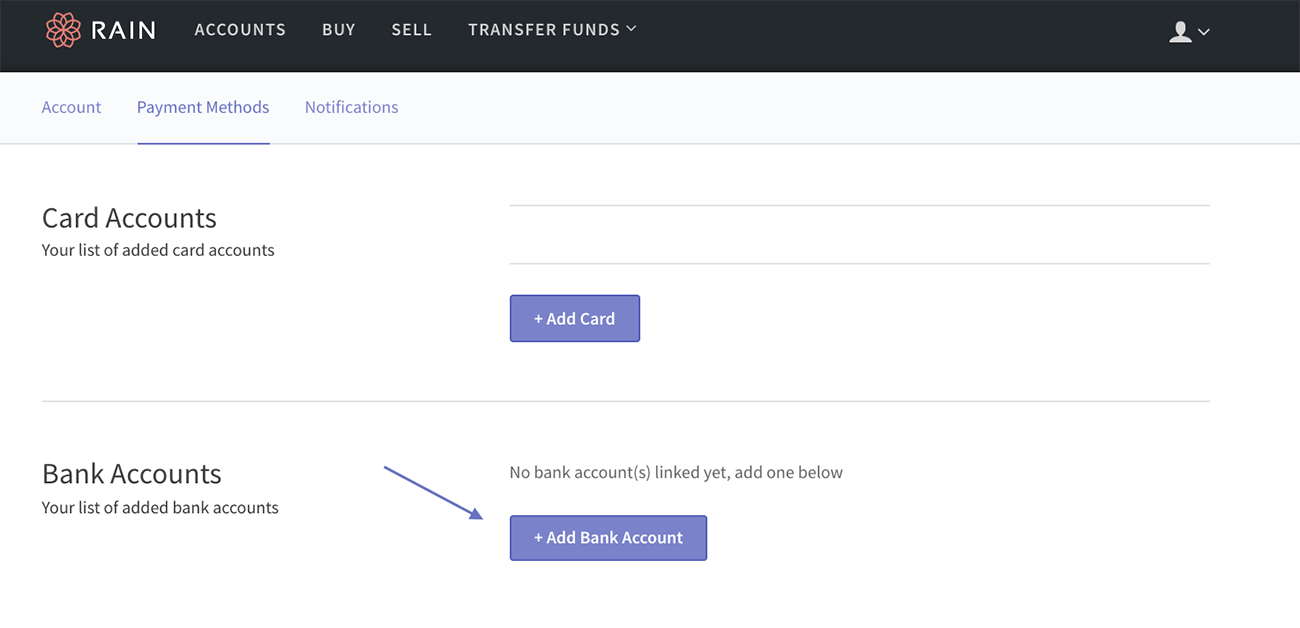 Next, enter your full name and your bank's IBAN code. If your account does not have an IBAN code, select the checkbox that says "My bank does not have an IBAN", then enter your account number and SWIFT code.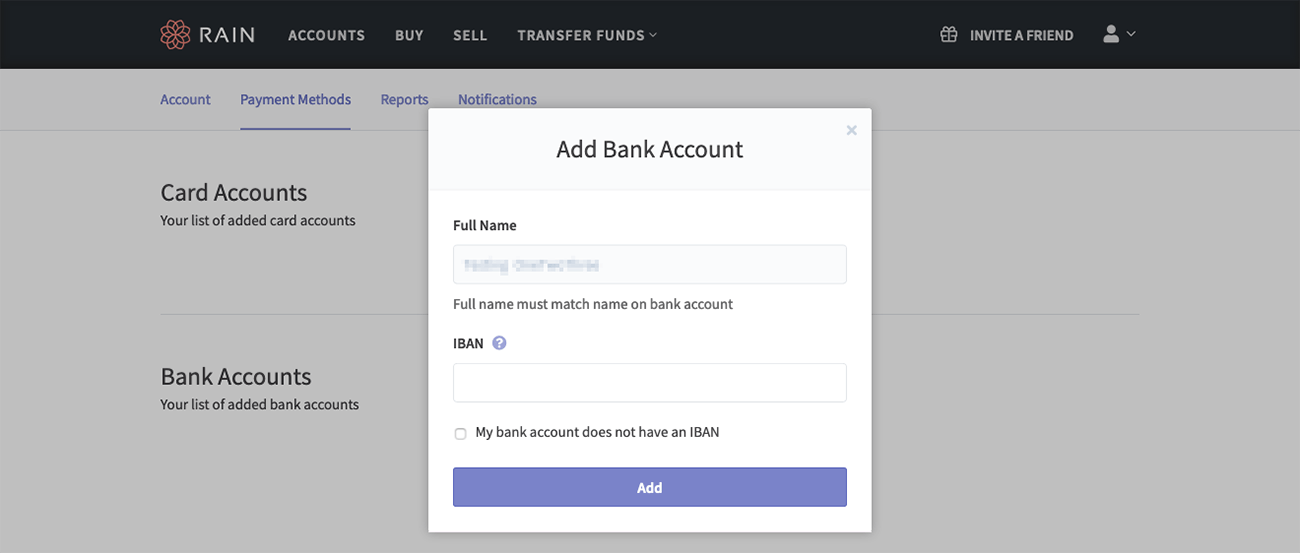 That's it, your account is now successfully linked and it will show up automatically as an option when depositing or withdrawing funds.
How to Link a Credit or Debit Card to Rain
Linking a card to your account is very similar to linking a bank account. Just select Add card, enter the details of a card in your name, and confirm. Your card will now be saved to your account, allowing you to purchase cryptocurrency instantly(3).

How to Deposit Funds to Rain
Once you've linked your bank account, you'll want to deposit funds so you can begin trading. To do this, log in and hover over the Transfer Funds menu. Select Deposit from bank(4).

Next, select the currency you wish to deposit. You'll end up making a wire transfer to Rain's account details, which vary depending on the selected currency. This means that it's important to send the right currency to the right account.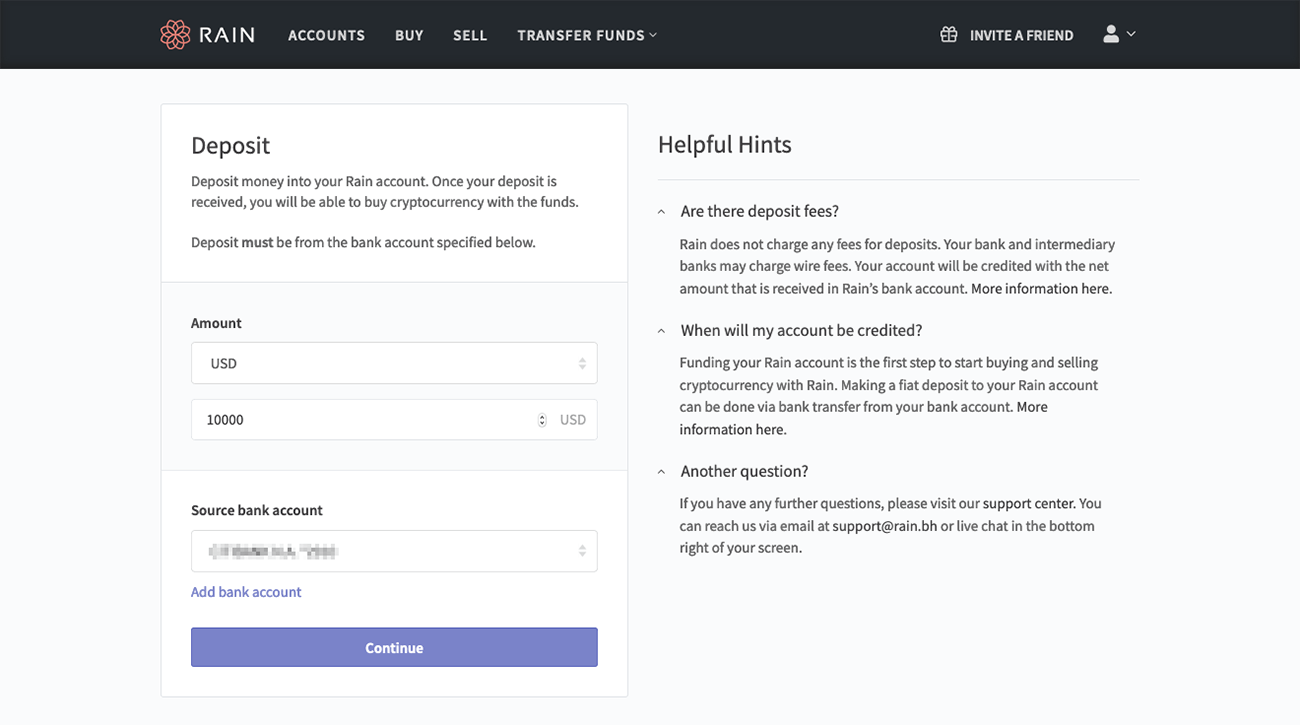 Once you click Continue, you'll receive an email with Rain's account details and the steps required for completing your deposit.
QUICK TIP
Users with Bahraini bank accounts can use Fawri and Fawri+ transfers for lower fees and faster deposits. Fawri transfers have no limit, but are not confirmed immediately. Fawri+ deposits are limited to BHD 1000 per day, but are available instantly. Fawri transfers follow the same procedure as wire transfers. Make sure to choose Fawri or Fawri+ as the transfer type after linking your account, and selecting and confirming the deposit amount.

You can check your balance under the Accounts tab. Here, you can see the amount of BTC or altcoins you hold, as well as any fiat deposits.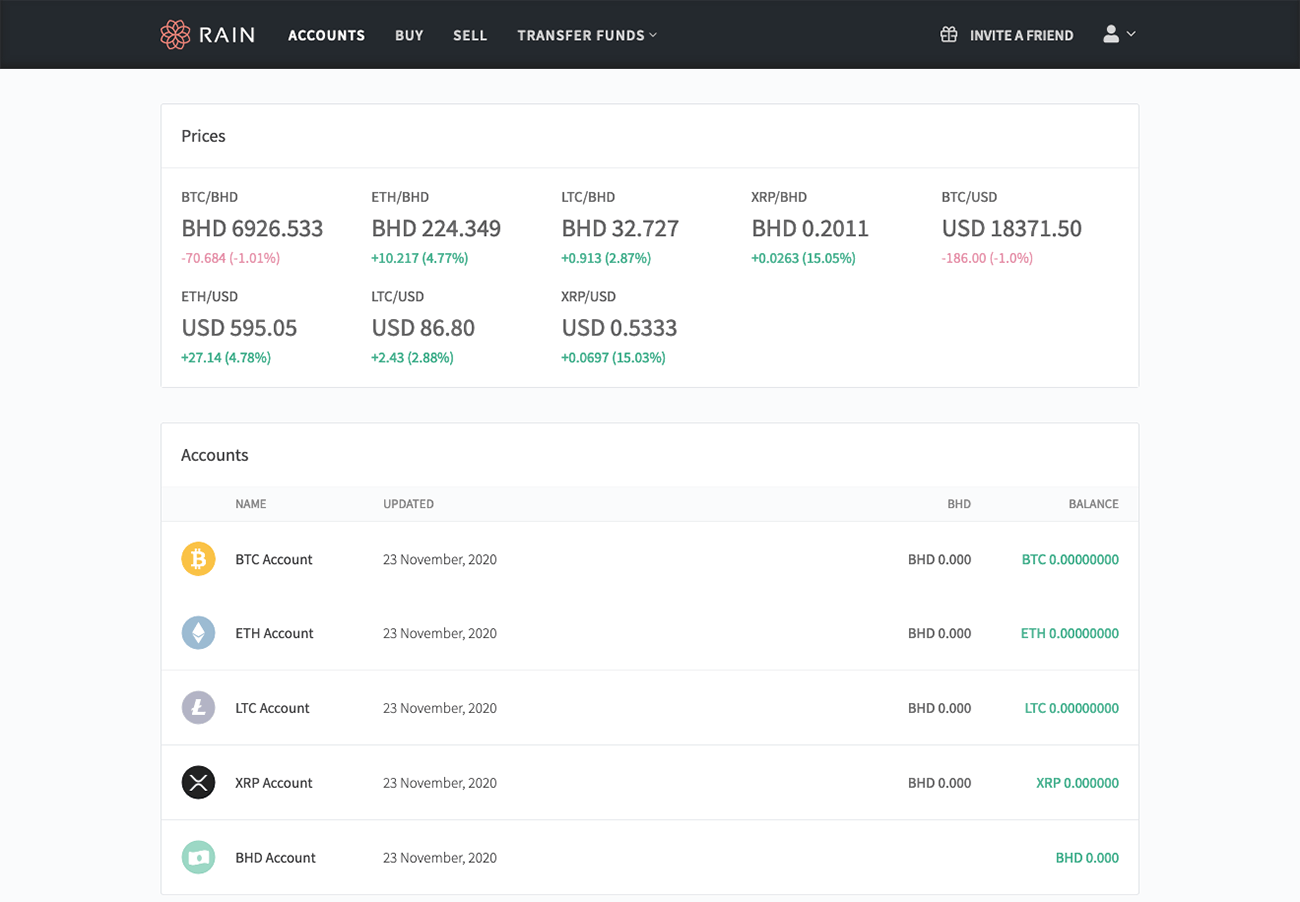 How to Buy Cryptocurrency on Rain
Rain's interface is more similar to Coinbase or Gemini than Binance or any exchange with a more in-depth trading interface. This makes it ideally suited to use as a fiat on- or off-ramp, but less suited to active traders.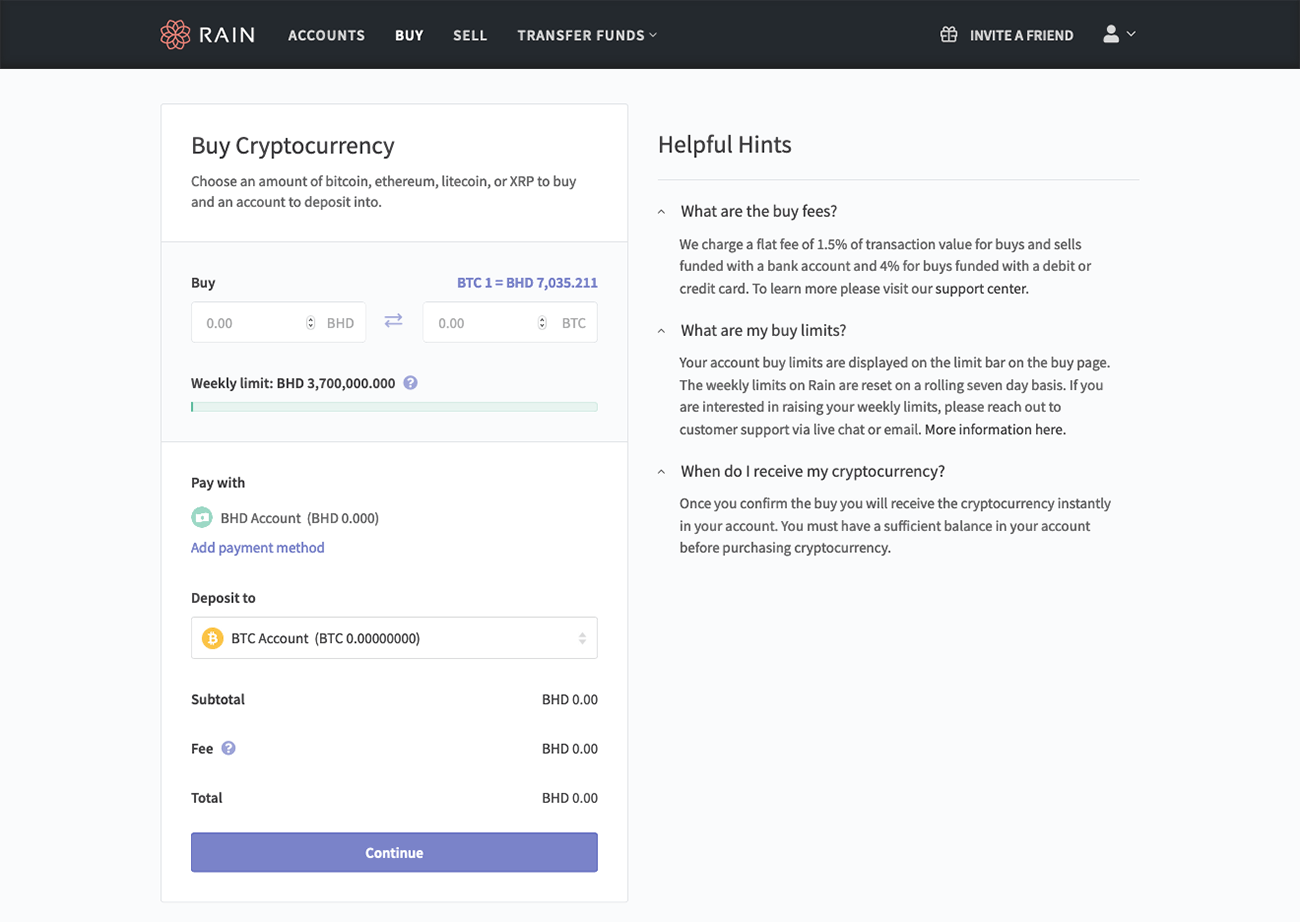 To get started buying cryptocurrency, click on Buy on the top menu. You'll be taken to the above page, where you can select the digital asset you wish to purchase, and the funding source. If you have previously deposited a supported fiat currency into your account, it will show up here. Otherwise, Rain will prompt you to add a payment method.
How to Sell Cryptocurrency on Rain
Selling cryptocurrency on Rain is much the same as buying. Click Sell on the top menu.
Rain's quoted rate includes a spread of approximately 2%. For example, in the below screenshot the quoted rate is 1 BTC = = BHD 6,915.913, while if you were to buy the exchange rate is 1 BTC = BHD 7,036.353. Rain quotes the mid-market rate at BHD 6955.564. On top of this, there is a 1.5% fee applied to all sales.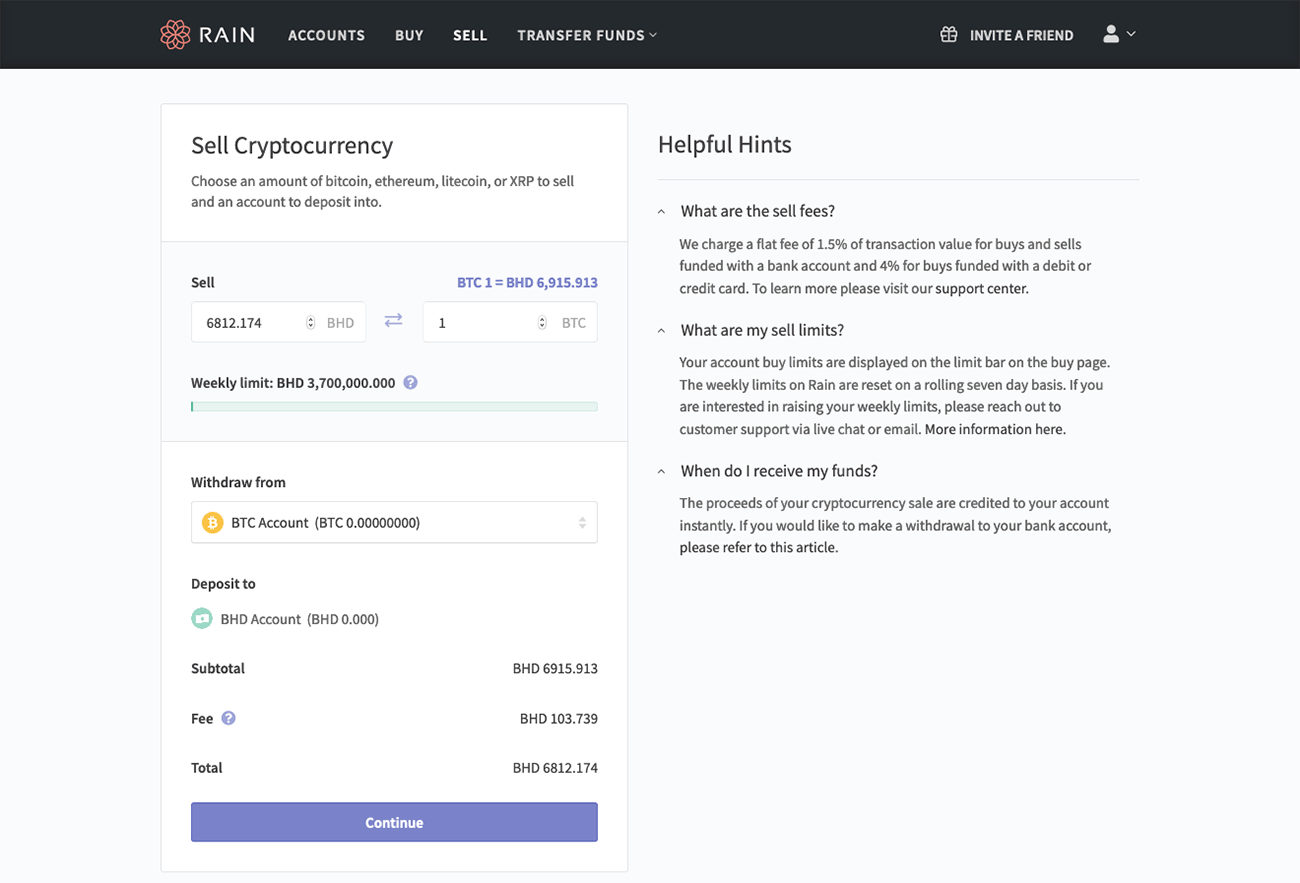 These fees are certainly competitive when compared with exchanges like Coinbase. Yet they are quite a bit higher than Binance, for example, which charges 0.1% at most on buy and sell transactions. Once again, this highlights Rain's focus on ease of use over razor-thin fees and margins.
How to Withdraw Funds from Rain
You can withdraw any supported cryptocurrency or fiat currency to any wallet of your choosing or a previously-linked bank account(5).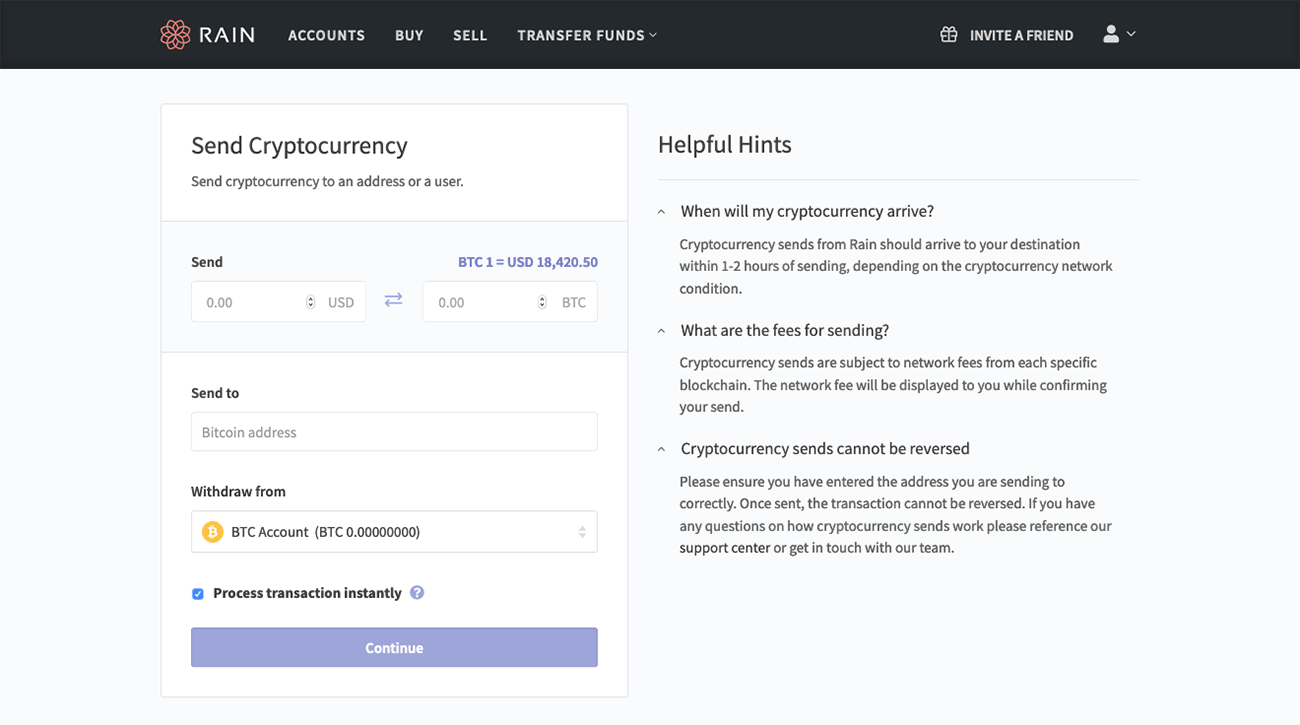 Rain gives you the option to process a withdrawal "immediately," which means it will be sent with a higher network fee and most likely arrive sooner, or you can have the transaction sent with a lower fee, which will take longer be be confirmed.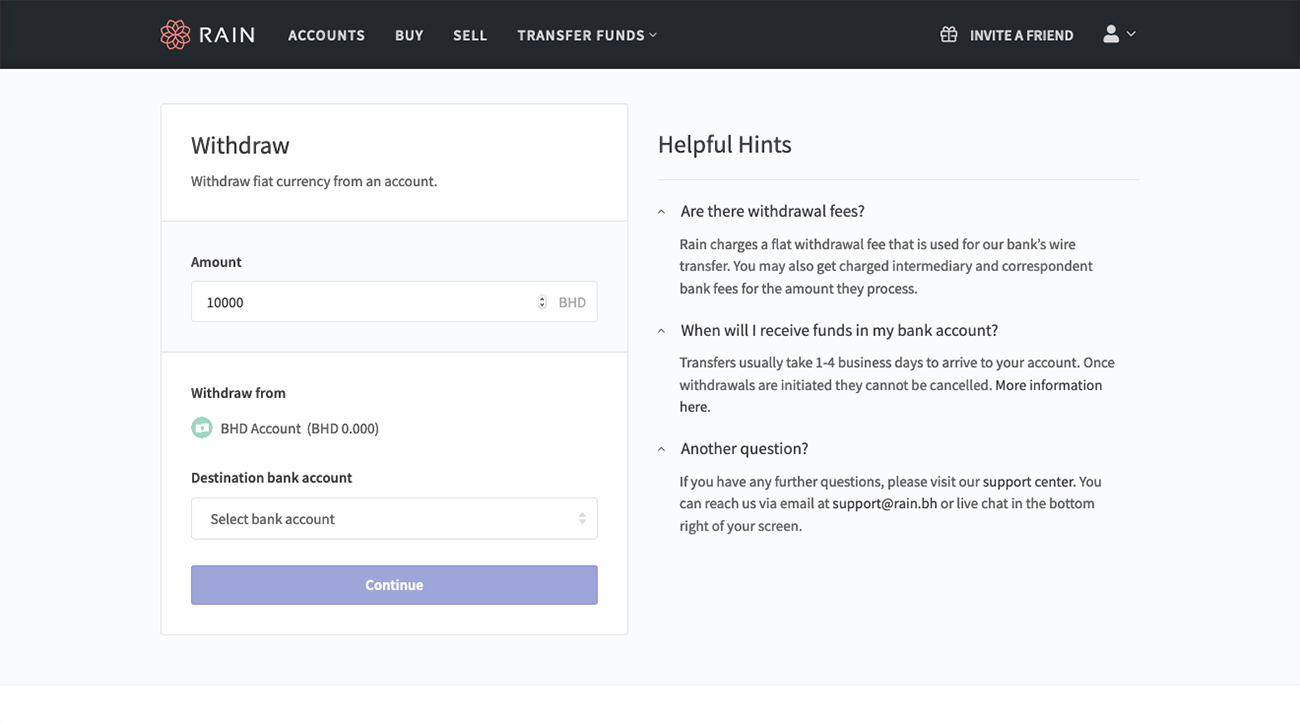 fiat withdrawals are very similar. Rain charges flat fees for withdrawals, which are outlined below. Note that your bank and any intermediaries may also charge fees.
| Fiat Currency | Withdrawal Fee |
| --- | --- |
| Bahraini Dinar | No withdrawal fees for local transfers |
| Kuwaiti Dinar | KWD 5 |
| Saudi Riyal | SAR 50 |
| UAE Dirham | AED 50 |
| Omani Rial | OMR 5 |
| US Dollar | USD 15 |
How to Export Your Trade History
When it comes to tax time, you might find yourself wanting a complete history of all your trades so you can accurately calculate capital gains. Rain makes it easy to do this(6).
Navigate to your account settings, and select Reports. Here, you can export a complete record of all your trades as a CSV or JSON file. You can filter by date, asset, and transaction type (Buy, Sell, Send, Receive).

Conclusion
Overall, Rain is a great option for cryptocurrency investors in the Middle East who are looking for a high level of regulation, high purchasing limits, and comprehensive customer support. While Rain's fees are not the lowest, using bank transfers rather than credit or debit card payments keeps them low, and they are still competitive with many other exchange offerings on the market.
Rain provides just about every feature an investor (rather than trader) would likely make use of. It supports deposits and withdrawals in five local fiat currencies as well as the U.S. dollar, making it easy to move your money around.
If you're located in the Middle East and are looking to get started investing in cryptocurrency, it's worth considering Rain.
-
Is It Safe to Store Coins on Rain?
While it's always best to control your own private keys, this is not always possible if you're looking to actively trade with your holdings. Though using any exchange requires you to trust them with your money, some are more committed to security than others. It's worth doing your due diligence before entrusting any exchange with your funds. Let's take a look at Rain's security policies.
Rain is licensed and regulated by the Central Bank of Bahrain (CBB) as an approved crypto-asset brokerage. It is the only exchange to be licensed as such in Bahrain and the Middle East.
Eager to show off its credentials, Rain has even published a guide on how to verify that it is in fact licensed by the CBB.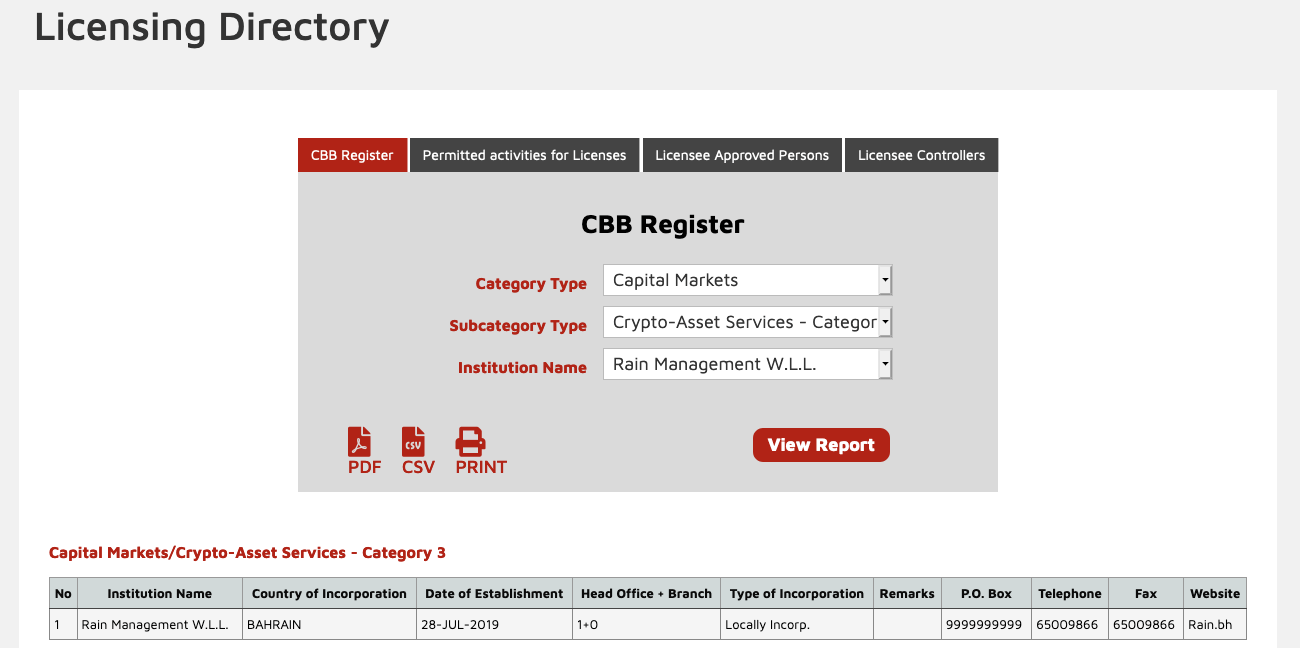 Rain claims to store 98% of its customers' cryptocurrency deposits in multi-signature cold storage wallets, with the private keys split up and locked inside bank safety deposit boxes. While there's no way of checking yourself to see if this is true, it's a sign that the exchange takes customer security seriously.
Additionally, Rain is Cryptocurrency Security Standard (CCSS) Level III compliant, which is the highest rating attainable.
Rain's systems undergo in and out-of-house security audits throughout the year, and fiat deposits are stored in bank accounts regulated by the Central Bank of Bahrain.
Rain also offers support for two-factor authentication (2FA). You can secure your account using Authy or Google Authenticator, which adds another level of security beyond your password.
Which Countries Does Rain Support?
Rain is based in Bahrain and serves a number of countries located in the Arabian Gulf. You can sign up and trade with Rain if you're a resident of(7):
Supported Countries
Bahrain
Kuwait
Saudi Arabia
Oman
Qatar
Egypt
Morocco
Jordan
Which Cryptocurrencies Does Rain Support?
In addition to the number one cryptocurrency of them all (BTC), Rain supports three major altcoins. You can use Rain to buy, sell, and trade(8):
Supported Cryptocurrencies
Bitcoin (BTC)
Ethereum (ETH)
Ripple (XRP)
Litecoin (LTC)
Can You Convert Between Cryptocurrencies on Rain?
Currently, you cannot convert between cryptocurrencies on Rain. You can buy Bitcoin and altcoins with fiat and sell them back to fiat, but you cannot convert between them. Rain is more of an investment platform than a professional trader's exchange.
Which Fiat Currencies Does Rain Support?
Rain supports the national fiat currency of each country it serves, as well as the U.S. dollar. This means that you can trade with(9):
Supported Fiat Currencies
Bahraini Dinar
Kuwaiti Dinar
Saudi Riyal
Omani Rial
Emirati Dirham
US Dollar
Which Payment Methods Does Rain Support?
Rain supports a number of different payment methods. Residents of any country serviced by Rain can use a Visa, MasterCard, or linked bank account to buy cryptocurrency.
Residents of Kuwait can also use an American Express credit card or a KNET card.
What are Rain's Fees, Limits & Liquidity?
Rain's fees are more comparable to a fiat on/off ramp like Coinbase than a trading exchange like Binance or BitOasis. Users pay a 1.5% fee on all transactions funded via bank transfer, and 4% on transactions paid for with a debit or credit card.
Deposits are free, as are fiat currency withdrawals inside Bahrain. Bank transfers outside of Bahrain will incur a 50 SAR flat fee.
Withdrawals of Bitcoin or Ethereum will incur a dynamic network fee, which varies depending on network congestion. Withdrawals of Litecoin and XRP are free.
Purchasing limits are very high, with an initial weekly limit of BHD 3,700,000.00. If you find yourself needing to purchase more than 500 BTC per week, you can contact Rain and provide additional documentation to increase your limit.
What is Rain's Customer Support Like?
One of Rain's best features is its detailed and helpful knowledge base.
Rain's Support Center contains 129 articles on everything from how to link a bank account to the exchange's Shari'a compliance.
There is also a live chat feature where you can talk with a Rain customer service representative in real time. Rain claims an average response time of under 5 minutes.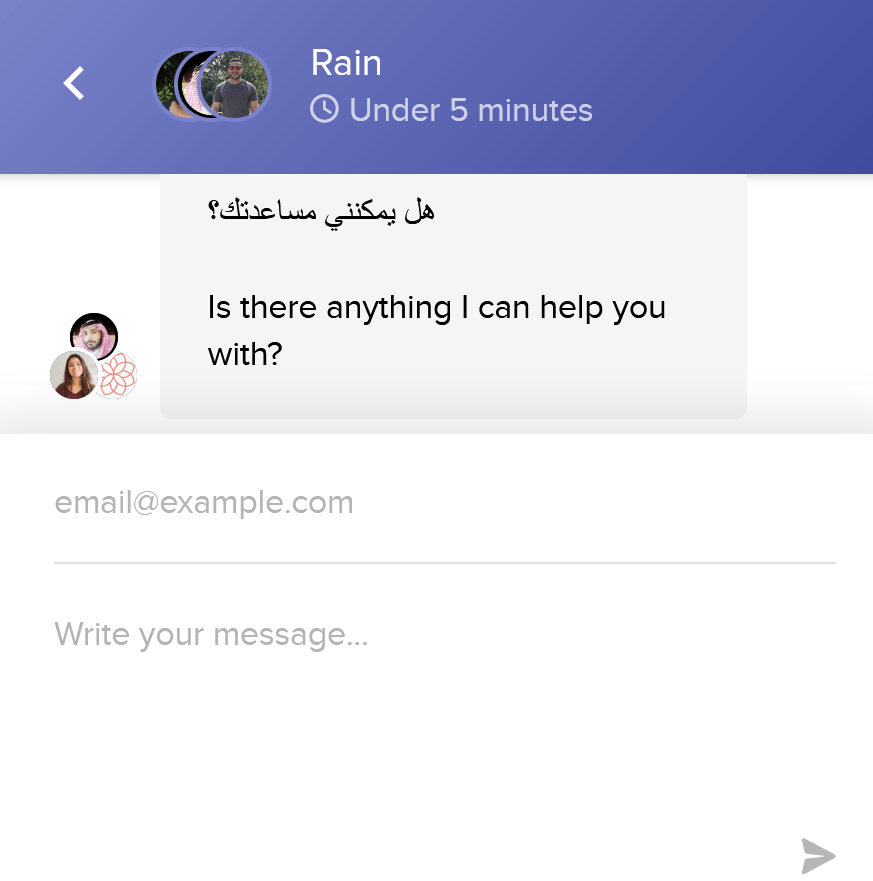 Does Rain Serve Institutional Investors?
Rain Desk is the exchange's over-the-counter (OTC) offering. It offers personalized cryptocurrency buying, selling, and custody services to high-net-worth individuals, businesses, and family offices.
Clients are assigned dedicated account managers who can guide you through the process of buying, selling, and storing the exchange's supported digital assets.
To sign up for a Rain Desk account, click Institutional Registration on Rain's homepage.
Is Rain Shari'a Compliant?
Rain announced before opening that it had been approved by the Shari'a Review Bureau (SRB) as a Shari'a certified compliant business(10).
The SRB is licensed and authorized by the Central Bank of Bahrain to issue Shari'a compliance certifications. Rain released a statement expressing their excitement at being approved.
This is a historic milestone in the cryptocurrency and Islamic markets.
This is the implementation of Rain's mission to provide the Middle East with a crypto-asset brokerage that meets the highest standards in terms of regulation, accessibility, security and trust.
We are excited to open the Islamic markets to cryptocurrency with a Shari'a compliant exchange and a suite of cryptocurrency investment opportunities.
Article Sources
BuyBitcoinWorldWide writers are subject-matter experts and base their articles on firsthand information, like interviews with experts, white papers or original studies and experience. We also use trusted research and studies from other well-known sources. You can learn more about our editorial guidelines.