We may receive advertising compensation when you click certain products. Before jumping into this page, an important disclosure.
This is a complete guide to Buying Bitcoin with iDEAL.
We will cover all the top exchanges accepting iDEAL as a payment method for Bitcoin and other cryptocurrencies.
So if you want to use iDEAL to buy Bitcoin, this is the page for you!
Popular Exchanges

eToro

BUY NOW

at eToro's Secure Site

Fees

Varies by crypto/spread

Supports Bitcoin, Ethereum & 15 other coins
Start trading fast; high limits
Clean & easy trading interface
Does not support credit card buys for US users.

Cryptoasset investing is unregulated in some EU countries and the UK. No consumer protection. Your capital is at risk.

Bitpanda

BUY NOW

at Bitpanda's Secure Site

Crypto exchange based in Europe
Buy bitcoin with card, SEPA, SOFORT
Trusted exchange
eToro is a trading platform that accepts deposits via iDEAL. It also offers unique features like social trading and supports coins like ethereum, litecoin, Zcash and about 10 more.
This content is not intended for US users. The above deposit method is not available for users from the US. Cryptoassets are highly volatile. Cryptoasset investing is unregulated in some EU countries and the UK. No consumer protection. Your capital is at risk.
Pros
Offers unique copy trading feature
Trusted exchange that has been active in traditional finance
Interface is clean and easy to use
Cons
You cannot deposit cryptocurrency, but you can deposit with other payment methods
Ease of Use
Easy
Privacy
Low
Speed
Average
Fees
Low
Reputation
Trusted
Limits
High
Coinbase
Coinbase is the world's largest bitcoin broker. Citizens of the Netherlands can use iDEAL to buy crypto like Bitcoin and Ethereum as well as other coins on the platform. Coinbase charges a flat 1.49% fee on all transactions. If you want to cash out, though, you will need to use Sepa transfer.
Pros
High liquidity and buying limits
Easy way for newcomers to get bitcoins
"Instant Buy" option available with debit card
Cons
Purchases made with bank transfer can take up to 5 days to complete
Coinbase may track how and where you spend your bitcoins
Ease of Use
Easy
Privacy
Low
Speed
Average
Fees
Average
Reputation
Trusted
Limits
High
Bitonic
Bitonic was founded in 2012 and is the most popular Bitcoin service in the Netherlands. Best of all, their brokerage service is a fast and easy way to buy bitcoins via iDEAL. You may also fund your Bitonic BL3P exchange account via iDEAL as well.
Pros
First and highly-trusted Bitcoin service in the Netherlands
Super fast delivery of bitcoins
BL3P exchanges offers a very low 0.25% fee and promises fast deposits and withdrawals
Cons
Brokerage fees not publically stated; included in price at checkout
Semi-private brokering service; bank account verification required but TOR connections allowed
Ease of Use
Easy
Privacy
Average
Speed
Fast
Fees
Average
Reputation
Trusted
Limits
Average
-
Chapter 1
Buy Bitcoin with iDEAL on Binance
Binance supports deposits of Euros using iDEAL.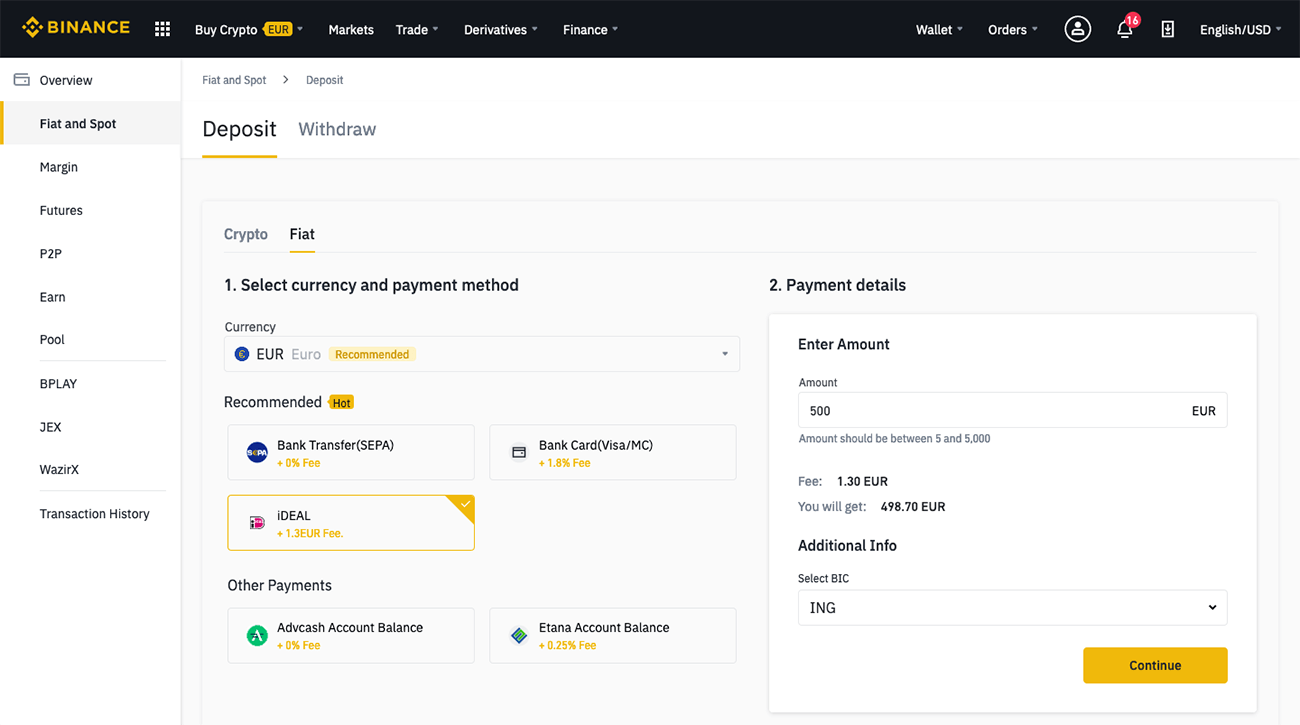 You can deposit anywhere from €5-€5.000, with this limit raised to €50.000 per day if you complete Binance's residential address verification.
There is a €1,30 flat fee, regardless of the transaction size.
Once you've deposited Euros to your fiat wallet following the process outlined above, you're ready to buy. You can then trade Binance's BTC/EUR pair, or use your cash balance to purchase nearly two dozen other digital assets.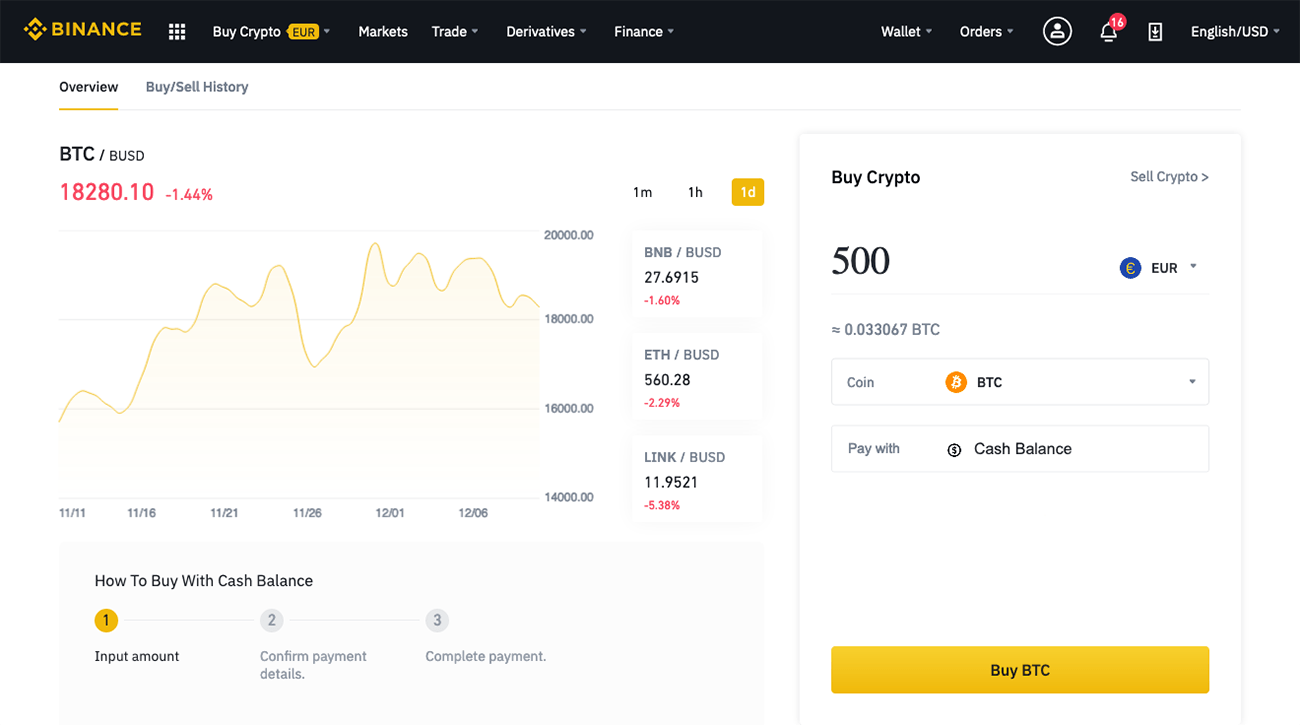 -
Chapter 2
Buy Bitcoin with iDEAL on Bitonic
Since its founding in 2012, Bitonic has become the most popular local exchange in the Netherlands.
In addition to iDEAL payments, Bitonic also supports Bancontact, Giropay, and Mybank.
Buying Bitcoin directly with an iDEAL transfer is very simple. It's the first option when you land on Bitonic's homepage.
After choosing the amount you wish to buy, you'll be taken to the following page.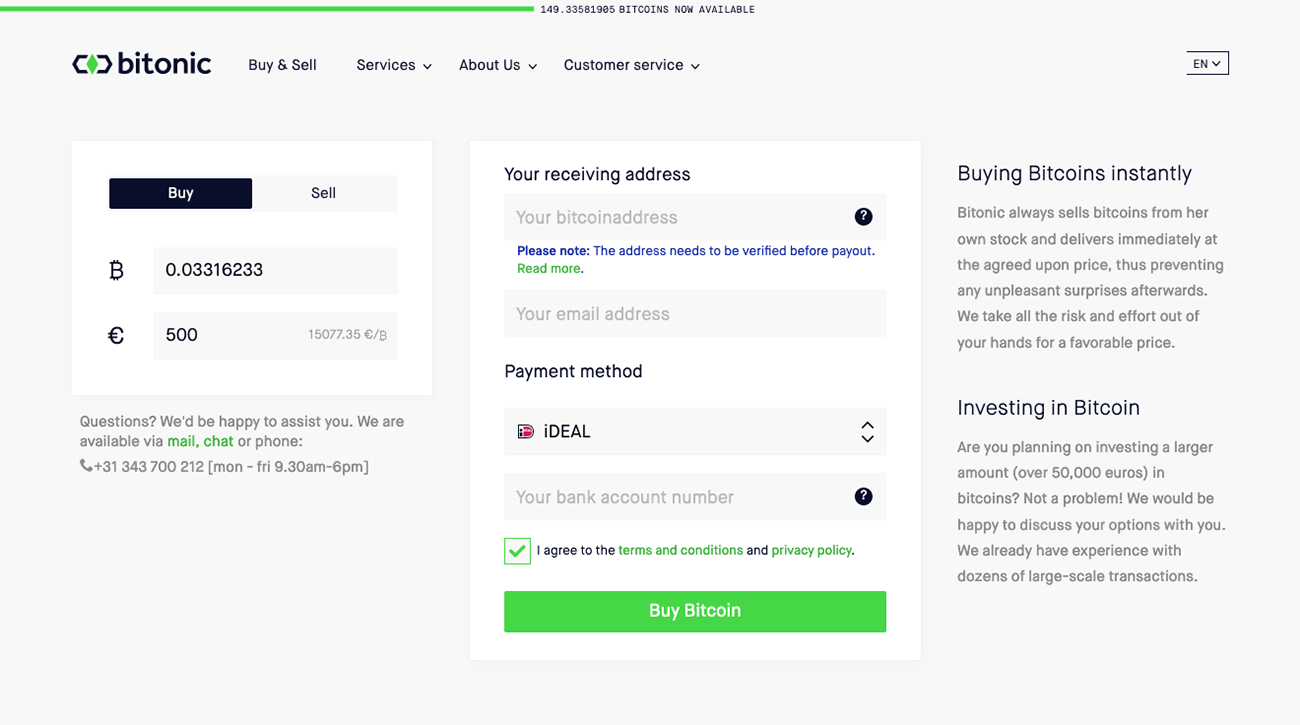 There are no additional fees, the price you see is the price you will pay.
One of Bitonic's best features is that you can have the Bitcoin you purchase deposited directly to your own wallet, which cuts down the amount of time it spends on risky exchanges.
Note that you will have to verify that this wallet address belongs to you. You can do this by uploading a screenshot from within the wallet client, or by signing a message with your key. This was introduced recently (under protest from Bitonic) after a mandate from the Dutch Central Bank.
-
Chapter 3
Buy Bitcoin with iDEAL on Luno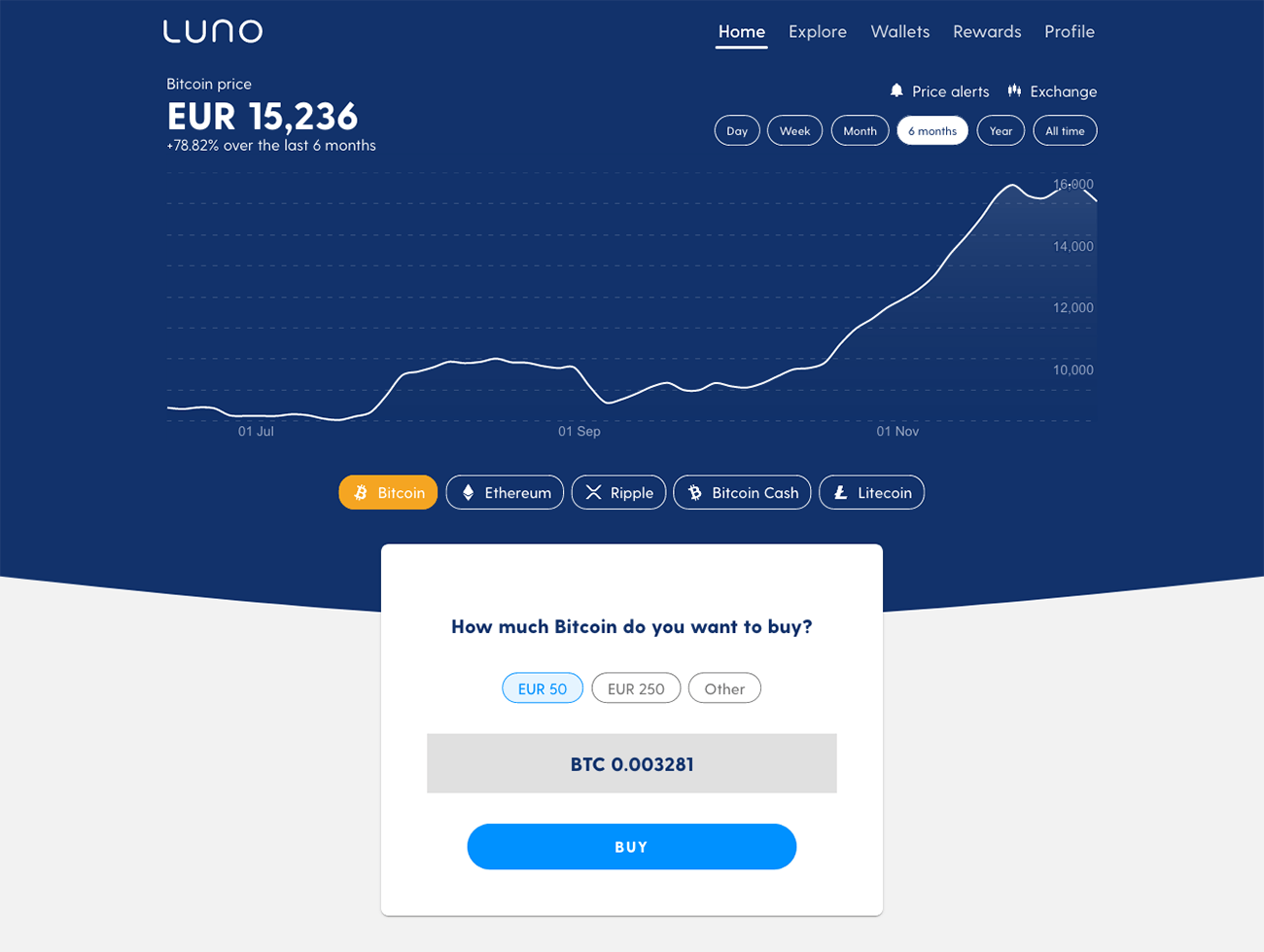 Luno allows users in the Netherlands to deposit funds using iDEAL, providing they are with a compatible bank.
There are no fees associated with iDEAL deposits, though you can only transfer €1.000 per day and €5.000 per month.
To buy Bitcoin using an iDEAL transfer on Luno, first navigate to your Wallets section and select your Euro wallet.
Click Deposit, then select Bank transfer with iDEAL. Enter an amount up to €1.000.
You'll be redirected to Checkout.com, Luno's third-party payment provider. From here, you can follow the steps outlined above, logging into your bank to approve the transaction.
-
Chapter 4
Buy Bitcoin with iDEAL on Coinbase
iDEAL deposits are available for Coinbase users in the Netherlands.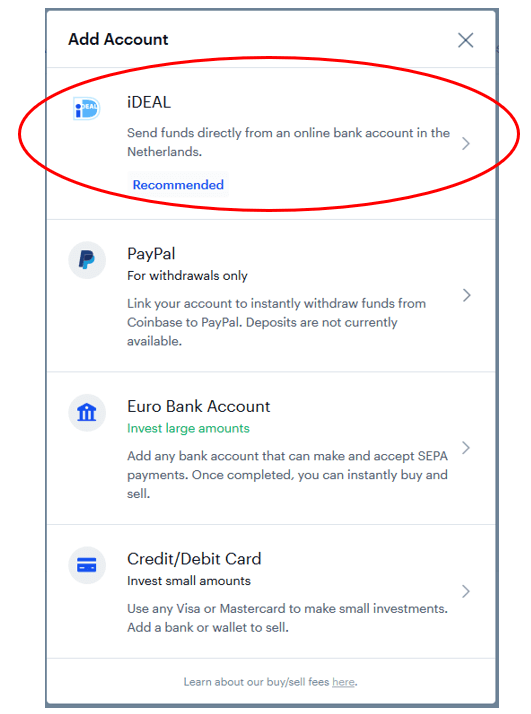 To deposit via iDEAL, go to your Coinbase account homepage. Select your Euro wallet, and then click Deposit.
Users with an account at any of the following banks can deposit via iDEAL:
ABN AMRO
ASN Bank
ING
Knab
Rabobank
RegioBank
SNS Bank
Triodos Bank
Van Lanschot
While you can't cash out using an iDEAL transfer, you can use a SEPA payment to withdraw to the same account you used to deposit, or any other linked account.
-
Chapter 5
Buy Bitcoin with iDEAL on eToro
eToro supports iDEAL deposits for Dutch users. eToro supports the same banks as Coinbase, with the addition of Bunq, Moneyou, and Svenska Handelsbanken.
You can deposit up to US$50,000 equivalent in each iDEAL transaction.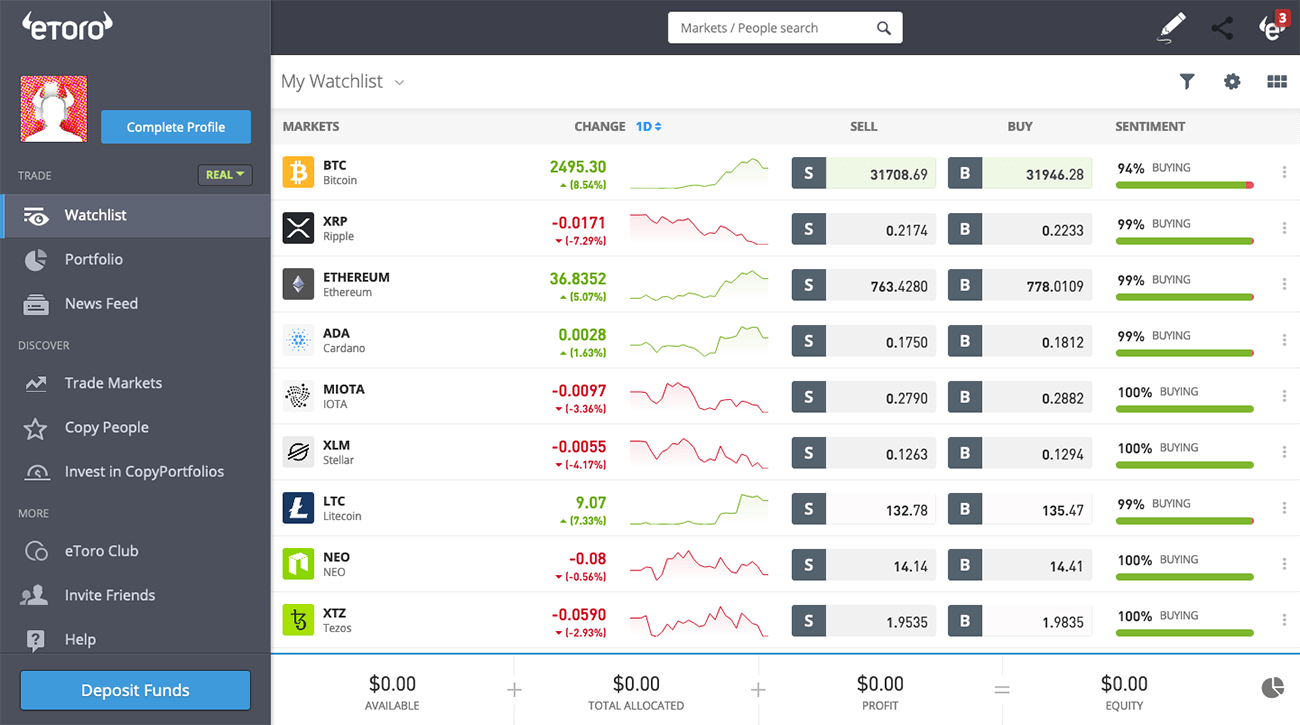 To deposit via iDEAL transfer, select Deposit Funds on the bottom left of your account dashboard.
Choose iDEAL as the payment method, and follow the steps to complete your deposit.
You'll need to login to your online banking and confirm the transaction. Assuming the funds are in your account, the deposit should be confirmed instantly.
-
Chapter 6
Buy Bitcoin with iDEAL on Bitpanda
Bitpanda supports iDEAL as a payment method for verified Dutch customers.
Limits are comparatively high. Users can deposit up to €10.000 per 24 hours, €300.000 per month, and € 999.999.999 over the lifetime of their account.

To deposit Euros using iDEAL, click Deposit up the top right of your dashboard and follow the payment flow. You'll then be able to buy Bitcoin or any supported cryptocurrency using your EUR wallet balance.
-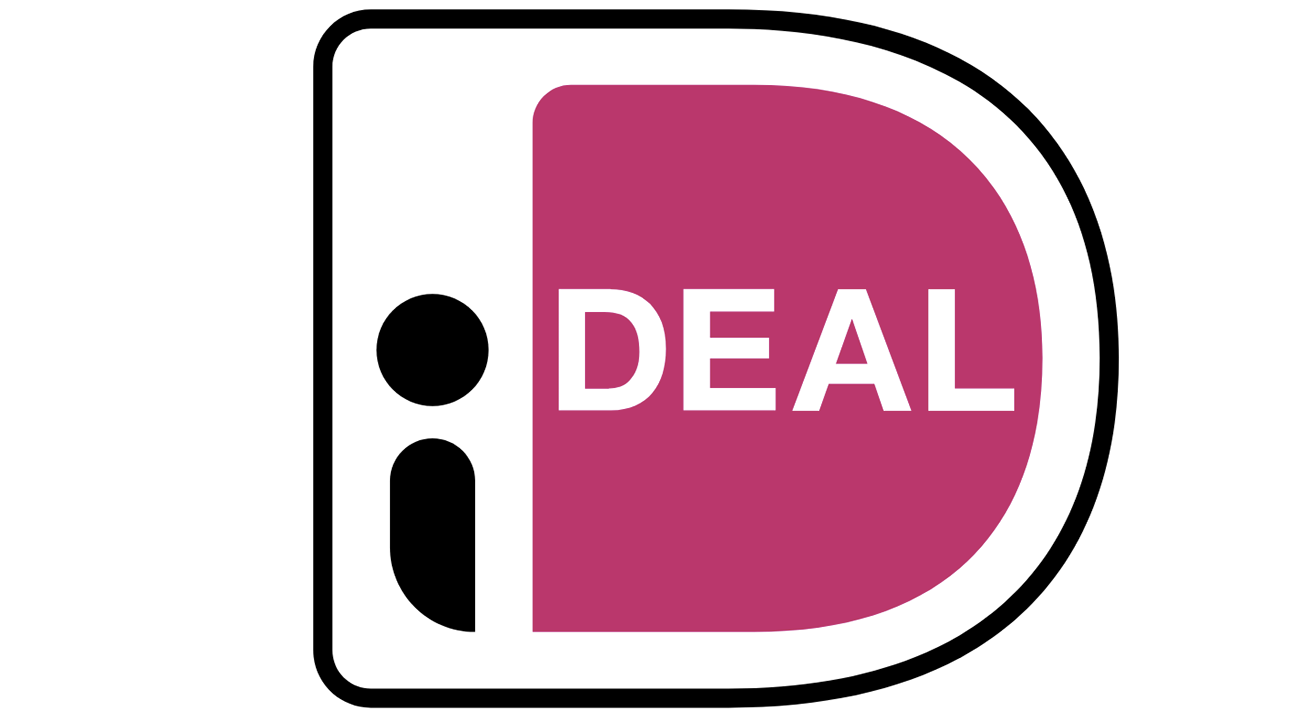 iDEAL is an online payment method that functions as a direct transfer from your bank to the merchant. The transaction is carried out within your bank's secure environment, meaning your credentials are not shared with anyone else.
Transactions are confirmed or rejected instantly, so you won't be waiting days to know if your payment has gone through.
iDEAL was founded in the Netherlands in 2005 and is hugely popular in that country. iDEAL payments account for more than half of all online transactions in the Netherlands.
Participating banks include ABN AMRO, ASN Bank, bunq, Friesland Bank, Handelsbanken, ING Bank, Knab, Moneyou, Rabobank, RegioBank, SNS, Triodos Bank, Van Lanschot, and De Volksbank.
Revolut users in the Netherlands can also make payments with iDEAL.
As there is no ability to initiate a chargeback, there are sellers who are willing to accept it in return for Bitcoin. As a buyer, though, this is something to keep in mind.
Binance, Bitonic, Luno, and Bitpanda all allow you to fund your account using iDEAL transfers. Let's take a look at each of their offerings.
-
Chapter 6
How Do iDEAL Transfers Work?
Source: Stripe
The payment flow for iDEAL transactions is as follows:
Select iDEAL as your payment method
Choose your bank from the list of participating institutions
You will be redirected to your bank's login page where you can enter your details
Confirm the transaction amount and enter your transaction authentication number (TAN) code
Your bank authorizes the transaction if enough funds are present in your account
You are redirected back to the merchant's page with confirmation of your purchase
Pretty straightforward, right?
If you're looking to take advantage of iDEAL's simplicity to buy Bitcoin, you've come to the right place.
There are a number of exchanges that support purchasing Bitcoin using iDEAL.