Cryptosteel's Different Wallets
The Basic Cryptosteel
The Basic Cryptosteel (starts at $79): This is the company's best selling item. It can hold 24 four-digit mnemonics total, in addition to over 245 uppercase letter tiles.
It also comes with blank tiles to facilitate 3-letter mnemonic words. At 455 grams, the wallet is quite easy to carry.
Key Takeaways
Cryptosteel protects your crypto from fire, flood and other acts of God.
Cryptosteel has two different designs to choose from.
Cryptosteel works with all wallet types.
Cryptosteel Capsule
Cryptosteel Capsule is a hollow cylindrical tube with a column in the middle.
Like the original cryptosteel, you are given stainless steel donut-shaped tiles with letters stamped on them.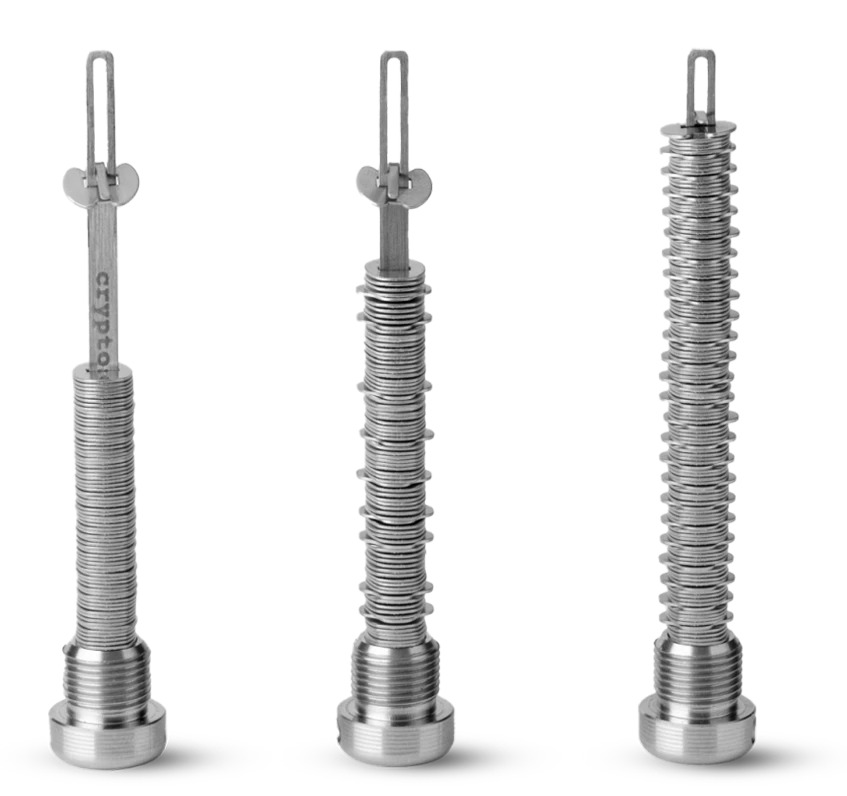 The tiles are stacked, one on top of the other, by dropping them onto the column in the center of the tube in the order that spells out your seed.
The idea behind this design is to make the process of seed storage cheaper and easier to set up, but with the draw back that it's easier to make a mistake.
One of the main benefits is that the letters of each word are not displayed directly. You have to open the capsule to see the words, making the Capsule slightly more discreet than the original Cryptosteel.
What Kind of Protection Does Cryptosteel Offer?
The standard option comes with a total of 24 slots. Each slot is able to hold 4 letters – this is all you need to recover the entire word from the BIP39 word list of 2,048 possible options.
I did not personally run stress tests, but I did see some YouTube videos that show the wallet being tested. It can bear extreme temperatures and will not sustain damage be it fire or water. In fact, it is fireproof up to 1200°C. Moreover, it comes with a unique Lifetime Satisfaction Guarantee.
This was enough to convince me about the quality of the product. It feels sturdy in hand and I also liked the feel. It's as big as a credit card but much heavier.
The level of protection is excellent. It doesn't matter what the wallet has to go through, the letters will still be readable.
While cold-storage wallets offer security against hackers, theft is still a possibility.
In case you lose your wallet, you should first generate a new seed. Plus, if you have Trezor or other such devices, you can add another layer of security by applying an additional password. Moreover, there is also the option to use a padlock to deter thieves. It can be bought separately.
Do You Need Cryptosteel?
Online security is a major concern. Most users are afraid of storing their private information on the web. It may be a good idea to invest in Cryptosteel if you have made a large investment in digital coins.
Since it is made of stainless steel, it can go undetected. You will have no difficulty in storing it, which is a great plus. Additionally, the company offers free international shipping ($150 or bigger orders).
It also offers more security than writing down your mnemonic code on a piece of paper. Plus, it's compatible with Trezor, Ledger Nano S, and KeepKey.
It might be a little on the expensive side, but it's worth the price considering you will not have to replace it anytime soon due to it being very durable and long-lasting. Plus, there is no risk of a security breach since the entire process is offline.
Packaging and Handling
I was quite impressed when I first got my hands on the device. It looks quite neat and is easy to hold. However, remember to be careful when opening the package as it contains small items. You don't want to lose anything.
The artwork is quite impressive as well. It gives the device a unique appearance.
Unfortunately the packaging leaves A LOT to be desired. The tile tray leaves the tiles in a giant mess which means setting it up can take hours as opposed to Billfodl which only takes a few minutes.
Cryptosteel – Disadvantages
It can be difficult to store and sort out the tiles. Plus, you cannot use it to store BTC addresses or other such information as it does not come with numeric tiles. Again, something that Billfodl includes in their basic product.
Also, some users complain about a lack of uniformity when it comes to tiles. I did not face such problems personally. If this is the case, you will have to manually polish the tiles to ensure they fit well.
Can you use Cryptosteel with Ledger and TREZOR
Yes, Cryptosteel is compatible with the Ledger Nano S, Ledger Nano X, and both TREZOR models.
Cryptosteel vs Billfodl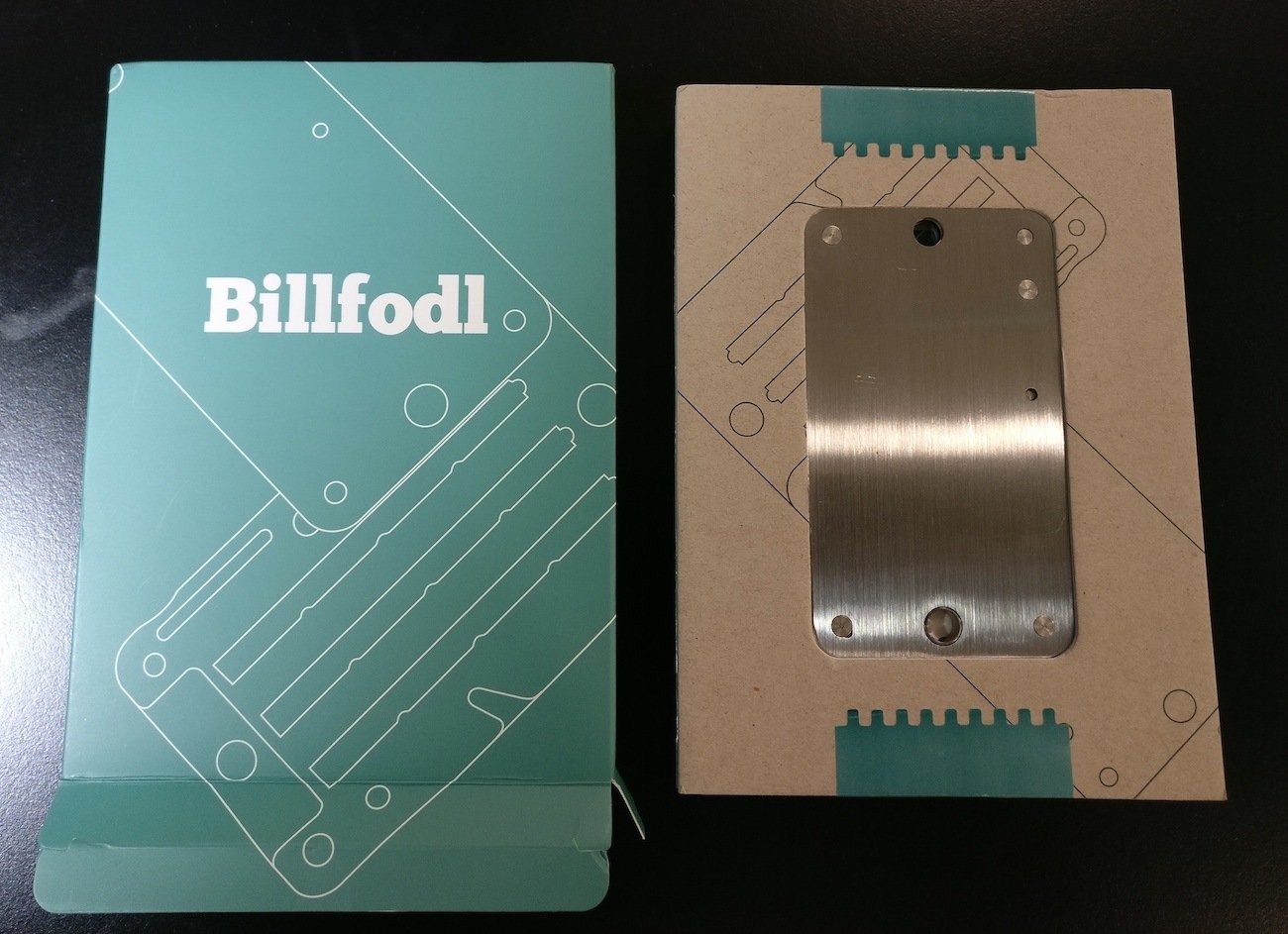 There are two main differences between the Billfodl (read our Billfodl review) and Cryptosteel.
The Billfodl is cheaper and comes with faster shipping.
Billfodl's built with Marine-Grade 316 Stainless Steel, while Cryptosteel is built with basic 304 construction steel.
Billfodl also offers a 125% money back guarantee for life if you don't like it and, as mentioned previously, has a much better tile organization.
Shamir Sharing with Cryptosteel
Shamir's Secret-Sharing:

Splits a recovery seed into multiple shares.
A specific threshold of these shares is required to restore the original secret.

Safety and Security:

Holding two shares does not risk security.
Far safer than dividing a BIP39 seed which can be more vulnerable to brute-forcing.

Example:

If you need 3 out of 5 shares to unlock your wallet, having only 2 gives no advantage to malicious actors.
Cryptosteel vs Cryptotag
Durability:

Cryptosteel: Made of stainless steel, offering protection against physical damage and elements like fire and water.
Cryptotag: Crafted from titanium, boasting a higher resistance to corrosion and extreme temperatures.

Usability:

Cryptosteel: Utilizes engraved tiles for creating backup phrases. Assembly can be time-consuming.
Cryptotag: Uses a hammer and punch system for entering recovery phrases, providing a more tactile experience.

Portability:

Cryptosteel: Slimmer profile, easier to store in compact spaces.
Cryptotag: Slightly bulkier due to its robust build.

Security:

Cryptosteel: Efficient against potential physical threats, but the recovery phrase can be read if accessed.
Cryptotag: Offers a similar level of physical protection, with an added layer of obfuscation for extra security.
Why Trust Us
Experience
We've been monitoring Bitcoin & crypto wallets since 2015.
Unbiased
Each of our choices are backed by a wealth of data, including endorsements from influential figures in the cryptocurrency and Bitcoin space, insights from wallet security professionals, and positive feedback on TrustPilot.
Research
We closely follow the latest developments in crypto in order to update our pages with the latest top wallets.
Research Process
We own all of the products mentioned above and tested them.