What is BRD Wallet?
BRD (company based in the USA) is one of the most popular Bitcoin and Ethereum wallets for iOS and Android.
While BRD does have a number of features, for the most part it's very easy to use, especially for new bitcoin users.
If you are looking for a simple multi-currency hot wallet, BRD is probably one of the best there is.
Heads Up!
Large amounts of bitcoins should not be stored on your BRD wallet! If you want the most secure Bitcoin wallet then you will need to use a hardware wallet like the Ledger Nano X or TREZOR T.
You should always do research before downloading or installing any Bitcoin wallet.
With that in mind it can be helpful to look at what type of cryptocurrency investor the BRD wallet is designed for.

Who is BRD Wallet Good For?
BRD is good for new bitcoin users who are just getting comfortable sending and receiving bitcoins.
It's also good for users who are spending and receiving bitcoins daily, or need to keep a small amount on their phone.
Is BRD Safe?
For the most part, yes. BRD has a proven security record and the wallet itself has never been hacked.
Just make sure you download directly from the App Store or Google Play Store.
What Coins Does BRD Support?
BRD supports bitcoin along with other altcoins like ethereum, Bitcoin Cash, OmiseGo, SALT, Time, Wings, Ripple, and BRD token as well as all other ERC20 coins.
How to Add Funds to BRD
You can buy bitcoins on an exchange and send them to your BRD wallet.
After you buy the coins on the exchange, you need to send them to your BRD wallet. We will cover this with a full step-by-step walkthrough in the next section.
You can also buy directly from the in-app exchange inside of BRD, though the fees will be generally higher.
All you have to do is select 'Buy & Sell' from the bottom left menu of the home dashboard and enter your trade and payment info.
Your trade will be limited to a few hundred dollars until you supply BRD and its liquidity partner with more personal info about yourself.
How to Receive Bitcoin (or any coin) on BRD
If you need to get a receiving address for a specific coin on BRD, do this:
From the home screen, select the coin you want to receive.
At the bottom, select "Receive".

You can tap the address and it will copy it to your clipboard, or you can give someone the QR code to scan.

Bonus Step

If you know exactly how much you want to receive, you can select "Request an Amount" and it will create a unique QR code that will only ask for that amount.
WARNING
Do not give someone an address for a different coin than the one you want. If you want Bitcoin but you select a receiving address from a Litecoin wallet, you will never receive your coins. The address must match the coin you want to receive.
If you are sending yourself coins from your exchange account, do the following. For the purposes of illustration, I will use Coinbase, but the steps will be roughly the same for any exchange.
Select "Send" from the account of the coin you want to send yourself. I am using Bitcoin in this case. So I select BTC on Coinbase and enter the amount of BTC I want to send. You can send as little or as much as your BTC as you wish, but be aware that each withdrawal will have a fee.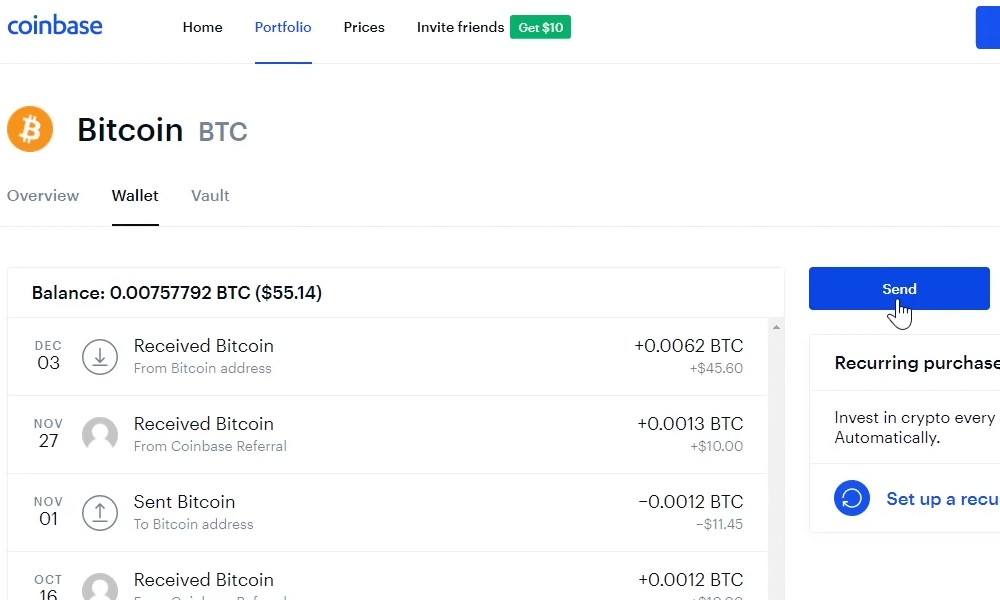 Send from coinbase
Input the address you copied above into the address field and check it by sight to ensure Coinbase is sending the Bitcoin to the correct address as shown on your BRD wallet app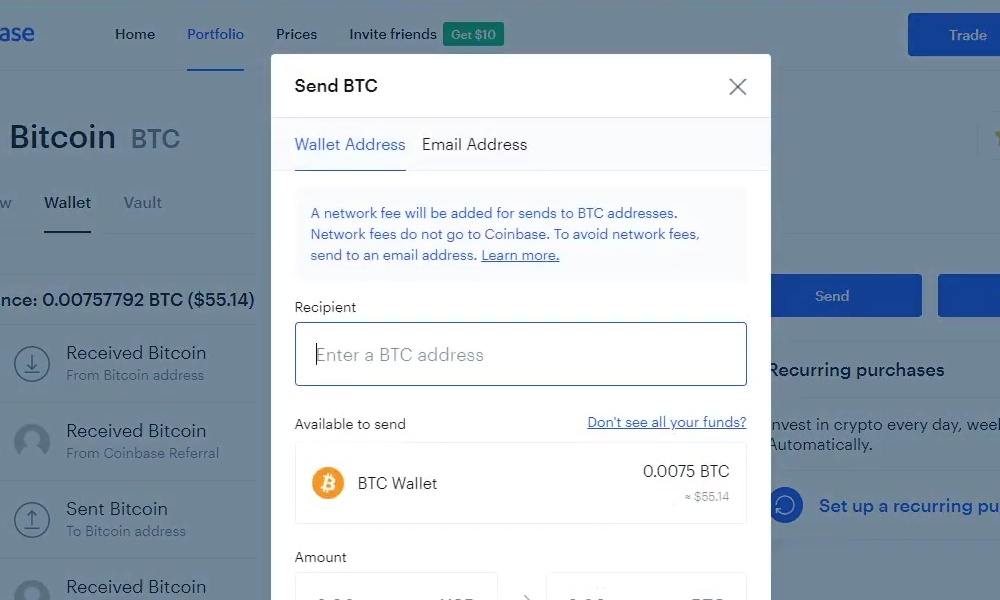 Copy the address to Coinbase
Then hit Confirm.
You will be given a transaction ID so you can follow the transaction on the blockchain and you should see the coins show up on BRD soon.
How to Backup BRD Wallet
Backing up BRD is simple. Simply write down the code you receive when you setup the wallet. Store it in a safe place, where no one would find it.
Here is a step-by-step guide to make it super easy if you aren't sure.
1. Find the Recovery Settings
Head to Menu -> Security Settings -> Recovery Key
2. Continue through warnings
Scroll through the various warnings and instructions (this is worth reading if this is your first time creating a wallet backup).
3. Enter your PIN
You set up your 6-digit PIN when you first downloaded BRD.
4. Write down the words
Write down each word, one by one, scrolling right until you get to the final (12th) word. Then input the two words BRD asks you for to confirm you have them. Then exit out once it confirms.
WARNING
Never write down these words on an internet connected device like your phone or laptop (or any electronic device). Do not screenshot the recovery words either. If someone hack your phone or finds the recovery phrase, they can take all your coins on the wallet. These words should be kept on paper or preferably on one of PrivacyPros Billfodl steel backup devices.
It's worth repeating at this point that even if you do a good job backing up your BRD wallet, your coins are not very safe on any phone wallet like BRD.
The Ledger Nano X is a multi-currency hardware wallet, featuring a screen for payment validation and architected around a secure element for maximum protection of your assets. This is the best place to store the bulk of your coins.
How to Restore a BRD Wallet
To restore a BRD wallet, all you need are the 12 words you wrote down in the previous section.
The nice thing is, you do not need BRD wallet to retrieve your coins. Any wallet that supports BIP39 (which is nearly any wallet today) can be used recover the coins that were held on your BRD wallet.
For the rest of this walkthrough, I will be using BRD wallet, but just know that each wallet has very minor differences in its menus and how it organizes various features, such as wallet recovery.
Choose the Recover wallet option on a new install of a wallet or on a hardware wallet
Input your 12 word phrase one word at a time
Input a new PIN (can use your old one if you want).
You coins should now be restored.
Make sure the wallet is trustworthy and is directly from the wallet's website.
You may notice when sending a payment there is a small fee attached.
This fee will vary based on when you send your transaction and how many transactions have been made with your wallet.
BRD has its own fee calculation system. It's based on the current fees on the Bitcoin network, in order to save you the most money by having you pay the lowest fee possible.
How to add a new coin
Adding a new coin to your list of wallets is easy on BRD.
From the home screen, simply select Manage Wallets
Add Wallet
Select the coin you want to add
View your new wallet on the home screen
BRD Support
BRD wallet has a detailed FAQ on their website that should help answer most users basic questions.
BRD vs Coinbase
It's hard to directly compare Breadwallet and Coinbase.
Coinbase is more of an exchange than a wallet.
Even though it is considered a very safe exchange to temporarily store small amounts of bitcoins, we strongly recommend you NOT use Coinbase to store any significant amount.
When you use Coinbase, Coinbase controls your private keys and functions as a bitcoin bank.
Storing your bitcoins with BRD means you control your private keys.
Heads Up!
Large amounts of bitcoins should not be stored on your BRD wallet! If you want the most secure Bitcoin wallet then you will need to use a hardware wallet like the Ledger Nano X or TREZOR T.
You should always do research before downloading or installing any Bitcoin wallet.
There is however a new Coinbase Wallet developed by Toshi Holding Ltd., which Coinbase owns.
This wallet is very similar to BRD and may be worth giving a try to see which one you like better. Unlike Coinbase, Coinbase wallet allows you to store your own private keys, which means you control the coins it holds.
Does BRD Work in Any Country?
Yes, BRD works the same exact way in any country.
Does BRD Support Ethereum?
Yes, BRD supports Ethereum.
What are the Tax Implications of BRD?
You'll need to import BRD transactions into crypto tax software.
How to Update BRD Wallet
BRD can be updated on iOS through the App Store. On Android, it can be updated in the Play Store.
Does BRD Support Earning Interest?
No, at this time BRD does not allow you to earn interest on Bitcoin like a savings account.
Which Hardware Wallets Work with BRD?
There are no hardware wallets that work with BRD at this time.
Send from BRD to Bank Account
Right now there is no way to "send" bitcoins directly from your BRD wallet to a bank account.
You will have to send bitcoins from your wallet to an exchange where you then can sell and transfer the money to your bank account.
Review by: Jordan Tuwiner
Rating: 4.5