We may receive advertising compensation when you click certain products. Before jumping into this page, an important disclosure.
eToro
eToro is a trading platform and crypto exchange. It supports Bitcoin, Ethereum, Litecoin, Zcash and many other coins.

Deposits can be made quickly via bank transfer, SEPA, NETELLER, PayPal and more. It also offers unique features like copy trading.

Cryptoassets are highly volatile and unregulated in the UK. No consumer protection. Tax on profits may apply.
Visit eToro's Website
Pros
Offers unique copy trading feature
Trusted exchange that has been active in traditional finance
Interface is clean and easy to use
Cons
You cannot deposit cryptocurrency, but you can deposit with other payment methods
Ease of Use
Easy
Privacy
Low
Speed
Average
Fees
Low
Reputation
Trusted
Limits
High
CoinJar
Established in 2013, CoinJar makes it easy to buy, sell and spend cryptocurrency. CoinJar's iOS and Android apps allow users to trade cryptocurrencies on the go, while CoinJar Exchange and CoinJar OTC Trading Desk cater for professional traders, as well as individuals and institutions looking to make larger transactions. Visit CoinJar's Website
This is an ad. We may receive compensation when you use CoinJar. Please visit CoinJar for its exact pricing terms.
Pros
Fees 0-2% (lower for high trading volumes)
Clean interface makes it easy for first-time buyers
Instant bank transfer
Established in 2013
Cons
Once off ID verification required to deposit or withdraw
Ease of Use
Easy
Privacy
Low
Speed
Average
Fees
Low
Reputation
Average
Limits
High
Coinbase
Coinbase is the world's largest Bitcoin (BTC) broker. They represent an easy and fast way for new users to purchase bitcoins. Coinbase supports customers in over 30 countries, including the United States, Europe, UK, Singapore, and Canada.

Customers in the above-mentioned countries can purchase bitcoins by debit card, bank transfer, SEPA transfer, and more.

Get $5 in free bitcoin after you sign up on Coinbase and make your first trade.
Pros
High liquidity and buying limits
Easy way for newcomers to get bitcoins
"Instant Buy" option available with debit card
Cons
Purchases made with bank transfer can take up to 5 days to complete
Coinbase may track how and where you spend your bitcoins
Ease of Use
Easy
Privacy
Low
Speed
Average
Fees
Average
Reputation
Trusted
Limits
High
Coinbase Advanced Trader
Coinbase's exchange, Coinbase Pro, is one of the largest Bitcoin exchanges in the United States. Users can fund their accounts via bank transfer, SEPA, or bank wire. Coinbase Pro offers good prices and low fees, but their confusing user interface may initially prove difficult to navigate.
Pros
Some of the lowest fees available for US and EU customers
Possible to buy bitcoins for 0% fees
Cons
User interface is confusing for first time buyers
Ease of Use
Hard
Privacy
Low
Speed
Average
Fees
Low
Reputation
Trusted
Limits
High
Coinmama
Coinmama allows customers in almost every country to buy bitcoin. They charge a 4.9%-5.9% (depends on volume) fee on each purchase.

Customers in Europe can also purchase bitcoins with SEPA transfer for a lower fee.

Pros
Works in almost all countries
Highest limits for buying bitcoins with a credit card
Reliable and trusted broker
Cons
Some of the highest fees among credit/debit card bitcoin brokers
Ease of Use
Easy
Privacy
Low
Speed
Fast
Fees
Average
Reputation
Trusted
Limits
High
BitBargain
BitBargain is peer to peer marketplace for buying and selling bitcoin in the United Kingdom. The company vets its sellers to ensure that only those with positive buyer feedback are allowed to trade.
Pros
Ability to buy bitcoins instantly with a number of payment methods
Many trusted sellers, so reduced risk of getting scammed
BitBargain claims an average purchase time of 8 minutes
Cons
Hard to buy large amounts of bitcoins
Ease of Use
Easy
Privacy
Average
Speed
Fast
Fees
Average
Reputation
Trusted
Limits
Average
QuickBitcoin
QuickBitcoin lets you buy bitcoins in the UK in under an hour, utilising online bank transfers. They also offer a unique anti-ransomware service to help you unlock a computer affected by such malware.
Pros
Fast delivery of bitcoins
Established and trusted broker
Many positive user reviews
Ease of Use
Easy
Privacy
Low
Speed
Fast
Fees
Average
Reputation
Trusted
Limits
Average
CoinCorner
CoinCorner is a Bitcoin exchange based on the Isle of Man. They cater to first-time buyers in the UK, Europe, Canada, Australia, and certain African, Asian, and South American countries. CoinCorner users may purchase bitcoins with SEPA, credit/debit card, GBP bank transfer, and now Neteller too. No verification required for purchases under £100.
Pros
Trusted and regulated company in the UK
Wide range of payment options
Good customer support
Instant credit card purchases
Supports a very wide range of countries
Video tutorials covering the basics of Bitcoin and buying and selling
Multi-sig security features
Cons
1% trading fee slightly high by European standards
Offers a mobile wallet but this is not ideal for bitcoin storage
Requires ID verification, so not private
Does not provide exchange prices for comparison without sign-up
Ease of Use
Easy
Privacy
Low
Speed
Average
Fees
Average
Reputation
Trusted
Limits
Average
Bitcoin ATMs
You can use our Bitcoin ATM map to buy bitcoins with cash. Bitcoin ATMs can be a quick and easy way to buy bitcoins and they're also private. That convenience and privacy, however, comes with a price; most ATMs have fees of 5-10%. View Bitcoin ATMs
Pros
Our map makes it super easy to find a Bitcoin ATM near you
Cons
Bitcoin ATMs often have 5-10% fees per purchase
-
Chapter 1
Bitcoin & Cryptocurrency Trading in United Kingdom
The United Kingdom's capital, London, is one of the biggest financial centers globally. Unsurprisingly, fintech adoption in the country remains strong with both Deloitte and EY rating London as a leading global hub for financial technology.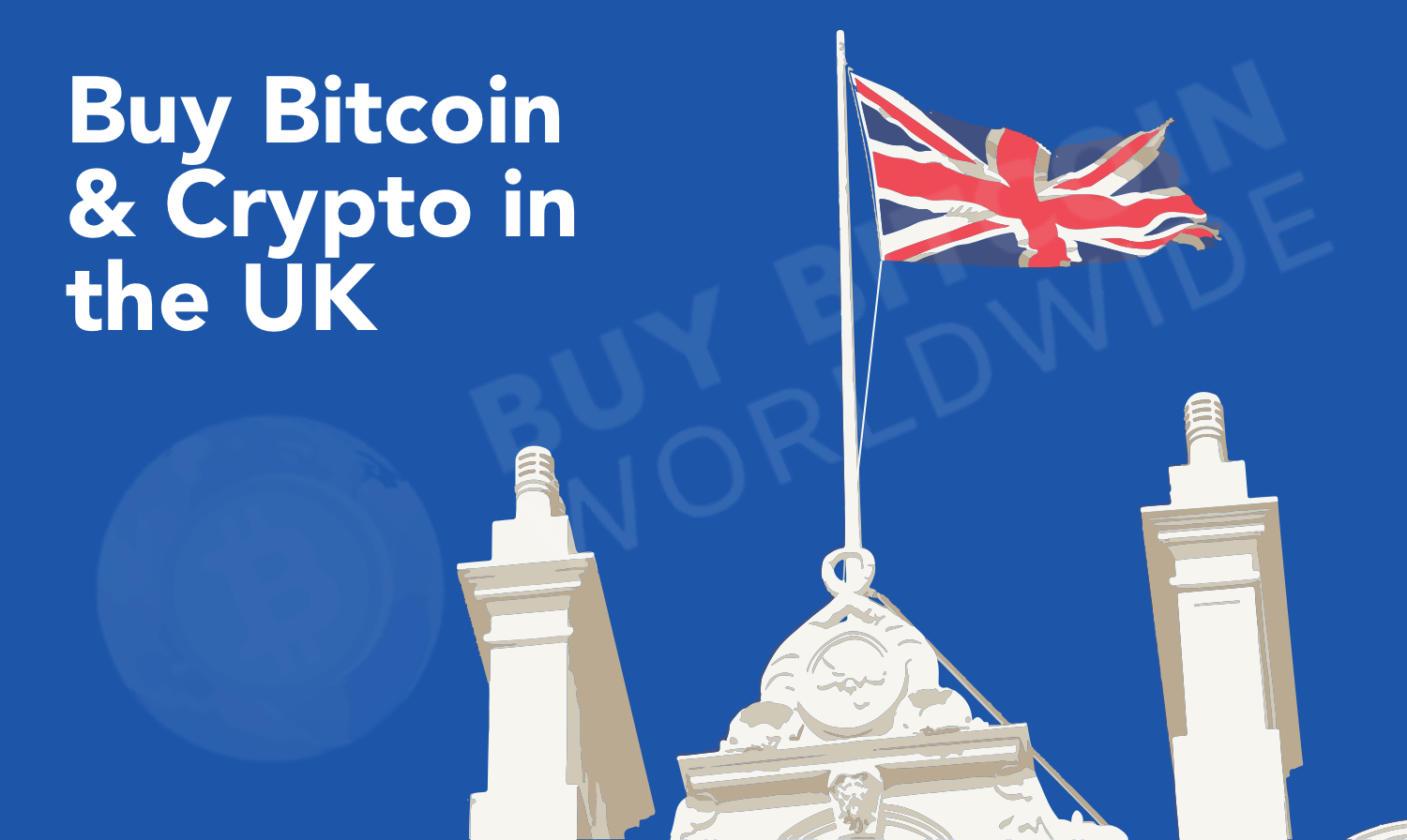 According to a survey by YouGov late last year, 93% of individuals in the U.K. have heard of Bitcoin. More importantly, nearly a fourth of the respondents to the survey said that they understand Bitcoin "fairly well." However, only 4% of the respondents in the survey said that they have purchased Bitcoin.
But with what seems like a high awareness level, it wouldn't be surprising to see Bitcoin adoption picking up pace in the U.K., especially considering that the regulatory environment remains on the favorable side.
In October 2022, UK lawmakers voted in favor of recognizing crypto assets as regulated financial instruments and products in the country. Andrew Griffith, the financial services and city minister, said "The substance here is to treat them [crypto] like other forms of financial assets and not to prefer them, but also to bring them within the scope of regulation for the first time."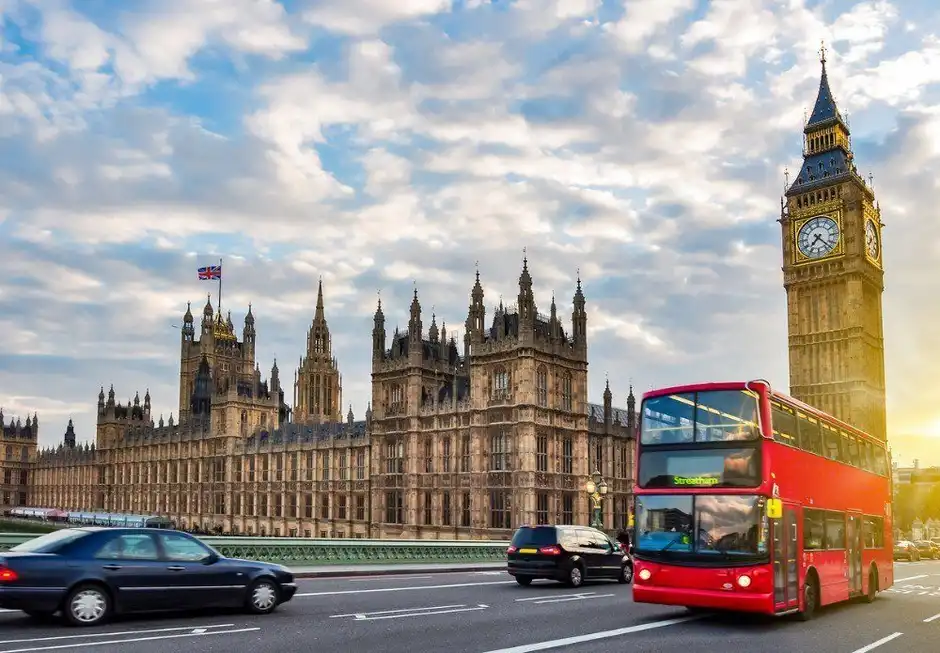 London - the capital of United Kingdom
In August 2021, Paypal announced that it is launching its cryptocurrency service in the Untied Kingdom. The service lets customers buy, hold and sell bitcoin, bitcoin cash, ethereum or litecoin. Be aware, cryptocurrency purchases through Paypal can NOT be moved outside the app to a personal wallet. They can only be held or sold.
One of the easiest ways to buy Bitcoin in United Kingdom is through the cryptocurrency exchanges outlined above. There are several exchanges offering Bitcoin in United Kingdom, allowing you to select one based on your requirements and preferences using our guide. Different exchanges have different transaction fees, withdrawal limits, payment modes, and verification processes that need to be kept in mind before users select one.
Additionally, Bitcoin buyers need to keep in mind that certain exchanges might require you to get a wallet of your own before being able to buy the digital currency. Even if there is no requirement, it is recommended to have a wallet of your own for security reasons (preferably a hardware wallet).
Another way to buy Bitcoins in United Kingdom is through automated teller machines (ATMs). These ATMs allow users to instantly purchase the cryptocurrency using cash, and most of them only require a telephone number for verification, so long as you aren't buying a lot of Bitcoin. You can locate Bitcoin ATMs in United Kingdom using our Bitcoin ATM Map.
-
Chapter 3
Exchange Hacks and Crypto Scams in United Kingdom
Crypto exchange based in UK gets hacked
At the end of 2020, cyrptocurrency exchange EXMO was hacked, losing 5% of its assets held in its hot wallets (worth $4M USD). After the exchange platform noticed massive withdrawals of Bitcoins and five other cryptocurrencies, it suspended all transactions until further notice. EXMO also assured its users that they would be compensated for the financial losses from its own insurance funds.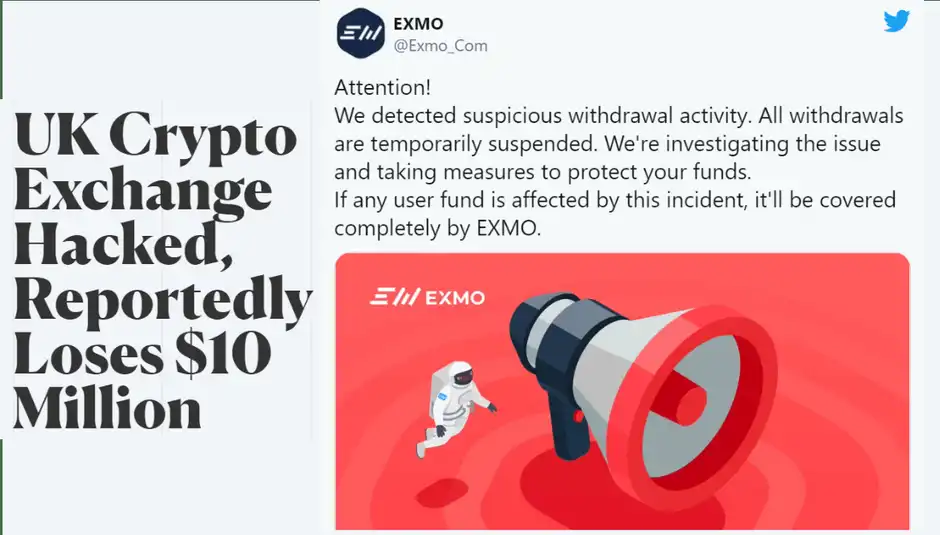 EXMO representatives declared they were also conducting an investigation, in addition to the one conducted by the police.
This story is still developing, so check back regularly for updates.
-
Chapter 4
Impact of Brexit on Bitcoin
Britain's decision of making an exit from the European Union is expected to boost demand for Bitcoin in the country.
That's because Bitcoin's purpose of serving as a digital currency that transcends borders will help users make or accept payments, and also hedge their assets in case of a "hard" Brexit.
Bank of England governor Mark Carney has warned that the British pound could lose a quarter of its value in case of a no deal Brexit (an event where the U.K. leaves the EU without striking a trading agreement).
This has triggered more interest in an alternative currency such as Bitcoin as its value is not controlled by any government.
Cryptocurrency exchange Binance, which recently started its operations in Jersey – a self-governing dependency of Britain – is overwhelmed with registrations on the platform as it allows users to trade pounds and euros with Bitcoin.
In the end, it can be concluded that the state of Bitcoin in the U.K. seems healthy thanks to the variety of reasons listed above that could boost demand for the cryptocurrency going forward.
-
Does Coinbase work in United Kingdom?
Citizens of United Kingdom can convert, buy, and sell cryptocurrencies with fiat. Supported payment methods are:
Bank Deposit
PayPal
UK Bank Account
SWIFT Account
3D Secure Credit Card
Debit Card
Credit Card
Where Can I Find a Bitcoin ATM in United Kingdom?
United Kingdom offers many ATMs for its citizens to buy Bitcoins with Cash.
You can use our Bitcoin ATM finder tool to find the one nearest you.
What is the price of Bitcoin in United Kingdom?
Bitcoin prices are changing every second.
The best way to find the most up-to-date price of Bitcoin is to check out our Bitcoin price page.
How do I cash out of Bitcoin in United Kingdom?
Any exchange with a Pound sterling trading pair will allow you to sell your Bitcoin for fiat currency. Bitpanda has GBP trading pairs for many popular coins.
Another way to sell Bitcoins in United Kingdom is through automated teller machines (ATMs). These ATMs allow users to instantly purchase and sell cryptocurrency using cash, however most of them require at least a phone number, so they aren't totally private. You can locate Bitcoin ATMs in United Kingdom using our Bitcoin ATM Map.
LocalBitcoins is another option. Here, you can buy and sell Bitcoin for a wide range of payment methods, from gift cards to bank transfers. LocalBitcoins is a peer-to-peer (P2P) exchange, where you buy and sell with another individual. This does introduce a degree of risk, though by ensuring that you conduct all business on the platform, make use of its escrow services, and only trade with users who have a good reputation, you'll minimize any potential problems.
You could also use a service like eGifter to sell your Bitcoin for gift cards.
What is the regulatory environment around Bitcoin like in the UK?
The Financial Conduct Authority (FCA) is the U.K.'s financial regulatory body. Though the FCA regulates some crypto-assets in the U.K., Bitcoin is still out of its purview and is not considered legal tender. However, the U.K. government is in favor of Bitcoin being regulated by the FCA in a bid to prevent money laundering and protect the interests of investors.
So far, the FCA hasn't had jurisdiction over Bitcoin as it doesn't put virtual currencies into the same bracket as commodities or currencies. According to the FCA, "cryptoassets designed primarily as a means of payment or exchange would not generally sit within the scope of FCA authority." However, since the agency is tasked with providing protection to consumers and investors, it has followed a wait-and-watch strategy.
But it looks like the FCA could bring Bitcoin under its umbrella this year. According to John Glen, the economic secretary to the Treasury, "The government will consult early next year to explore whether other crypto-assets that have comparable features to specified investments but that fall outside the current perimeter should be captured in regulation."
Glen further added that the U.K. government believes that "benefits could potentially develop in the future through the use of initial coin offerings as a capital raising tool." This indicates that the British government is potentially looking at promoting Bitcoin in a more regulated manner going forward by putting structures in place that will provide avenues for investor compensation and consumer grievances.
As it stands, cryptocurrency exchanges are required to register with the FCA, and are subject to the agency's anti-money laundering standards just like the other financial institutions in the country. So a move aimed at providing investor protection can boost Bitcoin demand in the U.K. going forward as potential buyers will be assured that there interests will be looked after by a governing agency.