Can you buy bitcoin or crypto with Plaid?
Not directly.
Key Takeaways
You can use exchanges that allow you to connect your bank account with Plaid.
Plaid, the company itself, does not sell bitcoins, ethereum or other crypto.
Plaid is a fast way for companies to verify your bank account info.
In our research, we found the top exchanges that offer integrations with Plaid.
Coinbase
Coinbase is one of the top US-based bitcoin exchanges. It offers seamless support through Plaid.
Here is what was shown to me when I tried to connect my bank account: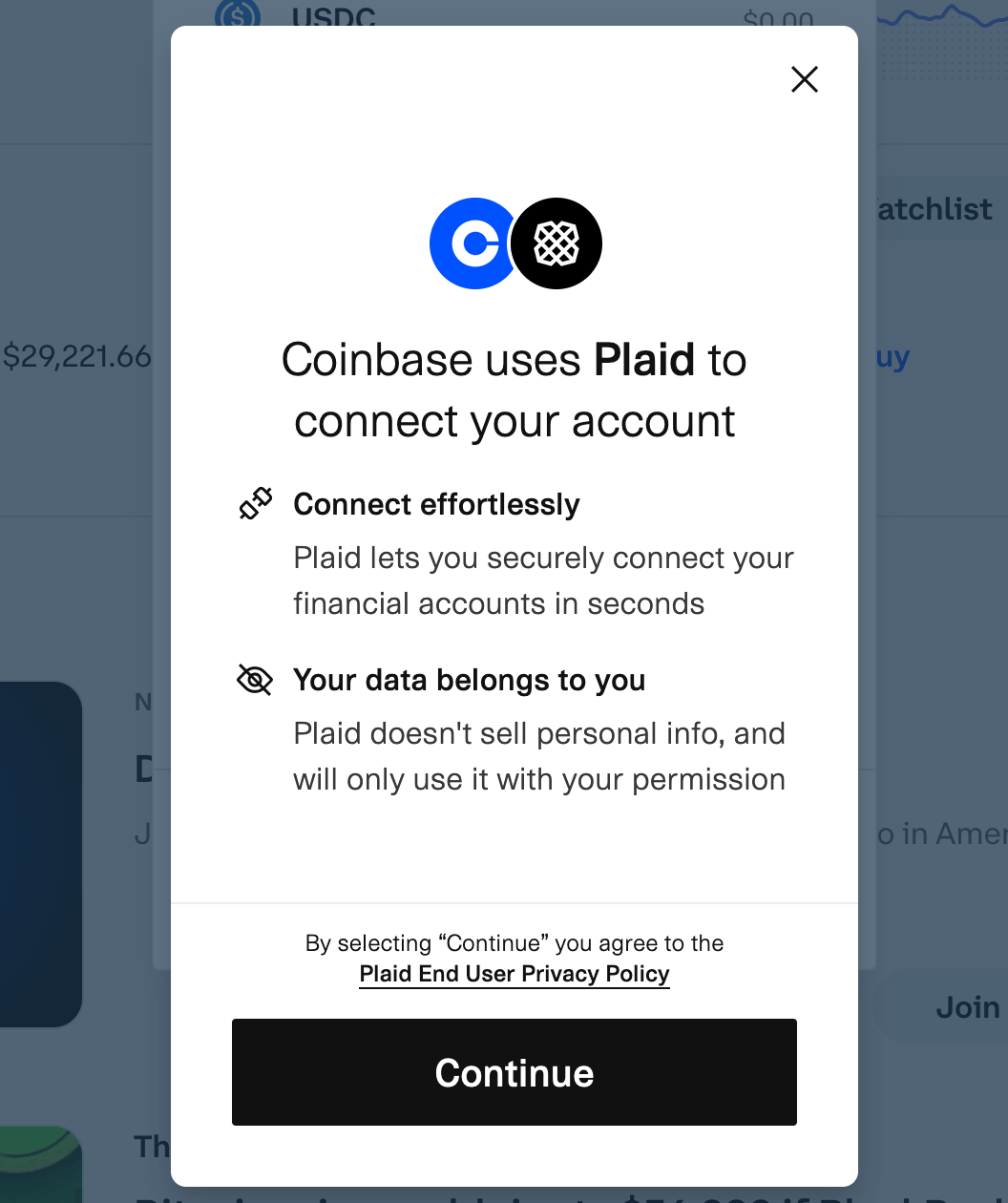 Coinbase uses Plaid, a third-party service, to facilitate bank account transfers, offering a faster and more secure method than traditional test deposits.
When users link their bank account through Plaid, Coinbase receives their:
bank account number
routing number
account owner information
and account balance, but not the bank credentials.
This data aids in preventing fraudulent transactions.
Coinbase also offers the ability to verify your account with normal deposit verification if you don't want to use Plaid.
Uphold
If you're using Uphold, you'll almost need to use Plaid if you want to withdrawal your crypto fast.
If you verify without Plaid, you'll have to verify using Micro-Deposits Authentication which entails a 65 day withdrawal restriction. Meaning, you won't be able to remove your money from the Uphold platform after buying for 65 days.
Sofi
Sofi is one of the top finance apps. In 2022, they were one of the earlier crypto-related companies to connect with Plaid.
Here are the steps you can take to connect to Sofi with Plaid:
Launch the app (or sign in on the desktop) and select 'Banking'.
Choose 'Transfer' followed by 'Transfer money'.
Press 'From', then pick 'Link new account' (below 'Done'). Hit 'Continue' and proceed with the instructions to link your other bank account.
Upsides of Plaid
The main upside of Plaid for crypto exchanges is that they're able to offer extremely fast verification to their users.
Plaid claims it does not sell your data to outside parties or services.
Downsides of Plaid
The main downside of Plaid is that it connects to your bank account directly. The company may be able to see your transaction history. While Plaid does offer fast verification, this privacy risk is a concern for some.
Here are some concerns laid out in a Reddit thread:
A warning against connecting bank accounts with various crypto and fintech apps that use Plaid.
An acknowledgment that, despite the concerns, Visa acquired Plaid for $5.3 billion, implying the likelihood of collaboration with banks and possibly upholding safety standards.
Queries regarding the safety of providing a mobile number during Plaid account registration and the assurance that it's used for two-factor authentication.
A general sentiment of skepticism, with users cautioning against sharing banking details with third-party platforms and expressing concerns about Plaid sharing data with other parties.
It was noted there is a form link provided to request the deletion of personal information shared with Plaid.
What is Plaid?
Plaid is a financial technology service that acts as an intermediary between users' bank or credit card accounts and third-party financial apps, such as Mint or Personal Capital.
When linking a bank account to apps like Venmo or American Express, Plaid is often involved, ensuring the secure transmission of sensitive financial information.
By employing advanced encryption protocols, it offers a safe method for app integrations without directly sharing bank login details. Notably, Plaid partners with prominent financial institutions, ensuring users don't have to compromise their data's safety.
Article Sources
BuyBitcoinWorldWide writers are subject-matter experts and base their articles on firsthand information, like interviews with experts, white papers or original studies and experience. We also use trusted research and studies from other well-known sources. You can learn more about our editorial guidelines.
Reddit - Do this before connecting your bank account with Coinbase, Gemini, Strike, Bitstamp, Paxos, and other crypto and fintech apps using Plaid! , https://www.reddit.com/r/Bitcoin/comments/jmxndl/beware_of_plaid_do_this_before_connecting_your/