CEX.IO allows for the buying of bitcoins for low fees via credit card. Customers can also purchase for free with bank transfers.
Pros
Enables buying bitcoins with credit card for low fees
Cons
Extensive verification process to increase buying limits
CEX.IO Overview
CEX.IO is one of the oldest Bitcoin exchanges still operating. It came into being in London in 2013 and has served three million customers since then.
In the early days, CEX.IO's main product was a cloud mining pool called Ghash.io. At one point, this pool made up 42% of the Bitcoin network's hash power. Ghash.io shut down in 2015 as management focused on their exchange business.
In addition to Bitcoin, CEX.IO supports trading with dozens of other digital currencies, including Ethereum, Bitcoin Cash, Litecoin, Dash, Ripple, and many more.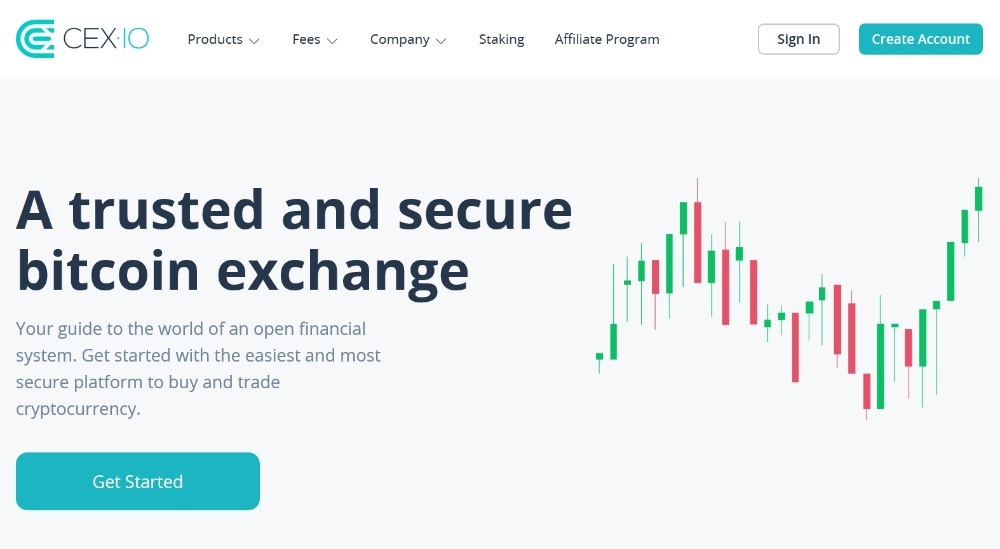 CEX.IO homepage
You can buy cryptocurrency using Visa or MasterCard directly, or deposit funds to your account using ACH, SEPA, or SWIFT bank transfers.
CEX.IO has a good reputation for security. The exchange claims to have never lost a single cent of user funds.
CEX.IO has obtained the relevant licenses to operate legally in a number of countries. It is registered with FinCEN in the United States and as a Money Services Businesses in the United Kingdom. This means that you'll need to satisfy Know Your Customer (KYC) and Anti-Money Laundering (AML) laws by verifying your identity in order to unlock CEX.IO's full suite of features.
All in all, CEX.IO offers many features you'd want in a cryptocurrency exchange. Let's dive deeper into the verification process, trading platform, fees and limits, and more.
Fiat Currencies
CEX.IO supports four fiat currencies. These are Euros (EUR), British Pounds (GBP), Russian Rubles (RUB), and U.S. dollars (USD).
Payment Methods
CEX.IO supports many different deposit/withdrawal methods. You can easily buy Bitcoin using a credit or debit card.
You can also use a wire transfer such as SWIFT to deposit Dollars, Euros, or Pounds.
British customers can use Faster Payments for GBP deposits and withdrawals.
European users can make use of SEPA transfers, and Americans can use ACH transfers.
To make a deposit via bank transfer, you'll need to verify your address. See below for our guide to CEX.IO's verification process.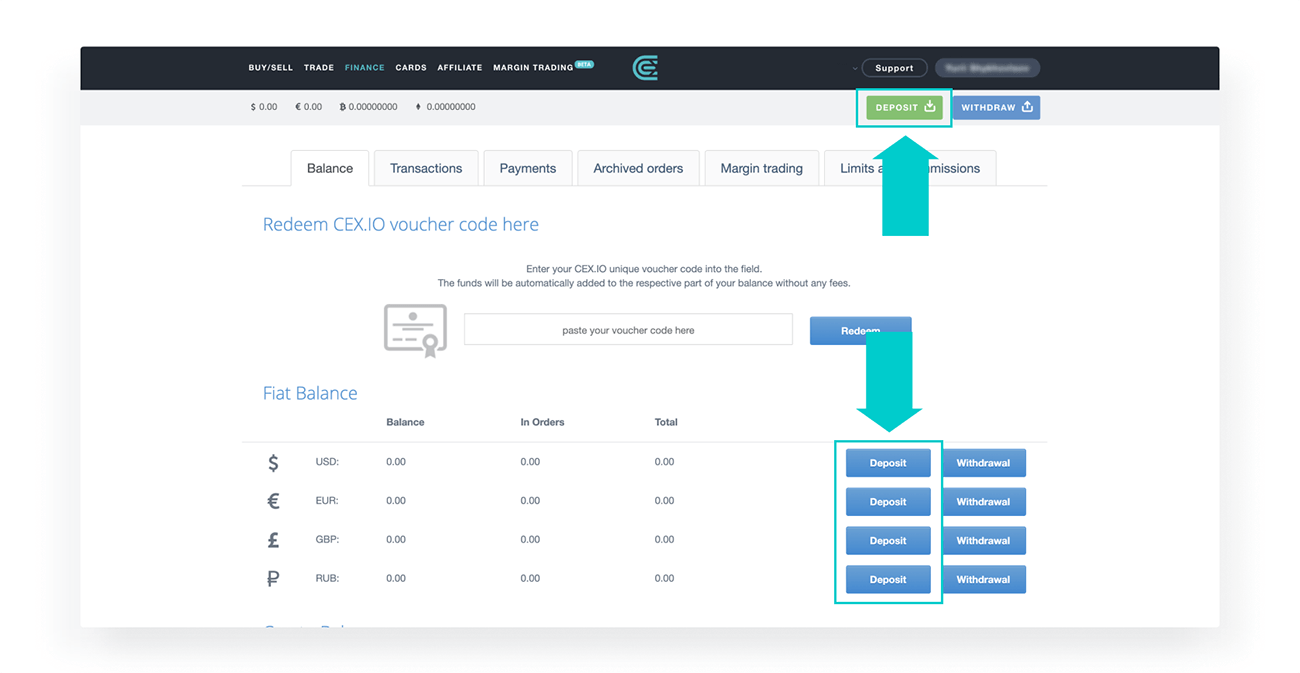 CEX.IO Deposit
| Payment Method | Funds Available | Currencies | Fees |
| --- | --- | --- | --- |
| Credit Card | 1-2 days | USD | 2.99% |
| Credit Card | 1-2 days | EUR | 2.99% |
| Credit Card | 1-2 days | GBP | 2.99% |
| Credit Card | 1-2 days | RUB | 2.99% |
| Bank Transfer | Varies | USD | $0.00 |
| Bank Transfer | Varies | EUR | €0.00 |
| Bank Transfer | Varies | GBP | £0.00 |
| Skrill | Varies | USD | 3.99% |
| Skrill | Varies | GBP | 3.99% |
| Skrill | Varies | EUR | 3.99% |
| Skrill | Varies | RUB | 3.99% |
Bank transfers such as ACH and SEPA deposits and withdrawals are not charged fees by CEX.IO. If converting between currencies, though, your bank may charge a fee.
Credit Cards
In addition to purchasing, CEX.IO also offers users the ability to sell bitcoins to credit or debit cards. The fees for this are as follows:
USD: Up to 3% + $5 fees and commission
EUR: Up to 3% + €5 fees and commission
GBP: Up to 3% + £5 fees and commission
RUB: Up to 3% + ₽50 fees and commission
CEX.IO currently offers 50% off fees for GBP deposits using a UK-issued credit card. This brings the deposit fee down to 1.5%.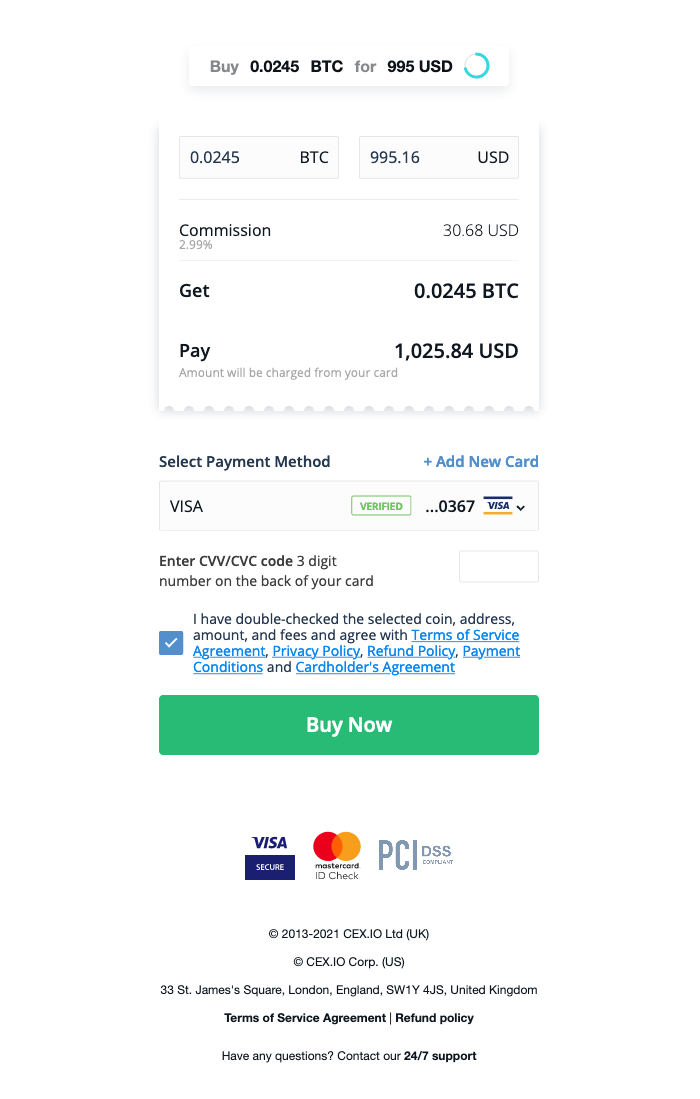 Buying Bitcoin with a Credit Card on CEX.IO
Trading Platform
CEX.IO offers a couple of different trading platforms. Which one you'll see depends on which payment method you're using.
If you're buying directly with a Visa or MasterCard debit or credit card, you'll be presented with the following: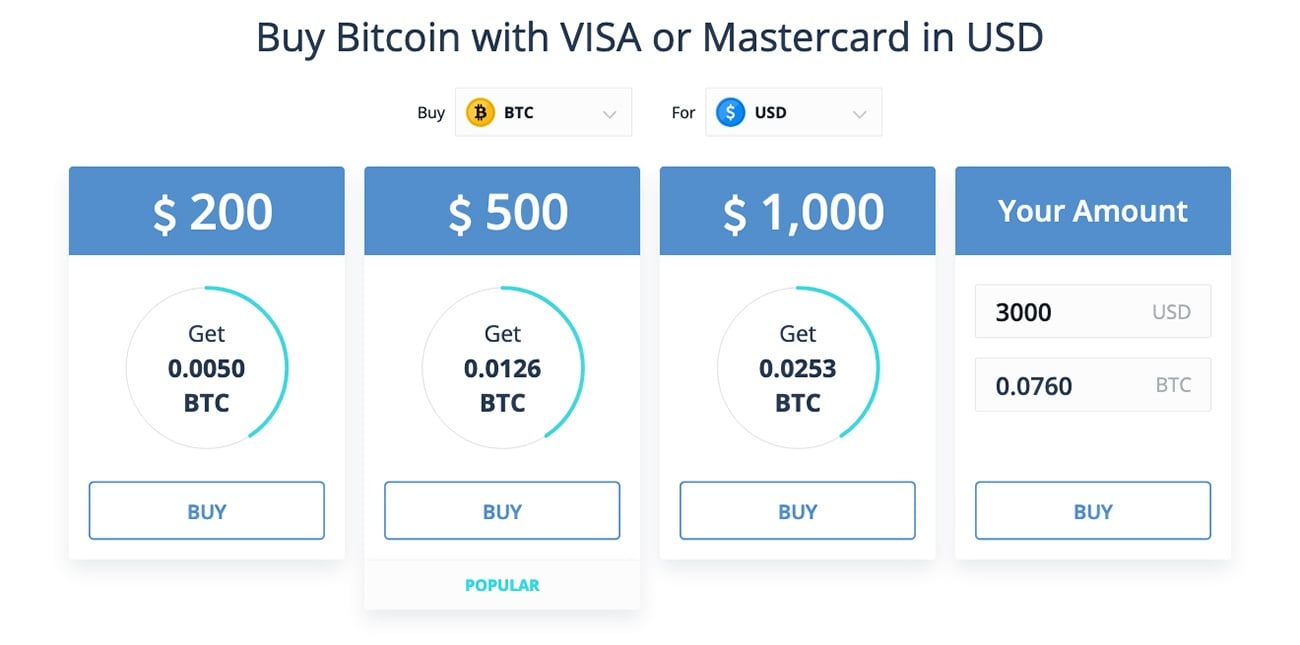 CEX.IO Buy With Card
This interface makes it easy to see exactly how much Bitcoin you're getting for the price. However, the fees are quite a bit higher than buying through the trading interface.
If you've already deposited money onto CEX.IO you can buy using this balance. You can also trade with the balance of any cryptocurrency you hold in your exchange wallet.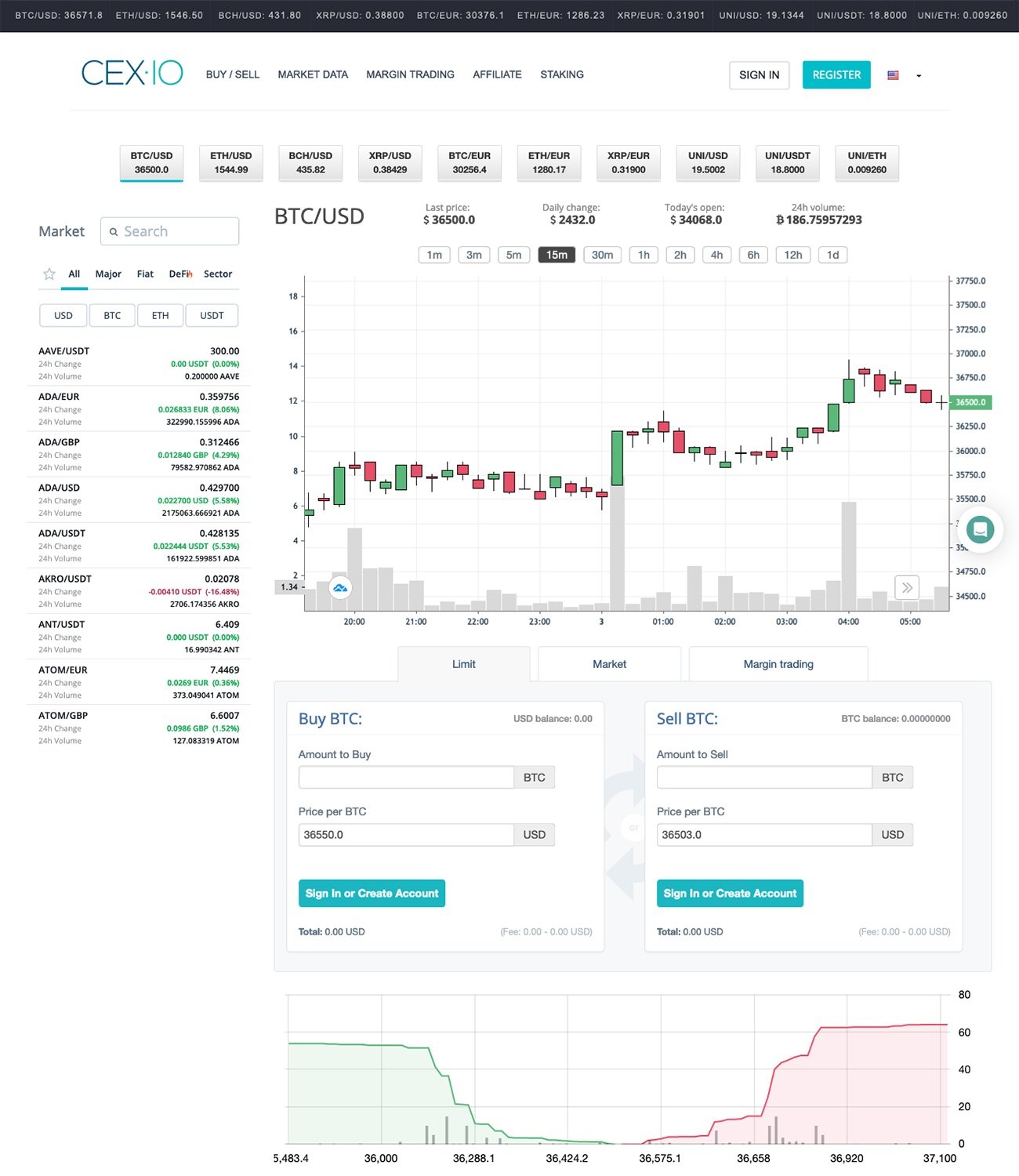 CEX.IO Trading Platform
Liquidity
Messari.io's ranking of crypto exchanges by real spot volume places CEX.IO at #17. On a day when Coinbase counted $4.5 billion in volume, CEX.IO did $25 million across its 37 tradeable pairs. BTC/USD and ETH/USD each did $7 million in volume, making them the most liquid pairs and accounting for more than half of the exchange's total volume.
$25 million might not sound like a lot, but it should only be an issue to traders whose positions are large enough to significantly move the market. If this is you, it's probably worth looking at trading on another exchange. Otherwise, CEX.IO should provide ample liquidity for your needs.
Margin Trading
CEX.IO offers trading with up to 100x leverage on its margin platform.
Here, you can trade Contracts For Difference (CFDs). This is a technical way of saying that you're not actually trading the underlying asset. Instead, you trade the difference in price between your entry and exit points.
Be aware that margin trading increases your risk greatly. At 100x leverage, it only takes a 1% swing against you for your entire position to be liquidated.
This is a more complicated trading interface that may take some getting used to.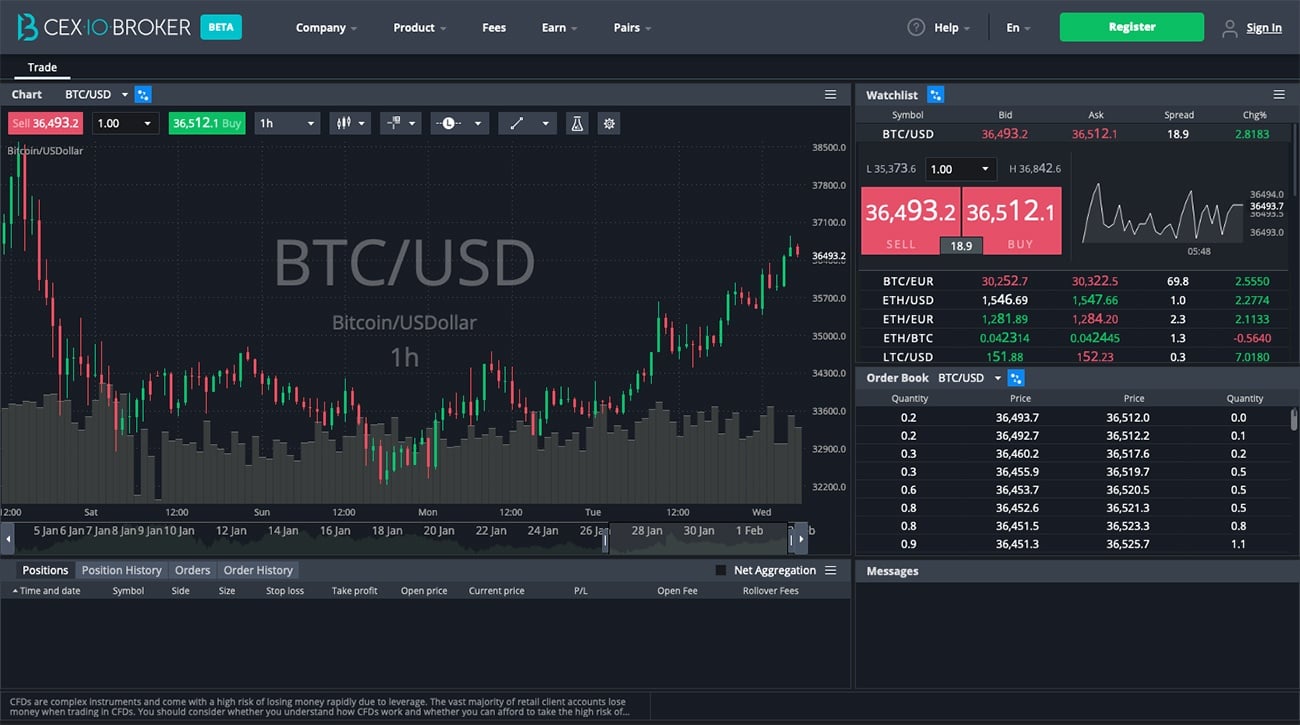 CEX.IO Broker
You can also trade Forex pairs on CEX.IO Broker. Supported fiat currency pairs include EUR/USD, EUR/GBP, EUR/JPY, USD/JPY, USD/RUB, GBP/USD, and GBP/JPY. Available leverage is anywhere from 2x to 100x.
CEX.IO Finance
CEX.IO is not just a simple Bitcoin exchange, it also offers financial products including crypto staking and loans.
If you hold a stakeable digital asset in your CEX.IO wallet, you can earn daily interest. The exact returns vary depending on which digital currency you hold.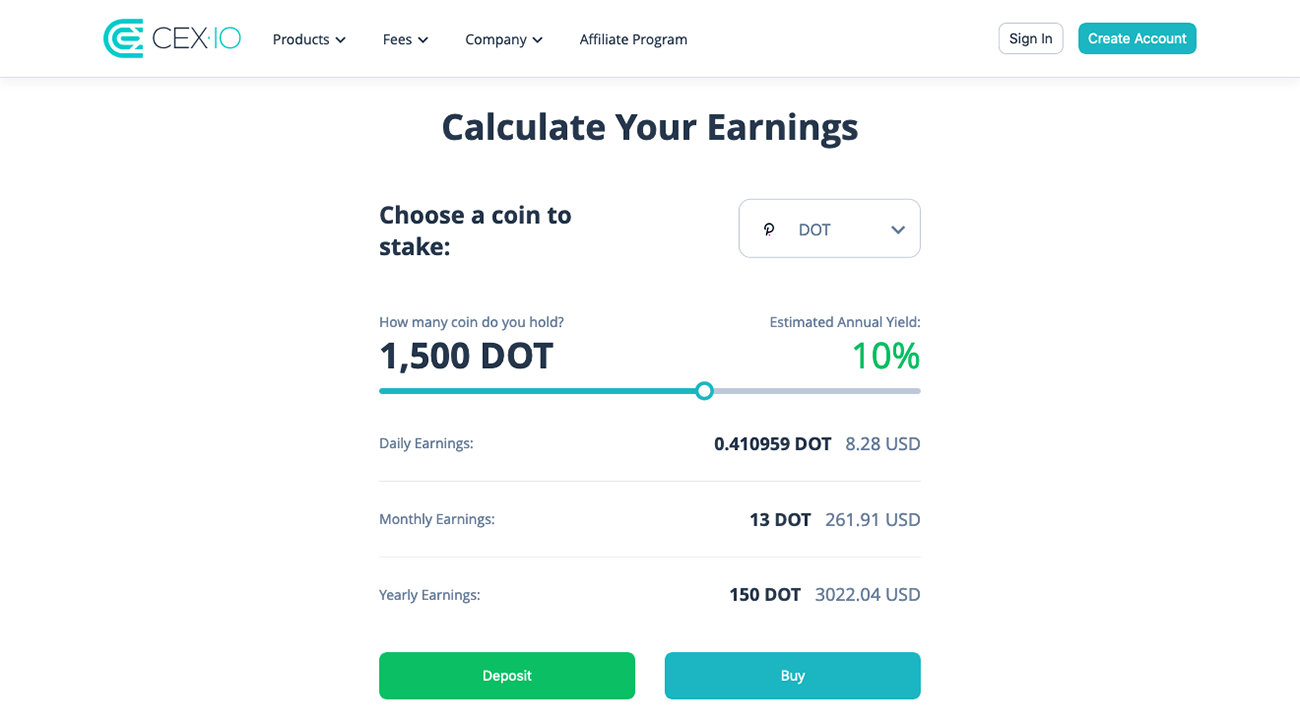 Another financial product that CEX.IO offers is crypto-backed loans.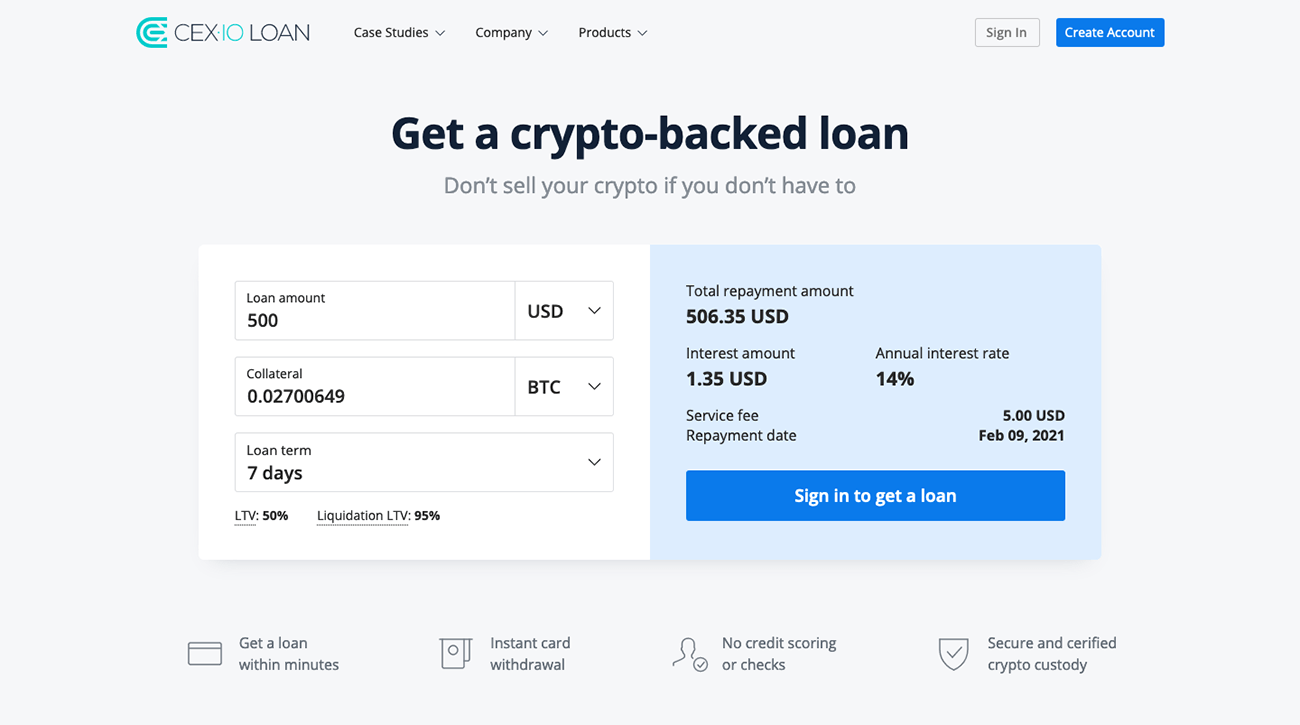 Crypto-backed loans allow you to keep your exposure to the underlying asset while benefiting from having some extra cash to spend.
This can also be a tax-efficient strategy, as loans do not count towards personal income. The fact that you don't sell your crypto, merely post it as collateral, means that you are not realizing any taxable capital gains. Of course, it's always worth checking with a local tax professional who can give advice on your particular situation.
One risk of crypto-backed loans becomes apparent in times of heightened volatility. If the price of your collateral dips too much, you'll be margin called and potentially liquidated.
Mobile App
CEX.IO has mobile apps available for both iOS and Android.
These apps have the full functionality of the web platform. You can buy, sell, and watch charts from within the app.
One added feature is the ability to set price alerts. You can have the CEX.IO app notify you when the price of a supported asset changes a certain percentage over a 24 hour period. You can also set a value and get an alert when the price reaches a certain percentage of that, anywhere from -99.9% to +1,000%.
These alerts are available for Bitcoin, Ethereum, Bitcoin Cash, and Litecoin.
Scams
CEX.IO is a legitimate Bitcoin exchange. It has proved itself to be reliable and consistent over its nearly eight years of operation.
CEX.IO gets 4.7 stars from 16,750 reviewers on TrustPilot, enough to qualify as "Excellent", with 88% rating it "Great" or "excellent".
Many of the negative reviews of the Bitcoin exchange focus on customer support. Diving deeper, it becomes clear that many of these unsatisfied customers take issue with the strictness of CEX.IO's KYC and AML compliance.
While it may be frustrating to have your account denied or closed, users can rest assured that CEX.IO takes their compliance duties seriously.
The exchange has published a guide to spotting and avoiding scams. There are many useful tips, so it's worth a read.
It is too attractive. Scammers usually make offers that are too good to be true. So if someone promises you impressive gains and easy money, be especially careful.
It is misleading. Money is always involved. You may be told that you have won some money, have a chance to get extra money but should send some amount in advance, or that your funds are in danger.
They speculate on your privacy. You should also be wary if you get an email with an attachment. Reliable companies can send you special offers, but they would rarely ask you to open attached files.
They are short on time. In most cases, scammers don't have much time, so they try to instill a feeling of urgency. They want you to act as fast as possible.
They try to scare you. Scammers often influence you through fear. They can tell you that something is wrong with your card, account, or computer to get valuable information.
They are tricky. If someone contacts you out of the blue and asks for your personal information and payment details, it is most likely a scam.

CEX.IO
Verification
CEX.IO requires very little information for its first tier of verification.
To increase your limits, however, you'll need to provide some personal details and documents.
CEX.IO offers four different account levels based on verification provided. Each account type has different buying limits.
Basic: Basic accounts can buy up to $400 worth of bitcoins per day, and up to $2,000 per month. Basic accounts are not able to purchase via SWIFT, ACH, or SEPA bank transfer.
Verified: Verified accounts can purchase up to $10,000 worth of bitcoins per day, or up to $100,000 per month via both credit card and bank transfer.
To reach CEX.IO's "Verified" level, the exchange requires scans of a passport, driver's license, or ID. You'll also have to submit a picture of you holding your ID, one holding your credit card, and proof of residency.
Deposit limits are increased to $3,000 daily and $30,000 monthly if paying by credit or debit card.
Individual Business & Corporate: Individual Business and Corporate accounts can purchase an unlimited amount of bitcoins.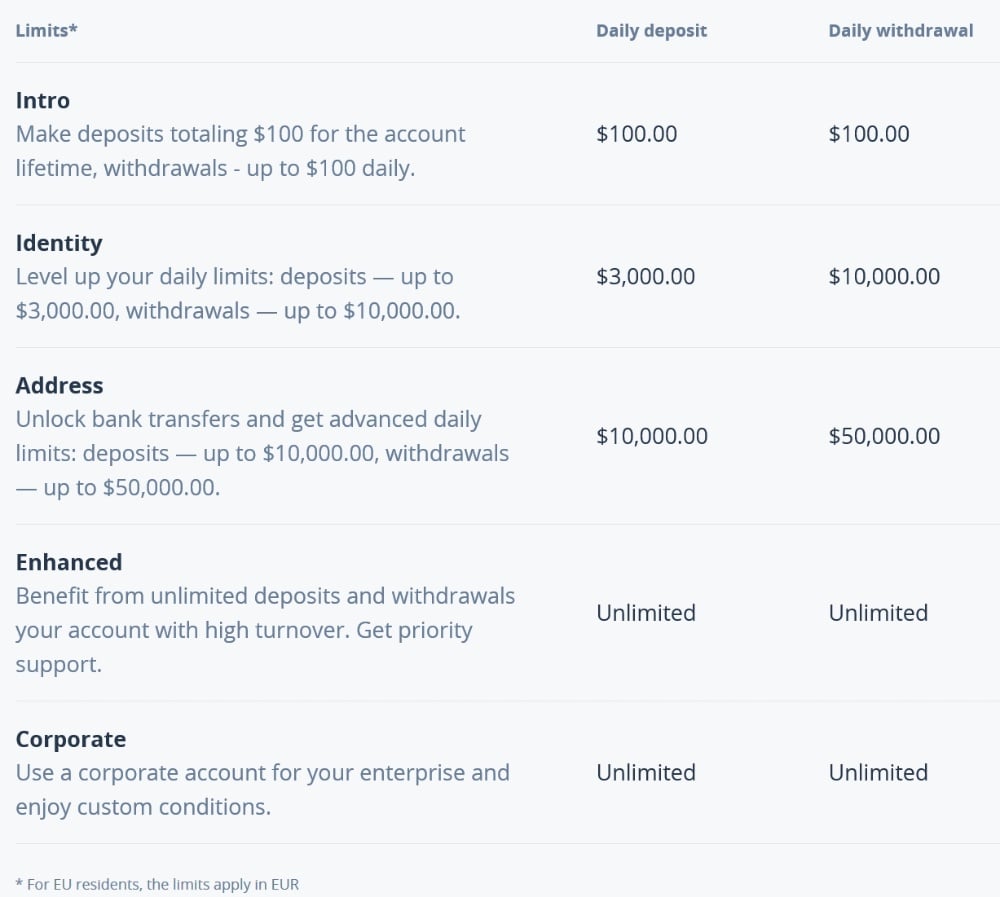 CEX tiers
Note
After verifying your identity, you'll still be subject to some limits for the next three months. There is a maximum daily deposit of $1,000 via credit or debit card, and a monthly limit of $3,000.
Security
CEX.IO is registered as a money transmitter business in many locations worldwide.
The exchange is PCI DSS compliant. This stands for Payment Card Industry Data Security Standard and means that CEX.IO has met certain requirements relating to its handling of customers' credit card information.
To keep your account secure, you can set up two-factor authentication (2FA) via SMS or Google Authenticator on CEX.IO. SMS 2FA is not recommended, as it is vulnerable to sim-swapping. App-based 2FA like Google Authenticator or Authy are preferable.
There is currently no support for hardware 2FA devices like Yubikey or Nitrokey.
CEX keeps the vast majority of its funds on wallets locked in vaults protected by armed security guards and video surveillance.
The exchange created a nice infographic for more information about its security measures.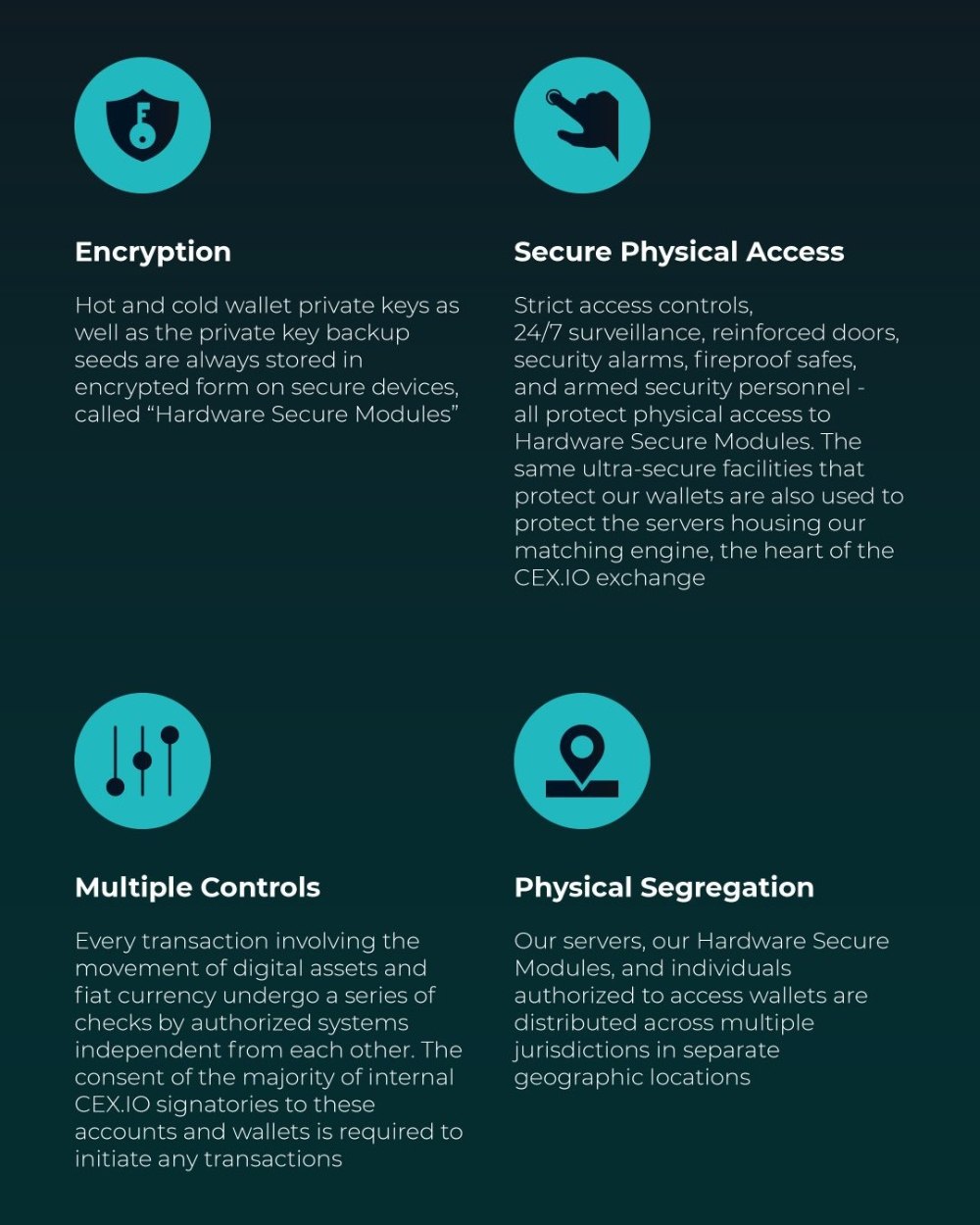 Speed
After initial verification, CEX.IO processes most credit card purchases instantly. Getting your account verified can be a lengthy process, but it makes later purchases much quicker.
Purchases are generally executed immediately. The only time when this might not be the case is when posting a limit order some distance from the current market price. See below for an explanation of the difference between maker and taker orders.
Reputation
CEX.IO is a registered company and/or money transmitter in all districts in which it operates. In the USA, it is registered with FinCEN, and registered with ICO in the UK and EU.
Trading Fees
Buying through CEX.IO's simple buy/sell interface using a credit or debit card will incur relatively high fees. All in all, the 2.99% transaction fee plus CEX.IO's roughly 7% trading fee will add up to about 10%. While it's the most convenient way to buy Bitcoin, it's also one of the most expensive.
Luckily, there are ways to cut down on fees. Deposits made via bank transfer (ACH/SWIFT/SEPA) are free. This means that the only fees you'll pay are the trading fees outlined below, which at most come to a quarter of one percent. This makes it much more economical to buy Bitcoin on CEX.IO using a bank deposit to fund your account.
Transaction fees are as follows:
| Trade Volume 30d, BTC | Taker | Maker |
| --- | --- | --- |
| ≤ 5 | 0.25% | 0.16% |
| ≤ 30 | 0.23% | 0.15% |
| ≤ 50 | 0.21% | 0.13% |
| ≤ 100 | 0.20% | 0.12% |
| ≤ 200 | 0.18% | 0.10% |
| ≤ 1000 | 0.15% | 0.08% |
| ≤ 3000 | 0.13% | 0.04% |
| ≤ 6000 | 0.11% | 0.00% |
| > 6000 | 0.10% | 0.00% |
Maker orders are limit orders that are posted to the order book. E.g. the price of Bitcoin is $40,000, and you submit a buy order for $39,950 or a sell order for $40,050. Neither of these will execute instantly, instead they sit on the book and add liquidity, making the market.
Taker orders are also known as market orders. They generally execute instantly, as they *take* available liquidity from the market. By executing a taker order you are fulfilling someone else's maker order.
Customer Support
CEX.IO has a support center with 79 articles covering everything from account verification to setting up trading APIs.
If you have a problem, this is the first place you should turn to.
The support center also has a glossary with definitions for more than 50 common crypto-related terms.
For account-related issues and cardholder correspondence, reach out to support@cex.io.
CEX.IO also has a support phone number (+44 20 3966 1272) if you want to talk to a real person.
You can send any complaints to complaint@cex.io. Business enquiries should be directed to web@cex.io.
CEX.IO's Twitter page is regularly updated with market news and analysis. Their Telegram channel is also quite active.
CEX.IO Offers
CEX.IO has an affiliate program that lets you earn kickbacks every time someone signs up with your unique link and starts trading. You get 30% of all the fees that they pay after signing up with your referral code.
The exchange claims to have paid out more than $2 million in affiliate earnings. There is no cap on the amount of money you can earn via affiliate bonuses.
CEX.IO also occasionally has special promotions that can earn you some extra dollars.
One recent promo offered 15 USDT to the first 30 users who completed 5 altcoin trades and posted them in the chat.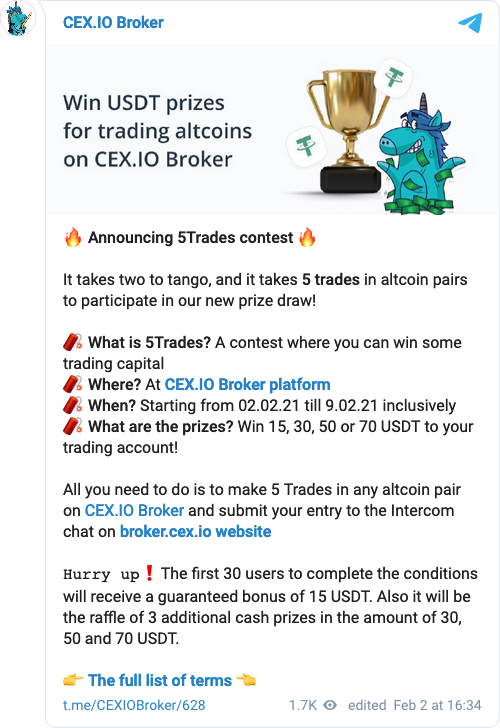 Depending on the size of your positions, however, you might end up spending more in fees than you'd make back with the bonus.
While promotions like these are nice every now and then, it shouldn't influence your decision making too much when picking out an exchange. Trading fees, payment methods, and security are much more important factors.
Supported Countries
CEX.IO advertises its service as being available to 99% of countries worldwide.
The only countries and territories where the exchange is not available are the following:
Afghanistan
Bosnia and Herzegovina
Burundi
Central African Republic
Cuba
Democratic People's Republic of Korea (DPRK)
Democratic Republic of the Congo
Ethiopia
Guam
Guyana
Guinea Bissau
Iran
Iraq
Japan
Lao People's Democratic Republic
Lebanon
Libya
Mali
Pakistan
Puerto Rico
Somalia
South Sudan
Sudan
Syria
Tunisia
Uganda
US Virgin Islands
Vanuatu
Venezuela
Yemen
Zimbabwe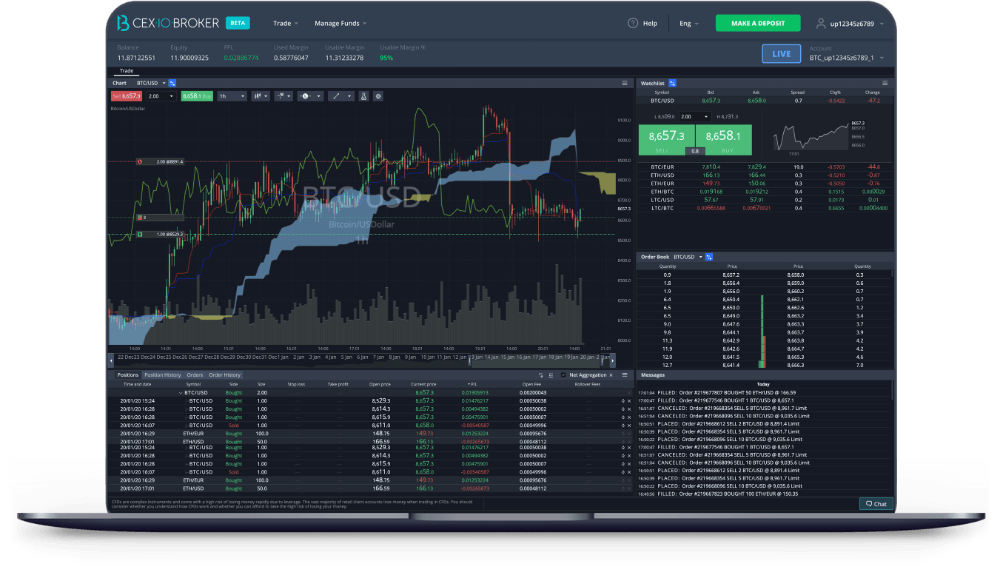 CEX.IO broker makes it simple to buy without the complexity of dealing with an order book.
Summary
CEX.IO is a solid Bitcoin exchange that has maintained a good reputation in its nearly eight years of operation. It has a great track record of security. The exchange is compliant with regulation in all of the countries in which it operates.
A good range of digital currencies are available for trading on CEX.IO. BTC/USD, ETH/USD, XRP/USD, XLM/USD and BTC/EUR make up the top five most traded pairs. CEX.IO's support for Ripple makes it one of the larger exchanges where you can trade the altcoin against the U.S. dollar during the SEC's investigation.
Overall liquidity is relatively high - the exchange places within the top 20 most liquid Bitcoin exchanges worldwide.
CEX.IO has a comprehensive support center and there are a range of ways to get in contact with the helpdesk if needed.
CEX.IO gets a tick for fee-free bank deposits, but its fees for buying Bitcoin with a credit or debit card are among the highest of any exchange. Convenience has a price, but it's good to know that there are ways to cut down on fees. Trading fees once you have money in your account are competitive.
Some people have complained online about CEX.IO's verification process. However, the exchange makes it clear exactly what documentation is required to satisfy KYC and AML regulation. As long as you have a passport, proof of address, and access to the card you'll be using to buy Bitcoin, you shouldn't have a problem.
A couple of minor concerns are related to the public image of CEX.IO. Their giveaways and social media presence are a little bit hyped up, which may encourage speculation and over-trading. Additionally, there are a number of spelling and grammatical errors on the site. Of course this doesn't reflect on the safety of your funds, but when deciding which exchange to keep any significant amount of money on ideally I'd be looking for a perfectly polished product.
Yet CEX.IO makes up for these minor issues with strong fundamentals. It offers all the functionality you could want from a Bitcoin exchange and makes buying and selling easy. Liquidity is a bit low on altcoin pairs, and fees can top 10% if buying Bitcoin with a debit or credit card, but overall CEX.IO is a good option if you're searching for a Bitcoin exchange.
Review By: Jordan Tuwiner
Rating: 4
CEX.IO Alternatives