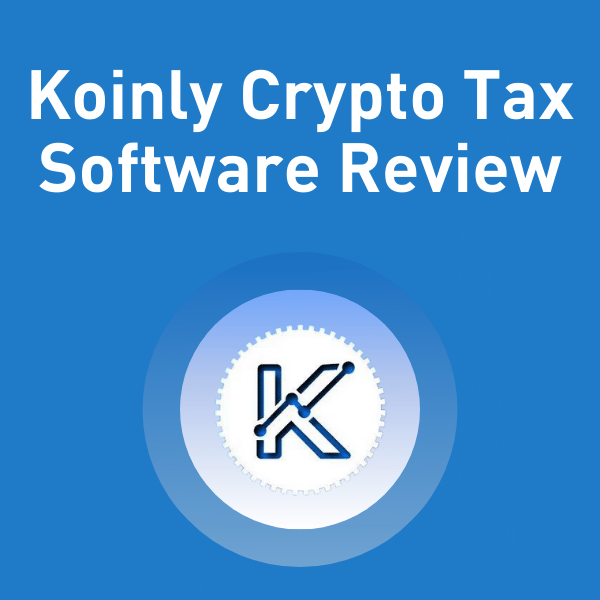 About 6 years ago, I had a heart attack when I thought I would need to manually calculate Bitcoin taxes.
At that time, Bitcoin.tax was the only option available.
Luckily, today, there are professional software tools available like Koinly.
Let's take a look at this crypto tax software.
Koinly Summary - What is It?
Koinly is an cryptocurrency tax calculating software. It is supposed to simplify calculating your cryptocurrency tax burden by automating a lot of processes involved in making these calculations.
In short, you use Koinly to import your data from wallets and exchanges (like Coinbase and Binance) and categorize each transaction into various taxable and non-taxable events.
Once you've categorized all your transactions (most of this will be automated for you), your tax forms will be generated, and you can then hand them to your accountant or export them to Turbotax.
First Impressions
The web interface is neat and orderly and pretty simple to use.
You can use your coinbase or Gmail account to create a new account quickly, which is also nice.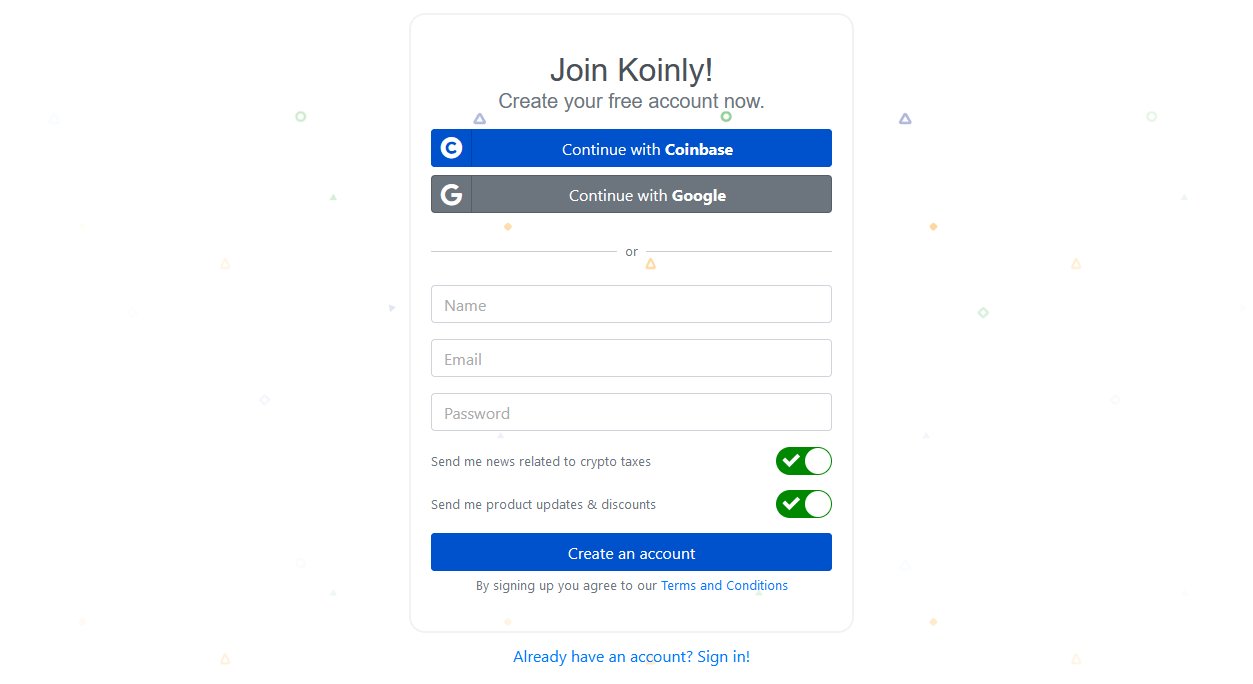 Once you account is created, you'll be take to a sort of 'quick start' screen that helps you check off various tasks to get set up.
You can see that below (notice how straight-forward it is to get started FAST).

Here you are prompted to connect your exchanges and then classify your transactions.
Once complete, you can generate your tax forms.
More on that process below…
Koinly Supported Countries
Koinly supports tax calculation for many countries, such as the US, UK, Canada, Australia and many other countries. Check the table below for all supported countries:
| | | | |
| --- | --- | --- | --- |
| USA | South Africa | Finland | Italy |
| Brazil | Denmark | Spain | Czech Republic |
| Canada | UK | Norway | Austria |
| Estonia | Ukraine | Iceland | Switzerland |
| Australia | Germany | Netherlands | Lichtenstein |
| Malta | Luxembourg | Belgium | Poland |
| New Zealand | Sweden | France | Ireland |
| Japan | South Korea | Singapore | India |
This is actually not a full list of all countries, as Koinly points out that it really support calculations for any country that uses the following accounting methods:
First In First Out (FIFO)
Last In First Out (LIFO)
Highest Cost
Average Cost Basis
Shared Pool (UK only)
PFU (France only)
The one thing Koinly won't do for the countries not listed above is actually generate the tax forms for your country. Instead, it just calculates the tax burden, and it is on you to translate that information onto the proper form.
Koinly Pricing
Koinly has several tiers to choose from:
| Tier | Price | # of TXs |
| --- | --- | --- |
| Newbie | $49 | 100 |
| Hodler | $99 | 1,000 |
| Trader | $179 | 3,000 |
| Pro | $279 | 10,000 |
And regardless of the plan that you choose, you will also receive the following perks:
Unlimited Revisions
Unlimited Wallets
Form 8949 & Schedule D
TurboTax, TaxAct Export
Comprehensive tax reports
Basic portfolio tracking
Email support
That doesn't mean there aren't other costs you may need to pay. For example, Dual Nationality users will need to pay a $49 fee to generate double the reports on the same transactions.
You can also have an expert at Koinly review your reports for $499.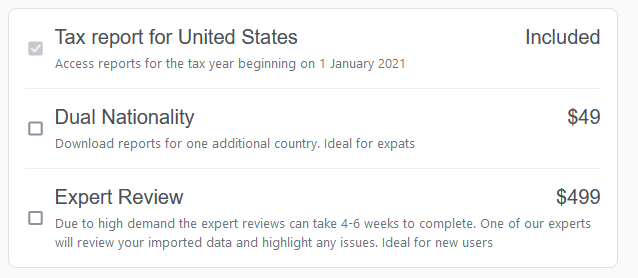 In almost all cases, the $49 'Newbie' tier will be absolutely fine for most people.
As for the extras, since the Koinly software does such a good job, we think adding the 'expert review' is not only not necessary, but a pretty bad value for money. Maybe if you are trading ten's of millions of dollars, its worth it, but that point, you really should be hiring an actual accountant to handle that anyway.
Payment Options
You can use Visa, American Express, and Mastercard to pay for your subscription.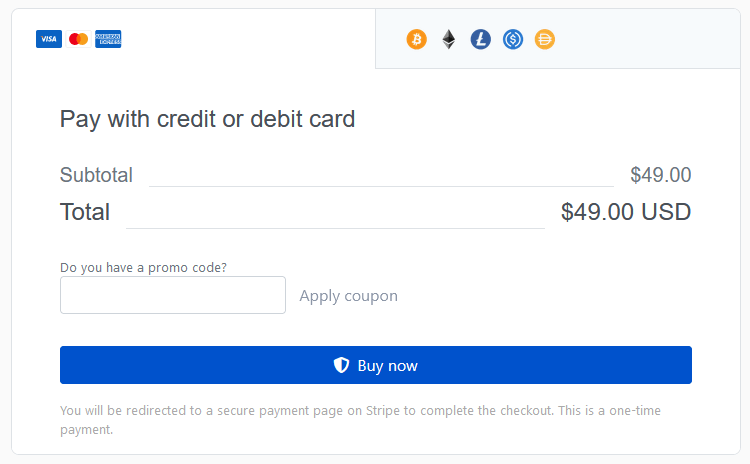 You can also use the following cryptocurrencies:
Bitcoin (BTC)
Ethereum (ETH)
USD Coin (USDC)
Dai (DAI)
The website claims you can also pay with Litecoin, but at the payment gateway, it is no longer an options.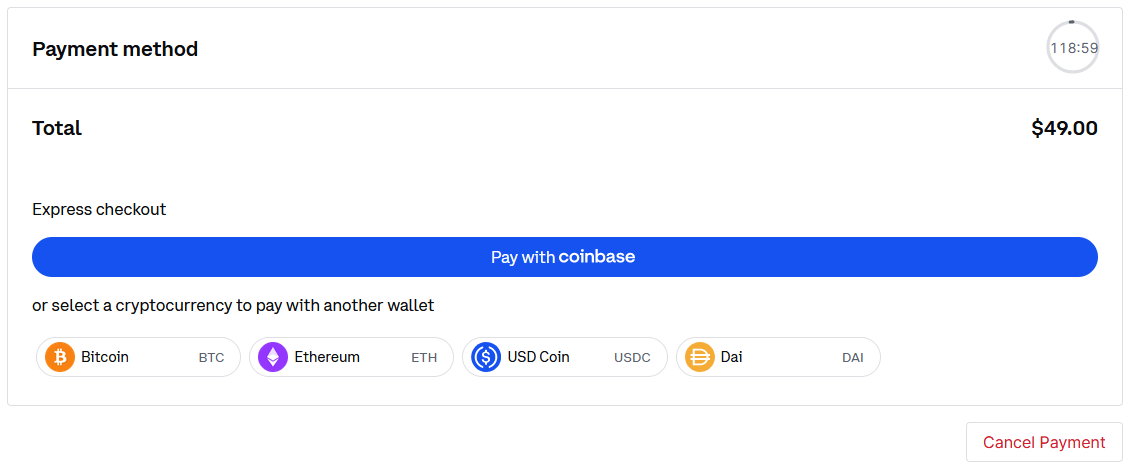 How to Use Koinly
Import
On Koinly's import page, you can see all of the exchanges and wallets they support importing from. The list is massive, and they will even add new ones if you ask them to.
You can also search for the exchange or wallet in the search bar at the top of the screen.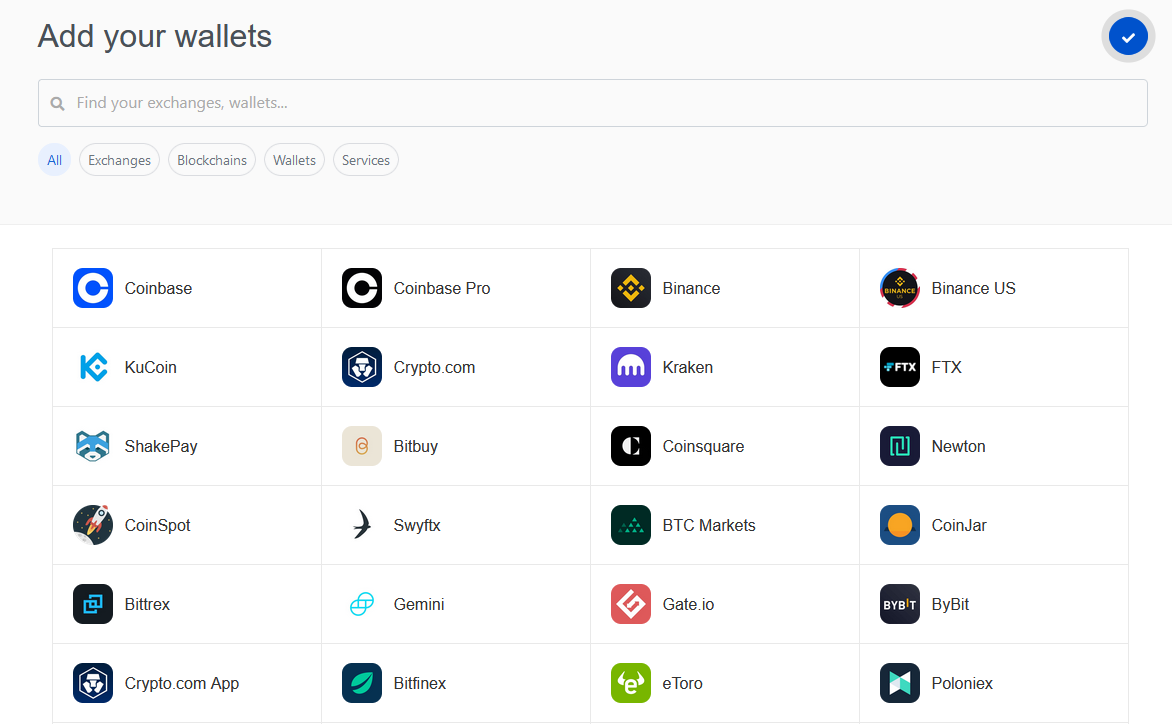 Unfortunately, to import your data, you must either upload a CSV file of your transactions or use the platforms API permissions to import the data.
Thankfully, Koinly does make this very simple with great documentation on how to do this for every single exchange and wallet they support.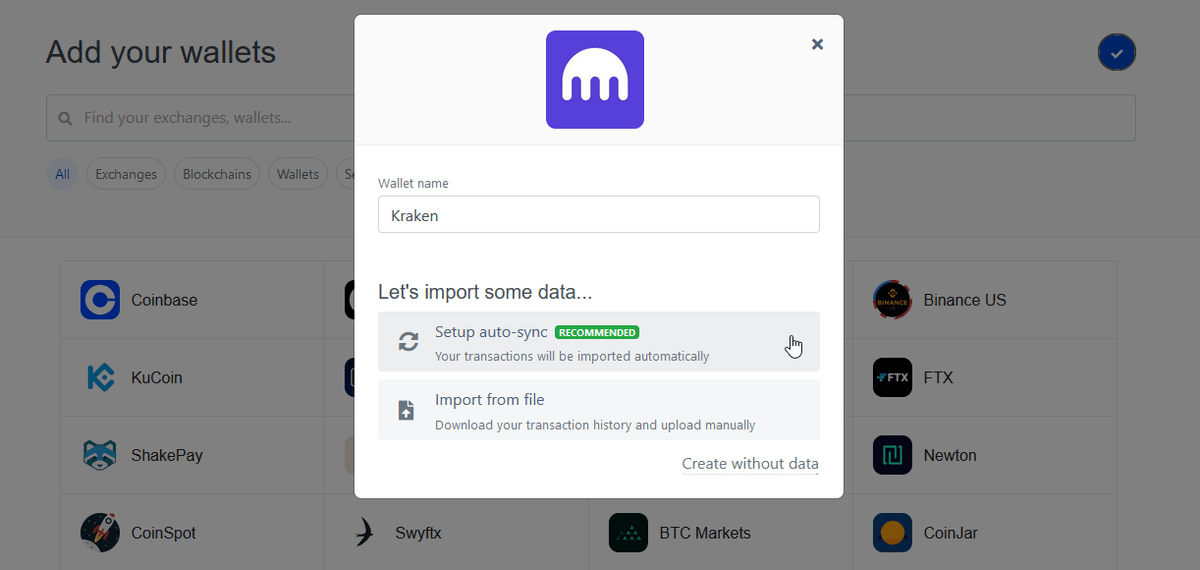 Once you have connected all your accounts, you need to click the little checkmark icon on the top right. I found this user interface to be a little confusing because the icon is so small, so I spent a couple of minutes trying to figure out where to go next. The UI could use some work, if you ask me.
Transactions Review
Once you are done importing, you can review all the transactions on the 'Transactions' page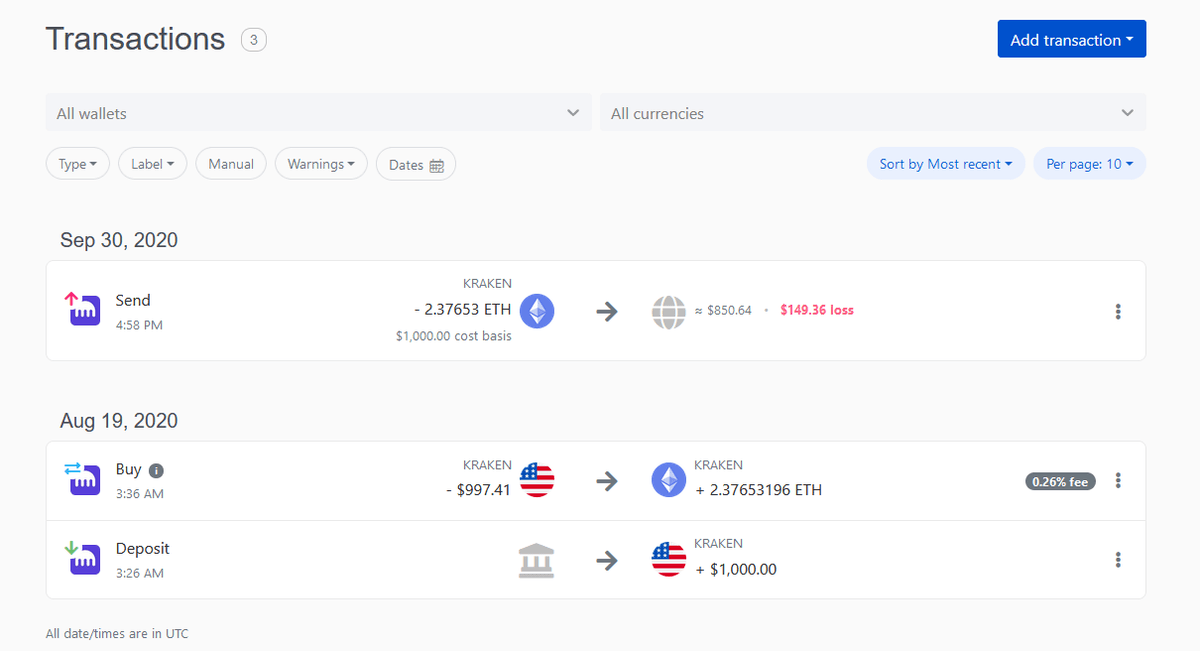 Here Koinly makes it easy to see if there is any data missing. In my case, I didn't have any data missing, but I confirmed through watching youtube videos that if something is missing, an icon appears on the transaction to tell you what it needs.
This is important, because as you will find out when we discuss Accointing, this feature is not present on that platform and can cause you a lot of head aches.
Once all your transactions look good, it's time to generate your reports and tax forms.
Tax Report
On this tab, you can see how simple and clear everything is. There is just the right amount of info displayed to make sure nothing looks off, but not so much info that you are confused.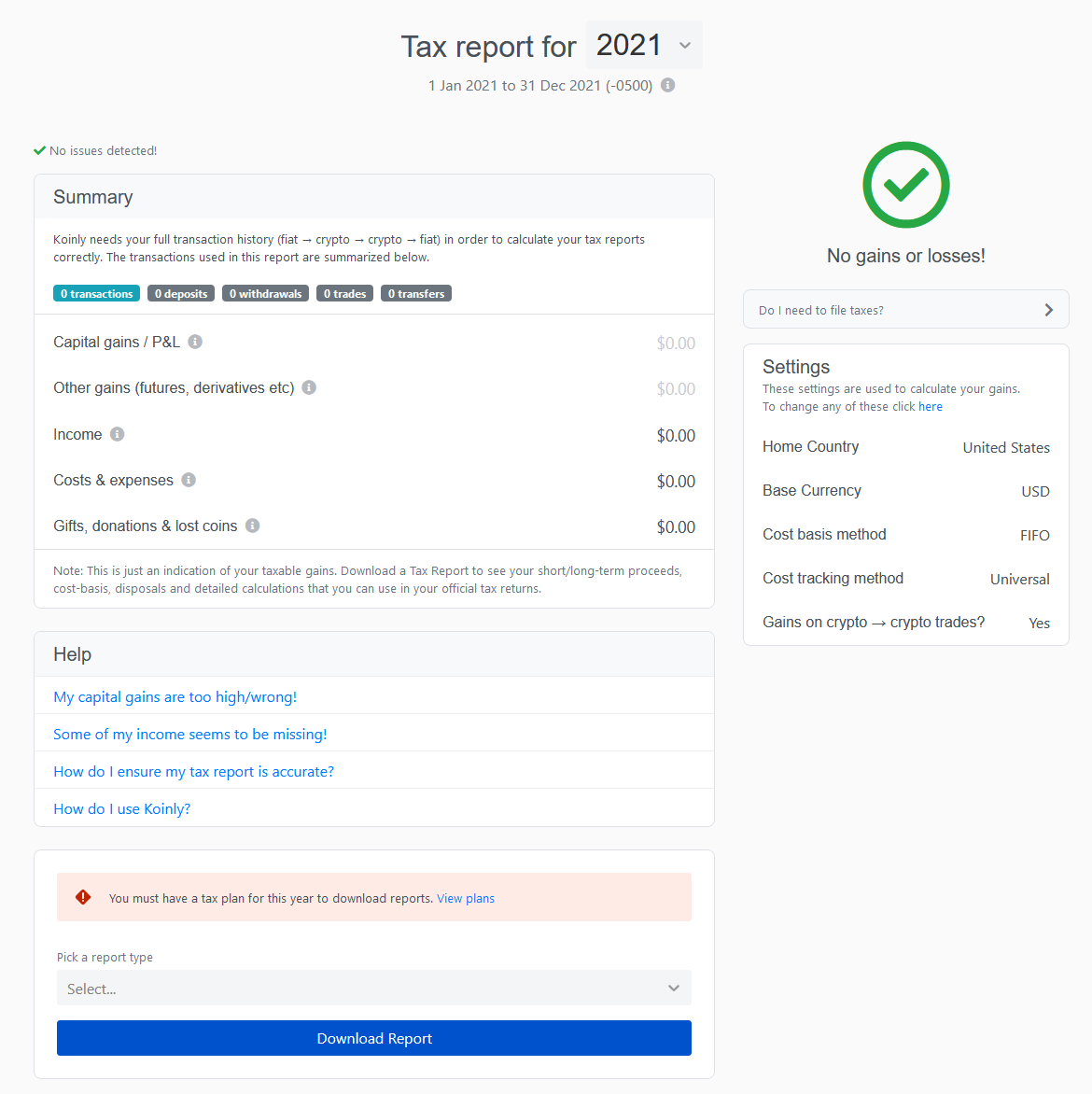 I think this is the section where Koinly's UI is pretty good. It's very obvious if something is wrong or missing.
And that's it! From here, you could change the accounting method if you wanted to, but the options there are quite limited compared to Accointing (explained below).
Stand-Out Features of Koinly
Fast exchange and wallet syncing
Simple software that makes calculating taxes easy
Good documentation for how to set up connections between every single exchange on the platform
Features That Could Be Improved
"Free" account won't let you download tax forms, so its not really free.
No additional features beyond tax preparation
User interface can be a little bit unclear at times
For these reasons, we recommend Koinly for users who need very minimal features of their tax software and just want to produce tax forms quickly.
Review by: Jordan Tuwiner
Rating: 4.7