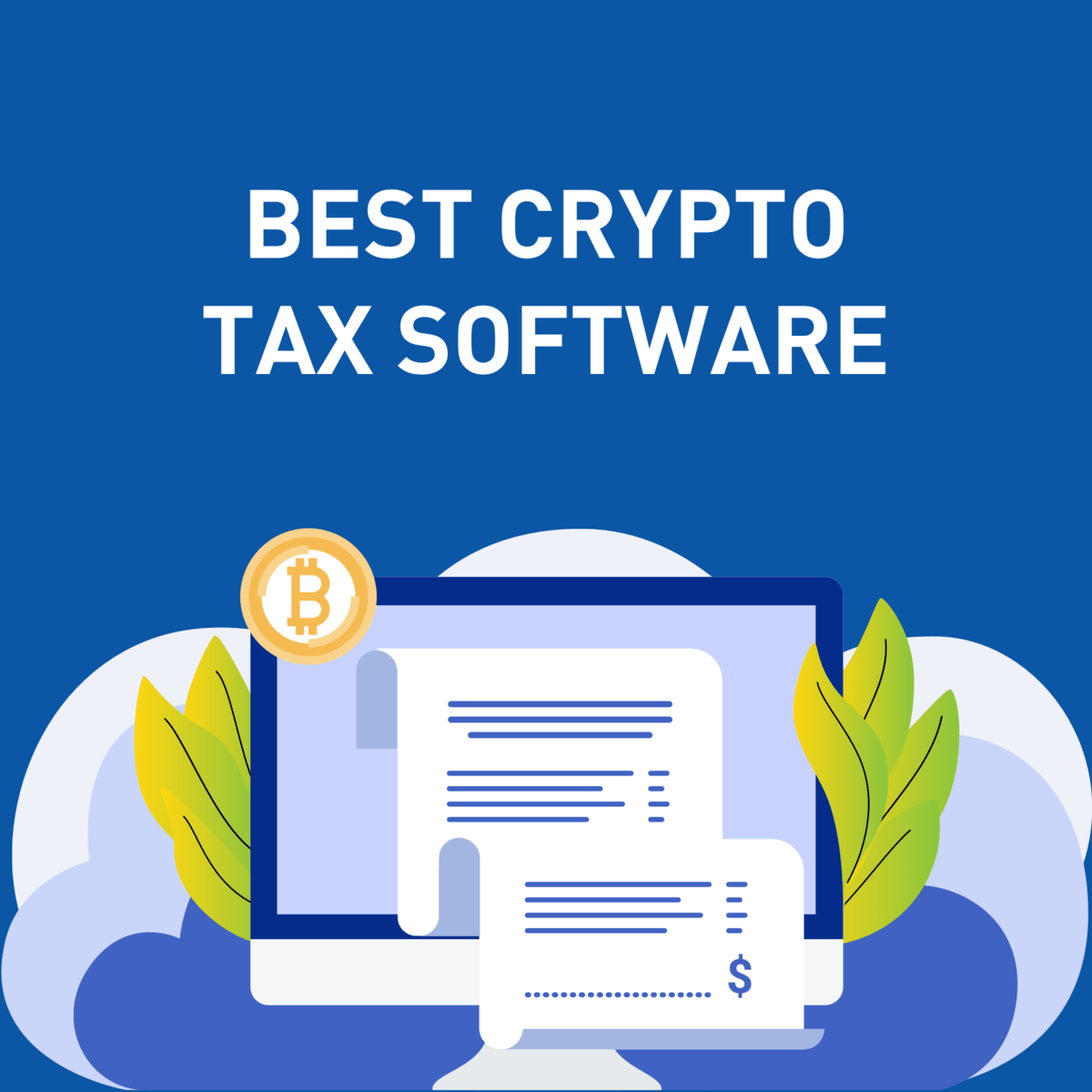 Taxing agencies consider cryptocurrency as property and therefore taxable.
Having software that helps you navigate the tax liability is very important.
This guide shows you all the best crypto tax software on the market in 2022.
We've tried them all, and each one appeals to a different kind of person.
This guide will tell you which one is best for your situation to save you time and money this tax year.
Quick Info: Popular Crypto Tax Software
TAX SOFTWARE

Koinly

Very clean interface makes it easy to use
Supports over 300 exchanges
Can export US and Canadian tax forms

CoinLedger

Easy import from nearly any crypto exchange
Can be uploaded to TurboTax
Support for many exchanges

Accointing

Easily print tax reports at any time
Connect 4500 coins form all exchanges and wallets
Supports USA, UK, Austria, Germany, and Switzerland
-
Chapter 1
How to Choose a Crypto Tax Software
The options available can easily become overwhelming. That's why it's a good idea to first make a proper assessment of your requirements when it comes to the type of crypto owner you are and the accounting needs you have.
So who needs what?
If you're a casual trader or deal with cryptos on a hobby-basis, then you'll be able to get by using some of the free services out there like Accointing or CoinLedger.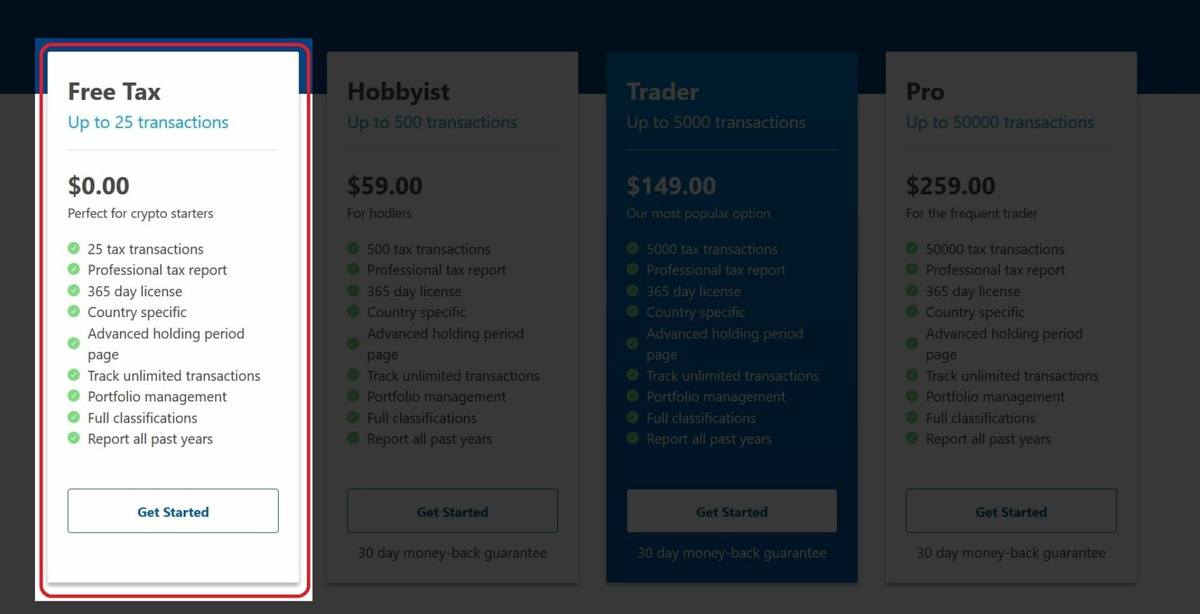 Accointing's tax software is one of the best crypto tax software suites available
If, however, you're a power-user who deals with thousands of transactions every year, then it's best to invest in a proper service that synchronizes all your accounts into one dashboard, like CoinTracking or the upgraded tiers of some of the services below.
Finally, if you have your finger in many crypto pies, such as stablecoins, ICOs, and ETFs then it's best to seek guidance from a certified accountant (CPA) or tax professional who understands each of your asset categories.
-
Chapter 2
Best Crypto Tax Software Options
Koinly is an app that makes it easy to import your data and download capital gains tax forms like the 8949, Schedule D and export to Turbotax. The web interface is pretty simple to use and supports the US, UK, Canada, Australia and many other countries. Check the website for supported countries
Price range: $49 to $400 per year based on features and number of crypto transactions.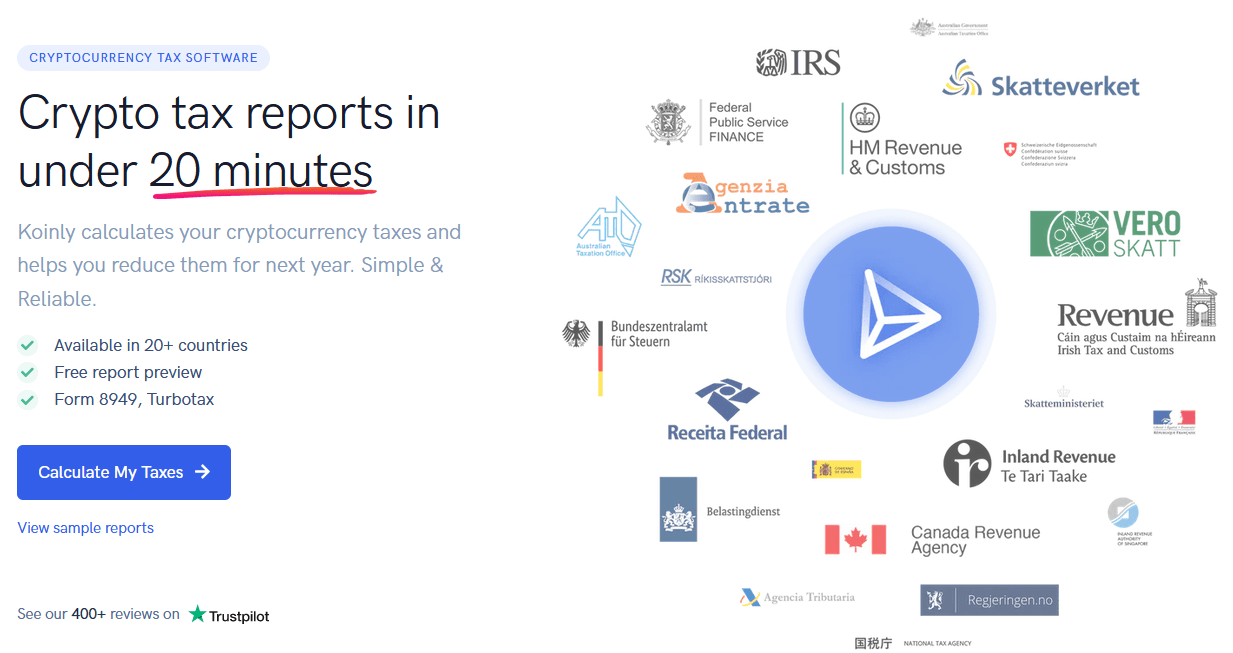 -
Koinly is the first on the list because it is, by far, the most simple crypto tax software that we have tried.
Some might even say it is too simple.
I think it just depends on what you are looking for.
Koinly does make it very simple to prepare tax forms for your crypto activity, but it doesn't do much else (unlike Accointing and CoinLedger outlined below).
Import
On Koinly's import page, you can see all of the exchanges and wallets they support importing from. The list is massive, and they will even add new ones if you ask them to.
You can also search for the exchange or wallet in the search bar at the top of the screen.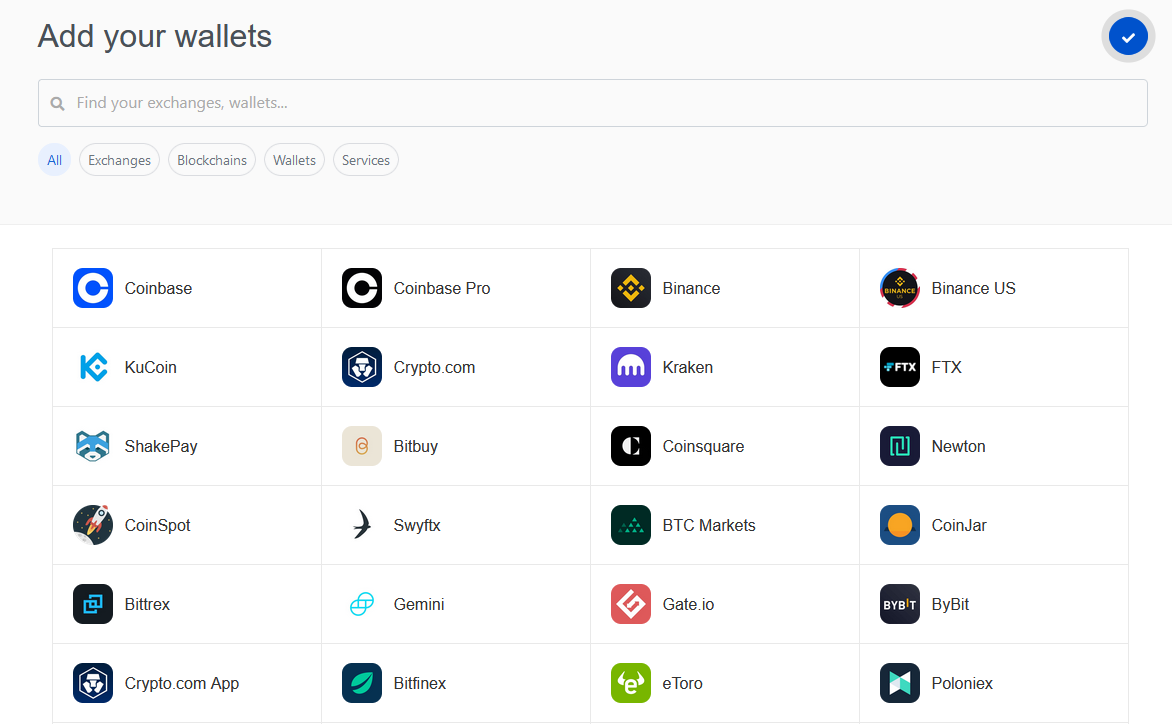 -
Unfortunately, to import your data, you must either upload a CSV file of your transactions or use the platforms API permissions to import the data.
Thankfully, Koinly does make this very simple with great documentation on how to do this for every single exchange and wallet they support.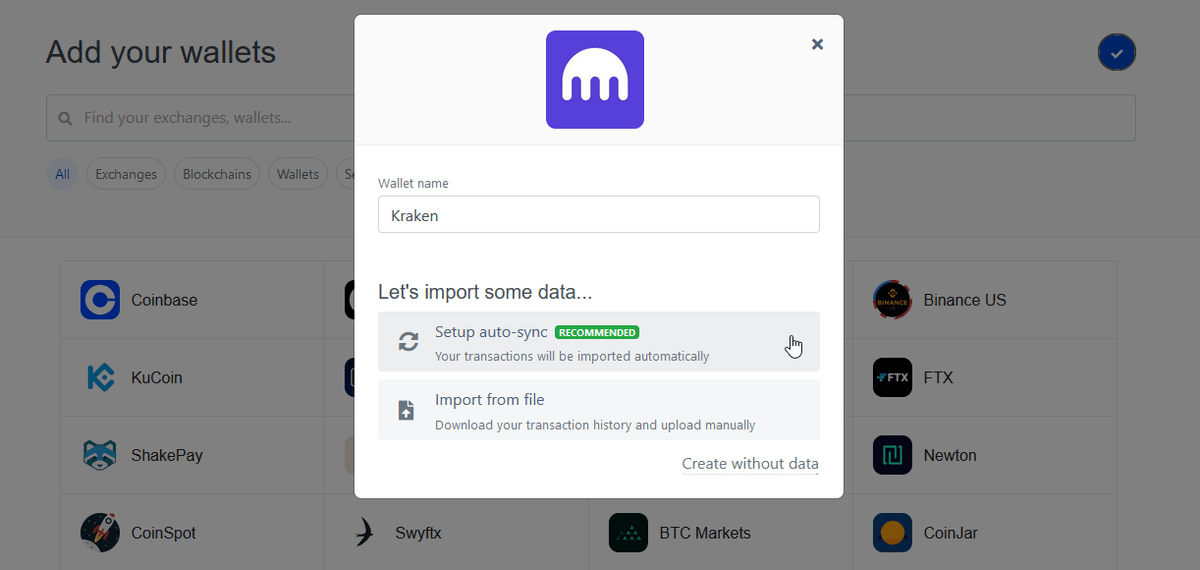 -
Once you have connected all your accounts, you need to click the little checkmark icon on the top right. I found this user interface to be a little confusing because the icon is so small, so I spent a couple of minutes trying to figure out where to go next. The UI could use some work, if you ask me.
Transactions Review
Once you are done importing, you can review all the transactions on the 'Transactions' page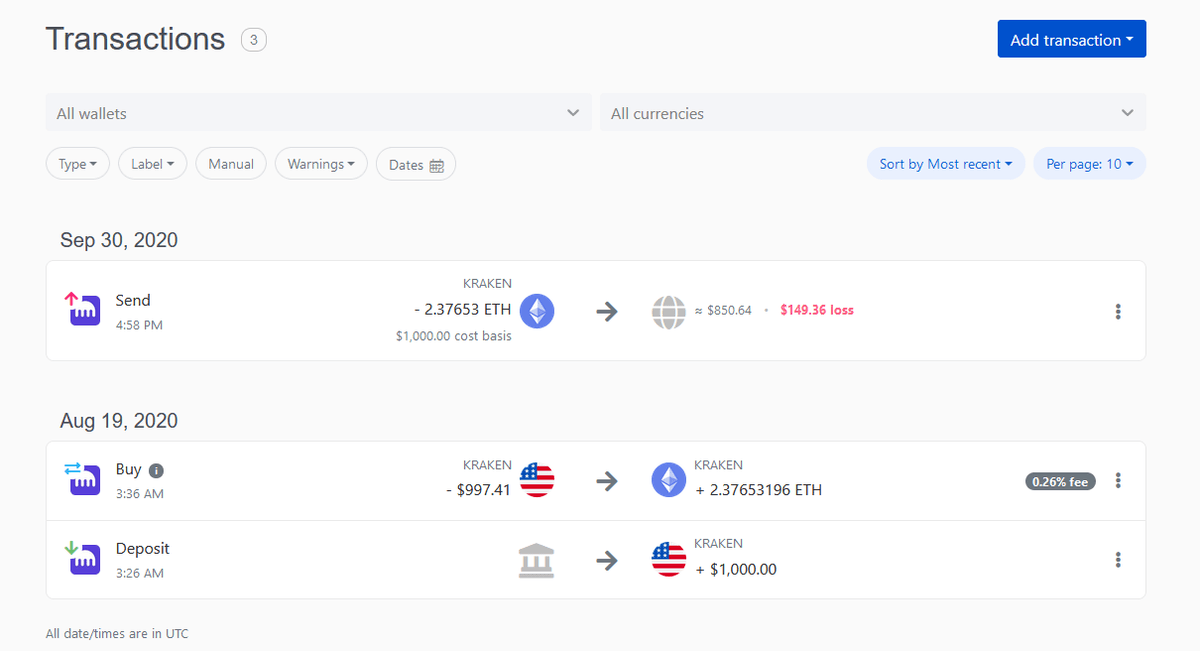 -
Here Koinly makes it easy to see if there is any data missing. In my case, I didn't have any data missing, but I confirmed through watching youtube videos that if something is missing, an icon appears on the transaction to tell you what it needs. This is important, because as you will find out when we discuss Accointing, this feature is not present on that platform and can cause you a lot of head aches.
Once all your transactions look good, it's time to generate your reports and tax forms.
Tax Report
On this tab, you can see how simple and clear everything is. There is just the right amount of info displayed to make sure nothing looks off, but not so much info that you are confused.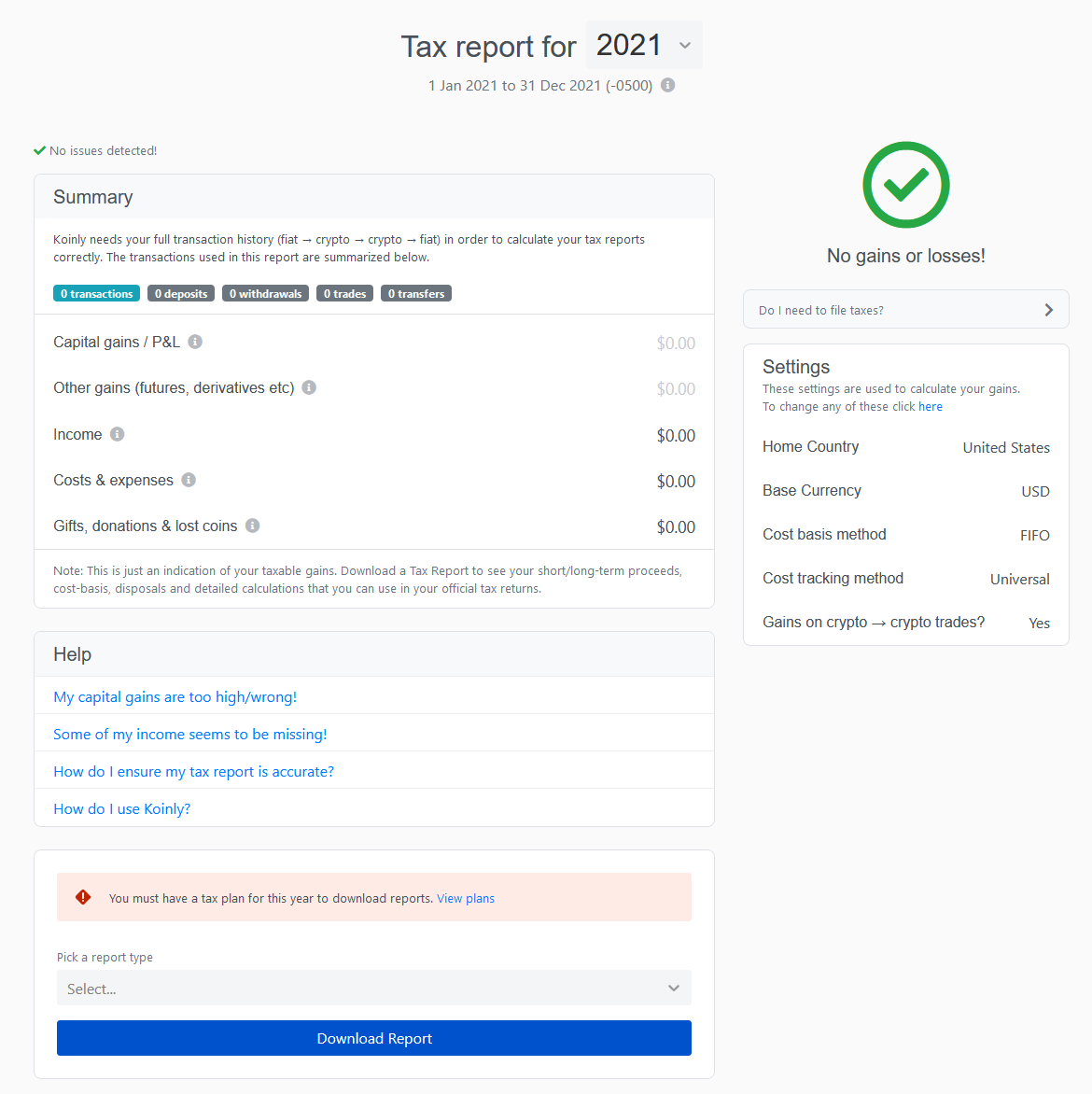 -
I think this is the section where Koinly's UI is pretty good. It's very obvious if something is wrong or missing.
And that's it! From here, you could change the accounting method if you wanted to, but the options there are quite limited compared to Accointing (explained below).
Stand-Out Features of Koinly
Fast exchange and wallet syncing
Simple software that makes calculating taxes easy
Good documentation for how to set up connections between every single exchange on the platform
Features That Could Be Improved
"Free" account won't let you download tax forms, so its not really free.
No additional features beyond tax preparation
User interface can be a little bit unclear at times
For these reasons, I might recommend Koinly for users who need very minimal features and just want their tax software to produce tax forms quickly.
CoinLedger offers an easy way to calculate all your crypto taxes, and has integration with TurboTax.
Price range: $49 - $299 per year based on number of crypto transactions.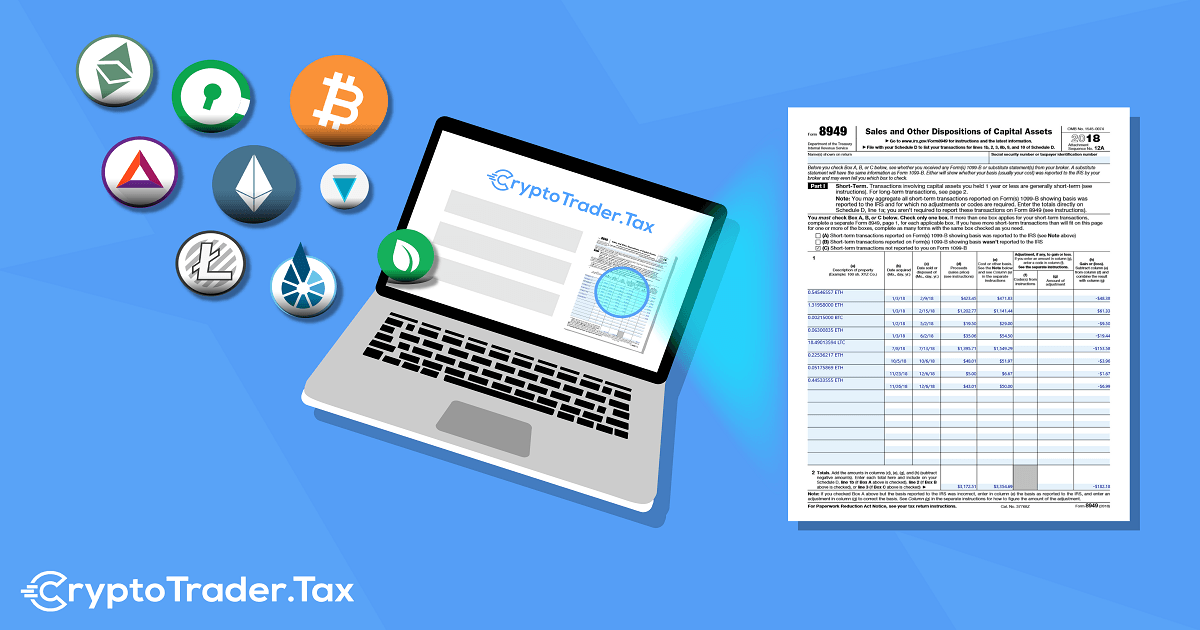 -
CoinLedger is very simple.
You'll go through a process of connecting all of your exchange accounts as well as your personal wallets to your CoinLedger account using API keys (don't worry, CoinLedger shows you how to do this for every single exchange). Once connected, you will import all of that data to your CoinLedger account.
If you don't trust CoinLedger to directly connect to your accounts, you can export the data from these wallets and exchanges as excel sheets and import those sheets into your CoinLedger account.
All transactions go through 4 phases:
Import (as explained above)
Classify
Review
Tax Reports
Import
This is what the 'Import' page looks like

-
Here you can see every transaction reported from all your wallets and exchanges
Classify
Then, on the 'Classify' screen, you will tell CoinLedger the type of transaction each entry is. For instance, income payment, coin swap, or something else like an interest payment on a crypto savings account.

-
It's also worth noting that CoinLedger is the only software I used where I saw them support caclulating taxes on crypto mining income, which makes it an easy choice for the miners out there.
Review
The next screen is 'Review'.
Here, you will make sure all of the transactions have all of the information needed to calculate the tax on them. This is one place where CoinLedger really shines.
Here you can see that I don't have a cost basis for this entry.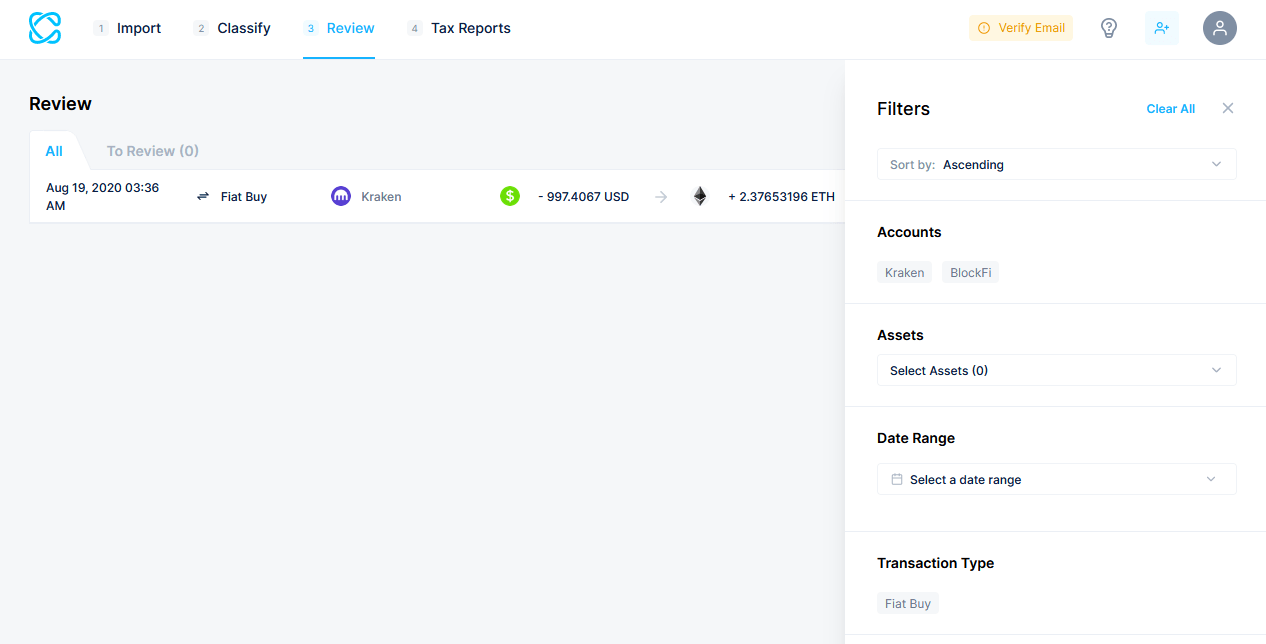 -
CoinLedger informs me that I need to add one, and then it links to a blog post with video and written content on what cost basis is, how its calculated, and common reasons for it not existing. This makes troubleshooting issues in the review screen very simple.
Tax Reports
After I've fixed any issues in the review screen, I can then have CoinLedger easily generate any tax forms I need to file my taxes on the 'Tax Reports' tab.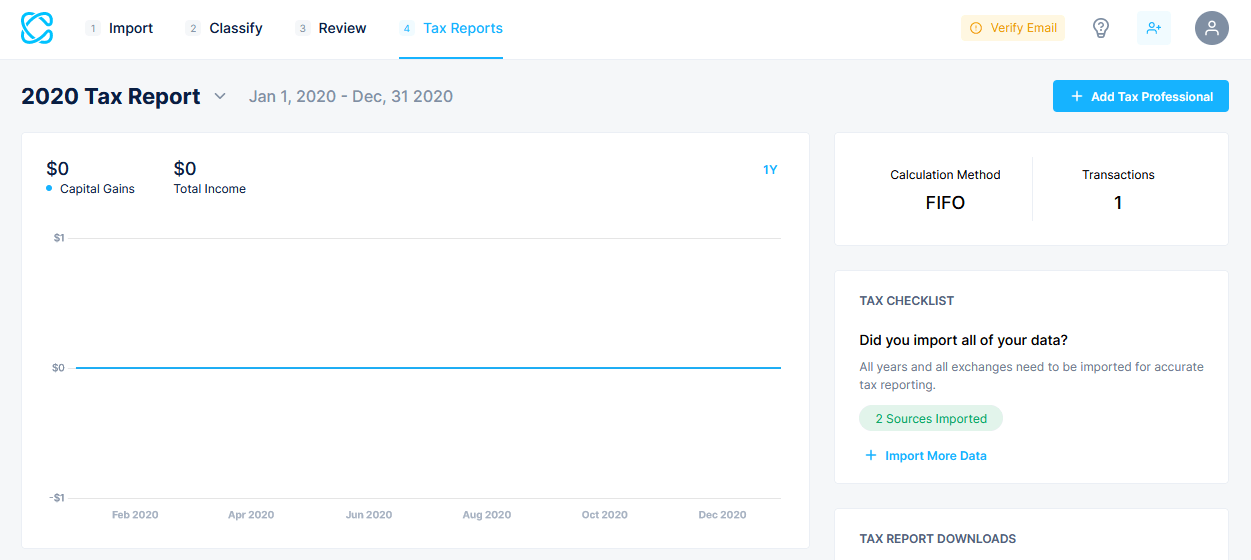 -
And that's it for this year. You are done with your crypto taxes!
Stand-Out Features of CoinLedger:
Incredibly helpful blog posts with written instructions and videos to supplement. Best of all, they are linked to from the areas that need attention
Differentiates between short and long term gains
A crypto income report that helps you understand your true annual salary for that year
Direct import to Turbotax, making finalizing your total taxes very easy
Features That Could Be Improved
Better looking and more versatile non-tax related features like portfolio performance tracking
A free version of the product
For these reasons, I recommend CoinLedger to users who want to make filing their crypto taxes as painless as possible. If you are not overly worried about granting access to your accounts to your accounting software, then CoinLedger is the software for you. I also recommend CoinLedger to anyone who is mining Bitcoin or other cryptocurrencies.
Accointing allows you to track your crypto portfolio while keeping a record of all your transactions in order for you to be able to print a tax report at any point in time. It exports your trades in the proper format for taxes in the USA, United Kingdom, Austria, Germany and Switzerland. Accointing is not very easy to use, so keep that in mind.
Price range: Free - $299 per year based on number of crypto transactions.
Here is how Accointing works.
Importing Data
Similar to CoinLedger, you can import data from your various wallet and exchange accounts.
One issue though is that you must use an API key for each exchange and wallet you want to connect to. You can also upload an excel sheet like other software on this list.

-
Here is what inputting the API keys looks like as well.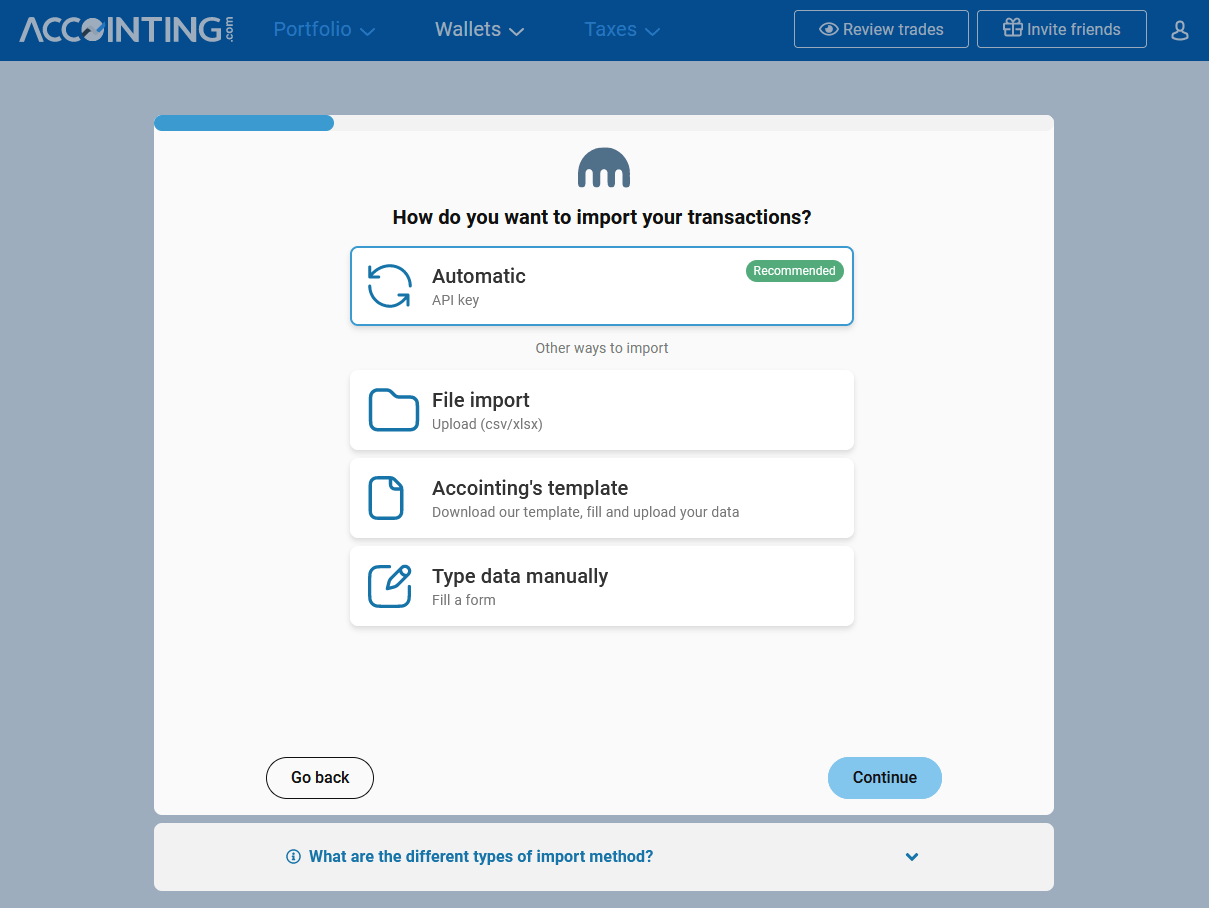 -
Reviewing Transactions
Once you've imported all of your accounts, there is no organized way to flag each transaction like there is on CoinLedger. You must select each transaction and make sure everything is there.
Accointing doesn't automatically tell you which transactions are missing data.
Preparing Forms
Once you have reviewed every transaction, its time to let Accointing prepare your tax forms.
This is the place where Accointing does have an advantage.
As you can see in the screen below, Accointing makes it easy to choose which accounting method you want to use, such as LIFO (Las in, First out) or FIFO (First in, First out), or your own custom algorithm.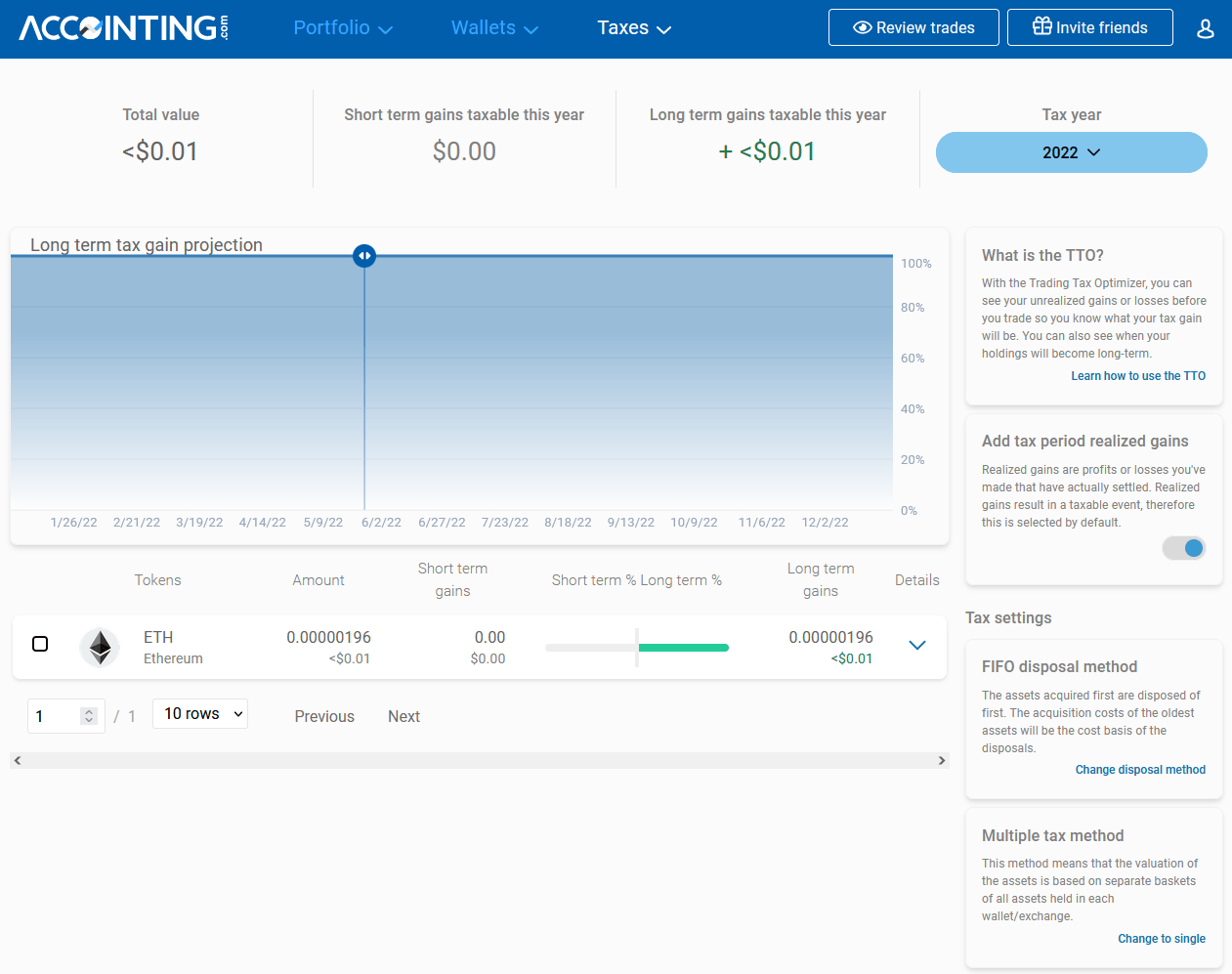 -
Here you can see all of those options. There are a ton of variables to manipulate, allowing users to really hone in on the method they use to account for their coins and reduce their taxes.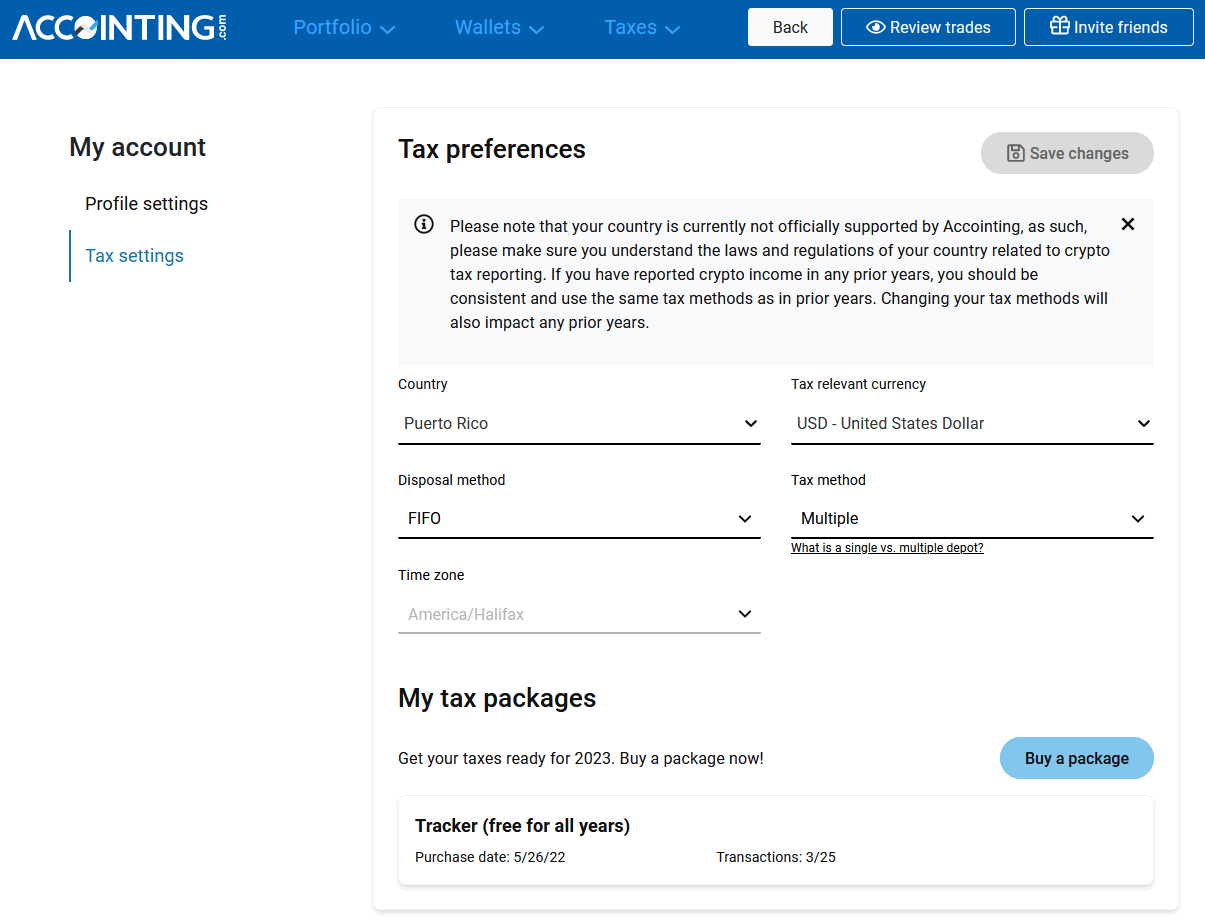 -
Other Features
Accointing also gives you access to a very sleek mobile app, and its portfolio performance functions are very nice.

-
As you can see, Accointing gives you tons of rich data to analyze performance so it does make really good use of all that data it mines from your various accounts, which is a nice touch. Something other software does not give you.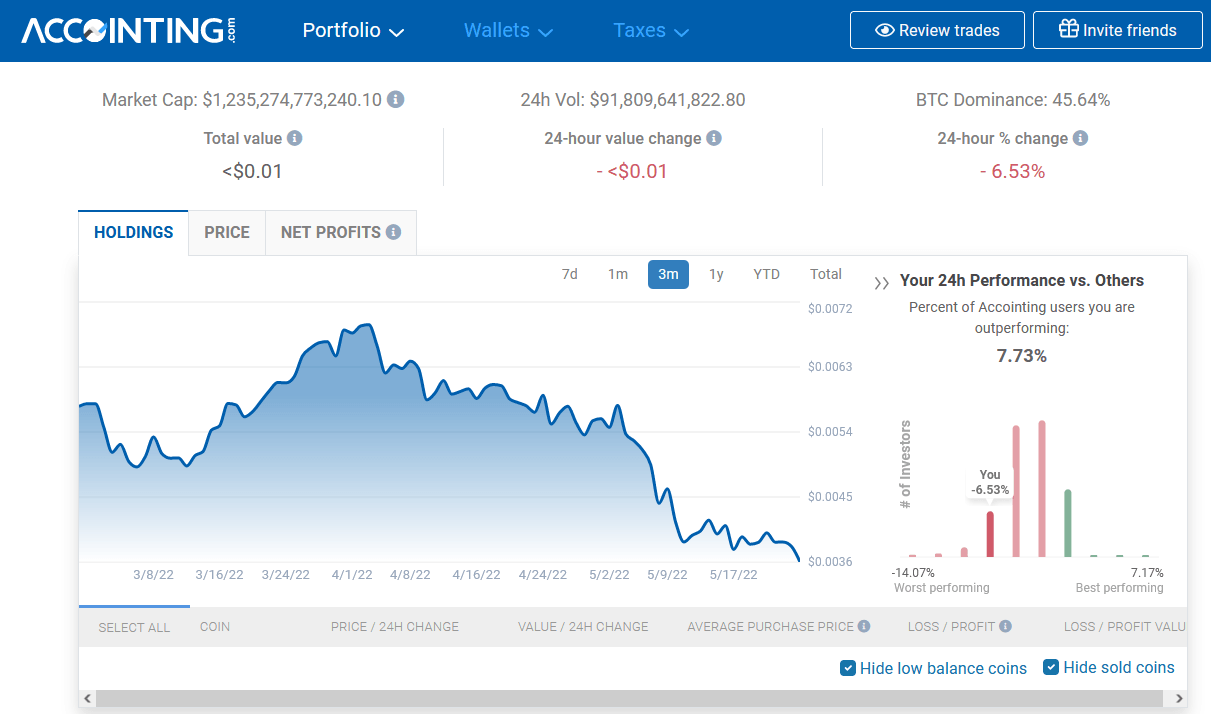 -
Accointing also allows you to set up price and trading alerts so that you can get in to the market at the prices you want.
Stand-Out Features of Accointing
Free version of the software
Highly customizable accounting methods to minimize tax burden
Nice portfolio tracking and non-tax-related features
Features That Could Be Improved
Set-up is time-consuming and not user friendly
Doesn't notify you when information on a transaction is missing
Poor documentation
For these reasons, I might recommend that a highly technical trader who wants to customize their accounting methods and use the software for more than just tax preparation use Accointing. For most other users, I would recommend Koinly or CoinLedger instead.
-
Chapter 3
Importing Your Taxes into Turbotax
We've reviewed the best bitcoin and blockchain tax software, now we're going to focus on the next step of the process: getting that data into Turbotax.
Importing Transactions
Crypto tax software integrates with your exchange's API to fetch and compile a list of all your transactions.
Exchanges such as Binance also allow you to manually export your trade history.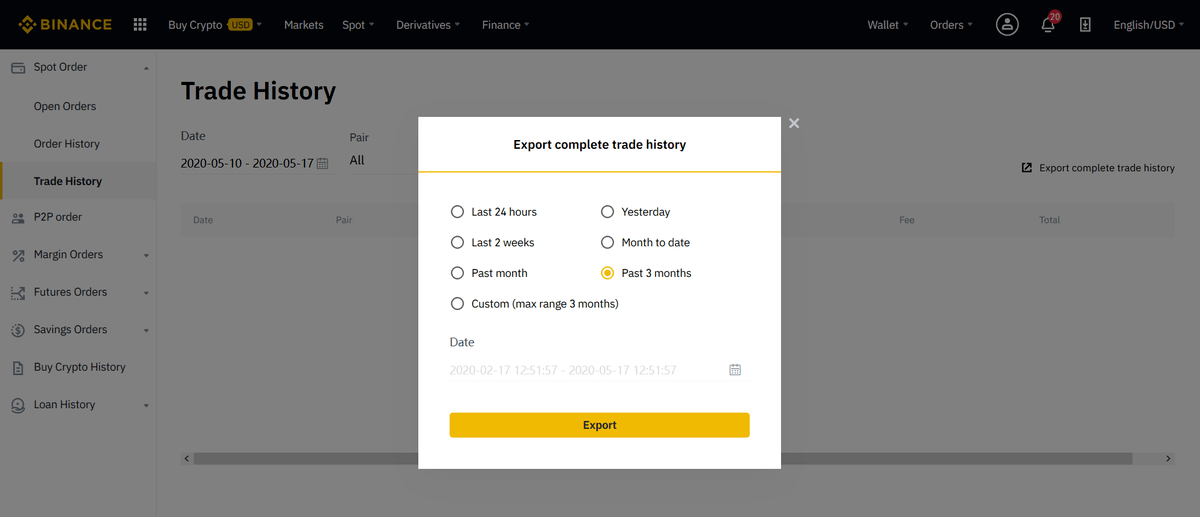 Once you have imported your trade history, the crypto tax software will compile this and give you a rundown of total capital gains or losses.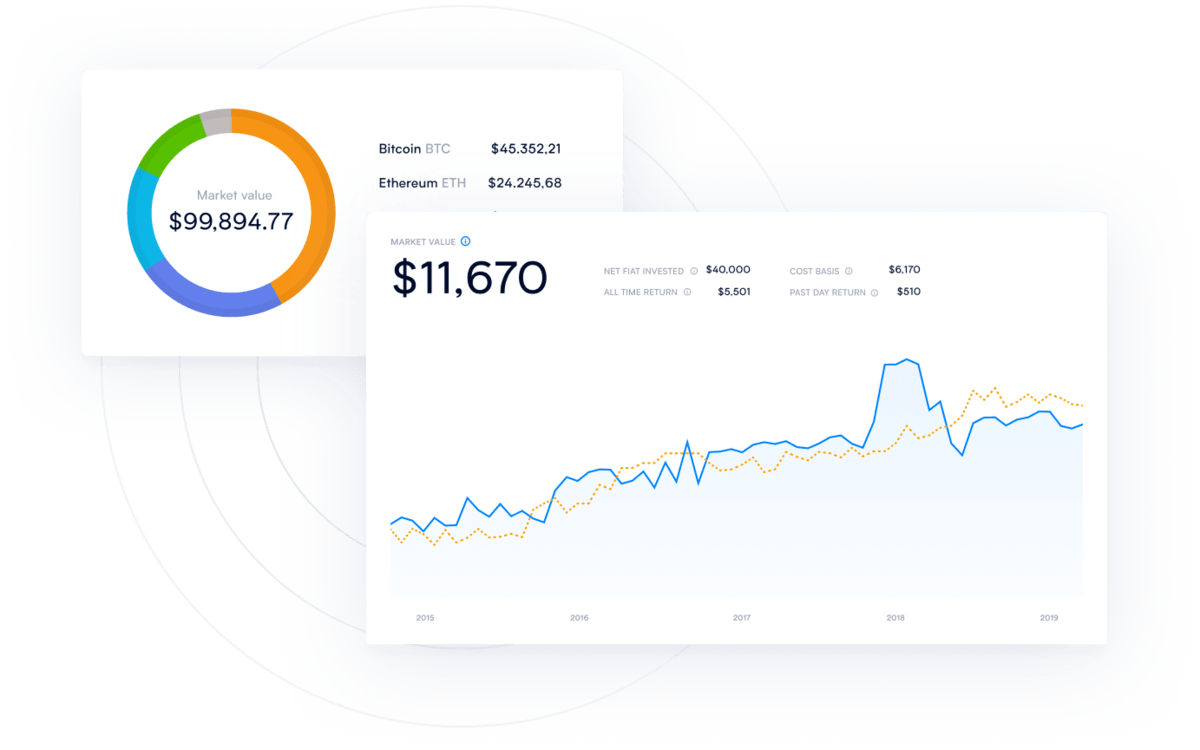 Contracker.io interface.
You can now export your data. IRS Form 8949 (Sales and Other Dispositions of Capital Assets) is the most common way to do this, and it's always a good idea to keep a copy for your own records. You can also export directly to TurboTax's proprietary online format.
Filing With Turbotax
Filing your cryptocurrency capital gains/losses with TurboTax is simple. For this tutorial, we'll be using the online platform.
To file investment gains and/or losses, you'll need TurboTax Premier or Self-Employed.
When filling out your financial picture, be sure to select I sold or traded cryptocurrency.
1. Navigate to cryptocurrency
Once you have begun your return and filled out the initial prompts, navigate to the Cryptocurrency tab by choosing Federal > Wages & Income > Cryptocurrency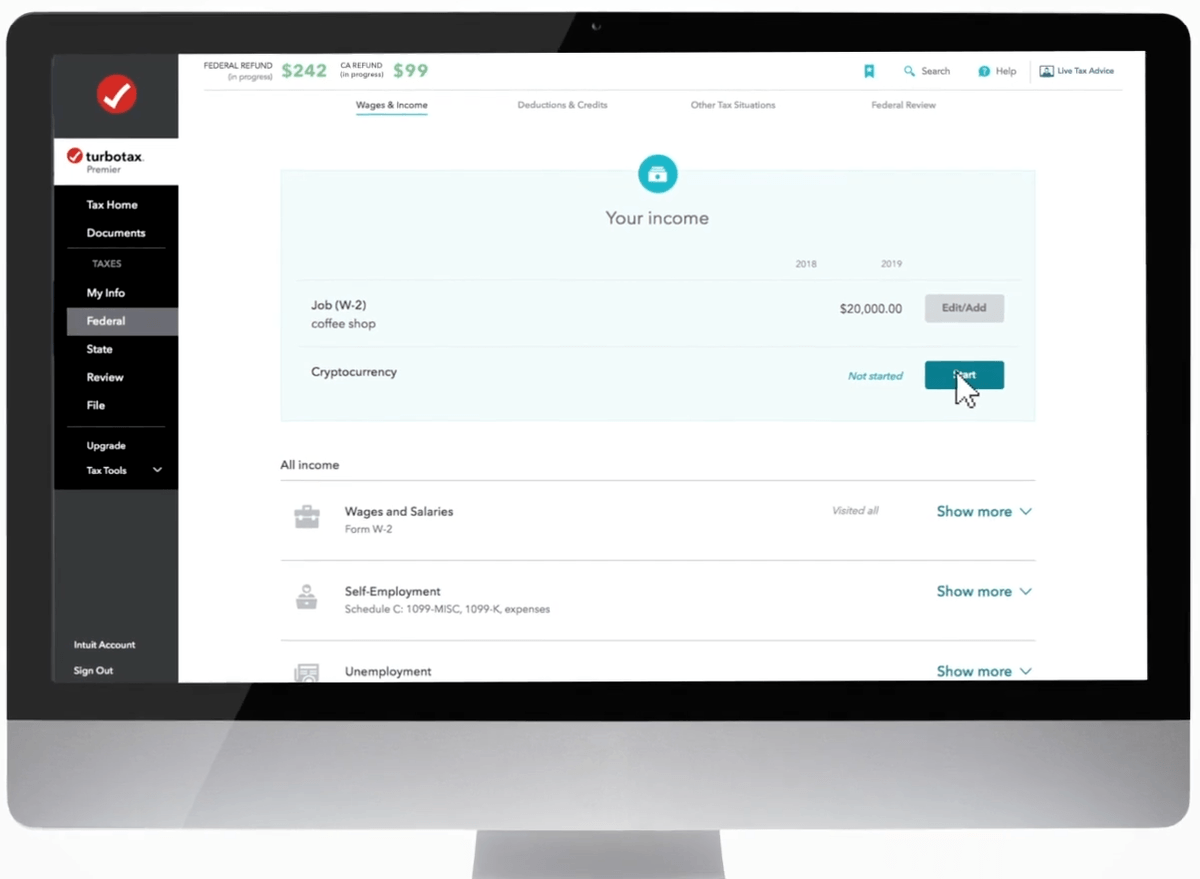 2. Add cryptocurrency data
Here, you can link the third-party service you used to prepare your trade history, or choose to enter information manually.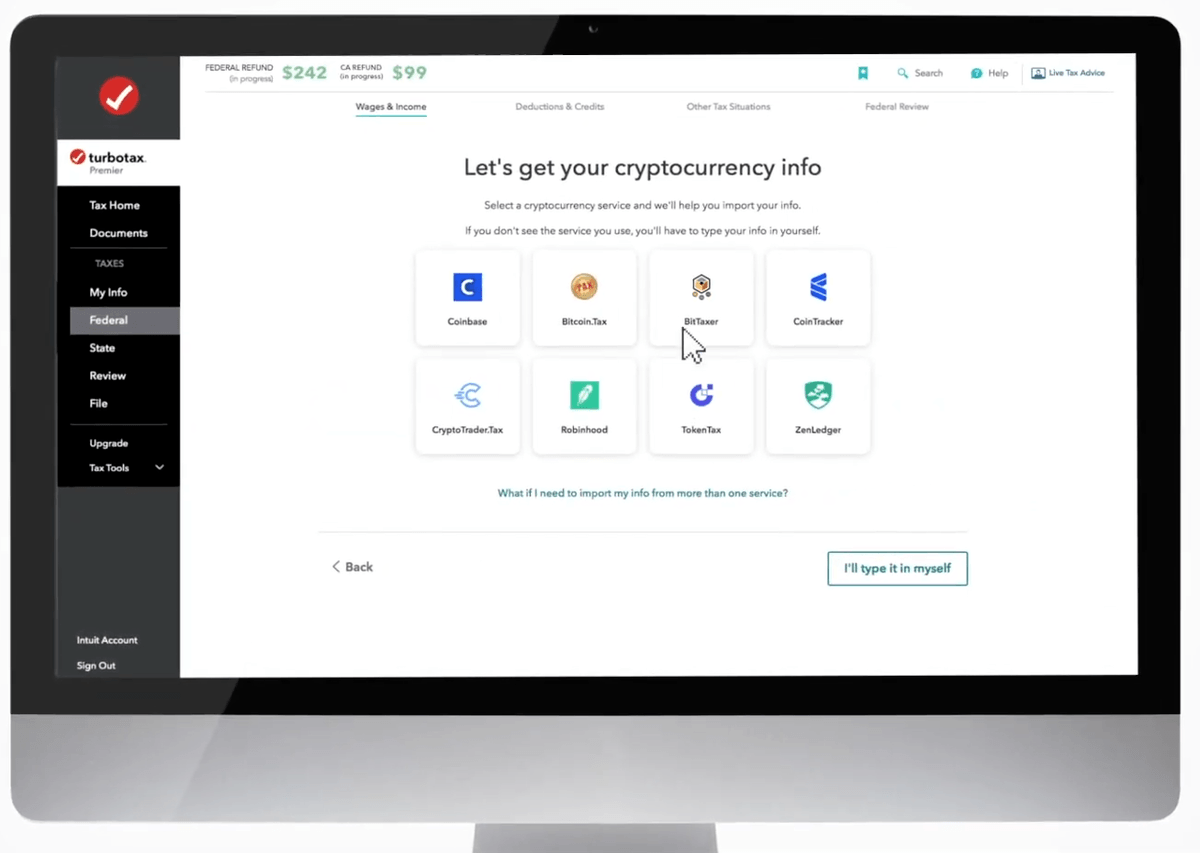 3. Import
Upload the .csv file that you prepared earlier.
4. Review
Check the summary of your taxable transactions to ensure that everything looks right.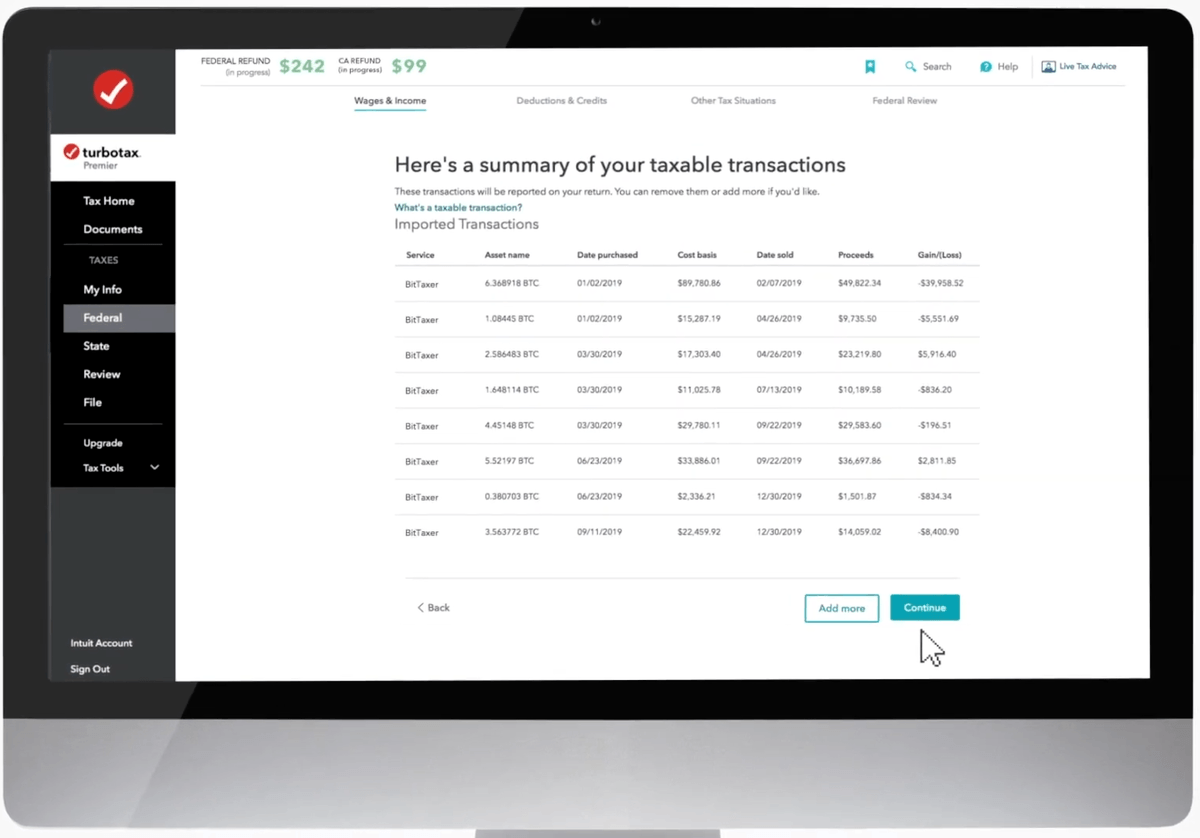 5. Submit
That's it! You've successfully imported your cryptocurrency transactions into TurboTax and can rest assured that your capital gains and/or losses will be accurately reported.
Make sure to check out these other crypto tax services as well to find the right one for you!
Crypto tax software makes it easy to properly file taxes on your cryptocurrency trading and protects you in the case of an audit.
-
Chapter 4
Why you Need Crypto Tax Software
Unfortunately, in most countries, the laws and regulations around crypto are murky at best. This is especially true in the Unites States.
Different parts of the government disagree about what kind of asset virtual currencies like Bitcoin are. The SEC does not consider Bitcoin a security. Instead it is a commodity. The IRS considers Bitcoin property.
Virtual currency is treated as property and general tax principles applicable to property transactions apply to transactions using virtual currency.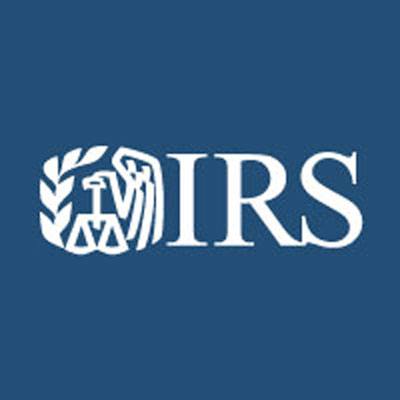 Internal Revenue Service
USA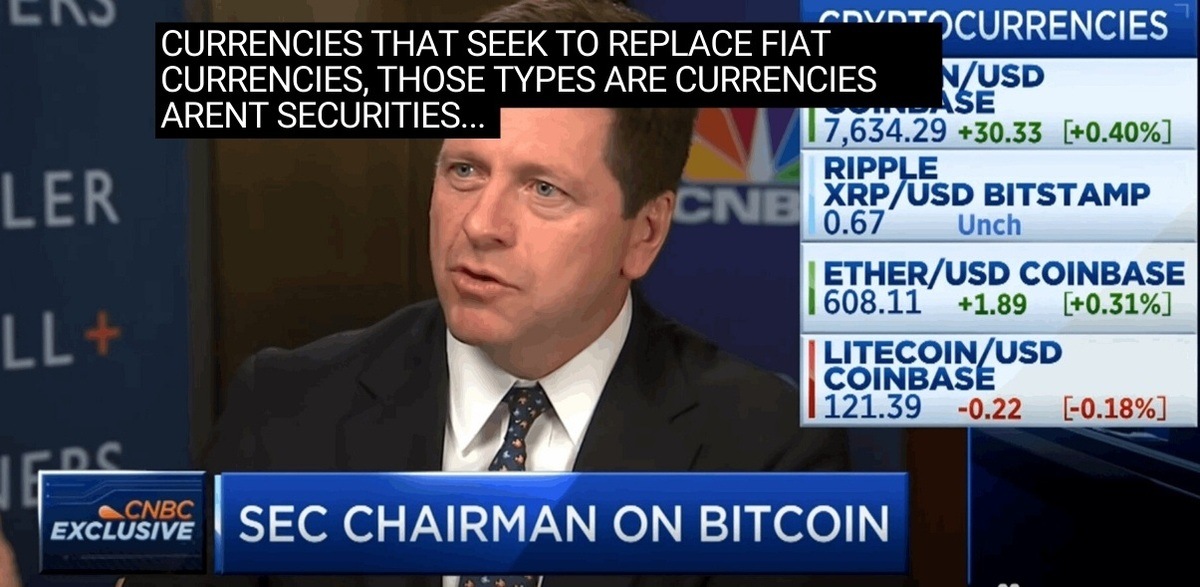 SEC Chairman says Bitcoin is not a security...but the IRS still expects you to pay.
That means you are expected to keep track of not only every trade but every transaction. Due to Bitcoin's usage as money, the IRS has a hard time differentiating between using Bitcoin as a speculative asset to be traded and and using Bitcoin to buy a cup of coffee. This makes trading and using Bitcoin and other coins with different legal definitions very cumbersome come tax season.
On top of that, the IRS has warned many holders of crypto that they are very serious about citizens who skirt the laws or try to use crypto to evade taxes…and they will find out.

The IRS is not fooling around with you. Take audits seriously.
You could spend countless hours tracking all of your trades and purchases and trying to make sense of capital gains. This is amplified by the fact that individual states have their own laws.
That's why software like the one's recommended above are so handy. Sure, each of them cost a few bucks, but for the time you save and the protection this software gives you if you are ever audited is worth every satoshi.
-
Chapter 5
Frequently Asked Crypto Tax Questions
How can I avoid paying taxes on Crypto?
Short of moving to Puerto Rico or El Salvador, if you are taking profits on crypto, there is no way to get out of paying taxes on it.
That said, there are a few strategies to minimize your tax burden.
Use a Roth IRA to purchase paper crypto in bitcoin and crypto ETFs and trusts (such as Purpose Investment's BTC ETF or the Grayscale Bitcoin Trust). This allows you to use money you've already paid taxes on to invest in Bitcoin and avoid capital gains at sell.
If the year is ending and you are down on your crypto positions, sell your crypto to realize the loss and then buy back in again. This will put you in at a lower cost basis which will defer the taxes down the road should you ever make profits.
Renounce your citizenship and move somewhere that doesn't tax capital gains.
If you are actually willing to move to Puerto Rico, there are some great services out there that make the process pretty seamless, such as relocatepuertorico.com.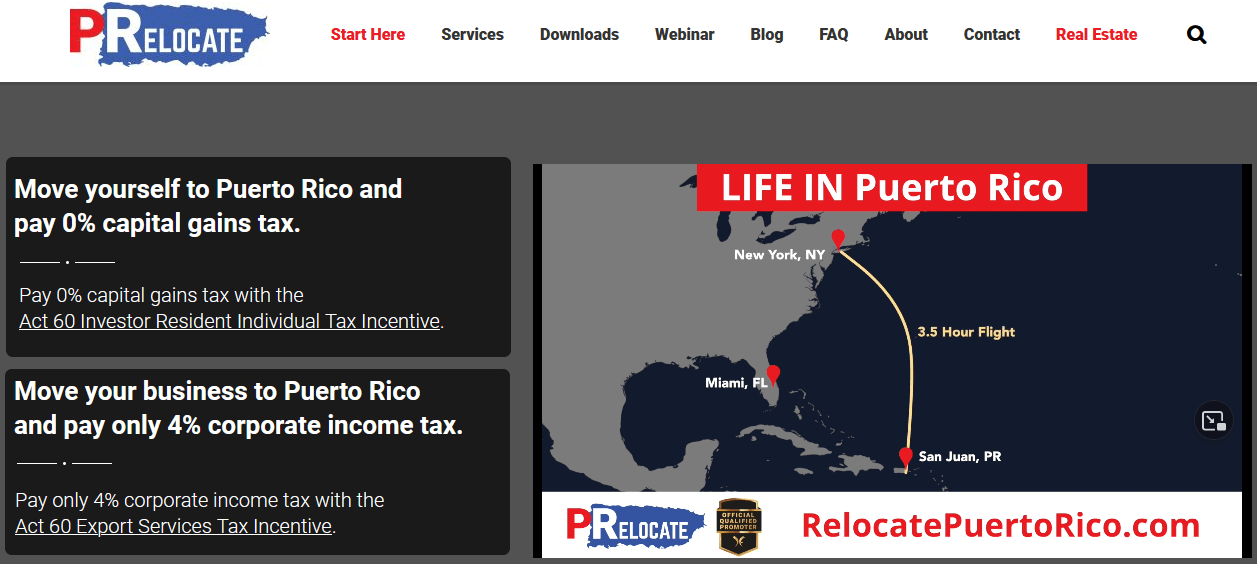 PRelocate makes it simple to move to Puerto Rico and pay 0% on your capital gains.
What is Cryptocurrency accounting software?
Crypto tax software is pretty simple - instead of having to calculate all the taxes you owe on all your trades or crypto income, you can input your data into crypto tax software and it will generate what you owe.
The software always supports Bitcoin, Ethereum, Litecoin, Defi and nearly any other coin.
It will also hand that information over to your regular tax software, like turbotax.
If you make lots of trades, most crypto tax software will connect to your exchange accounts and import the data for you.
How does cryptocurrency taxes work?
If you have ever paid taxes on real estate or any other hard asset, then crypto works the same way. Any profits are taxed as capital gains.
That means you pay taxes on the difference between the price you bought the coins and and the price you sell them at. This is true whether you live in Canada, the US, or the UK, as well as many other countries.
Do I still pay taxes if I only made losses on my cryptocurrency?
You must report both profits AND losses. However, if you report losses, you may actually be entitled to reduce your crypto taxes in the future so its actually in your interest to report these losses.
Are Crypto to Crypto Trades Taxed?
Yes, anytime you trade one cryptocurrency for another, you are effectively selling the first currency and buying the second one.
This creates either a profit or a loss of the first cryptocurrency and a new cost-basis for reporting the second. Make sure to keep track of all crypto to crypto trades.
Do I have to pay tax if I transfer crypto from wallet to wallet?
If you do not own the second wallet, then yes, you must pay capital gains on the coins you transferred since you are effectively 'selling' them.
If you own both wallets, there is no sale, and therefore there is no tax reporting liability.
Will the COVID19 tax delay apply to crypto holdings?
For the past two years, tax filing deadlines and requirements have been delayed by the IRS due to covid issues. It is NOT expected that the filing deadlines will be affected by covid for the 2021 tax year. So if you need an extension for filing your return you will need to fill out and submit Form 4868 by April 18, 2022 with payment for the estimated taxes that are due.
Can I pay my taxes in the coins I hold?
Even in 2022, most jurisdictions will not allow you to pay any taxes in crypto of any kind. There are a few places, such as the Swiss canton of Zug and the US state of Ohio, among others, to allow residents to pay their taxes directly in Bitcoin. Overstock.com became the first US company to pay all of its taxes in Bitcoin. The state of Colorado is also looking into accepting Bitcoin for tax payments.
Won't exchanges, like Coinbase, generate my tax documents for me?
Usually, no.
Some exchanges do give you detailed trading reports of your year's activity, such as Coinbase does.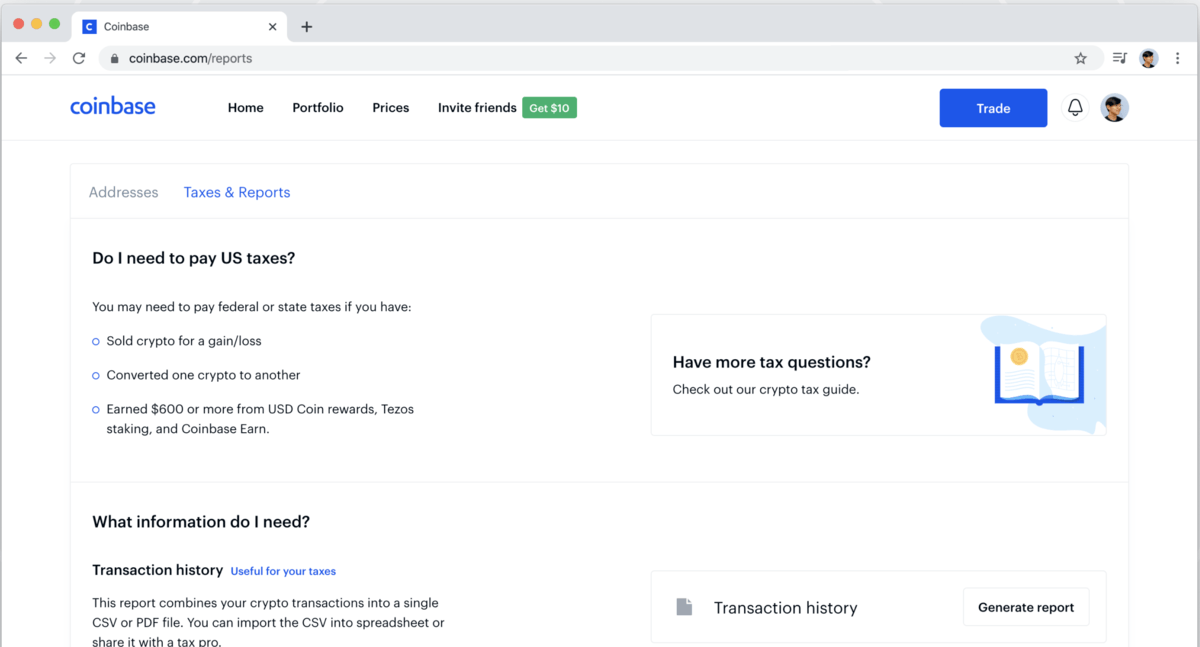 You can access these reports from coinbase.com/reports.
That said, these are not technically the same documents that you will have to turn in to the IRS. Some exchanges will not even produce documents like these at all. Don't rely on an exchange to:
Give you filled in tax documents
Accurately capture your full trading history for the year
Unfortunately, it is on you to make sure your taxes are paid and properly documented on the correct forms.
What is FIFO vs LIFO?
FIFO means your earliest buys will be the ones considered for capital gains when you sell. LIFO means your most recent buys will go first when considering which coins were sold for capital gains.
FIFO is the most common method used, since it usually sets you up to pay less in taxes due to sales being long term gains rather than short term.
How are cryptocurrency interest accounts taxed?
If you have deposited coins in interest accounts such as those found at Ledn or Blockfi, you may be wondering how that interest will be treated at tax time.
All interest in a crypto savings account is treated the same way normal fiat interest accounts are treated - as income!
So you don't need to pay any capital gains on this interest.
How will Crypto on Paypal be Taxed?
In October, PayPal made it possible to buy, hold, and sell digital currency directly on its platform. You cannot, however, withdraw the Bitcoin from your account, leading many to wonder if it will be taxed the same way, since you are never taking control of the private keys.
Digital assets on PayPal will be taxed exactly the same way it is taxed when you hold the coins yourself. Namely, a taxable event occurs every time you sell cryptocurrency, be it for another cryptocurrency or for a cup of coffee.
PayPal also clearly states that determining your tax liability is placed firmly on you.
It is your responsibility to determine what taxes, if any, apply to transactions you make using your Cryptocurrencies Hub. You can access your transaction history and account statements through your PayPal account for purposes of determining any required tax filings or payments
Paypal
terms of service
-
These are the best crypto tax software on the market in 2022. They are:
Easy to set up
Offer great features
Fairly priced
So you really can't go wrong with any of them.
But what do you think? Are we missing a great software on this list?
We want to know!
Hit that contact button to share your favorite cryptocurrency tax software with us.
Or share this post on social media and let's start a discussion!