We may receive advertising compensation when you click certain products. Before jumping into this page, an important disclosure.
Coinmama
Coinmama allows customers in almost every country to buy bitcoin. They charge a 4.9%-5.9% (depends on volume) fee on each purchase.

Customers in Europe can also purchase bitcoins with SEPA transfer for a lower fee.

Pros
Works in almost all countries
Highest limits for buying bitcoins with a credit card
Reliable and trusted broker
Cons
Some of the highest fees among credit/debit card bitcoin brokers
Ease of Use
Easy
Privacy
Low
Speed
Fast
Fees
Average
Reputation
Trusted
Limits
High
Paybis
Paybis is a popular cryptocurrency exchange. They serve 180 countries and 48 US states and are registered with FinCEN, making them a more trusted, regulated exchange. Paybis offers incredibly high limits and super fast payouts, not to mention 5 minute ID verification and nearly perfect review scores on Trustpilot.
Pros
24/7 live support
Extremily high limits
5 Minute verification
Get payouts fast
Large selection of payment methods
Cons
No traditional orderbook for advanced traders
Ease of Use
Easy
Privacy
Low
Speed
Average
Fees
Low
Reputation
Trusted
Limits
High
BTCC
BTCC is China's second largest Bitcoin exchange and the longest-running Bitcoin exchange in the world. You can fund your exchange account online via bank transfer.
Pros
BTCC has great liquidity and good prices
Bank deposits are processed within 30 minutes of confirmation
Cons
Not private since identity verification is required
Interface may be confusing for first-time buyers
Limited payment methods; only bank transfer
Bank transfers not originating from China Merchants Bank may be delayed outside regular banking times
Ease of Use
Hard
Privacy
Low
Speed
Average
Fees
Low
Reputation
Trusted
Limits
High
OKCoin
OKCoin is the largest Bitcoin exchange in China. Customers can make deposits to their exchange accounts via bank transfer.
Pros
OKCoin has great liquidity and good prices
Wechat integration
Offers USD as well as CNY trading
Cons
Not private since identity verification is required
Interface may be confusing for first-time buyers
Limited payment methods; only bank transfer
Ease of Use
Hard
Privacy
Low
Speed
Average
Fees
Low
Reputation
Trusted
Limits
High
Huobi
Huobi is the third largest Bitcoin exchange in China. You can fund your exchange account online via CNY bank transfer or with USD via OKPay (1.5% fee) or international wire transfer (1% fee).
Pros
Huobi has great liquidity and good prices
Always-available, bilingual customer support
Offers USD as well as CNY trading
Cons
Not private since identity verification is required
Interface may be confusing for first-time buyers
Limited payment methods; only bank transfer
Ease of Use
Hard
Privacy
Low
Speed
Average
Fees
Low
Reputation
Trusted
Limits
High
You can use our Bitcoin ATM map to buy bitcoins with cash. Bitcoin ATMs can be a quick and easy way to buy bitcoins and they're also private. That convenience and privacy, however, comes with a price; most ATMs have fees of 5-10%.
Pros
Our map makes it super easy to find a Bitcoin ATM near you
Cons
Bitcoin ATMs often have 5-10% fees per purchase
Bitfinex
Hong Kong-based Bitfinex has long been one of the largest USD Bitcoin exchanges in the world. Bitfinex accounts may be funded by bank wire only, their fee on accepting such transfers is low at only 0.1%.

In August 2016, however, it was hacked and lost around 30% of its users funds. While Bitfinex can be helpful for buying large amounts of bitcoins, it is probably best to not use the exchange until it fully compensates affected users.
Pros
Very low fees even for low volume buyers; 0.1% for market makers and 0.2% for market takers
One of the best ways to buy large amounts of bitcoins
Allows lending of fiat or bitcoin to margin traders at interest (but this is risky in light of the hack)
Very deep liquidity promotes a price close to fair market rate
Supports several altcoins
Cons
Was recently hacked and has yet to fully compensate all users for their loss
Geared towards traders; possibly quite confusing for first time buyers
Single payment option
Ease of Use
Hard
Privacy
Low
Speed
Varies
Fees
Average
Reputation
Low Trust
Limits
High
-
Chapter 1
Bitcoin & Cryptocurrency Trading in China
The history of Bitcoin in China is a turbulent one.
China was one of the earliest countries to enthusiastically adopt Bitcoin and crypto. In 2013, a Chinese charity began accepting donations in Bitcoin. Soon, a flood of businesses began accepting Bitcoin and other cryptocurrencies as payment. Baidu - the Chinese search engine giant - was for a period accepting Bitcoin for its website security service offerings. In fact, in 2014 Bitcoin traded more against the Chinese yuan than any other currency.
This buzz of activity attracted miners, who set up shop in areas with cheap energy. Xinjiang province - home of the Uyghurs - alone once provided roughly 35% of Bitcoin's total hash rate. Though, as of June 2021, China banned crypto mining and Xinjiang no longer does any mining.

Take a look at the Mining in China section below to understand the factors that once allowed Chinese miners to claim over 65% of the hash rate.
One major driver of Bitcoin's popularity in China is the widespread desire to remove their capital from the control of the CCP and integrate it into the worldwide economy. Wealthy Chinese people are highly motivated to seek out overseas investment opportunities and means of exchanging their Yuan (CNY) for U.S. dollars and other "safe" currencies. The yuan is subject to strict capital controls which make moving money in and out of the country difficult.
China has not taken a favorable view of Bitcoin. In 2017, the Chinese government instated an official ban on all cryptocurrency trading and investing, which was followed the next year by a proclamation that all crypto-related WeChat and social media profiles would be shut down. Bitcoin mining was strongly discouraged if not quite outlawed entirely. This was done with the stated goal of protecting investors from dangerously speculative trading products and scams like PlusToken (more on that below).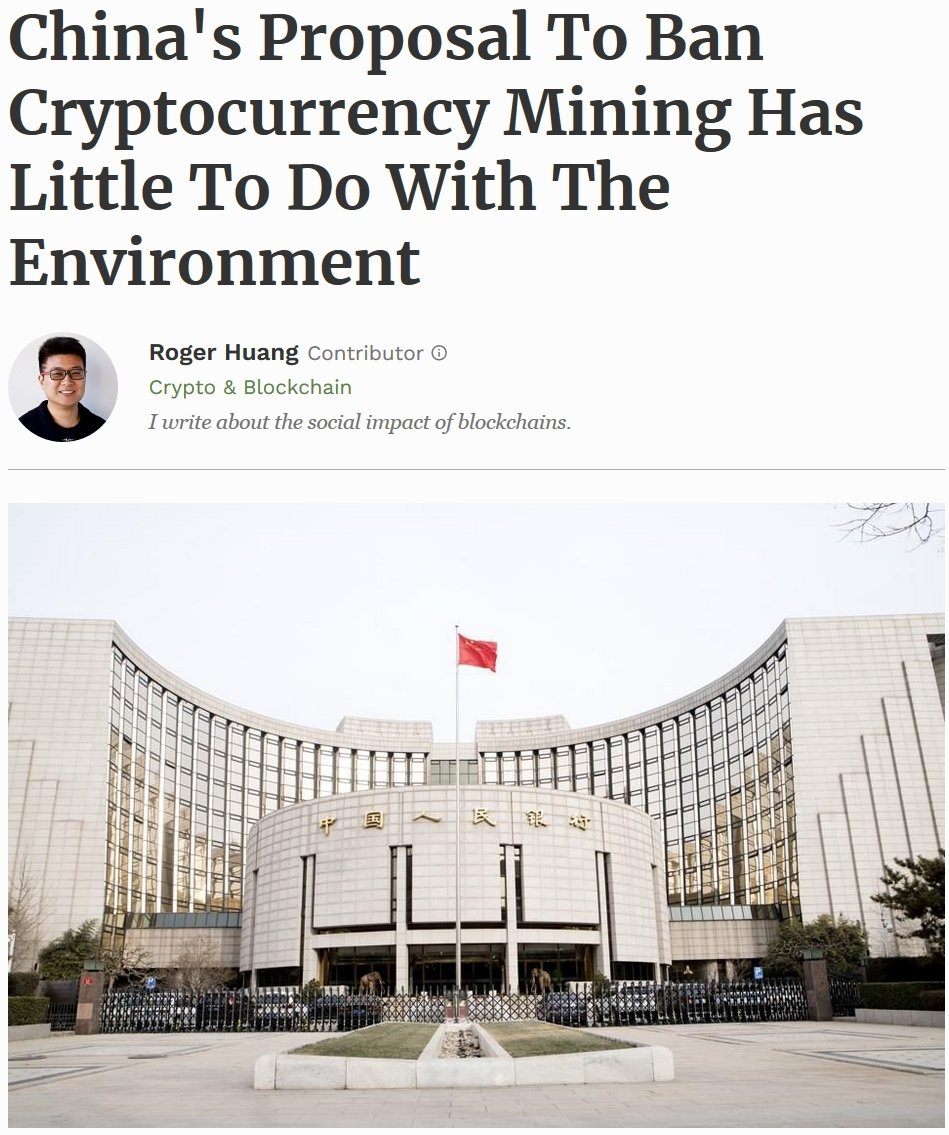 This is part of the broader "blockchain, not Bitcoin" approach that the Chinese state has taken. It seems that the government sees value in blockchain technology, and indeed may be the first to issue their own Central Bank Digital Currency (CBDC), but views Bitcoin as an anti-estbalishment threat. China's recent trials of a CBDC are at a more advanced stage than any other country's. China clearly sees value in blockchain technology and is aiming to be at the vanguard of its development.
Delivering an immediate boost to the Chinese Bitcoin community (and BTC's price as well), in October 2019 President XI Jinping issued a statement in support of blockchain technology research. One blockchain developer whose family had urged him to quit after the rumblings and ICO ban in 2017 said that he was relieved to "no longer feel on tenterhooks when coding."
So does this mean that crypto has entered a new phase in China?
Not quite yet. According to Changelly's roundup of Bitcoin in China, "Bitcoin and other international decentralized cryptocurrencies are illegal to store and trade for individuals and any corporate entities." This is the letter of the law, though it is not always strictly enforced. Many people decide to take the risk and use VPNs to bypass restrictions and utilize foreign exchanges.
That said, China has actually enforced major changes in the crypto sector. In June of 2021, China issued an memo ordering all miners to shut down their operations immedietely.
A Google translate of the memo gives us a good idea of what it says:
A prudent monetary policy must be flexible, precise, reasonable and appropriate....The second [goal] is to resolutely prevent and control financial risks...[by cracking] down on Bitcoin mining and trading behavior, and [to] resolutely prevent the transmission of individual risks to the social field.

Financial Committee
CCP
On June 19, all mining farms in China shut down permanently.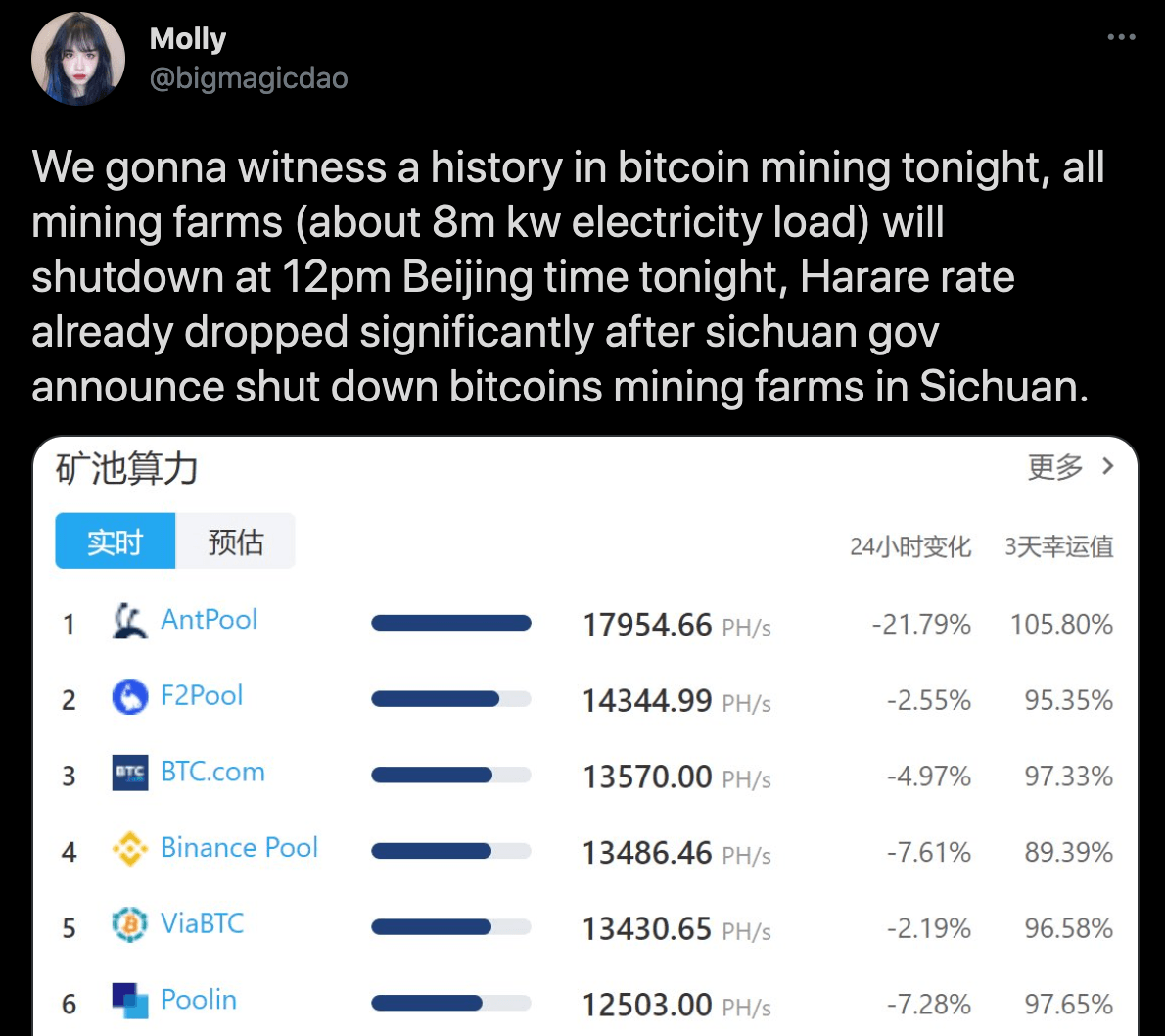 Yet sometimes government intervention can have an opposite effect to the one desired. Mainland China's tightening of its grip on Hong Kong has caused many residents to turn to crypto in order to safeguard their money. Hong Kong residents are increasingly turning to Bitcoin and stablecoins in an effort to preserve their wealth in light of the newly imposed capital controls by Beijing.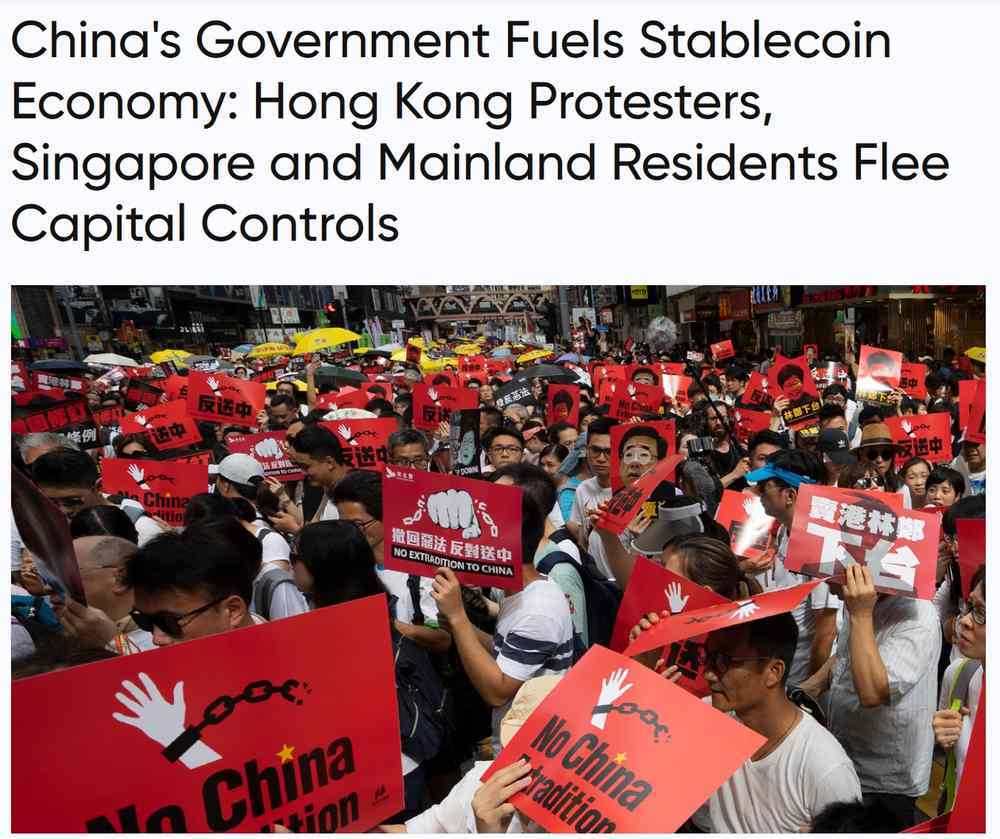 Roughly 20% of capital flows into Bitcoin, with the rest going into stablecoins, mostly Tether (USDT).
While the lives of miners may be difficult, local exchanges are forced to comply with last-minute regulations, and individuals have to take into account the legal gray area in which they operate, there is undeniable interest and engagement with Bitcoin in China.
In May 2022, an interesting legal case came before the Shanghai High People's Court. The case involved a person named Cheng Mou requesting the return of 1 bitcoin from Shi Moumou. The case was originally heard by the Shanghai Baoshan District People's Court on October 10, 2020. The court ruled the bitcoin be returned to Cheng Mou. Shi Moumou appealed to the Shanghai High People's Court.
The Shanghai High People's Court, which also ruled in Cheng Mou's favor, made an interesting ruling in the case that could affect bitcoin's treatment in the future.
The ruling declared Bitcoin a virtual asset protected by Chinese law because it has economic value. The court stated, "In the actual trial practice, the People's Court has formed a unified opinion on the legal position of bitcoin, and identified it as a virtual property."
This case is likely to be appealed to the highest court in China, the Supreme People's Court.
Even outlawing cryptocurrency does not keep the government from using it to its advantage. In October 2022, the US U.S. Department of Justice alleged that China tried to bribe an undercover FBI agent with bitcoin. The officials were attempting to get information about the U.S. government's investigations into technology giant Huawei.
Since 2009, Bitcoin has provided an increasingly viable alternative to the fiat currency system, and as long as there that system continues to be suveilled and controlled by third-parties, there will be demand for decentralized alternatives.
-
Chapter 2
Best Bitcoin Wallets for China
There are three main types of Bitcoin wallet and all of them are supported in China:
Software (desktop or mobile - iOS and Android wallets
Hardware wallet
Cold-storage (paper or steel wallets, the latter of which are used to backup your main wallet.
Best for Security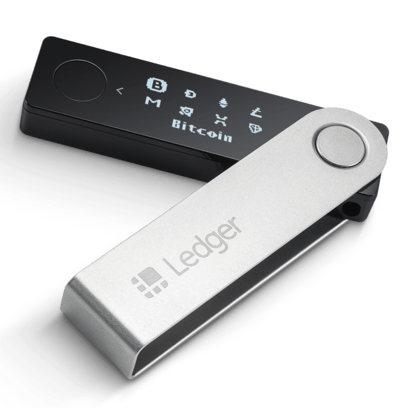 Ledger Nano X
Secure storage for any cryptocurrency
More About
Ledger Nano X
The Ledger Nano X is the newest crypto hardware wallet, and is very easy to use. It connects to iOS, Android & desktop computers.
Best for Desktop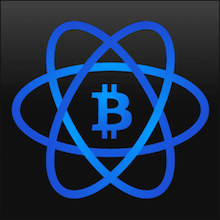 Electrum
Simple yet powerful desktop wallet
More About
Electrum
Electrum is a Bitcoin-only wallet that has been around since 2011. It's easy to use, but has advanced features.
-
Chapter 3
How to Buy Ethereum in China
Ethereum (ETH) has established itself as the second most popular digital currency, after Bitcoin. Its smart contract features allow unique apps to be built on top of its platform. Below you will find exchanges in China that allow you to buy ethereum. Once you buy, you should withdrawal your ETH directly to your own crypto wallet.
Exchanges in China that Support Ethereum

Coinmama

Supports Ethereum buying & selling

Coins supported:

Paybis

Supports Ethereum buying & selling

Coins supported:

BTCC

Supports Ethereum buying & selling

Coins supported:
]
-
Chapter 4
How to Buy Litecoin in China
Litecoin (LTC) is one of largest cryptocurrencies by market cap. Below you can find a list of brokerages in China that allow you to buy litecoin and other crypto assets for good exchange rates.
Exchanges in China that Support Litecoin

Coinmama

Supports Litecoin buying & selling

Coins supported:

Paybis

Supports Litecoin buying & selling

Coins supported:

BTCC

Supports Litecoin buying & selling

Coins supported:
-
Chapter 5
More Bitcoin Exchanges in China
In addition to the big players such as Binance, Huobi, and OKex, there are some smaller but still significant Chinese exchanges.
LBank, ZB, and BKEX are some of the other large Chinese exchanges that process hundreds of millions of dollars a day in volume.
-
Chapter 6
Bitcoin Mining in China
Despite a lack of official support for the industry, China is the undisputed leader in Bitcoin mining, with Chinese mining pools controlling over 65% of the hash rate.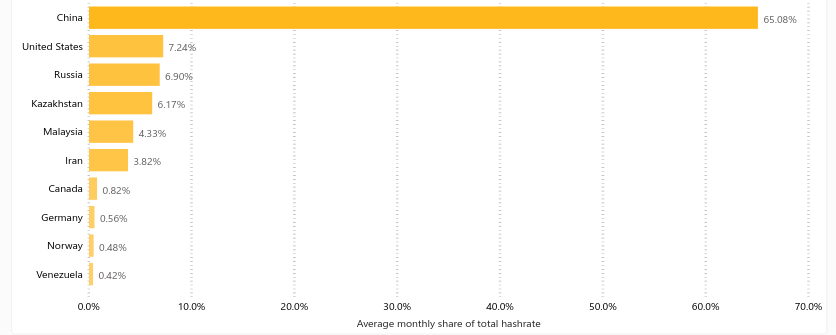 As you can see, the United States comes in at a distant second, with a little over 7% of the hash rate.
Miners in China benefit from very low energy prices - partly due to an abundance of cheap but dirty coal - and the presence of many of the major mining pools, which help ensure steady income. A relatively consistent cash flow helps miners budget for operating expenses, market fluctuations, and the inevitable hardware upgrades required every year or two to stay competitive.
This shows the importance of Bitcoin mining as a serious industry in China. This industry could not operate at such a scale without the blessing - tacit or official - of the CCP.
There are concerns about one country controlling a majority portion of the Bitcoin hash rate. As only 51% of network power is required to carry out a 51% attack, if an individual or entity were able to compel China's miners to accept fraudulent blocks, double spending would be possible and the Bitcoin network would be compromised for the first time ever.
This centralization of mining power is antithetical to the ideology of Bitcoin. If you're interested learning more about Bitcoin, mining including how to set up your own node, check out our guide here.
For more on Bitcoin mining in China, we have a page outlining the history and future of the mining industry in China.
-
Chapter 7
Exchange Hacks and Crypto Scams in China
Plustoken
Plus Token was a Ponzi scheme that was marketed as a high-yield investing platform. Check out the infographic below for a brief overview of the plustoken scam.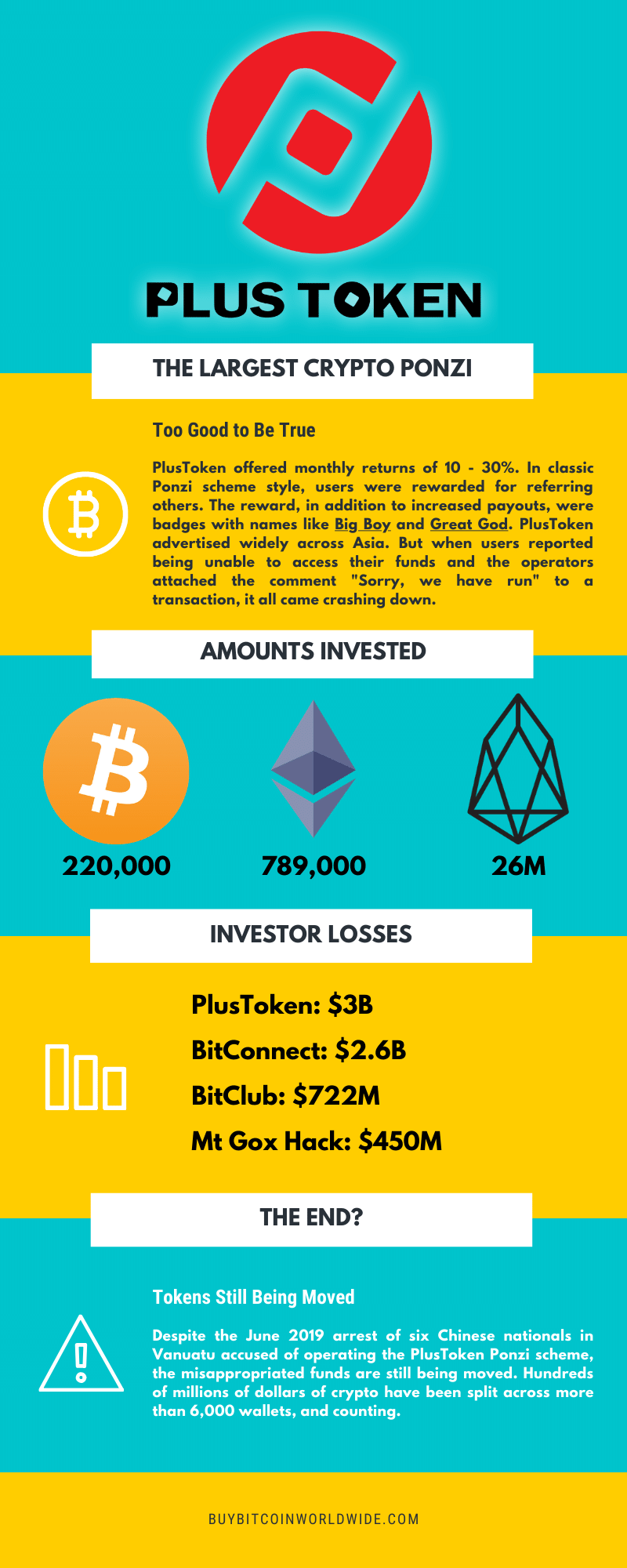 The Plus Token ponzi was so successful that by the end its operators controlled more than 1% of the total circulating Bitcoin supply. Most of its users/victims came from South Korea and China, though investors from Japan and South East Asia were duped, and even as far away as Russia and Canada.
But how did it fool so many people?
First off, those who put money into Plus Token were generally people unfamiliar with the world of Bitcoin and cryptocurrency. Moreover, rapid growth for investors has not been at all out of the ordinary in recent years in China.
China has enjoyed an explosion of wealth creation in recent decades, so Chinese citizens used to quick capital growth and wealth accumulation are less sensitive to this type of Ponzi when they front as high-yield investments.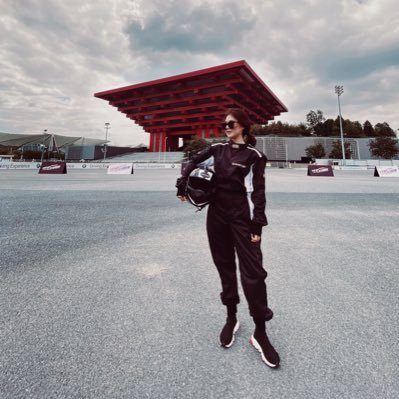 Dovey Wan
Co-Founder of Primitive Ventures and Advisor to CoinDesk
Plus Token advised users on how to purchase crypto that they could then deposit into the app. Chinese users could instantly convert Yen into Bitcoin, Ether, EOS, Doge, Litecoin and other altcoins.
Users were paid for the "interest" on their deposits, and received their dividends in the form of the app's native Plus Token. At the peak of the scam, the token hit a high of $340, which would have made it the third largest cryptocurrency by market capitalization if it were listed on CoinMarketCap.
While early users did receive payouts, unless they immediately converted their Plus tokens to a more reputable currency, they ended up being scammed just as much as those who lost their deposits and never received any dividends at all. Plus token is now not listed on any exchanges, and is essentially worthless.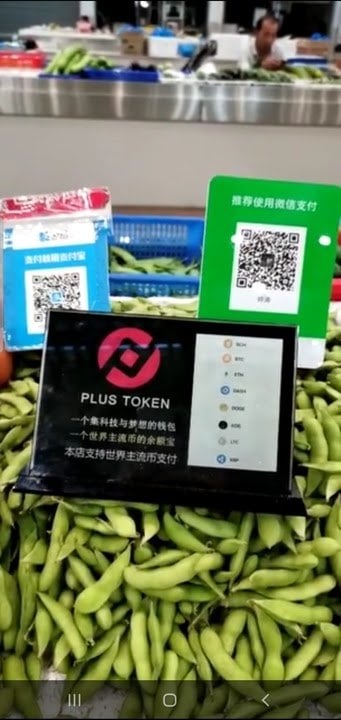 As with many scams, a lot of effort was put into making it seem legitimate. There were advertisements in Chinese supermarkets, rave-like events in auditoriums set to K-Pop soundtracks, even billboards in Chinese cities.
The promise of high returns combined with incentives for bringing in new users is always a recipe for trouble. Yet it can be hard to look past the lure of money and see a scam for what it truly is.
ACChain
ACChain was an earlier exit scam that netted its operators at least $60 million when they mysteriously disappeared in 2018.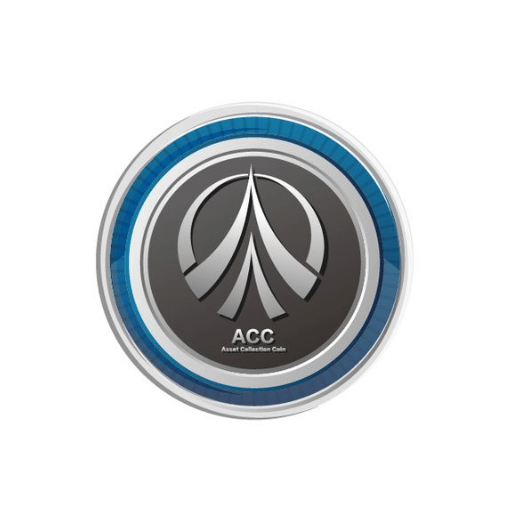 ACChain was a freshly-minted ICO that aimed to create a platform to streamline the process of digitizing monetary assets onto a blockchain.
Some investors were unhappy with the level of engagement from the team on their official Telegram channel, and requested to see pictures of them at work. When these were not provided, one investor and Reddit user slinterface went to the company's offices in Shenzen, China.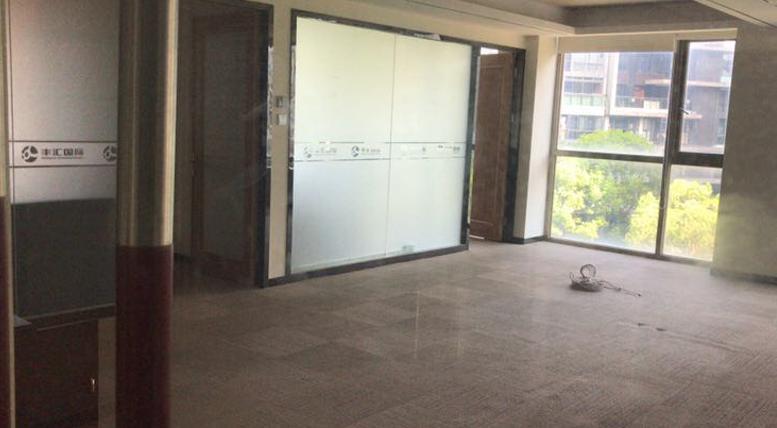 Slinterface asked around and neighboring offices confirmed that ACChain executive Jia Wan and two companies were present in those offices until February 2018. These two companies were Guiyang Blockchain Finance and Shenzhen Puyin Blockchain Group. Both are majority-owned by a third company, for which Jia Wan serves as legal representative. Shenzhen Puyin Blockchain Group was under investigation by the Police Department of Nanshan District for false and illegal advertising. Neighbors also reported that about three weeks after ACChain left the offices, a group of "mafia-like" men came and took everything that remained. There are reports that they were arrested
After the disappearance of the team, it emerged that a company named ACChain Technology International Services was registered in the tax haven of Jersey. The director of this company is Genevieve Leveille, who joined ACChain in January 2018. There is a joint Chinese/UK police investigation underway to determine if the Jersey company was incorporated with the goal of laundering the funds stolen from investors.
There has been little word of developments in the case, though one thing is for sure: ACChain investors will be lucky to see a cent of their equity ever returned.
-
How Much Bitcoin Does China Own?
It's hard to know exactly how much Bitcoin is owned by Chinese individuals or entities. The nature of the blockchain does not give any real clues as to the country of origin of any wallet's holder. Bitcoin's pseudonymity also makes it hard - or impossible, without special tools - to tie together a user's multiple wallets, or to determine what percentage of coins are irrevocably lost.
While many of the largest exchanges are Chinese - Binance, Huobi, and OKex are the largest exchanges either founded or currently operating out of China - they all serve clients from around the world.
The Chinese government has given no indication that it holds any Bitcoin, nor would its recent attitude towards crypto suggest that it would be likely to divulge that sort of information.
This all makes it very difficult to get an accurate idea of how much Bitcoin China or Chinese residents own.
What Happens if China Bans Bitcoin Mining?
It's simple to find out what would happen if China bans Bitcoin mining: it's happened a couple of times in the past. China's back-and-forth attitude to Bitcoin has put miners under stress. While mining has and hasn't been banned in China at different points over the last decade, miners have continued to operate.
The effects of the ban are more of a removal of official privileges rather than an outright cessation of activity. For example, in August 2020 21 Bitcoin miners in Inner Mongolia had their ability to buy and sell excess energy on the local energy market revoked. This effectively stripped them of the discount that helped make their operations profitable.
It was the regional government that ordered this crackdown, rather than the CCP itself, though the local authorities were clearly acting with the state government's recent proclamations in mind. Interestingly, one of the firms that was blacklisted was the Inner Mongolia department of China Telecom, which suggests that some state-affiliated enterprises are getting in on mining.
The suspension came after government inspections revealed that of the 30 "cloud computing service providers" in the area, 21 of them were actually crypto mining farms.
This reaction shows that China is less interested in eliminating Bitcoin mining than it is in controlling it.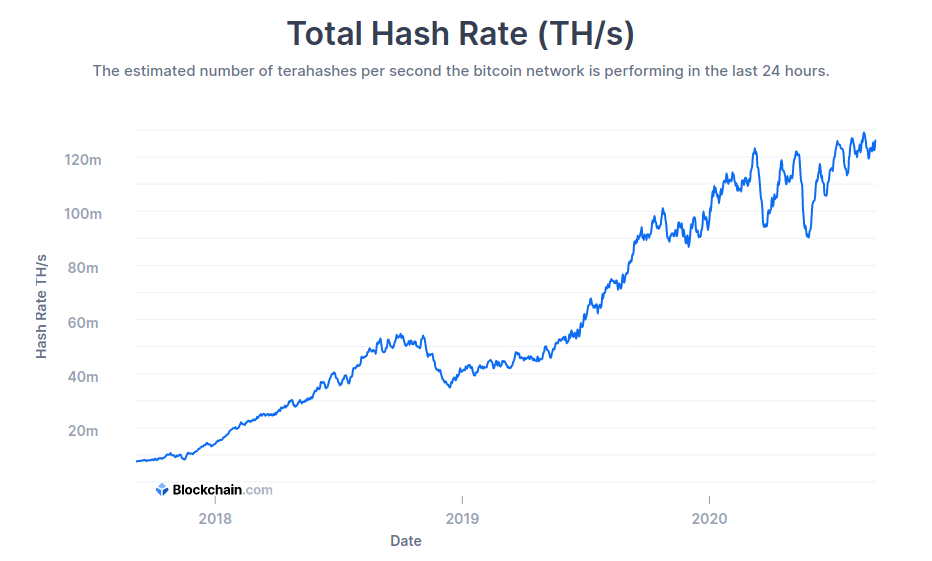 If China truly did ban Bitcoin mining once and for all, there would be a large effect on the hashrate, which would drop significantly in the short-term. This would create a price incentive for miners to move or start up businesses elsewhere with cheap energy and favorable regulations, bringing the hash rate back up in the medium to long-term.
For the moment, Bitcoin mining is alive and (mostly) well in China, with new operations opening frequently.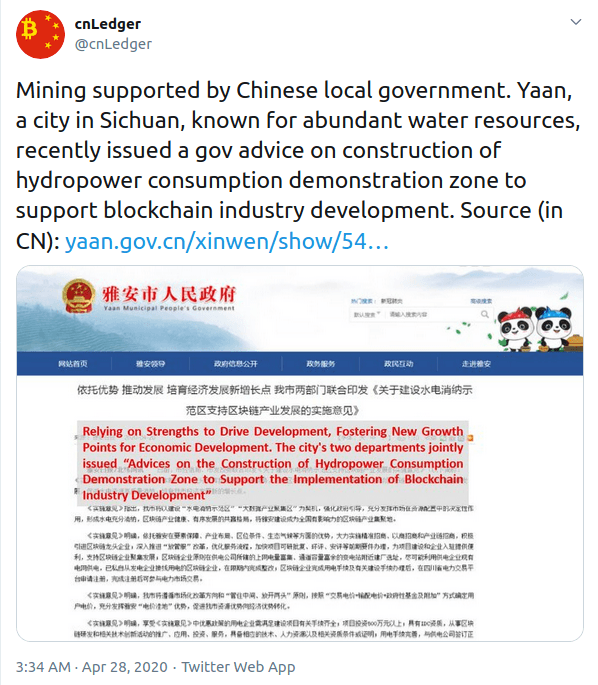 What is the price of Bitcoin in China
Bitcoin prices are changing every second.
The best way to find the most up-to-date price of Bitcoin is to check out our Bitcoin price page.
You can also check the price of Bitcoin in China by visiting any Chinese exchange and seeing what the last price the asset sold for was. Alternatively, there are a range of market reporting tools out there such as CoinGecko which aggregate information from a list of the largest exchanges.
These list the "official" price, non-inclusive of fees and premiums that Chinese customers may have to pay.
For an idea of the actual spot rate of Bitcoin in China, OTC exchanges give a better picture.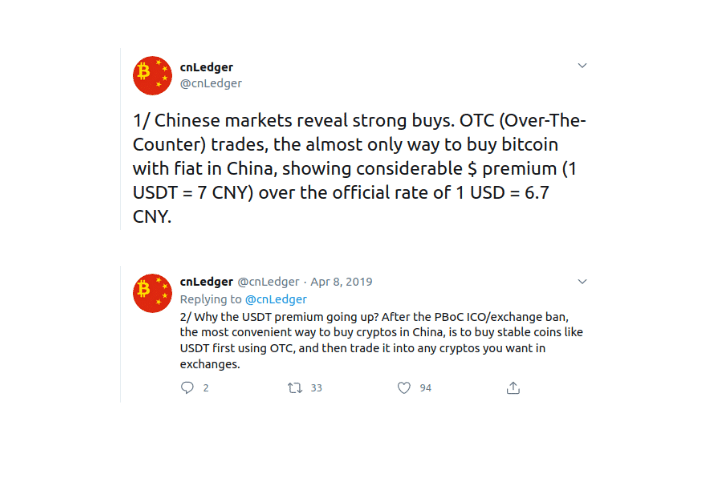 This price is the actual price paid by buyers, which works out at roughly a 4% premium. This premium was as high as 8% in the months following the ban, according to Investopedia, which highlights the strong demand that persisted even in face of offical sanctions.
As @cnLedger explains, the easiest way to buy Bitcoin after the ban is to buy a stablecoin OTC, which is legal in China and can then be sent to any exchange in the world to buy Bitcoin or any other crypto.
This is probably the most accurate way to determine the actual spot rate of Bitcoin in China.
Does Coinbase work in China?
Coinbase is not available in China.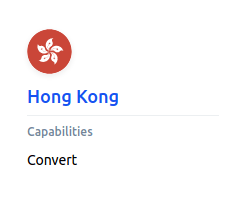 Coinbase has announced no plans to open up an offering for Chinese residents. The exchange is however available for Hong Kong residents, for the time being. Hong Kong users can only convert between cryptocurrencies on their account, there is no support for fiat on- or off-ramps.
Where Can I Find a Bitcoin ATM in China?
Bitcoin ATMs are not very widespread in China. There are about 53 Bitcoin ATMs in Hong Kong.
Yet there are zero listed for mainland China, meaning you'll have to do some more digging if you want to find one. BTC China installed an ATM in a coffeeshop in Shanghai in 2014, though this was reported in 2018 to no longer be functional. In fact, it currently sits in the lobby of BTC China's headquarters, as a memory of times gone by.
China, then, is not a haven of Bitcoin ATMs. If you're in mainland China and really need to access one, your best bet is going to Hong Kong or further abroad.
That said, you can use our Bitcoin ATM finder tool to find the one nearest you.
How do I Cash Out of Bitcoin in China?
With Bitcoin ATMs almost non-existent and crypto-to-fiat withdrawals difficult, when not illegal, the options are limited.
As outlined above, there is a decent amount of Chinese yuan liquidity on LocalBitcoins, meaning that this could be an effective method for cashing out.
Alternatively, both Huobi and OKex have OTC trading desks, which will allow you to sell crypto for CNY. This will require verification and completion of KYC and AML regulations, which could take up to a month to pass. It's for this reason that Hong Kong residents who are eager to get their savings out of the legacy banking system are trading BTC and USDT on physical wallets, paper and hardware.
Huobi also offers a peer-to-peer (P2P) marketplace, similar to LocalBitcoins. The majority of offers request Alipay as the payment method.
As it is still not officially approved in China, be sure to take care when buying or selling any cryptocurrencies.